Ghosts and witches and spiders, oh my! The spookiest time of the year is here which means your home needs a Halloween makeover. There's no need to give your wallet a fright to make the kids scared at night! Get crafty with these budget-friendly DIY Halloween decor ideas.
Witchy Pumpkin
Plain pumpkins are great and all, but you can easily amp up the Halloween vibes with this witchy pumpkin project. A real or faux pumpkin and basic craft supplies will leave you with a fun piece of DIY Halloween decor. Transform your pumpkin into a scary, funny, or classic witch that greets guests at the door.
Spider Web Lamp
Create an arachnophobe's worst nightmare with a spider web lamp. This DIY Halloween craft only requires a few materials and can crawl throughout your entire house. Play a prank on a family member and ask them to turn on the lamp to see their reaction!
Giant Eyeballs
Time to get some use out of those bouncy balls the kids don't play with anymore! Grab some acrylic paints and create outdoor Halloween decor in the form of giant eyeballs. Make them as bloodshot as can be and scatter them around your front yard for some creepy lawn decorations!
Ghostly Antique Mirror
BEWARE: This spooky decor project involves fire, so you may want to leave the kids out of this one. Once you have the proper safety precautions on hand, you can turn a modern mirror into a Gothic glass piece you'd find in an old, haunted house. Place it above a table full of Halloween goodies to complete the look!
Clever Witch Planter
Who knew striped stockings and witchy shoes could create such a clever optical illusion in your garden? The little ones are guaranteed to get a laugh or two out of this clever witch planter!
Monstrous Chair
Ghouls, goblins, and monsters are the theme of this DIY Halloween decor idea. Transform your stylish seating into monstrous chairs that will certainly give you a fright, especially in the dark shadows of the night! Keep in mind that this project requires a little more craftiness, so make sure you have a couple of hours to spare.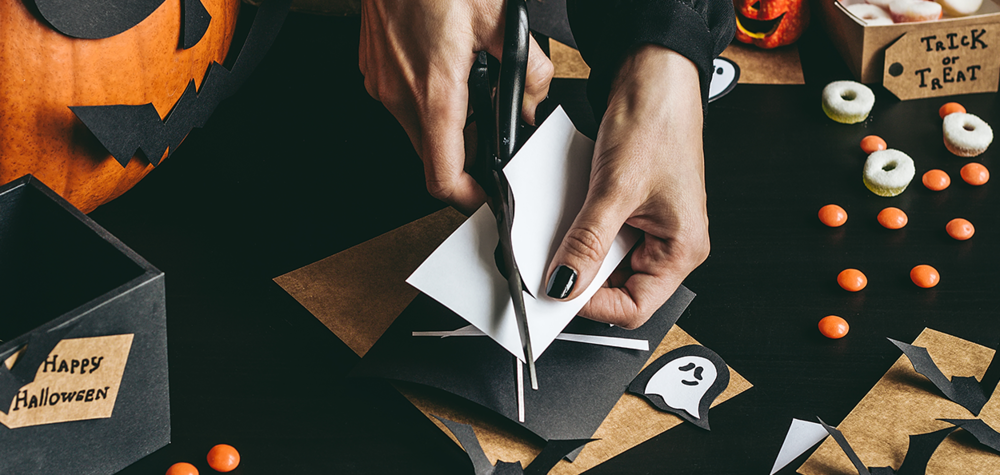 Startling Skull Lamp
Turn an ordinary table lamp into a creepy skull with foam, ribbon, black paint, and a few more supplies. Make it as ornate as you want by including faux roses, spiderwebs, and bones to create a beautifully creepy Día de Muertos look.
Black Cat Silhouettes
Superstition has made black cats a classic Halloween icon and this DIY Halloween craft brings them right to your house! Cut sheets of plywood into cat silhouettes to place on your porch or in your yard. You can even cut moon shapes for eyes and place battery-powered lights behind them for a glowing nighttime effect.
Scary Skull Centerpiece
Prepare for the ultimate Halloween dinner party with a skull centerpiece. Bleeding taper candles, spiders, skulls, and Spanish moss make this the perfect addition to your haunted dining table!
Spooky Soap Dispenser
Spooky decor doesn't just belong on the front porch and in your living room. Bring Halloween vibes into your bathrooms as well with soap dispensers that keep an eye on you as you wash your hands. There's nothing like a jar full of eyeballs to remind you it's spooky season!
Deathly Tombstones
Transform your everyday yard into a graveyard with these easy-to-make tombstones. Carve out chilling symbols and messages for an authentic look or let the kids have fun with whatever designs they can think of. Post them up in the yard with a handful of glowing candles for hair-raising ambiance!
Chic Skeleton Plant
If you're a major plant lover, this is the DIY Halloween decor you've been waiting for. Pick your favorite plant (ideally a small, leafy one) and pair it with a skeleton that matches in size. Spray paint the skeleton gold and weave it within the plant for a stylish Halloween piece.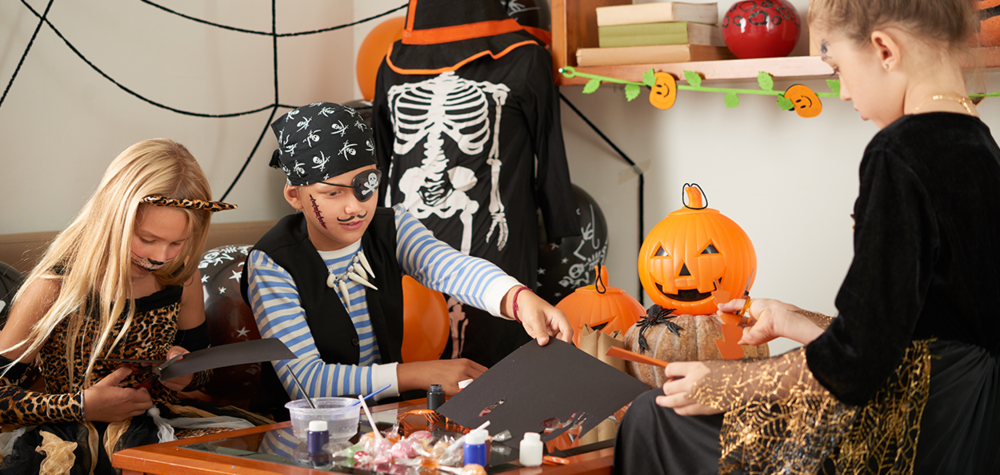 Dreadful Draperies
Halloween is the only time of year when dreadful draperies are actually a good thing! Believe it or not, cheesecloth and black tea bags are the two main supplies you'll need for this spooky decor. Once finished, hang them on your porch to create a spine-chilling entryway for visitors.
Wicked Candles
You can never have too many candles for the spooky season! Light up your home this Halloween with personalized candles you design yourself. Pick clip art designs of black cats and witches and paste them onto your candles with wax paper. Use a little heat and voila! You've got yourself some wicked candles for your mantle.
Mini Halloween Village
Get the kiddos involved and create a mini Halloween village with this simple indoor Halloween decorating idea! A variety of bird houses, dark paint, faux black branches, and mini pumpkins are all you need to bring this village to life — or death.
Now that you have 15 ideas for spooky decor, you can make the scariest Halloween decorations on the block! For more crafting ideas for the whole family, take a look at our top 10 DIY pet crafts.