Company Values & Standards
At Fusion Furniture our values are simple: create quality furniture that will deliver happiness, comfort, and design to the customer. We rely on our valued employees to fuse together the most important elements of a successful manufacturer, reliable retailer, and excellent customer service relationships. Since our founding day in 2009, Fusion Furniture has been building exceptional products in Northern Mississippi for generations, creating a tradition and legacy that will live on for years to come.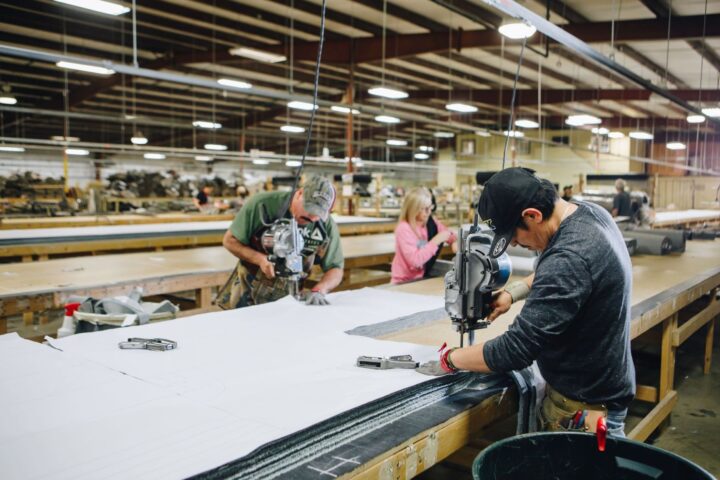 All of our products are made in America with top-of-mind quality and value. With over 450,00 square feet of space in our manufacturing warehouse and over 500 devoted employees, Fusion Furniture continues to deliver a final product that will complete any home.
As the brand continues to grow, so does the Fusion Furniture facility. In an effort to bring more jobs to Mississippi, we're opening a new assembly plant to New Albany, MS where the team will manufacture Fusion Furniture products such as sofas, love seats, sleepers, accent chairs, and much more! With more than 200,00 square feet of new factory space, Fusion Furniture is expected to employ 150 to 180 skilled workers and we want you to join our team!
Company Benefits
Working at Fusion Furniture has its benefits! We offer full-time and part-time employment on our Fusion team, in both corporate and manufacturing roles. Competitive career benefits include attractive wages, overtime options, associate assistance plan (AAP), and more. In addition to our company benefits, we also offer a healthy and happy work environment so you can complete your best work while also enjoying every day at the office.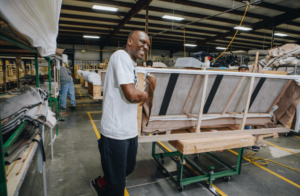 Life, Medical, Dental, & Vision Insurance
Retirement Savings Plan 401(k)
Paid Holidays
Education Reimbursement Program
And more!
Career Development
Joining our team at Fusion Furniture doesn't just mean you're joining a company – you're becoming a part of a family. Not only do we go above and beyond for our customers, but we also provide unmatched career development opportunities for our employees.
Fusion Furniture Inc. values the professional and personal development of our associates, and that's why we're offering an Education Assistance/Reimbursement Program to our employees. Full-time, regular associates who have completed six months of employment are eligible for reimbursement of up to 100% of the tuition or registration cost of educational opportunities. *Classes must be approved prior to enrollment for associates to be eligible for reimbursement. A one-time reimbursement for taking the High School Equivalency Exam is also available.
Join our Fusion Furniture Family
Whether you're looking for an opportunity on the sewing line, a customer service role, or somewhere in between, Fusion Furniture has the career opportunity for you! We want you to join our family today as we continue to develop and distribute excellence to each and every customer. Think you can help us drive style, value, and service each and every day?
Learn more about opportunities, open positions, and career paths available within our warehouse, and become a part of something bigger!