Fall is just around the corner which means it's time to transform your home from a summer oasis to a cozy autumn retreat. Whether your style consists of pumpkins and plaid or more modern autumn touches, there are plenty of ways to spice up your space for the coming season. Curl up on the sofa and gather inspiration with these 9 fall decor trends.
Autumnal Plants
One of the signature themes of autumn is burnt orange leaves and fall foliage, which is why this fall decor trend is perfect for your home. If you have a green thumb, try your hand at nurturing fall flowers like Chrysanthemum, Celosia, or Croton.
For a zero maintenance alternative, opt for faux plants that achieve the same look. Plants with traditional fall colors like yellow, orange, red, white, or even brown can be strewn throughout each room. Don't forget to include these plants on your front doorstep as a festive autumn greeting!
Traditional Plaid
As each year passes by, plaid continues to dominate as a popular fall decor idea. There are countless ways to incorporate plaid into your home, so all you need to decide is how subtle or obvious you want it to be. Plaid blankets, throw pillows, table cloths, bedding, furniture, and even wallpaper are just a few ideas you can use to create a plaid palace or a modest plaid design.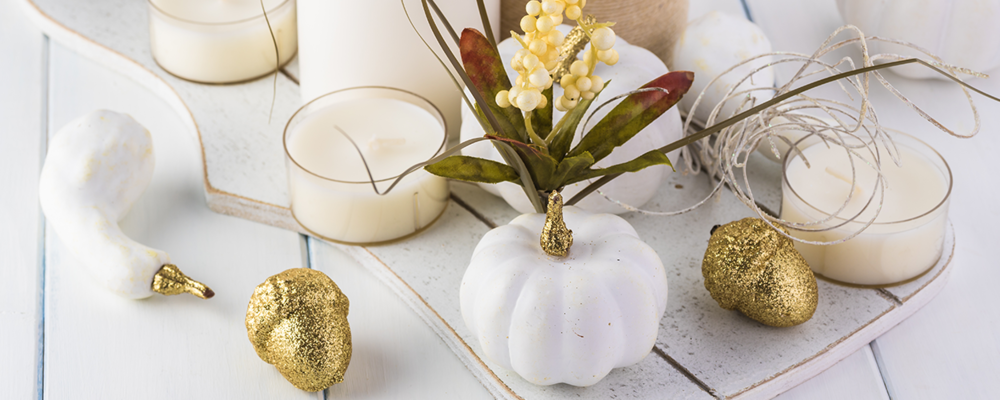 Warm Metallics
When thinking of autumn decorations, metallics may not be the first idea that comes to mind, but they're a big fall decor trend in the design world. Brass, copper, and gold add a touch of luxury to your home, while also grounding it with earthy fall colors. Whether it's copper dinnerware, brass art pieces, or gold-gilded mirrors, you can't go wrong by mixing these shiny metallics.
Layered Accessories
Autumn is all about warm and cozy vibes, so it's no wonder layered accessories are a hit. Try maximalist style by layering accent pillows and blankets. Weave in plain, fall-inspired hues along with corresponding patterns to create contrast and depth. Not only will this fall decor trend add color to your home, but it will also keep you and your guests comfy as the cold weather begins.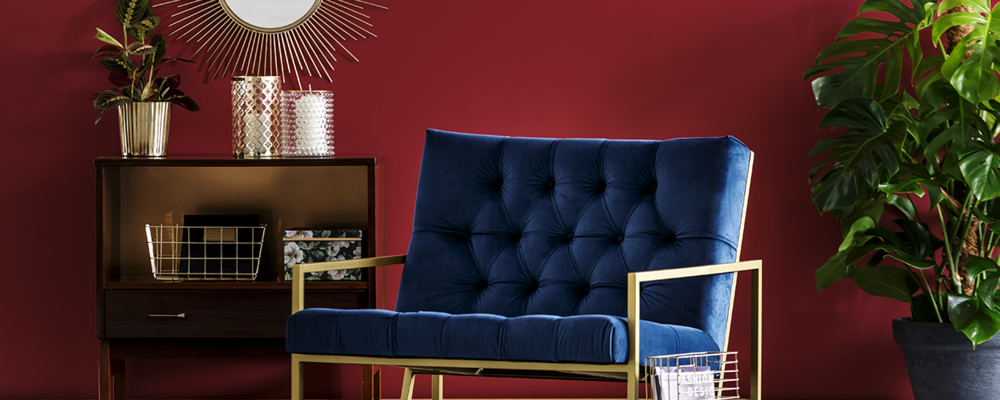 Moody Colors
While bright yellows and burnt oranges work wonders for a classic autumn look, consider moody colors as well. Dark reds, deep greens, navy blues, and gold are gourd-geous fall colors that bring richness to your home. Set the mood with dark green candles and gold vases or get courageous with a deep red accent wall!
Faux Fur
Nothing says cuddle weather more than faux fur accessories! Soften up a modern room with a faux fur rug or throw a blanket over your sofa, bed, and dining room chairs. This adds texture to your home that is not only stylish, but practical as well! Offer up blankets to guests or enjoy a romantic date night on your faux fur rug.
Floral Accents
There's no need to stress if you aren't a huge fan of plants. You can still incorporate fall foliage into your home without getting the real deal! Floral accents on dinnerware, table cloths, paintings, and vases are a wonderful way to celebrate the season without filling your home with plants. Follow your fall color theme and you're golden!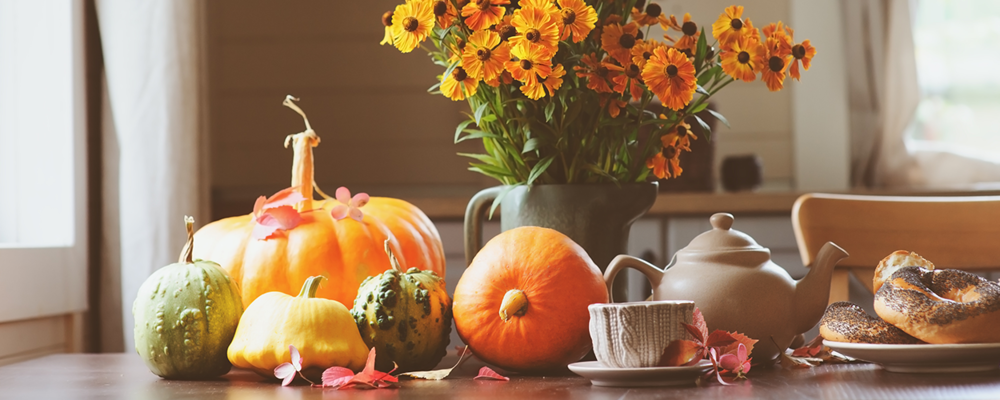 Pretty Pumpkins
You can't decorate for autumn without including at least a few pumpkins here and there. Go traditional with bright orange pumpkins on the front porch or take a more modern approach. Pale pumpkin shades of orange, white, green, and gray are a great fall decor trend for any home. Metallic pumpkins (copper, gold, brass) are a new-age trend as well. Arrange them in different shapes and sizes, including at least three in a group.
Don't be shy with placement either! Pumpkin decor can fit in anywhere. Fireplaces, dining room tables, staircases, countertops, and even kitchen islands are a handful of areas that can use some pumpkin pizzazz.
Velvet Furnishings
Incorporating velvet is a must if you love contemporary interior design with an old-school touch. Velvet furnishings are glamorous all year round, but they look amazing during the fall and winter months. Pick from your moody color palette or opt for vibrant fall colors like orange and mustard. Velvet drapes, duvet covers, pillows, and sofas are sample furnishings that make a style statement in any room.
From plaid to pumpkins and everything in between, you now have the inspiration to go decorate your home with these fall decor trends! If new furniture is on your decorating list, take a look at Fusion's stylish selection of sofas and sectionals that fit any time of the year.