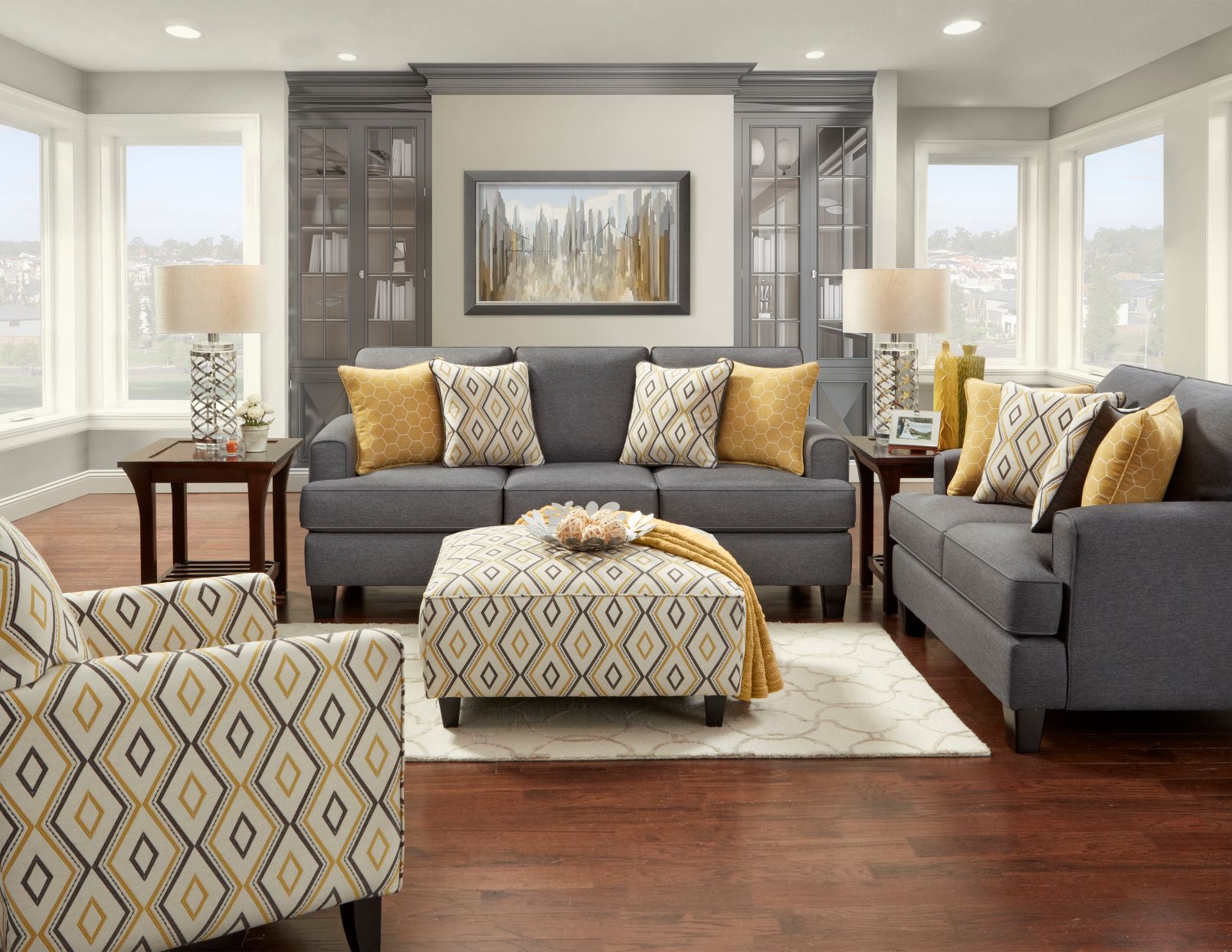 The Maxwell Gray Dijon Fusion Collection is a stunning modern living room set. With a bold combination of dark gray, black, and yellow, this sofa is designed to be the centerpiece of an exciting and contemporary living space. The yellow and gray accent chair will add an extra modern pop to your home and is guaranteed to turn the heads of all your guests.
Looking for classic living room inspiration? Look no further than the Romero Sterling Fusion Collection. This herringbone gray sofa set features natural nails, a pleated roll arm, and eye-catching goldenrod accents. The traditional design is combined with innovative Revolution Performance Fabric, which ensures your pieces stay clean and stain-free.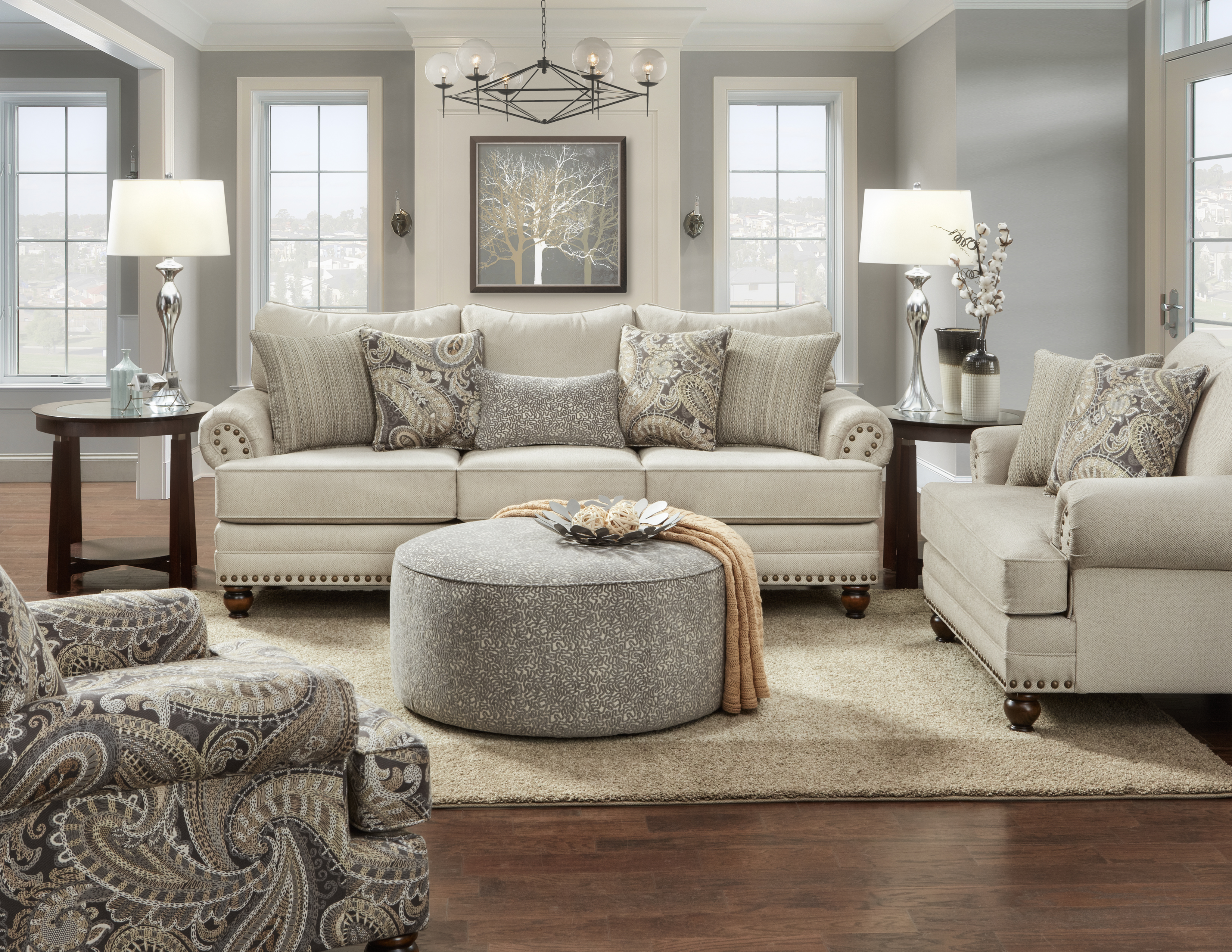 For a living room sofa set that instills pure relaxation and timeless design, look no further than the Carys Doe Fusion Collection. Soft, neutral fabric combines with subtle patterning for a charming aesthetic. What's more, the pleated roll arm and natural nails of this designer furniture add a classic touch that will work well in any traditional-style home.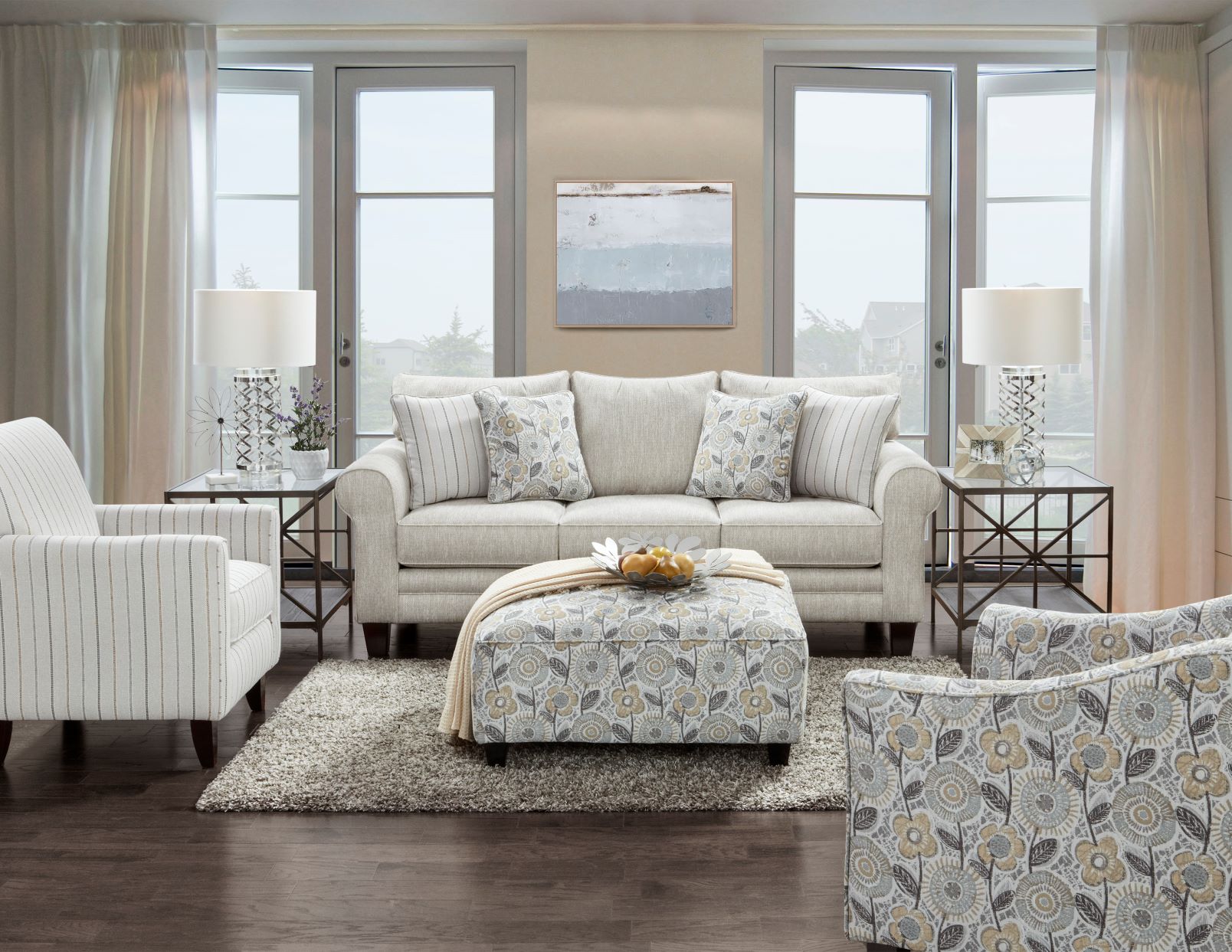 Floral accents and pastel colors make Vandy Heather a living room sofa set that can't be beat. Relax on a light gray sofa made of thick, quality fabric while guests enjoy matching chairs with delicate striped and floral prints. The muted yellows, blues, and grays of Vandy Heather create an earthy motif that's wonderful for spring and summer.
The Bates Nickel Fusion collection is a gray living room set characterized by versatility. Its pleated roll arms showcase a traditional style, while blue and orange center-matched pillows liven up the furniture with a contemporary feel. Soft, light gray fabric and checkered patterning make this set the perfect balance of bold refinement.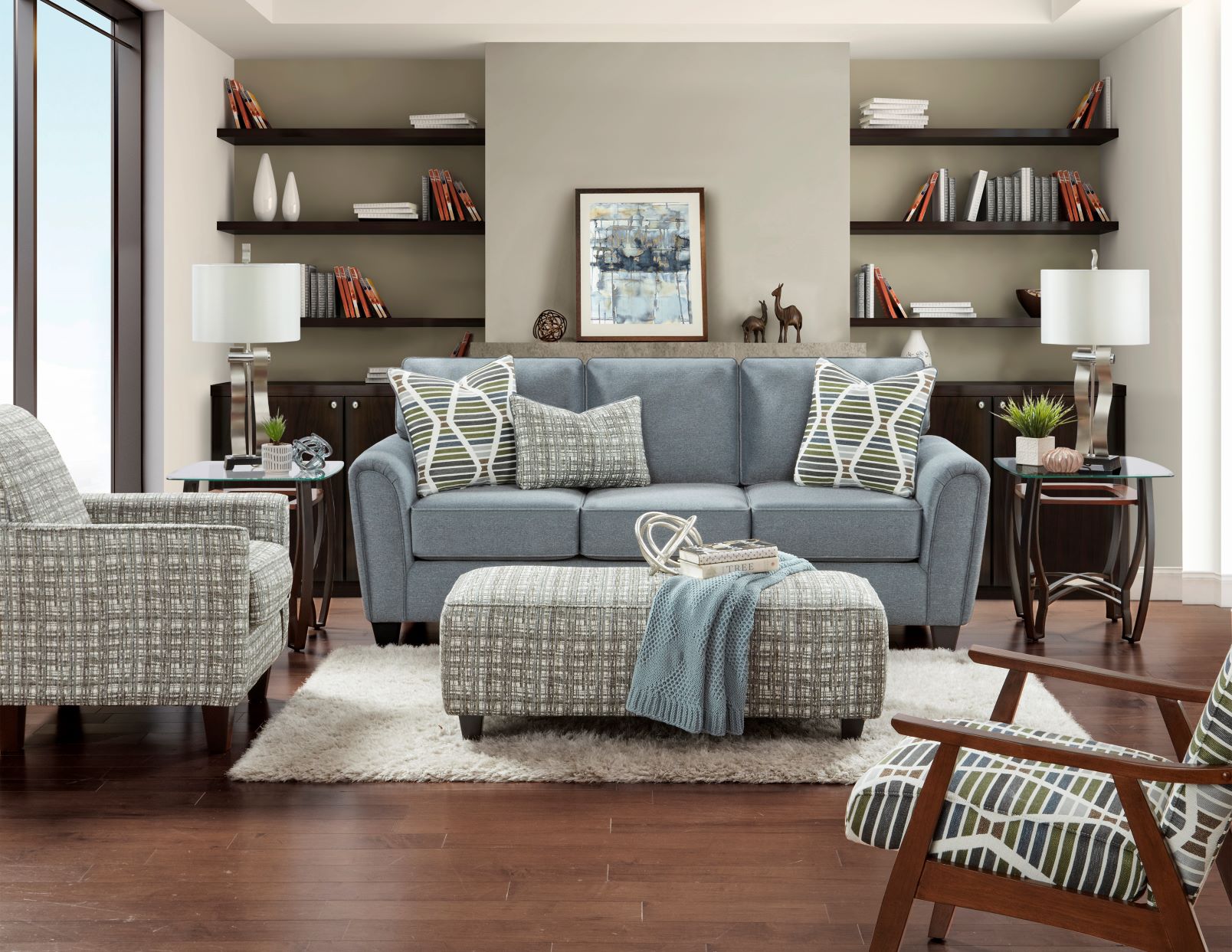 Macarena Marine is a modern living room set with a distinctive style. This Fusion collection blends fabrics of solid blue, distressed plaid, and geometric patterns that leave you with a unique centerpiece for your living room. Tapered wooden legs and luxurious upholstery bring it all together for a sophisticated feel.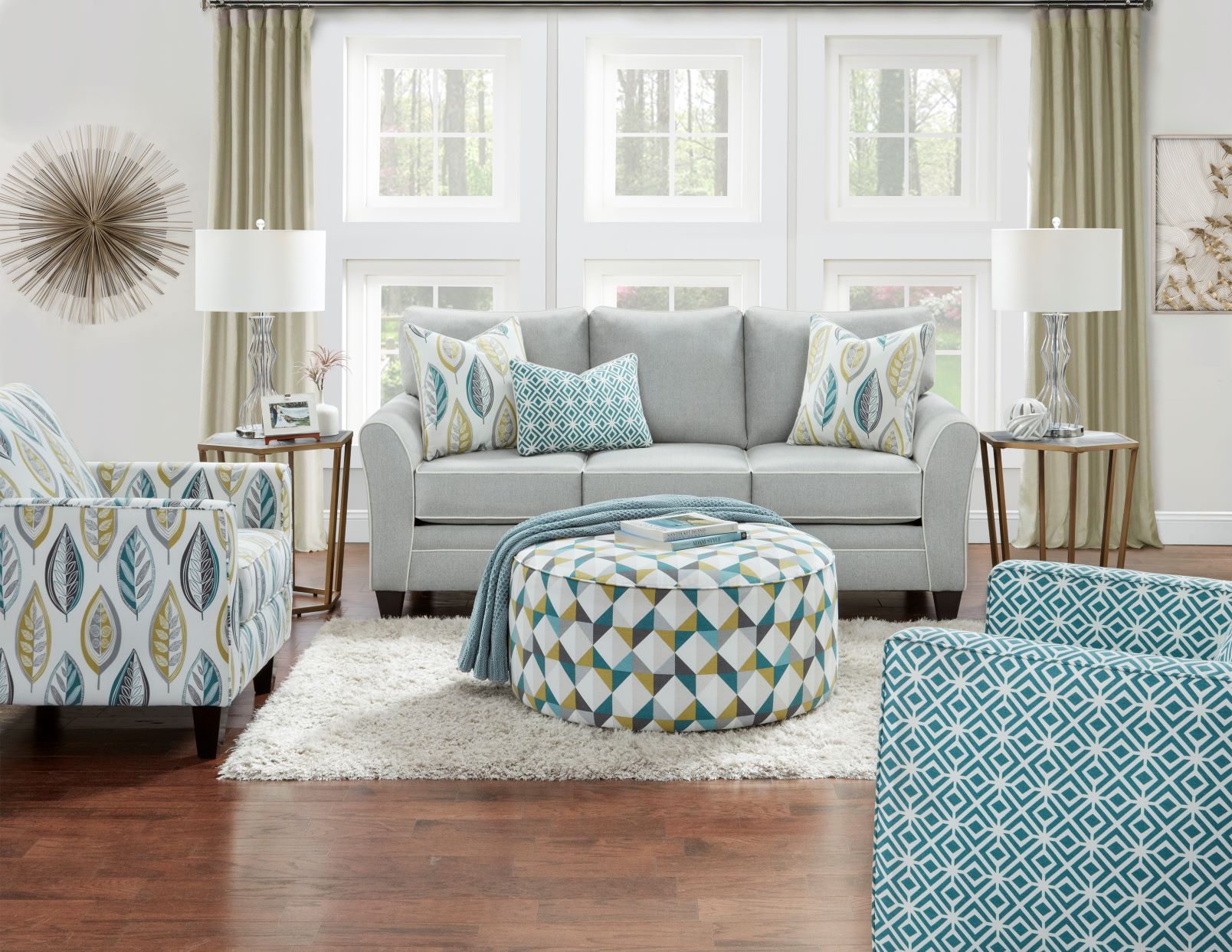 The TNT Nickel Fusion collection is a grey and white furniture set with a colorful twist. Geometric patterns, botanical prints, and accent colors of teal, green, and blue create a striking vibrancy in any space. Soft, cotton pillows and light fabric come together to give you a comfortable seating arrangement as well.
It's no surprise where Truth or Dare Salt got its name. This white sofa set is as white as a salty beach with durable, Revolution fabric. Long, tapered legs and beautiful silver studding add an heir of elegance, while blue floral patterns bring a taste of femininity.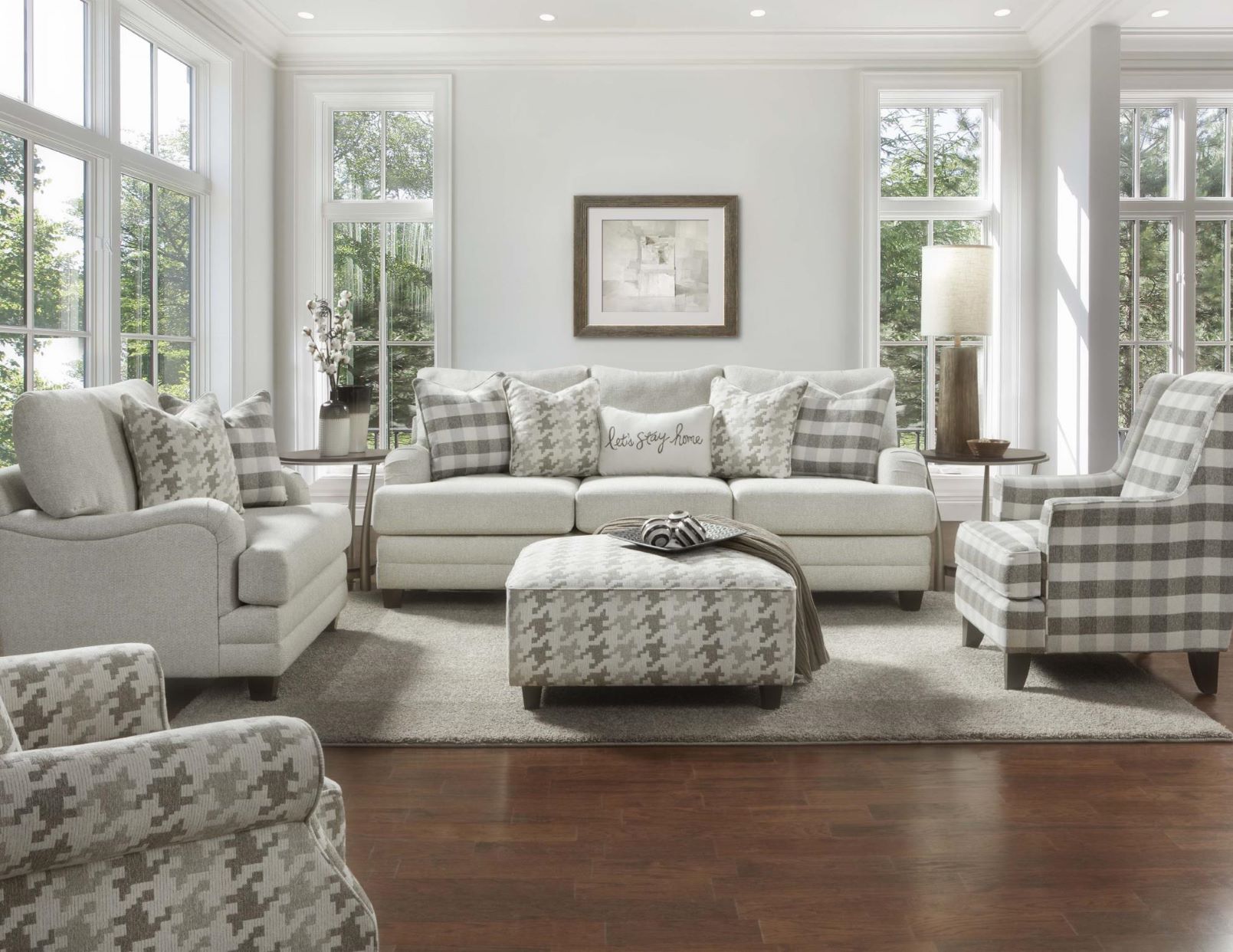 You'll never want to leave your living room with the Basic Wool collection. This light gray sofa set channels a farmhouse chic vibe with a monochromatic color scheme. Neutral-colored Revolution fabric makes this designer furniture both durable and stylish. Charles of London sofa arms, deep seating, and plaid accents create a pleasant and cozy experience.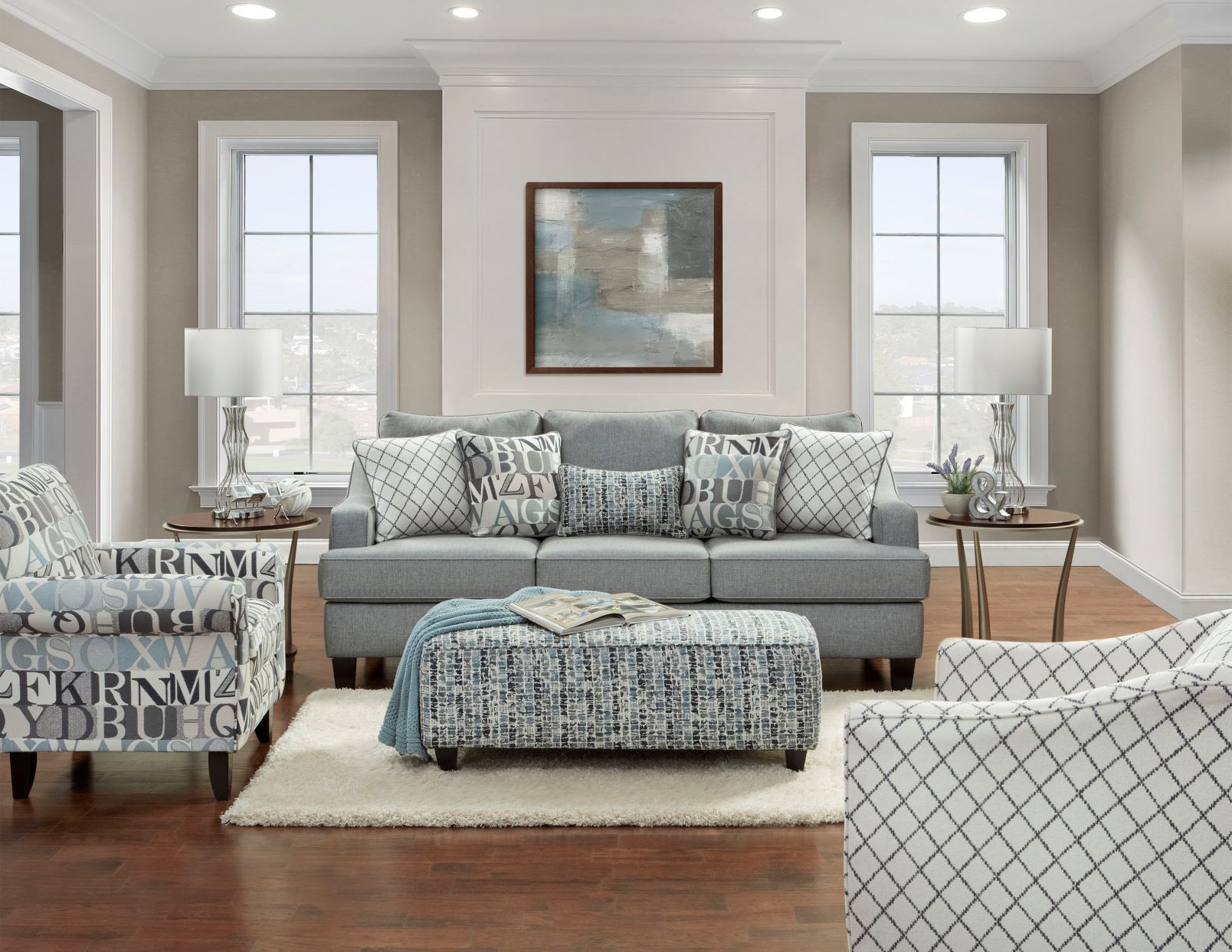 Bold print meets sophisticated design with the Macarena Cadet collection. Light living room colors of grey, white, and pale blue are accented with unique letter print and diamond motifs for a signature look. The tapered wooden legs, recessed sofa arms, and streamlined cushions of this set are a beautiful addition to a modern home.