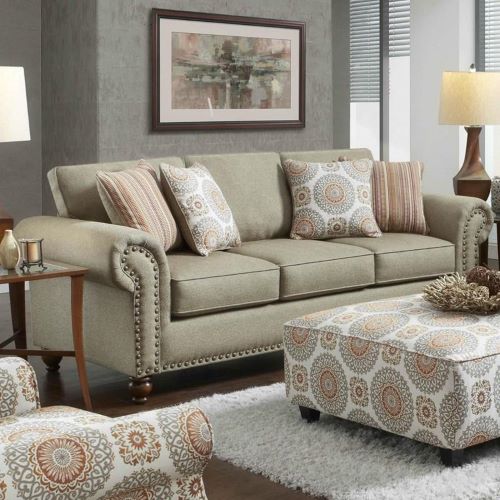 The Turino Sisal Fusion Collection perfectly complements light living room colors. The brown herringbone design contrasts with natural nail details and bright orange accents. The pleated roll arm ensures a timeless traditional design, while the Revolution Performance Fabric keeps this living room sofa set free from stains, wear, and tear.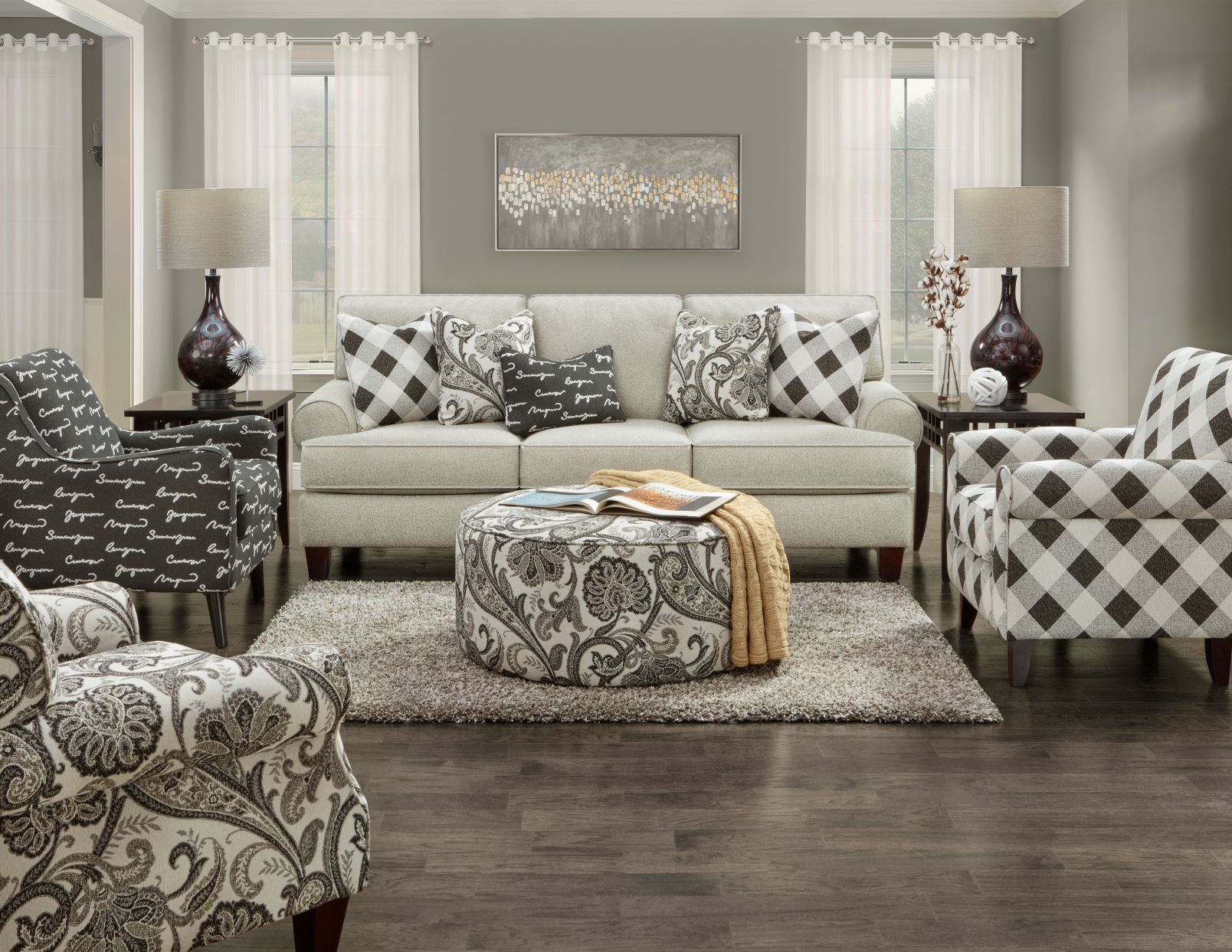 With a complete range of pieces, the Shadowfax Dove Fusion Collection allows you to seat all your friends and family in style. This black and white sofa set offers rich cushioning and a traditional profile for reliable comfort. Meanwhile, the bold plaid and intricate floral fabric designs add the striking touch you would expect from modern designer furniture.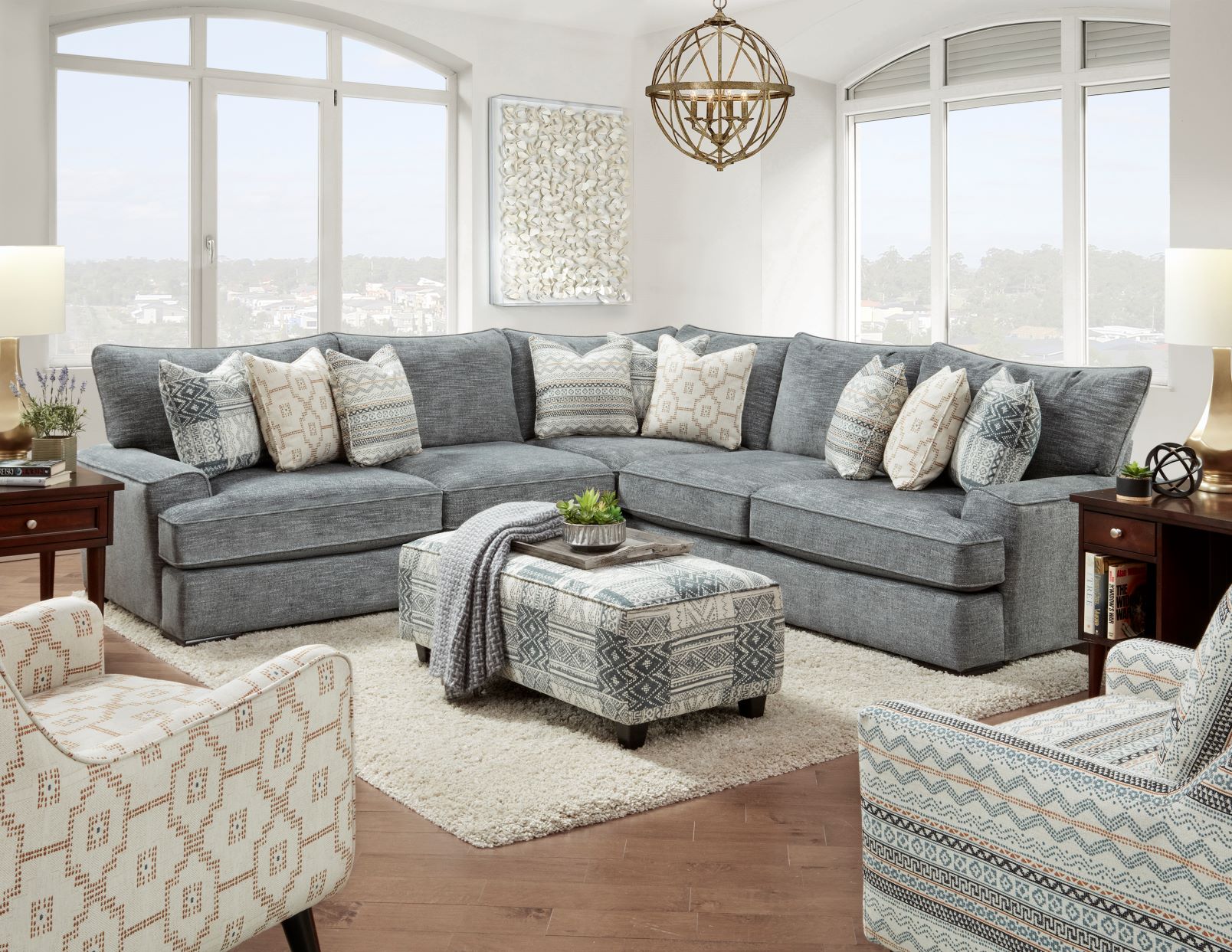 The Handwoven Slate Fusion Collection offers out-of-this-world comfort without sacrificing an inch of style. This Fusion sectional features gel-wrapped cushions, so you can sink into the coziest seating you've ever experienced. Meanwhile, the gray patterned fabric gives a distinctive touch to this eye-catching designer furniture set.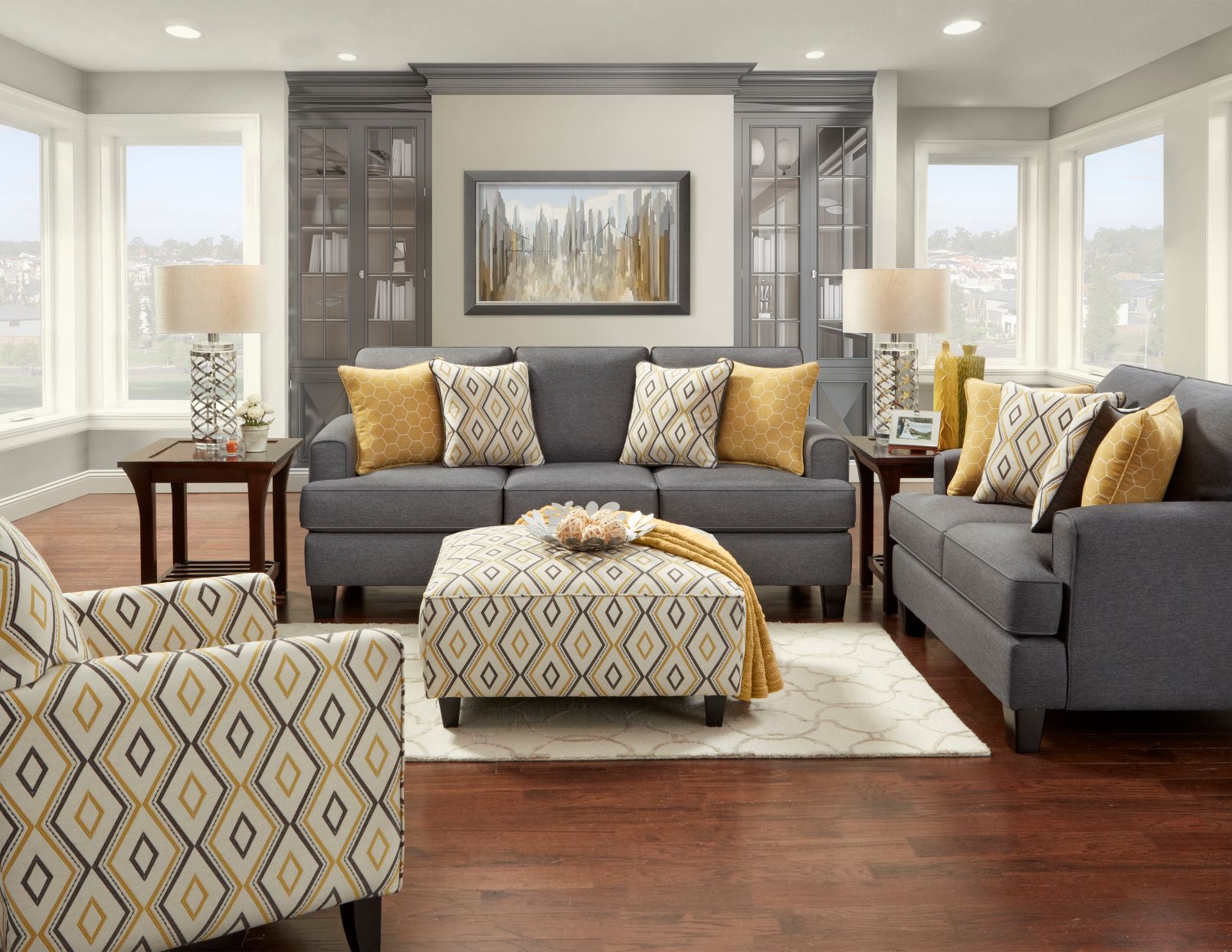 The Maxwell Gray Dijon Fusion Collection is a stunning modern living room set. With a bold combination of dark gray, black, and yellow, this sofa is designed to be the centerpiece of an exciting and contemporary living space. The yellow and gray accent chair will add an extra modern pop to your home and is guaranteed to turn the heads of all your guests.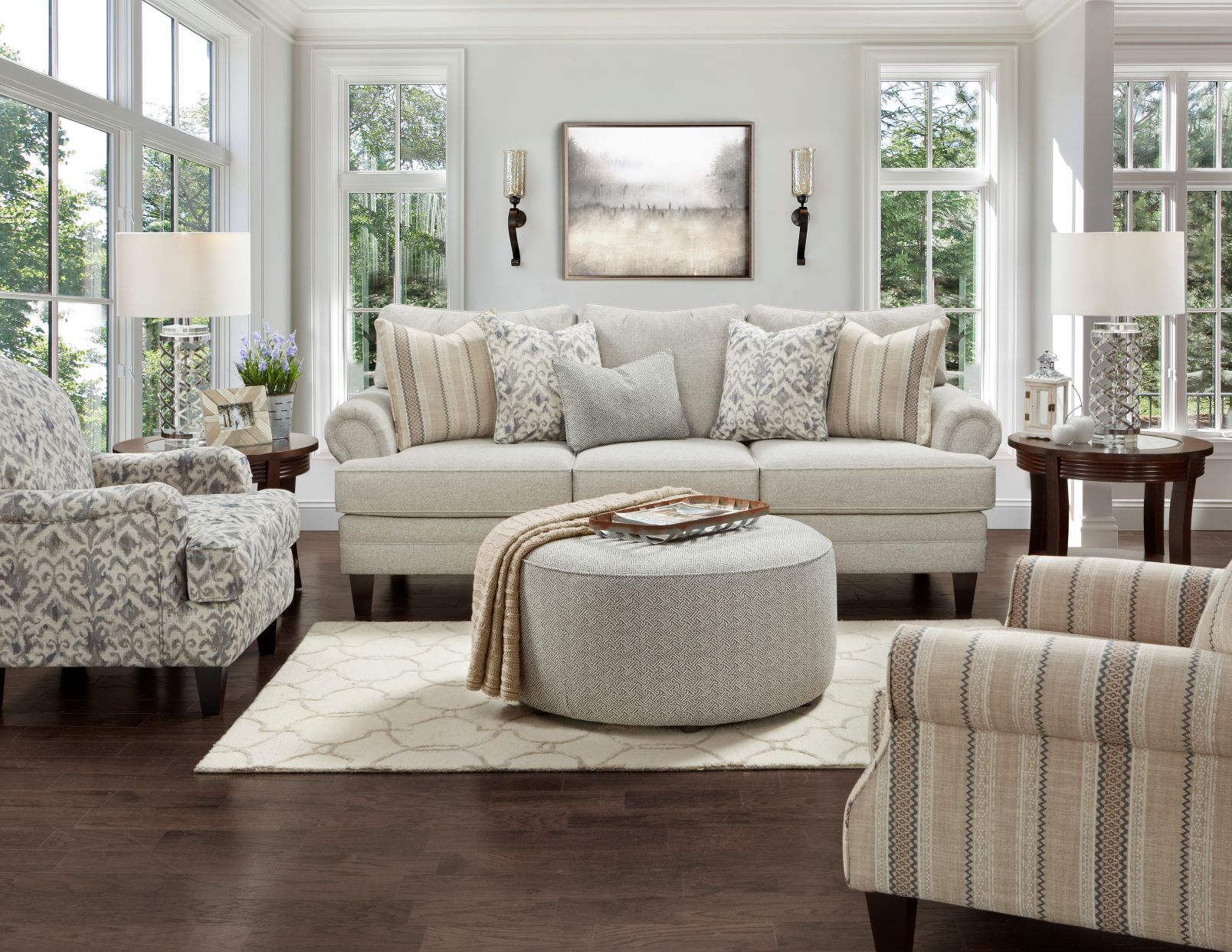 The Barnabas Mushroom Fusion Collection strikes the perfect balance between designer furniture style and traditional comfort. This gray living room set features a rich textured fabric and a classic pleated roll arm. No matter whether you want to create a relaxing safe haven or a stylish living room space, this Fusion sofa set will meet all your needs and more.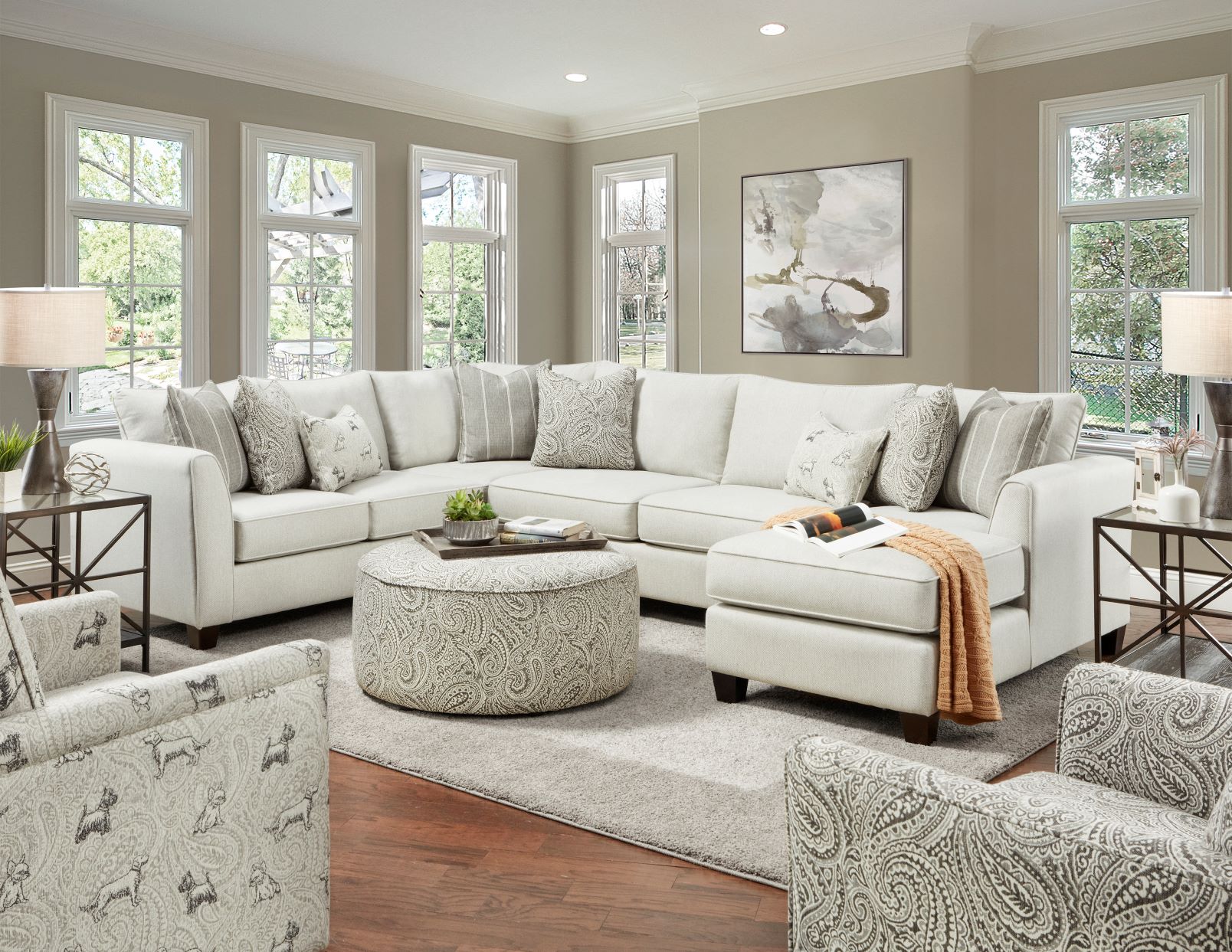 With so many versatile pieces, the Homecoming Stone Fusion Collection can be customized to any space. This light gray living room set is ideal for entertainers and families alike, thanks to its welcoming style and durable Revolution Performance Fabric. The soft upholstery is stain-resistant, easy to clean, and sourced and woven in the USA.
Looking for classic living room inspiration? Look no further than the Romero Sterling Fusion Collection. This herringbone gray sofa set features natural nails, a pleated roll arm, and eye-catching goldenrod accents. The traditional design is combined with innovative Revolution Performance Fabric, which ensures your pieces stay clean and stain-free.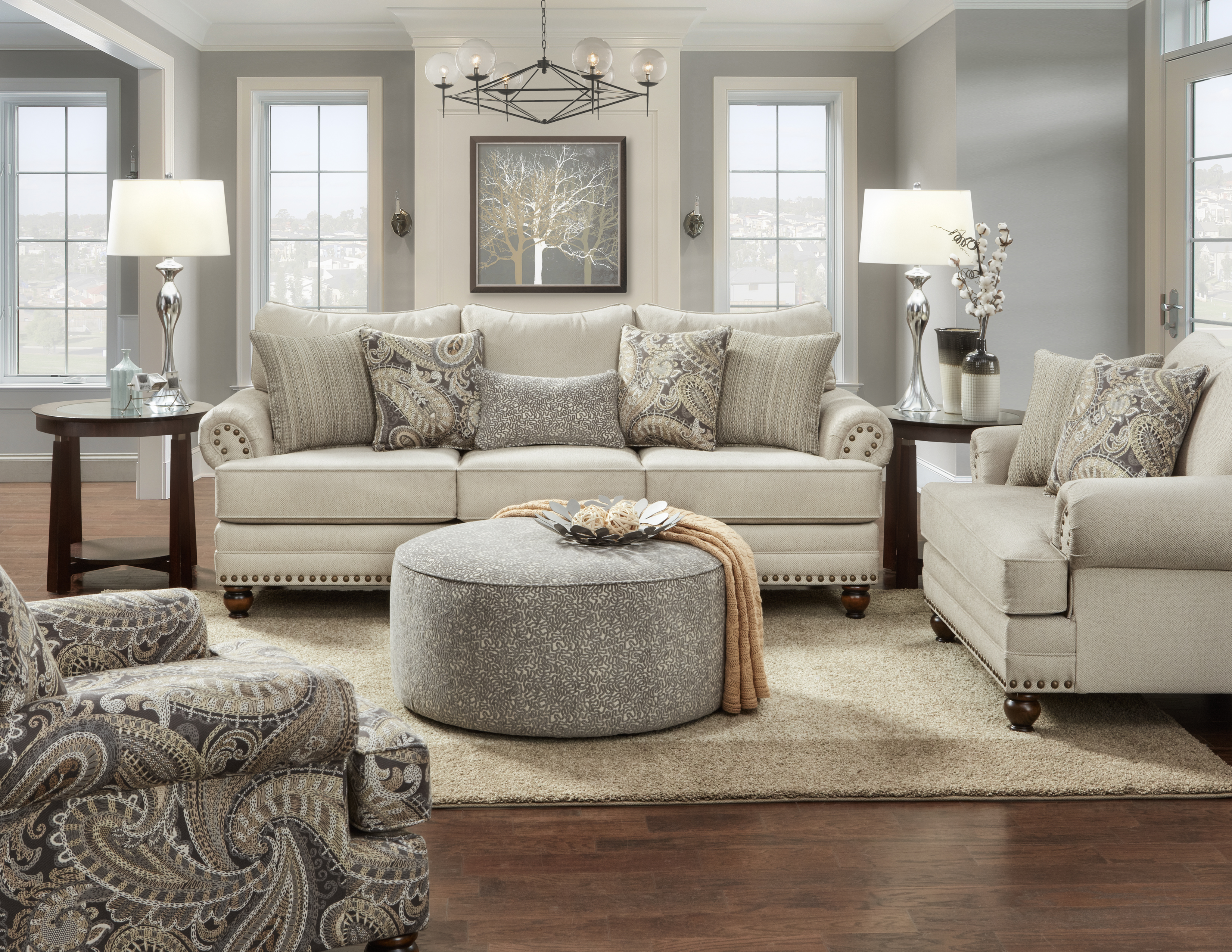 For a living room sofa set that instills pure relaxation and timeless design, look no further than the Carys Doe Fusion Collection. Soft, neutral fabric combines with subtle patterning for a charming aesthetic. What's more, the pleated roll arm and natural nails of this designer furniture add a classic touch that will work well in any traditional-style home.
The Monroe Ash Fusion collection defines sophisticated designer furniture with its striking color scheme and sleek style. Plush, light gray fabric is enhanced with bright accent shades of orange, white, and polka dot patterning. This low-profile collection comes with a multitude of available pieces that make it customizable to any space.
The Theron Indigo Fusion collection is a daringly beautiful modern living room set. Perhaps the most modern of all the Fusion collections, it is marked by vibrant colors of mustard, navy blue, orange, and red. Bold, geometric designs and tall tapered legs make it a stand-out centerpiece that you can both relax in and talk about for hours.