School closures and distance learning are the new normal within the educational world, and that means parents are taking on the role as teacher for their children. Jumping into homeschooling can be overwhelming if you haven't had the time to prepare or create a classroom for your kids, no matter how old they are.
However, with a little inspiration and DIY work, you can transform your home into a space perfect for learning. Take a look at these at-home classroom ideas, as well as tips for homeschooling, so you feel confident and prepared as the back-to-school season begins.
Ideas for Creating a Classroom at Home
Choose a Space with Natural Light
As you start to prepare your home for learning, it's important to pick a specific area to be your at-home classroom rather than letting the kids roam the entire house. Whether you're limited on space and choose the dining room or opt for the spare bedroom, try your best to find a spot with lots of natural light. Natural light is beneficial for your child's learning because it promotes productivity and boosts mood.
If you're having trouble finding a well-lit space for your at-home classroom, learn how to brighten a dark room in our blog post!
Establish Designated Work Stations
When you visit your child's school classroom, you'll see that they have their own seat and work area. This principle should translate over to your at-home classroom as well. Create or pick a designated work station for each one of your children.
For young students in elementary school, you'll want to create a space where you can easily oversee them throughout the day. Buy them their own desk, build a DIY desk, or simply set them at their own spot where they aren't crowded by their siblings.
If you have teenagers or older children capable of working independently, there's no rule saying you can't establish a work space in their bedroom or another secluded area. Just make sure you check up on them periodically throughout the day.
Create a Reading Corner
This at-home classroom idea is targeted more towards little ones, but can be relevant for adolescents as well. Reading is a large part of school curriculum, so it's ideal if you can include a reading corner within your learning space.
For young kids, choose a cozy nook and set up a table for them to sit with their books. Keep books in a bin or bookshelf that's low to the ground and easily accessible to them. If you're feeling extra creative, incorporate a chalkboard or whiteboard to supplement reading lessons.
Teenagers can also have a designated reading corner, but with a more mature theme. They can sit at a table or keep things more relaxed by sitting in their favorite bean bag or recliner chair. You can still use a whiteboard for reading discussions and include bookshelves too.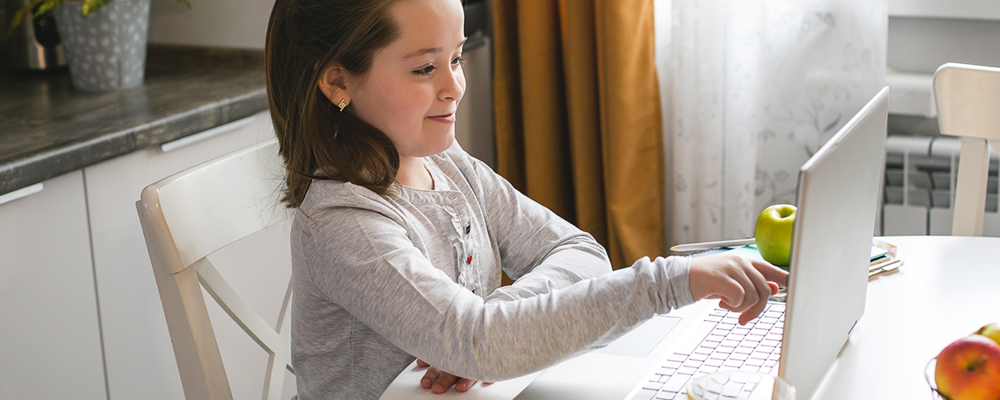 Choose Comfortable Seating
While it may seem insignificant, seating is a crucial consideration when it comes to creating a productive classroom at home. This is especially important for children around primary school age because any discomfort will make them fidget and become distracted from their work. Try your best to give them seats that allow their feet to rest flat on the floor. If they're sitting at the kitchen table or in other adult-sized chairs, make them as comfy as you can by providing cushions.
Chair height may not be a problem for adolescents, but it's still important to provide them with quality seating as well. Ergonomic office chairs are a great option because they provide support for your entire body.
Keep the Classroom Organized
Organization is key when you're running a classroom at home. From your kid's individual schoolwork to classroom supplies, your home can turn into a mess if you aren't diligent. Luckily, there are fun and easy ways to keep things organized. Here are a few examples:
Color-Coded Bins: Use a different color for each child and categorize each bin into academic topics like math and science. These can house all of the paperwork and homework assignments.

Jewelry or Shoe Organizers: Hang clear, plastic organizers on the wall or door to keep classroom supplies like pencils, markers, and scissors nice and tidy.

Pencil Boxes: Have each child use pencil boxes, so they can be responsible for their own school supplies.
Create a Visual Timetable
Your days as a homeschool teacher are almost guaranteed to go smoother if you plan each day and stick to a general schedule. After you create your master plan, make a visual timetable that your kiddos can look at too. It's just as important for them to be aware of the day's activities as it is for you.
Since you'll be using the table five days a week, buying a dry-erase whiteboard is a great option for quick changes and adjustments. If paper is more your style, there are plenty of free, downloadable time table templates online.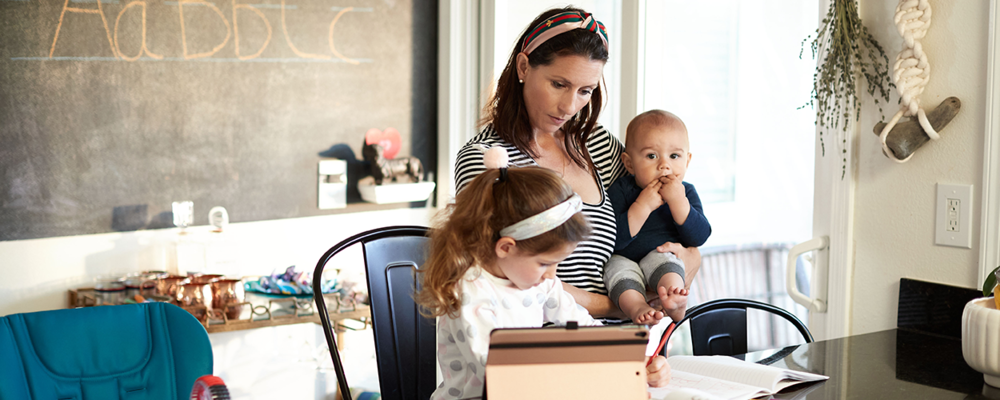 Tips for Homeschooling
Ease Into It
Homeschooling can be an overwhelming process, so don't feel like you need to jump right into it all at once. When the school season starts back up, give yourself and your kids the chance to ease into it by slowly introducing curriculum. Add one or two subjects a week to ramp up the schedule and you'll become a pro in no time.
Eliminate Distractions
Distractions are one of the biggest challenges you'll face as a homeschooling parent. That's why you need to establish a plan prior to the first day of school. The first step is clearing out any tangible distractions from your at-home classroom. Electronic devices should be put away unless used for learning purposes and the TV should be turned off. You may also want to separate your children and your pets for most of the day to avoid distractions.
While it's good to reduce noise levels in the room, don't be scared to incorporate some soft background music to break up the stark silence. Gentle music can be soothing and help calm the kids down as they work away.
Dress for Success
Make a point of getting your kids dressed and ready to go as if they were attending a normal day at school. This helps set boundaries for their new learning environment and adds an element of routine that is necessary for productivity. To reward them for good behavior throughout the school year, you can mix things up by incorporating Fun Fridays where they can wear pajamas or dress in their favorite costume.
Be Flexible
Even though routine and predictability are necessary when you're teaching your kids from home, there is definitely room for flexibility. Know that not every day is going to go according to plan, and be okay with that. Cut yourself a break and try to focus on wins for the day. There's always another day to catch up on assignments.
Creating the perfect at-home classroom looks different for every family, but these ideas should give you some great inspiration to work with! Combine a creative learning space with helpful tips for homeschooling, and you're ready to take on the school year.
Of course, learning isn't just for kids. If you're also taking a course from home or looking to create a more productive workspace, take a look at our home ergonomics checklist!