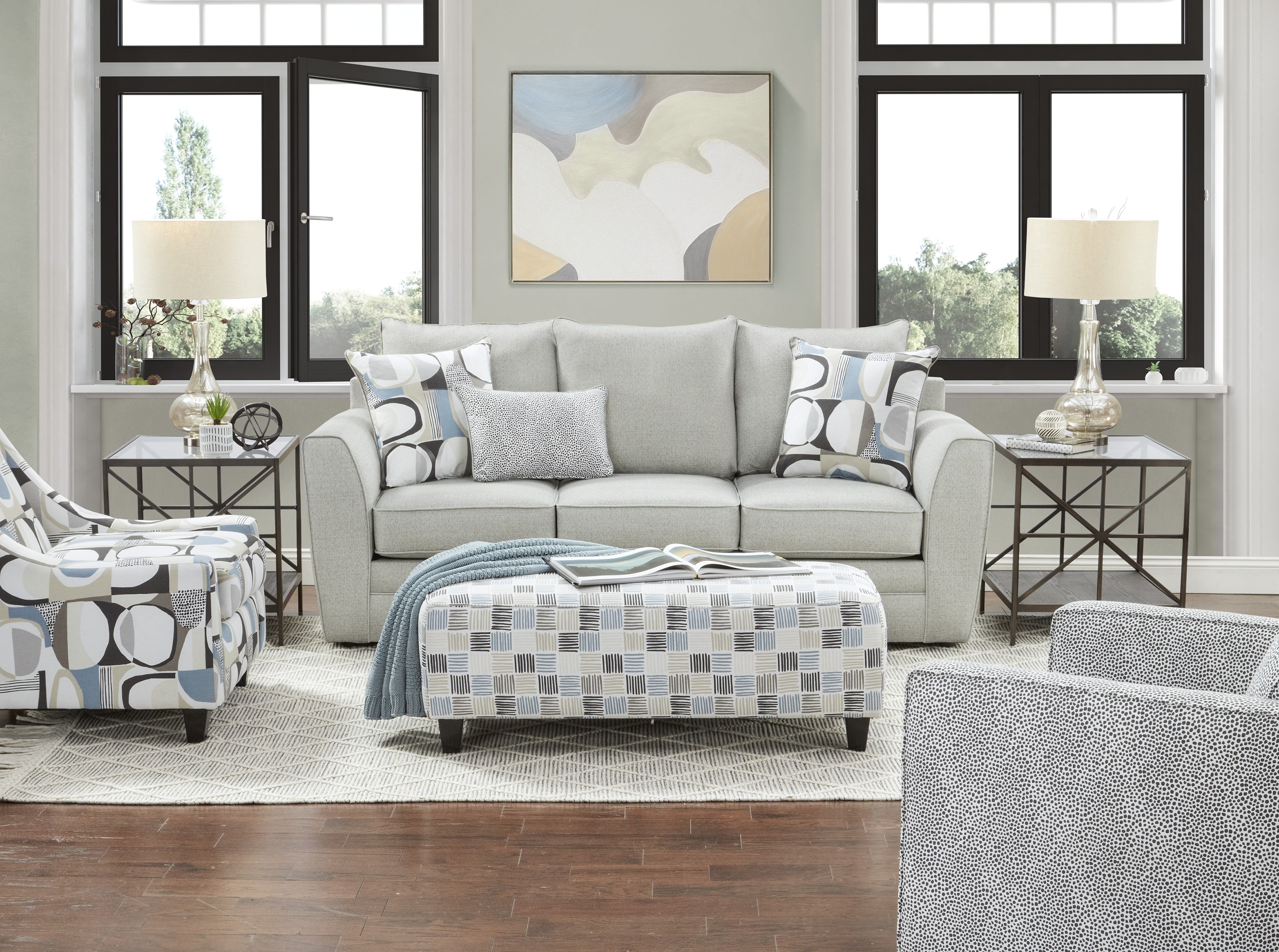 A marriage of soft contemporary aesthetics and exceptional comfort, the 3000 collection brings a lot to the table. Generously scaled welted and rounded flair arms bridge the gap between contemporary and traditional. Offering three seat and back cushions all trimmed in round welt for an air of refinement. Two oversized toss pillows are reminiscent of Matisse's "cut out" design.  The contemporary and simplistic look of this design partnered with eye-catching colors makes this group pop.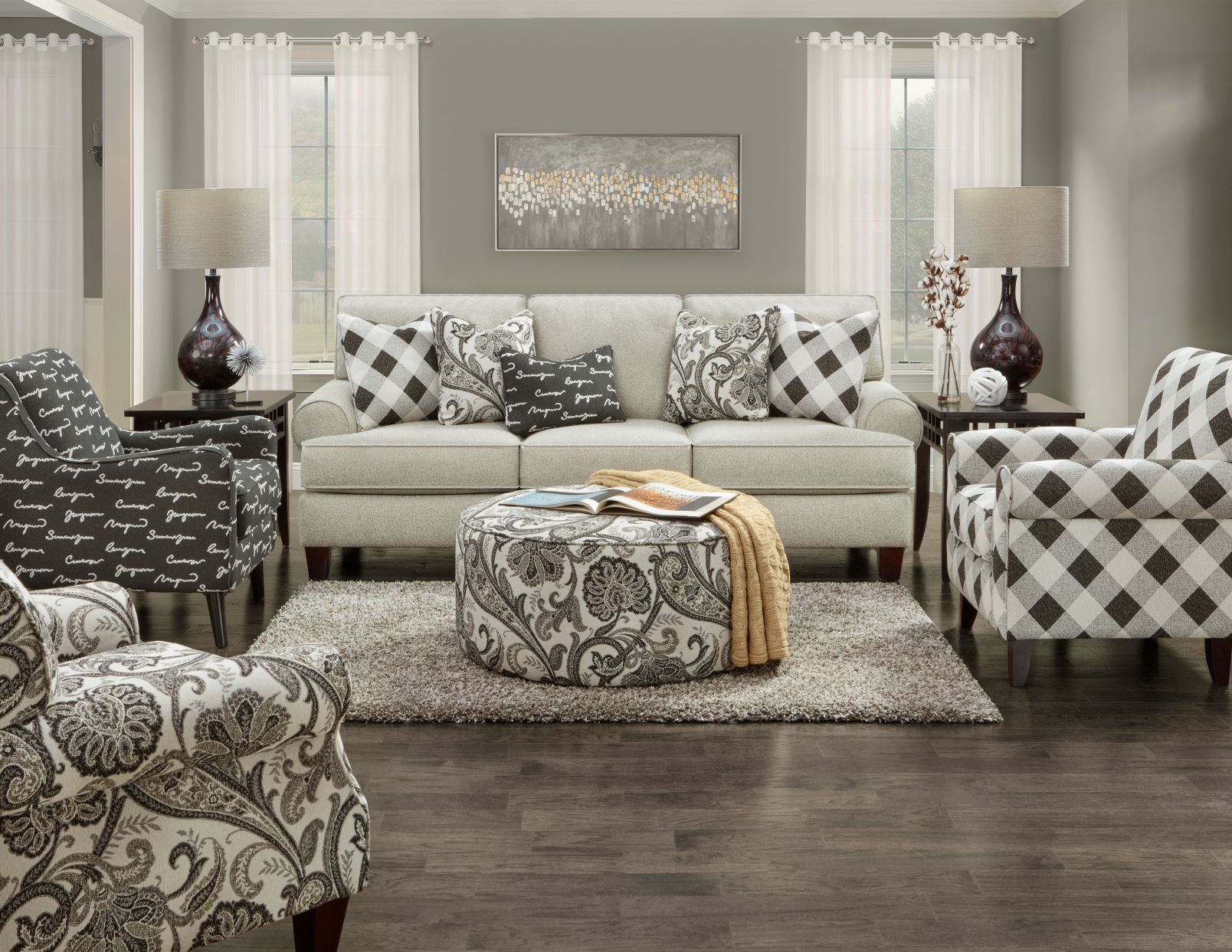 With a complete range of pieces, the Shadowfax Dove Fusion Collection allows you to seat all your friends and family in style. This black and white sofa set offers rich cushioning and a traditional profile for reliable comfort. Meanwhile, the bold plaid and intricate floral fabric designs add the striking touch you would expect from modern designer furniture.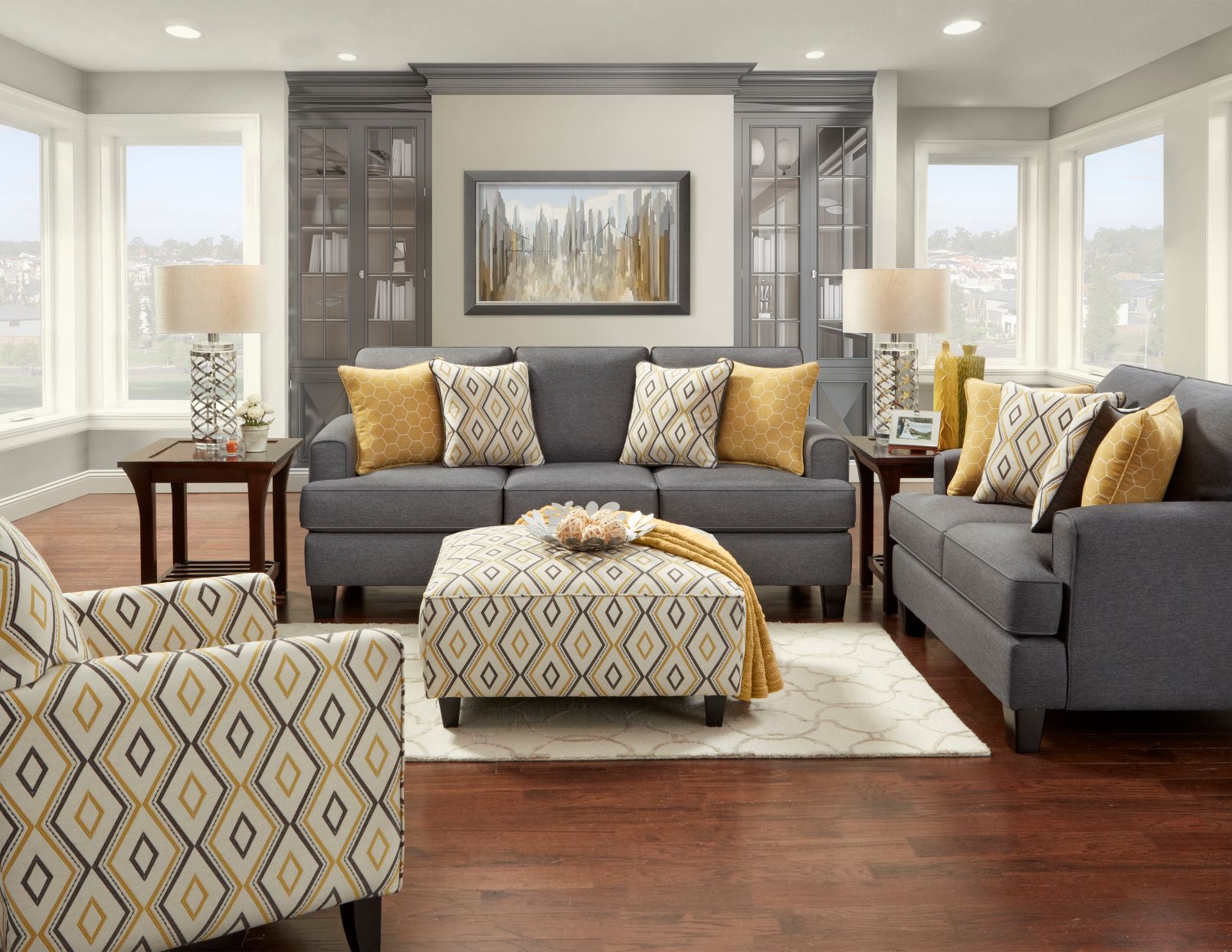 The Maxwell Gray Dijon Fusion Collection is a stunning modern living room set. With a bold combination of dark gray, black, and yellow, this sofa is designed to be the centerpiece of an exciting and contemporary living space. The yellow and gray accent chair will add an extra modern pop to your home and is guaranteed to turn the heads of all your guests.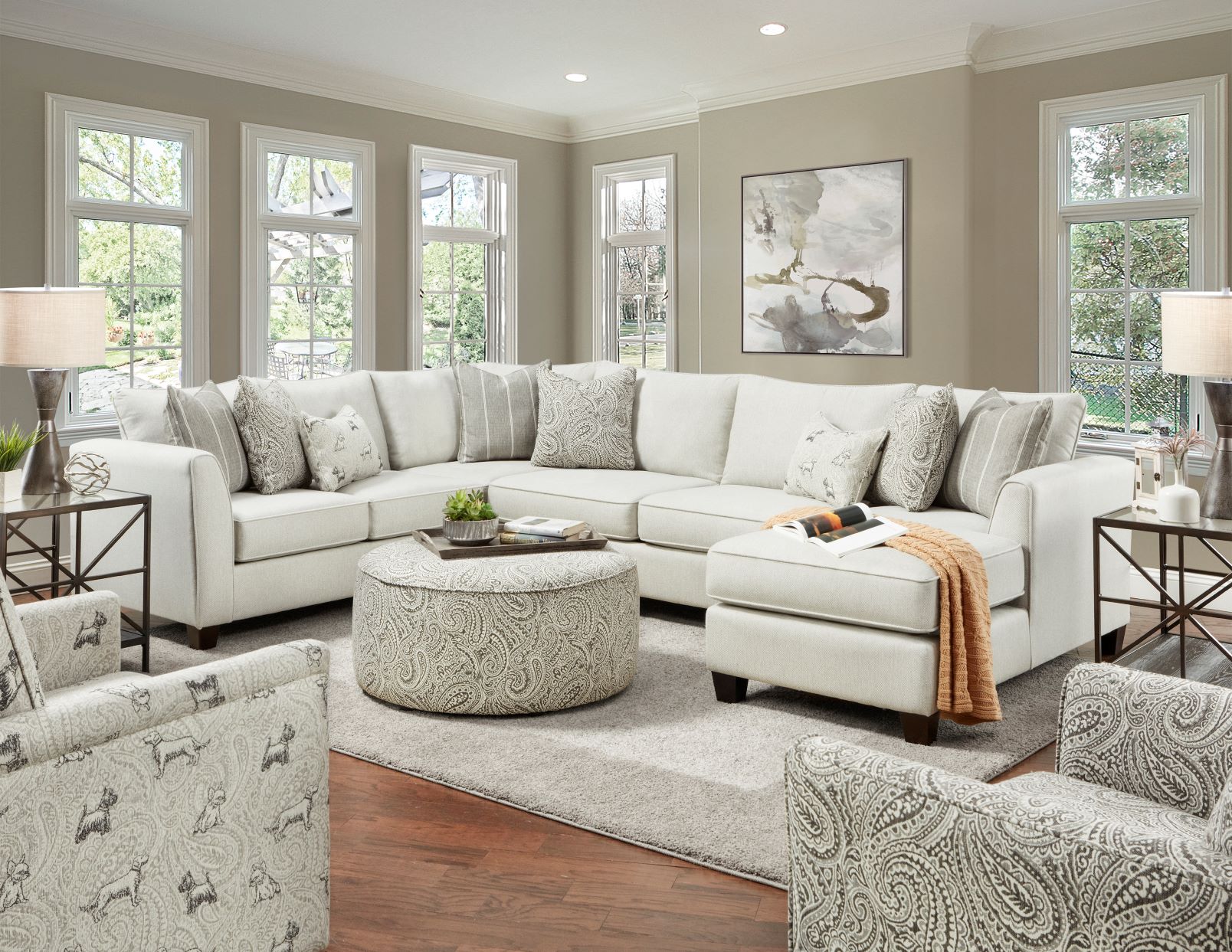 With so many versatile pieces, the Homecoming Stone Fusion Collection can be customized to any space. This light gray living room set is ideal for entertainers and families alike, thanks to its welcoming style and durable Revolution Performance Fabric. The soft upholstery is stain-resistant, easy to clean, and sourced and woven in the USA.
Looking for classic living room inspiration? Look no further than the Romero Sterling Fusion Collection. This herringbone gray sofa set features natural nails, a pleated roll arm, and eye-catching goldenrod accents. The traditional design is combined with innovative Revolution Performance Fabric, which ensures your pieces stay clean and stain-free.
Infuse modern southwest decor into your home with the Raymour Ash Fusion collection. Geometric patterns in triangular and checkerboard designs combine with natural earth tones to create a soothing Fusion furniture sectional. A variety of available pieces allow this collection to blend into any room for all sorts of occasions. 
The Theron Indigo Fusion collection is a daringly beautiful modern living room set. Perhaps the most modern of all the Fusion collections, it is marked by vibrant colors of mustard, navy blue, orange, and red. Bold, geometric designs and tall tapered legs make it a stand-out centerpiece that you can both relax in and talk about for hours.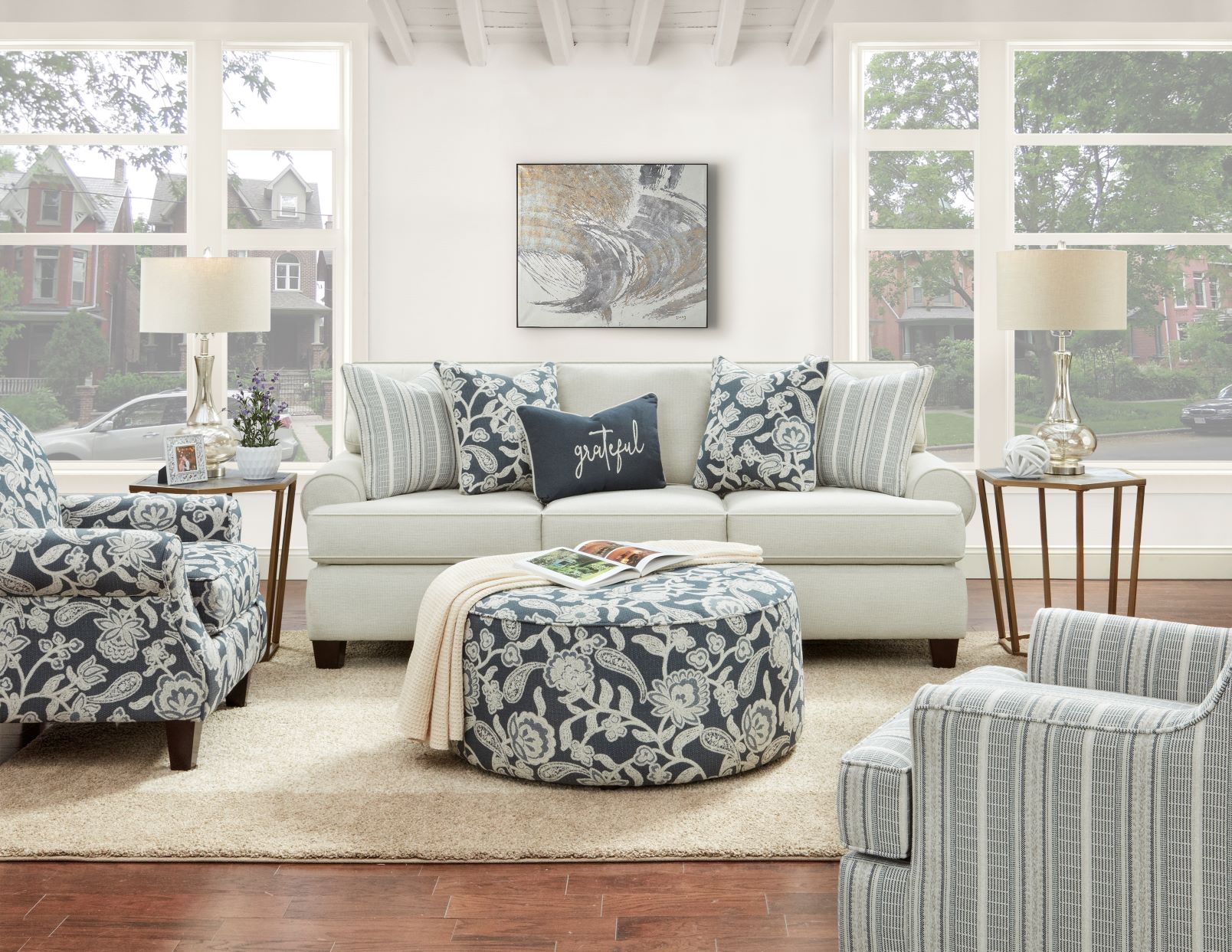 Drift away into sweet bliss with the Awesome Oatmeal Fusion collection. This three seater, living room sofa set is made of Revolution Performance fabric in hues of cream, dark blue, and light blue. A blend of striped and floral prints combine with a custom "Grateful" Kidney pillow to complete the elegant ensemble.
A grand home deserves nothing but the most lavish furniture and that's what Truth or Dare Spice has to offer. This beige living room set boasts durable Revolution fabric in rich tones of tan, navy blue, and white. Dark studding detail and an array of ornate accent patterns emphasize a traditional and serene motif throughout the entire Fusion collection.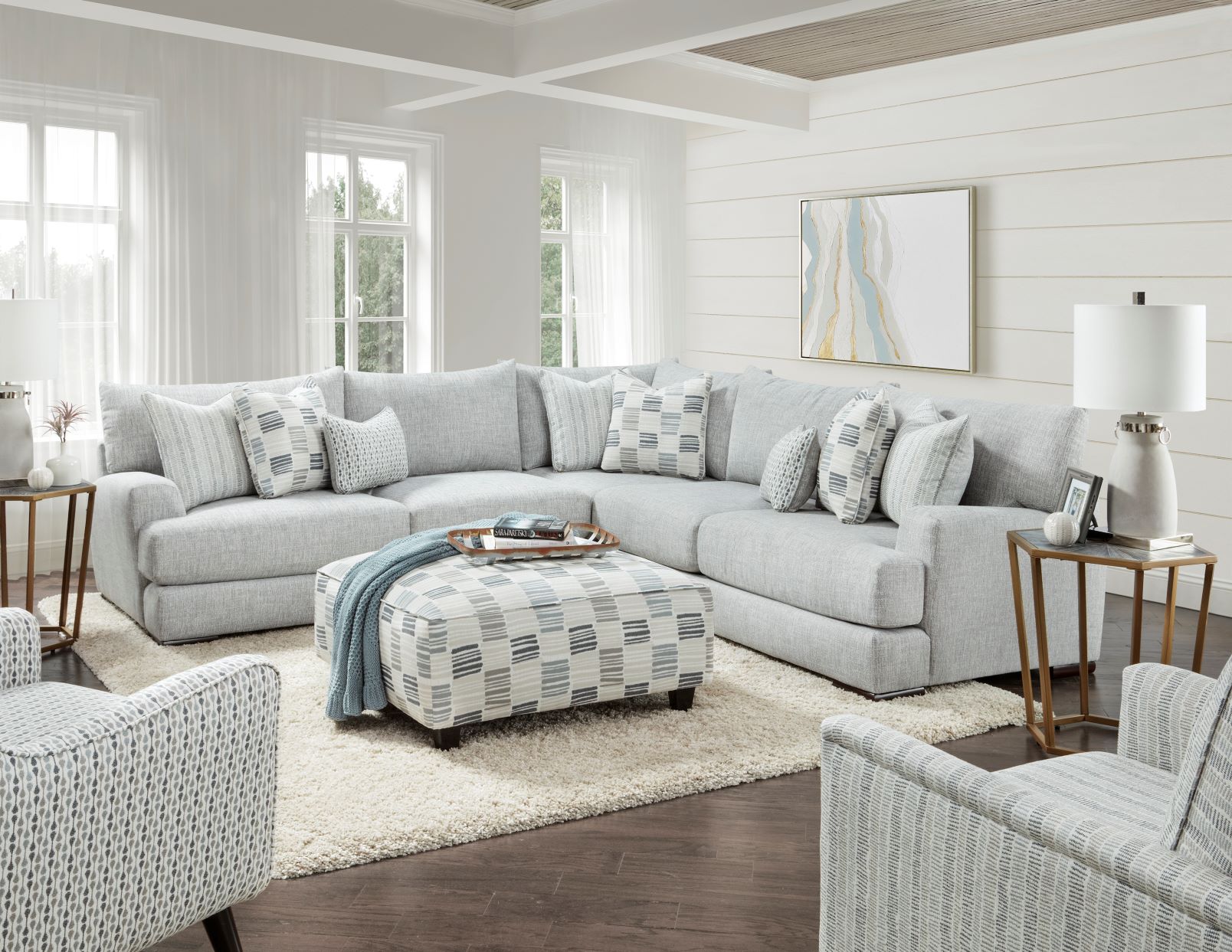 If you've been looking for designer furniture to liven up your home's white walls, Entice Paver is a wonderful place to start. This light grey Fusion collection is accented with beautiful hues of blue and white that create a modern vibe. Multiple configuration options and cozy, deep seats add functionality and comfort to this collection's charm.