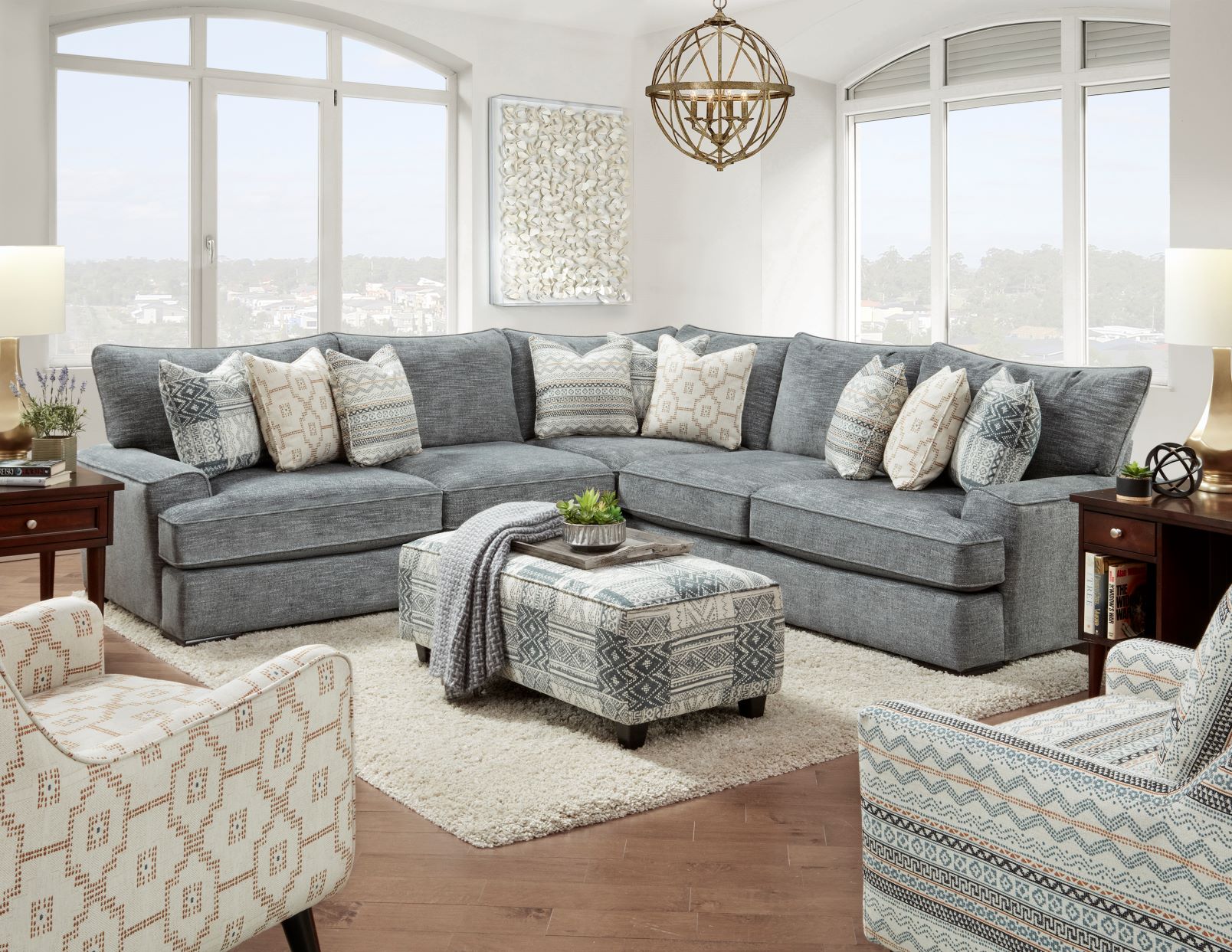 The Handwoven Slate Fusion Collection offers out-of-this-world comfort without sacrificing an inch of style. This Fusion sectional features gel-wrapped cushions, so you can sink into the coziest seating you've ever experienced. Meanwhile, the gray patterned fabric gives a distinctive touch to this eye-catching designer furniture set.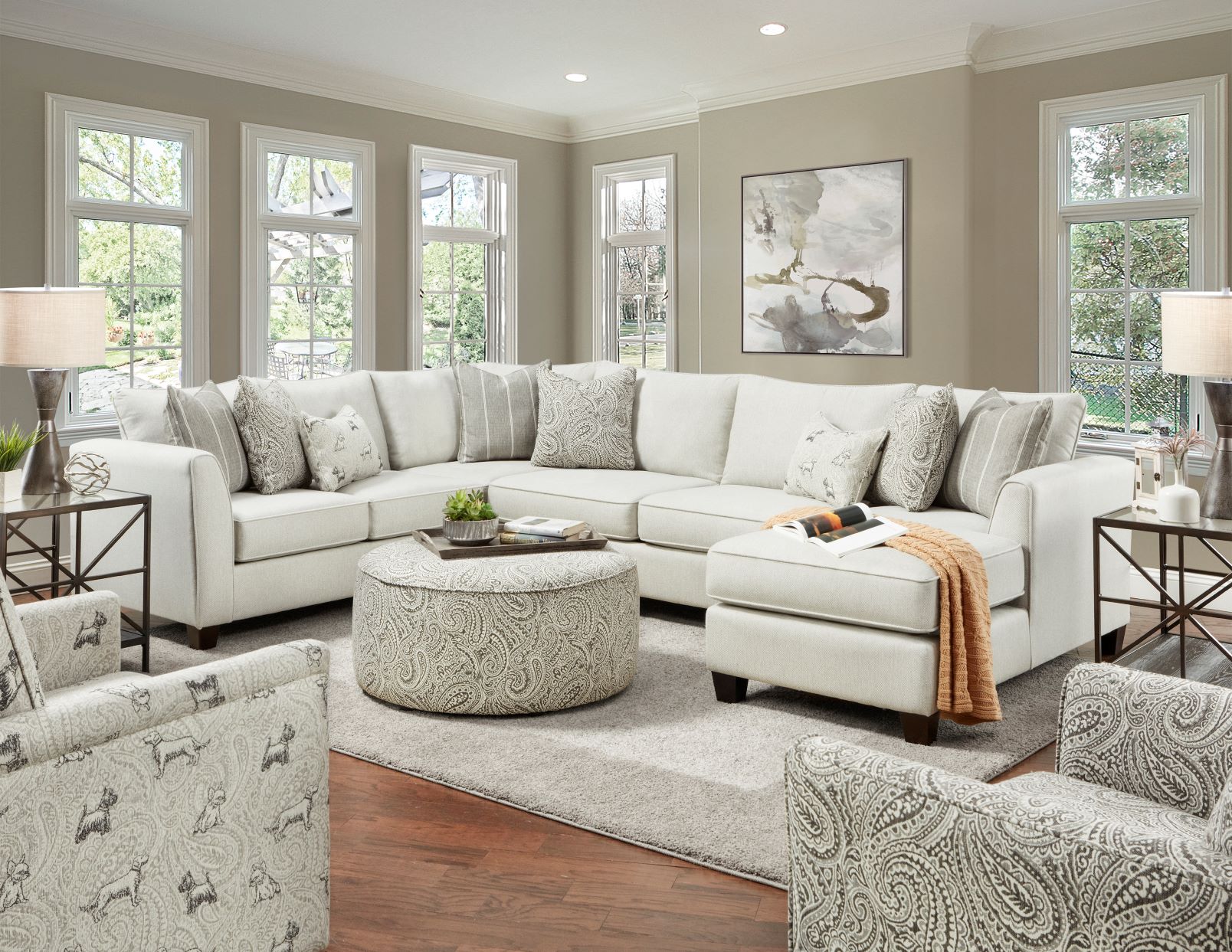 With so many versatile pieces, the Homecoming Stone Fusion Collection can be customized to any space. This light gray living room set is ideal for entertainers and families alike, thanks to its welcoming style and durable Revolution Performance Fabric. The soft upholstery is stain-resistant, easy to clean, and sourced and woven in the USA.
The Monroe Ash Fusion collection defines sophisticated designer furniture with its striking color scheme and sleek style. Plush, light gray fabric is enhanced with bright accent shades of orange, white, and polka dot patterning. This low-profile collection comes with a multitude of available pieces that make it customizable to any space.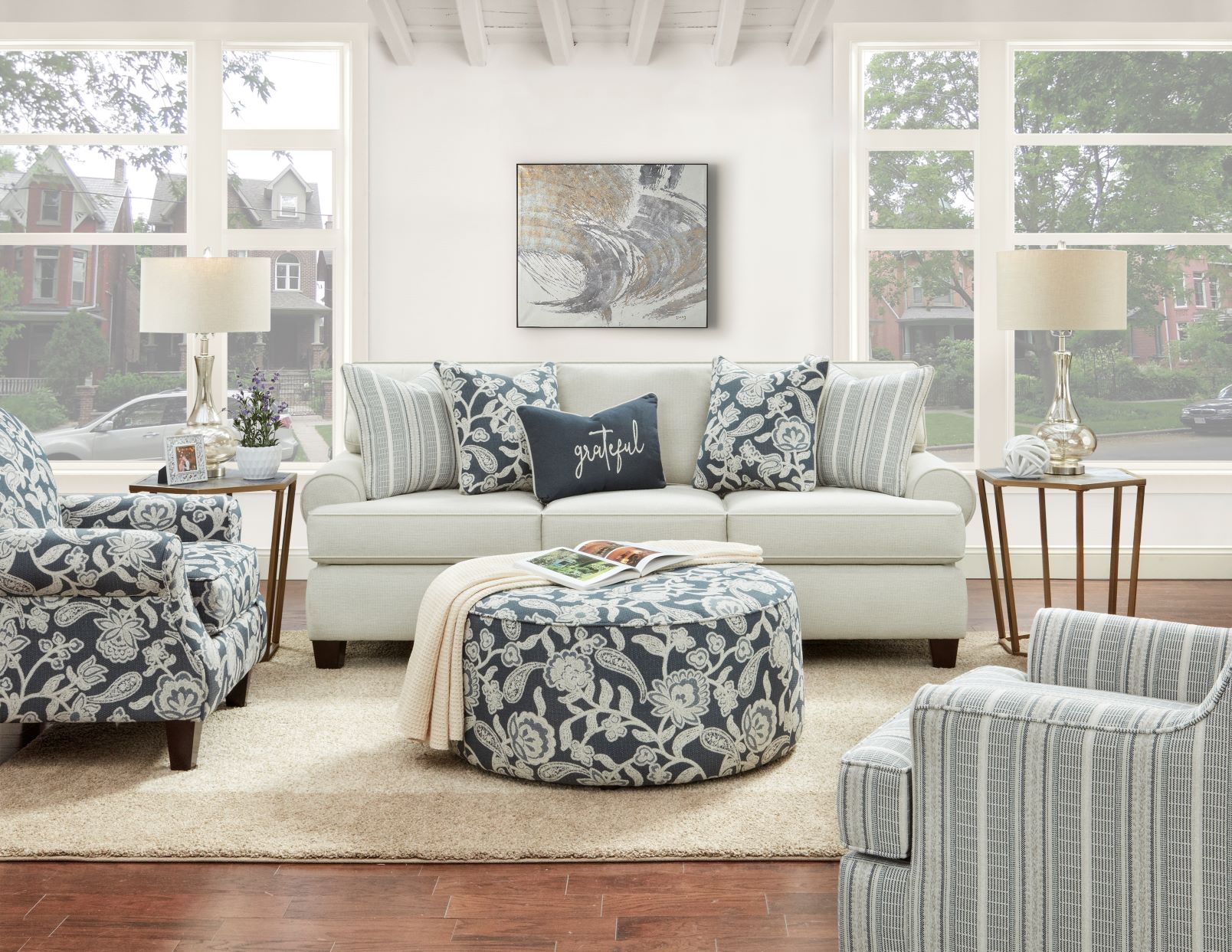 Drift away into sweet bliss with the Awesome Oatmeal Fusion collection. This three seater, living room sofa set is made of Revolution Performance fabric in hues of cream, dark blue, and light blue. A blend of striped and floral prints combine with a custom "Grateful" Kidney pillow to complete the elegant ensemble.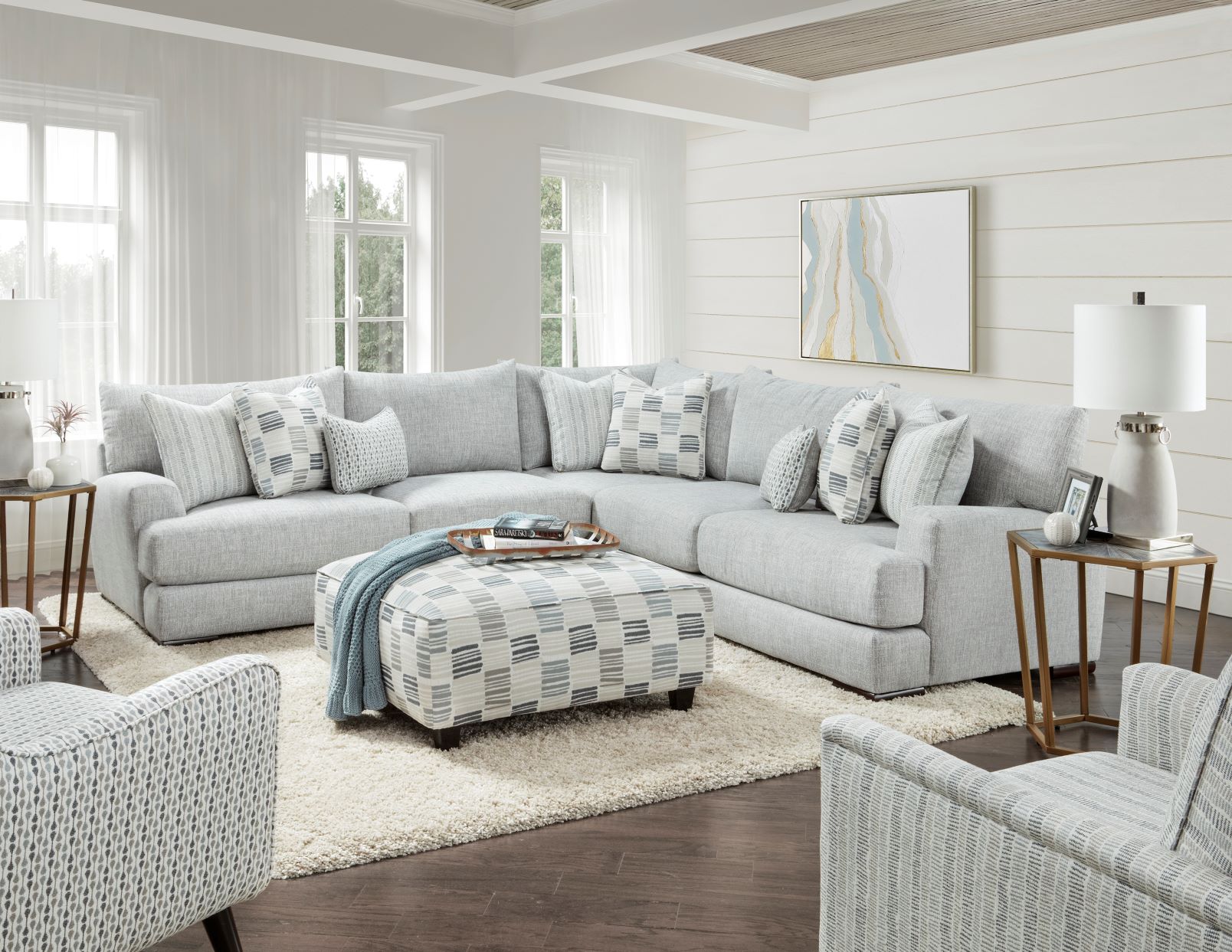 If you've been looking for designer furniture to liven up your home's white walls, Entice Paver is a wonderful place to start. This light grey Fusion collection is accented with beautiful hues of blue and white that create a modern vibe. Multiple configuration options and cozy, deep seats add functionality and comfort to this collection's charm.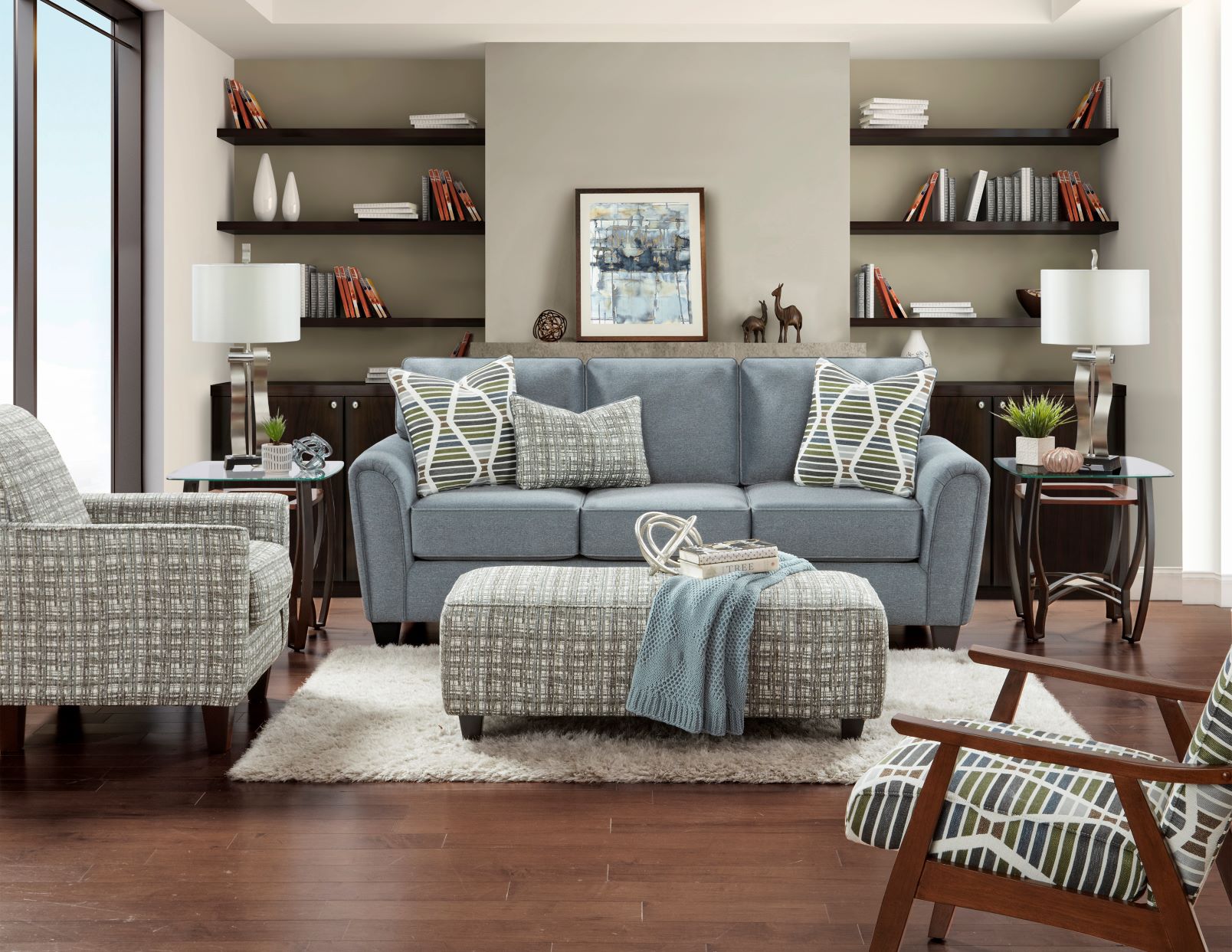 Macarena Marine is a modern living room set with a distinctive style. This Fusion collection blends fabrics of solid blue, distressed plaid, and geometric patterns that leave you with a unique centerpiece for your living room. Tapered wooden legs and luxurious upholstery bring it all together for a sophisticated feel.
Incorporate a homey, fresh design into your home with Felix Dune. This off-white sofa set mixes a blue and beige color palette with plaid and botanical prints to create a chic masterpiece. Cuddle up on the plush cushions and embrace the modern serenity of this Fusion collection.
The Evenings Stone Fusion collection is a monochromatic heaven of light grey and white. Button tufting along seat backs, botanical prints, and geometric patterns give this Fusion sofa set individuality only seen in quality furniture. Supported by long, tapered wooden legs and adorned with rich upholstery, this collection is the definition of subtle sophistication.
The Sweater Bone collection is the elegant centerpiece your living room has been missing. Coastal hues of blue, white, and gray mesh together in durable, Revolution Performance fabric. Beautiful silver stud detailing, rolled arms, and Paisley patterns create a Fusion sofa set that is distinguished and graceful with a vintage touch.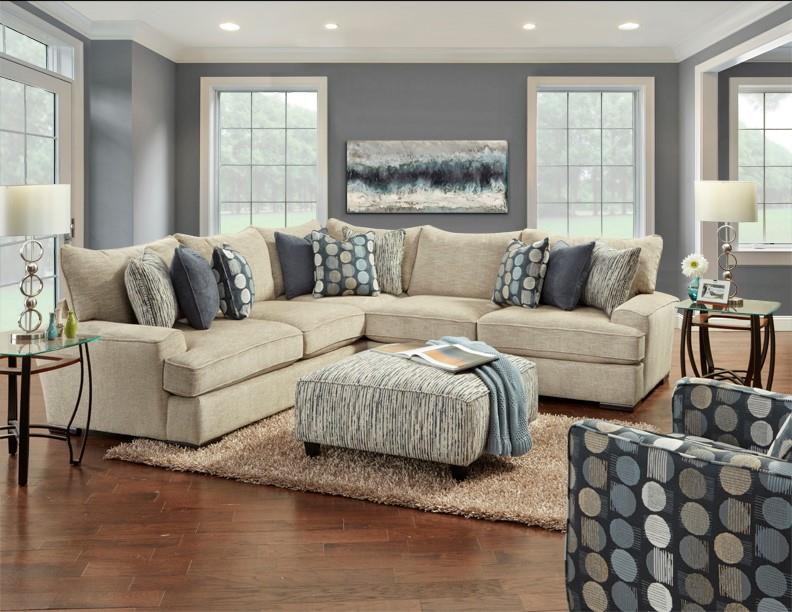 The Handwoven Linen collection is much more than an ordinary beige living room set. With luxurious gel-wrapped cushions for maximum comfort and a timeless texture, this Fusion collection is as stunning as it is serene. Pops of color in the shades of blue, green, and gray bring life to each piece of furniture.