Looking at the same home decor for months or years can get a little bland and boring. While it's nice to be able to go out and buy brand new furnishings, that's not always doable when you're on a budget. However, a little creativity and brainstorming can help you save money and freshen up your space without breaking the bank. Bring new life to your home by following these 15 ways to decorate with what you have!
Frame Family Pictures
Every home should have at least some sentimental decor and family pictures are a perfect option. Whether you have pictures sitting around or need to go get them developed, gather up a few favorites and frame them. Framed photos can transform an ordinary living room wall into a beautiful collage that tells a story. If you need a little inspiration, read our guide on how and where to hang wall art.
Repaint Furniture
Feel like your furniture is getting pretty stale? This budget-friendly decorating idea is sure to liven up any dresser or bookshelf. Simply add a fresh coat of paint to any wooden furniture piece and you'll be shocked at the transformation. If you're feeling really adventurous, try choosing a bright color or something out of the ordinary to shake things up.
Switch Out Pillow Covers
Pillows often get overlooked when you're thinking of ways to decorate with what you have, but they're a hidden gem you don't want to miss. Rather than going to the store to buy new ones, try replacing them with a different pillow cover. This will save you lots of money (especially if you're changing quite a few pillows), while also bringing a stylish accent to every room.
Try a DIY Bar
Having a bar inside your house comes in handy when you have parties, but can cost a pretty penny if you go the whole nine yards. Instead, you can decorate with what you have and create a DIY bar that'll work just as great for happy hour.
Look around your home and gather up a table tamp, bookcase, and spare drinking glasses to set up your very own bar. You can store the glasses on the shelves and display your fine wine and whiskey on top. If you happen to have extra seating, you can also place those on either side for your guests.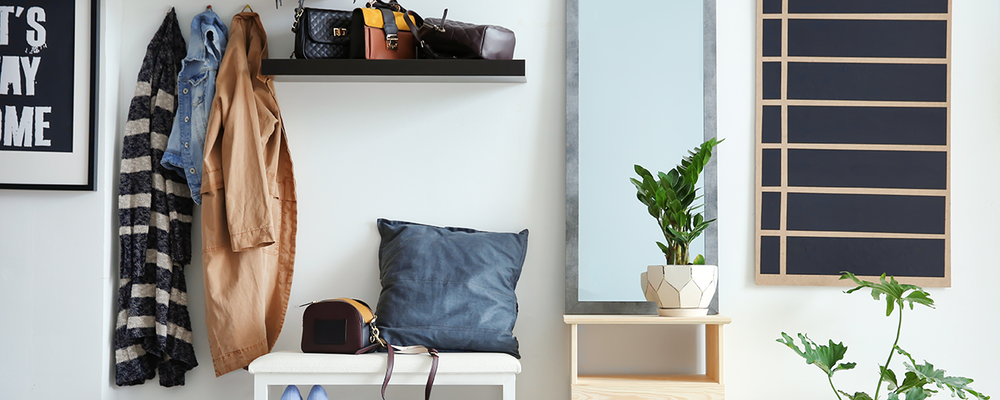 Dress Up Your Entryway
In Feng Shui design, the entryway is extremely important because it's where energy enters your home. If you haven't already, give this area some much needed love by decorating it with a few household items like a framed photo or art piece, a spare bench, and a large houseplant. You can even dress up the bench with stacks of books you have cooped up in your room for an added touch.
Show Off Collectibles
Mixing old with new is a popular interior design trend that goes hand in hand with budget-friendly decorating because you can use what you already have. Head to your attic and rummage through those family heirlooms or your favorite collectibles and incorporate them into your home's design. Antique decor is wonderful because it means something to you and gives your home character.
Give Glass Bottles New Life
Glass often gets tossed to the side and thrown in the recycling, but it can be given new life with a little creativity! Collect bottles, vases, or vessels in similar colors and display them as a collection on your mantle or dining room table. Look for bottles with interesting shapes and have each piece vary in size to create contrast. Add a floral touch with flowers in each vase!
Bring the Outdoors In
If you have a backyard full of outdoor decor, you may want to consider bringing some of that inside — especially during the winter months. Give garden stools and bistro seating a new purpose by incorporating them into your living room or dining room. This budget-friendly decorating tip will help your outdoor furniture last longer, while also giving the inside of your home a new look!
Remove Cabinet Doors
Open shelving is dominating kitchens across the country right now and you can make it happen in your home without spending hundreds of dollars. Simply remove your cabinet doors and touch up the inside shelving for a complete makeover that you'll love! You can use this opportunity to repaint your cabinets and organize your dishware, so that the finished product looks stylish and tidy.
Accessorize Your Coffee Table
Does your coffee table have any decor on it besides TV remotes and coasters? If not, it's time to decorate with what you have. Accessorize your table with hardcover books off the shelf to create an interesting tablescape. Plants, candles, and glass collections are other decor pieces that will make this statement table pop.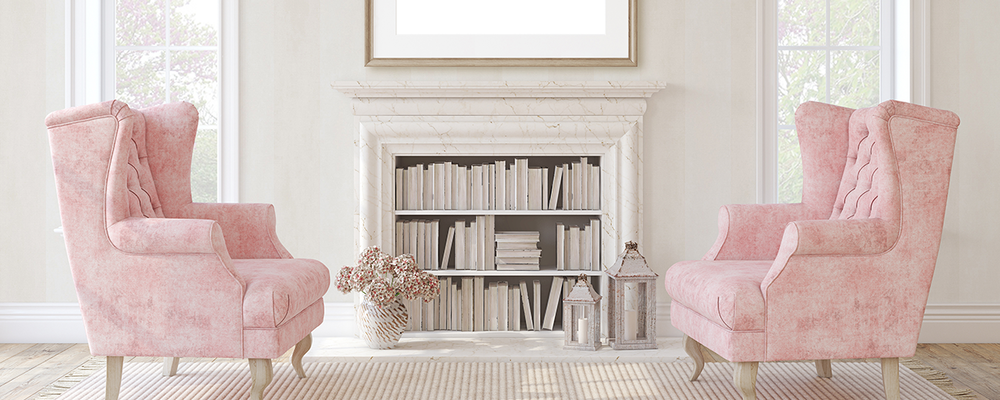 Fill Your Fireplace
For fireplaces that go untouched, take advantage of the space by filling it with budget-friendly decorating items like books, candles, vases, and potted plants. Arranging these items will bring interest and color to the space and give you the chance to display decor you normally wouldn't. Make the most of this area when the holidays come around too!
Spice Up Office Supplies
Your office space doesn't need to have a dull, corporate vibe to it. Help style the room by beautifying office supplies like file boxes and magazine holders with scraps of wallpaper or wrapping paper. Depending on your style preferences, you can choose designs with bold patterns and colors that bring vibrant accents to the room.
Display Your Kids' Art
What better way to decorate with what you have then by displaying the most meaningful decor there is: children's art. Frame their finger paintings and construction paper creations and hang them along your hallways or within other rooms of your home. Sculptures and other items can be used as shelf decor. This allows you to enjoy your kids' creations rather than tucking them away in boxes.
Change Up Throw Blankets
Changing throw blankets is a great way to freshen up your space throughout the year. Grab blankets from your bedroom chest and drape them over your bed, couches, and chairs to give a subtle texture and color change. While you're at it, you can switch out throw pillows to mix up the patterns and colors in each space, too.
Rearrange Your Furniture
One last tip for home decorating ideas on a budget is to make the most of the furniture sitting right in front of you! Sometimes all you need to do is rearrange your furniture to experience a wild transformation. When rearranging, keep in mind that furniture should be moved away from the wall and set into groupings. This makes the room feel larger and encourages conversation.
Reinventing your space is a fun and exciting process that doesn't have to loosen your purse strings. Follow these 15 ways to decorate with what you have and enjoy the transformation while staying within your budget! For more budget-friendly home projects, take a look at our tips for organizing your kitchen.