After arranging all of the major pieces of furniture inside your home, there are always those awkward empty spaces left over that you don't know quite what to do with. Rather than leave them bare, follow these corner decor ideas for inspiration on how to style these nooks and crannies.
Corner Decor Ideas
Floating Shelves
Need extra space for framed photos, vases, and books? Floating shelves are not only a great storage solution, but they are also a hot decor trend in the interior design world. Add them to your empty spaces and you've got yourself stylish shelves for your living room corners or even your bedroom.
Tiny Office Nook
Not every home has the square footage for an office room, but that doesn't mean you can't create a small office nook. If the location is fitting, transform your empty space into a workstation by setting up a desk and chair. Try to match the style of the room so that the nook adds to the decor of the space rather than detracts from it.
Stylish Storage Pieces
This corner decor idea is a must if you find yourself with so much stuff you don't know what to do with it all. Combine function and style by incorporating small chest drawers, armoires, sideboards, and console tables into the empty corners of your rooms. These furnishings give you both a beautiful display and a place to store your household items.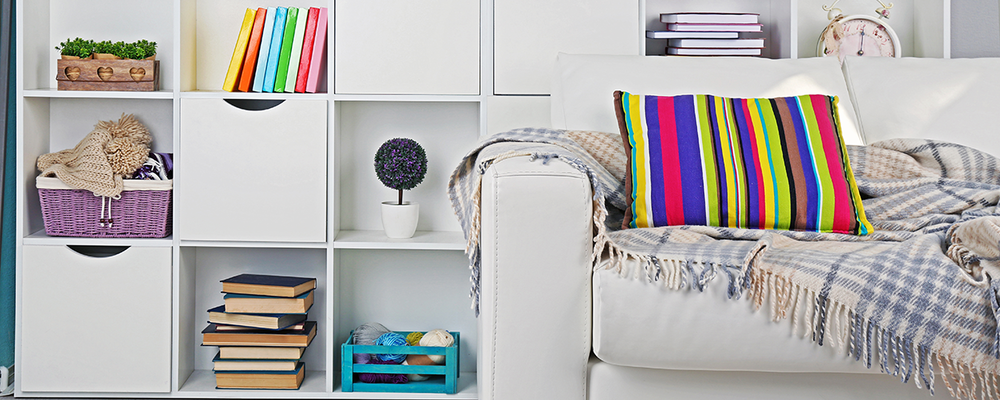 Studious Bookcase
Put those old books to use by showing them off in your very own bookcase. Go as big or small as you want to create a colorful decor piece for almost any corner in your home. You can even mix in other decorative items like flowers and photos to give the shelving more character.
Sophisticated Bar Cart
You don't need an at-home bar to display your collection of wines and spirits. Grab your liquor and glasses from the kitchen cabinet and show them off on a stylish bar cart that easily fits into a tight corner. Next time you celebrate happy hour, entertaining will be a breeze!
Additional Closet Space
Who said clothing needs to be put away in drawers and walk-in closets? Exposed closets are all the rage right now and they give you the chance to turn your clothes into a fashionable decor piece. All you need for this bedroom corner idea is a clothing rack and your wardrobe to create a fun and functional addition to your space.
Kids' Play Corner
Give your kids the play area they've been begging for by designating that corner space as an enchanting playhouse. Use easy-to-remove washi tape to create the outline of a playhouse on the walls and install a few shelves within it to hold some of their favorite toys. This gives them the creative space to play, while also taking up as little room as possible.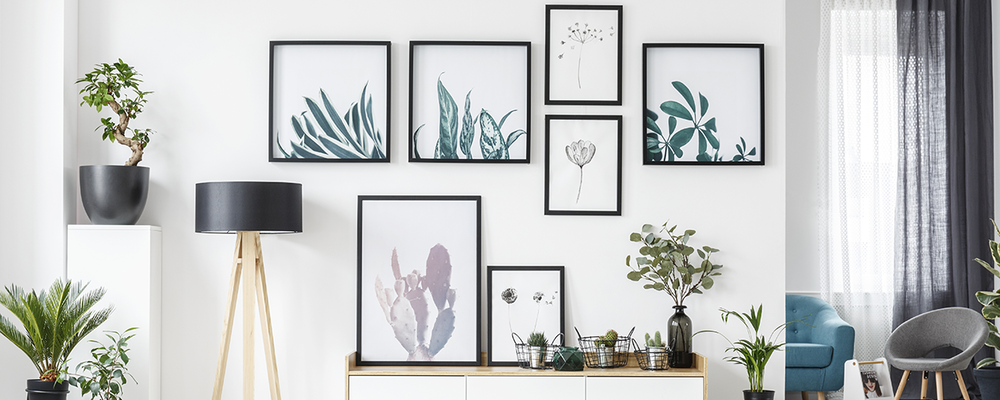 DIY Gallery Wall
You don't need to go to an art museum to enjoy a gallery experience. Bring conversation starters to your living room corner by curating your own DIY gallery wall with framed prints or paintings. This can turn an ordinary wall corner into the focal point of a room with little to no cost.
Artwork Display
In addition to a gallery wall, you can get in tune with your artistic side by dressing up corners with other types of artwork like sculptures and ceramics. Don't be afraid to bring in abstract pieces or art of different mediums because they can bring interest and contrast that your run-of-the-mill photos do not.
Gorgeous Greenery
The houseplant trend is in full bloom and it just so happens to be another creative corner decor idea. Find corners of your home near natural light and entwine them with any plant you think you have the time and desire to care for — or go for faux plants instead! Whether you feel like being bold with large-leaf plants or prefer a unique hanging terrarium, the finished product is sure to bring new life to your space.
Luminous Lighting
Layered lighting is one of the golden principles of interior design, and chances are, if you have empty corners that need filling, lighting is the perfect solution. Before deciding on the type of lighting you want, consider the area it will be in and the function it will serve.
Floor lamps are great for living room corners, pendant lights are best for illumination of art, and table lamps do wonders for decorative side tables.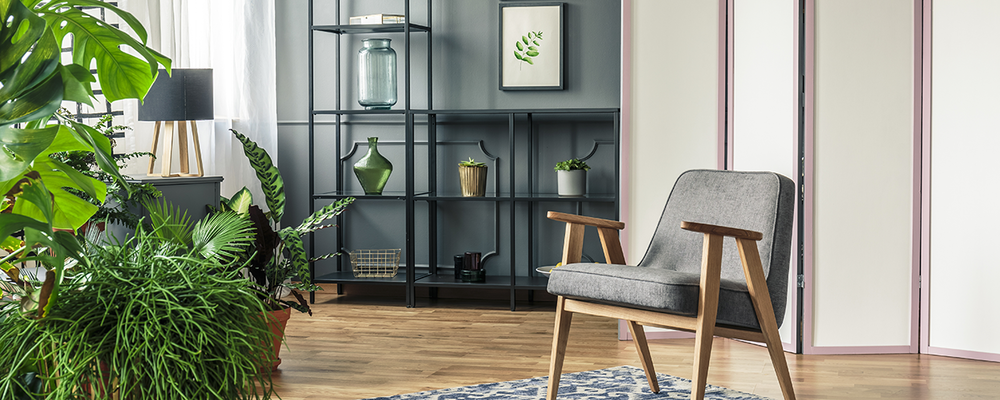 Decorative Screen
Does your home have high ceilings? Room separating screens are a great addition to your space because they're known for complementing homes with high walls. Not only do they emphasize the impressive height of your ceilings, they also decorate your walls without you even touching them.
Keep in mind that screens are corner decor best used in larger rooms because they take up quite a bit of space.
Window Seat
Take advantage of natural light by creating a cozy seat where your window touches the corner of the room. An upholstered bench and some comfy throw pillows are all you need to transform an everyday window into a nook for reading and drinking coffee.
Statement Furnishings
When in doubt, furnish it out! Sometimes the simplest solutions to the empty corner dilemma reside in a statement piece. Which kind of statement piece you choose depends entirely on how much space you have. For a larger room, you may want to consider a sofa, bench, or side table. For tinier spaces, downsize a bit by including a statement chair or accent table topped with a decorative lamp.
To find a stylish piece of furniture that livens up your corner decor, take a look at our eye-catching collections.