Need to find a creative way to fill up your home's empty wall space? DIY gallery walls are a unique and easy way to express your personality and decorate your home in a flash. From defining what a gallery wall is to tips on how to create one in your own home, here's what you should know before diving into this decor project.
What Is a Gallery Wall?
You have probably heard the term "gallery wall" many times before (especially if you're a fan of interior decorating), but you might not know exactly what it is. 
In the most basic sense, a gallery wall is a collection of decor items hung in a grouping. A beautiful gallery wall is often associated with artwork, but it's important to remember that it can consist of many different items. From framed artwork to photographs and personal treasures, a gallery wall should be made up of items that you love.
Helpful Gallery Wall Tips
Before you dive into curating a DIY gallery wall within your home, it's a good idea to take a step back and create a loose strategy for how you want your wall to look. Consider these gallery wall tips to help guide your vision!
Plan Before You Hang
As with any DIY home project, it's smart to plan before you implement. Rather than hang your art as you go, lay your gallery wall items on the floor to get a better idea of what the finished product will look like. This will save you time and lots of holes in your wall!
While you have your arrangement spread out on the floor, be sure to take a picture for easy referencing as you go through the process of hanging your items.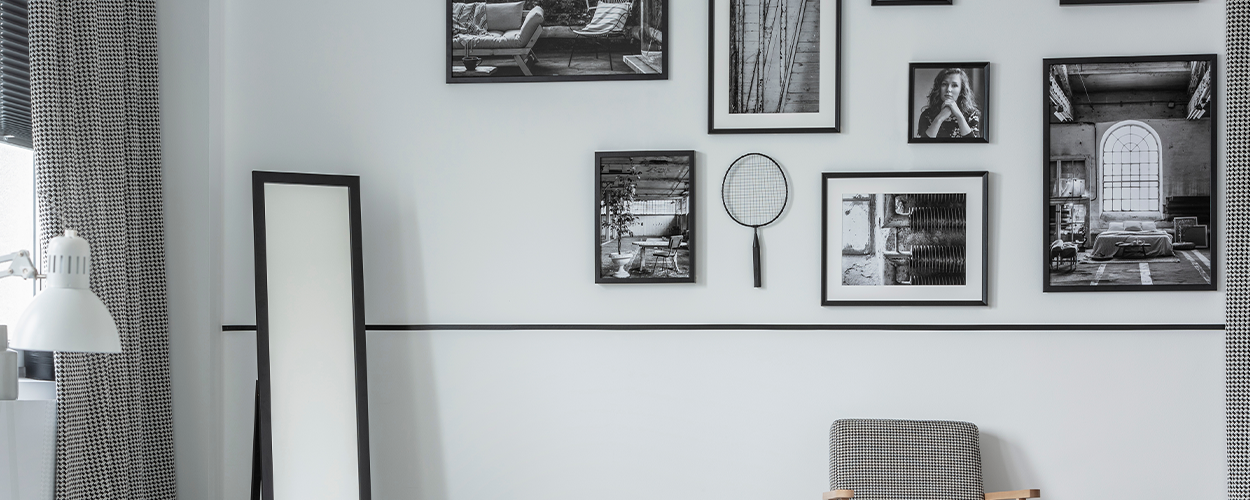 Grow from the Bottom
One of the key strategies to creating a beautiful gallery wall is expanding up not down. Start hanging your framed artwork from the bottom level of your gallery wall and work your way up. This allows you more freedom to grow your gallery wall without running out of space. 
If you're adding a gallery wall above your sofa, a good rule-of-thumb is to start about six inches from the back edge of the furniture.
Level It Up
There's nothing like a row of crooked frames to completely throw off the aesthetics of a gallery wall. If you choose to eyeball it and the bottom row is slanted, the entire gallery wall will be off.  
Instead of relying on your eyes to hang your decor, use a level for at least the first few frames. It will be well worth it in the end!
Keep that Spacing Uniform
Make your DIY gallery wall as eclectic as you want, but focus on uniformity when it comes to spacing. Leaving the same amount of space in between your wall decor will prevent the gallery wall from looking sloppy and enhance the overall look.
Normally, 2-inch spacing is ideal for gallery walls, but there is some wiggle room. If you want to push the limits on spacing, keep in mind the five inch rule. Most interior designers agree that five or more inches of space between your frames is too much and ends up making your wall appear haphazard.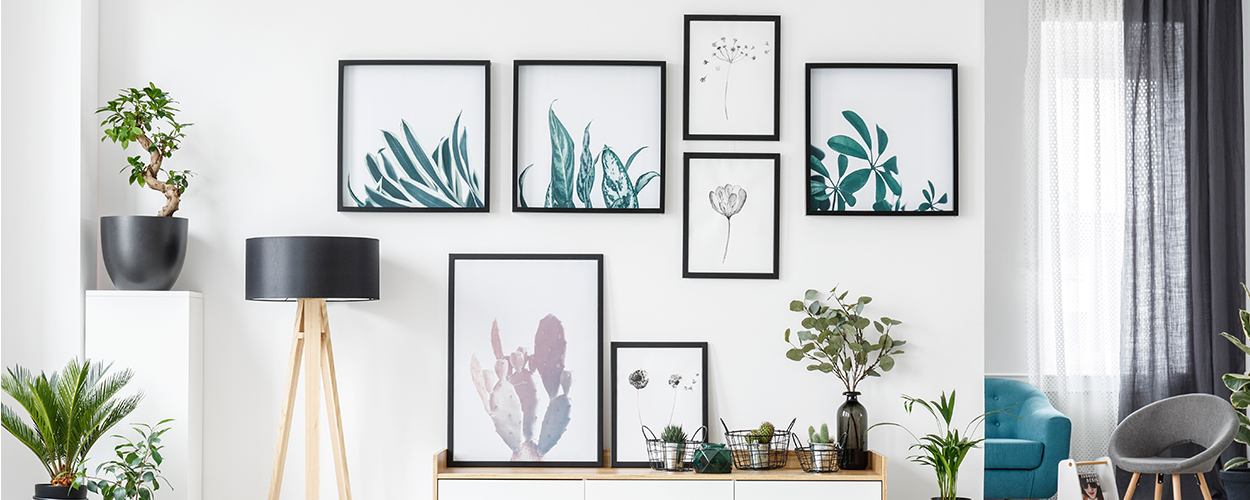 Establish a Theme
While it's not crucial to have a theme or central concept, it can dramatically improve the aesthetics of your DIY gallery wall if you do. Incorporating a theme to your wall will help tie it together and give it more purpose.
Draw inspiration from hobbies or sights that you love when brainstorming a theme for your wall. If you love sailing, try a nautical theme. Are you a fan of desert scenery? Include desert motifs like cacti.
Use Tape for Measuring
If you aren't a huge fan of measuring when it comes to hanging wall art, this gallery wall tip is made for you. Put away the rulers and measuring tapes because painter's tape is the only handy tool you'll need.
Simply cut the painter's tape into the amount of space you want between each frame and use the pieces as spacers. Place the spacers between each item as you hang them and voila! This gallery wall tip will speed up the process and make it a lot less frustrating.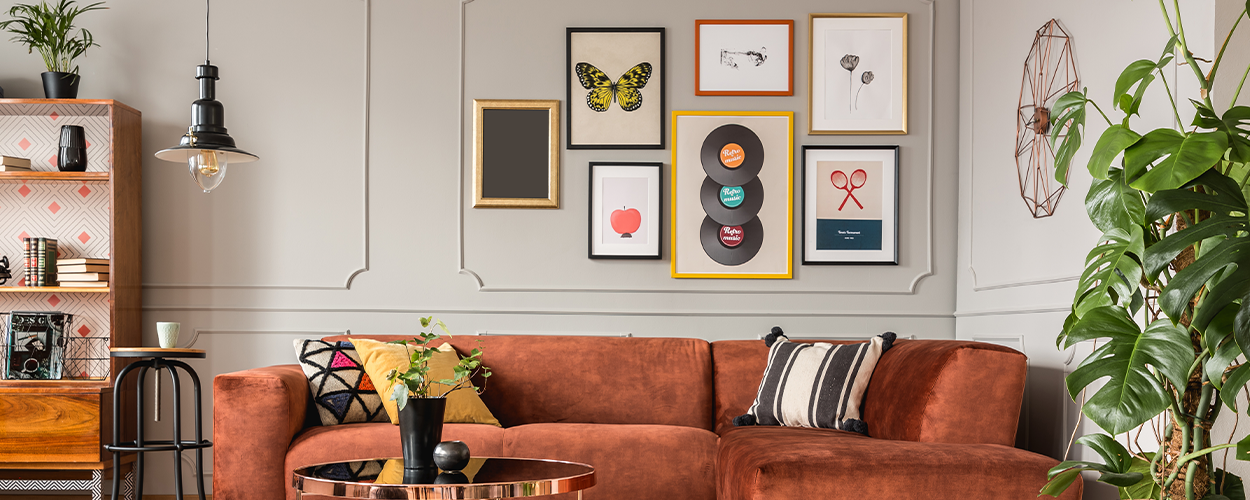 Don't Let Creativity Turn to Chaos
It can be tempting to go wild and let your creativity take over when you're putting together a gallery wall. Even though creativity is encouraged, there should always be structure and strategy behind that creativity. 
First things first, make sure you choose the right spot to curate your DIY gallery wall. It should be placed on a neutral wall that doesn't compete as a focal point or statement piece. A bare, white wall is an ideal location for a gallery wall.
You should also consider your framing color. Sticking to a consistent frame color for your items plays a big role in making your gallery wall feel organized and cohesive. 
Don't forget about the surrounding furniture either. Be sure to tie in colors and interior design style of the entire space. This will help make the gallery wall a beautiful complement to the room rather than a jarring distraction. 
Consider Color 
Much like picking a central theme, choosing a color scheme is an important gallery wall tip. Before you start implementing your gallery wall design, think of what color you want to highlight and base your items around that. Not every piece needs to incorporate your chosen shade, but it should be subtly represented throughout your design.
Need more inspiration for your wall decor? Learn more about the why, where, and how of decorating your walls!