The kitchen is an essential space for every home. Organizing your kitchen can help you make the most of this important room each day, from cooking a romantic dinner to prepping weekday lunches for the family. These kitchen organization ideas can spark your creativity and give you simple solutions for a more functional kitchen.
Kitchen Organization Idea 1: Use Baskets and Bins for Easy Storage
Plastic bins and baskets are a quick and affordable way to organize many kitchen items. Use them to organize spices or condiments, or corral items like vitamins or supplements together. Got a messy stack of plastic food containers in one of your kitchen cabinets? Organize them by stacking the containers in one bin and the lids in another. Now you'll always be able to find the right sized lid!
Baskets and bins are also an ideal solution for organizing your kitchen items if you have deep cabinets. Instead of struggling to find things at the back of the cabinet, just pull out the basket to get to everyday items more easily. You can use different colored bins to organize your storage even more thoroughly.
Kitchen Organization Idea 2: Simplify with See-Through Storage
Use see-through storage so you don't have to waste precious time looking for ingredients. Store dry items like rice, pasta, and beans in clear jars or storage containers, or bulk cereal in clear serial keepers. Baking essentials like sugar, flour, nuts, and dry fruit also work well in clear canisters. Whenever you need an item, all you have to do is open your cabinets and you'll see it right away!
You don't even need to buy new storage items for this kitchen organization hack, as you can repurpose or upcycle items for free and easy storage. Glass condiment jars can be washed and reused as the perfect storage containers.
Kitchen Organization Idea 3: Look to Labels
Labels are another way to organize your kitchen. From blank adhesive labels to fun chalkboard styles, labels can prevent confusion so you don't grab powdered sugar instead of flour. They can also keep things streamlined and unified, especially for families. Simply label bins or containers for after-school snacks, lunch items, easy pantry meals, and more.
Kitchen Organization Idea 4: Make the Most of Magnets
Magnets are one of those kitchen organization hacks you might not think of right away, but they can transform your space. Use magnetic strips to hang items like knives on interior cabinets, or use magnets under the cabinet to store and hold jars filled with frequently used ingredients.
If you don't have room for a spice rack, hang a magnetic strip and place a small magnet on the back of spice jars. You can even hang paper towels on the side of the fridge with a magnetic towel holder to free up space on your countertop.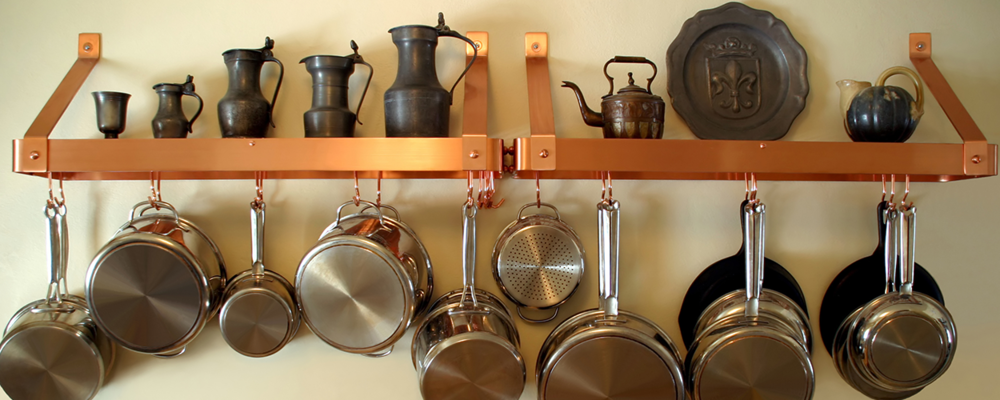 Kitchen Organization Idea 5: Try Hacks With Hooks
When it comes to using hooks in the kitchen, you're only limited by your imagination. These small items can really maximize space, especially in small kitchens.
Hang pots and pans from larger hooks, or use small hooks on the underside of the cabinet for coffee mugs. Use adhesive hooks on the inside of cabinet doors for utensils, strainers, or potholders. You can also use hooks for items like measuring cups or spoons, food thermometers, lunch bags, or reusable water bottles.
Kitchen Organization Idea 6: Create Different Stations
Instead of looking all over the kitchen for items you need for specific tasks or chores, store like items together and create mini stations where everything is in one place. Grouping like-use items together makes everything from food prep to baking easier. Try these ideas for organizing your kitchen into stations:
Create a coffee station with coffee, sugar, and creamer in a cute woven basket.

Make a lunch-packing station with paper bags, sandwich baggies, and lunch snacks in one place.

Set up a baking station with the mixer, flour, sugar, and other common baking items grouped together on a shelf.

Group frequently used food prep items like cutting boards, strainers, and knives together to make preparing dinner easier.
Kitchen Organization Idea 7: Don't Forget the Refrigerator and Freezer
The refrigerator and freezer are important, too. These kitchen organization ideas will help keep your fresh and frozen foods neat and tidy.
Use Space Wisely
Group items together on the same shelf or in small bins, like burger condiments, sandwich supplies, salad dressings, or hot sauces. You can also use color-coded bins for similar items such as dairy items in green bins and meats in blue bins.
Place infrequently used items at the back of the refrigerator or freezer. Always keep one area of the refrigerator clear for defrosting meats and place a baking sheet under the items being defrosted. The baking sheet makes it easy to keep the space clear and clean as you defrost foods.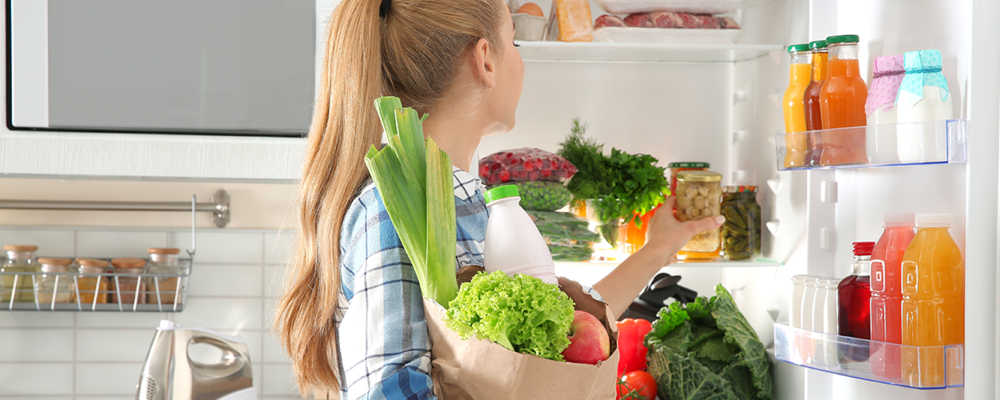 Stay Safe and Clean
Keep cut-up fresh fruit and veggies in clear keep-fresh containers. This helps keep healthy snacks organized and also allows you to see them, ensuring that you eat them before they turn bad. You can also place paper towels in crisper drawers under fresh fruit and veggies to keep them fresh and clean.
Always label leftovers or freezer meals with items and dates to avoid wasting food when you don't remember how long it's been around for, or getting sick from consuming spoiled food.
Kitchen Organization Idea 8: Keep Pots and Pans Tidy
Pots and pans can quickly become a messy pile in your kitchen cabinet but they don't have to stay that way. First go through your pots and pans and get rid of any that are warped, in disrepair, or cook unevenly. This will ensure that you aren't adding to the clutter with items that you don't want or can't use.
If you don't have anywhere to hang your pans, reorganize your cabinet. Store functioning pots and pans nested neatly together on a shelf. You can use an adjustable rack to store pans and lids vertically, or hang a lid rack on the interior of the cabinet door. Standing file holders or dish racks can also be used to organize lids so you can always grab what you need without having to empty the entire cabinet.
Kitchen Organization Idea 9: Keep an Eye on Kitchen Drawers
Cull unused gadgets and items from the kitchen drawer, then organize utensils, can openers, and other items using shallow drawer organizers or clear baskets. Designate one drawer for less-frequently used items such as skewers or corn-cob holders. You can also use a stylish crock for larger utensils and spatulas to create more drawer space.
Kitchen Organization Idea 10: Purchase a Few Handy Products
A few simple everyday items can help you keep things neat and tidy even when you're pressed for time. Besides small storage items like labels, hooks, and bins, try these products for organizing your kitchen:
Use a rolling cart for less-frequently used kitchen items that can be stowed out of sight until needed.

Try Lazy Susans in cupboards and in the refrigerator to make commonly used items easy to access.

Add risers to increase shelving space and make items at the back of shelves easier to find.
These ideas can help you with organizing your kitchen quickly and affordably. Once you've organized your kitchen, take a look at our guide to the 12 best kitchen design trends.