Decorating a large living room can feel overwhelming — there are just so many directions you can go in that you end up not knowing what to do. Fortunately, having too much space, too many options, and not much interior design experience doesn't have to hold you back! By experimenting with large living room layout ideas and designs, you can make this important space feel warm and welcoming for all your friends and family.
Large Living Room Layout Ideas
Filling your living room is always tricky. You don't want to overcrowd the room to the point where it looks cluttered and chaotic, but you also don't want it to feel empty and lifeless. The more space you have, the more difficult this balance becomes. The secret is to use a smart layout that brings the entire room together.
Of all the large living room layout ideas, these are some of our favorite tricks for when you're wondering how to make a big room feel cozy.
Consider Furniture Placement
When sorting through all your large living room layout ideas, be sure to focus on the placement of your furniture. Pull large pieces of furniture such as couches, armchairs, or tables away from the wall to show them off and make better use of your space. If you enjoy entertaining, a spacious living room can be a dream come true. You can position your furniture groups so they face towards each other for a more intimate feel.
Add Potted Plants
Another large living room layout idea is to place plants in areas that look empty. This can also keep your space feeling airy and fresh. Tall potted plants are perfect for rooms with high ceilings while smaller plants work better as centerpieces for large side tables. With such a wide variety of plants to choose from, you can add more of your own personality to your large living room design ideas.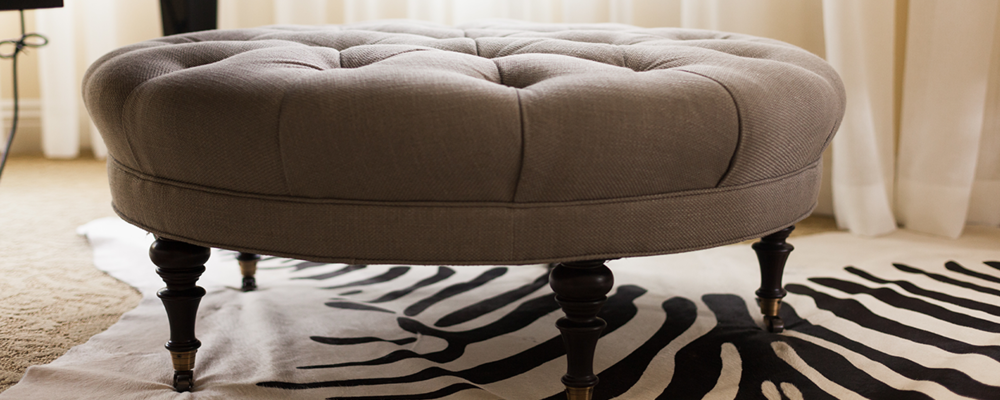 Choose Oversized Ottomans
Replace your classic coffee table with an upholstered oversized ottoman for a unique large living room layout idea. Not only does this make furniture feel closer than it really is and make a big room feel cozy, but it also serves as a footrest and gives your guests more seating options.
Divide the Room
Just because you have a huge room, doesn't mean you have to devote every square inch to classic living area amenities. By dividing up the room, you can take advantage of all your space and customize it to your needs. Have you always wanted a place to do crafts? Maybe you have an extensive personal library and would love a reading area. If you work from home, a home office space would be the perfect addition to your large living room layout ideas. Try adding stylish dividers or even splitting the space with an eye-catching L-shaped sectional.
Large Living Room Design Ideas
Once you've decided how you will lay out all your furniture, you can start thinking about the decor that will make the most of your large living room. Check out these suggestions we've compiled and see where your creativity takes you.
Dark Colors
Dark colors can help larger spaces feel smaller. Just be careful not to go too dark to ensure your room still feels welcoming. Use light color accents throughout your space and incorporate natural light as much as possible by keeping window treatments light and airy.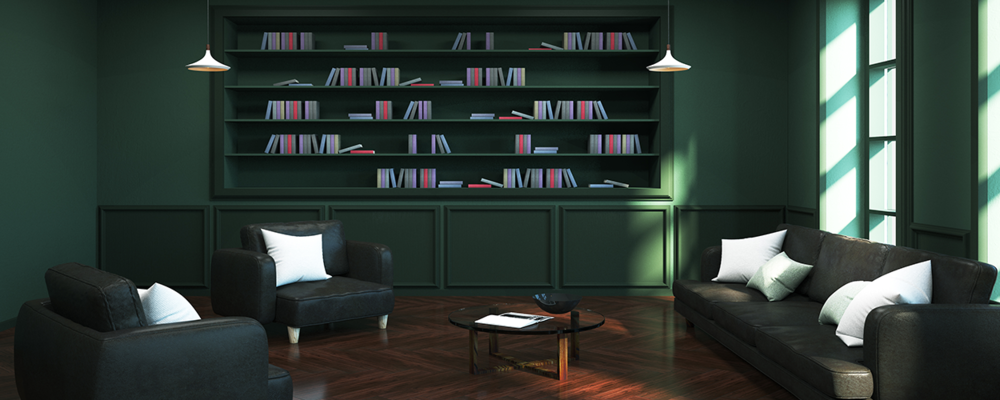 Different-Colored Walls
A unique large living room design idea is using more than one color of paint on your walls. This can be especially effective if you're dividing your large living room into multiple different areas. Choose different colors for each area, but be sure that the colors work well together. Painting color on your walls only part of the way up can also help you make a big room feel cozy. The two-color tone tricks the eye into thinking the ceilings are lower than they truly are. Again, color combinations are key.
Art Placement
Art placement is the perfect large living room design idea when trying to fill blank walls. Try hanging pieces at eye-level to attract attention and keep the eye flowing around the room. Placing murals and other wall pieces lower on your walls can also help visually lower high ceilings.
Floor-to-Ceiling Pieces
If high ceilings are leaving your living room feeling empty, then floor-to-ceiling pieces are a great large living room design idea! Floor-to-ceiling windows and art pieces will give the room a cozier feel by bringing the ceilings closer to the rest of the room. Items such as floor-to-ceiling cabinets and bookshelves are other fun ways to give your space rich character.
Comfy Living Room Ideas
The best feeling after a long, busy day is coming home and curling up at home. You've got your furniture layout and decor planned out — now you just need to create a relaxing atmosphere in your living area. These comfy living room ideas will show you how to make a big room feel cozy.
Wood
Exposed walls and wood ceilings can give your living room a textured feel. You might be lucky enough to have wooden beams and tables already. If you're looking for large living room layout ideas, consider adding in a fireplace or a rustic mantle. Large wood features can make a big room feel cozy by giving it a cabin feel. What's more, a fireplace could help keep your living room warm in the winter.
Statement Wallpaper
Statement wallpaper is a simple way to make a big room feel cozy. Wallpaper can give your room its own personality through bright colors or funky prints and is a great comfy living room idea. If wallpaper is something you'd like to try, consider using it on an accent wall or to divide the different areas of your room.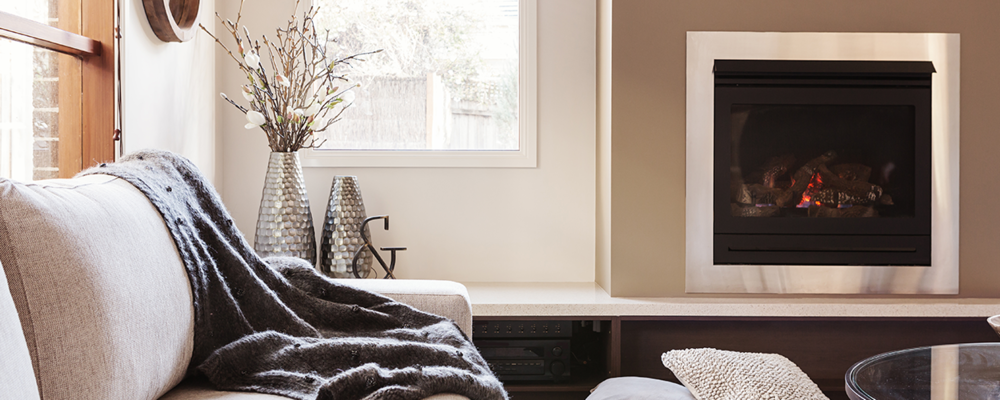 Neutrals
Not quite ready for statement wallpaper or bold paint colors? Not to worry. Neutral colors such as muted grey, beige, ivory, and taupe can create a calming effect and give off the illusion of warmth. Paired with natural elements like wood accents, anyone who takes a seat in your living room will want to cuddle up and get cozy.
Layers
Another strategy when considering how to make a big room feel cozy is to fill it with layers. Add thick rugs, fluffy blankets, and rich throw cushions to your furniture groups, and just watch as your large room transforms into a cozy hideout. You can mix up the colors and patterns to suit your personality and style.
Decorating a large living room doesn't have to be daunting. Follow these tips to position your furniture and style your space so you can enjoy a cozy yet functional living room. For even more inspiration on how to get started, take a look at 6 Home Renovation Tips!