The bees are buzzing, the flowers are blooming, and the sun is shining! It's finally time to say goodbye to winter and hello to spring. As we transition into the new season, our homes are waiting to be given new life. The living room is the heart of our homes and where we spend most of our time, so this is a good place to start. Spring into the new season with these living room makeover ideas.
Bright Lights, Big Living Room
Nothing says spring time more than bright, vibrant colors. One easy way to start your living room makeover is by swapping out dark light fixtures with bright ones. Whether it's a tall, yellow floor lamp or a "pretty in pink" table lamp, this spring living room decor will brighten up your space before you even turn on the lights.
Fresh Floral Walls
Looking for a bolder living room makeover? Floral wallpaper is a huge trend this year and a fresh addition to your living room. If this home decor idea is new to you, start small by picking an accent wall and see how you like it. For those ready to take the plunge this spring, spruce up your entire room by adding peel-and-stick wallpaper on all four walls.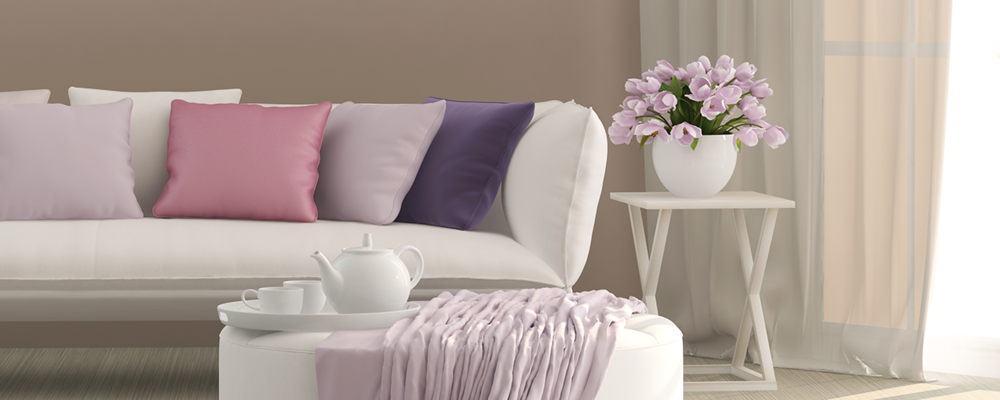 Pretty Pastel Hues
When we think of spring, we think of Easter and the pretty pastel hues that go with it. Robin's egg blue, soft pink, and lemon yellow are just a few colors you can incorporate into your living room makeover. For a tasteful burst of spring-inspired design, simply swap out your winter accessories with pastel-colored decor like pillows, throw blankets, and vases. This will bring softness and light to your room.
Refreshing Rugs
Carpets and rugs are a home decor necessity to begin with, so why not find a couple that refresh and revitalize your living room for spring? Leave the neutrals and dark tones to winter and focus your energy on colors that reflect nature in bloom. Greens for grass, pinks for flowers, blues for water, and yellows for the sun are vibrant tones that will bring the outdoors right inside your living room.
Light Curtains
Imagine the sunlight streaming through your windows on a beautiful spring day. You can see birds flying through the air and new leaves on the trees. If you have heavy, dark curtains, you can't enjoy this view because they block everything outside.
Store those rich drapes away for cold weather and hang light curtains instead. Consider romantic, sheer curtains or any other light-weight, light-color curtain that fits your interior design style. This living room makeover idea is a breeze and will surely welcome all the beauty of springtime into your home!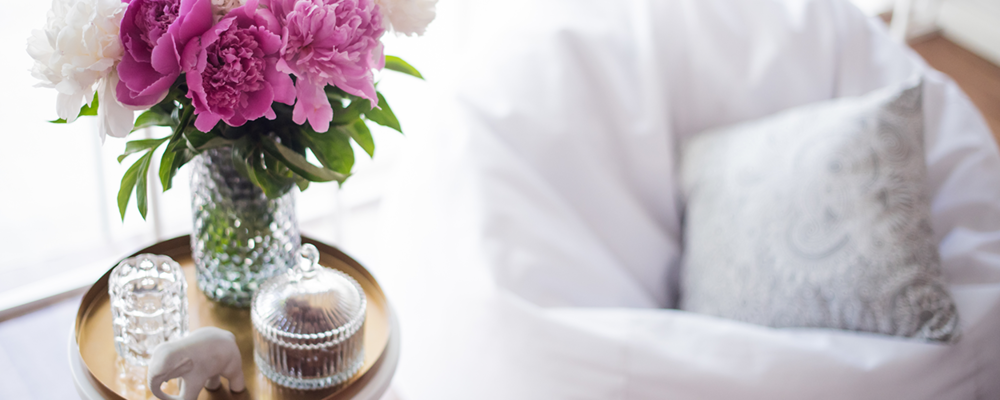 Flowers & Plants Galore
Your living room makeover isn't complete without a little flower power. While flowers are a beautiful addition for springtime, don't forget about leafy plants as well. Decorate your shelves and coffee tables with spring flowers like orchids, tulips, and peonies, and leafy plants like ferns and Sansevieria. Adding plants won't just freshen up your interior decor, it'll also help you freshen up the air in your home.
Rejuvenated Shelving
Bust out your paint and brushes because this living room makeover idea requires a little creative effort. Free up your Sunday schedule and plan for a relaxing day of repainting your shelving!
Like many of the other spring makeover ideas, this one is all about transitioning your winter season colors with the warm tones of spring. Pick a hue that works for you and you'll be surprised at just how much life is brought into your living room space. While you're at it, do a little spring cleaning within your shelves for an added touch of stylish organization.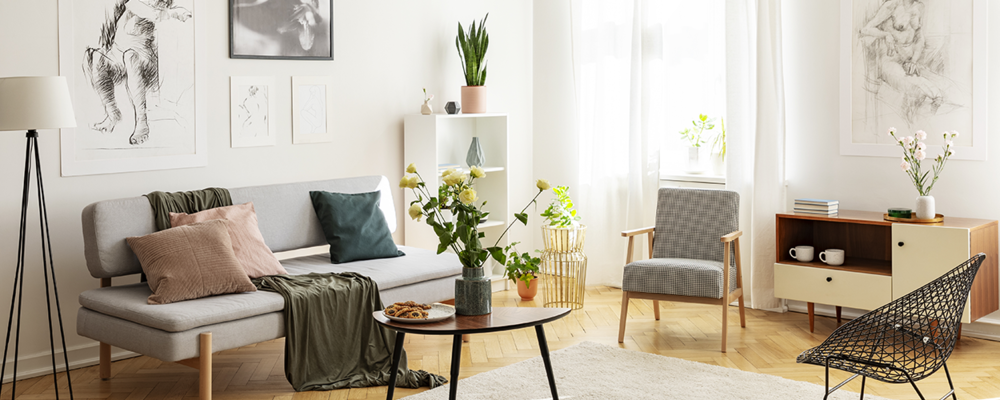 Blooming Art Work
A living room makeover can always be elevated with a few good pieces of art. Incorporate creative inspiration into your home by hanging up blooming artwork that resembles the new season.
The great part about this living room makeover idea is that it's completely subjective. Find an art piece that shows signs of spring in subtle ways with colors and hues, or make your living room feel like the first day of spring with nature scenes and fields of flowers. No matter which piece you choose, you'll brighten up your home for spring!
Blossom with Bohemian
Another 2020 interior design trend we're loving right now is Bohemian style decor. Bohemian style is perfect for your living room makeover because of its relaxed spirit and nature-inspired materials. Warm woods and plush textiles will turn your space into a light and airy heaven where you can unwind at any time of the day.
As we say goodbye to the dark, cozy decor of winter, start prepping your home for the sunny days of spring. These living room makeover ideas are a great way to transform your living space without breaking the bank — or a sweat. For more home makeover ideas, check out the 12 best kitchen design trends of 2020 and turn your kitchen into a chef's dream!