Moving into a tiny bedroom can become frustrating if you don't feel like you can store your belongings and still move around the space freely. Between bedroom furniture, clothing, and decor, the space fills up a lot quicker than you'd think. Before you give up and start donating your favorite items, take a look at these small bedroom hacks that will help transform your room into a spacious oasis!
Arranging a Small Bedroom
As you begin your bedroom makeover, start working with the biggest items—your bedroom furniture. Your bed, dresser, TV, and nightstands eat up the most space, so you want to be strategic with your layout. Consider these small bedroom hacks when arranging a small bedroom.
1. Center It Up
First things first, center your bed in front of the most visible wall. This gives your small bedroom symmetry and helps to maximize the space. There should be at least a little room on either side of the bed, which is perfect for nightstands or floor lamps.
2. Forego Nightstands 
Depending on the size of your space, this small bedroom hack may be necessary. While nightstands come in handy for lighting and books, they aren't a requirement. This is why you may want to consider getting rid of one or both of your nightstands. This will free up more space to walk around your bed, or give you the opportunity to add in furniture that will be more useful.
3. Think Vertical
When it comes to arranging a small bedroom, you've got to switch your mindset from horizontal to vertical. Floor space is not your friend in this scenario; however, height is your best friend.
A tall, skinny bookshelf can make up for that nightstand you decided to eliminate. Put it next to your bed and utilize all the shelves for decor, along with typical nightstand items like iPads and books. If you have a dresser, you can place it across from your bed so that you can stack your TV on top and use it as a multi-purpose piece.
Organizing a Tiny Bedroom
After you've finished arranging a small bedroom, it's time to hone in on small bedroom hacks that help organize all the other items in your room. From pictures to shoes and everything in between, try these tricks to declutter and streamline your bedroom.
4. Build Wall Shelves
The walls are probably the most underutilized storage space in bedrooms. You've got tons of square footage right in front of your eyes and all you need to do is take advantage of it. That's where wall shelves come into play. Place them as high or low as you want and you've got yourself a place for books, pictures, plants, and more.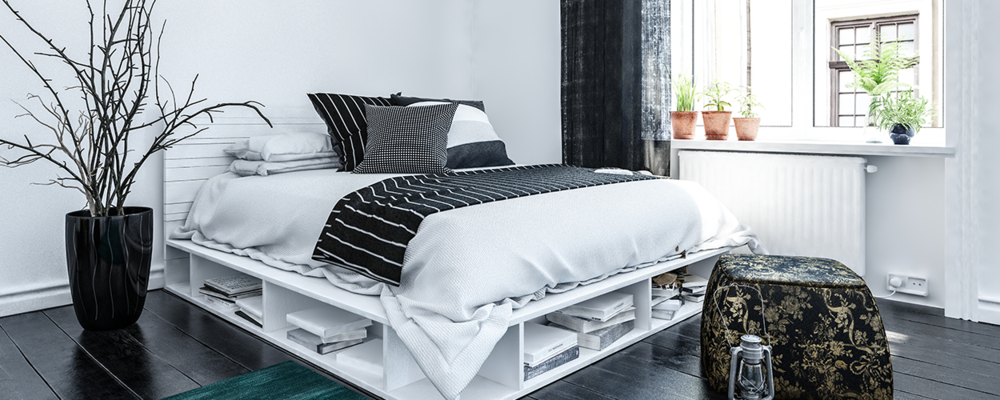 5. Use Bed Frame Storage
Organizing a tiny bedroom just got a whole lot easier with bed frame storage. Whether it's shelving in the headboard or built-in drawers underneath, your bed is your golden ticket to maximizing space. Store your shoes and books beneath the bed, and place decorative items like plants and pictures up top.
Don't worry If your bed doesn't have built-in storage. You can buy some enclosed baskets or bins and simply place them under your bed for a cheap and easy substitute.
6. Hang Laundry Hampers
Dirty laundry piles up quickly throughout the week which is why laundry hampers are so important. Rather than shoving your hamper in the corner of your room,  save the floor space and opt for hanging hampers instead. The back of your bedroom or closet door is a convenient spot to hang a laundry bag. It's out of the way, but still easy to get to!
7. Store Shoes Above the Floor
This small bedroom hack ties into the vertical way of thinking that's so crucial when you're working with little space. Just like you can hang laundry up off the floor, you can do the same with your shoes. Install shelving, pegs, or plastic shoe organizers on the back of your doors to maximize your square footage and keep things tidy.
8. Add Closet Hooks
The closet is sacred space when it comes to organizing a tiny bedroom. Just when you think you can't fit more, you can add closet hooks to the back wall. You can either place them below your clothing to hang smaller items like hats, or if you have enough closet depth, you can place them at eye level behind clothing.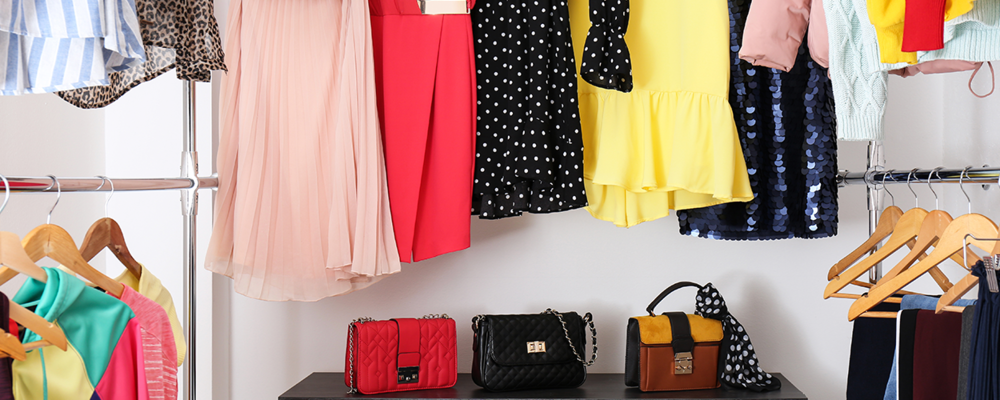 9. Try a Hideaway Dresser
Lots of clothing items and accessories can fit into dressers, which makes them hard to live without. If your dresser is staying with you no matter what, try to hide it away in your closet to give your room more space. Understandably, this small bedroom hack can be difficult to pull off — your closet needs to be large enough and your dresser small enough. If it works, you'll free up plenty of space and keep a handy piece of furniture. It's the best of both worlds.
10. Decorate with Trones
Not sure what Trones are? Well, they're an IKEA heavensend for people looking to organize a tiny bedroom! These cabinets are fairly shallow in depth, so you don't need to worry about them sticking far out from the wall. Simply mount them on your bedroom walls and you have shelves for pictures as well as cabinet space.
11. Install Picture Ledges
If you're already missing your nightstands, you're going to love this small bedroom hack. Nightstands are super convenient for holding your phone, glasses, and picture frames, but picture ledges do the same exact job while using barely any space. These small ledges or shelves can be placed on the wall right next to your bed and hold whatever small items you like. They're inexpensive and easy to install, so they really are a win-win!
Having a tiny bedroom can feel limiting, but with a little creativity and lots of small bedroom hacks, you can maximize your space and make it into the cozy room you've dreamt of! After you've taken on the challenge of organizing a tiny bedroom, keep the trend going by following these neat and tidy ideas for organizing your kitchen.