Although travel vans have been around for decades, they're now seeing a resurgence with the younger generation of millennials looking to explore the country more easily. Along with being a budget-friendly option, the van life has gained so much traction because it's convenient, comfortable, and customizable. Get ready for an adventure on the road with these camper decor ideas and tips on how to live a successful van life.
Camper Decor Ideas
Now that you've decided life on the road is your destiny, it's time to get down to business with the nitty gritty details. Personalizing your van and transforming it into a vacation home follows the same monetary guidelines as any other home makeover. You can make the process as cheap or as expensive as you want. Here are some trendy camper decor ideas that give your van the stylish yet functional feel you've been looking for.
1. Light It Up
If your travel van doesn't have windows, lighting is going to be extra important to avoid having a space that feels like a dark cave. To keep things on budget, opt for simple lighting options like LED fairy lights or strip lights. They add the cozy ambiance you need all day and night. For a more expensive alternative, look into back lighting and recessed lights.
2. Convenient Cabinetry
Getting used to the small size of a travel van will take some time. Make it a little bit easier on yourself by installing convenient storage like overhead cabinetry. This allows for more space in your living area, as well as the chance to pick out cabinets that fit your van decor style.
3. What About the Walls
While this isn't the most mandatory camper decor idea, dressing up your walls is a fun and relatively easy way to transform your regular travel van into an Instagram-worthy vision. Dedicate a weekend or two to a DIY plywood panel installation. Adding these panels to your van's walls will give it a custom look, almost like a regular house. Paint the panels with light, neutral colors like white or beige to make the space feel brighter and bigger!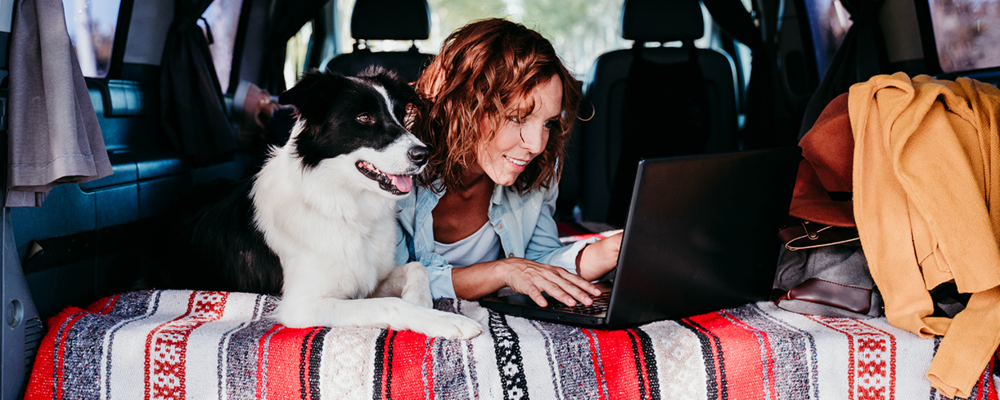 4. Bedding is Big
Choosing your travel van's bedding is another key decision you want to put serious thought into. While throwing a mattress in there and calling it a day sounds like the easiest option, there are much smarter ways that are worth the effort.
A Murphy bed is one of them. These movable beds fold up into the wall of your van to create maximum space when you aren't using it. Move around the van freely during the day, and pop it down for bedtime!
If you don't need the extra square feet from a Murphy bed, consider a platform bed with storage underneath. Create custom under-bed shelving to give you more room for household items and clothes. This camper decor idea also gives you more opportunities to style your van to your liking. Keep the shelves retro or make them more modern!
5. Privacy is Practical
While some travelers may have an open-door motto for their van life, you may want some privacy during your time on the road. Luckily, there are simple ways to escape from the outside world when you're living in a van.
Curtains are key when it comes to privacy. Not only do they block you from the view of passersby, but they keep out sunlight, too. Hang curtains in front of windows, kitchen storage spaces, or even as a make-shift shade when the van doors are open. Keep costs low with a DIY curtain or get fancy with some drapes from your fave home decor store.
6. Pretty Prints & Patterns
The van life is all about less is more, but that doesn't mean you can't spice up your space with items you would normally have in your house. Adding prints and patterns is an affordable and chic camper decor idea that personalizes your travel van. Whether it's patterned pillows, a wall tapestry, or a floral wallpaper, there are plenty of ways to dress up your space simply and cheaply.
Tips for a Successful Van Life
As you're decorating your travel van and throwing together all of your favorite camper decor ideas, it's easy to get caught up in the fantasy of van life. Even though having a gorgeous travel van is exciting, there are lots of practical elements to keep in mind. Here are a few tips that will help your van life go off without a hitch.
Carry Basic Tools
Van life comes with unexpected problems that can sometimes be fixed with a good set of tools. Always bring a toolbox, along with a headlamp, duct tape, electrical connectors, wire strippers, and fuses on all of your trips.
Have Emergency Items
Make sure you have emergency items like fire extinguishers and a first aid kit. You never know what situation will pop up during your trip, so it's better to be safe than sorry. Some countries even require you to have certain emergency equipment by law, so do your research prior to departure, especially if you'll be traveling outside of the States.
Get the iOverlander App
One of the most freeing elements of life on the road is the spontaneity that comes with it. You live as you go and that's what people love about it. No matter how awesome it is to be free and easy, there's a necessity for a basic level of planning. For example, choosing your camping spot for the day is something you'll want to plan for before heading out.
The iOverlander app is a popular app amongst travel van experts. All the camping spots in this app are added by other overlanders along with detailed reviews on cost and experiences. The camp spots range from free to "luxuriously" expensive, which translates to about $20 per night and includes electricity hookups, WiFi, and showers.
Pack the Right Clothing
Do your research and plan for weather throughout your whole trip. Just because it's warm in the first few states you drive though doesn't mean it will be like that everywhere. Packing the right clothing is crucial if you want to be comfortable and avoid unnecessary expenses at the nearest clothing store.
Deciding to pack up and hit the road in your travel van is an exciting and adventurous decision. With the right camper decor ideas, lots of research, and the proper packing list, you're in for the trip of a lifetime. In the meantime, think about adding a kitchen to your travel van and incorporating some of these neat and tidy ideas for organizing the space.