Just as other home decor styles change over the years, so do nursery styles. Get all the nursery inspiration you need with these top nursery trends in 2020! You'll be able to create a comfortable space for you and your baby that reflects your unique parenting and decorating styles.
Nursery Trend 1: Cozy Spaces
You may have chosen a home with a spacious room for your nursery, but that's not a prerequisite for today's stylish modern nurseries. No matter whether your nursery is taking over a small spare room or even a corner of your own bedroom, there are plenty of nursery trends to keep your family comfortable and on trend.
Choose multi-purpose furniture and smart storage to make the most of your space. You can also opt for a lighter color palette to create a bright and airy feel. By prioritizing function and comfort over clutter, you'll be able to enjoy your nursery style and have everything you need for Baby within an arm's reach!
Nursery Trend 2: Classic Decor
Traditionally, nurseries are decorated in bright colors and with large illustrations. This can be a lot of fun to design, but may not match your interior design style — or your child's tastes once they get a little older.
If you're looking for nursery inspiration to suit the overall decor of your home and stand the test of time, then look no further than the classicism nursery trend. The idea behind this nursery style is to create a simple, subtle, and elegant look that will be calming for the early years and beyond. Choose light colors and a few high-quality decor pieces to get this classic look.
Nursery Trend 3: Personalized Details
Another nursery trend for 2020 is the use of your baby's name throughout your nursery decor. Think personalized wall art, door signs, plaques, and bookends. You can also get blankets and cushions that are customized with your little miracle's special name.
Remember that it's not just Baby who will spend a lot of their time in the nursery. You will probably be in your baby's room more often than your own bedroom! For this reason, it can be helpful to personalize your baby's space with a few of your own favorite things. From artwork and inspirational quotes to some of the toys you loved as a child, adding some personal touches to your nursery style can help you relax and feel more comfortable as you look after your new baby.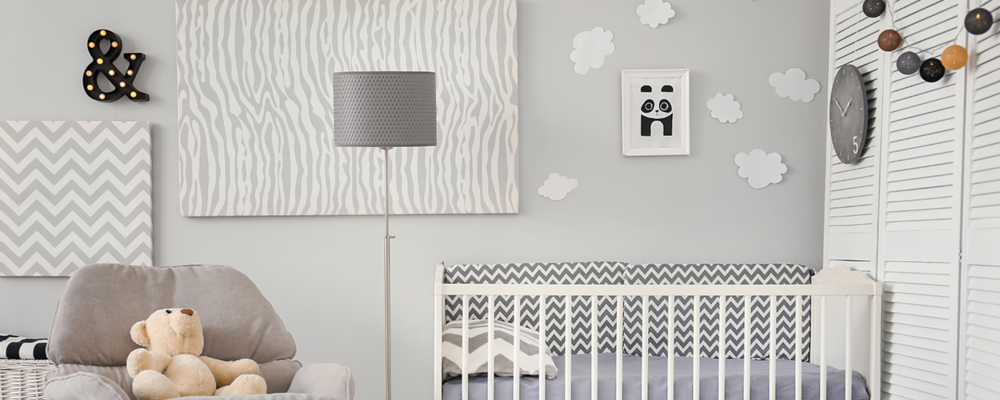 Nursery Trend 4: Gender-Neutral Designs
Forget blue nursery styles for boys and pink nursery styles for girls. Modern nurseries are now more understated and gender-neutral than ever before.
When it comes to this nursery trend, the focus is on functionality, relaxation, and comfort above all else. This versatile approach ensures a welcoming space for your child, no matter their age — or whether any siblings come along and join them later. Choose soft tones and add different textures throughout the room. You can also opt for a nursery style that complements the rest of your home interior design for a more cohesive feel.
Nursery Trend 5: Indoor Plants
Your new baby will keep you very busy so you'll probably spend more time in the home. A thoughtfully decorated nursery will provide a pleasant environment for you and your child, but you might still miss the outdoors. Indoor plants are a great nursery trend that can add some freshness to the room.
While plants can help boost your mood and purify spaces, it's essential to choose non-toxic plants for your nursery to keep your little one safe. Parlour palms, English ivy, and blue echeveria are especially effective at removing toxins from the air, while spider plants, ponytail palms, and Christmas cactus plants are easy to care for, so they won't add to your workload.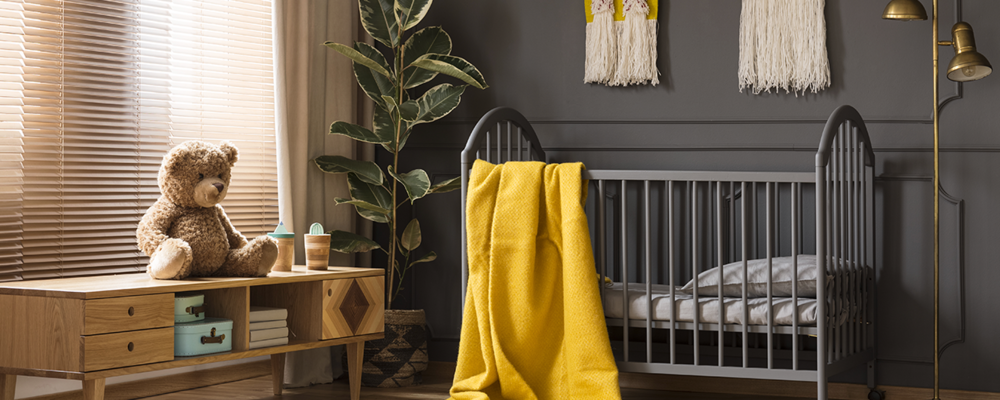 Nursery Trend 6: The Statement Wall
Looking for something different to make your baby's nursery stand out? Consider the statement wall. This is a great option for modern nurseries and can even help create a designated nursery space if you're sharing your own bedroom with your baby.
Statement walls can work with any nursery style depending on how you choose to add the focus. If you love wallpaper, there are a ton of prints that can really make an impact in the space. Floral, foliage, and ocean themes are trending in 2020. You can also use dark-colored paint to make your child's nursery more unique. Moody green, matte black, and simple geometric designs are some of this year's top choices.
Nursery Trend 7: Relaxing Vibes
An atmosphere of relaxation is key to any nursery style and can help you and Baby bond together. Modern nurseries are embracing cozy designs to create a welcoming environment. The one you choose all just depends on what allows you to relax and unwind in your home.
Warm colors and earthy textures are some of the most popular nursery trends of 2020. You can try a Bohemian interior design style by incorporating rattan furniture, chunky knits, and eco-friendly wicker changing baskets into your nursery.
Scandinavian design is also serving as nursery inspiration this year. You can adopt this style with simple furnishings and wooden flooring combined with sheepskin rugs and woolly throw cushions.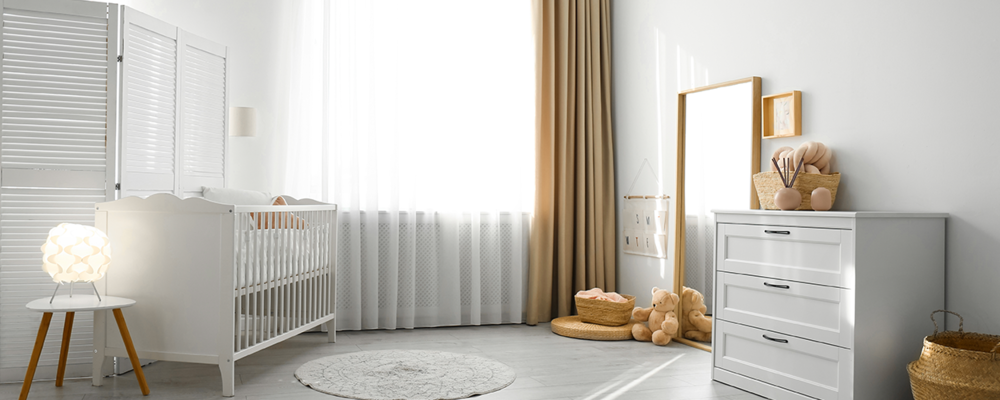 Nursery Trend 8: Timeless Furniture
There's no doubt about it: Tiny furniture is a cute addition to any nursery. The trouble is, it won't take long before your baby gets too big for that beautiful bassinet. As well as having a more versatile decor, modern nurseries are moving away from baby furniture that only lasts for a year or less and turning to timeless pieces instead.
To get the most out of this nursery trend, invest in practical furniture that your child can keep in their room as they get older. You can buy a dresser with a removable changing table to store your baby items and nurse your child in a high-quality armchair. Both of these pieces will be useful and look great for years to come. Just remember to get your furniture in kid-friendly fabrics, as children can still make a mess long after they've grown out of diapers!
To get more nursery inspiration, take a look at Fusion's stylish furniture and kid-friendly collections.