Whether you've been with your partner for 6 months, 2 years, or a lifetime, Valentine's Day is a wonderful time to show them just how much you care. Rather than the usual extravagant dinner and night on the town, switch it up this year with a relaxing and memorable Valentine's Day at home. Start planning your surprise with these Valentine's date ideas!
Make an At-Home Spa
What better way to pamper your special someone than with an at-home spa? Spark romance on Valentine's Day with candles, massage oil, face masks, and maybe even a new foot spa. 
While focusing on your partner's relaxation is important, feel free to join in too! Whether you light a candle or you wear a face mask, it can be extra special for both partners to experience some pampering.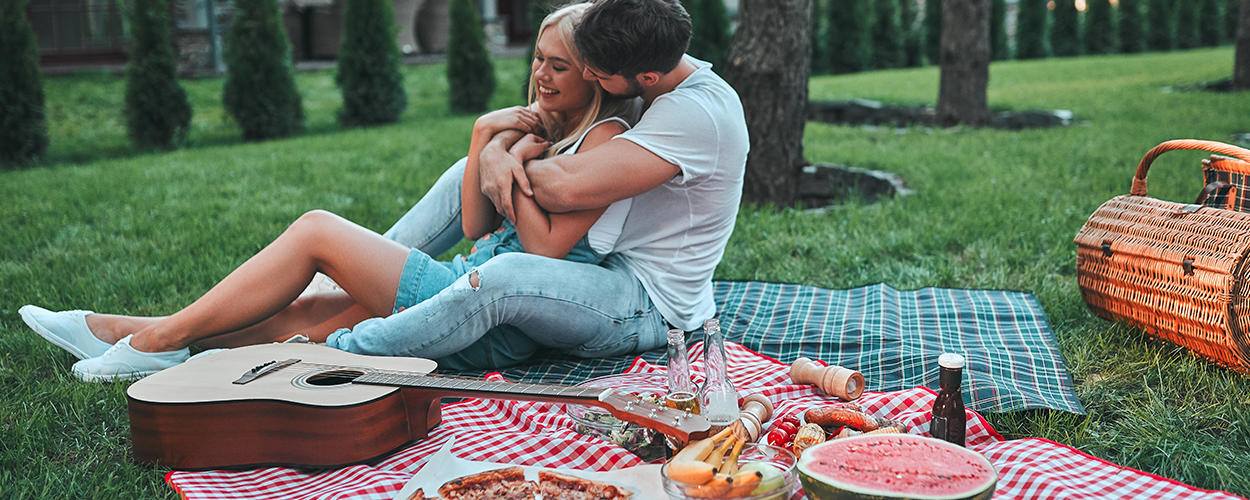 Enjoy a Backyard Picnic
No need to fight over parking for this Valentine's date idea! Bring a picnic right to your own backyard with very little prep. While picnics can be fun any time of the day, you can heighten the romance by planning your backyard rendezvous just before sunset. 
Set the mood with cozy blankets, pillows, flowers, battery-powered candles (to avoid a fire hazard), and of course, a tasty selection of treats. Sweet photos of the two of you, along with a gift, can make the picnic even more amazing.
If you don't have patio heaters or a fire pit and the weather in your area is too cold, plan for an indoor picnic instead. Sitting in front of the fire in your living room is sure to be just as romantic.
Create Sentimental Art Together
No matter whether you fancy yourselves artists or not, planning a fun night of crafts can be extra special for a Valentine's Day at home. Your art project can be as simple as creating a collage of your favorite adventures over the years or writing a sentimental poem.
If you feel like stepping up your game, treat your loved one to a wine and paint night. Gather all of the supplies and find some pretty canvas ideas for Valentine's Day. Save your final products and hang them in your house as a reminder of your love for each other!
Cook a Romantic Dinner
For a classic date at home, brush up on your cooking skills and get to work in the kitchen! Branch out and try a new, fancy dinner recipe that will impress and surprise your spouse, or whip up their favorite meal instead. 
If your sweetheart doesn't detest the thought of cooking, you can always turn this date idea into a couple's cooking activity. Have all of the ingredients ready and invite your sweetie to cook alongside you as a fun bonding experience.
Reconnect with Personal Questions
Sometimes the best dates are the simplest ones. Connect with your love on a deeper level than before by encouraging a night of asking each other questions. Do your research online beforehand or buy a card game to break out on Valentine's Day. 
This Valentine's date idea is sure to ignite romance at home over a delicious dinner!
Cuddle and Watch Romance Movies
With busy work schedules and the usual hecticness of life, it can be hard to find time to sit down and watch a movie together. Get back to the basics and woo your significant other with a relaxing movie night full of rom coms and romance flicks. 
Set the bar high by preparing an arrangement of yummy movie snacks you know your partner loves. You can even decorate your living room or bedroom with Valentine's balloons, candles, and other special decor to create a romantic atmosphere.
Take a Stroll Down Memory Lane
Did you ever write about your significant other when you two first started dating? Whether it be letters between you both or sweet nothings in your journal, take the opportunity to stroll down memory lane and read through all of your old notes for a few laughs (and maybe even some happy tears)!
You can also pull out the photo albums for a nostalgic look back at all your memories over the months or years. If you don't have a photo album or it has been quite awhile since you printed recent photos, use this Valentine's date idea as inspiration for one of your gifts!
Have Fun with Board Games
When was the last time you and your significant other played games together? Set down your phones for a few hours and dive into a fun board game or two for your Valentine's Day at home! Even though Yahtzee and Life may not be considered "romantic," they sure are fun to play. 
Showing your partner just how much you love them is as easy as can be with these Valentine's date ideas! Whether you choose one or combine a few, be sure to plan ahead and surprise your partner for a special Valentine's date neither of you will forget.
Need a special gift idea? Develop and frame treasured memories from your camera roll and hang them around your house for a sentimental present. Learn the why, where, and how of decorating your walls to make sure you hang your photos just right!