The season of blooming flowers, sunny days, and new life is almost upon us! As you say goodbye to the cold winter months, welcome springtime by renewing your home with bright and beautiful touches. Create a blossoming space with these spring home decor ideas!
Indoor Springtime Decor
Pretty Pampas Grass
Add a bit more softness to your home's interior design with pampas grass! This boho-style springtime decor has been growing in popularity over the past year and is especially fitting for the season. 
Known for its pastel color palette, you can pick up pampas grass in many different sizes and colors. Whether you choose pale pink, ivory, or taupe, this spring home decor idea is a stunning addition you must try.
Rattan Furnishings
Rattan decor is predicted to be one of the hottest interior design themes of 2021, and it just so happens to look lovely for spring! Although it's best known for outdoor spaces, there are plenty of ways to incorporate this woven material inside your home. 
Lighten up your space and channel tropical vibes with a rattan headboard, or start small with a rattan chair and ottoman. Baskets for blankets, as well as indoor plant stands are a couple more ideas that are ideal if you're looking for a subtle change.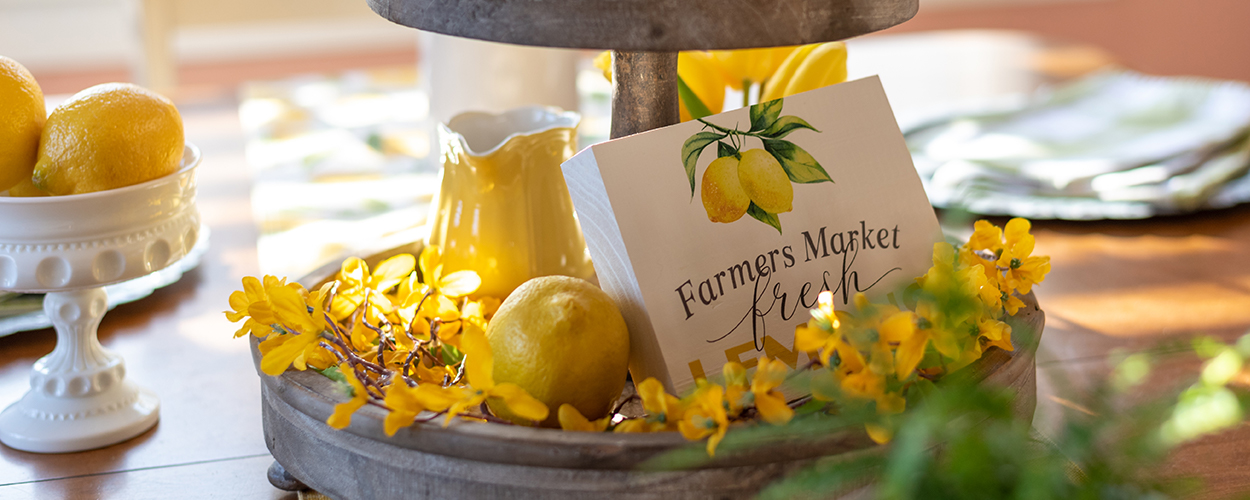 Colorful Centerpieces
Think springtime colors and motifs for this spring interior design idea! A glass bowl full of faux Easter eggs in shades of pale purple, blue, yellow, and pink is a festive option if you love Easter. 
You can also get creative with flower and fruit arrangements. While a standard flower vase is gorgeous, rustic tins, long garden boxes, tiered trays, and decorative mason jars are unique choices. 
Pair your centerpiece with pastel table runners and consider floral patterns for your dishware.
Blooming Houseplants
Before you call it a day on your springtime home makeover, take a look around the room and see if you have houseplants. This spring home decor idea is a must because symbolically and literally, it brings new life to your space!
If keeping plants alive isn't one of your top skills, there's no shame in opting for faux plants instead. However, if you're up for the challenge, try some of these heavenly houseplants that are bright and colorful for the season:
African Violet

Flowering Maple

Peace Lily

Jasmine

Crown-of-Thorns

Geranium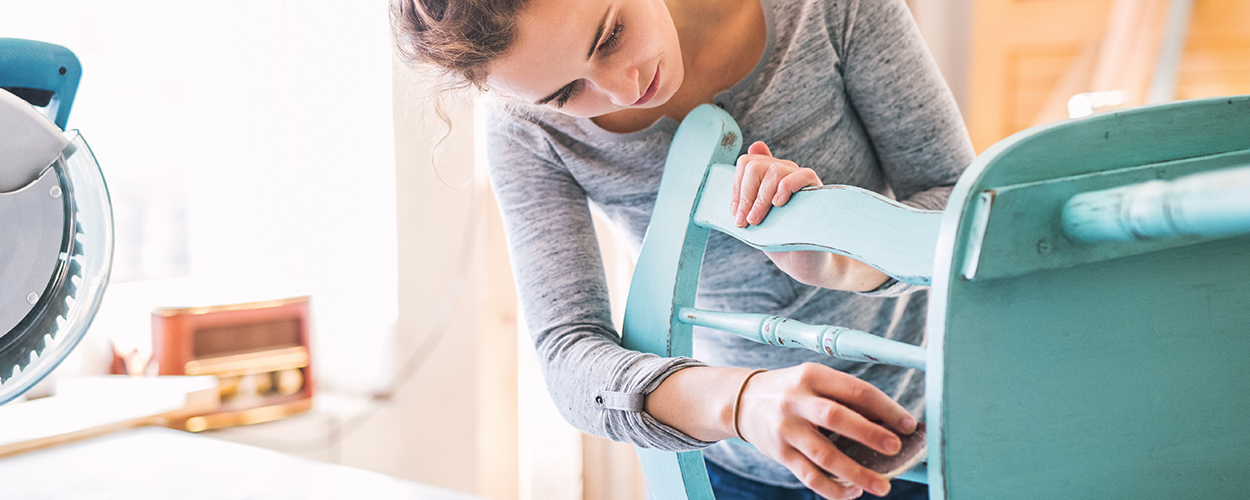 Refreshing Paint Colors
A fresh coat of paint can do wonders for your home! Take this springtime decor idea as far as you'd like, but know that even the smallest of upgrades can rejuvenate your home. Repaint your bookcase, cabinets, doors, side tables, chairs, or walls for a fun DIY project that can be done in a weekend or two. 
Keep in mind some of the flattering colors for the season like soft yellow, terracotta, light turquoise, white, and taupe to spark some inspiration.
Outdoor Decor for Spring
Vintage Buckets & Tins
For a farmhouse-chic look, head to the home decor store and pick up a handful of vintage buckets and tins. Whether they come with cute designs or you choose to get crafty with a DIY project, dress them up a little for extra style points. Then, grab ferns to place in each holder for a fresh spring look. The bright greenery adds a picture perfect touch to your front porch or backyard patio. If ferns aren't your thing, choose some of your favorite outdoor plants as a substitute. 
Cheery Outdoor Rugs
Even though rugs are usually an indoor item, they look just as amazing as outdoor decor for spring. Pick out a couple bold-patterned, cheery rugs to place on your patio and porch. If you already have a welcome mat, don't be afraid to layer the rug and mat together (if colors and patterns complement each other).
Potted plants placed on either side of the rug can also help to ground the space and offer visual height and symmetry.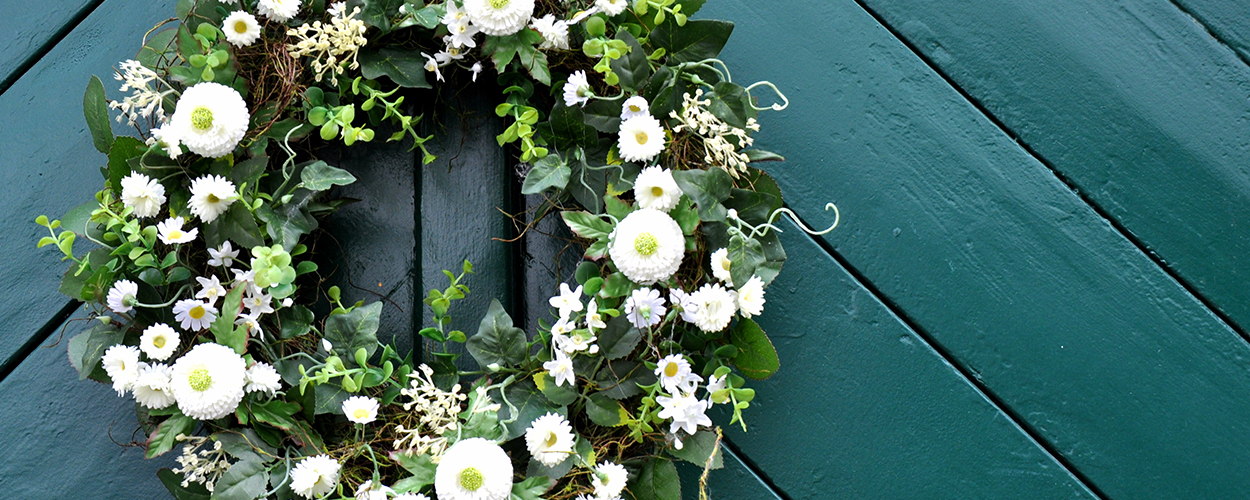 Seasonal Wreaths
Wreaths are one of the simplest and cutest springtime decor ideas that never fail. Celebrate the upcoming season with a wreath full of life and color. Go for the traditional Easter-themed wreath of pastels, sparkles, and eggs, or hang up something more floral. 
Think outside of the box with wreaths made of interesting items like a funnel wreath, watering can wreath, wagon wheel wreath, or floral monogram wreath. DIY wreaths are the way to go if you want springtime decor no one else has!
Pleasant Patio Furniture
Enjoy relaxing spring days with a pleasant patio set up in your backyard! While it may be quite pricey to go out and buy brand new outdoor furniture, remember that you can always give some love to the furniture you already have. 
Swapping out old cushions for vibrant new ones is an affordable way to begin. Repainting a chair or two is another smart option. Other than that, consider outdoor DIY furniture that is relatively low in cost.   
Warm Welcoming Sign
Decorating for spring starts right at your doorstep! Create a warm and inviting entryway for guests with an eye-catching welcome sign. Hang it on your door or prop it next to your entryway to allow more space for a larger sign. 
If you do choose to stand up your sign rather than hang it, consider adding other decorative details like potted plants, lanterns, watering cans, and more for a more dramatic spring assortment.
These springtime decor ideas are sure to rejuvenate your home just in time for the season! For more interior design ideas, check out how to spring into the season with these living room makeover ideas!