As the days get shorter and winter temperatures chill the air, there's no better time to give your home a cozy makeover. While pricey renovations have their benefits, there are also simple and affordable interior design ideas that turn your space into a gorgeous winter retreat. Cuddle up in comfort and entertain in style by incorporating these winter decor ideas into every room of your home!
Snuggly Textiles
Nothing screams "winter home" more than luxurious textiles you can cuddle up in on a cold winter night. Start with the necessities like warm flannel sheets for your beds and then work your way to the accessories.
Knitted poufs and chunky cable-knits are a cozy interior design trend popular this season. You can easily incorporate it into your space by tossing throw blankets across your beds and couches. Take things a step further with a faux fur stool or faux fur blankets draped around your furnishings as well.
Once you've laid out your snuggly winter decor, don't forget about the floor. Adding rugs is another easy way to elevate your space and create a warm atmosphere. Opt for sheepskin or wool rugs that are a great addition to your bedroom. They feel heavenly on your feet and absorb the heat in your home. You can also place durable outdoor sisal rugs in high traffic areas because they're easy to clean and stylish!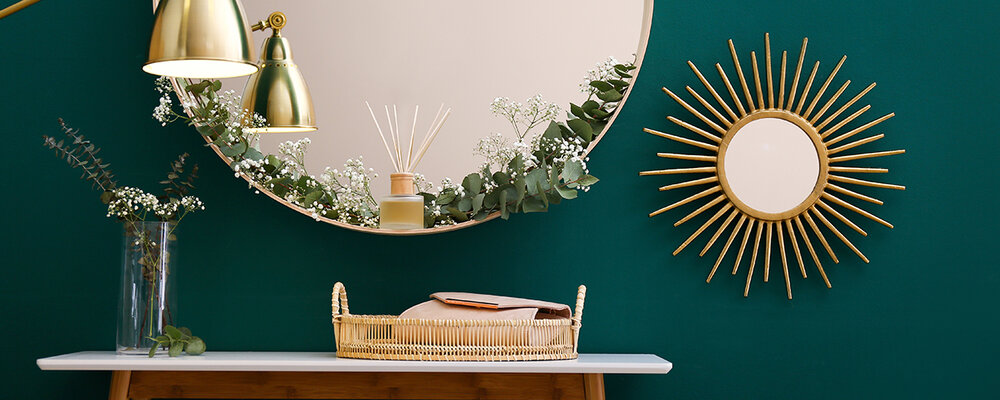 Shimmery Mirrors
Transform your home from a dark winter cave to a bright, shimmery retreat by hanging mirrors throughout each room. You would be surprised how much light is reflected from a couple gold-gilded mirrors on the wall!
Not only are mirrors an eye-catching winter interior design trend, they are also a creative way to make your space feel more open and look more spacious.
Portable Fireplaces
Having a giant, built-in fireplace is the dream during snowy days at home, but it may not be the reality for you and your family. That's where portable fireplaces come into play. Bring the warmth of fire into your living room this season by investing in an affordable fireplace that matches your winter decor preferences. Choose from sleek and modern, traditional, stand alone, wall-mounted, and many other options to suit your interior design style.
One of the nicest features of these electric fireplaces is that you can change settings and control temperature right from your seat. Most come with remotes for your convenience. Place the electric fireplace up against your wall or closer to your sofas and enjoy a cozy night by the fire!
Illuminating Metallics
Just as mirrors work magic when it comes to bouncing and reflecting light, so do metallic winter decor items. Dress up your home with a wide variety of metallic accessories like lamps, wall art, sculptures, and even decorative candle holders. Along with providing illumination for your home, metallics in different finishes display a unique and beautiful design contrast that brings interest to your space!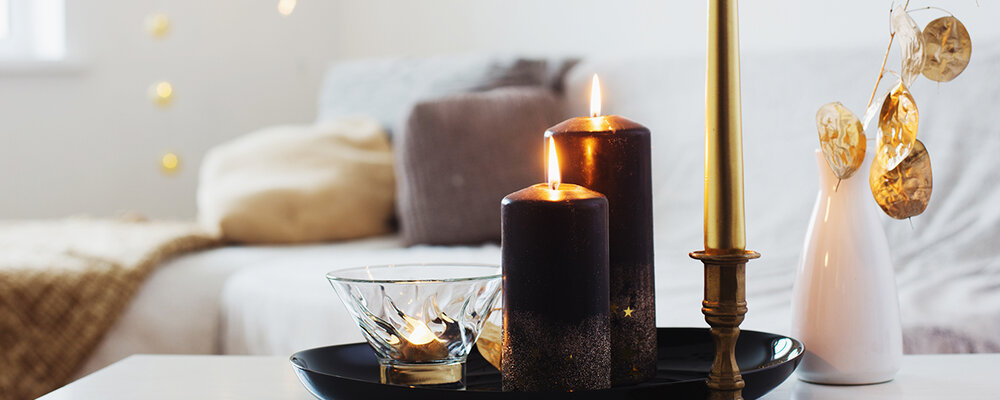 Glowing Candlelight
The inviting scent of candles mixed with their warm glow make them an irresistible winter decor item wonderful for any home. Light up the shadows of your space and channel all of the cozy vibes of the season with candles of all shapes and sizes.
Go for traditional votive candles (the ones in glass containers) or spice it up a bit by using taper candles in crystal holders. Keep it seasonal with sweet and spicy aromas like cardamom, cinnamon, cloves, rosewood, and orange.
Warm Wood
If you're looking for other stylish and budget-friendly ideas on how to make your living room feel cozy, incorporating natural elements is always a good idea. Wood and winter go hand-in-hand, which is why it prevails as one of the most loved interior design trends.
Including wood elements inside your home helps to create a warming effect while acting as a natural insulator. Try a reclaimed wood art piece, wooden side table, or a simple basket with cut fire logs.
Cozy Lighting
Switching up your lighting is a simple and inexpensive idea for a cozy interior design during the chilly winter months. Sit back and relax in a soothing environment by upgrading your lighting with warm-light LED bulbs that produce much softer light. You can also add dimmer switches to existing outlets to control the brightness of lighting throughout the day.
Other creative winter interior design ideas for lighting include salt lamps, colored glass lamps, and lighter lamp shades made of paper or linen.
Giving your home a winter facelift is as easy and affordable as you need it to be with these winter decor solutions. Bundle up and enjoy the season in style and comfort by creating a space full of your favorite winter interior design trends that perfectly complement your taste! For more inspiration on how to lighten up your home during dark and gloomy days, check out how to brighten a dark room.