Does your home have a spare room just waiting to be filled? If you have kids that own more toys and trinkets than you know what to do with, it may be worth the time and effort to invest in a playroom. Make your kids' dreams come true by creating a room for fun and creativity with these playroom design ideas!
Install a Wall Chalkboard
Tired of cleaning up your kids' wall drawings that shouldn't be there in the first place? Give them the creative outlet they've been craving with a wall chalkboard. You can easily create DIY chalkboard walls yourself or hire a professional to do the job for you. Whichever way you choose to do it, you and your little ones will love the finished product!
Include a Dress-Up Corner
Whether you're looking to design a boy playroom or girl playroom, you can't go wrong with including a dress-up corner. Let your kids' imaginations run wild by including a few decor items like a metal hanging rack, hooks, storage baskets, and of course, a mirror.
Watch them transform into their favorite characters from books or movies. To make the dress-up experience even more thrilling, think about creating a makeshift stage for their performances. With some lumber and basic carpentry skills, you can create a DIY stage on your own.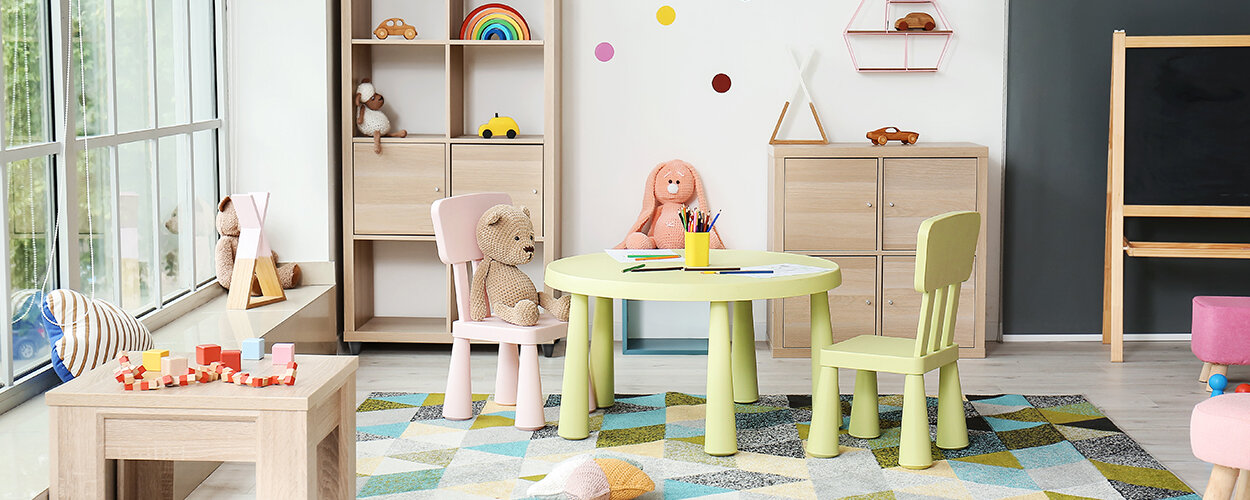 Add a Kid's Table
Beyond just playing with toys, a playroom can be used for other creative activities like crafts, card games, reading, and tea time. Incorporating a small table is a quick and easy playroom design idea that will pay off for years to come.
Consider buying a round one to avoid potential accidents with sharp corners. You can also size up a bit to account for growth spurts over time!
Hang a Ceiling Swing
Who says swings only belong outside? Bring the excitement of outdoor play inside your home with one or two ceiling swings that will undoubtedly be a hit with your little ones. This fun playroom idea comes in handy all year round, but especially during the cold winter months when the kids are cooped up in the house and need to release some energy.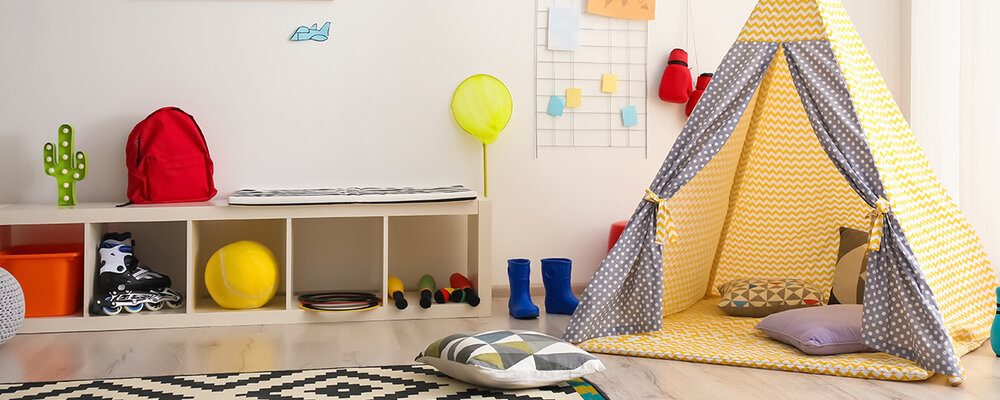 Create a Nap Time Space
With hours of playtime comes tired little ones. If you don't mind moving nap time out of the bedroom every once in a while, try this fun playroom idea. Create a cool nap time space with a daybed or a bundle of blankets and pillows. Nestle it up in the corner of the room and maybe even hang a sign officially naming that spot the "Nap Time Zone."
Having a special place for napping in your kids' beloved new playroom might just pay off tenfold. Rather than fighting the idea of taking a nap, the kiddos may fall in love with it because they get to sleep in their favorite room of the house.
Save Room for a Reading Nook
One of the biggest playroom design ideas to remember is that the space can be used for more than just play. Your home's playroom can double as a classroom when you save one corner for a reading nook.
Create a learning environment that the kids are actually thrilled to be in by decorating the nook with fun books, pretty wall art, and comfy seating. If you have lots of space, you can add in a small table for the kids to work on school assignments.
Slip in a Small Slide
If you have little ones running around your house, chances are they would fall in love with an indoor slide. Add a small slide to your playroom for hours of giggles and entertainment. If you feel like going all out, you can include a ball pit at the bottom of the slide for another fun surprise.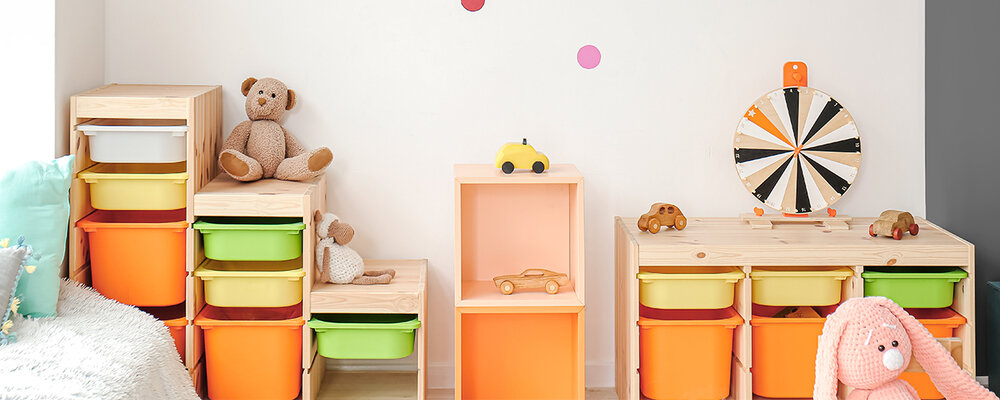 Organize with Toy Cubbies
While it may be tempting to simply toss all of the toys into the playroom and call it a day, there are lots of storage options to keep the room more tidy and organized. Invest in toy cubbies to store all of your kiddos' favorite toys and avoid the pain of stepping on them when you walk in the door.
For an even cuter touch, personalize each toy cubby for every one of your kids by adding their name or initials. Not only will this make each of them feel special, it will also give them the chance to be responsible for putting their toys back into their designated spot.
Think Vertically
When you start brainstorming ways to design your kids' playroom, think vertically. You want them to have as much space as possible to play and placing everything on the floor clutters the room quite quickly. Whenever possible, use the walls for storage and decor. Floating shelves are a chic and simple solution for holding books, pictures, and other small toys.
Keep the most necessary items close to the ground for the kids to easily reach, while making use of tall and sleek furniture to house more decorative pieces.
No matter if you're creating a room for girls or boys, these playroom design ideas are exactly what you need for a touch of organization and a bunch of imaginative fun. In the case that you're expecting another bundle of joy in the near future, gather more DIY inspiration with the top 8 nursery trends for your little miracle.