Brighten Your Home with These Summer Interior Design Trends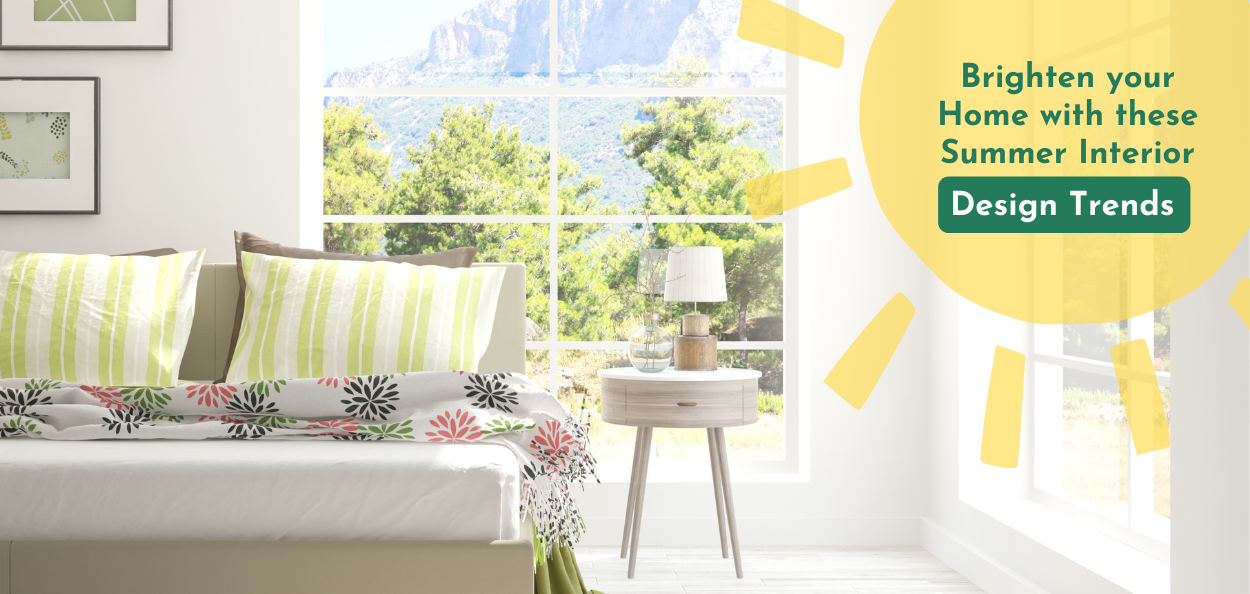 Summer is a time for bright colors, airy home atmospheres, and lots of outdoor activities. While you'll have to look elsewhere for recreation ideas, we have the scoop on the hottest summer interior design trends of the season. Kick up your feet, sip on some lemonade, and explore ways you can transform your home into a summertime sanctuary.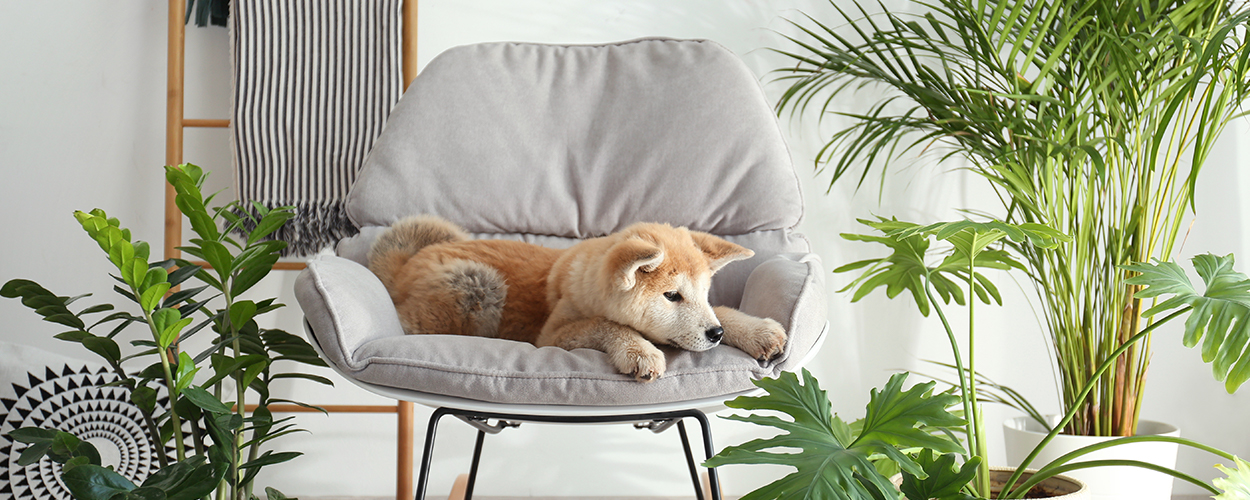 Be One with Nature
What better way to freshen up your living space than by incorporating natural elements like houseplants? Not only do plants bring beautiful ornamentation to your home, but they also have health benefits. 
Placing leafy greens throughout your space helps to purify the air and remove harmful toxins from the outside world — and even your furniture. Plants have also been known to reduce tension and stress because they resemble the calming atmosphere of nature.
Do yourself a favor and try this summer interior design idea by adding large houseplants as bold statement pieces or stick to an eclectic collection of small potted plants on your tables and shelves.
Remember Less is More
Minimalism has been a frontrunner in the design world for quite some time now, and it's looking like its reign will continue through summer. 
Dealing with a cluttered, full house during the hottest time of the year might not be the most ideal. Instead, interior design lovers across the country are following the "less is more" approach. Pare down your decor to the most purposeful and meaningful essentials for a clean and refined aesthetic. 
Once you've cleared out your space and given it room to breathe, turn your attention toward design. Pops of color, greenery, and natural light will elevate your minimalistic look and bring the perfect brightness for summer.
Prioritize Pantone Colors
If you're all about sticking to trends, you'll want to consider the Pantone colors of 2021 when decorating your summertime home. Pantone colors are industry standard color codes that stand for a specific shade. This year, Pantone announced their list of 10 hues for spring and summer that includes shades like Illuminating yellow, Green Ash, and Raspberry Sorbet.
The palette of colors is quite vibrant and eclectic, purposefully chosen to remind you of nature and warm summer days. Choose your favorite hues and incorporate them into your home's design through statement pieces, wall accents, and even furniture.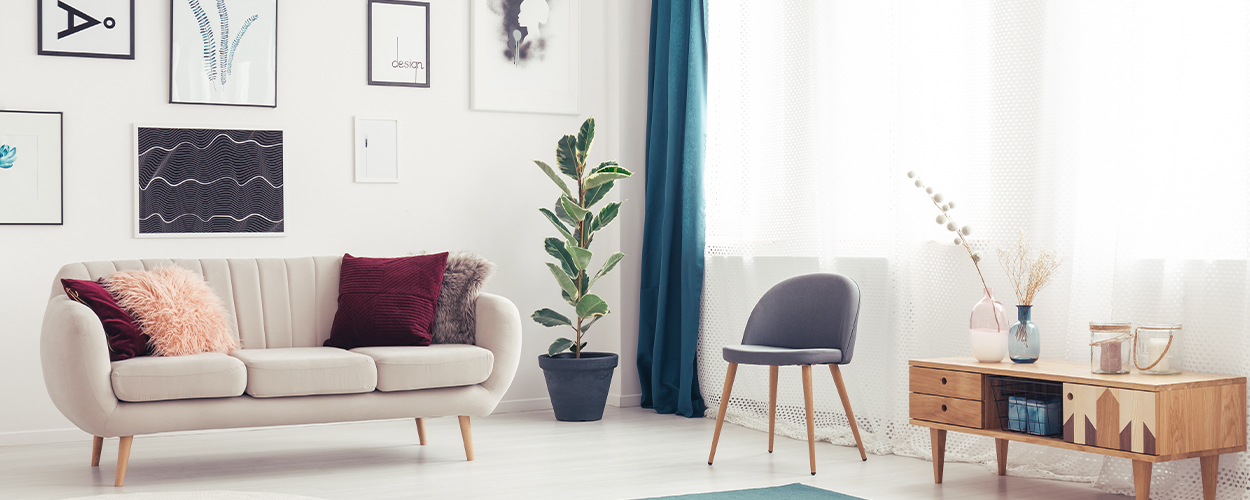 Let There Be Light
Perhaps the best part about summer is the long days filled with sunshine and clear skies. When you aren't busy enjoying the weather outdoors, be sure to bring the sunshine inside as another summer trend. 
If the weather permits and it's not too hot, let in natural light to illuminate your space. Whether you draw up your shades or simply invest in sheer, lightweight drapery, the result is sure to be revitalizing. 
If you don't have much window space to work with, place mirrors in each room to help reflect and amplify the sunlight shining in.
Round It Out
Another summer interior design trend taking over this year is rounded shapes. Stay away from hard edges and focus your attention on smooth, round decor that creates a more welcoming environment. Round rugs, cushions, ottomans, and art are a few ideas that you can easily add to your living space. For a bigger impact, update your furniture with a curved couch.
If round decor isn't your favorite or you prefer more diversity, draw your inspiration from organic shapes in general. Organic shapes are irregular and don't follow any specific pattern or form. You'll be shocked at how much they soften the feel of your home and create a sense of fluidity.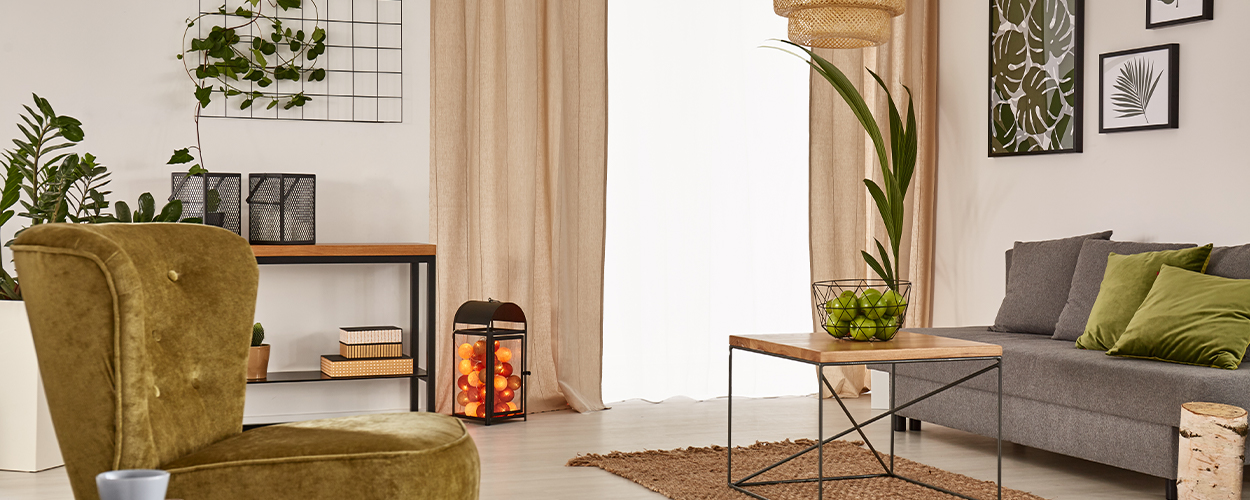 Try More Earth Tones
While ocean blues and vibrant pinks are eye-catching, they aren't the only colors that work well for your summertime home. Depending on your style preferences, earth tones can offer just the right amount of warmth and contrast to your space. 
These colors are muted and flat to emulate the earth in its most natural form. Think terracotta red, mustard yellow, mossy green, white, and tan. Just as plants have been found to have a calming effect, so have earth tones. They're soothing, natural, and a fitting representation of summer.
Choose Easy, Breezy Fabrics
Switching out your linens and fabrics is more of an intuitive summer decor idea, but definitely one worth mentioning. Pack away your winter blankets and thick drapes and opt for lighter, more airy textiles. Curtains are one of the main decor essentials to pay attention to. Look for materials like cotton voile, flax linen, or sheer silk that help keep your home cool, breezy, and bright.
Along with curtains, you can swap out your bedding and throw blankets to include ones made of cotton and linen—these two materials are known to be the best for hot weather.
After you've reworked your home's interior design with these summer trends, take it a step further and splash into summer with these stylish patio ideas!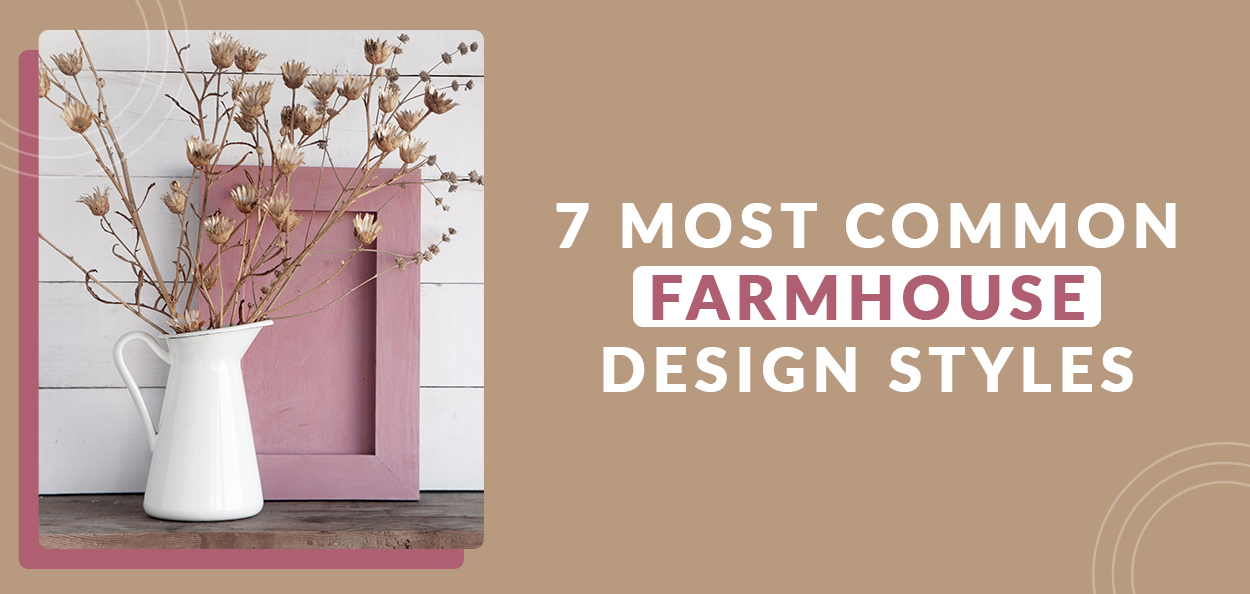 As soon as you hear "farmhouse design," you most likely think of wooden accents, rustic signs, and neutral color palettes. While farmhouse design style has taken the country by storm, many people don't know there are multiple variations of it.
Whether you're looking to adopt this interior design trend in your own home or simply find yourself curious, take a look at our breakdown of the most common farmhouse design styles being used today.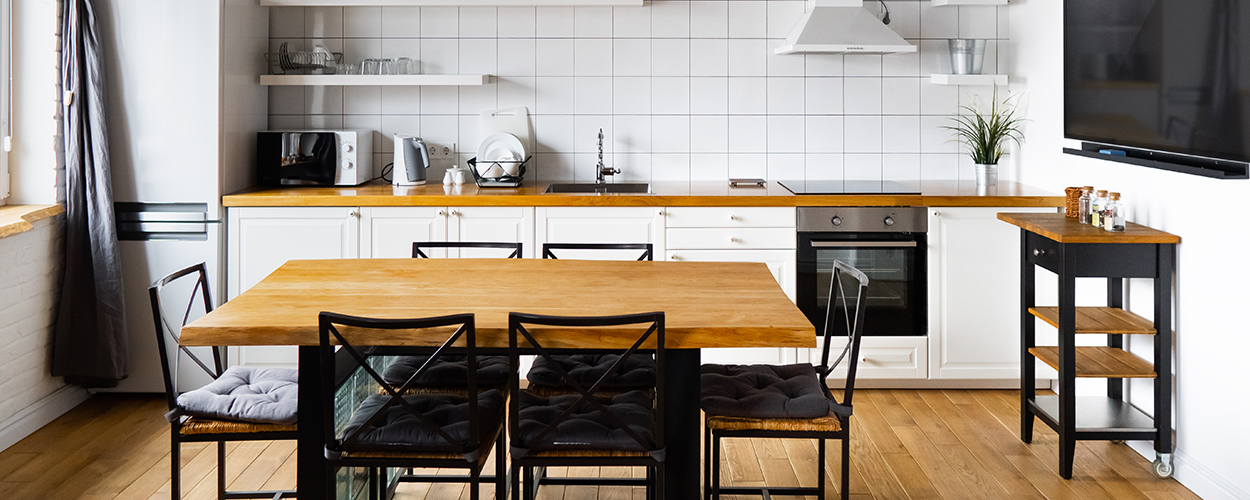 1. Industrial Farmhouse
If your husband wants to have a say in your home's decor, you might want to consider trying the industrial farmhouse design style. This variation of farmhouse design is known to be more masculine because it's inspired by the heavy machinery used on farms. Industrial lighting and hardware, cool metals, natural wood, and exposed beams are a few key characteristics that define industrial farmhouses. 
Other Characteristics:
Warm color palette

Black and off-white accents

Edison bulb pendants

Thick and heavy rustic wood

Furnishings with blackened iron structures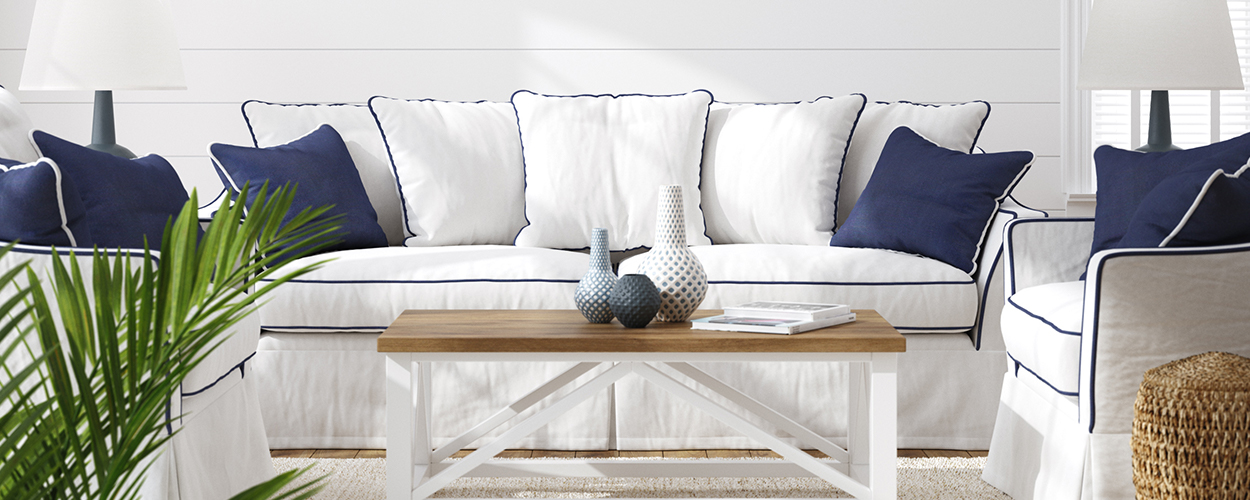 2. Coastal Farmhouse
Just as the name suggests, this farmhouse interior design idea subtly combines beachy, coastal elements with modern farmhouse vibes. Before you buy loads of starfish decor, seashells, and anchors, remember that coastal farmhouses aren't your typical beach house. They have oceanic references, but are still grounded to farmhouse interior design. Coastal accent colors of blue and green are popular, as well as white oak flooring, furniture, and cabinetry.
Other Characteristics:
Classic details in millwork (doors, molding, trim)

Warm metals like brass and gold

Natural elements like seagrass and rattan

Polished nickel or chrome hardware

Wooden beams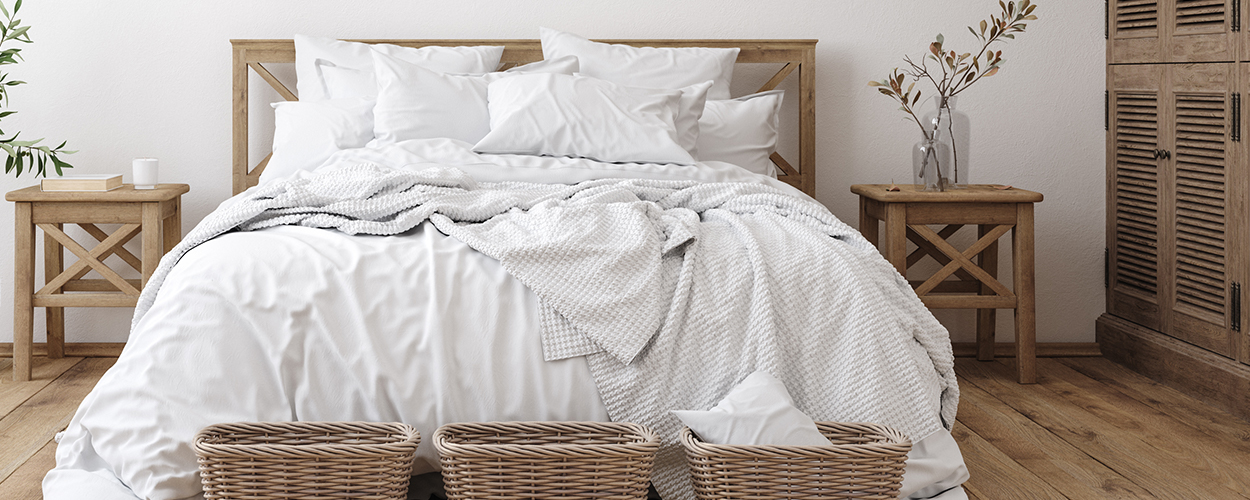 3. Scandinavian Farmhouse
Minimalism is the way to go when it comes to curating a Scandinavian farmhouse. The main idea behind this farmhouse design style is building a home that is uncluttered, modest, and light. If you decorate with purpose and follow the "less is more" mantra, you're halfway there. The Scandinavian element of this style brings modernism and minimalism, while the farmhouse side brings a more homey feel with rustic elements.
Other Characteristics:
Natural materials

Clean-lined, soft-shaped furniture

Simple woodwork in doors, window trims, cabinetry, built-ins, and countertops

Light wood flooring

Black or gray accents and mute shades of color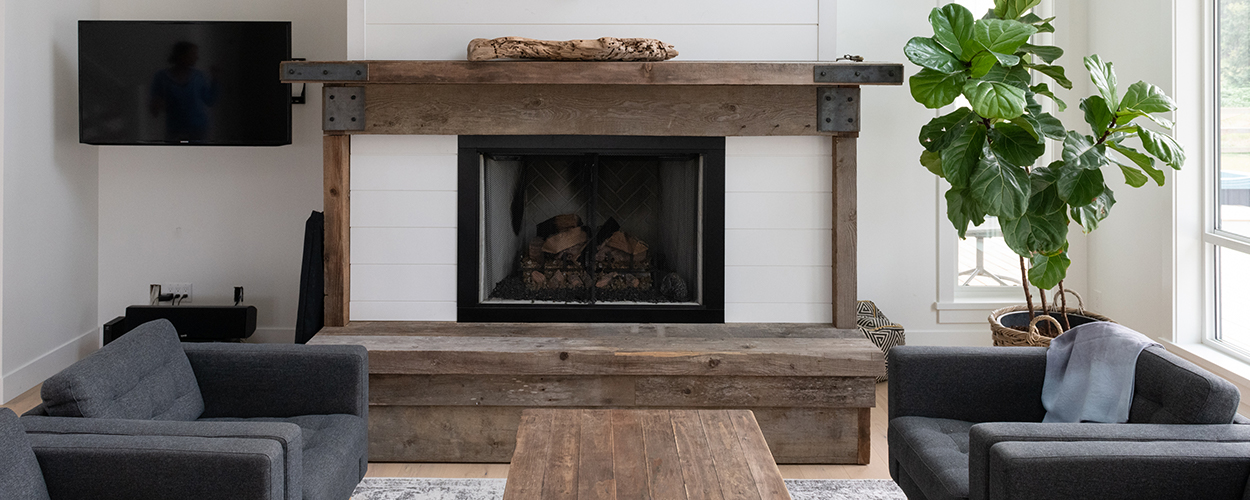 4. Modern Farmhouse
Similar to Scandinavian farmhouses, modern farmhouses are edited down to be sleek, clean, and fresh with very little ornamentation. There's an emphasis on contemporary design that can be seen in concrete flooring, exposed brick walls, and modern lighting. While you can incorporate modern farmhouse style decor in your home, it's sometimes easier to achieve this look with a newly constructed house or complete remodel.  
Other Characteristics:
Statement furniture pieces 

Bright white walls and interior

Minimal black accents and well-worn wood

Leather upholstery

Antiques and rusticity used sparingly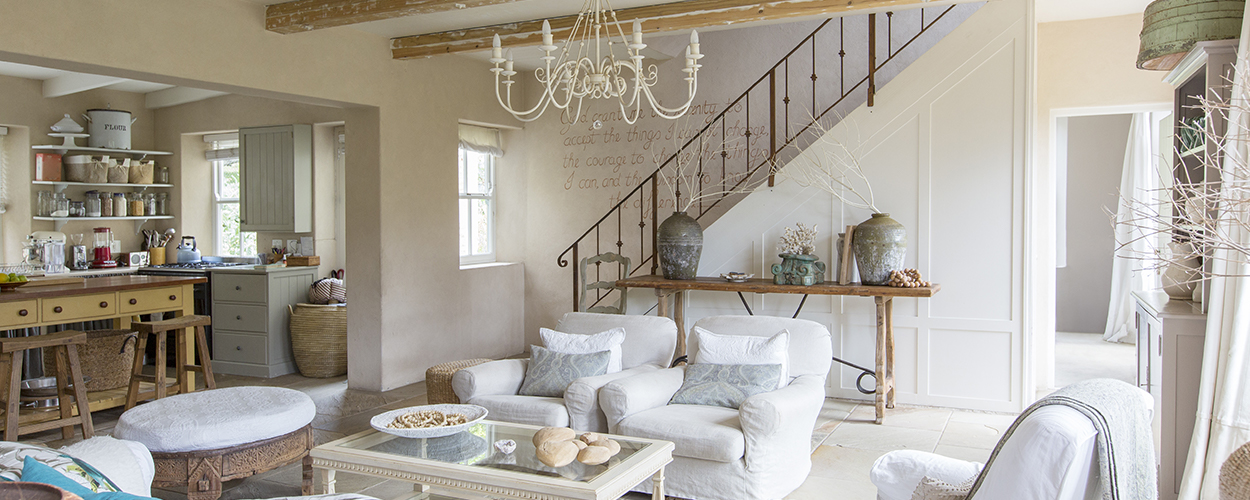 5. Rustic Farmhouse
If you love flea markets and repurposing decor, this farmhouse interior design idea is meant for you! Rustic farmhouses are all about handcrafted elements and a ruggedness you just don't see in other variations of this style. One signature feature that rustic farmhouses do have in common with other iterations is white walls. A white color scheme and vintage decor make this farmhouse design style feel especially quaint and down-to-earth.
Other Characteristics:
Neutral palette

Open shelving with vintage decor in tin and galvanized metal

Warm-to-gray distressed woods (shutters, seating, wall decor)

Subway tile backsplashes

Industrial materials and blackened steel decor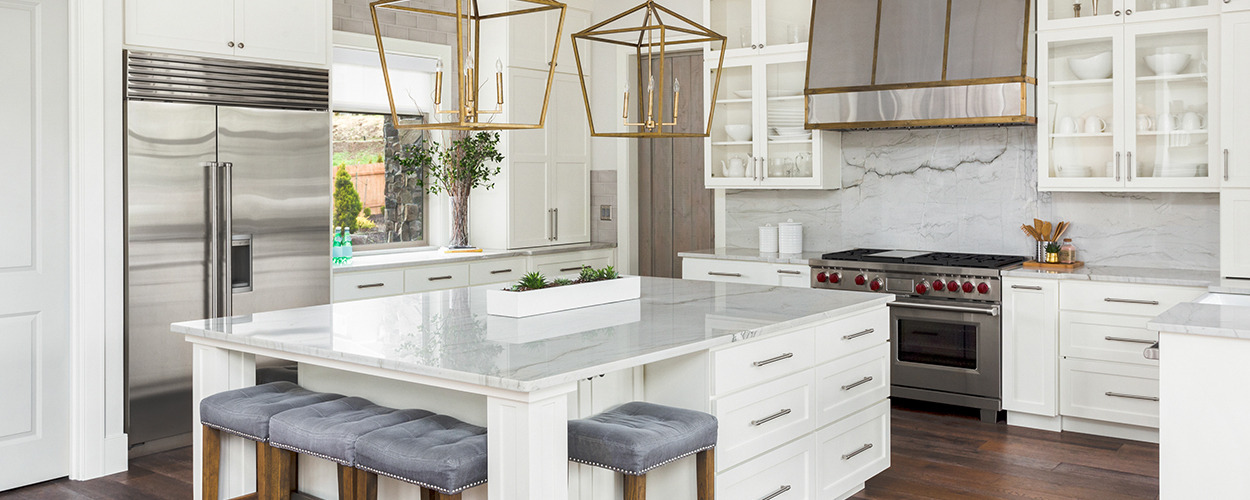 6. French or Country Farmhouse
French farmhouse style is one of the most popular versions of farmhouse interior design and definitely a top choice if you prefer to stay away from heavy industrial decor and black accents. French or country farmhouses are most aptly known to have marble, cool grays and cream-to-white color palettes, as well as more ornamentation than your typical modern farmhouse.
Other Characteristics:
Warm hardwood floors with rustic texture

Woven furnishings, off-white cotton fabrics, and cotton ticking stripes

Antique accents

Marble countertops, backsplashes, and table tops

Zinc and galvanized metals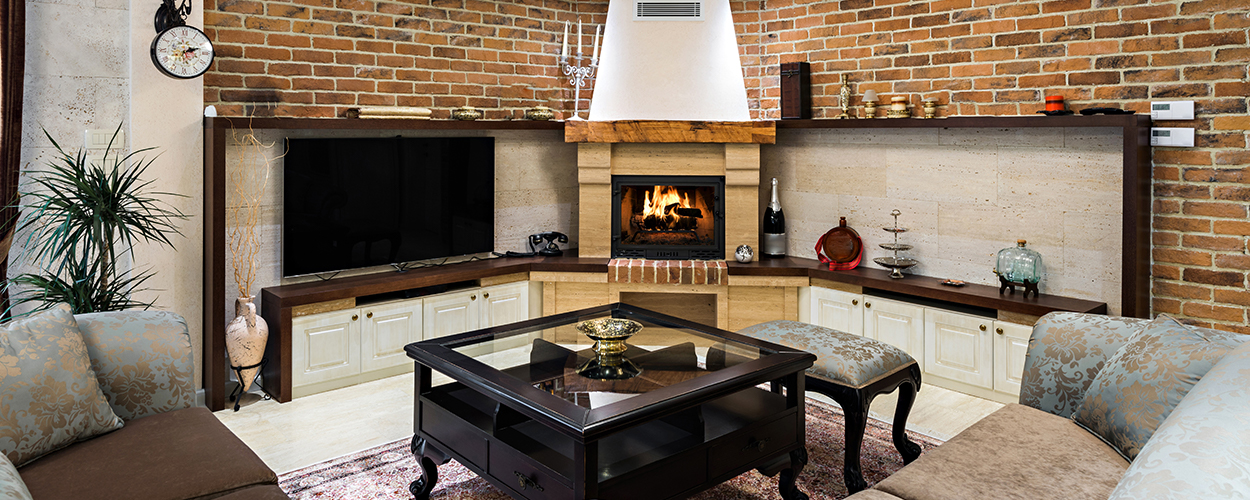 7. Colonial or Traditional Farmhouse
This farmhouse design style fully embraces the old world and a time in history that we can only read about in books. Colonial farmhouses use authentic historical elements like stone, primitive wood beams, and colonial grid windows to achieve a traditional, charming atmosphere that truly transports you back in time. 
Other Characteristics:
Traditional millwork detailing

Rich colors on painted, wood-paneled walls

American antiques and textiles used in lighting, furniture, and decor

Muted, natural color scheme

Brick fireplaces and flooring
As you can see, there are many different variations of farmhouse design style, all with unique features and characteristics. Now that you have an idea of what each entails, you can decide which farmhouse interior design idea fits you best!
If you're in the market for new furnishings to go along with the theme, be sure to take a look at our Max Gray and Basic Wool collections that perfectly complement farmhouse interior design trends.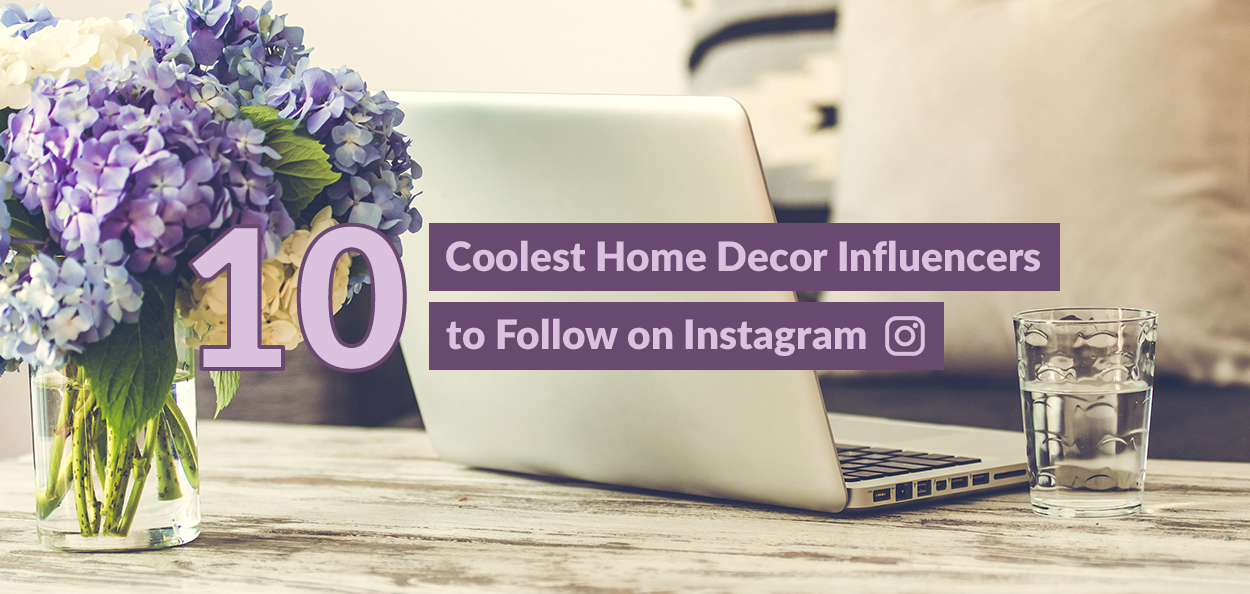 When you have a passion for something, you often look for inspiration from others to fuel your ideas and perfect your vision—a passion for interior design is no different. If you find yourself engulfed in home renovation projects or can't seem to stay away from furniture stores, it's safe to say that you are a fellow lover of home decorating and design. 
Whether you consider yourself an expert or want a little guidance, the world of social media is bound to open your eyes to trendy and fresh ideas. From modern farmhouse to bohemian design, here are our top 10 home decor influencers that will enlighten your interior design style. 
1. Erin | @mytexashouse | 595K Followers
Love Southern-inspired homes with a touch of luxury? "My Texas House" lives up to its name with Erin's stunning home decor content. 
If you thought you had to choose only one design style within your home, follow Erin to see how she intertwines farmhouse chic with traditional-style decor. Soft neutrals, wood elements, rich upholstery, and elegant light fixtures come together to create a cozy yet luxurious space.
Are you obsessed with metallic accents in your home? This home decor influencer might just be your new source for home design inspiration. Randi's style can be summed up in three words: glamorous, white, and traditional. Her bright white color palette, metallic details, and elegant decor pieces are the depiction of traditional interior design with a side of glam. Randi sets a great example of how vibrant accents and neutral base colors complement each other extremely well.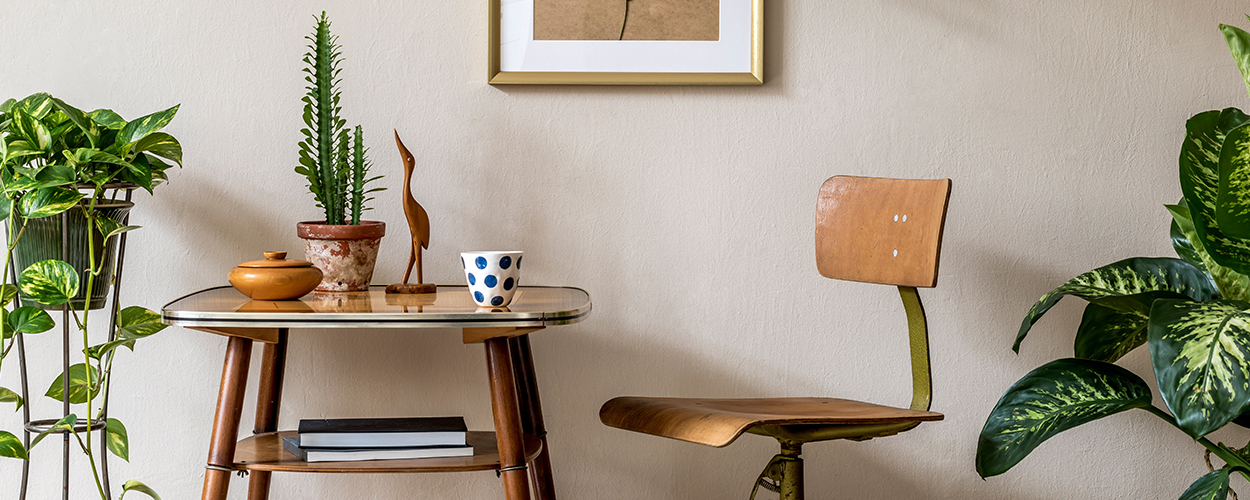 Look no further for plant decor ideas because Brittany is the queen of greenery. Beautiful plants can be seen in almost every single post on her page and it never gets old. This Instagram influencer has curated a home that feels intimate and warm with an emphasis on wooden furnishings and a mix of textures. 
As you scroll through her feed, you can't help but notice a subtle bohemian vibe that's balanced out by other modern elements like a white color scheme and neutral-colored decor pieces.
Brace yourself for a look into the world of luxury interior design with this home decor influencer. Grace has filled "Love for Designs" with countless high-end decor inspiration that could easily be seen in the homes of celebrities. Think marble flooring, ornate chandeliers, plush fabrics, and elaborate decor pieces. Even if you can't ever see yourself transforming your home into a palace like the ones on this page, it's still fun to look at!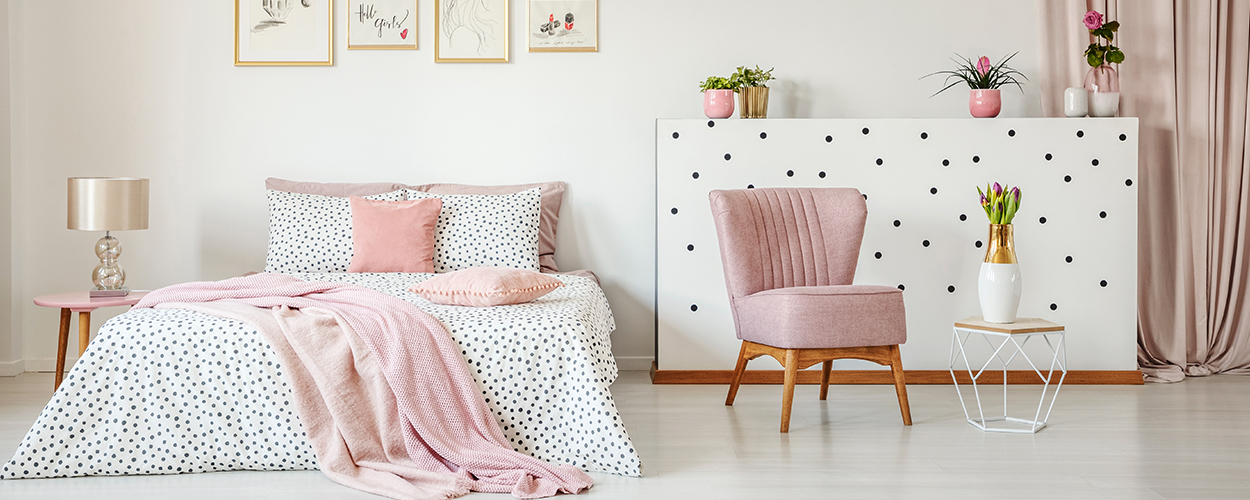 5. Melike | @easyinterieur | 728K Followers
Give "Easy Interieur" a follow for all things pink, white, gray, and metallic. Melike is a home decor influencer and interior design blogger who has found success in creating interiors that are as chic as can be. 
Her style is characterized as very feminine with shag carpets and throw pillows, flashy mirrors, pretty pastel shades, and lots of candles. If you want to curate a sophisticated and glamorous aesthetic, this page is sure to give you amazing ideas!
Forget about extravagant decor and opulence. Amber is your go-to Instagram influencer for laid-back interiors that are simple and warm. She has what you would call a "California aesthetic", most aptly characterized by light-filled rooms, colorful textiles, natural elements, brushed metals, and earth tones. 
Plants, wooden decor of all shades, and woven textiles blend seamlessly into a space that is meant for relaxation and comfort. If this sounds like something you need in your life, "Amber Interiors" is definitely a page you'll love to follow.
Awaken your artistic side by following Justina, a creative director with an aesthetic that is all her own. This home decor influencer is someone that strays from the usual status quo and ignores the typical trends that many households follow today.
Her home inspiration is all about vibrant colors, bold patterns, natural elements, and of course, art. If you were to sum up her style in two words, it would be "contemporary bungalow." Check out her page to see what this style looks like when put into action!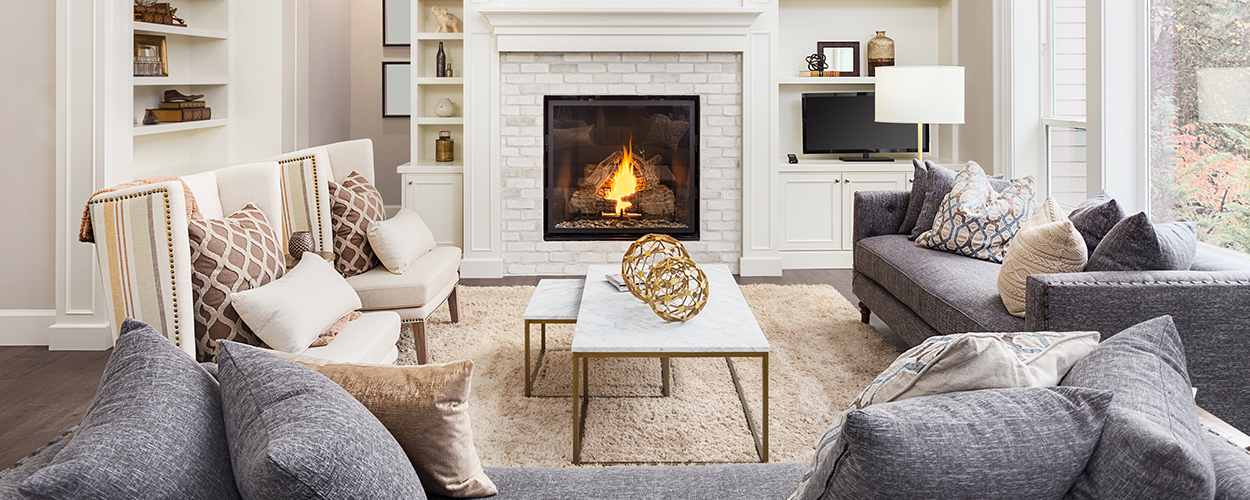 8. Becki | @beckiowens | 1.2M Followers
Rather than focusing on one interior design style, this Instagram influencer and interior design blogger distinguishes herself by including an eclectic mix of decor inspo. From contemporary homes with black color schemes to rustic interiors with exposed beams and stone fireplaces, Becki covers it all. 
Get your daily dose of home decor content that's always unique and you might just find yourself evolving your home's look to match a completely different interior design style.
You can't say your Instagram influencer list is complete without adding at least one DIY fanatic. Angela is a down-to-earth home owner and mom that shares her DIY projects with the world. Her interior design style is modern with touches of boho and contemporary decor pieces, so there really is a lot of inspiration to go around.
If you're tired of simply pinning DIY projects to your board and calling it a day, gather some motivation from Angela and her gorgeous DIY home!
Scandinavian-style homes have gone global and made their way to the U.S. If you're looking to adopt this minimalistic and simple design style, be sure to check out "My Scandinavian Home." Niki is from one of the birthplaces of Scandinavian interior design—Sweden. What better way to get inspiration than straight from the expert?
If you aren't familiar with this particular style, Scandinavian homes often have modern furniture, muted colors, minimal decor, and an abundance of wooden accents. 
That's a wrap on home decor influencers! As you grow your interior design style with the help of these Instagram influencers, be sure to also take a look at 9 interior design themes to follow in 2021 for more trends and ideas.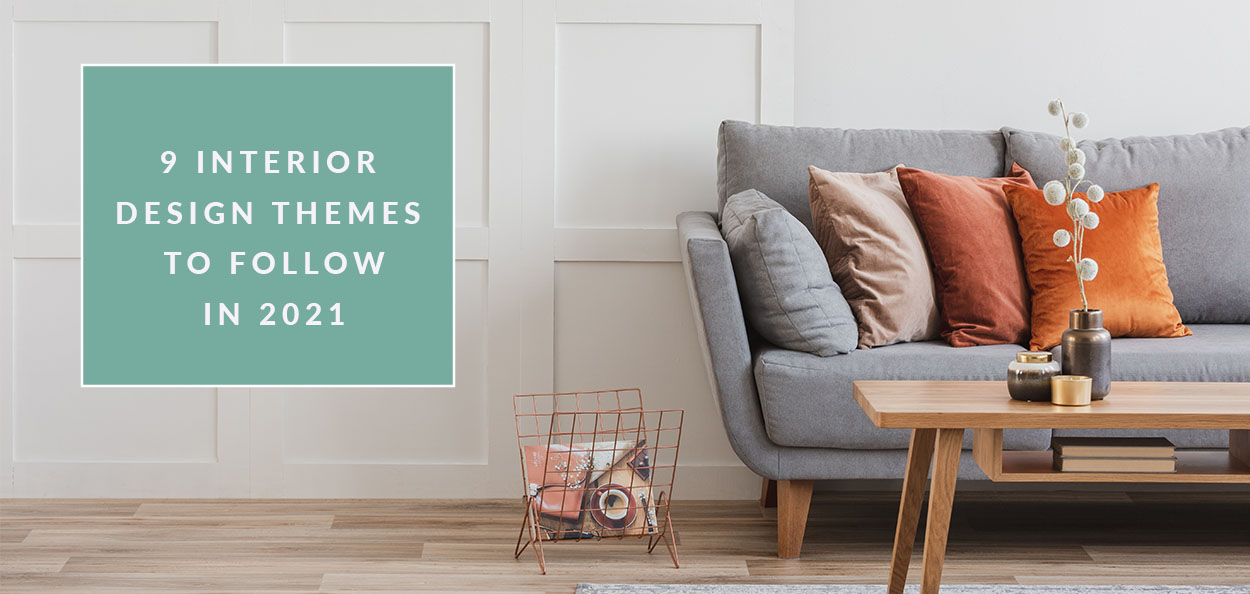 Just as soon as the interior design trends of 2020 took off, the design world just as quickly shifted its focus to a new set of trendy interior design themes for 2021. From color schemes and types of materials to conceptual designs, here are some of the top 2021 design trends to keep an eye on this year.
Ground Yourself with Earthy Tones
With so much time spent at home nowadays, it only makes sense that your space would focus on a comfortable and serene design. In 2021, expect to see a natural theme with warm and welcoming earthy tones of deep red, warm green, golden yellow, rust, and muddy brown. 
This earthy palette brings a vibrancy to any home while ensuring that you and your guests feel relaxed and at ease.
Incorporate Feng Shui Design
Even though Feng Shui has been around for centuries, this ancient design concept has only just recently made its way to the U.S. in the past few decades. 
Through specific colors, home decor items, and strategic arrangements, Feng Shui aims to create balance and harmony within your home. If you're looking for a little more flow and harmony in your life, this 2021 design trend is definitely worth a shot!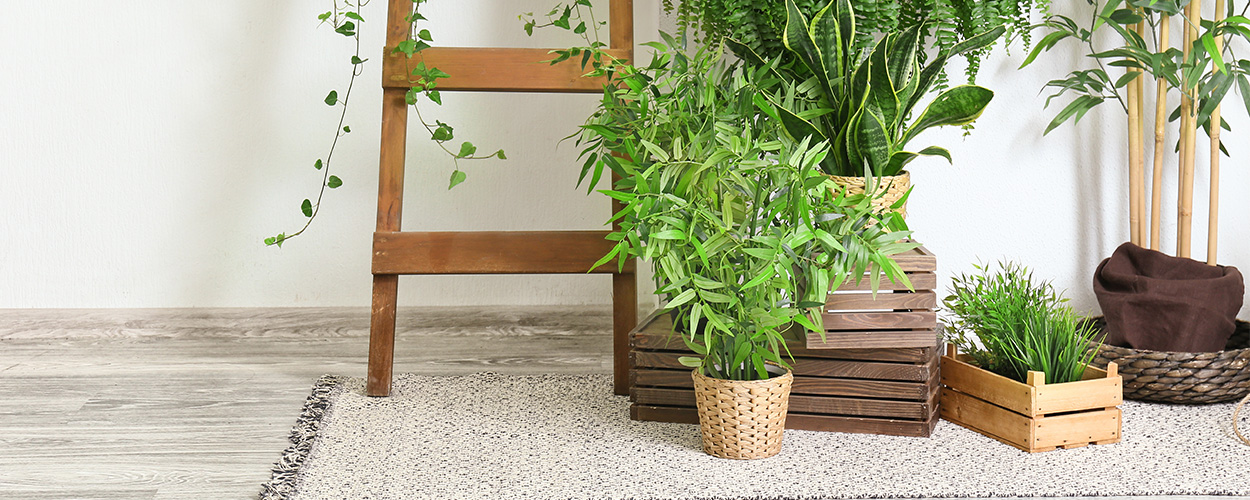 Go for Greenery
You may be thinking, "Wait a minute… Wasn't this a theme in 2020?" Why yes, it was. Although houseplants aren't a foreign concept, their ability to withstand the test of time (which is a challenge in the interior design realm) shows just how fashionable they really are. 
Not only are plants a fresh and chic decor item to include in any home, they offer value when it comes to eco-friendly design. They help to purify your space and cleanse it of harmful toxins. 
Whether you go for a boho look with macramé plant hangers or opt for a modern plant decor, it's easy to find greenery that fits your home's overall style.
Make Sustainability Stylish
Sustainability is one of the most prevalent discussions today, so it's not surprising that it has made its way into the interior design realm. Rather than simply recycling and avoiding plastic, a major interior design theme in 2021 will be sustainable decor. 
Multifunctional furniture, as well as furniture that guarantees longevity and durability will be a pattern across households. You can start including this trend into your home with sustainably-sourced materials, energy-efficient methods, and other eco-friendly design ideas.
Choose Maximalism
Instead of having a few trendy home decor pieces to tie together a minimalist look, opt for maximalism as your 2021 design trend. Personalize your space with memorable, sentimental items that help your home tell a story of who you are. These personal items can be anything from a couch to an art piece.
Layering old with new is another aspect of the maximalist theme. While you fill your space with vintage decor from days gone by, don't forget to strike a balance with modern touches as well.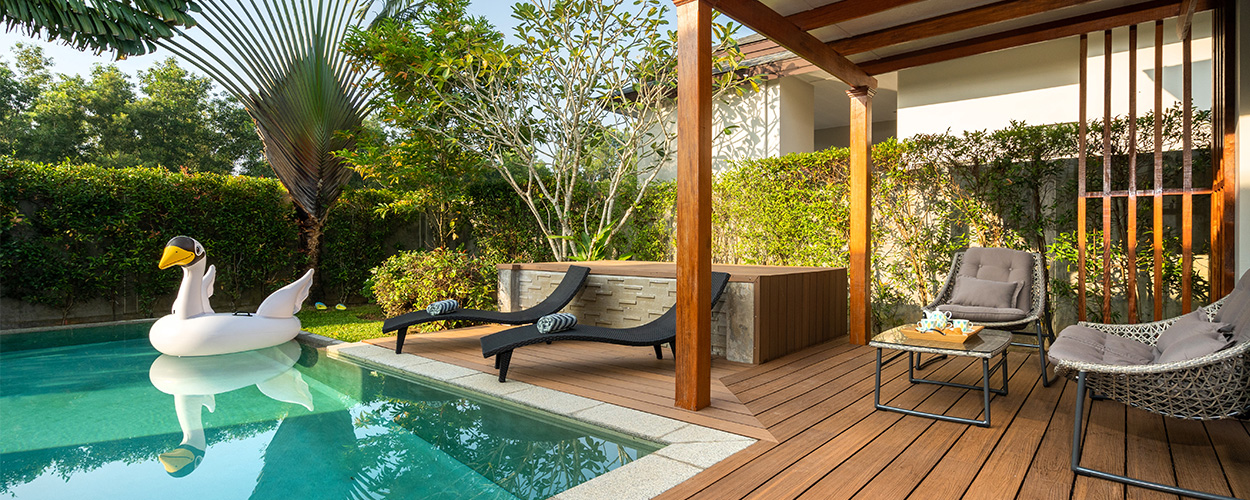 Create a Multi-Functional Yard
As you do your research, you may notice a common thread with 2021 design trends—many of them reflect the state of the country at the moment. With the pandemic creating a new at-home lifestyle, households are being forced to become multi-functional in more ways than one. 
With less opportunity to find entertainment away from home, curating a backyard that is both pleasing to the eye and fun to lounge in is essential. For that reason, beautiful and functional gardens will see a spike in popularity in the new year. Along with that, swimming pools, patios for entertaining, and greenhouses will most likely see a rise in use.
Design a Cozy Cottage
When you think about cottages, you probably think cozy, quaint, and comfortable. That's exactly what this interior design theme is all about. Create your very own cottage with vintage prints and motifs, a pastel color palette, and subtle touches of glamor with gold accessories and gilded mirrors. 
The goal of the cottagecore design concept is to create a space that brings a touch of nostalgia and lots of comfort, which is exactly what's needed if you find yourself at home more often.
Pull from Global Inspiration
A yearning to travel and see far off places is the key driver behind this 2021 design trend. With many travel plans canceled, it's predicted that lots of homes are going to be pulling from global inspiration to travel across the world without leaving the safety of home. 
Calming color palettes, warm tones, and natural textures are a few conceptual ideas to follow if you prefer a more subtle theme. Tropical leaves, florals, and bright colors are another option for a more bold interior design style.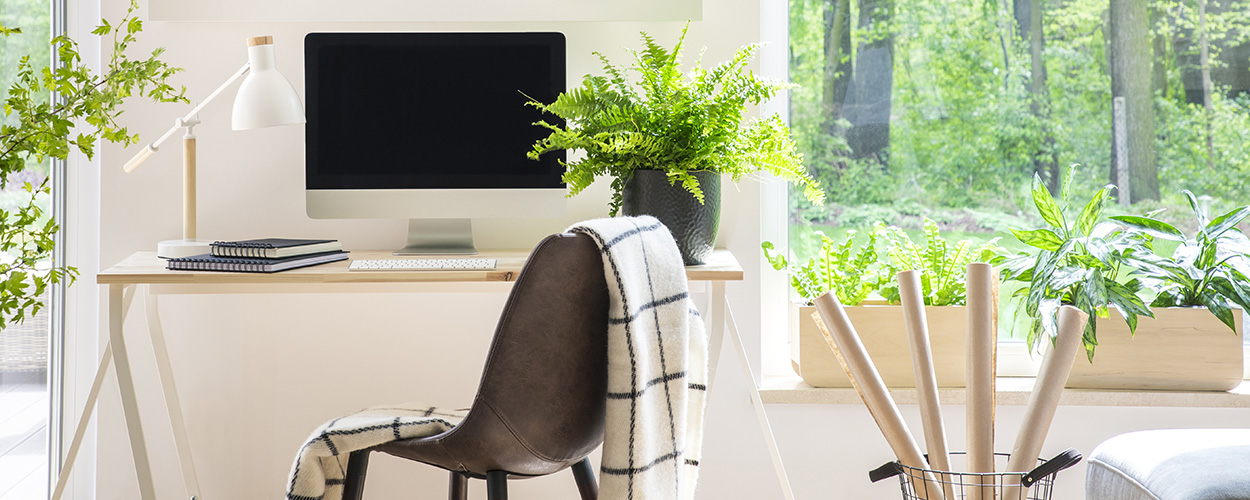 Make the Home Office a Focal Point
Working from home was and continues to be a major trend in the working world today, which is why an emphasis on the home office is going to be big in 2021. 
Veer away from the corporate vibe of black foam chairs and neutral colors to instead build a creative space that induces thought. Artwork, patterned wallpaper, a desk light, and a stylish work chair can take your home office from boring to stunning.
Whether you're using the new year as an excuse to give your home a makeover or you simply love keeping up with the hottest trends, these interior design themes are a good place to start. If you choose to reinvent your home office, make sure to combine style with functionality by taking a look at your home office ergonomics checklist!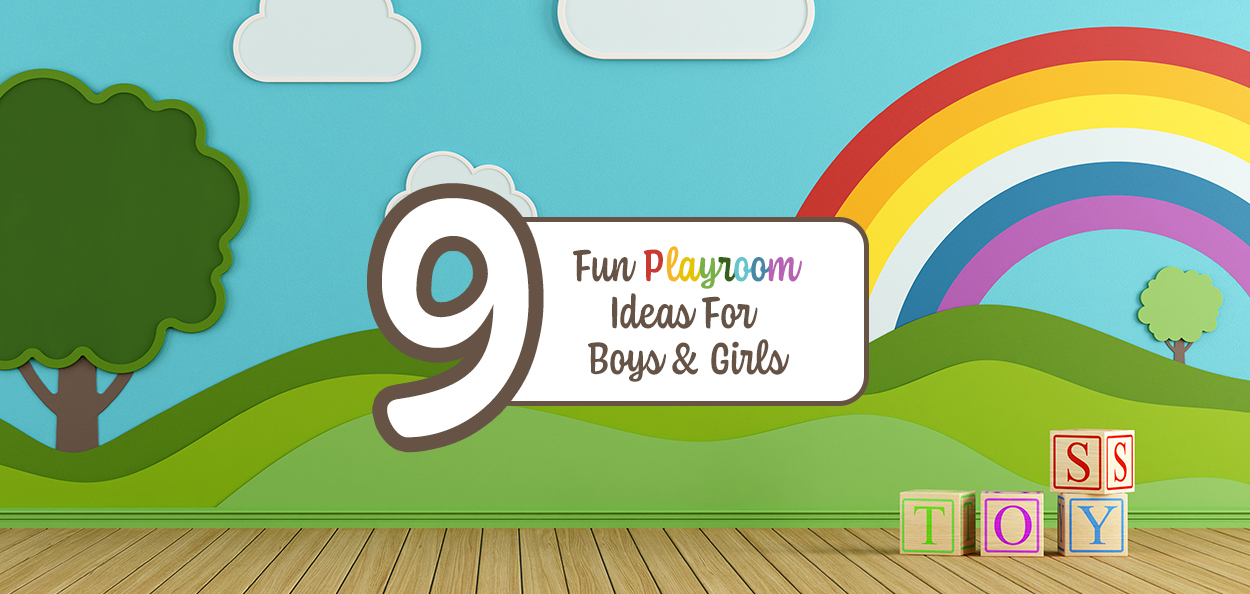 Does your home have a spare room just waiting to be filled? If you have kids that own more toys and trinkets than you know what to do with, it may be worth the time and effort to invest in a playroom. Make your kids' dreams come true by creating a room for fun and creativity with these playroom design ideas!
Install a Wall Chalkboard
Tired of cleaning up your kids' wall drawings that shouldn't be there in the first place? Give them the creative outlet they've been craving with a wall chalkboard. You can easily create DIY chalkboard walls yourself or hire a professional to do the job for you. Whichever way you choose to do it, you and your little ones will love the finished product!
Include a Dress-Up Corner
Whether you're looking to design a boy playroom or girl playroom, you can't go wrong with including a dress-up corner. Let your kids' imaginations run wild by including a few decor items like a metal hanging rack, hooks, storage baskets, and of course, a mirror.
Watch them transform into their favorite characters from books or movies. To make the dress-up experience even more thrilling, think about creating a makeshift stage for their performances. With some lumber and basic carpentry skills, you can create a DIY stage on your own.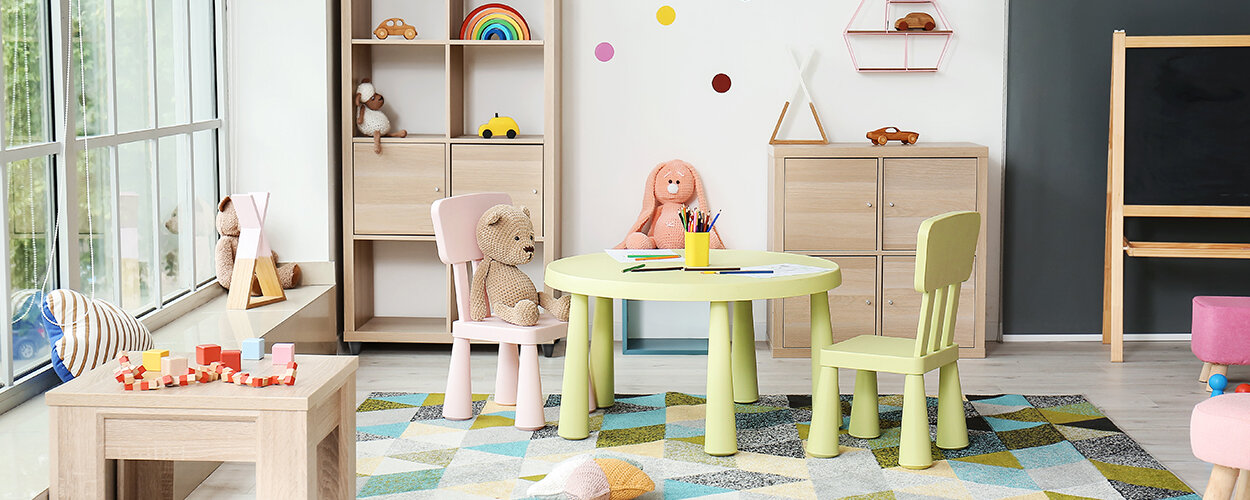 Add a Kid's Table
Beyond just playing with toys, a playroom can be used for other creative activities like crafts, card games, reading, and tea time. Incorporating a small table is a quick and easy playroom design idea that will pay off for years to come.
Consider buying a round one to avoid potential accidents with sharp corners. You can also size up a bit to account for growth spurts over time!
Hang a Ceiling Swing
Who says swings only belong outside? Bring the excitement of outdoor play inside your home with one or two ceiling swings that will undoubtedly be a hit with your little ones. This fun playroom idea comes in handy all year round, but especially during the cold winter months when the kids are cooped up in the house and need to release some energy.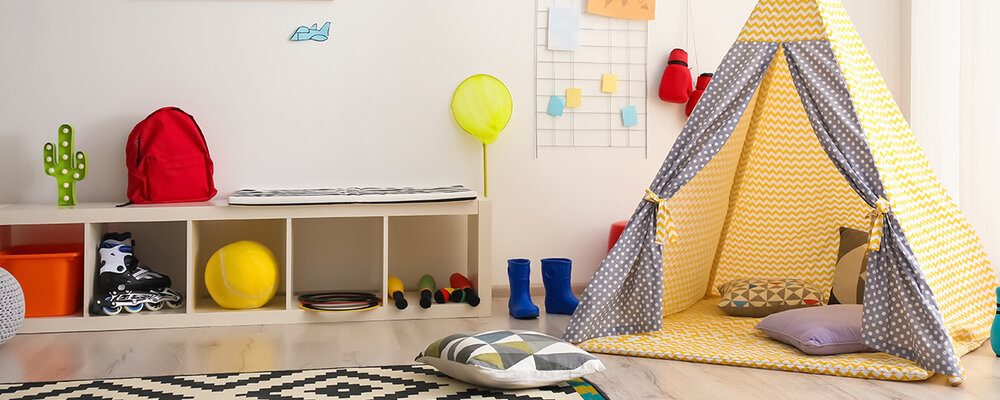 Create a Nap Time Space
With hours of playtime comes tired little ones. If you don't mind moving nap time out of the bedroom every once in a while, try this fun playroom idea. Create a cool nap time space with a daybed or a bundle of blankets and pillows. Nestle it up in the corner of the room and maybe even hang a sign officially naming that spot the "Nap Time Zone."
Having a special place for napping in your kids' beloved new playroom might just pay off tenfold. Rather than fighting the idea of taking a nap, the kiddos may fall in love with it because they get to sleep in their favorite room of the house.
Save Room for a Reading Nook
One of the biggest playroom design ideas to remember is that the space can be used for more than just play. Your home's playroom can double as a classroom when you save one corner for a reading nook.
Create a learning environment that the kids are actually thrilled to be in by decorating the nook with fun books, pretty wall art, and comfy seating. If you have lots of space, you can add in a small table for the kids to work on school assignments.
Slip in a Small Slide
If you have little ones running around your house, chances are they would fall in love with an indoor slide. Add a small slide to your playroom for hours of giggles and entertainment. If you feel like going all out, you can include a ball pit at the bottom of the slide for another fun surprise.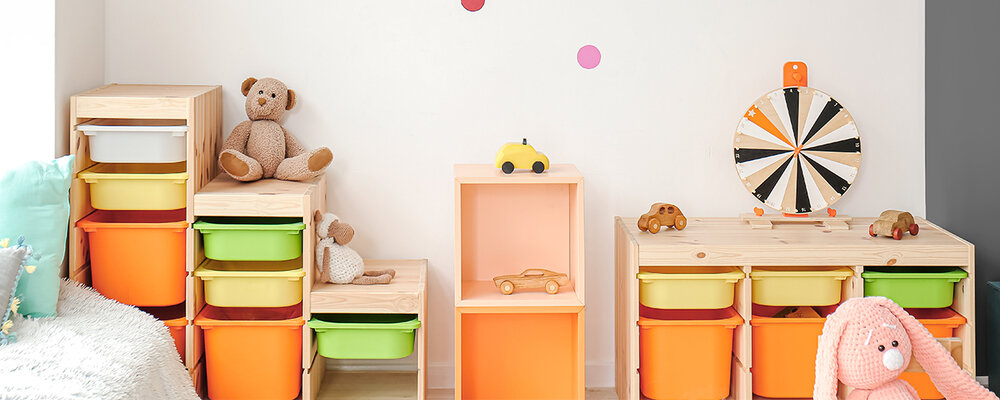 Organize with Toy Cubbies
While it may be tempting to simply toss all of the toys into the playroom and call it a day, there are lots of storage options to keep the room more tidy and organized. Invest in toy cubbies to store all of your kiddos' favorite toys and avoid the pain of stepping on them when you walk in the door.
For an even cuter touch, personalize each toy cubby for every one of your kids by adding their name or initials. Not only will this make each of them feel special, it will also give them the chance to be responsible for putting their toys back into their designated spot.
Think Vertically
When you start brainstorming ways to design your kids' playroom, think vertically. You want them to have as much space as possible to play and placing everything on the floor clutters the room quite quickly. Whenever possible, use the walls for storage and decor. Floating shelves are a chic and simple solution for holding books, pictures, and other small toys.
Keep the most necessary items close to the ground for the kids to easily reach, while making use of tall and sleek furniture to house more decorative pieces.
No matter if you're creating a room for girls or boys, these playroom design ideas are exactly what you need for a touch of organization and a bunch of imaginative fun. In the case that you're expecting another bundle of joy in the near future, gather more DIY inspiration with the top 8 nursery trends for your little miracle.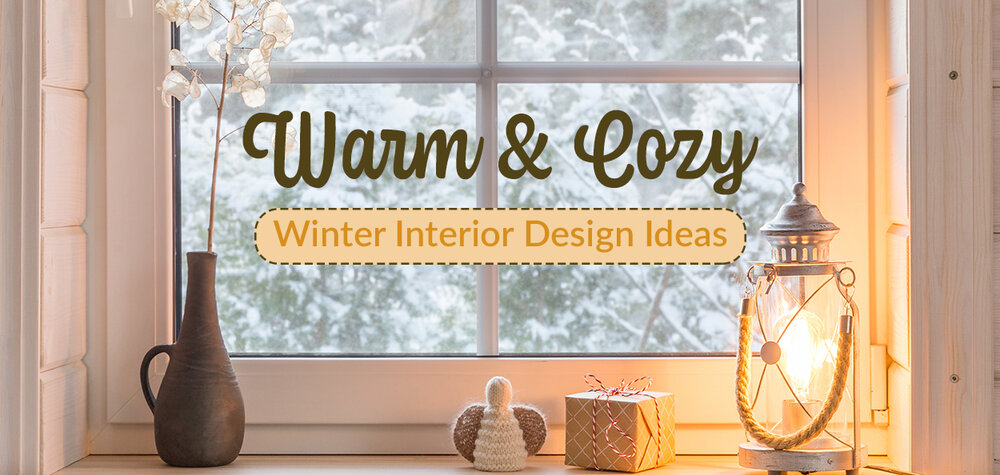 As the days get shorter and winter temperatures chill the air, there's no better time to give your home a cozy makeover. While pricey renovations have their benefits, there are also simple and affordable interior design ideas that turn your space into a gorgeous winter retreat. Cuddle up in comfort and entertain in style by incorporating these winter decor ideas into every room of your home!
Snuggly Textiles
Nothing screams "winter home" more than luxurious textiles you can cuddle up in on a cold winter night. Start with the necessities like warm flannel sheets for your beds and then work your way to the accessories.
Knitted poufs and chunky cable-knits are a cozy interior design trend popular this season. You can easily incorporate it into your space by tossing throw blankets across your beds and couches. Take things a step further with a faux fur stool or faux fur blankets draped around your furnishings as well.
Once you've laid out your snuggly winter decor, don't forget about the floor. Adding rugs is another easy way to elevate your space and create a warm atmosphere. Opt for sheepskin or wool rugs that are a great addition to your bedroom. They feel heavenly on your feet and absorb the heat in your home. You can also place durable outdoor sisal rugs in high traffic areas because they're easy to clean and stylish!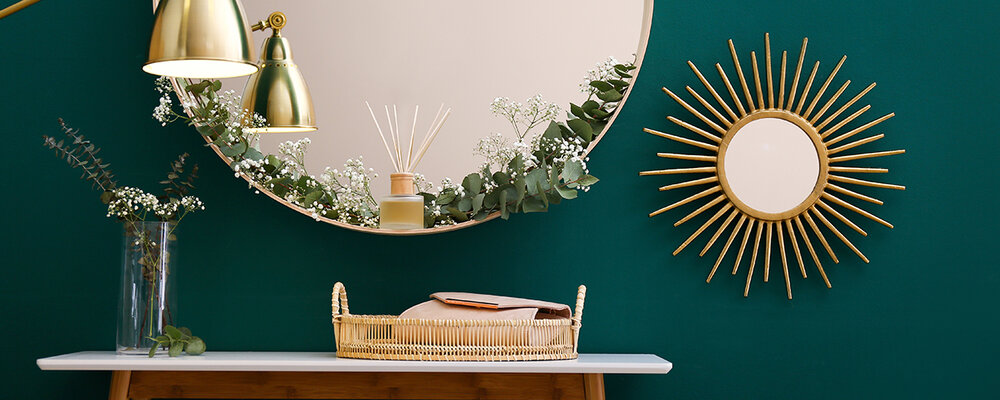 Shimmery Mirrors
Transform your home from a dark winter cave to a bright, shimmery retreat by hanging mirrors throughout each room. You would be surprised how much light is reflected from a couple gold-gilded mirrors on the wall!
Not only are mirrors an eye-catching winter interior design trend, they are also a creative way to make your space feel more open and look more spacious.
Portable Fireplaces
Having a giant, built-in fireplace is the dream during snowy days at home, but it may not be the reality for you and your family. That's where portable fireplaces come into play. Bring the warmth of fire into your living room this season by investing in an affordable fireplace that matches your winter decor preferences. Choose from sleek and modern, traditional, stand alone, wall-mounted, and many other options to suit your interior design style.
One of the nicest features of these electric fireplaces is that you can change settings and control temperature right from your seat. Most come with remotes for your convenience. Place the electric fireplace up against your wall or closer to your sofas and enjoy a cozy night by the fire!
Illuminating Metallics
Just as mirrors work magic when it comes to bouncing and reflecting light, so do metallic winter decor items. Dress up your home with a wide variety of metallic accessories like lamps, wall art, sculptures, and even decorative candle holders. Along with providing illumination for your home, metallics in different finishes display a unique and beautiful design contrast that brings interest to your space!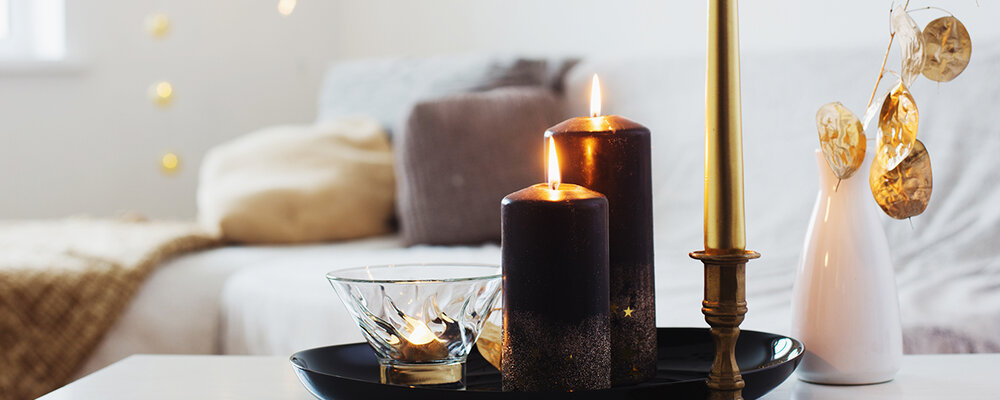 Glowing Candlelight
The inviting scent of candles mixed with their warm glow make them an irresistible winter decor item wonderful for any home. Light up the shadows of your space and channel all of the cozy vibes of the season with candles of all shapes and sizes.
Go for traditional votive candles (the ones in glass containers) or spice it up a bit by using taper candles in crystal holders. Keep it seasonal with sweet and spicy aromas like cardamom, cinnamon, cloves, rosewood, and orange.
Warm Wood
If you're looking for other stylish and budget-friendly ideas on how to make your living room feel cozy, incorporating natural elements is always a good idea. Wood and winter go hand-in-hand, which is why it prevails as one of the most loved interior design trends.
Including wood elements inside your home helps to create a warming effect while acting as a natural insulator. Try a reclaimed wood art piece, wooden side table, or a simple basket with cut fire logs.
Cozy Lighting
Switching up your lighting is a simple and inexpensive idea for a cozy interior design during the chilly winter months. Sit back and relax in a soothing environment by upgrading your lighting with warm-light LED bulbs that produce much softer light. You can also add dimmer switches to existing outlets to control the brightness of lighting throughout the day.
Other creative winter interior design ideas for lighting include salt lamps, colored glass lamps, and lighter lamp shades made of paper or linen.
Giving your home a winter facelift is as easy and affordable as you need it to be with these winter decor solutions. Bundle up and enjoy the season in style and comfort by creating a space full of your favorite winter interior design trends that perfectly complement your taste! For more inspiration on how to lighten up your home during dark and gloomy days, check out how to brighten a dark room.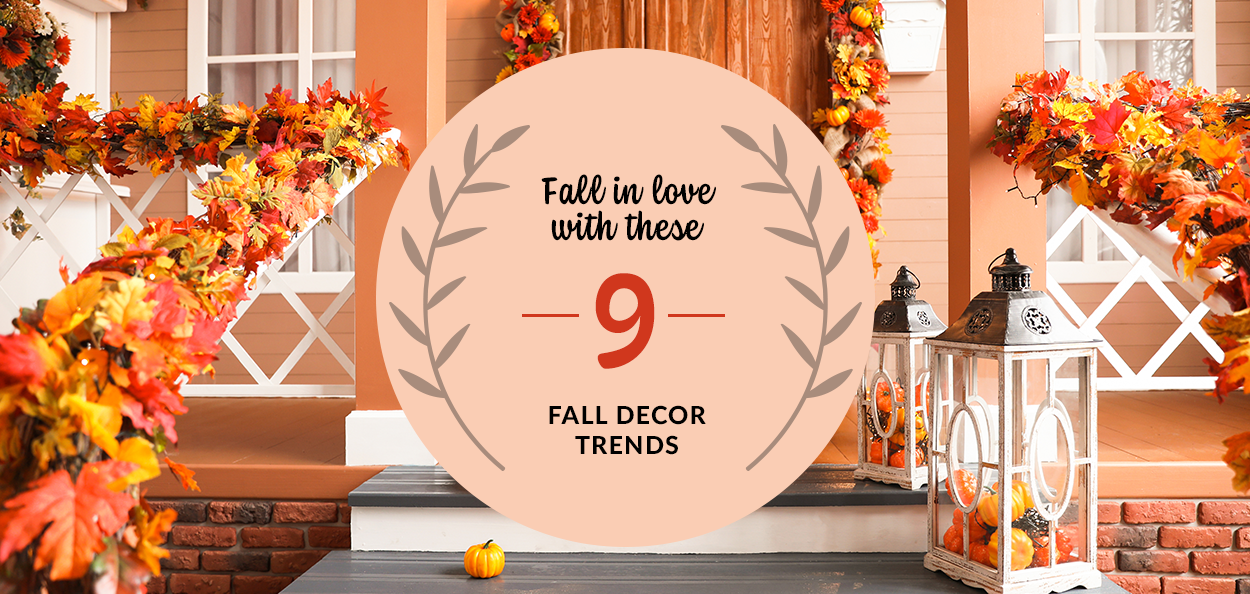 Fall is just around the corner which means it's time to transform your home from a summer oasis to a cozy autumn retreat. Whether your style consists of pumpkins and plaid or more modern autumn touches, there are plenty of ways to spice up your space for the coming season. Curl up on the sofa and gather inspiration with these 9 fall decor trends.
Autumnal Plants
One of the signature themes of autumn is burnt orange leaves and fall foliage, which is why this fall decor trend is perfect for your home. If you have a green thumb, try your hand at nurturing fall flowers like Chrysanthemum, Celosia, or Croton.
For a zero maintenance alternative, opt for faux plants that achieve the same look. Plants with traditional fall colors like yellow, orange, red, white, or even brown can be strewn throughout each room. Don't forget to include these plants on your front doorstep as a festive autumn greeting!
Traditional Plaid
As each year passes by, plaid continues to dominate as a popular fall decor idea. There are countless ways to incorporate plaid into your home, so all you need to decide is how subtle or obvious you want it to be. Plaid blankets, throw pillows, table cloths, bedding, furniture, and even wallpaper are just a few ideas you can use to create a plaid palace or a modest plaid design.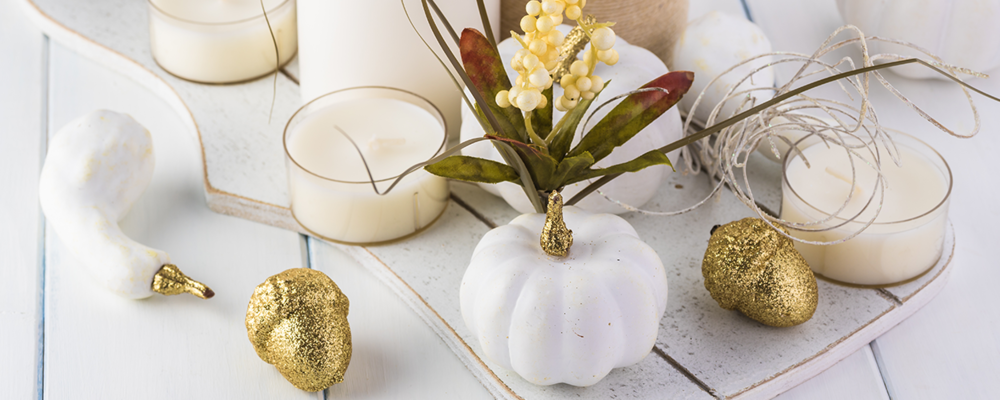 Warm Metallics
When thinking of autumn decorations, metallics may not be the first idea that comes to mind, but they're a big fall decor trend in the design world. Brass, copper, and gold add a touch of luxury to your home, while also grounding it with earthy fall colors. Whether it's copper dinnerware, brass art pieces, or gold-gilded mirrors, you can't go wrong by mixing these shiny metallics.
Layered Accessories
Autumn is all about warm and cozy vibes, so it's no wonder layered accessories are a hit. Try maximalist style by layering accent pillows and blankets. Weave in plain, fall-inspired hues along with corresponding patterns to create contrast and depth. Not only will this fall decor trend add color to your home, but it will also keep you and your guests comfy as the cold weather begins.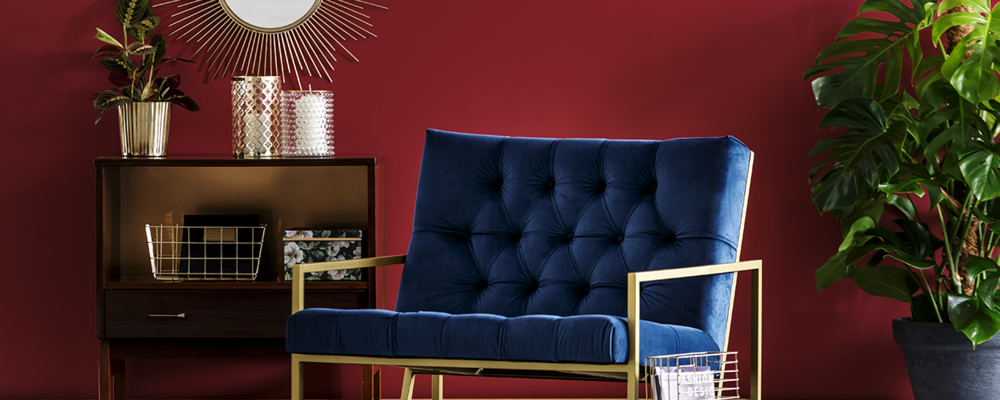 Moody Colors
While bright yellows and burnt oranges work wonders for a classic autumn look, consider moody colors as well. Dark reds, deep greens, navy blues, and gold are gourd-geous fall colors that bring richness to your home. Set the mood with dark green candles and gold vases or get courageous with a deep red accent wall!
Faux Fur
Nothing says cuddle weather more than faux fur accessories! Soften up a modern room with a faux fur rug or throw a blanket over your sofa, bed, and dining room chairs. This adds texture to your home that is not only stylish, but practical as well! Offer up blankets to guests or enjoy a romantic date night on your faux fur rug.
Floral Accents
There's no need to stress if you aren't a huge fan of plants. You can still incorporate fall foliage into your home without getting the real deal! Floral accents on dinnerware, table cloths, paintings, and vases are a wonderful way to celebrate the season without filling your home with plants. Follow your fall color theme and you're golden!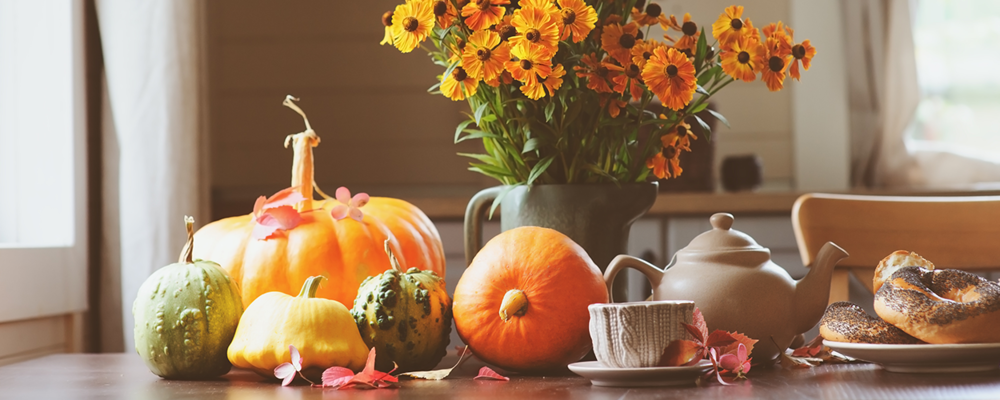 Pretty Pumpkins
You can't decorate for autumn without including at least a few pumpkins here and there. Go traditional with bright orange pumpkins on the front porch or take a more modern approach. Pale pumpkin shades of orange, white, green, and gray are a great fall decor trend for any home. Metallic pumpkins (copper, gold, brass) are a new-age trend as well. Arrange them in different shapes and sizes, including at least three in a group.
Don't be shy with placement either! Pumpkin decor can fit in anywhere. Fireplaces, dining room tables, staircases, countertops, and even kitchen islands are a handful of areas that can use some pumpkin pizzazz.
Velvet Furnishings
Incorporating velvet is a must if you love contemporary interior design with an old-school touch. Velvet furnishings are glamorous all year round, but they look amazing during the fall and winter months. Pick from your moody color palette or opt for vibrant fall colors like orange and mustard. Velvet drapes, duvet covers, pillows, and sofas are sample furnishings that make a style statement in any room.
From plaid to pumpkins and everything in between, you now have the inspiration to go decorate your home with these fall decor trends! If new furniture is on your decorating list, take a look at Fusion's stylish selection of sofas and sectionals that fit any time of the year.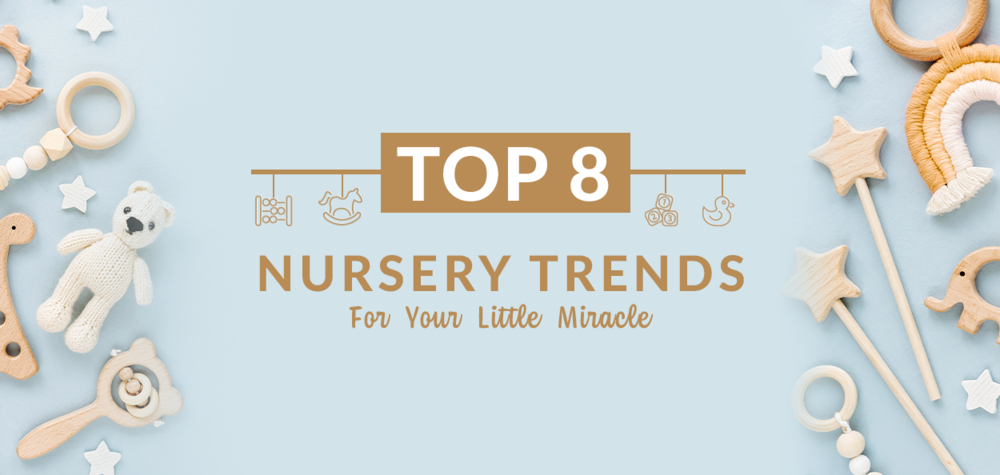 Just as other home decor styles change over the years, so do nursery styles. Get all the nursery inspiration you need with these top nursery trends in 2020! You'll be able to create a comfortable space for you and your baby that reflects your unique parenting and decorating styles.
Nursery Trend 1: Cozy Spaces
You may have chosen a home with a spacious room for your nursery, but that's not a prerequisite for today's stylish modern nurseries. No matter whether your nursery is taking over a small spare room or even a corner of your own bedroom, there are plenty of nursery trends to keep your family comfortable and on trend.
Choose multi-purpose furniture and smart storage to make the most of your space. You can also opt for a lighter color palette to create a bright and airy feel. By prioritizing function and comfort over clutter, you'll be able to enjoy your nursery style and have everything you need for Baby within an arm's reach!
Nursery Trend 2: Classic Decor
Traditionally, nurseries are decorated in bright colors and with large illustrations. This can be a lot of fun to design, but may not match your interior design style — or your child's tastes once they get a little older.
If you're looking for nursery inspiration to suit the overall decor of your home and stand the test of time, then look no further than the classicism nursery trend. The idea behind this nursery style is to create a simple, subtle, and elegant look that will be calming for the early years and beyond. Choose light colors and a few high-quality decor pieces to get this classic look.
Nursery Trend 3: Personalized Details
Another nursery trend for 2020 is the use of your baby's name throughout your nursery decor. Think personalized wall art, door signs, plaques, and bookends. You can also get blankets and cushions that are customized with your little miracle's special name.
Remember that it's not just Baby who will spend a lot of their time in the nursery. You will probably be in your baby's room more often than your own bedroom! For this reason, it can be helpful to personalize your baby's space with a few of your own favorite things. From artwork and inspirational quotes to some of the toys you loved as a child, adding some personal touches to your nursery style can help you relax and feel more comfortable as you look after your new baby.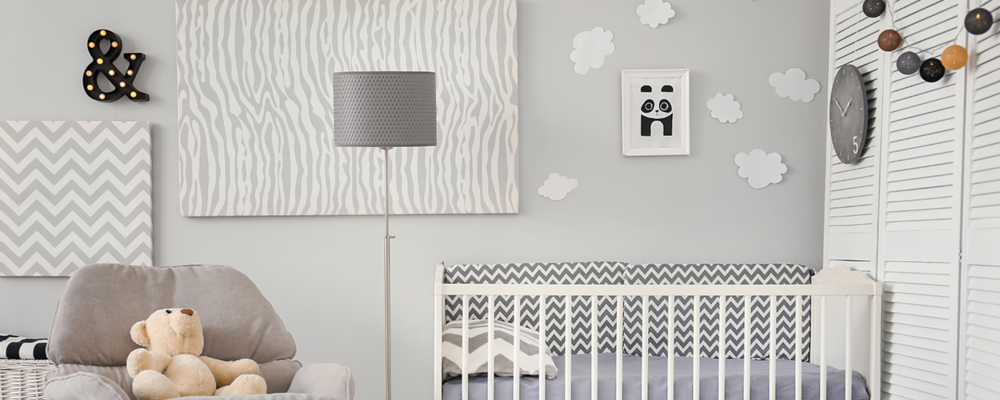 Nursery Trend 4: Gender-Neutral Designs
Forget blue nursery styles for boys and pink nursery styles for girls. Modern nurseries are now more understated and gender-neutral than ever before.
When it comes to this nursery trend, the focus is on functionality, relaxation, and comfort above all else. This versatile approach ensures a welcoming space for your child, no matter their age — or whether any siblings come along and join them later. Choose soft tones and add different textures throughout the room. You can also opt for a nursery style that complements the rest of your home interior design for a more cohesive feel.
Nursery Trend 5: Indoor Plants
Your new baby will keep you very busy so you'll probably spend more time in the home. A thoughtfully decorated nursery will provide a pleasant environment for you and your child, but you might still miss the outdoors. Indoor plants are a great nursery trend that can add some freshness to the room.
While plants can help boost your mood and purify spaces, it's essential to choose non-toxic plants for your nursery to keep your little one safe. Parlour palms, English ivy, and blue echeveria are especially effective at removing toxins from the air, while spider plants, ponytail palms, and Christmas cactus plants are easy to care for, so they won't add to your workload.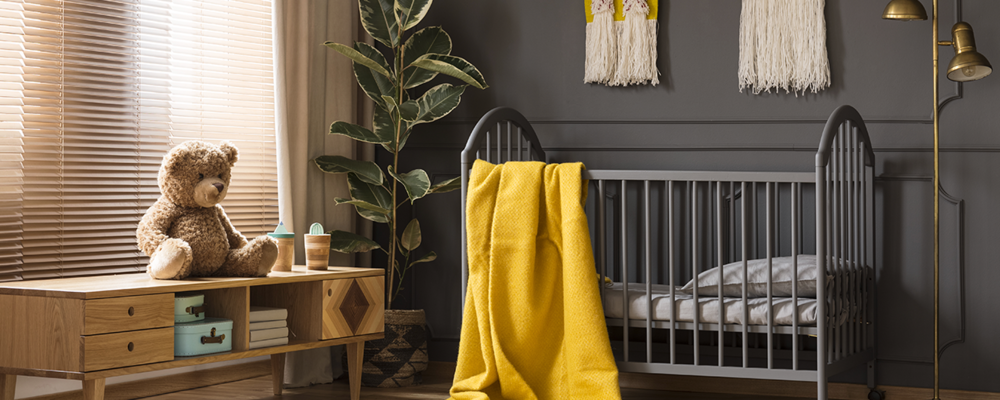 Nursery Trend 6: The Statement Wall
Looking for something different to make your baby's nursery stand out? Consider the statement wall. This is a great option for modern nurseries and can even help create a designated nursery space if you're sharing your own bedroom with your baby.
Statement walls can work with any nursery style depending on how you choose to add the focus. If you love wallpaper, there are a ton of prints that can really make an impact in the space. Floral, foliage, and ocean themes are trending in 2020. You can also use dark-colored paint to make your child's nursery more unique. Moody green, matte black, and simple geometric designs are some of this year's top choices.
Nursery Trend 7: Relaxing Vibes
An atmosphere of relaxation is key to any nursery style and can help you and Baby bond together. Modern nurseries are embracing cozy designs to create a welcoming environment. The one you choose all just depends on what allows you to relax and unwind in your home.
Warm colors and earthy textures are some of the most popular nursery trends of 2020. You can try a Bohemian interior design style by incorporating rattan furniture, chunky knits, and eco-friendly wicker changing baskets into your nursery.
Scandinavian design is also serving as nursery inspiration this year. You can adopt this style with simple furnishings and wooden flooring combined with sheepskin rugs and woolly throw cushions.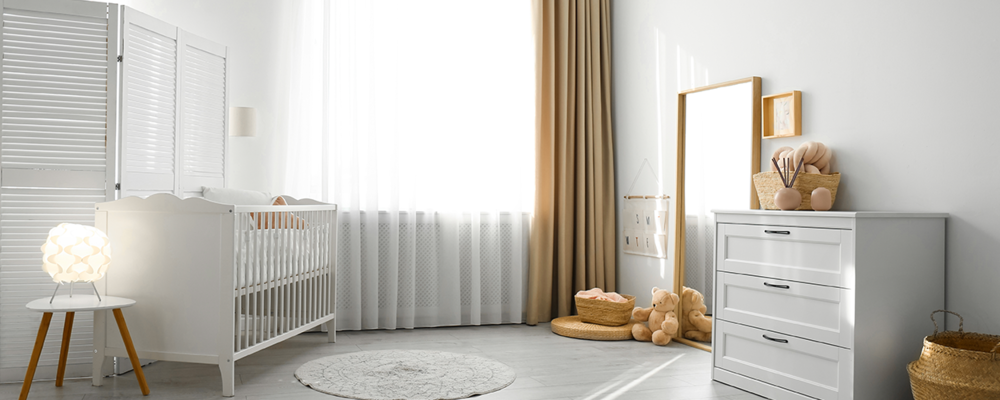 Nursery Trend 8: Timeless Furniture
There's no doubt about it: Tiny furniture is a cute addition to any nursery. The trouble is, it won't take long before your baby gets too big for that beautiful bassinet. As well as having a more versatile decor, modern nurseries are moving away from baby furniture that only lasts for a year or less and turning to timeless pieces instead.
To get the most out of this nursery trend, invest in practical furniture that your child can keep in their room as they get older. You can buy a dresser with a removable changing table to store your baby items and nurse your child in a high-quality armchair. Both of these pieces will be useful and look great for years to come. Just remember to get your furniture in kid-friendly fabrics, as children can still make a mess long after they've grown out of diapers!
To get more nursery inspiration, take a look at Fusion's stylish furniture and kid-friendly collections.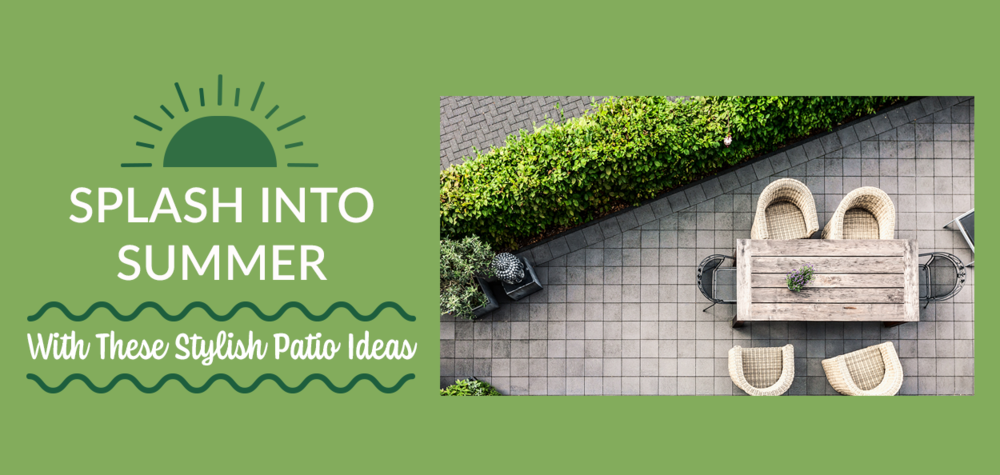 Whether it's big or small, your patio has the potential to transform your outdoor space into a true summer oasis. If you love grilling with the family, watching the kids splash around in the pool, soaking up the sunshine, and enjoying the sunset on balmy evenings, then it's well worth updating your outdoor summer decor.
These patio decorating ideas will contribute to a more inviting, seasonal spot that you'll look forward to using throughout the summer.
Amplify the Lighting
Summer days are long, but it's not unusual for sun-soaked afternoons with loved ones to stretch well into the evening. Once the sun sets, you'll want to make sure that the space is appropriately lit so you can keep the party going. Just as you would inside the house, create a layered lighting plan for your outdoor summer decor that incorporates ambient, task, and accent solutions.
Hanging string lights is a common patio decorating idea that makes good use of your holiday accessories year-round. Check out the space around the patio, too. Would it benefit from a few lights along the edges for added safety? This qualifies as task lighting. You can accent the yard, including flowerbeds and retaining walls, with spotlights to bring it all together seamlessly.
Add Floral Decor
Nothing speaks to summer's natural beauty better than floral embellishments. Whether you love bringing fresh arrangements into your home or indulging your green thumb in your garden, it's worth adding some of that same sweetness and light by introducing planters of different sizes to the patio. Add different flowers, shapes, and colors to really dress up the area.
You don't need to be too "matchy" about it, either. This is a carefree time and your outdoor summer decor should reflect that. You can cluster a few plants by the patio doors, for example, or along the edges of the surface. Don't worry about being too neat or structured with this patio decorating idea. Just consider grouping flowers by color family to prevent them from competing with one another.
Create Living Zones
Depending on the size of your patio, you can have some fun creating a more strategic layout for summertime. Assigning functionality can make it easier to use when your whole family is spending time outside. If you love to use the grill, then you can develop an area dedicated strictly to cooking and dining. If space allows, dedicate a space entirely to rest and relaxation.
The right outdoor summer decor helps define specific uses for areas, so think about how you can create division on a small surface like a patio. A dining table with an umbrella feels very precise, while a neighboring zone with a chaise longue, a sofa, and a table offers a space for respite. This patio decorating idea gives your backyard a more livable feel so it seems more like an extension of your home.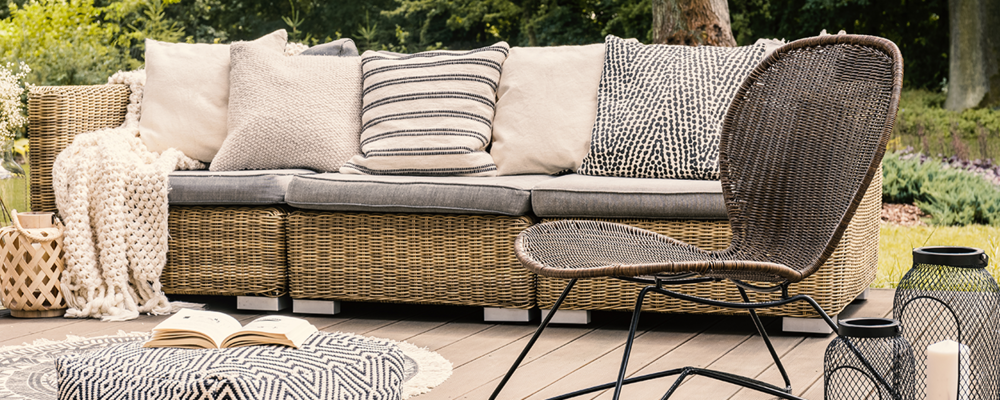 Accessorize Your Space
Colors, textures, and patterns can all transform the appearance of your patio in an instant. If you choose to use area rugs, consider both the size of the space and other summer decor options. Large patios can benefit from multiple rugs, especially if you use them to designate separate areas for lounging and dining. If your other accessories are bright and vibrant, you might opt for a rug in a neutral tone to allow everything else to stand out. A contrasting rug can also complement the space if you prefer a more colorful look.
Other eye-catching summer decor options can make a big difference to the vibe of your patio, too. Wildly patterned throw pillows and cushions in deep hues, like blue, green, yellow, and orange, are perfectly in line with the season and help convey a sense of summery bliss. Lanterns, wicker storage baskets, candles of varying sizes and scents, serving trays, lawn furnishings, and benches can all add stylish functionality to the area.
Enhance Your Privacy
If you tend to spend plenty of time outside, then you know how critical privacy can be to your family. You don't necessarily want the neighbors to know everything you're up to, or you may want to take extra precautionary steps for your children. There are many patio decorating ideas that elevate the look of your space while increasing your privacy levels. Adding some type of security creates a more indoor-meets-outdoor segment of the home.
You can add a pergola, for example, and hang curtains along the sides for a more enclosed appearance. This allows you to open and close the fabric depending on the time of day and your comfort levels. If you're taking a nap, drawing the curtains closed makes sense and gives you a little extra shade, too. Outdoor screens also work well and are available in different colors and patterns providing you with the perfect outdoor summer decor.
Once you've got your patio space ready, don't forget to bring the summer inside! Get tips and tricks on how to get summer vibes in your home in our handy blog post.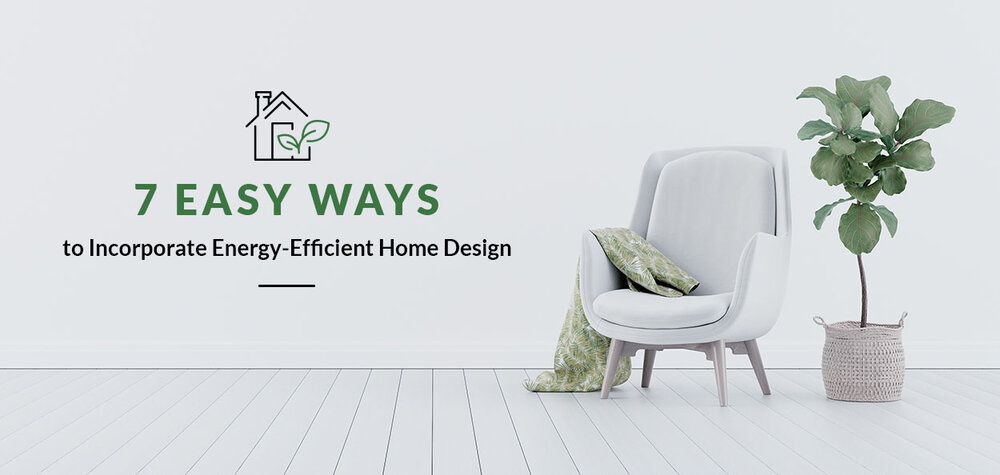 Being energy efficient is not only good for the environment, it's extremely beneficial for homeowners and their finances. While some choose to spend thousands of dollars on an energy-efficient home, there are much more affordable options that any homeowner can implement. Start saving money and the environment by checking out these 7 easy ways to incorporate energy-efficient home design into your life.
How to Create an Energy-Efficient Home
Lighting
One of the easiest ways to start designing an energy-efficient home is by carefully choosing your lighting source. Forget incandescent light bulbs because today's biggest trend is LED lights. The excitement over LED started for good reason. It's been shown that switching from incandescent to LED light bulbs can save you 40 percent or more on energy costs. Who wouldn't want that?
LED bulbs have come a long way since their first debut and now offer warmer tones rather than harsh white colors. They are also much cheaper to buy than they used to be. Pop these bulbs into every light source and you're on your way to creating a more energy-efficient home.
Paint Colors
Break out your paint rollers because it's time for a color makeover in your home. We don't usually think of wall paint as being particularly beneficial from an energy standpoint, but it actually works just as well as fluorescent bulbs when it comes to energy-efficient home design. Dark color paints absorb more light which means they absorb more heat. On the other hand, light colors reflect heat which keeps your home cooler. Whites, oranges, and yellows are just a few examples of light shades that help keep your house cool in the hotter months. Blues and browns are best for winter months when you need to absorb as much heat as possible to stay nice and cozy.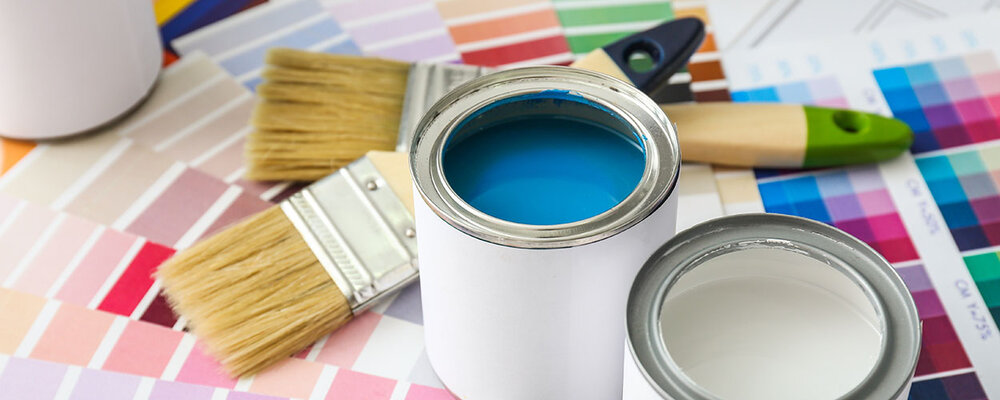 Area Rugs
Installing energy-efficient flooring is a great way to make your home more eco-friendly, but not all of us want to empty our wallets getting it done. A simple and affordable alternative is incorporating area rugs wherever you can. Homes with hardwood or tile flooring can feel cold and sterile, especially during the colder months. Rather than hiking up your utility bill by blasting the heater, buy some area rugs to make the space feel cozier. They'll not only make your room look more stylish, but will also help you design an energy-efficient home in a flash.
Sliding Doors
Barn doors, also known as sliding doors, have become a huge trend in the interior design world and we're loving it. Even though the name suggests a country theme, barn doors can be used in any style home. As far as energy-efficient home design goes, barn doors work perfectly for containing cool or warm air in specific areas. For large homes, this can be very beneficial. Lots of space means lots of wasted energy. This simple solution offers a quick remedy.
Get crafty with a DIY barn door project or buy a ready-made door online. Either way, the end result will be a trendy, energy-efficient home that's fit to be shown in this year's interior design magazines.
Ceiling Fans
Ceiling fans are a common interior design fixture that often gets overlooked when the topic of energy efficiency comes up. Because most homes already have ceiling fans, this idea is one of the easiest ways to create an energy-efficient home — especially on a budget.
During summer, make sure to have your ceiling fans running as much as possible to circulate cool air. If need be, run your air conditioner to initially lower the temperature, but be frugal. The ceiling fans will do the rest of the work. Fast forward to winter and ceiling fans are still super useful. Flip to the reversible setting and the blades will spin in the opposite direction. This helps to recirculate the warm air that has risen to the ceiling. No matter which season you're in, this energy efficient home design idea will have you feeling just right!
Landscaping
Don't leave out landscaping when you start creating your energy-efficient home. Plants are an aesthetically pleasing addition to any property and they have a practical value as well. Trees, in particular, are not only a source of oxygen or decoration, but are also wonderful for shielding your house from the sun. In winter, they save you money in heating costs too. The branches that are stripped of their leaves let the sun into your home and keep it toasty!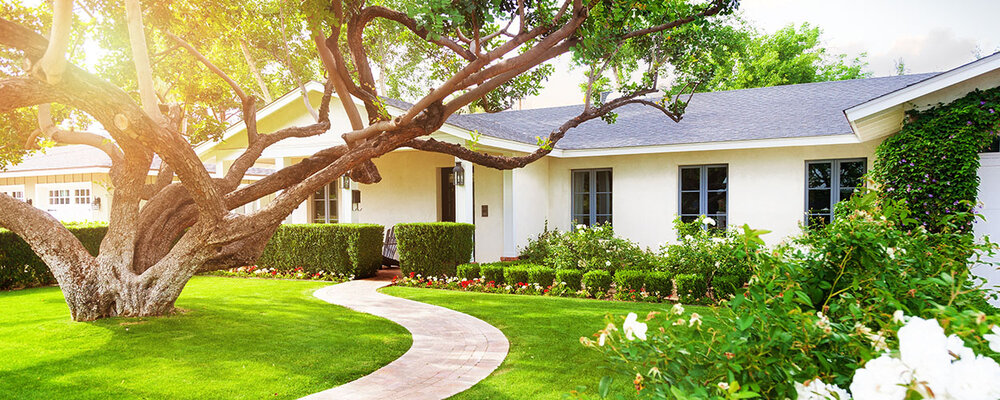 Windows
Be wise with your windows and you'll notice a difference in energy costs throughout the year. Windows are a common source of drafts, and the sun's heat can make your air conditioner work overtime in the summer. Luckily, window treatments can minimize these effects for a fraction of the cost of window replacements.
There are a couple other ways you can take advantage of windows to create an energy-efficient home. During cold weather, heat things up by letting the sun stream in through sun-facing windows. For hot weather, bring out the thick shades to prevent too much warmth from entering your home.
And there you have it! Follow these 7 energy-efficient home design ideas and celebrate the transformation they bring to your home and your bank account. Once you can sit back and enjoy your energy-efficient home, gather more inspiration for future home improvements by reading about our 2020 interior design predictions.