Whether it's big or small, your patio has the potential to transform your outdoor space into a true summer oasis. If you love grilling with the family, watching the kids splash around in the pool, soaking up the sunshine, and enjoying the sunset on balmy evenings, then it's well worth updating your outdoor summer decor.
These patio decorating ideas will contribute to a more inviting, seasonal spot that you'll look forward to using throughout the summer.
Amplify the Lighting
Summer days are long, but it's not unusual for sun-soaked afternoons with loved ones to stretch well into the evening. Once the sun sets, you'll want to make sure that the space is appropriately lit so you can keep the party going. Just as you would inside the house, create a layered lighting plan for your outdoor summer decor that incorporates ambient, task, and accent solutions.
Hanging string lights is a common patio decorating idea that makes good use of your holiday accessories year-round. Check out the space around the patio, too. Would it benefit from a few lights along the edges for added safety? This qualifies as task lighting. You can accent the yard, including flowerbeds and retaining walls, with spotlights to bring it all together seamlessly.
Add Floral Decor
Nothing speaks to summer's natural beauty better than floral embellishments. Whether you love bringing fresh arrangements into your home or indulging your green thumb in your garden, it's worth adding some of that same sweetness and light by introducing planters of different sizes to the patio. Add different flowers, shapes, and colors to really dress up the area.
You don't need to be too "matchy" about it, either. This is a carefree time and your outdoor summer decor should reflect that. You can cluster a few plants by the patio doors, for example, or along the edges of the surface. Don't worry about being too neat or structured with this patio decorating idea. Just consider grouping flowers by color family to prevent them from competing with one another.
Create Living Zones
Depending on the size of your patio, you can have some fun creating a more strategic layout for summertime. Assigning functionality can make it easier to use when your whole family is spending time outside. If you love to use the grill, then you can develop an area dedicated strictly to cooking and dining. If space allows, dedicate a space entirely to rest and relaxation.
The right outdoor summer decor helps define specific uses for areas, so think about how you can create division on a small surface like a patio. A dining table with an umbrella feels very precise, while a neighboring zone with a chaise longue, a sofa, and a table offers a space for respite. This patio decorating idea gives your backyard a more livable feel so it seems more like an extension of your home.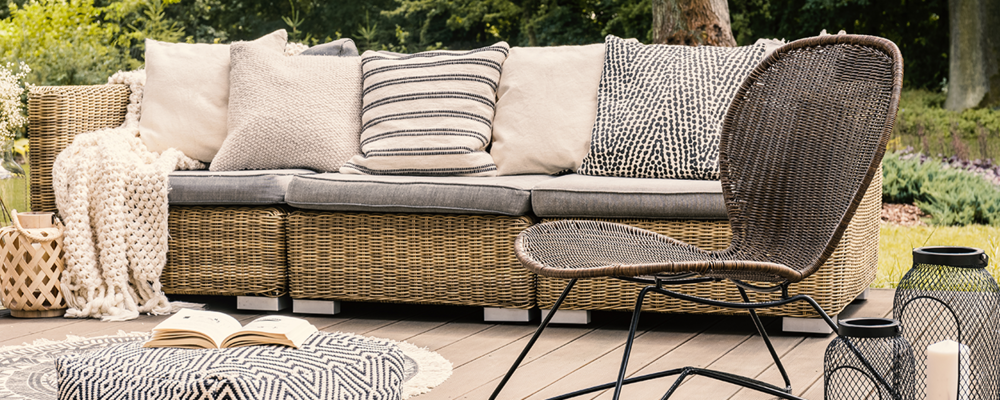 Accessorize Your Space
Colors, textures, and patterns can all transform the appearance of your patio in an instant. If you choose to use area rugs, consider both the size of the space and other summer decor options. Large patios can benefit from multiple rugs, especially if you use them to designate separate areas for lounging and dining. If your other accessories are bright and vibrant, you might opt for a rug in a neutral tone to allow everything else to stand out. A contrasting rug can also complement the space if you prefer a more colorful look.
Other eye-catching summer decor options can make a big difference to the vibe of your patio, too. Wildly patterned throw pillows and cushions in deep hues, like blue, green, yellow, and orange, are perfectly in line with the season and help convey a sense of summery bliss. Lanterns, wicker storage baskets, candles of varying sizes and scents, serving trays, lawn furnishings, and benches can all add stylish functionality to the area.
Enhance Your Privacy
If you tend to spend plenty of time outside, then you know how critical privacy can be to your family. You don't necessarily want the neighbors to know everything you're up to, or you may want to take extra precautionary steps for your children. There are many patio decorating ideas that elevate the look of your space while increasing your privacy levels. Adding some type of security creates a more indoor-meets-outdoor segment of the home.
You can add a pergola, for example, and hang curtains along the sides for a more enclosed appearance. This allows you to open and close the fabric depending on the time of day and your comfort levels. If you're taking a nap, drawing the curtains closed makes sense and gives you a little extra shade, too. Outdoor screens also work well and are available in different colors and patterns providing you with the perfect outdoor summer decor.
Once you've got your patio space ready, don't forget to bring the summer inside! Get tips and tricks on how to get summer vibes in your home in our handy blog post.