Just as soon as the interior design trends of 2020 took off, the design world just as quickly shifted its focus to a new set of trendy interior design themes for 2021. From color schemes and types of materials to conceptual designs, here are some of the top 2021 design trends to keep an eye on this year.
Ground Yourself with Earthy Tones
With so much time spent at home nowadays, it only makes sense that your space would focus on a comfortable and serene design. In 2021, expect to see a natural theme with warm and welcoming earthy tones of deep red, warm green, golden yellow, rust, and muddy brown. 
This earthy palette brings a vibrancy to any home while ensuring that you and your guests feel relaxed and at ease.
Incorporate Feng Shui Design
Even though Feng Shui has been around for centuries, this ancient design concept has only just recently made its way to the U.S. in the past few decades. 
Through specific colors, home decor items, and strategic arrangements, Feng Shui aims to create balance and harmony within your home. If you're looking for a little more flow and harmony in your life, this 2021 design trend is definitely worth a shot!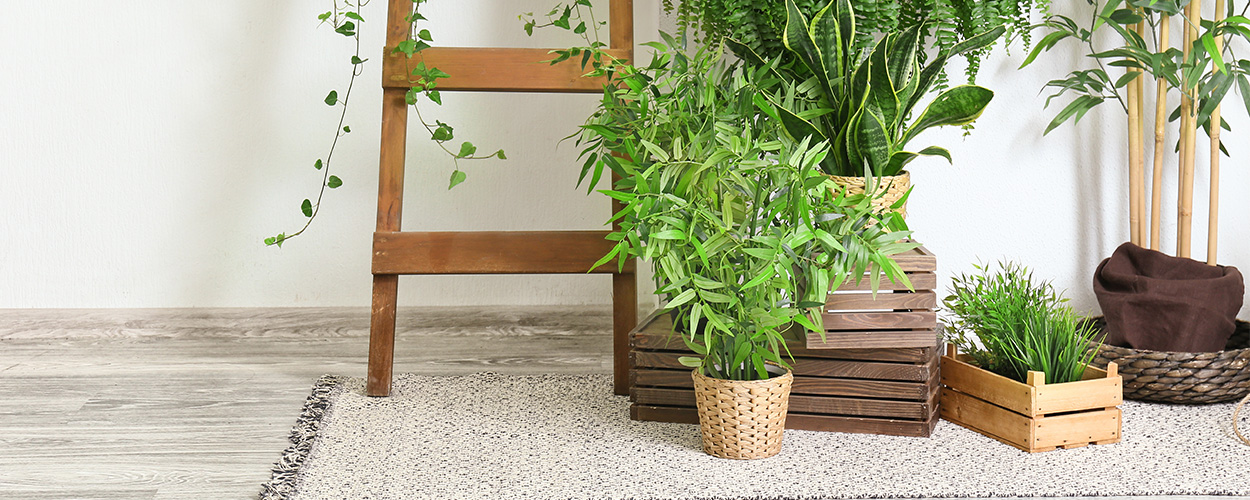 Go for Greenery
You may be thinking, "Wait a minute… Wasn't this a theme in 2020?" Why yes, it was. Although houseplants aren't a foreign concept, their ability to withstand the test of time (which is a challenge in the interior design realm) shows just how fashionable they really are. 
Not only are plants a fresh and chic decor item to include in any home, they offer value when it comes to eco-friendly design. They help to purify your space and cleanse it of harmful toxins. 
Whether you go for a boho look with macramé plant hangers or opt for a modern plant decor, it's easy to find greenery that fits your home's overall style.
Make Sustainability Stylish
Sustainability is one of the most prevalent discussions today, so it's not surprising that it has made its way into the interior design realm. Rather than simply recycling and avoiding plastic, a major interior design theme in 2021 will be sustainable decor. 
Multifunctional furniture, as well as furniture that guarantees longevity and durability will be a pattern across households. You can start including this trend into your home with sustainably-sourced materials, energy-efficient methods, and other eco-friendly design ideas.
Choose Maximalism
Instead of having a few trendy home decor pieces to tie together a minimalist look, opt for maximalism as your 2021 design trend. Personalize your space with memorable, sentimental items that help your home tell a story of who you are. These personal items can be anything from a couch to an art piece.
Layering old with new is another aspect of the maximalist theme. While you fill your space with vintage decor from days gone by, don't forget to strike a balance with modern touches as well.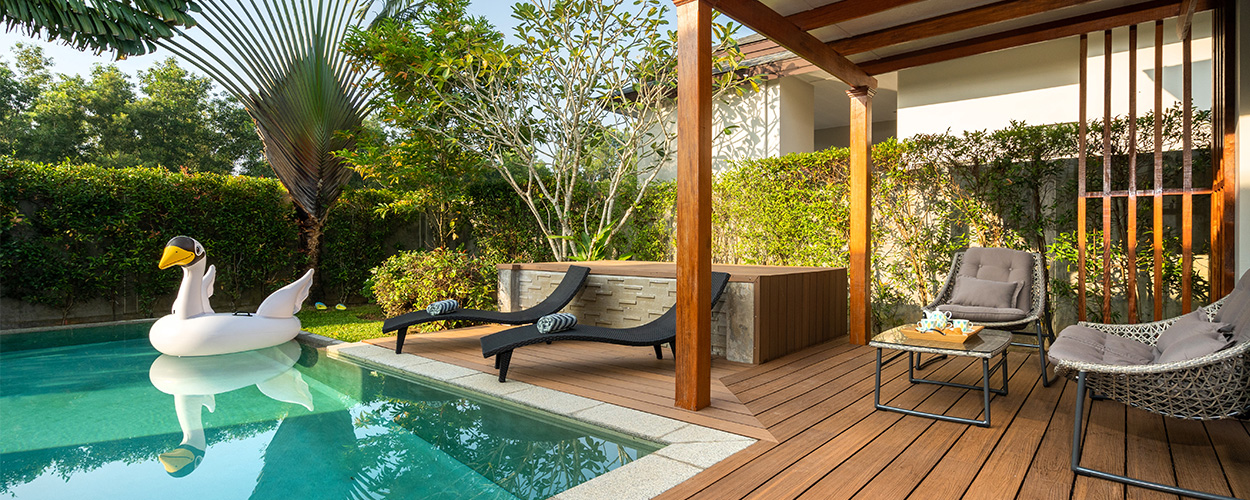 Create a Multi-Functional Yard
As you do your research, you may notice a common thread with 2021 design trends—many of them reflect the state of the country at the moment. With the pandemic creating a new at-home lifestyle, households are being forced to become multi-functional in more ways than one. 
With less opportunity to find entertainment away from home, curating a backyard that is both pleasing to the eye and fun to lounge in is essential. For that reason, beautiful and functional gardens will see a spike in popularity in the new year. Along with that, swimming pools, patios for entertaining, and greenhouses will most likely see a rise in use.
Design a Cozy Cottage
When you think about cottages, you probably think cozy, quaint, and comfortable. That's exactly what this interior design theme is all about. Create your very own cottage with vintage prints and motifs, a pastel color palette, and subtle touches of glamor with gold accessories and gilded mirrors. 
The goal of the cottagecore design concept is to create a space that brings a touch of nostalgia and lots of comfort, which is exactly what's needed if you find yourself at home more often.
Pull from Global Inspiration
A yearning to travel and see far off places is the key driver behind this 2021 design trend. With many travel plans canceled, it's predicted that lots of homes are going to be pulling from global inspiration to travel across the world without leaving the safety of home. 
Calming color palettes, warm tones, and natural textures are a few conceptual ideas to follow if you prefer a more subtle theme. Tropical leaves, florals, and bright colors are another option for a more bold interior design style.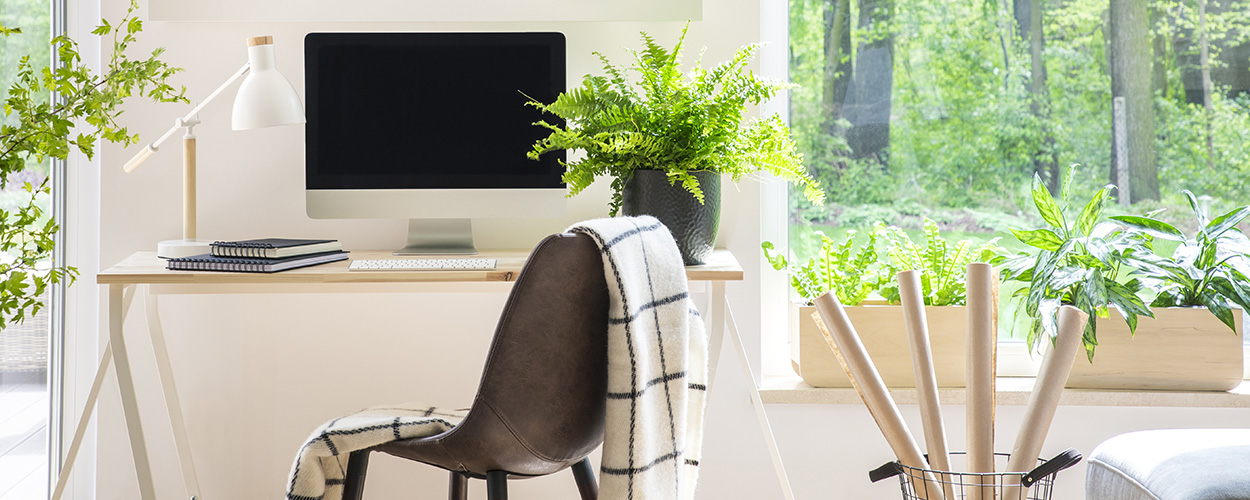 Make the Home Office a Focal Point
Working from home was and continues to be a major trend in the working world today, which is why an emphasis on the home office is going to be big in 2021. 
Veer away from the corporate vibe of black foam chairs and neutral colors to instead build a creative space that induces thought. Artwork, patterned wallpaper, a desk light, and a stylish work chair can take your home office from boring to stunning.
Whether you're using the new year as an excuse to give your home a makeover or you simply love keeping up with the hottest trends, these interior design themes are a good place to start. If you choose to reinvent your home office, make sure to combine style with functionality by taking a look at your home office ergonomics checklist!