If you love learning new trades, saving money, and home decorating, it's time you pick up a new hobby and test your creativity with woodworking! The art of woodworking combines craftsmanship, style, and functionality to create personalized items for decoration and use. Keep yourself busy at home by trying your hand at these DIY woodworking projects perfect for all skill levels.
Indoor DIY Woodworking Projects
Time: 1 hr or less | Skill Level: Beginner | Cost: $20-50
Tired of soaked bathroom mats after you hop out of the shower? Opt for this cedar bath mat instead and make it yourself with just three easy steps. Keep in mind that this particular DIY woodworking project uses cedar for its style and rot resistance, but you can use any wood that matches your preferences
Time: Multiple days | Skill Level: Intermediate | Cost: $100-250
Whether you have kids constantly tracking in dirt or struggle to keep bags and backpacks organized, these mudroom cabinets are a heavensend! With lots of space and customizable design plans, you can create unique lockers to store everything from boots, coats, umbrellas, and more. Use plywood instead of stained wood to save extra money and apply a fresh coat of paint to bring some color to your home.
Time: Few hours | Skill Level: Beginner | Cost: $100-250
Floating shelves are one of the hottest design trends right now and for good reason! They complement your walls and provide much needed storage space off the floor. Rather than purchasing them from a store, take on this practical woodworking project and make them in just a few hours.
While this project may not save you money in the long run, it gives you the freedom to create shelves that meet all of your requirements. Choose the exact size, thickness, and style you want, and finish them to match your home's furnishings.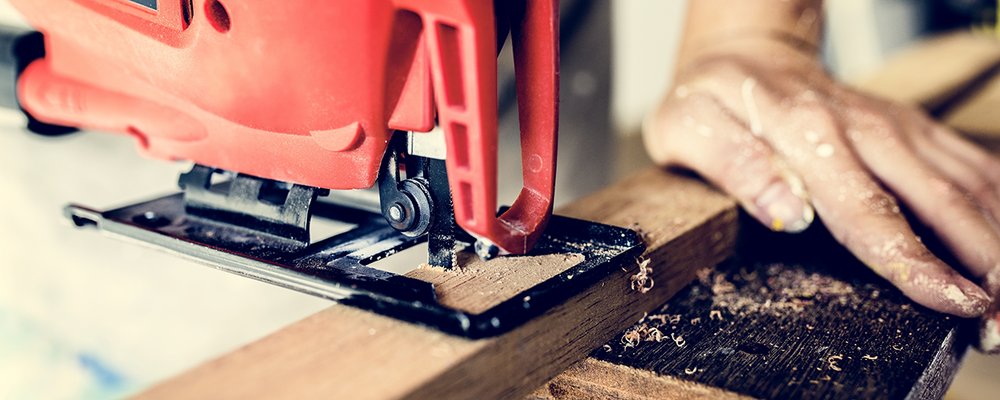 Time: Full day | Skill Level: Intermediate | Cost: Free
Choose from pallets made of pine, oak, poplar, or maple for this practical woodworking project. Side tables aren't cheap when you buy new, so this project definitely gives you the chance to save a pretty penny as you hone your skills in lumber preparation and simple joinery. This square-shaped, modern side table is a great furniture piece for your living room table lamp or decorative houseplants.
Time: Few hours | Skill Level: Intermediate | Cost: $45 plus lumber
Need decor for your living room coffee table? This industrial-style serving tray is a stylish and functional DIY woodworking project that will garner many compliments from your guests! With some dark barnwood and black iron handles, you can create a vintage decor piece that doubles as the perfect tray for breakfast in bed.
If you use reclaimed wood for your rustic look, make sure to inspect the wood prior to starting. Check for nails and rot to ensure it is sound throughout.
Time: Full day | Skill Level: Advanced | Cost: $50-100
Complete your entryway with a mid-century modern platform bench by trying this practical woodworking project. What makes this bench especially exciting is that its design is based on George Nelson's iconic bench made in 1946. Rather than seeing it in museums across the country or buying pricey imitations online, create your very own replica!
Outdoor DIY Woodworking Projects
Time: Multiple days | Skill Level: Intermediate | Cost: $100-500
Get your home ready for beautiful spring weather with this garden arbor! Complete with a swing as well, this DIY woodworking project is much easier to assemble than it may seem at first glance. For this specific project, the swing is store bought, leaving just the arbor as your main piece of work. If you can handle a saw and drive screws, you should be able to get this backyard seating up and running in just a couple days.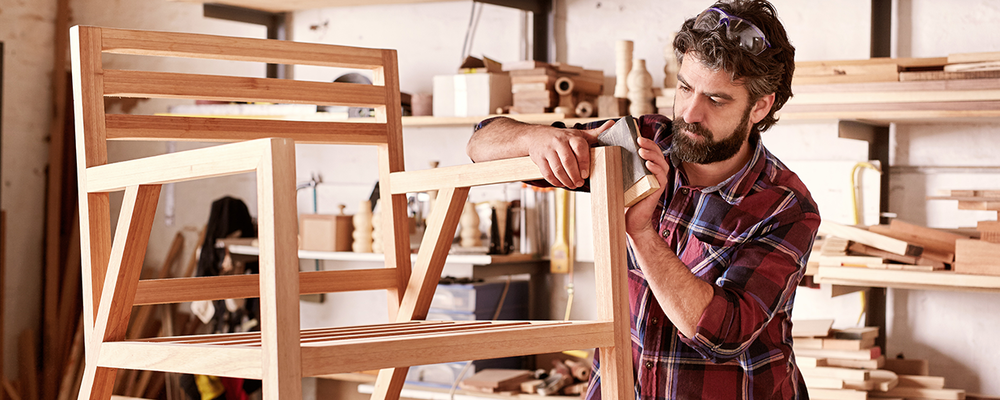 Time: Multiple days | Skill Level: Beginner | Cost: $100-250
Transform your patio into a comfy entertaining area for family and friends by crafting up this relaxing patio set. The wonderful part about this practical woodworking project is that it can literally blend into any backyard. All you need to do is adjust the measurements of the sofa and chair to make them smaller or larger for your space.
Another convenient feature of this patio furniture is the wide arms that double as end tables for drinks and food. Kick back on your outdoor sofa and enjoy a peaceful dinner at sunset.
Time: Multiple days | Skill Level: Intermediate | Cost: $100-400
Not every backyard has room for a large shed, which is why this small garden closet is such a necessity for homes with limited space. Have a durable and convenient spot to place all of your yard tools and supplies by spending a couple of weekends on this DIY woodworking project. Attach it to the back or side of your house for discreet storage and save about $75 by using treated lumber, pine, and asphalt shingles instead of cedar.
Time: Multiple days | Skill Level: Intermediate | Cost: $100-250
Are you a fan of Craftsman-style furniture? If so, this pedestal picnic table is the ideal design for you! Great for dinner parties, morning mimosas, or a game of cards, this picnic table's assembly is strong and simple with a long-threaded rod rather than complex dowels or joints. Plus, no one will ever need to complain about a table leg in their way when they sit. The pedestal feature is streamlined and optimal for comfortable seating.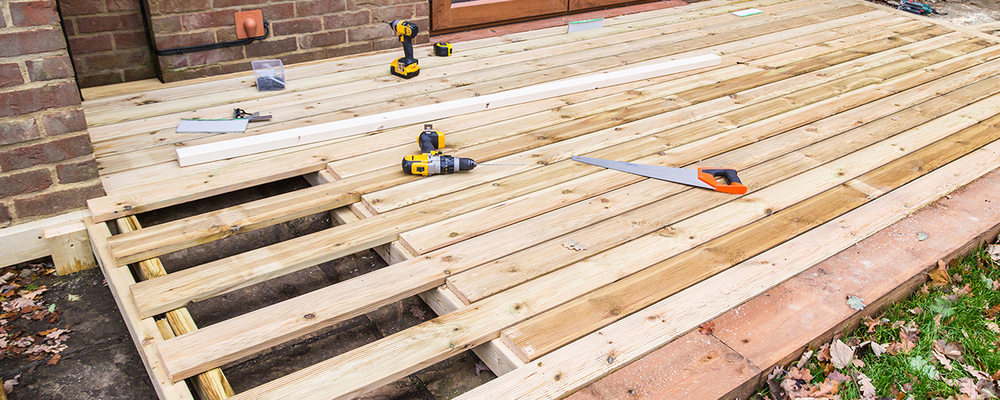 Time: Multiple days | Skill Level: Intermediate | Cost: $500-1000
Ask for a helping hand from a friend or family member and finish off your backyard with a ground-level deck. This practical woodworking project may be higher in cost, but it's maintenance-free, easy to build, and a unique addition to display patio furniture. It's also a creative way to cover up the less appealing parts of your lawn!
Time: Multiple days | Skill Level: Intermediate | Cost: Varies
If you've ever owned an outdoor umbrella, you know the struggle of trying to keep it (and its holder) stable during blustery days. Luckily, you can put that problem behind you with this petite but sturdy umbrella table! With a distinct, tapered design, this DIY woodworking project is stylish, functional, and perfect for poolside lounging.
Grab your plywood, No. 2 cedar, and knot-free cedar to get things started. Keep in mind that experience with pocket screws and miter saws is preferred for a smooth and quick building process.
There's a lot of work that goes into making your house a home, and you can get first-hand experience in the process by mastering the art of woodworking. Customize your home furnishings with these DIY woodworking projects and enjoy learning a new hobby along the way! If you're looking for more ideas on how to decorate your home on a budget, check out 15 ways to decorate with what you have.