The jolliest time of the year is here and that means gift shopping, party planning, and best of all, decorating. With so many festive activities on the table, your bills can start to skyrocket through the roof. Save money this season by creating your own DIY holiday decor that brings just as much Christmas cheer to your home.
Grab some wood, tin cans, spray paint, and lots of hot glue for this creative holiday craft idea! Make your very own advent calendar in the shape of a Christmas tree and add all of the fun goodies you can think of into the 25 tin cans. Candy, gift cards, and other stocking stuffers make the perfect surprises for each day's gift unveiling.
As you go through the process of assembling the wood frame, think about the colors you want to incorporate. Stick with a classic snowy white or go all out with a multicolor pattern of red, green, and gold.
If you love DIY crafts and a charming vintage look, you'll absolutely fall in love with this wooden spools wreath. The supplies and instructions are as easy as it gets which makes it even better!
Gather up a hefty amount of wooden spools, wrap them in a colorful assortment of thread, ribbon, baker's twine, and rickrack and then hot glue them to a wreath form. Fashion on an elegant bow to hang the wreath and your simple holiday craft is complete.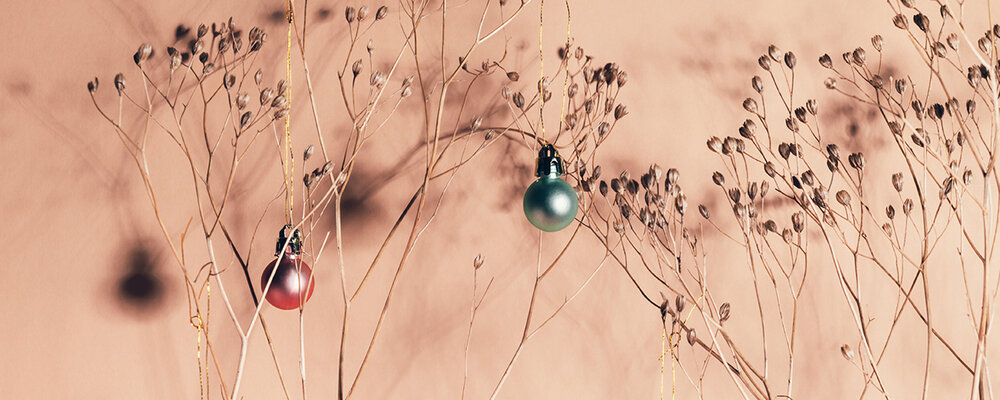 Sometimes having a big Christmas tree in the living room just isn't enough festive cheer for the holidays. Sprinkle in an additional surprise with a tiny accent tree that fits practically anywhere in your home.
Venture to the outdoors and find any little tree branch on the ground to use for your DIY holiday decor. Once you find the perfect Charlie Brown tree branch, spray paint it white (or whichever color you fancy) and place it in a decorative glass vase or bottle.
The last step is decorating. Hang just a few mini ornaments on the branches and place a few candles next to the tree to round out the display. What a chic and easy Christmas decor idea!
Enjoy buckets of cheer this year with this quick, 10-minute holiday craft idea. Head to the store and get yourself a few galvanized buckets, chalk pens, greenery, vases for each bucket, and ribbon of your choice. Twinkling lights are a magical touch as well, but completely optional.
Fill each bucket with greenery, wrap with ribbon, and write out whatever message you like with the chalk pens. Cluster them on your porch or display them along your staircase and have a warm holiday greeting every time you come home!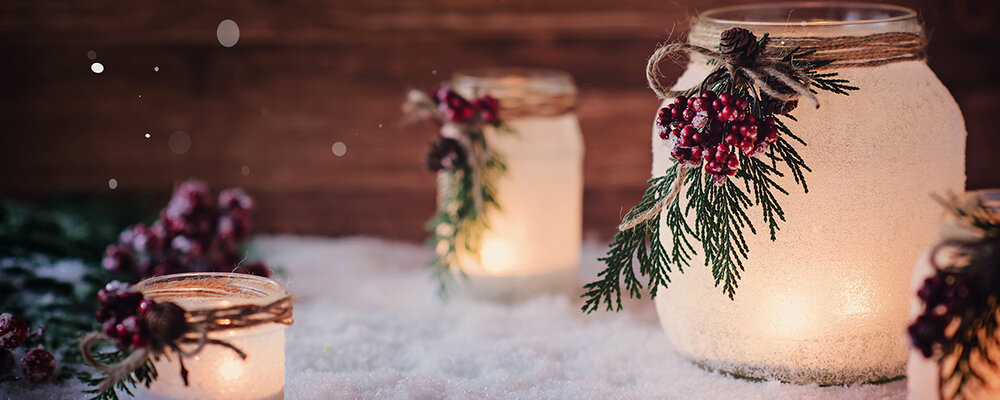 Decorating with glowing lanterns is a fun way to get into the holiday spirit and you can make your own right at home! This particular holiday craft idea uses hanging lanterns, but you can always display your lanterns on your kitchen counters and tables instead.
LED string lights, spray paint, mason jars, tree trimmings, circle stickers, heavy-duty yarn, and floral wire are the main supplies you'll need to make these lanterns come to life. If you do choose to hang them, consider your porch or backyard patio to light up the night.
Have tons of ornaments left over after decorating your Christmas tree? Put them to use with this festive lantern display. All you need is a lantern set (the bigger, the better), ornaments, ribbon, and decorative greenery.
Place the ornaments inside each lantern, filling them up about half way. Then, give a little love to the outside by tying a bow of ribbon on the top of the lantern with some greenery to boot. This is such a simple holiday craft, but the finished product looks like something you'd buy straight from the store.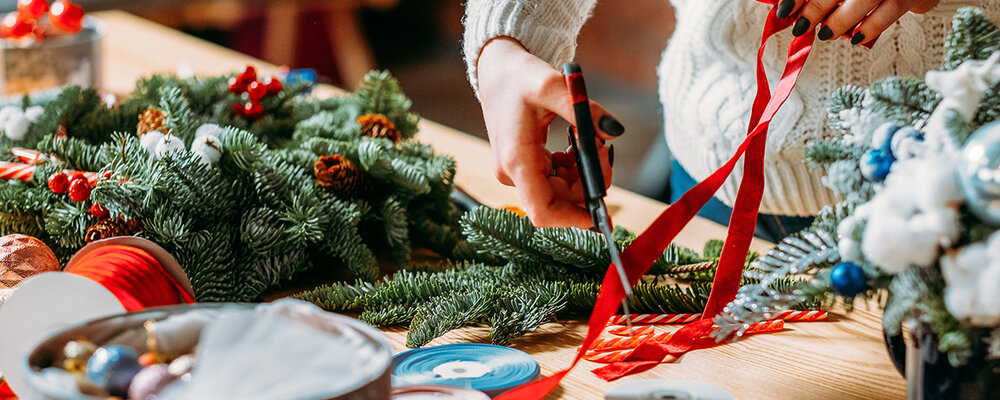 Garlands are a traditional Christmas decor idea that blend in well no matter what your taste is. Take a couple hours out of your weekend to fashion a personalized garland to place around your doorway, along your staircase, or across your mantle.
While the accessories are totally up to you, start with fresh cedar and grapevine twigs and use green metal wire to bundle them together. Add in pine cones and bright red berries for that festive touch of color and prepare to impress guests with a beautiful presentation that smells amazing too!
Birch Centerpiece
Take your centerpieces to the next level this Christmas season with this warm and cozy holiday craft idea! Skip the usual flower centerpiece and try out this birch-themed design.
A handful of birch stumps from your local craft store, candles, a table runner, and mini decorative trees are the essentials you need to complete this display. Glass figurines of deer are a magical touch too, but won't make or break the centerpiece. Keep in mind a color theme like gold and white or blue and silver when you purchase all of your supplies.
Once you're done shopping, simply arrange all of the items into a cohesive presentation on your dining table to show off to guests during holiday parties.
Decorating the house is a great way to get you and your family into the holiday spirit, so why not craft up your own designs while you're at it? Save money and create precious DIY holiday decor with these simple and sweet projects. For more Christmas creativity, read through 7 holiday decorating ideas for your home.