Being energy efficient is not only good for the environment, it's extremely beneficial for homeowners and their finances. While some choose to spend thousands of dollars on an energy-efficient home, there are much more affordable options that any homeowner can implement. Start saving money and the environment by checking out these 7 easy ways to incorporate energy-efficient home design into your life.
How to Create an Energy-Efficient Home
Lighting
One of the easiest ways to start designing an energy-efficient home is by carefully choosing your lighting source. Forget incandescent light bulbs because today's biggest trend is LED lights. The excitement over LED started for good reason. It's been shown that switching from incandescent to LED light bulbs can save you 40 percent or more on energy costs. Who wouldn't want that?
LED bulbs have come a long way since their first debut and now offer warmer tones rather than harsh white colors. They are also much cheaper to buy than they used to be. Pop these bulbs into every light source and you're on your way to creating a more energy-efficient home.
Paint Colors
Break out your paint rollers because it's time for a color makeover in your home. We don't usually think of wall paint as being particularly beneficial from an energy standpoint, but it actually works just as well as fluorescent bulbs when it comes to energy-efficient home design. Dark color paints absorb more light which means they absorb more heat. On the other hand, light colors reflect heat which keeps your home cooler. Whites, oranges, and yellows are just a few examples of light shades that help keep your house cool in the hotter months. Blues and browns are best for winter months when you need to absorb as much heat as possible to stay nice and cozy.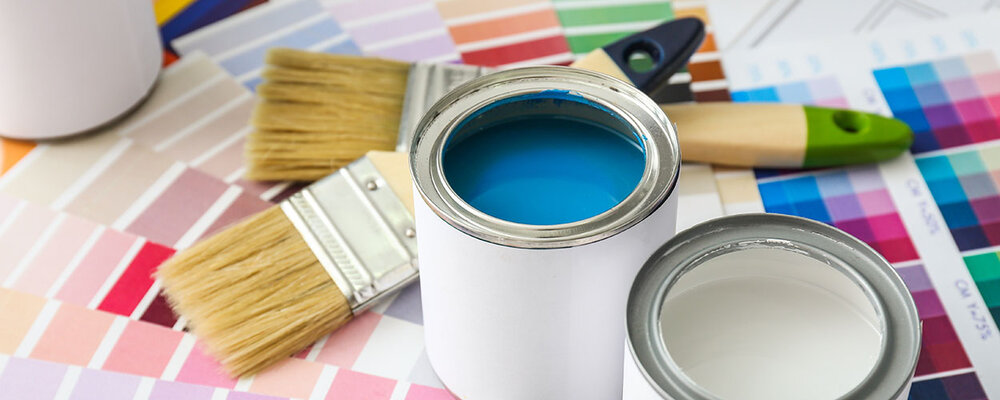 Area Rugs
Installing energy-efficient flooring is a great way to make your home more eco-friendly, but not all of us want to empty our wallets getting it done. A simple and affordable alternative is incorporating area rugs wherever you can. Homes with hardwood or tile flooring can feel cold and sterile, especially during the colder months. Rather than hiking up your utility bill by blasting the heater, buy some area rugs to make the space feel cozier. They'll not only make your room look more stylish, but will also help you design an energy-efficient home in a flash.
Sliding Doors
Barn doors, also known as sliding doors, have become a huge trend in the interior design world and we're loving it. Even though the name suggests a country theme, barn doors can be used in any style home. As far as energy-efficient home design goes, barn doors work perfectly for containing cool or warm air in specific areas. For large homes, this can be very beneficial. Lots of space means lots of wasted energy. This simple solution offers a quick remedy.
Get crafty with a DIY barn door project or buy a ready-made door online. Either way, the end result will be a trendy, energy-efficient home that's fit to be shown in this year's interior design magazines.
Ceiling Fans
Ceiling fans are a common interior design fixture that often gets overlooked when the topic of energy efficiency comes up. Because most homes already have ceiling fans, this idea is one of the easiest ways to create an energy-efficient home — especially on a budget.
During summer, make sure to have your ceiling fans running as much as possible to circulate cool air. If need be, run your air conditioner to initially lower the temperature, but be frugal. The ceiling fans will do the rest of the work. Fast forward to winter and ceiling fans are still super useful. Flip to the reversible setting and the blades will spin in the opposite direction. This helps to recirculate the warm air that has risen to the ceiling. No matter which season you're in, this energy efficient home design idea will have you feeling just right!
Landscaping
Don't leave out landscaping when you start creating your energy-efficient home. Plants are an aesthetically pleasing addition to any property and they have a practical value as well. Trees, in particular, are not only a source of oxygen or decoration, but are also wonderful for shielding your house from the sun. In winter, they save you money in heating costs too. The branches that are stripped of their leaves let the sun into your home and keep it toasty!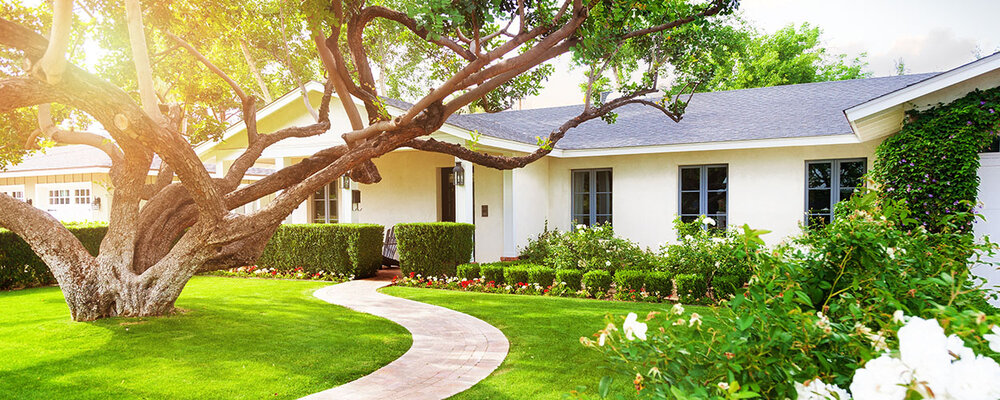 Windows
Be wise with your windows and you'll notice a difference in energy costs throughout the year. Windows are a common source of drafts, and the sun's heat can make your air conditioner work overtime in the summer. Luckily, window treatments can minimize these effects for a fraction of the cost of window replacements.
There are a couple other ways you can take advantage of windows to create an energy-efficient home. During cold weather, heat things up by letting the sun stream in through sun-facing windows. For hot weather, bring out the thick shades to prevent too much warmth from entering your home.
And there you have it! Follow these 7 energy-efficient home design ideas and celebrate the transformation they bring to your home and your bank account. Once you can sit back and enjoy your energy-efficient home, gather more inspiration for future home improvements by reading about our 2020 interior design predictions.