What better way to get into the fall spirit than by diving into some festive fall decor crafts? Not only do you save money with DIY fall room decor, you also get the chance to create personalized decorations that match your design taste. Whether you're new to the crafting game or a seasoned veteran, let your creativity run wild with these easy fall decorating ideas.
1. Pumpkin Barrel
Looking for a cute way to show off your apple-picking treasures this season? A DIY pumpkin barrel is the way to go! Head to the store and pick out your favorite pumpkin (the bigger, the better) and hollow it out as if you're going to carve it. Once your pumpkin is clean and empty, fill about three-fourths of it with Poly-Fil. Place burlap fabric over the top opening and attach it over the sides with upholstery tacks. 
After you have your burlap secured, dump in your apples and enjoy! Place your barrel on your front porch to welcome guests or leave it in the kitchen for when you need a tasty snack.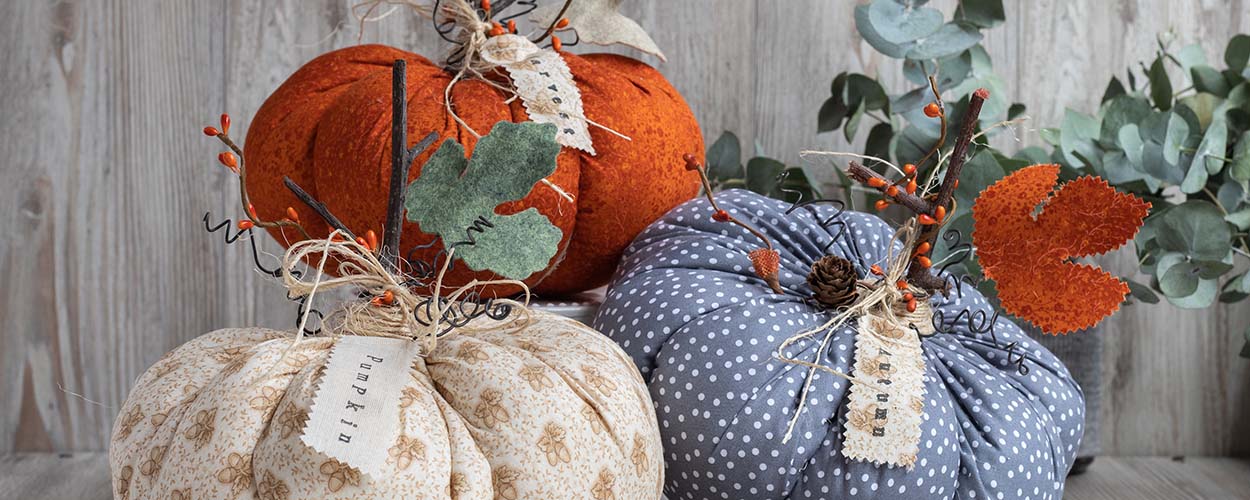 2. Fabric Pumpkins
Take your pumpkins to the next level with this fall craft for adults! The best part about this idea is that it's simple and requires very few supplies. Old quilts or fabric scraps and dried stems are the two main items you need to turn your ordinary pumpkins into farmhouse-style fabric pumpkins.
Once you've hot glued your fabric and faux stems to your pumpkins, display them along your dining table runner and add seasonal greenery like fall leaves for a final touch.
3. Corn Husk Candles
While pumpkins tend to steal the show during fall, there are lots of other seasonal motifs you can use for your decor. Corn husks, for example, can give your home a little bit of seasonal texture. 
For this easy fall decorating idea, you need a few glass votive holders, moistened corn husks, raffia, Spotted Guinea feathers, and battery-powered candles. Wrap your glass holders with a few overlapping layers of corn husks, secure them with raffia, and slip in one Spotted Guinea feather per candle to finish it off. You can easily knock out this craft in 30 minutes or less which makes it a must-try this season!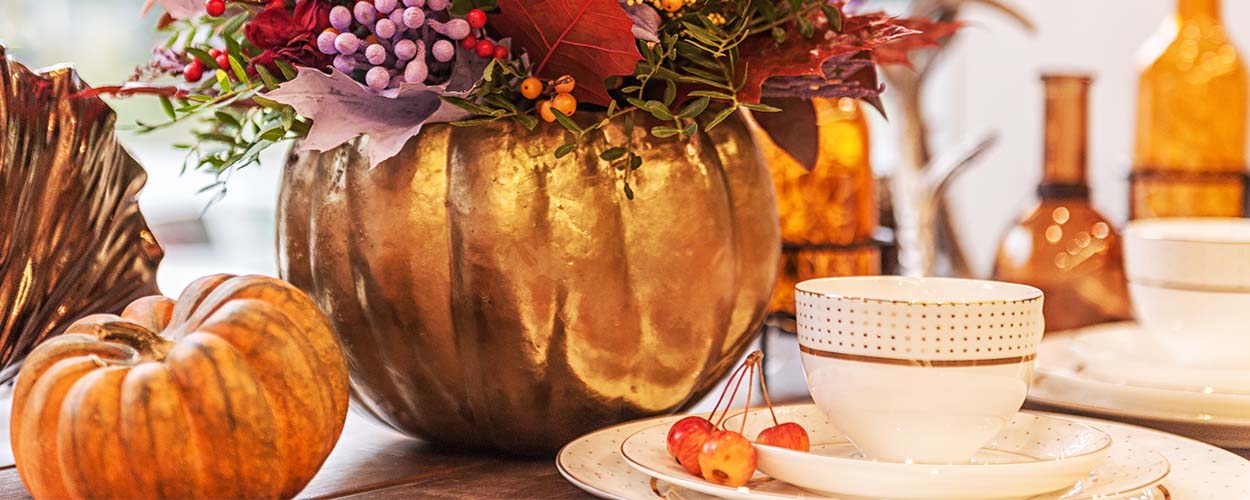 4. Autumn Bouquet
As the seasons change, so should your home's greenery! Take a different approach to autumn bouquets by mixing in more unique ingredients like veggies, fruits, berries, and a variety of flowers. 
If you aren't too sure where to start, try cabbage heads, gourds, and pears within your DIY fall room decor. After you see the striking colors of your autumn bouquet, you'll want to make tons more! 
5. Decoupage Pumpkins
It's decoupage time! Transform basic pumpkins into colorful masterpieces with seasonal scrapbook paper, Mod Podge, acrylic paint, and pumpkin stems. After you've decorated your pumpkins and feel happy with your collection, place them in a wooden barrel or tin bucket and show them off! Your entryway or front porch are a couple ideal spots to display them.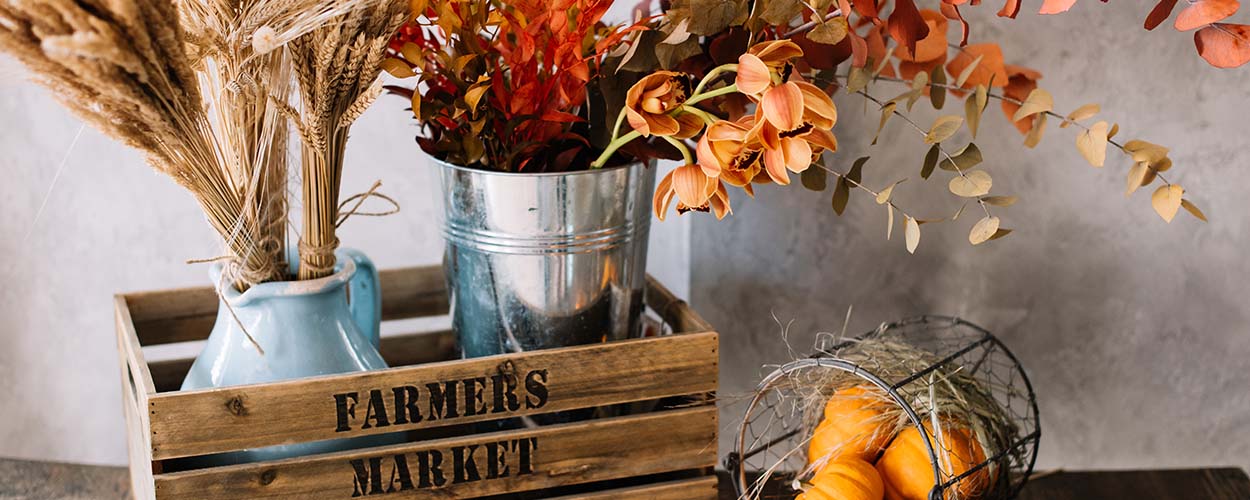 6. Seasonal Vases
Bring the harvest to your home with seasonal vases full of golden wheat and nuts! This fall craft for adults is simple, sophisticated, and great for your mantel or tabletop. 
To get the complete look, use cylinder vases and fill them about three-fourths of the way with nuts. Slip in decorative cuffs made of scrapbook paper to give them a more professional feel and then add your bundles of wheat. These seasonal vases are well worth the 15 minutes it takes to make them!
7. Sunburst Wreath
You can't say you're done decorating for fall without hanging a seasonal wreath on your front door. Say goodbye to spending a pretty penny on store-bought wreaths because this sunburst wreath is absolutely stunning! 
Grab a bundle of Indian corn, fold out the husks so they point straight up, and hot glue the ears to a straw wreath. Once you're done piecing it together, you'll see that this fall decor craft certainly lives up to its name. 
8. Colorful Acorns
Who said DIY fall room decor needs to be complicated? For this project, all you need is a pile of acorns, acrylic paint, and a decorative bowl. Paint your acorns until your heart's content and display them in your bowl for a subtle seasonal touch.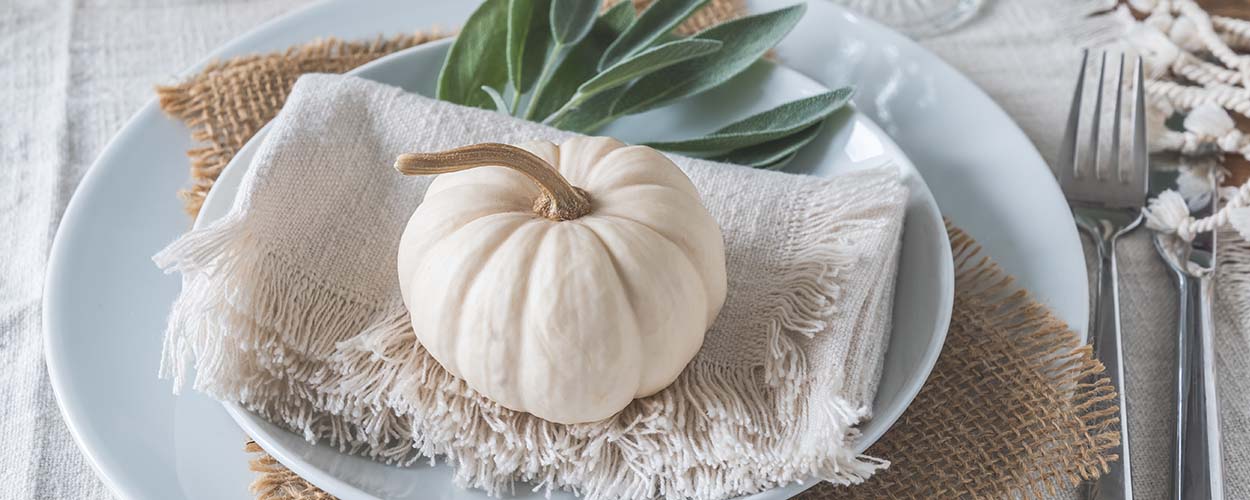 9. Mini Pumpkin Blooms
Get ready for family gatherings and holiday parties by spicing up your dining table place settings. Along with autumn-inspired tablecloths and runners, you can make your dining experience even more festive with mini pumpkin blooms. 
For this fall decor craft, you have the option to use live or faux mini pumpkins. Make sure the inside is hollowed out enough to fit a small votive candle holder. Place the holder in the pumpkin and fill it with vibrant dahlias in shades of orange, white, yellow, and more. Not only do mini pumpkin blooms dress up your dining table, they make for the cutest party favors!
A couple alternative options are leaving the mini pumpkins plain or painting them for an extra splash of color.
10. Fall Yarn Hanging
After you have your floors and tabletops decorated for the season, try creating a warm and cozy wall hanging made of yarn. This particular fall craft for adults is a beautiful option if you're a fan of trendy boho wall hangings that are popular in stores today. 
A branch or wooden dowel, several colors of yarn, felt flowers, and pom poms are the main supplies you'll need to recreate this modern fall craft.
Want more inspiration for seasonal crafts? Check out 15 DIY Decor Ideas for a Spooktacular Halloween!