Springtime is finally here which means blooming flowers, warm sunshine, and one of the hoppiest holidays—Easter! Easter is the perfect time to bring out your art supplies and creative spirit to create fun decor for your home. Whether you're planning a crafting day with your friends or want to get the kids involved, try these DIY Easter decor projects.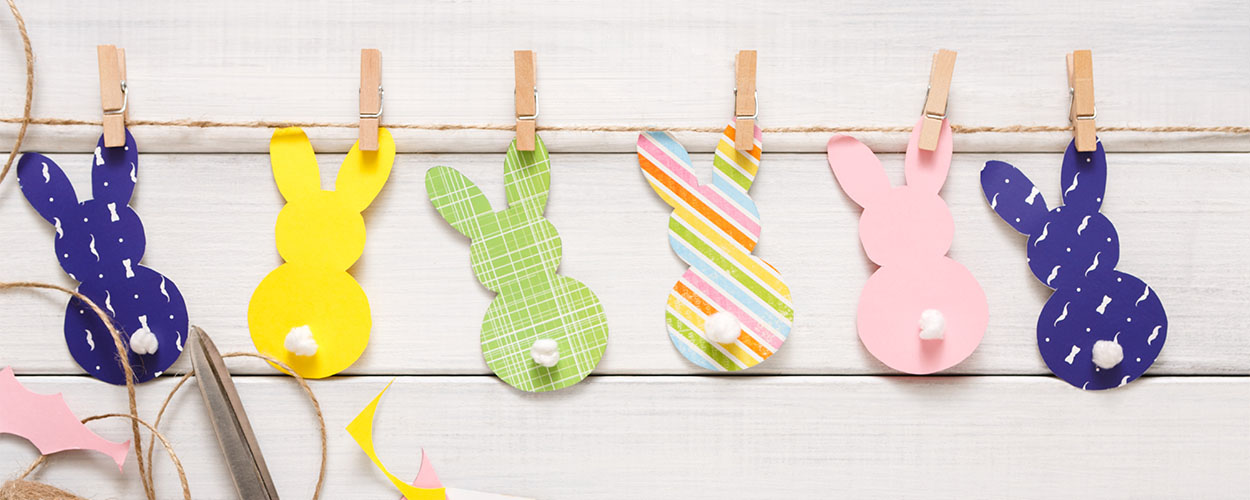 Nothing says Easter more than adorable bunnies! This easy DIY Easter decoration makes for a lovely addition to your mantle, staircase, or any free space along your walls. 
No need to worry about your crafting skills either. All you need for this bunny garland is scrapbook paper, yarn, a bunny garland template, fork, and basic art supplies like scissors. The fluffy pom pom tails are a must for that extra touch of cuteness!
Easter decor ideas not only work with the obvious holiday symbols like eggs and bunnies, but they also look gorgeous with flowers! Combine your favorite spring flowers with colorful Easter eggs to create a unique vintage vase. 
In this particular DIY craft, use wooden eggs that are strong enough to support your flower bouquet. Pick whichever vintage egg basket catches your eye, dye or paint your eggs pretty pastel colors, and arrange your flowers. 
Need inspiration for springtime flowers? Lilacs, anemones, allium, Scabiosa lavender, and ranunculus are some of our favorites.
Don't let the name of this DIY Easter decor project fool you—there aren't any flowers in this flower box! Turn a typical floral decor piece into a festive holiday craft with just a few simple steps. 
Whether you choose a milk glass dish like the one used in this DIY project, or opt for a different look, try to focus your color scheme around pastels and metallics. 
Head to your local craft store to buy plastic grass mats, cut them to fit the size and shape of your dishes, and of course, remember to grab your vibrant Easter eggs. Arrange your supplies in your dishes and voila! You have yourself some fresh greenery with pops of color.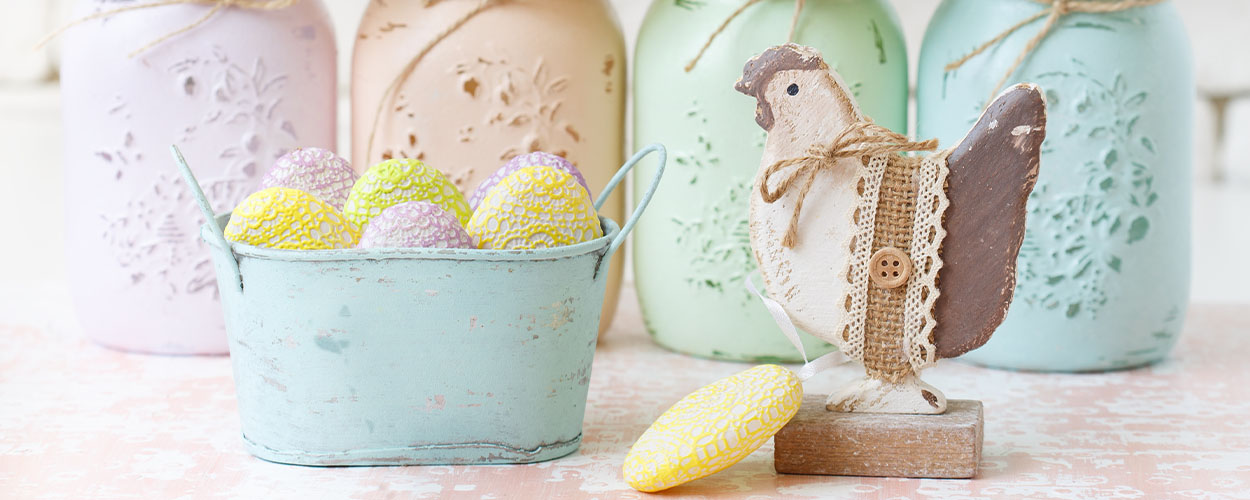 Looking for farmhouse-style crafts for Easter? These bunny mason jars are sure to add a bit of country cottage magic to your home. Get the kids involved with this easy DIY Easter decoration that only requires a little paint, ribbon, and bunny stickers. You can even incentivize the little ones to help create these masterpiece mason jars by filling them with sweet holiday-themed treats.
Are you really done decorating your home for Easter if you haven't hung up a welcoming wreath? Rather than go to the store to buy a wreath, make your own with this Easter decor idea. 
Let your creativity run wild with the supplies you choose or stick to the basics by using a grapevine wreath, moss, painted eggs, flower stems, and floral ribbon.
Ornaments don't just belong on Christmas trees! Branch out of your usual holiday routine to craft up paper eggs that can be used in more ways than one. String them up on twine to make a garland, give them to your kids to hand out as Easter gifts, or hang them on an Easter tree in your living room. 
Take your Easter crafting skills outdoors for this fun project! Invite guests into your home with a rustic Easter bunny sign made out of reclaimed wood.
Although this DIY craft does require some woodworking, don't let that element scare you away. All skill levels can complete this project without professional help. 
Some of the essentials you'll need are reclaimed wood, a jigsaw, wood glue, white paint, a stain of your choice, sandpaper, and a bunny template. Sit outside on a warm spring day and enjoy the sunshine as you get to work on this Easter decor idea!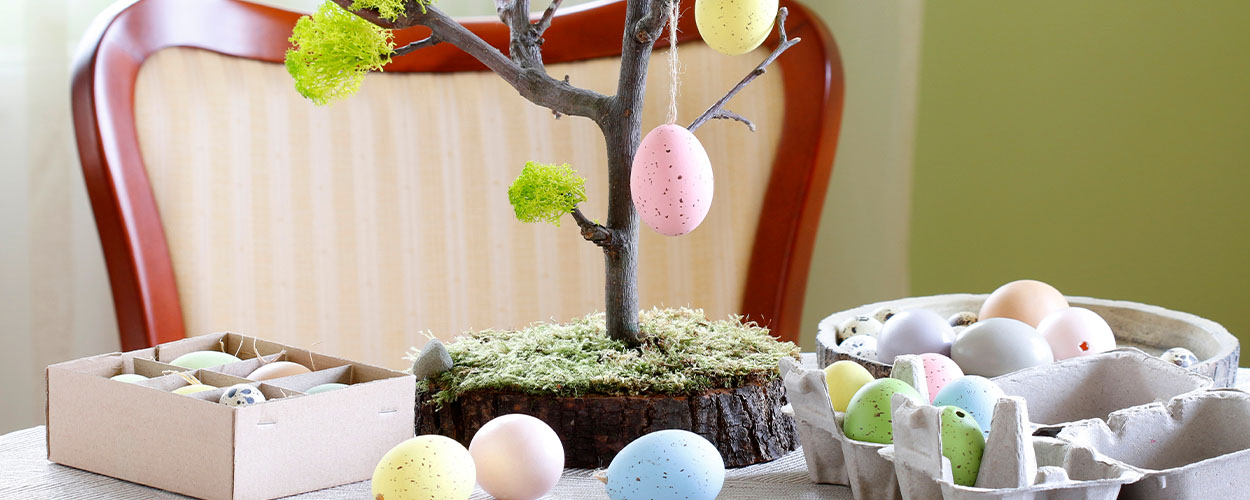 Need a fresh centerpiece for your dining table? A mini Easter egg tree is the way to go! You have quite a bit of freedom with this Easter decor idea. You can either go to the craft store to pick up faux eggs and foliage, or you can use what you have at home. Put it all together in a weighted-down bucket, basket, or jar and you're all set. 
For a sentimental touch, get the entire family involved by having them place sweet notes of gratitude along the branches as well.
When you think of classic Easter candies, Peeps probably spring to mind. These fluffy marshmallow treats come in the shape of chicks, bunnies, and more. For the purpose of this DIY holiday project, you'll want to get a pack of the yellow chick Peeps. 
Use hot glue, a dowel, an embroidery ring, and a bright flower pot or vase to end up with a vibrant sunflower made of Peeps! Remember to mist the final product with craft sealer to preserve it and keep it out of reach of the kiddos.
The name of the game for this easy DIY Easter decoration is bunnies! Collect a few wooden bunny cutouts from the store or make some yourself if you're feeling adventurous. 
Once you have your furry friends, all you need to do is trace the bunnies onto your favorite scrapbook paper, paint the edges of the wood cutouts, and adhere your paper to the wood. You can also add a bow made of tulle or ribbon for an eye-catching finish.
No matter how much experience you have with DIY decor projects, these 10 Easter decor ideas are a great way to celebrate the holiday with friends and family. As you decorate your home for Easter, spring into the season with these living room makeover ideas.