Every holiday is better with the right decorations, and the Fourth of July is no exception. As the temperatures climb, get ready to celebrate one of the best holidays of the year with festive, patriotic decorations. These fun ideas for the Fourth of July decorating will help you get your home and yard ready in no time.
Pretty Patriotic Decorations With Flowers
Whether it's an afternoon pool party or a Fourth of July barbecue, you can't go wrong when decorating with flowers. Use them to make pretty patriotic decorations that are simple and elegant but still make an impact.
Use colorful red and white blooms with blue accents in mason jars for a rustic feel, or add them to a simple wreath to hang on the front door. Put together a larger group of red, white, and blue flowers to make the perfect patriotic centerpiece.
Balloons for Fourth of July Decorating
Balloons are an easy way to get festive for the Fourth of July. You can create red, white, and blue decorations with balloons by adding them to strategic spots throughout the yard and home, such as entryways, near food tables or drink stations, and by yard games or activities. Affix metallic "USA" letter balloons to walls, windows, or outdoor areas for an extra creative touch.
Classic Buntings and Paper Fans
Add a sense of classic style and fun Fourth of July decorating appeal with red, white, and blue bunting and paper fans. If you have some spare time, you can even create colorful paper fans and bunting with the kids to cut back on decorating costs. Use paper fans indoors as a wall or table decor and secure bunting across your porch, patio, fences, and mantle.
Red, White, and Blue Lighting
Who says that outdoor lighting is only for the winter holidays? Make the outside feel festive all evening long with string lights on the outside of your home. You can also drape bushes and shrubs with mesh lighting in patriotic colors. String star-shaped or red, white, and blue lights around the patio or light up the yard with a rope-light sign that says "USA."
For more outdoor lighting ideas, take a look at our blog post on summer patio decor.
Fun Chalkboard Signs
Chalkboard signs are perfect for changing things up quickly while having a fun yet chic look that can't be beaten. Set them around the house and yard with patriotic sayings or simple drawings with patriotic themes. Reserve a board for your family to write down why they love America or to put down fun facts about the holiday.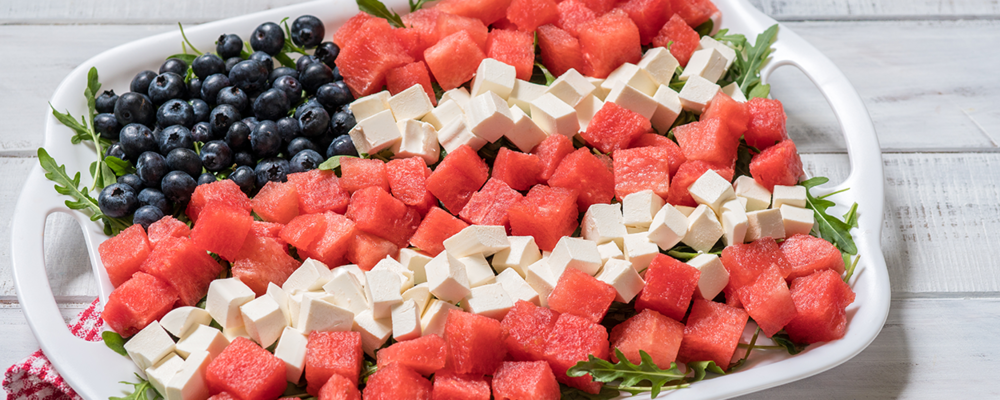 Ideas for Fourth of July Food Decor
The food you serve can also play a role in your red, white, and blue decorations. Consider using blue and red wrapped candies as party favors or treats — just place them in a clear cellophane bag with a silver or gold ribbon inside a decorative basket. This makes a cute centerpiece or entryway decoration as well as housing the favors so they stay organized.
Make your holiday buffet in Fourth of July colors, too. Watermelon, strawberries, and blueberries make fun summer desserts. You can also use festive frostings at the dessert bar and serve snacks with different colored dips, such as blue cheese, ranch, and salsa. Accents like star-shaped paper plates and colored straws and napkins all add to the decorative look of a buffet table with minimal effort.
Pool Items as Patriotic Decorations
Items that are normally reserved for fun in the sun can make great patriotic decorations! A red, white, and blue mini pool filled with ice can be a decorative and functional way to house cold beverages. Star-themed pool toys and floatation pieces can add an unexpected element to yard decor, while red and white striped umbrellas add a decorative look to outdoor tables as they offer some much needed shade.
Festive Flags Everywhere
Mini flags are an easy decorative accent, as they can be added anywhere. Affix them to napkin holders, place cards, or favor packages for a cute look. Place a group of mini flags in a vase or pretty container as a centerpiece. You can also use mini hooks to line staircases, deck railings, or entryways with these patriotic decorations.
Simple Spray-Painted Decor
A few cans of spray paint and a little creativity can help you make fun patriotic decorations with the family. Create some simple cardboard templates and use spray paint to add stars, stripes, and other accents to the lawn. Create a cute walkway accent by spray-painting spare bricks, pavers, or rocks in patriotic colors and lining the driveway or walkways throughout the yard.
Upcycle old plastic containers and buckets by spray-painting them in holiday colors and then adding letters to create a 3-D Independence Day sign. Or, use the decorated bins to house items like sparklers, sunscreen, and canisters of insect repellent for your family members to use as needed.
These Fourth of July decorating ideas can help you enjoy a more patriotic celebration. Be sure to read our blog post on how to bring fun summer vibes into your home around this special holiday.