As temperatures skyrocket, you may be inspired to breathe new life into your living space. Summer is just as much a season of renewal as spring, what with its brilliant sunshine, crisp blue skies, and rainbow of light, airy hues. A few little tweaks may be all that you need to transform your comfortable abode into a seasonal retreat.
Here are five summer decorating ideas that are destined to put you into a sunnier state of mind for summer 2020.
1. Swap Your Color Palettes
Look around. Does your home resonate with the spirit of the warmest months of the year? If at first glance you're reminded of the holidays or if you're just not getting those summer 2020 vibes, then the solution could be as simple as changing the color scheme.
The best choices? Think bright, radiant, and uplifting. Shades like turquoise, yellow, peach, and seafoam green are all great summer decorating ideas. White is always an appropriate pick for the season. It's perfect for visually enlarging compact spaces, creating a feeling of openness, and cooling down your room in hot weather. This simple tone also serves as a great canvas. Imagine the impact of a few vibrant throw pillows in shades like jade and raspberry in an otherwise all-white room.
2. Introduce Some Natural Beauty
Summer is also all about energy — good, natural, pure energy that's rooted in Mother Nature. For inspiration, you need only glance outside your window. Check out the trees swaying gently in the light breeze. Watch the way the sunlight bounces off blades of grass. Find peace in the colorful blossoms that dot your landscape. These are the wonders of the world  and adding them to your interior is an easy summer decorating idea.
Where earthy summer decor is concerned, you have many options. For effortless, low-maintenance plants, add a few succulents to different areas of the home. They look great as a dining table centerpiece, in the kitchen, or even in your home office. Introduce a few larger plants to your living space if you have a green thumb.
You can also incorporate elements like seashells, wood tones, and wicker furnishings into your summer decor. Make sure you let in as much natural light as possible by replacing heavy curtains with light drapes. The idea is to create a more outdoorsy feel inside your home so you can enjoy the summer wherever you are.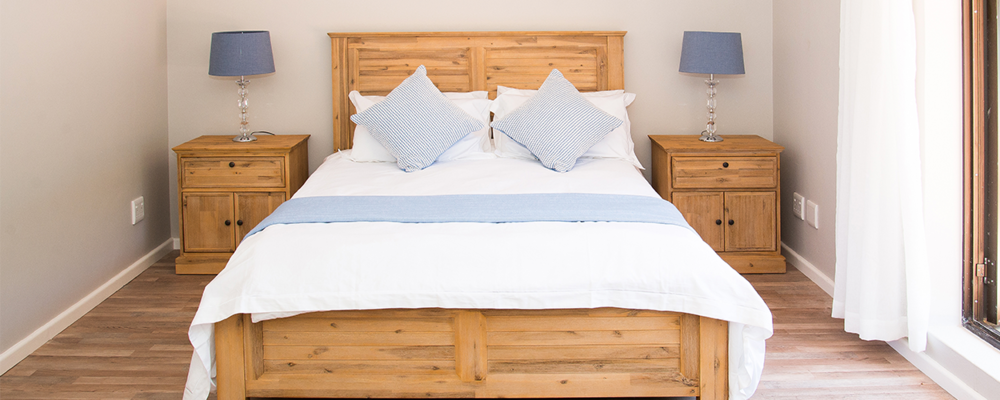 3. Revamp Your Sleeping Space
You're probably more likely to refresh your living room and your entryway before you consider your bedroom. But think about the difference a little change of scenery could have on your mood and spirit. There's no reason not to transform your sleeping space when it warms up outside, especially when you consider the abundance of summer decorating ideas that are perfect for bedrooms.
Start with the easiest place first: your bedding. It's a good time to retire the heavy flannel sheets and the thick comforter in favor of lighter pieces. But "light" doesn't only apply to color. You also want to make sure you aren't adding too much weight to your bed, or you risk overheating at night.
A white quilt accented by colorful throw pillows will make your room look larger. A bedspread with a shimmery blue or green finish reflects the tones of the sea and adds a touch of coastal chic to the space. Stripes and nautical elements are also easy add-ons to your summer decor.
4. Focus on the Cooldown
If your home generates a sense of warmth and coziness, that's great but it's more the type of sensation you want to experience during fall and winter. In summer 2020, create an even cooler vibe throughout your home. More than just running the air conditioner and turning on ceiling fans, you can ensure a sense of airiness in other strategic ways.
First, consider your HVAC system's efficiency. Draw the drapes closed when it's especially sunny outside, as that additional heat will otherwise force your AC to work even harder to cool the home. If there's a breeze outside after sunset, however, take advantage! Crack open the windows to invite some of that fresh air inside. And if you haven't yet, it's time to break up with your incandescent bulbs. This type of lighting creates a significant amount of heat while eating up energy. By contrast, LED bulbs generate the same lighting with less energy consumption and heat dispersal.
5. Elevate Your Summer Decor
The entire home can take on a more seasonal vibe for summer 2020 when you swap your existing accessories for more summery alternatives. It's easy to accomplish this in any space — even those areas of the home that might be more difficult to enhance in terms of design.
Think about scent, which plays a prominent role in some of your most beloved warm-weather memories. Candles infused with notes of crisp, cool air, salty ocean breeze, fresh fruits, crisp greenery, or tropical notes can all transform the vibe of any room instantly.
Then take a targeted approach and tackle each room individually. What's easiest to change? Swap that dark and dramatic shower curtain for something lighter and more playful, with a botanical motif or a beach print. Replace your existing throw pillows on the couch for more colorful alternatives. Place a bright area rug in your entryway. These little additions can make a big difference to your overall summer decor.
Take a look at our stylish collections to find the perfect furniture for your home in summer 2020!