As soon as you hear "farmhouse design," you most likely think of wooden accents, rustic signs, and neutral color palettes. While farmhouse design style has taken the country by storm, many people don't know there are multiple variations of it.
Whether you're looking to adopt this interior design trend in your own home or simply find yourself curious, take a look at our breakdown of the most common farmhouse design styles being used today.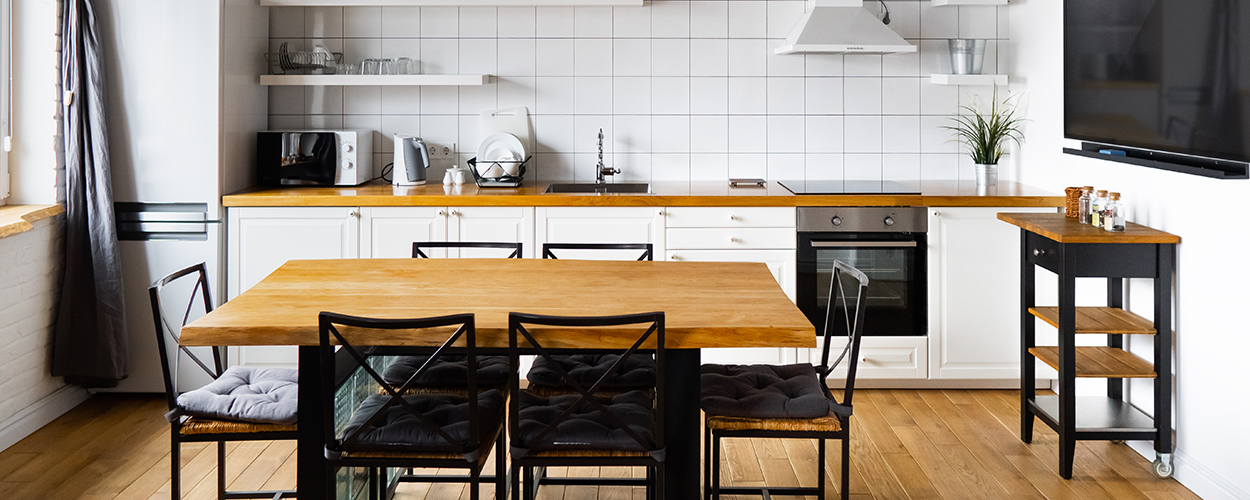 1. Industrial Farmhouse
If your husband wants to have a say in your home's decor, you might want to consider trying the industrial farmhouse design style. This variation of farmhouse design is known to be more masculine because it's inspired by the heavy machinery used on farms. Industrial lighting and hardware, cool metals, natural wood, and exposed beams are a few key characteristics that define industrial farmhouses. 
Other Characteristics:
Warm color palette

Black and off-white accents

Edison bulb pendants

Thick and heavy rustic wood

Furnishings with blackened iron structures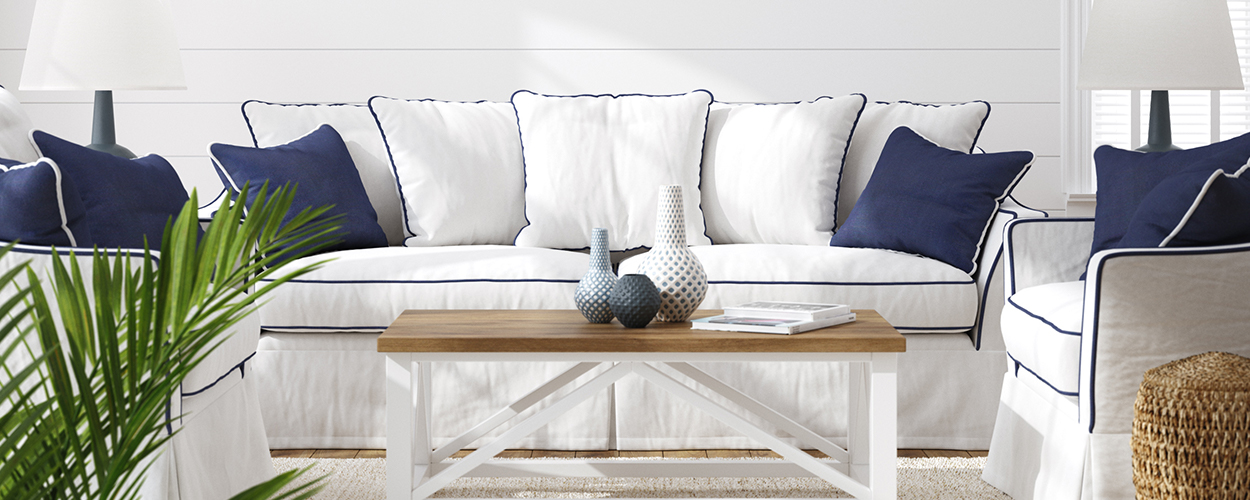 2. Coastal Farmhouse
Just as the name suggests, this farmhouse interior design idea subtly combines beachy, coastal elements with modern farmhouse vibes. Before you buy loads of starfish decor, seashells, and anchors, remember that coastal farmhouses aren't your typical beach house. They have oceanic references, but are still grounded to farmhouse interior design. Coastal accent colors of blue and green are popular, as well as white oak flooring, furniture, and cabinetry.
Other Characteristics:
Classic details in millwork (doors, molding, trim)

Warm metals like brass and gold

Natural elements like seagrass and rattan

Polished nickel or chrome hardware

Wooden beams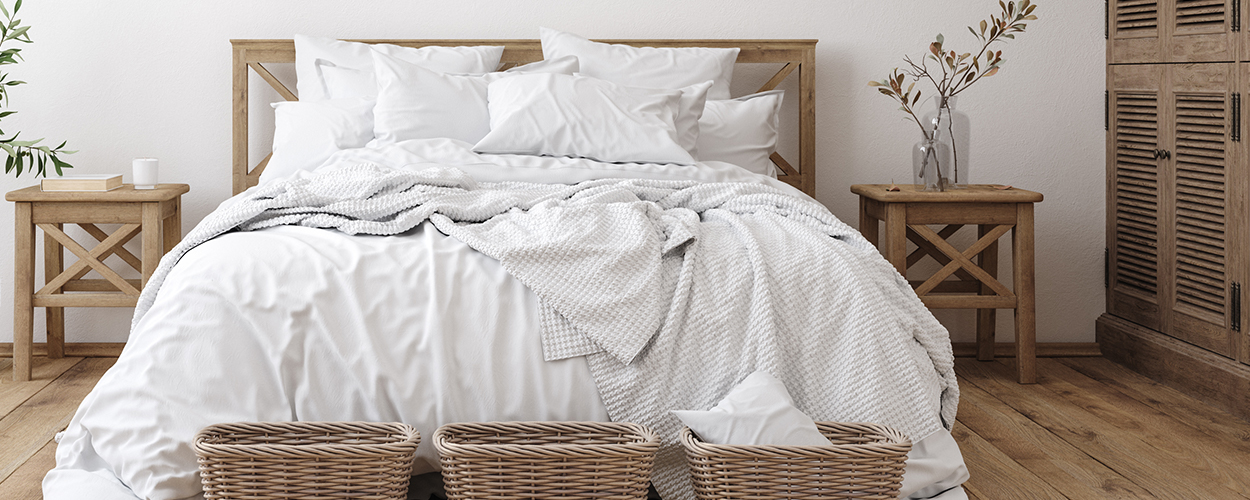 3. Scandinavian Farmhouse
Minimalism is the way to go when it comes to curating a Scandinavian farmhouse. The main idea behind this farmhouse design style is building a home that is uncluttered, modest, and light. If you decorate with purpose and follow the "less is more" mantra, you're halfway there. The Scandinavian element of this style brings modernism and minimalism, while the farmhouse side brings a more homey feel with rustic elements.
Other Characteristics:
Natural materials

Clean-lined, soft-shaped furniture

Simple woodwork in doors, window trims, cabinetry, built-ins, and countertops

Light wood flooring

Black or gray accents and mute shades of color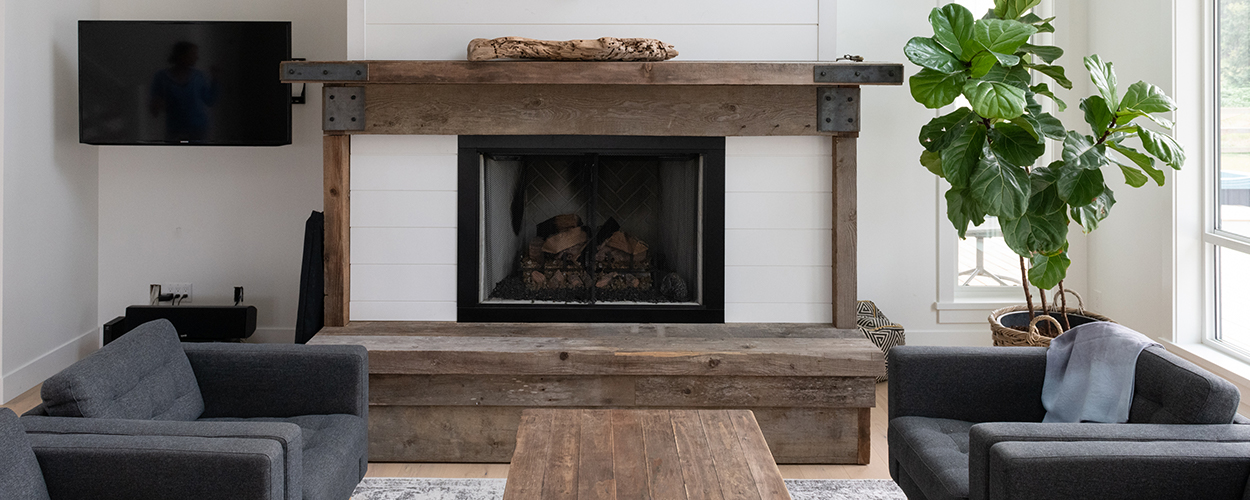 4. Modern Farmhouse
Similar to Scandinavian farmhouses, modern farmhouses are edited down to be sleek, clean, and fresh with very little ornamentation. There's an emphasis on contemporary design that can be seen in concrete flooring, exposed brick walls, and modern lighting. While you can incorporate modern farmhouse style decor in your home, it's sometimes easier to achieve this look with a newly constructed house or complete remodel.  
Other Characteristics:
Statement furniture pieces 

Bright white walls and interior

Minimal black accents and well-worn wood

Leather upholstery

Antiques and rusticity used sparingly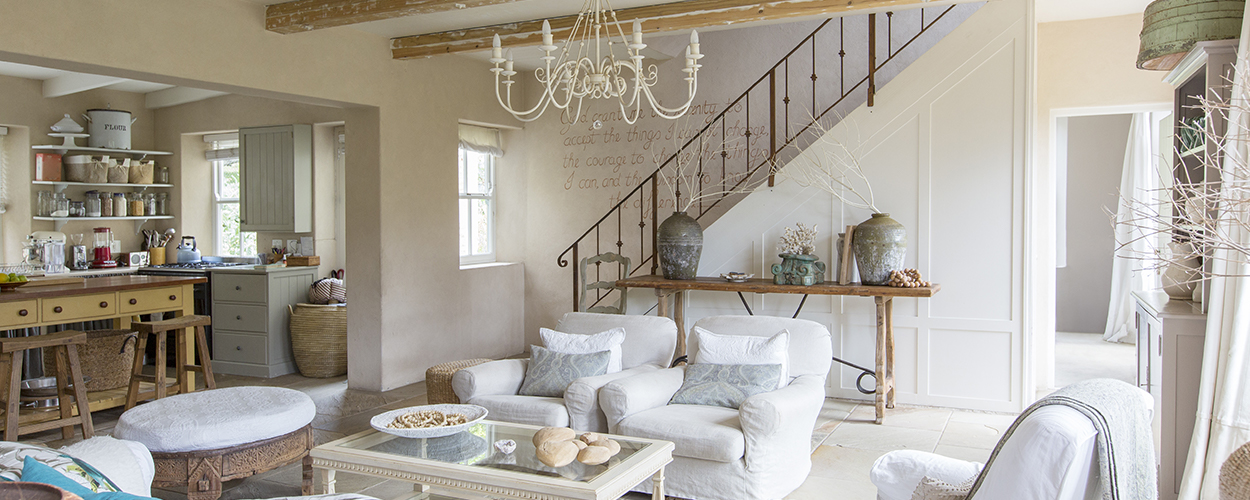 5. Rustic Farmhouse
If you love flea markets and repurposing decor, this farmhouse interior design idea is meant for you! Rustic farmhouses are all about handcrafted elements and a ruggedness you just don't see in other variations of this style. One signature feature that rustic farmhouses do have in common with other iterations is white walls. A white color scheme and vintage decor make this farmhouse design style feel especially quaint and down-to-earth.
Other Characteristics:
Neutral palette

Open shelving with vintage decor in tin and galvanized metal

Warm-to-gray distressed woods (shutters, seating, wall decor)

Subway tile backsplashes

Industrial materials and blackened steel decor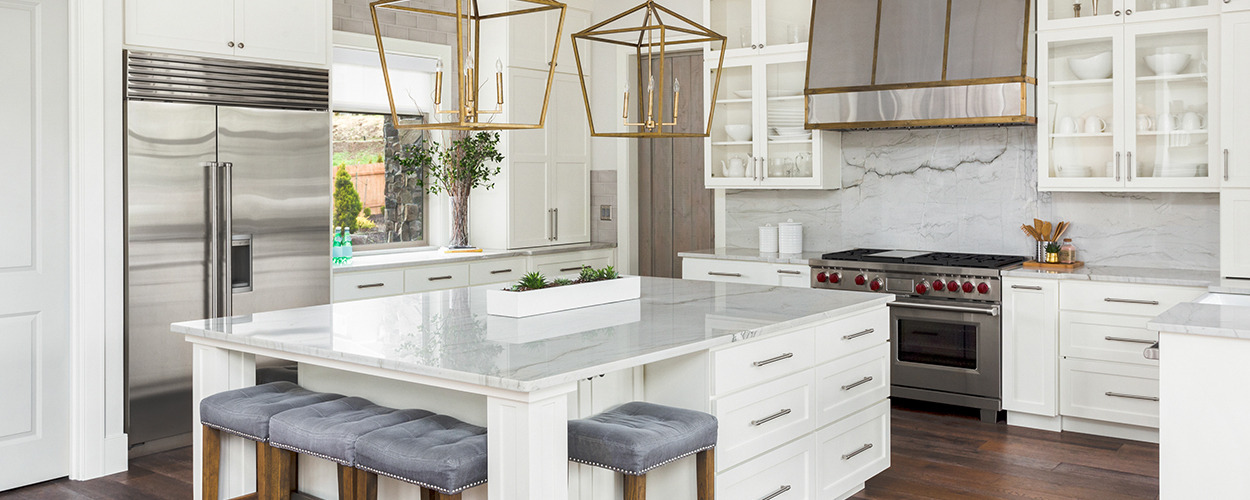 6. French or Country Farmhouse
French farmhouse style is one of the most popular versions of farmhouse interior design and definitely a top choice if you prefer to stay away from heavy industrial decor and black accents. French or country farmhouses are most aptly known to have marble, cool grays and cream-to-white color palettes, as well as more ornamentation than your typical modern farmhouse.
Other Characteristics:
Warm hardwood floors with rustic texture

Woven furnishings, off-white cotton fabrics, and cotton ticking stripes

Antique accents

Marble countertops, backsplashes, and table tops

Zinc and galvanized metals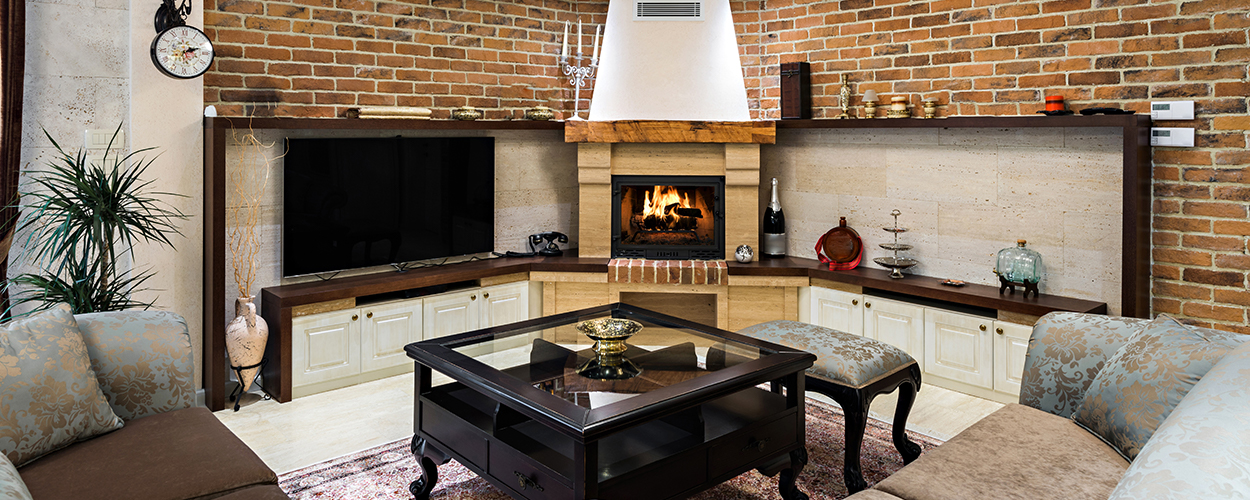 7. Colonial or Traditional Farmhouse
This farmhouse design style fully embraces the old world and a time in history that we can only read about in books. Colonial farmhouses use authentic historical elements like stone, primitive wood beams, and colonial grid windows to achieve a traditional, charming atmosphere that truly transports you back in time. 
Other Characteristics:
Traditional millwork detailing

Rich colors on painted, wood-paneled walls

American antiques and textiles used in lighting, furniture, and decor

Muted, natural color scheme

Brick fireplaces and flooring
As you can see, there are many different variations of farmhouse design style, all with unique features and characteristics. Now that you have an idea of what each entails, you can decide which farmhouse interior design idea fits you best!
If you're in the market for new furnishings to go along with the theme, be sure to take a look at our Max Gray and Basic Wool collections that perfectly complement farmhouse interior design trends.