It's one thing to look at furniture and love the fabric, but it's a whole other challenge to know the name of that gorgeous design that makes the fabric stand out. If you have ever found yourself struggling to name the upholstery pattern on your throw pillows or accent chair, it's time to reference our guide! From more common pattern names like polka dot to unique designs like Moroccan lattice, here are the top 15 upholstery patterns you should know.
1. Trellis
Need a sophisticated look for your drapery? Trellis is a modern, yet classic upholstery pattern that's formed with interlocking lines that resemble a fence or trellis. There are multiple variations to trellis, but one common theme is that the design is usually limited to only two colors. This design is best for accent decor like throw blankets or curtains.
2. Tartan
The easiest way to remember what a tartan pattern looks like is to think of a traditional Scottish print. The tartan pattern is formed with stripes of different widths and colors duplicated on both the vertical and horizontal axis. While it may look like plaid, tartan got its own name for a reason. The duplication of stripes on both axes is the key feature that distinguishes tartan from your ordinary plaid pattern. This upholstery design is ideal during fall and winter for a warm and cozy touch.
3. Paisley
Add a touch of retro vibes to your home with paisley, one of the most well-known fabric pattern names on the market. Paisley's teardrop-shaped, intricate design originally came to fame in Europe but managed to make its way into American fashion in the 60s and 70s. Paisley is known to have a colorful design which is great if you're looking for a statement piece like an accent chair in your living room.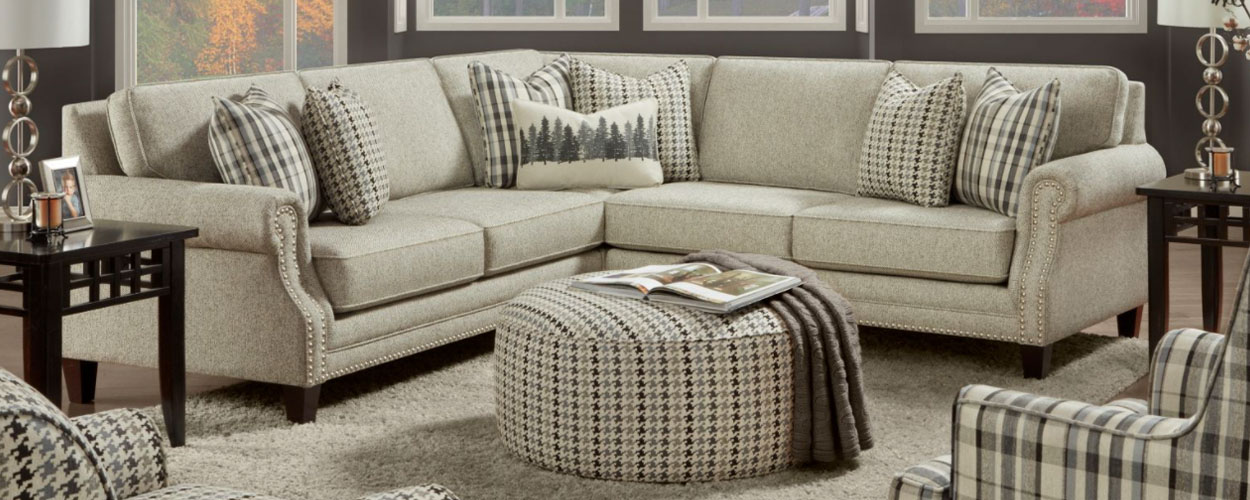 4. Houndstooth
Want to know how this common fabric pattern got its name? Houndstooth closely resembles a checkered design with irregular, abstract points on the corners of the squares, which some say look like a dog's teeth. While the description may not sound so elegant, the houndstooth design has earned a reputation for being quite classy. This design is usually in black and white or any other combination of neutral colors. It's perfect for contemporary and eclectic rooms.
5. Moroccan Lattice
Moroccan lattice is one of the more unique fabric pattern names within the decorating world, but it's definitely one upholstery design you'll recognize. Similar to the trellis design, Moroccan lattice is a grid-like pattern formed by interlocking lines. Its most identifiable feature is its four sides—two round and two pointed. 
6. Herringbone
In a nutshell, the herringbone design is a zigzag pattern with breaks between the zigs and the zags. It's often compared to chevron, another upholstery pattern, but is typically much thinner in its lines. Herringbone got its name, in part, because its zigzag pattern looks like a fish skeleton! 
7. Polka Dot
You probably don't need a description for this common pattern name, but it sure does make the list for most popular fabric designs! While the name is well-known, you may not realize that a true polka dot pattern consists of evenly sized and spaced dots. Polka dots are extremely versatile and can be used for a variety of interior design tastes.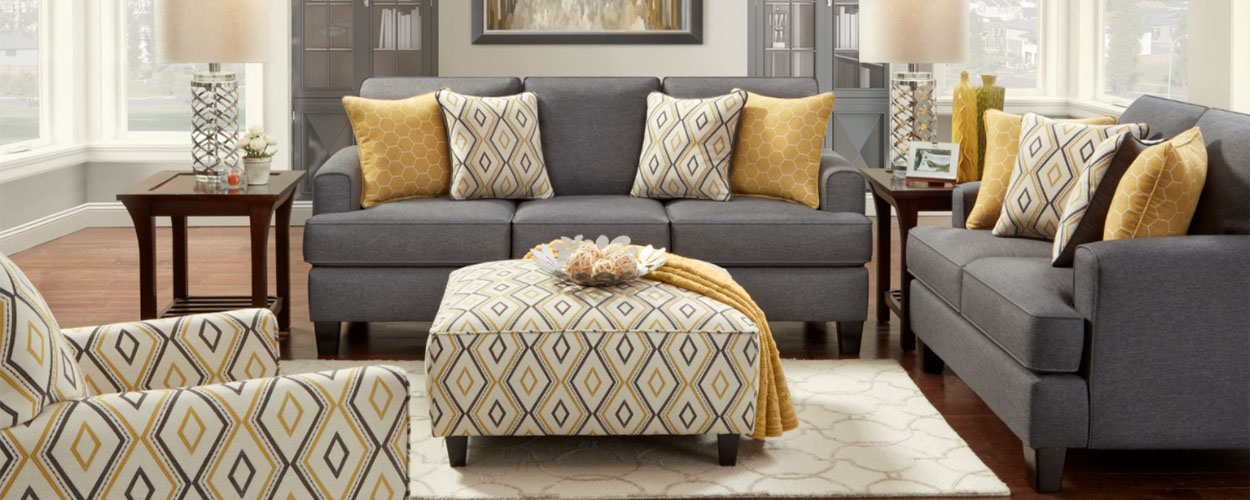 8. Geometric
Think back to your school days for this common pattern name! Geometric fabric designs encompass any geometric shape like circles, squares, triangles, or ovals. The patterns can be symmetrical or irregular and abstract. Geometric fabric designs are versatile, but are especially stunning in contemporary and mid-century modern homes.
9. Stripes
Just as polka dots are universally known, stripes are as well. This is one of the most basic upholstery designs, which is probably why it never goes out of style! Before you consider yourself an expert on striped patterning, ask yourself if you know some of the variations of this pattern.
Awning stripes are broad stripes, sometimes separated by thin bands, while barcode stripes are stripes of varying width.
10. Harlequin
Harlequin is much like that of a checked pattern, but with diamonds instead. Usually, there is a small dot where the points of diamonds meet for an added touch of flair. This upholstery pattern is found in a wide range of colors which makes it ideal for almost any space. Choose a vibrant variation with lots of different shades or opt for a simple two-color palette.
11. Gingham
If you're a fan of good ole' fashioned country decor, you must know the gingham pattern above anything else! This classic country design is made with white and an additional color that's woven into a checkerboard pattern. Unlike a traditional checkered pattern, gingham has intermediate squares where white lightens the intensity of the contrasting color by half.
12. Floral
There's not much guessing involved when it comes to floral patterns because they're just as the name suggests—full of flowers! Floral patterns aren't limited to one variation like some of the other common upholstery patterns. Instead, there are countless floral patterns that range from tiny to large-scale, realistic to abstract, and colorful to monochromatic. If you're looking for a simple way to spruce up your cottage decor style, make sure to include this design!
13. Flame Stitch
Hop in a time machine and get ready for retro vibes with the nostalgic flame stitch design! Back in the 1970s, your home was considered groovy if you had flame stitch upholstery. This pattern is made of a closely spaced series of flame-like, jagged lines. Flame stitch's zigs and zags are usually thin and can vary in height.
14. Chinoiserie
Chinoiserie designs get their inspiration from Chinese and other east Asian artistic traditions. Colors and fabrics vary quite a bit, as well as the depictions. Birds, children, fishermen, and florals are a few of the main themes you'll see woven into chinoiserie patterns. Traditional-style homes and Asian-style decor are heavily influenced by chinoiserie design.
15. Chevron
It's all about zigzagging stripes when it comes to chevron. Normally, the chevron pattern has two alternating colors with one of them being white. This upholstery pattern is fun and energetic, so be sure to include it if you're looking for some interior design pizazz!
While there are hundreds of fabric designs out there, you're off to a great start by knowing these top 15 by heart! Once you become an expert on common upholstery patterns, test your knowledge by guessing which designs are used within our Fusion collections!