At first thought, home decor rugs may seem like a fairly insignificant accent to include in your home—the reality is quite opposite. In fact, there are multiple benefits of rugs that not only enhance the look of your home, but also serve as practical solutions as well. From advantages to tips on how to incorporate them in your space, here's a crash course on decor rugs!
Benefits of Rugs
1. Talk About Comfy
Does your space have all wood or tile floors? Walking around on such hard surfaces can be a little uncomfortable and cold. Quickly transform your floors from dull to luxurious with the addition of soft rugs. A runner down your hallway or area rug in your living room will make your space feel much more comfy and homey.
2. Soak Up the Sound
One of the most practical benefits of rugs is their ability to absorb sound. If you can hear echoes in your home or feel as if conversations can be heard across the entire house, area rugs should be next on your list for home decor. 
The more plush and thick your rug, the more efficient it will be in absorbing sound and reducing noise. This goes for all types of sounds too—voices and loud footsteps are two of the biggest culprits.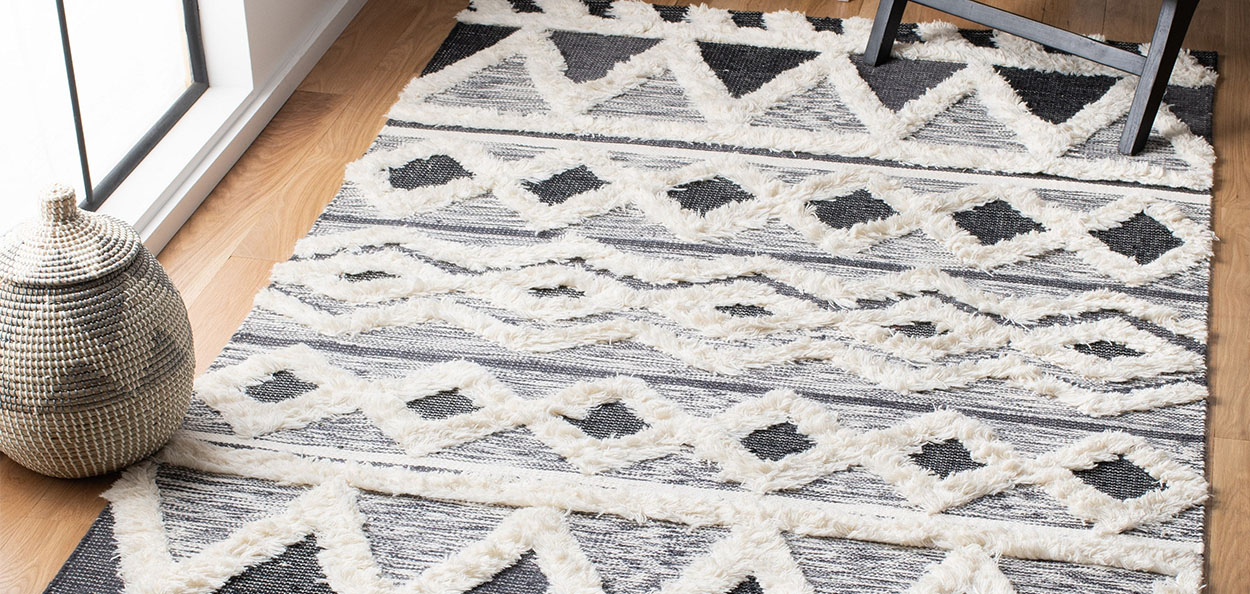 3. What About Warmth
Staying warm during winter is hard enough as it is when you're outside, so the last thing you need is a freezing home! While running your heater is an obvious solution, you might not realize that one of the best uses of rugs is for insulation.
Save some money on your energy bill by laying down dense area rugs in each room to help retain heat. Take it a step further by supplementing with an insulated rug pad underneath as well. 
4. Brighten Up Without Light
Not every house has ample natural light to brighten up each space. If you have a room in your home that is particularly dark and secluded, opt for a light rug to help illuminate the area and make it more inviting. 
You can even use big area rugs for your living room, bedroom, or dining room if the color palette you chose is on the darker side. Remember, your accent rug doesn't have to be bright white. Play around with neutral tones or pale shades that complement your home.
5. It's About Connection
Another benefit of rugs is their ability to connect separate spaces. You can easily create a more cohesive design within your home by incorporating different types of rugs that share a central design or color theme.
This example works best with traditional-style homes that are divided into multiple rooms rather than having an open floor plan. With so many walls and divisions, it can be tricky to maintain a consistent flow throughout the space. Rugs help to create unity and a visual connection.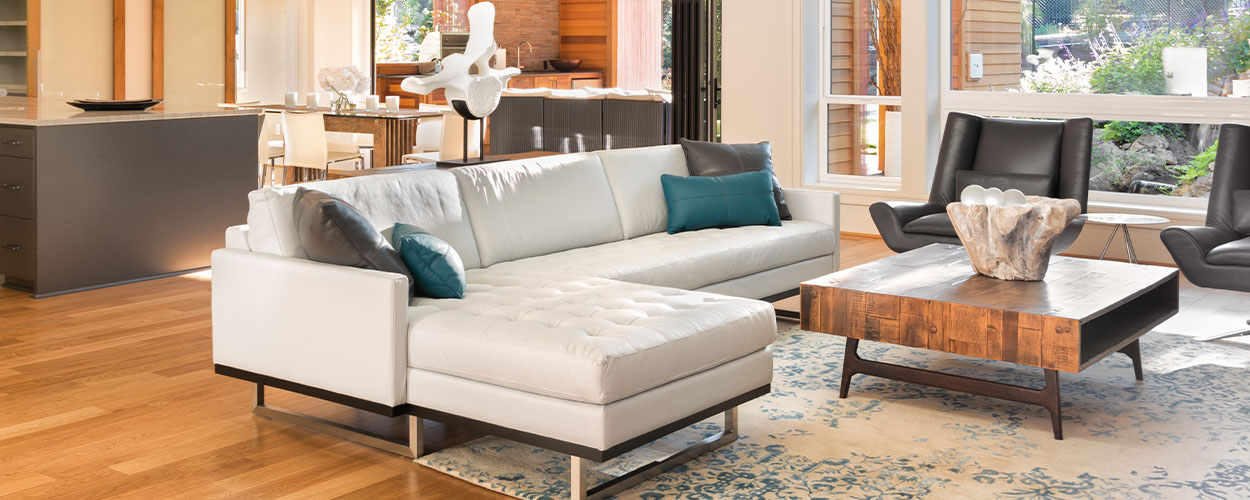 6. Zone It Out
Open floor plan homes are all the rage right now, but how exactly do you establish rooms in a space with no walls? That's where area rugs come in handy. Just as rugs can connect a space, they can also divide a space just as easily. 
Use big area rugs for your living room, dining room, and any other space to zone off those areas and anchor your furniture. The rugs help to set clear boundaries and transform one big room into distinct living areas.
7. Time for Texture
One of the most important rules of interior decorating is to include a variety of textures within your home. Besides blankets, pillows, and furnishings, rugs are another major home decor item that can get the job done! Lay down different types of rugs with interesting textures to bring depth and contrast to your home. It's a quick and simple way to enhance your home's interior design style.
Best Practices for Decorating with Rugs
Now that you know why you should add rugs to your home, it's time to learn some best practices to ensure your finished look is stunning. Here's a few tips to consider when decorating your home with rugs.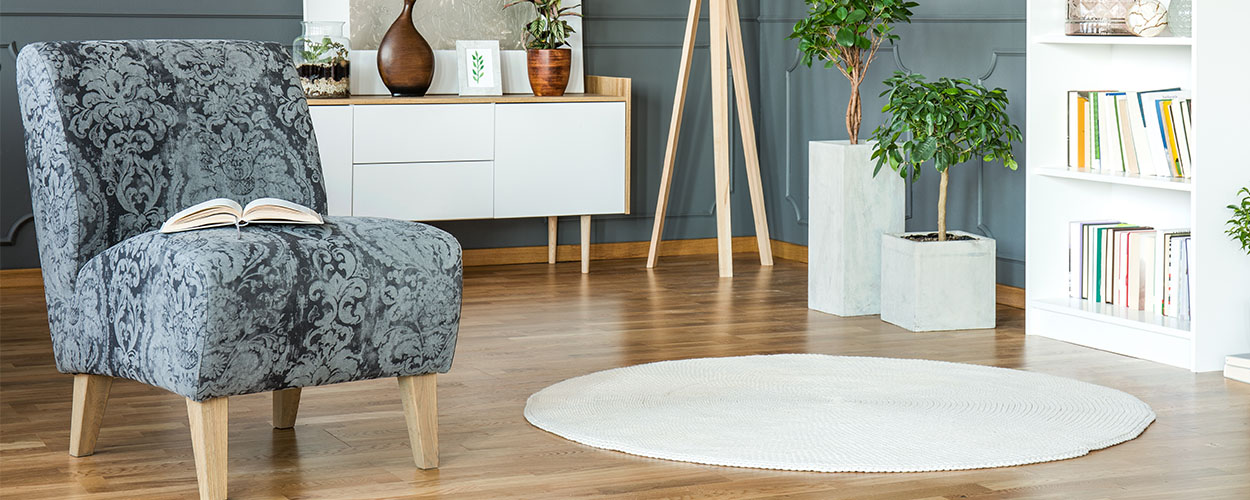 Play Around with Shapes
Although rectangular rugs tend to be the most popular, don't be afraid to create a little variety with different types of rugs in unique shapes. Assess your furniture and try to decipher which shapes would complement your space best. Experiment with ovals, circles, or squares and you might be surprised at how amazing they look!
Establish a Focal Point
Before you purchase a rug for your home, you need to decide whether it's going to be the focal point or not. A rug, especially one with bold colors and patterns, is a huge statement piece. If you choose to make your rug the focal point, decorate the rest of the room accordingly with more subtle patterns and accent colors. Remember, balance is key and incorporating too many statement pieces can overwhelm a space.
Decide on a Theme
As with the rest of your home, there needs to be a specific design theme you follow with your rugs. Mixing entirely opposite styles and colors can cause a jarring, unpleasant effect. Instead, opt for rugs that complement each other to ensure your space feels harmonious and cohesive.
As you can see, there's much more to rugs than meets the eye! Besides their beauty, rugs offer multiple benefits that make your space more inviting and comfortable. When you start brainstorming how to seamlessly incorporate rugs into your home, take a gander at how to make your rooms flow for additional tips on cohesive design.