With the holiday season behind us and a brand new year just beginning, it's the perfect time to check off some tasks on your to-do list. Cleaning your home may be a daunting project to think about, but the end result is always well worth it. Set aside some time to tackle a New Year's cleaning by following our home cleaning checklist and household cleaning tips!
Home Cleaning Checklist
All Rooms
When it comes to a New Year's cleaning or any routine deep clean throughout the year, it's helpful to assign tasks to specific rooms whenever possible. Some tasks; however, should be done around the entire house. Start with the ideas below and add any other tasks you can think of as you move throughout your space.
Dust light fixtures, ceiling fans, and corner cobwebs

Clean door handles and dust door frames

Dust window sills, blinds, picture frames, lampshades, and furniture

Dust knickknacks, books, and other decor accessories

Shake out and/or wash throw rugs

Sweep, vacuum, and mop floors

Donate

or throw away unused items

Clean upholstery on furniture

Wash throw pillows and blankets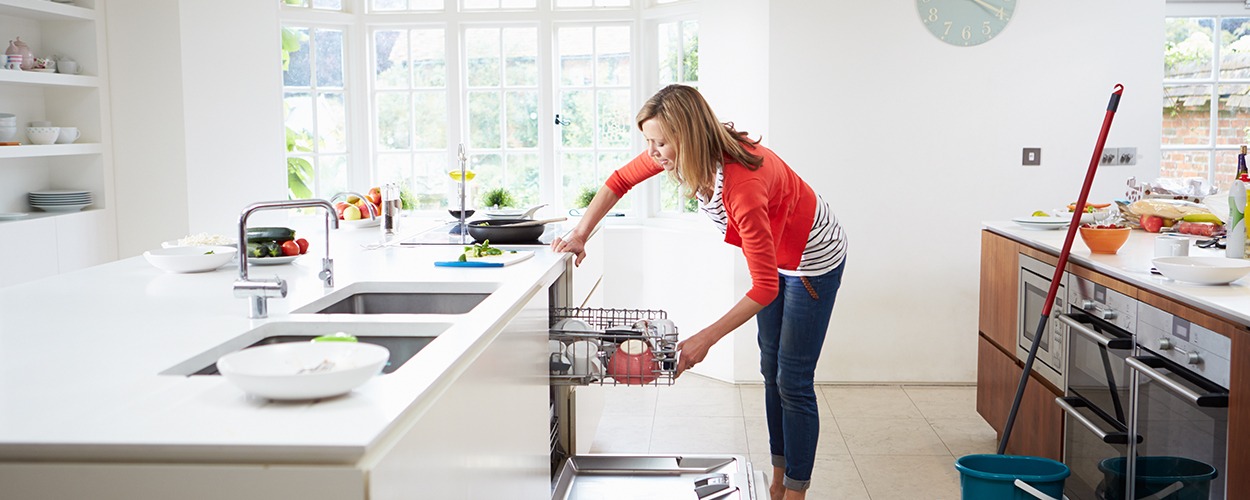 Kitchen
From greasy stove tops to dirty cabinets, the kitchen quickly builds up lots of grime and bacteria from daily use. As you complete your home cleaning checklist, pay special attention to this room and give it a thorough wipe down.
Clean and sanitize counters and sinks

Clean stove, oven, and range hood

Clean microwave inside and out

Wipe down cabinet fronts and appliances

De-funk your dishwasher with baking soda or vinegar

Clean and

organize your refrigerator

Sanitize your garbage can
Bathrooms
Fight every urge to walk past your bathroom as you undertake your New Year's cleaning! It may be the yuckiest room in the house to clean, but it's a must. Prioritize sanitation and work from there.
Clean mirrors

Clean and sanitize counters and sinks

Wipe down cabinet fronts

Clean and sanitize toilet

Clean and sanitize shower

, shower door, and tub

Scrub away mold on shower tile and grout

Wash bathroom mats

Unclog your shower drain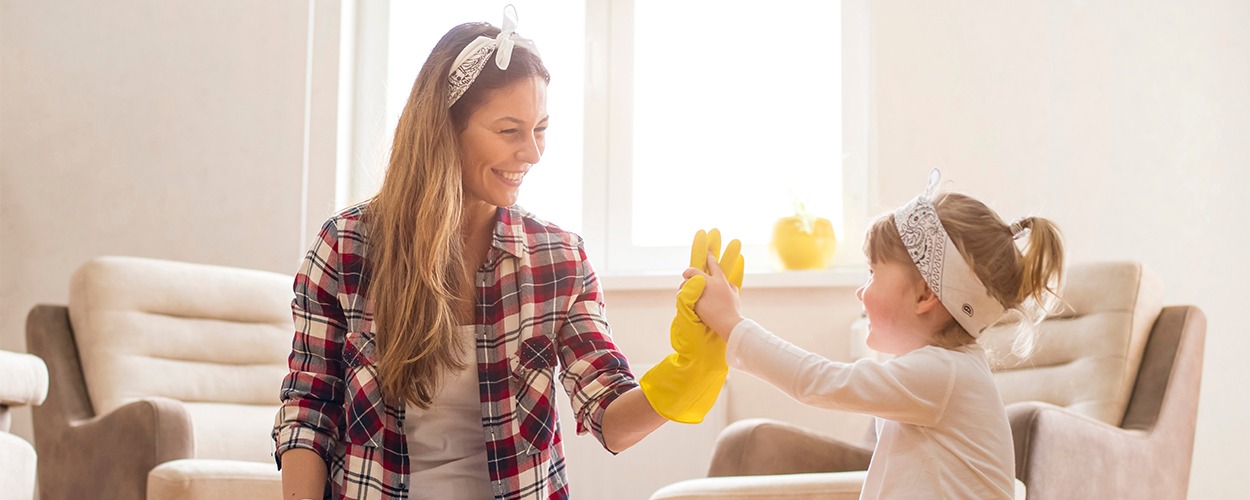 Household Cleaning Tips
While there's no right or wrong way to clean your house, there are a few things you can keep in mind as you begin the process. Think about using these tips to help establish a cleaning routine that's organized and efficient.
Do a Walk Through First
Grab a paper and pen and take a quick walk around your home to get a better understanding of what needs your attention. This household cleaning tip is great for helping you prioritize tasks if you aren't too sure where to start.
Clean with Everyday Items
There's no need to run to the store to buy a cart full of cleaning supplies! Get creative and survey the everyday items you already have sitting around your house. 
Brillo Pads

– Great for cleaning shower doors

Toothbrushes

– Ideal for nooks and crannies in the kitchen

Lint Rollers

– Perfect for removing hair, fur, and lint on furniture

Socks

– Use them to dust blinds, baseboards, and other wooden furniture
Think About Your Cleaning Style
Do you prefer a "one and done" cleaning style where you clean the entire house in one day? Are you a fan of timed cleaning sessions or do you like cleaning one or two rooms at a time?
Think about your ideal cleaning style and make a conscious effort to follow it each time you give your home a wipe down. As with anything else, having a plan that fits your preferences will give you a sense of ease and make the project feel much more manageable.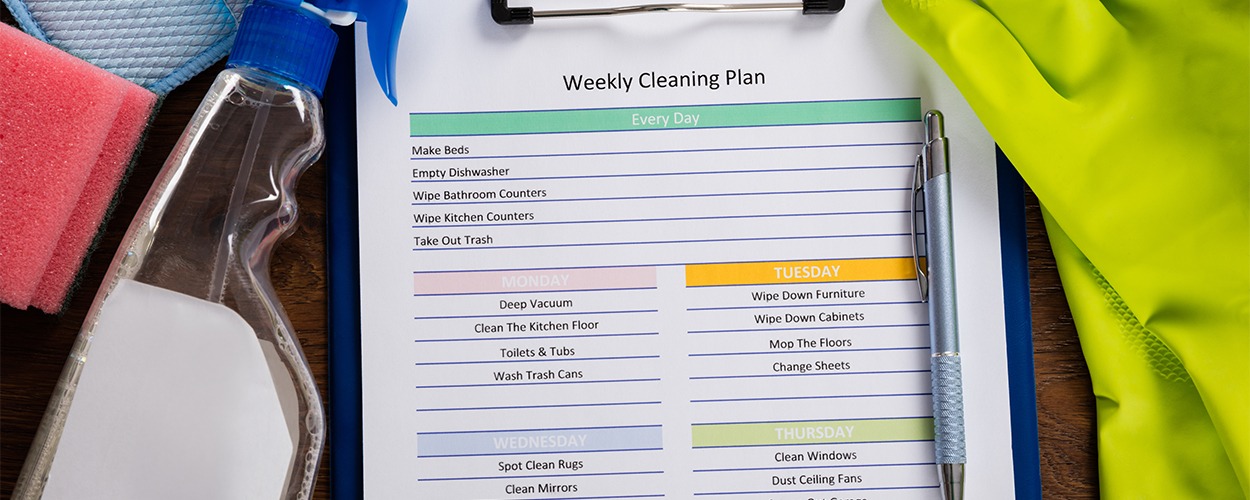 Create a Cleaning Schedule
After you finish your New Year's cleaning, pat yourself on the back and keep up the momentum by creating a cleaning schedule! If you make house cleaning a normal part of your routine, the process will be much quicker and easier each time you do it.
Now that you have a home cleaning checklist and household cleaning tips, you should feel confident and prepared to put in the work! If you happen to run into any nasty stains during your house cleaning, check out how to remove 6 of the most common stains from your furniture.