Do you feel like your living space needs some personality? Don't be afraid to venture out from minimalist, bare walls to colorful focal points made with wallpaper. 
Wallpaper has been around for ages and is currently a major trend in the interior design world. From floral prints to geometric masterpieces, check out 10 unique ways to use wallpaper throughout your space.
1. Mixture of Wallpaper
Having a hard time choosing between different wallpaper options? Try your hand at incorporating a mixture of designs. Mixing and matching wallpaper may seem like a risky route to take, but it can actually look quite cohesive if you stay within the same color palette and patterns. Here are a couple guidelines to follow:
Stick to two different color options to avoid a messy design 

Use each wallpaper on different walls of your room or at least in different places like your accent furniture
2. Statement Wall
Consider featuring a striking and colorful wallpaper within a single space to create a statement wall. A statement wall will most definitely catch the eye of your guests and can quickly transform your interior from bland to bold. 
While it can look amazing to incorporate a vibrant jungle print or floral design, remember to keep in mind your interior design style as you try this wallpaper idea for your home. Stick with your theme and remember that even the slightest change in color or pattern can go a long way.
3. Wallpaper on the Ceiling
Give your guests a reason to look up and enjoy every corner of your room by adding wallpaper to the ceiling! By using this technique, you can create a really dramatic look in a small space. 
This is one of the most unique ways to use wallpaper, so it's no surprise that the process can be a little tricky. Do your research on papering ceilings to ensure the project goes smoothly and you don't have to re-do anything. Once you see the outcome, you'll realize it was well worth the extra effort! 
4. Decoupage Furniture
Do you have furniture that has seen better days? Rather than toss it in the trash or go through the hassle of painting, use peel-and-stick wallpaper instead. Simply place your wallpaper on the surface of your furniture to create stand-out items that make for fantastic room accents. 
An easy DIY project to try is adding wallpaper on the faces of dresser drawers or your nightstands. You can even add wallpaper to the top of your desk as well.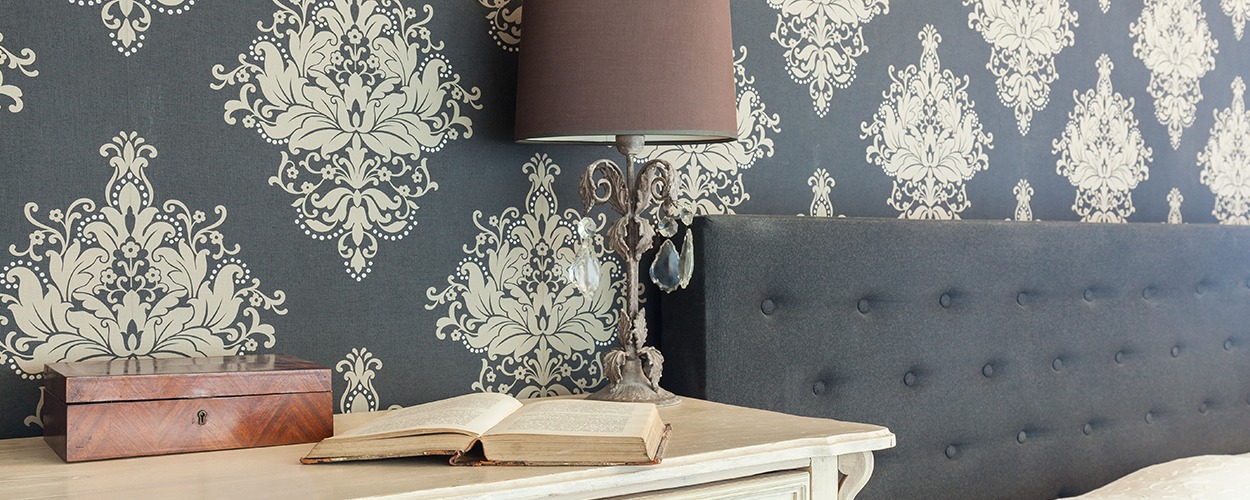 5. Colorful Headboard
The bed is typically the most significant piece of furniture in any bedroom, so why not give it the "wow factor" that packs a visual punch? Add wallpaper to your headboard to give your space a more modern feel.
If you don't have a headboard, don't worry! You can still mimic this wallpaper inspiration for the bedroom by creating the illusion of a headboard. Grab some peel-and-stick wallpaper and cut out the shape of a headboard. Stick your template on the wall behind the bed and enjoy the finished product.
6. Back of the Closet
Show off your personality and have a little fun with your home by updating your coat closet! Apply wallpaper to the back of the closet for a subtle, yet vibrant design addition. This wallpaper idea for your home will surely catch the attention of your guests as they hang up their coats.
If you're looking for wallpaper inspiration for your bedroom, this idea works well too! Complement your wardrobe by adding wallpaper to your own bedroom closet. 
7. Back of Shelves
Add depth and charm to your living space by incorporating wallpaper into your bookcase or shelving. This idea is handy if you rent a smaller home with little room to add personal touches. 
Take your favorite peel-and-stick wallpaper and add it to the back of your shelves. Not only does this wallpaper idea for your home bring bookcases to life, it also helps give them a high-end look.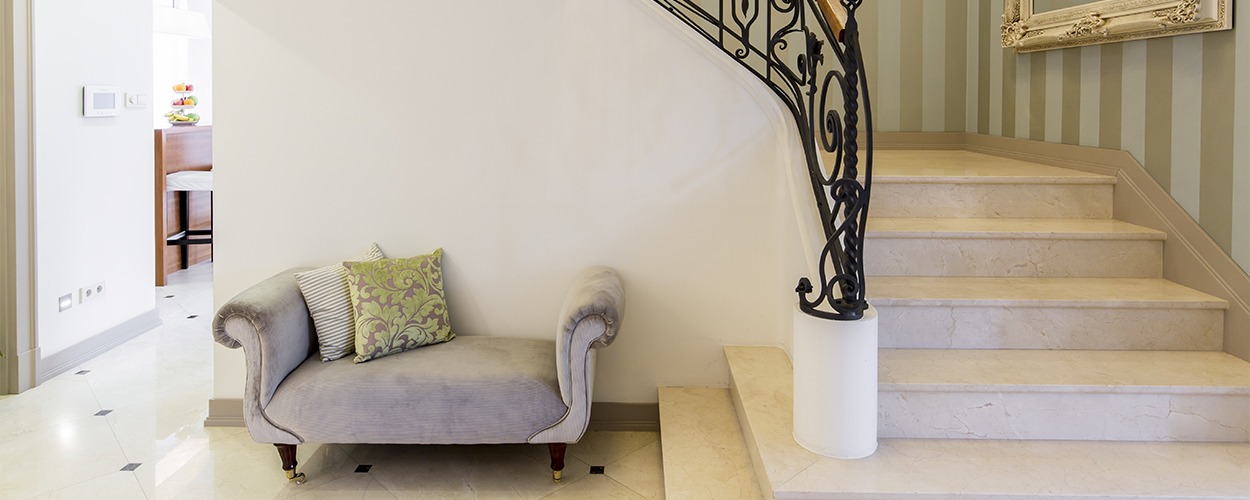 8. The Stairs
Step up your interior decorating by giving your staircase a makeover. Apply wallpaper to your stair risers to add texture and depth. Along with wallpaper on the stairs themselves, you can also try applying wallpaper to your staircase wall. This will transform your staircase into a beautiful focal point in your entryway.
9. Doors
If you're looking for unique ways to use wallpaper, this one is definitely it! Transform your home's doors with the addition of wallpaper. Believe it or not, there are hundreds of wallpaper designs especially made for doors. From three-dimensional nature scenes and murals to realistic wood patterns, there are lots of options to fit your preferences.
10. Accent Artwork
Buying designer artwork can be very expensive, so why not get your creative juices flowing and make your own? All you need for this DIY project is a few frames, wallpaper, and a couple hours of free time!
This wallpaper idea for your home is budget-friendly and a perfect way to make art pieces that compliment any room. Along with DIY frames, you can make DIY canvas art by simply sticking wallpaper onto a wooden sheet.
Now that you have some ideas on how to incorporate wallpaper within your home, check out our 10 coolest ideas for a DIY living room makeover!