Calling all free-spirited decor lovers! Bohemian design style is colorful, cultural, and quite possibly a swoon worthy match for your design tastes. Explore the artful elements that make up boho design and learn more about how you can infuse it within your home.
What is Bohemian Design Style?
To get a better understanding of this particular interior design style, it's helpful to know the meaning behind the name. The word "bohemian" is used to describe someone or something that is socially unconventional, especially in an artistic sense. 
A true boho space lacks structure and emphasizes personality in the form of colors, objects, and patterns from many different areas of the world. Because bohemian interior design challenges the ideal standards of beauty, it's extremely unique and open to a wide range of interpretations. 
If you're looking for a design style that you can make your own, bohemian design is a great choice.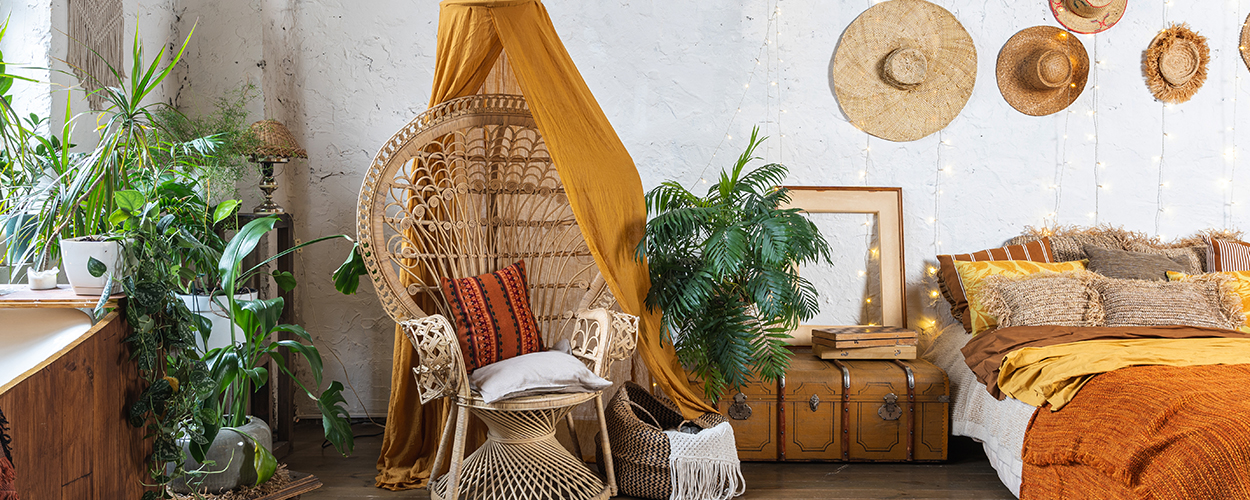 Bohemian Interior Design Characteristics
While there's plenty of room for creativity when it comes to boho style, there are signature characteristics that distinguish it from other popular counterparts like art deco and mid-century modern. Mix and match your favorite elements to curate a look that is tailored to your preferences.
Colors
There are no strict rules when it comes to color palettes in a boho home. That being said, the bohemian design style tends to incorporate neutral colors like brown, green, white, and gray to create a simple base. From there, you can breathe life into your space with vibrant jewel tones like sapphire, ruby, amethyst, and emerald. Don't be afraid to be bold!
Materials
As far as materials are concerned, boho interior design leans toward the natural and organic side. Ikat, rattan, sisal, and hand-woven fabrics are a staple you should most definitely include. These materials are diverse in texture and quite uncommon which is exactly why they work so well for this particular style.
Fixture finishes are most often metallic in nature. Gold, silver, brass, and chrome are the most common finishes to choose from.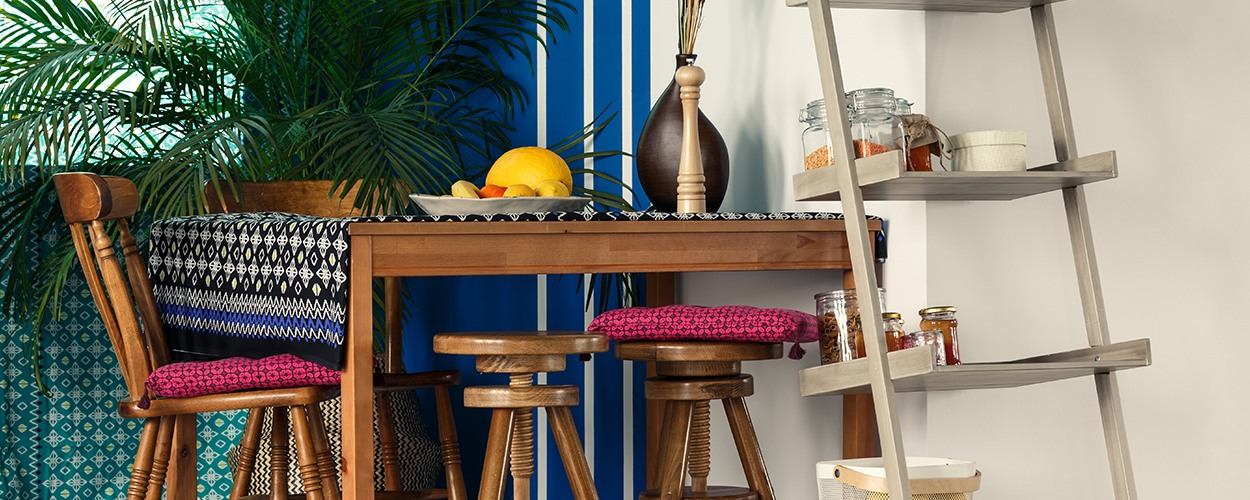 Decor Style
Forget about the pressure of buying the newest, shiniest home decor. One of the beautiful aspects of bohemian design style is the appreciation for all decor—new, old, or distressed. Original or handmade art pieces, flea market finds, or travel souvenirs from around the globe are just what you need for your space.
Bohemian-Style Decorating Ideas
Now that you know a little more about what bohemian design style is and its main characteristics, get a clearer picture of how to put it all together in your living space with these bohemian-style decorating ideas.
Low-Lying Furniture
Bohemian-style furniture is known for being low profile. In the most simple terms, the closer you are to the ground, the better! Low-backed sofas, for example, are a fitting addition to your boho space. 
To take this bohemian-style decorating idea to the next level, skip the sofa and turn your attention to the floor. Floor cushions, poufs, rugs, and plush pillows make for authentic boho floor seating.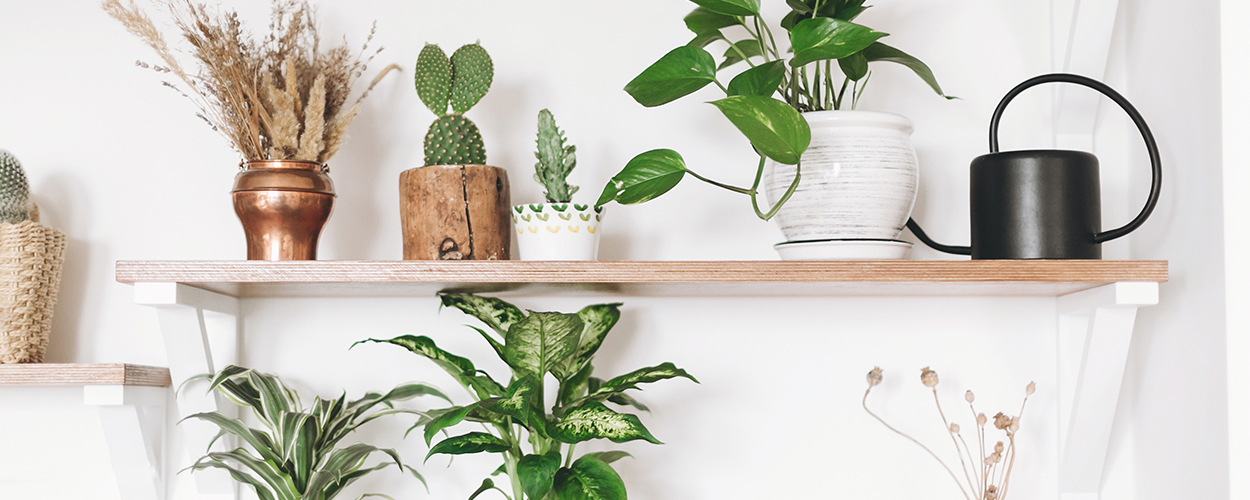 Greenery
Get in tune with the natural world by adding botanicals and other greenery to your home. Natural elements play a vital role in bohemian design, plants in particular.
Not only do they add dimension and color to your living space, they help purify the air as well. All plants are loved in boho design, so go wild with your top picks. Woven hanging plants and botanicals in ornate planters are just the tip of the iceberg. Cacti, succulents, ferns, pampas grass, and calathea plants are a few types of houseplants that work well.
Maximalism
Say goodbye to the "less is more" mantra and hello to maximalism! While empty walls and bare spaces are embraced in other styles, maximalism is an important bohemian-style decorating idea you won't want to forego. 
That being said, maximalism does not mean clutter. Display your most meaningful and loved treasures in a purposeful way where they can be seen and admired. Layer your trinkets, but give them the space they deserve.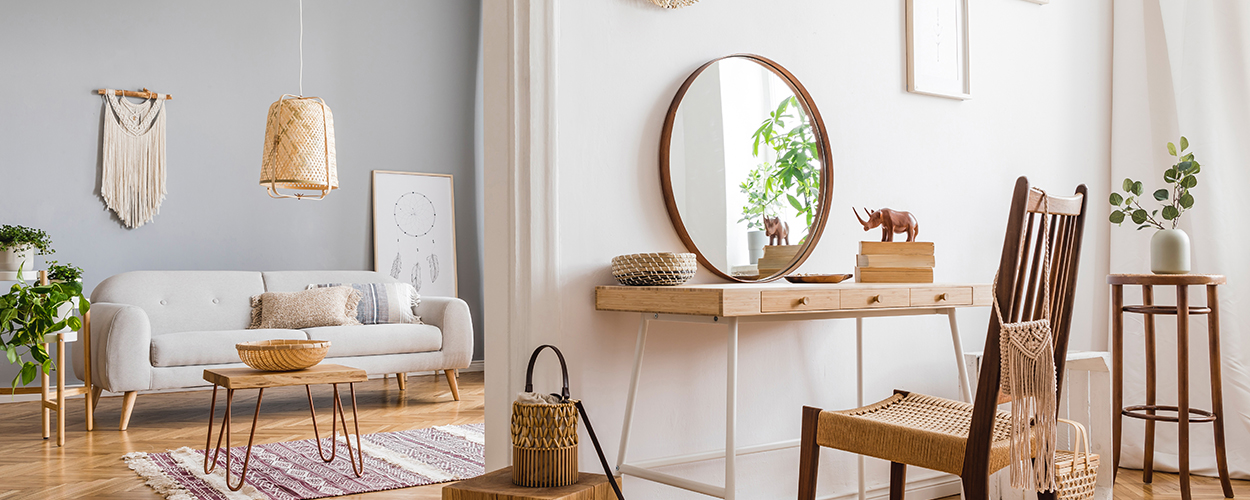 Metallics & Mirrors
Metallics and mirrors both share the podium for signature boho decor. These accessories brighten up your space and give it a touch of subtle glamor without being too extravagant. 
A round, gold mirror above your living room sofa and brassy art pieces are a couple easy ways to incorporate this idea into your home.
Distressed Finds
If you've decided to try boho interior design, you most likely aren't too concerned about buying used accessories. That's an important factor to consider because distressed or second hand items are a special design element of boho style. 
You want your items to look like they've lived another life when they enter your home—it gives them charm and personality. Whether they come from your own travels, a garage sale, or flea market, choose the most alluring accessories that look like they tell a story.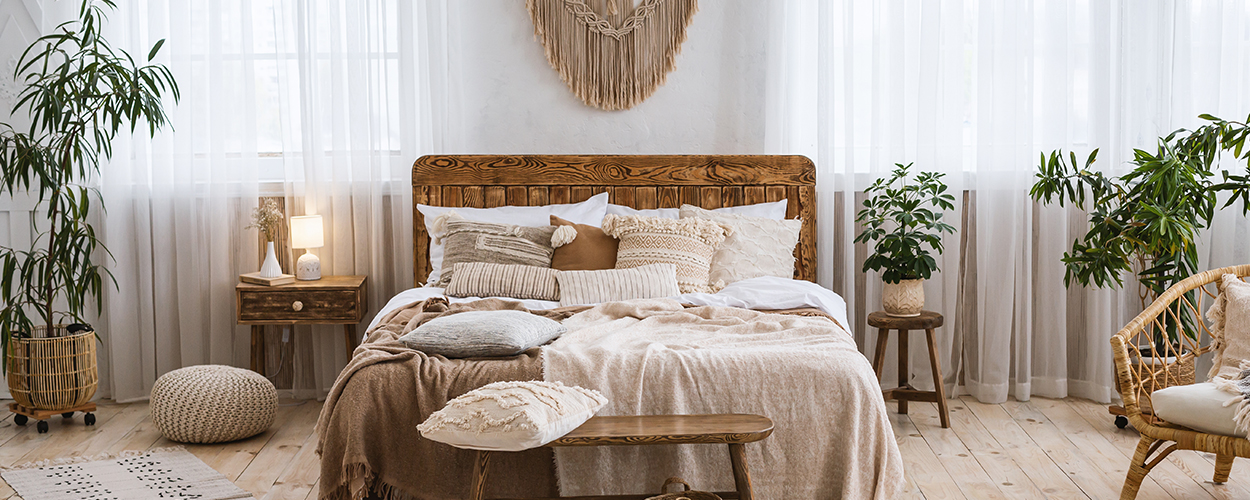 Mixed Patterns
Layered patterns are hands down one of the simplest and affordable ways to master bohemian design style. If you don't consider yourself an expert interior decorator, stick to these two rules when layering:
Layer similar patterns

Follow a consistent color theme
Rugs, blankets, pillows, cushions, and ottomans are a simple way to start layering patterns in your home. As long as you keep the patterns similar and tie together colors, the finished product will look lush and luxurious.
With these bohemian-style decorating ideas and a firm understanding of the meaning behind the name, you are ready to adopt this interior design look inside your home! If you're interested in learning about more design styles, read about how to turn your space into an art deco dream.