While spacious master bedrooms are a highly sought after luxury, they can be a bit overwhelming to furnish. Besides the traditional bed and nightstand, there are many ways to decorate a large bedroom to make it feel cozy and complete. From accent walls to layered textiles, here are 10 of the best bedroom decor ideas for large spaces.
1. Area Zones
As a beginner just learning how to decorate a large bedroom, this tip is extremely important. Before you go on a shopping spree, it's helpful to divide your bedroom into area zones to better plan what furnishings you need to buy.
Depending on how massive your space is, you can create multiple zones with different purposes. Place a stylish accent chair in one corner to establish a reading nook, or arrange a small sofa in front of your bedroom fireplace for nighttime relaxation. A vanity area and TV entertainment space are two additional options that fit perfectly in a bedroom setting.
2. Dramatic Drapery
Not sure how to fill up empty wall space? Hang floor-to-ceiling drapery to give texture to your walls. Drapery not only works to insulate your home, it brings a finished look to your space.
When it comes to placement, install your drapes as high as possible to accentuate the height of the room. A good rule of thumb to follow is hang your drapes 8 to 12 inches above the window frame, or about halfway between the window frame and the ceiling.
Additionally, choose the right length of drapes. They should either just touch the floor or hang right above it.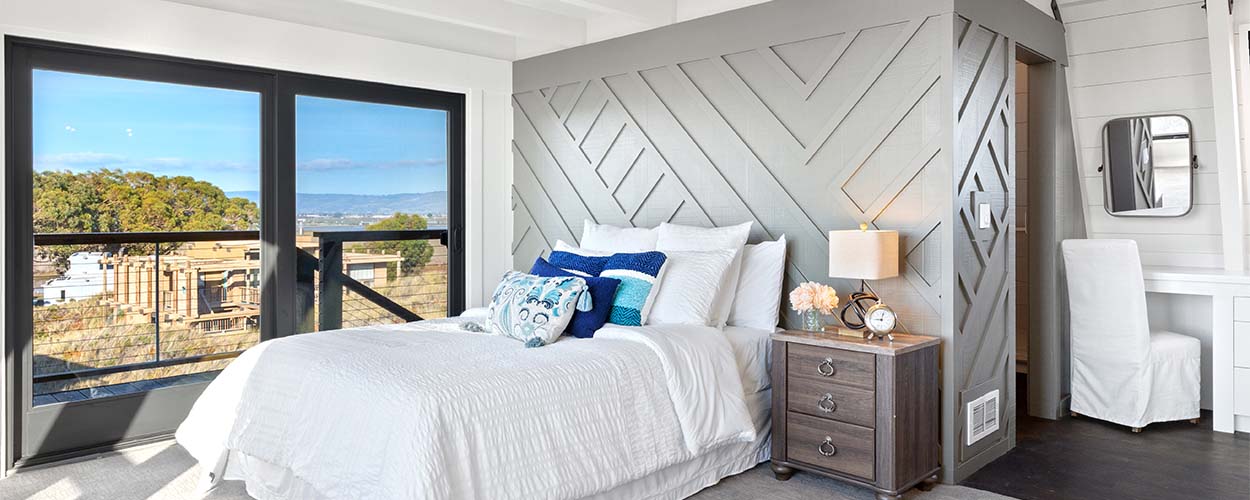 3. Bold Accent Wall
If you're looking to create a focal point for your space, an accent wall is one of the best bedroom decor ideas to try. Choose a beautiful wallpaper to achieve this look, or simply paint an accent wall with a shade that fits your color scheme. If you're up for a bigger challenge, you can also consider installing decorative molding or paneling.
No matter which method you decide on, creating an accent wall in your bedroom will give the space more depth and make it feel intimate.
4. Consistent Color Palette
Consistency is key when it comes to interior design. Put together a color palette for your bedroom by choosing a primary color and one or two accent colors. As you decorate your large bedroom, everything from your walls to your throw pillows should fit within your color scheme. This will keep your space well-balanced and avoid any clashing elements.
5. Large Floor Mirror
Not everyone has the space needed for a stunning floor mirror, but they're worth having if you do. A floor mirror is one of the best bedroom decor ideas because it offers a variety of benefits. 
With the correct placement, a mirror can brighten up your space by reflecting sunlight. In addition to that, this bedroom accessory gives your space more character and of course, provides the perfect opportunity to spice up your wall space.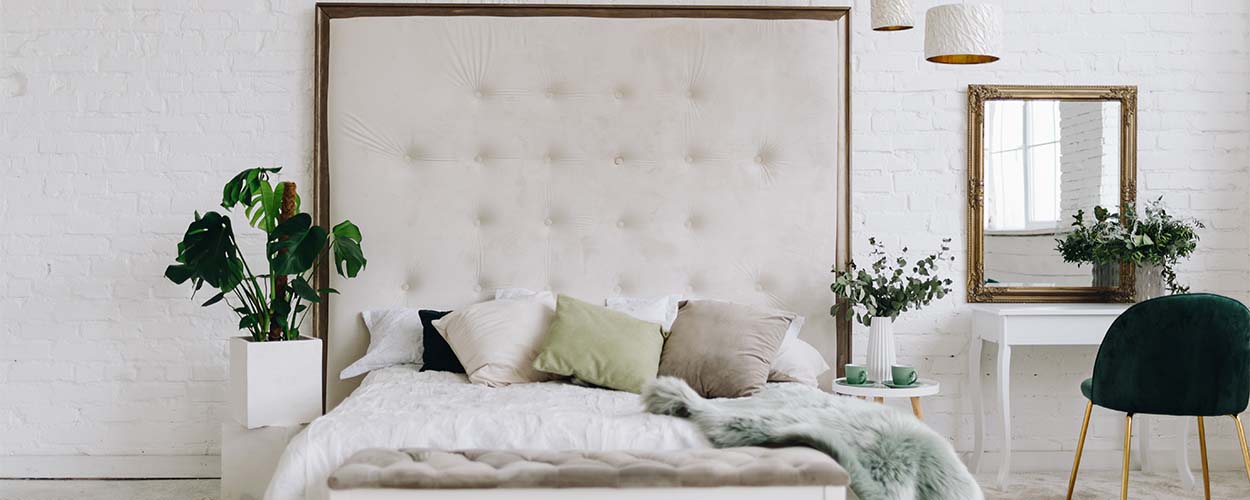 6. Oversized Headboard
As you decorate your large bedroom, add a bold headboard that makes a statement and breaks up the white space. Believe it or not, headboards are a crucial part of your bedroom furniture because they're an extension of your interior design style. As you pick out your favorite options, think about how they tie into your room's overall vibe.
7. Lots of Textiles
A foolproof way to transform your spacious bedroom from forlorn to fabulously cozy is throwing in textiles. Blankets, pillows, drapes, and area rugs are the best bedroom decor ideas to infuse within your space. While it's crucial to stick to your color scheme, professional designers recommend mixing your patterns and textures to create more interest.  
8. Scaled Decor
Go big or go home! With a massive bedroom comes the freedom to furnish with big decor. As you think about how to decorate your large bedroom, don't be afraid to scale up your accessories to appropriately fit the size of the space. The last thing you want is awkwardly small furniture that feels out of place in your room.
Swap out tiny nightstands for chest of drawers, choose a king size bed, or hang a grand chandelier. While bigger is better in this scenario, be cautious of clutter. Be strategic with your decor and know the difference between balanced and busy.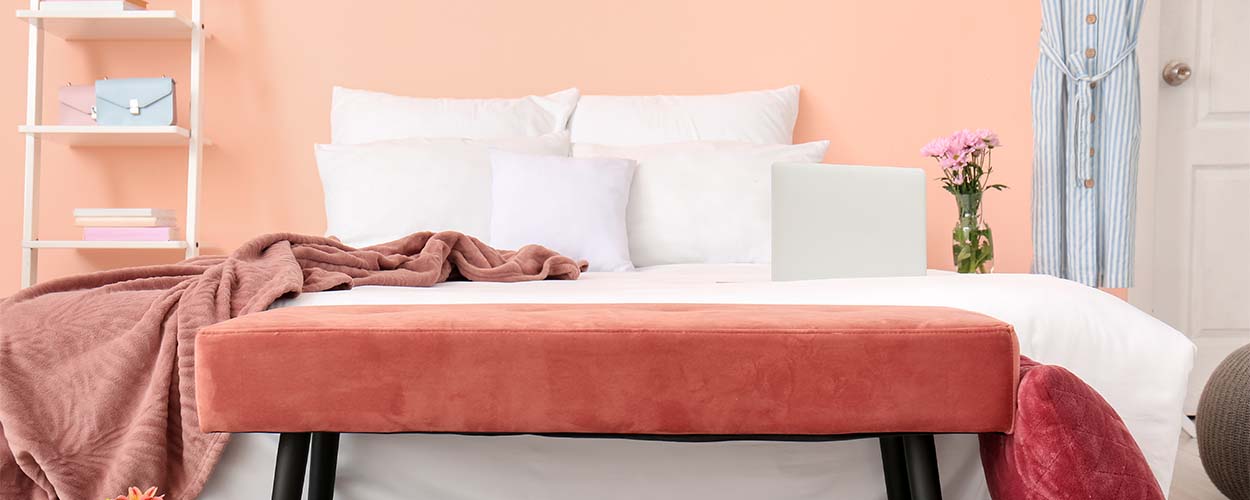 9. Foot-of-the-Bed Decor
This spot can easily be forgotten during the furnishing process, but the foot of your bed is prime real estate when it comes to decorating. Use decorative accessories for purely aesthetic purposes or opt for multifunctional furniture.
Think about how much room you have to work with and consider these creative decor ideas:
Small sofa

Baskets

Chairs

Dresser
10. Ceiling Accessories
Whether it's a fan or chandelier, incorporating ceiling fixtures in your bedroom can completely transform the space. Ceiling accessories break up the room visually, which helps to create more dimension and depth.
Lighting, in particular, is a great idea when it comes to ceiling accessories. Light fixtures ground the room and give it the warmth it needs, especially when it comes to large bedrooms.
Now that you know a little bit more about how to decorate a large bedroom, gather inspiration from the professionals themselves. Check out the 10 coolest home decor influencers to follow on Instagram!