Chances are you've heard of mid-century modern home decor at least once or twice within the last couple of years. This popular interior design style has taken center stage as one of the most influential decor trends—but what exactly is it? From key characteristics to decorating tips, our guide provides all of the basics you need to know to create a tasteful mid-century modern home.
History Behind Mid-Century Modern Design
Mid-century modern is an American design movement that rose to popularity in the U.S. after World War II. The style worked its way into many facets of design like architecture, graphic design, and most notably, interior design.
Mid-century modern design was heavily influenced by the Bauhaus movement, as well as the booming U.S. economy in the 1950s and 60s after the war. In general, Americans were enjoying newfound prosperity and embracing a shift to urban living both in the city and suburbs. Because of this, modern homes were being built as quickly as possible to keep up with demand.
There were also major technological advances in the design of new homes. A push for production and development of new materials opened the door for more modern textures, effects, colors, and form. All of these factors worked together and from there, the mid-century modern home was born.
Mid-Century Modern Key Characteristics
Simple and uncluttered

Highly functional

Mix of manmade and natural elements

Sleek lines with organic and geometric forms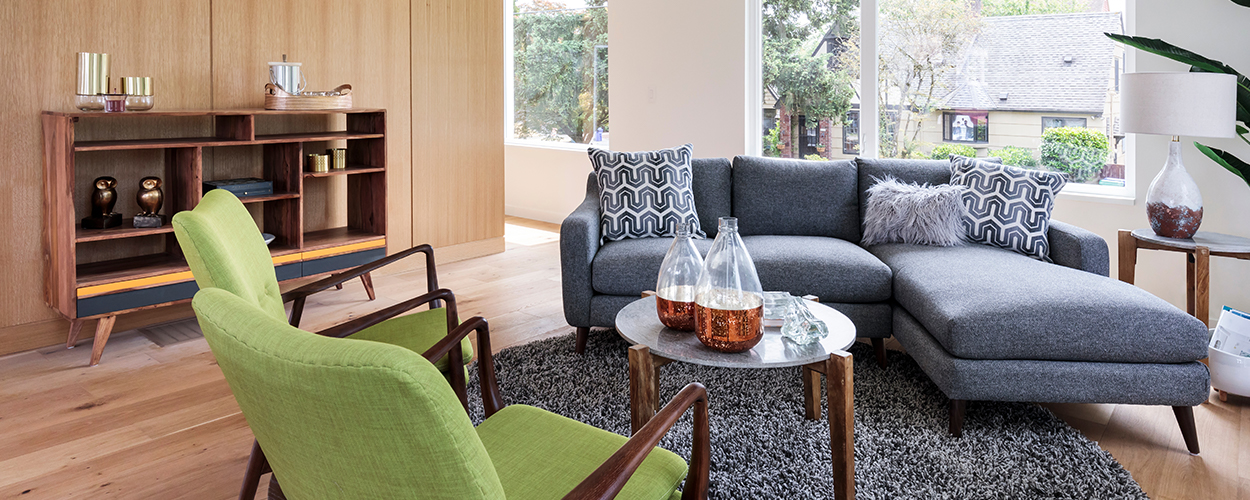 How to Create a Mid-Century Modern Home
It's one thing to know the history of an interior design style, but it's a whole other challenge to adopt it in your own home. Now that you know the background, it's time to gather some mid-century modern inspiration with these decor tips.
Geometric Shapes are a Must
One of the most recognizable traits of a mid-century modern home is geometric patterns and shapes. Rather than stick to one, mix it up and include a variety of shapes with circles, triangles, and more. Bookshelves, wallpaper, lamps, and area rugs are a few decor pieces to focus on.
It's All About the Color Palette
If you plan on adopting a mid-century modern interior design style, you'll need to think about which color palette you want to follow. Luckily, mid-century modern design is quite broad with its traditional colors. 
Feel like channeling the 1950s? Go for bright, vibrant colors that awaken your space. Fast forward 10 years and the 1960s version of mid-century modern style uses more earth tones. 
If neither of these options match your preferences, opt for muted tones and pastels for a more subtle look.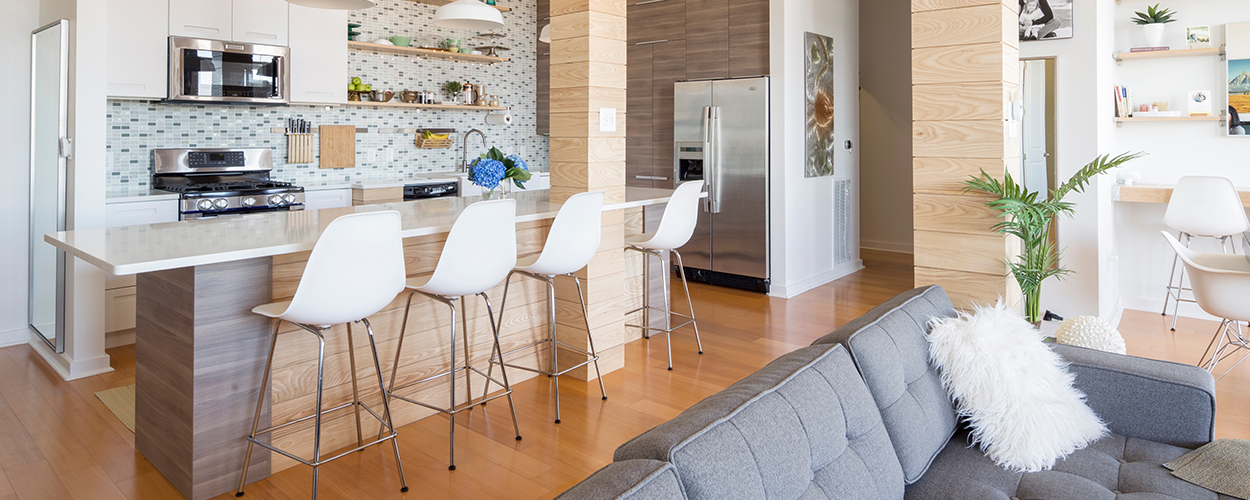 "O" is for Organic
With organic elements already a hot trend in modern homes today, it shouldn't be too hard to incorporate this decor tip in your home. Think brown leather armchairs, woven ottomans, plants, and wood furnishings. 
Keep in mind that mid-century modern inspiration includes both organic and manmade materials. Try to strike a balance between both so that your space leans more towards mid-century rather than bohemian.
Bold is Better
Statement pieces are important for any home to have, but especially relevant in a mid-century modern home. Choose at least one statement piece for each room that channels retro vibes from decades gone by. A coral sofa with an iconic curved silhouette is a great idea for the living room. Pair it with a shaggy ivory rug and your space will be screaming "mid-century modern." 
Retro is Always Right
While there are multiple ways to curate a mid-century modern home, adding a retro decor is one strategy that never fails. Choose in a few statement pieces or turn your home into a time machine that takes you straight to the 1950s. A modernist-inspired TV console, Chesterfield loveseat, and Atlas floor lamp are a few decor pieces to get you started.  
Before you pick out your retro decor, hone in on which era of mid-century modern you're going for. Do a little research on the different decades and take note of the contrast in styles.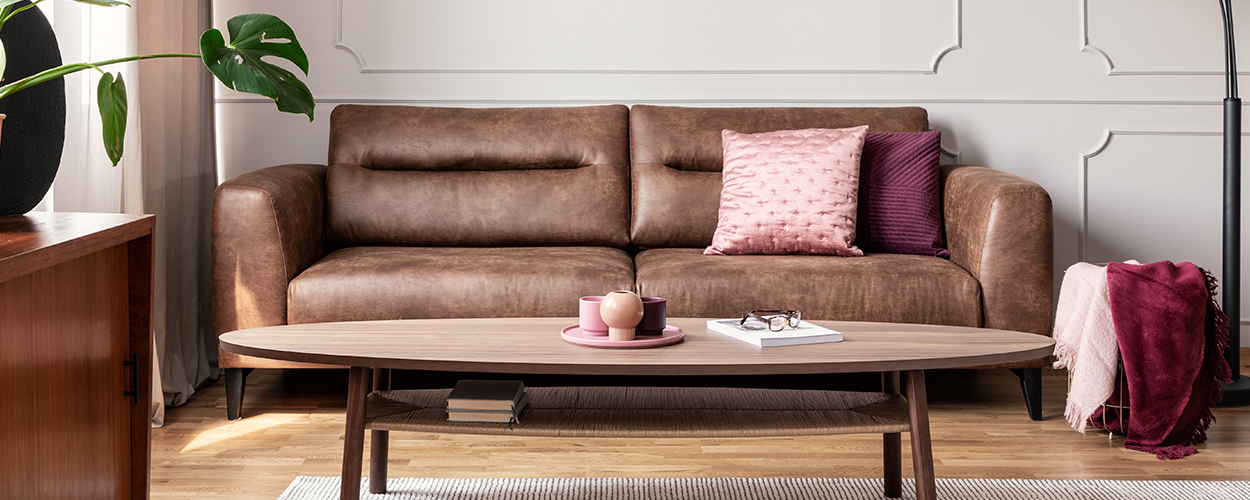 Light the Way
Some of the most notable decor items from the mid-century time period were lamps and light fixtures. If you want to adopt this interior design style without spending too much, this is a good place to begin. 
Head over to your local thrift shop or estate sale to snag some vintage flower pot lamps, Arco lamps, and geometric sputnik chandeliers. If that doesn't work, you can always buy new replicas as well. 
Remember the Bar Cart
If there was one decor item every household had in the 1950s, 60s, and 70s, it was most definitely a bar cart. Cocktail culture was huge during the mid-century era, so it's no surprise that bar carts were a staple household item. 
Pick out your very own to recreate the era and enjoy the convenience of having your alcohol easily accessible. Even if mid-century modern inspiration isn't your thing, having a bar cart is a smart alternative if your space doesn't have a dedicated bar area.
Now that you have a better idea of what mid-century modern home decor is like and how to include it in your space, it's time to start decorating! As you choose your retro furnishings, read about statement pieces that take your home from ordinary to extraordinary to ensure your finished product is flawless and tasteful.