Open floor plan designs are currently thriving within the interior design world and there's no surprise as to why. With wide open rooms comes better efficiency of usable space and a more natural environment for social interaction. The one catch to this layout is that it can be a little tricky to decorate. As you plan how to furnish your home, keep in mind these open floor plan decorating ideas to ensure your final product is a masterpiece!
1. Focus on Symmetry
In a home with open concept rooms, symmetry is your best friend. Not only does a symmetrical layout create a balanced look within your space, it can also make it easier to furnish large rooms.
Doubling up on sofas is one of the most common and simplest ways to achieve symmetry in your great room. Whether you choose to arrange them facing each other or at a right angle, having two is usually much better than having one. Tie it all together with a big dining table and matching chairs as well.
2. Choose a Color Scheme
Following a set color scheme is an important tip to stick to in any home, but especially in spaces with an open floor plan design. The goal is to create a space that feels fluid and cohesive. The best method for reaching this goal is choosing a general, neutral color palette to incorporate into each designated space. From there, pick two or three accent shades and sprinkle them into each area. 
The overall color palette helps to bring fluidity to the room, while the accent colors work to distinguish the different area zones. Fabrics, rugs, and other accessories are ideal avenues for weaving in your accents.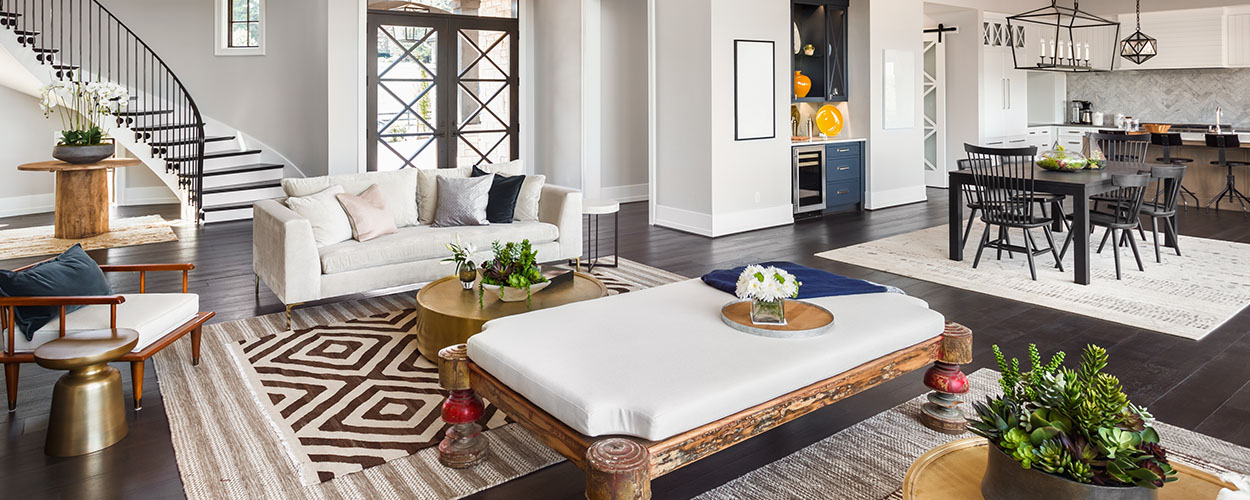 3. Establish Area Zones
One of the key elements to creating a beautiful open concept room is defining your space. With so much square footage to play with, you need to establish area zones. Defining these zones allows you to make your home feel cozier and more grounded. 
Carefully arranging your furniture is the first step to creating area zones. Wherever you choose to place your couches will most likely label that area as your living room. 
Another open floor plan decorating idea is to use rugs as subtle boundaries. Including rugs in your home gives you the chance to show off your style, while also making each zone unique and well defined. 
4. Consider Foot Traffic
Normally, walls divide up your home's space and inherently guide your foot traffic. With open concept rooms, the job is left entirely up to you. That's where defining your space comes in handy. Be mindful of your furniture arrangement to help your space feel more navigable. 
Create your area zones and walk through the space yourself to see how it flows. Feng Shui design heavily emphasizes the flow or "chi" of a room, so you can always reference that design style to give you inspiration.
In a nutshell, you just need to be extra aware of your walkways and try your best to create clear paths with enough room for people to pass each other. 
5.  Utilize Consoles or Shelves
Who needs walls when you have shelves and consoles? These two decor pieces are extremely handy for dividing up your room and making your space feel more inviting. 
Placing bookshelves behind your living room sofa, for example, can add interest to that zone while also creating an obvious barrier between the adjourning space.
If you hate echoes and feel that even the quietest voice booms in your home, incorporating these larger furniture pieces can help to absorb and block the sound.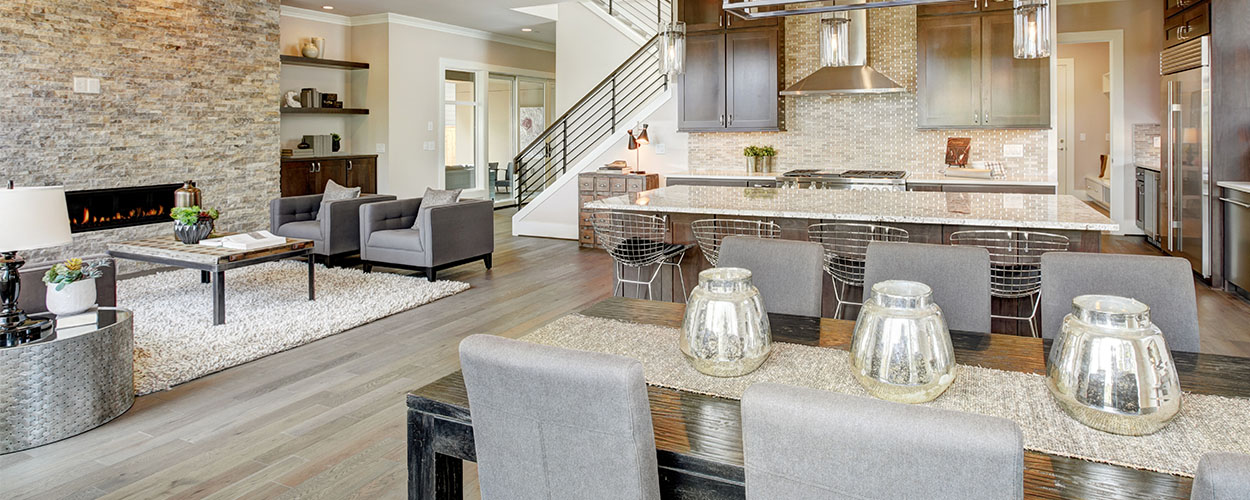 6. Light It Right
Be creative when it comes to your lighting. This is another great way to emphasize the different areas of your open floor plan, while also making it feel warmer. 
In the kitchen and dining room, focus on pendant or chandelier lighting. These light fixtures are a win-win because they're both out-of-the-way and super trendy. This type of lighting does an amazing job of defining a space in a vertical sense too.
Wall sconces, floor lamps, and table lamps are a necessity for the living room. Make sure to install recessed lighting as well to provide a source of ambient light. If you arrange them properly, recessed lights can help to guide the flow of the room.
7. Distinguish with Unique Features
Every home should have unique elements that characterize each room, or in this case, each area zone. Follow this open floor plan decorating idea by finding special decor items to add into your kitchen, living room, dining room, and so on. Including these features will personalize your space and make each zone stand out.
8. Put Thought into Your Furniture
Along the same lines of your furniture arrangement, you should also think about the type of furniture you buy. Lots of open space means there's more opportunity to have your furniture fully exposed, but that's not always a good thing. 
If the backside of your kitchen barstools will be facing the living room, you want to ensure that they are attractive to look at. Similarly, if you choose to float your sofas, the backsides should be just as pretty as the front. This usually isn't too much of an issue, but an important thought to keep in mind for a flawless open floor plan design.
Whether you're looking to give your open concept room a makeover or are starting from scratch, these open floor plan decorating ideas are your ticket to creating a beautiful and cohesive space! For more details on how to enhance your home, check out large living room layout ideas to make any space feel cozy.