The living room is perhaps one of the most beloved parts of any home, which is why you want it to be as comfortable as possible. Decorating a small living space can be quite frustrating, but there's no need to throw your hands up in defeat! With a little creativity and strategy, you can maximize the space you have and style it beautifully. Start brainstorming ideas for your home with these space-saving living room ideas!
Arrange and Rearrange
How you arrange your furniture plays an important role in the flow and feel of your living space. This is particularly crucial for tiny rooms. Interior design experts recommend floating your furniture rather than pushing it up against your walls. This small living room layout idea supposedly makes your space look much larger and more spacious.
While designers encourage this small living room hack, give yourself the freedom to try several different arrangements. Choose what works best for you and your lifestyle!
Think Less is More
The "less is more" mantra is beneficial for every type of home, even the ones with tons of square footage. However, you'll need to consider it when you're working with minimal space. Not only should you pare down your furniture as much as possible, you should also be conservative with your decor.
Filling your walls with art and photographs can make your space feel cramped if you go overboard. Be conservative as you hang your wall decor and stick to the items you really love. 
This space-saving living room idea also applies to floor decor. Keep potted plants, baskets, and shelves to a minimum to ensure that your room looks tasteful, not cluttered.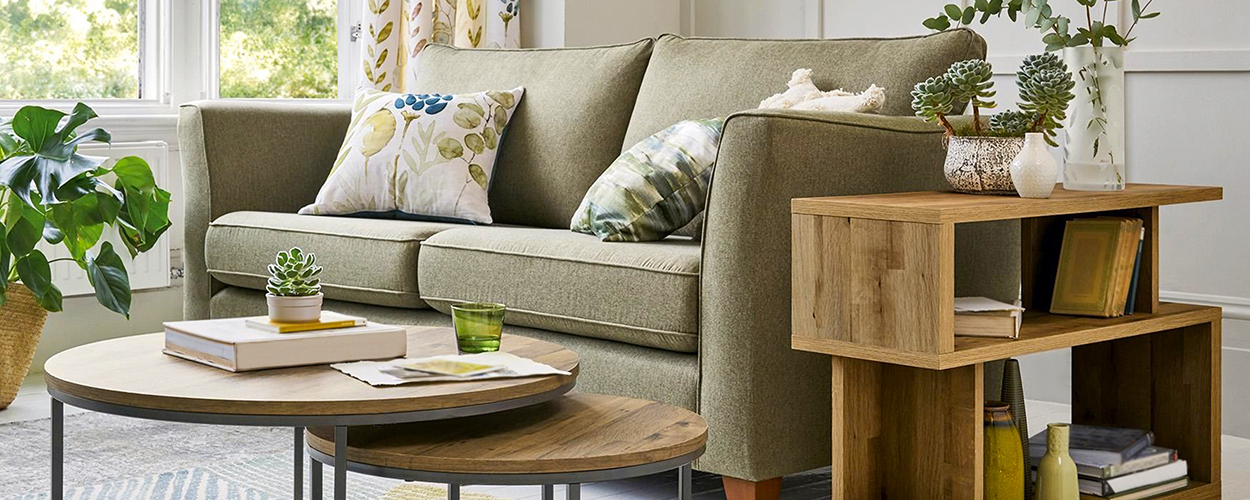 Consider the Coffee Table
Coffee tables are a great addition to the living room, but are they a necessity? Take a look at your own and decide whether you can swap it out for something smaller or forego it altogether. If you can't live without a coffee table, try to invest in one that doubles as a convenient storage solution. Lift-top coffee tables are super trendy right now and the ideal option for homes with little space.
Focus on the Walls
This small living room hack is simple and easy to follow. Because your floor space is tight, turn your attention to the walls for almost all of your decorating. 
Floating shelves are aesthetically pleasing and one of the hottest interior design trends at the moment. Use them to hold any photographs or artwork. 
Additionally, consider the walls (and ceilings) for lighting as well. Rather than take up space with floor lamps, opt for wall sconces and lighted ceiling fans. Not only do they get the job done, they are a great space-saving living room idea.
Say Goodbye to Side Tables
Just as coffee tables aren't crucial, side tables are a home decor piece you can do away with. If they hold your table lamp, invest in a wall sconce instead. Need a spot to put your books? Arrange them on a floating shelf within reach. It may be hard to say goodbye to your side tables, but it'll be worth it once your living room starts feeling more spacious!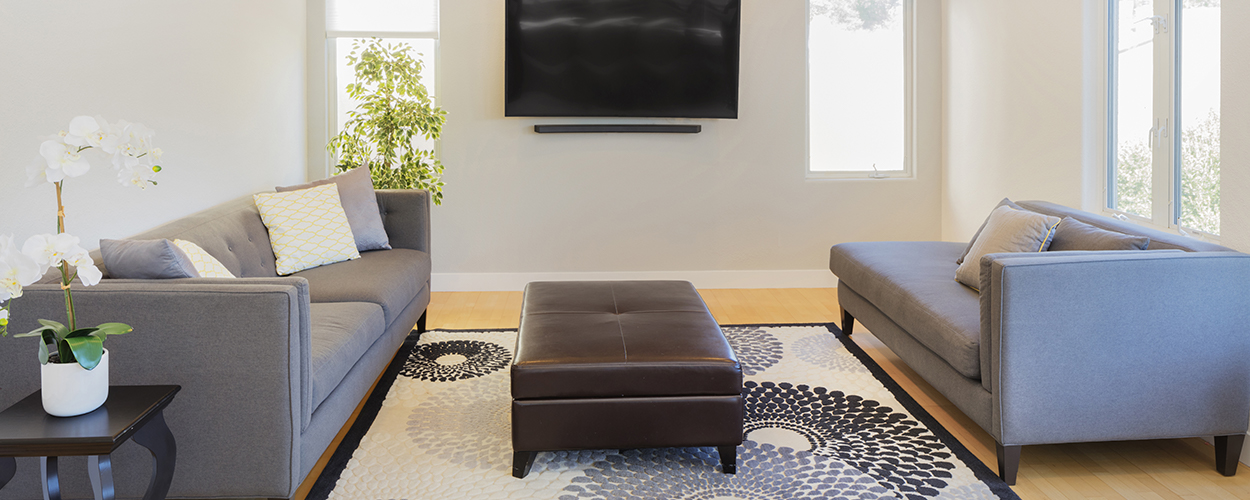 Move the Entertainment Center
The days of having a huge entertainment center are slowly fading away and this couldn't be more perfect for tiny living spaces! Try mounting your TV and speakers to the wall to give way for much-needed floor space. This small living room hack is actually quite modern and can help transform your movie nights into an ultimate cinematic experience (with a much larger TV).
Add Multipurpose Furniture
Decorating a home with minimal space is much simpler once you adopt the mindset of combining function with style. That's where multipurpose furniture comes into play. Take a look at the different furniture pieces in your home and ask yourself how much value they bring to your space.
If you have an ottoman, is it used solely for lounging or storage as well? What about your bookcase? Are there empty spaces that could be filled? Utilize as many decor items as you can to fulfill more than one function. Ottomans are great for built-in storage, seating stools can double as side tables, and bookshelves can hold more than just books. Think outside the box and you won't regret it!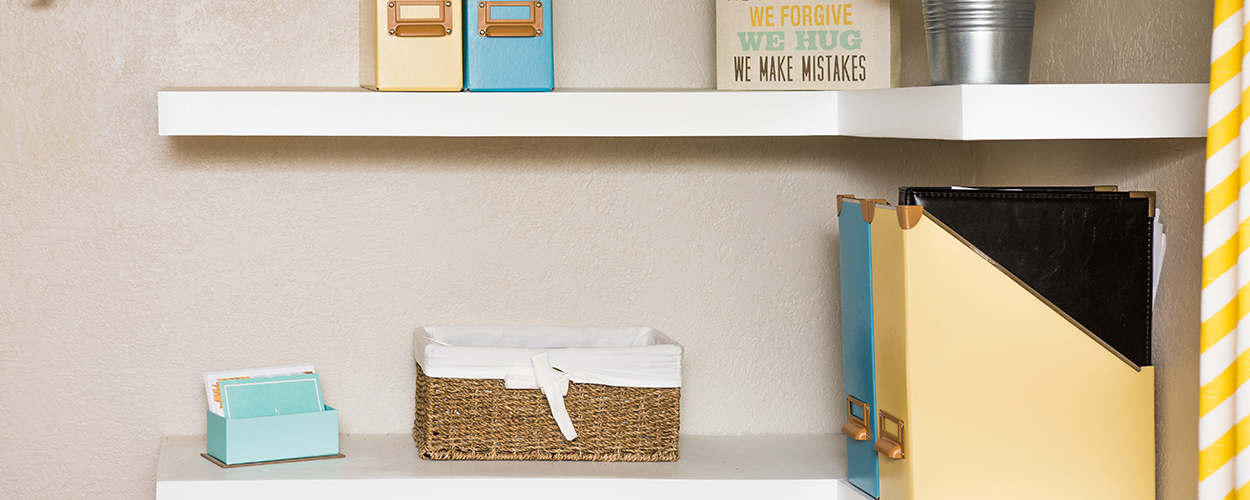 Take Advantage of Corners
Your home's nooks and crannies need some love too! This space-saving living room idea is wonderful if you aren't quite sure how to fill the empty corners in your home. Rather than leave them bare, take time to conjure up some ways you can use the space. 
Corner shelving is a unique option that knocks out two birds with one stone. Not only are you utilizing wall space, but you're also tucking away your shelves to give the illusion of a larger living room.
A window seat and small chest of drawers for storage are a couple more ideas to consider.
Now that you have the scoop on small living room layout ideas and how to maximize your space, learn 11 hacks for organizing a small bedroom!