The living room is one of the most used rooms of the entire home, so why not give it a makeover every once and awhile? Instead of spending thousands of dollars on brand new furnishings and decor, try these DIY ideas for your living room that are both budget-friendly and beautiful for any home.
1. Update Your Furniture Upholstery
While it's ideal to buy brand new sofas and accent chairs for your living room, it's not always the most affordable option if you're limited with budget. Even if new furniture isn't in the cards for you, there's no reason why you can't give a little love to the pieces you already have.
Start off your DIY living room makeover by reupholstering your furnishings. Not only will new upholstery get rid of unsightly tears and scratches, it will also give you the opportunity to update the style of your furnishings. Think about the different types of fabric to choose from and pick one that gives your space a whole new look and feel!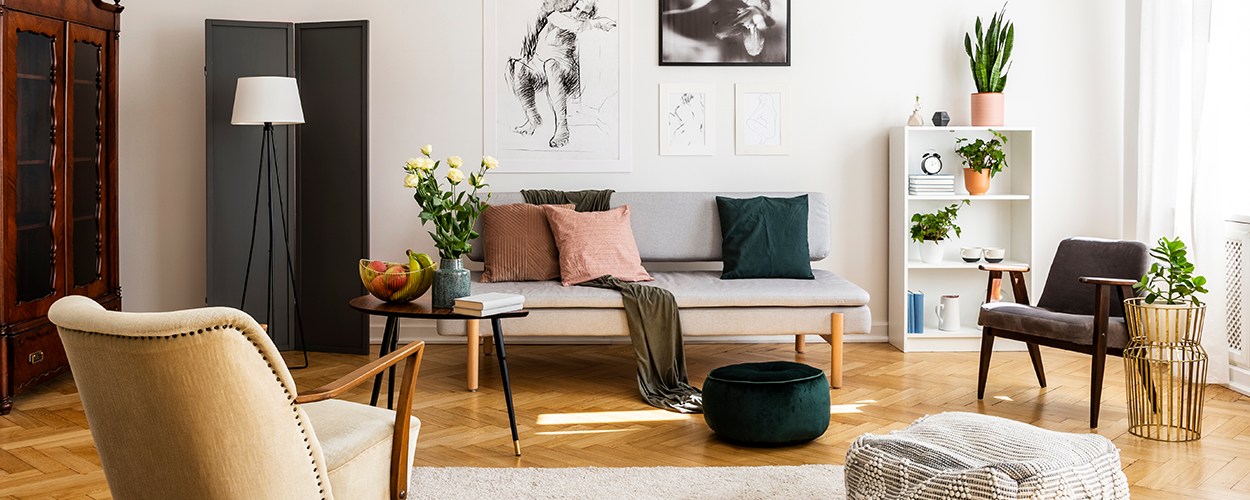 2. Hang an Art Gallery
It's time to get your creative juices flowing! Wall art galleries are a popular trend in interior design, so why not make your own? Depending on your commitment level, there are a couple different ways you can go about executing this DIY idea for your living room.
You can either create the art pieces on your own or buy them. Before you rule out purchasing art, remember that there are budget-friendly options like thrift stores, estate sales, and flea markets that offer unique art at lower prices. 
Keep in mind that your gallery wall can include more than just your typical painting as well. Incorporate framed pictures or hanging plants for a little variety.
3. Build a Faux Fireplace
No fireplace, no problem! Transform your living room into a cozy den with the addition of a faux fireplace. With a small budget and a handful of supplies, you can install your fireplace in just a couple of weekends. Even though you won't be able to experience the crackling of a real fire, this clean and affordable option is perfect because it gives you the freedom to design the fireplace you've always dreamed of!
4. Create a Sofa Table
Need more room to display framed pictures and other home accessories? Sofa tables aren't the most common DIY living room furniture, but they are certainly worth your consideration. Not only are sofa tables stylish, they are multifunctional too.
This DIY idea for living rooms works especially well in open floor plans. Use your table as a divider to create distinct zones from your living space to other areas like your dining room and kitchen.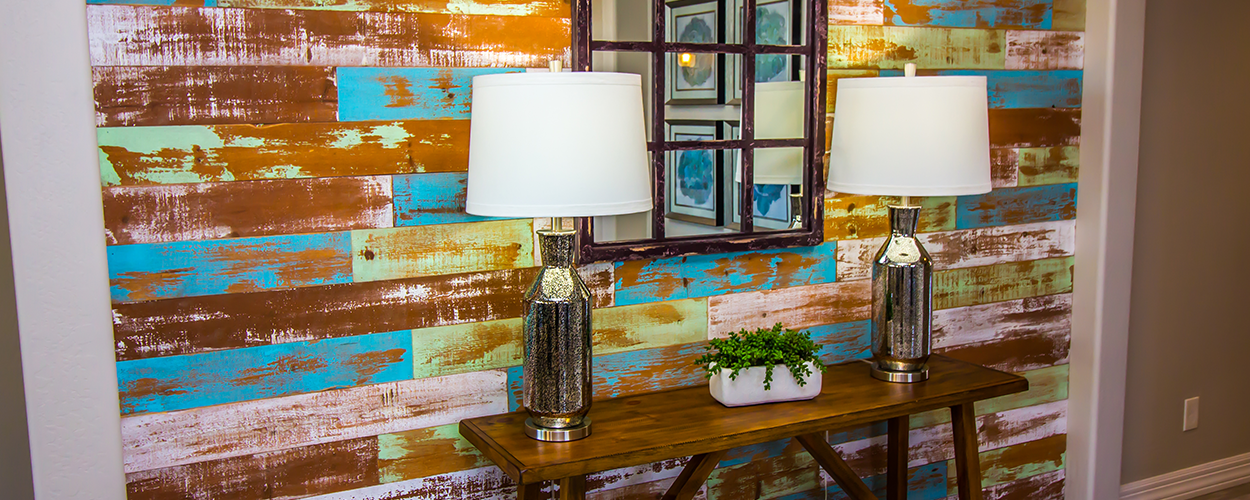 5. Install a Wood Pallet Wall
Are you a fan of rustic interior design styles? What better way to create dimension in your space than by building a wood pallet wall? Wood accent walls are another current trend that can take your space from bland to bold.
While wooden accent walls can be built on top of any wall in your room, this DIY living room makeover idea looks particularly stunning as a backdrop for your entertainment center. Frame the wall with bookcases, mount a TV, and you've got yourself a unique focal point.
6. Paint Your Own Abstract Art
Gather together painting supplies and a canvas for this fun DIY project. Give a little facelift to your living room wall by creating your own abstract art piece to put on display. Not a professional artist? Don't let that stop you! Let your creativity guide you and remember that it's called "abstract" art for a reason. There are no rules, so paint whatever comes to your mind. 
Place your masterpiece above your sofa or fireplace mantel and use it as a conversation piece whenever guests visit.
7. Decorate with a DIY Mantel
If you don't feel up to renovating your entire fireplace, start with just the mantel! There's lots of different ways to breathe new life into this part of your fireplace, so it's really up to you which way you want to go about it.
For a quick project, simply paint your mantel to introduce a new accent color to your space. If you want to challenge yourself a bit more, you can take out your mantel altogether and install a new one that better aligns with your current interior design style.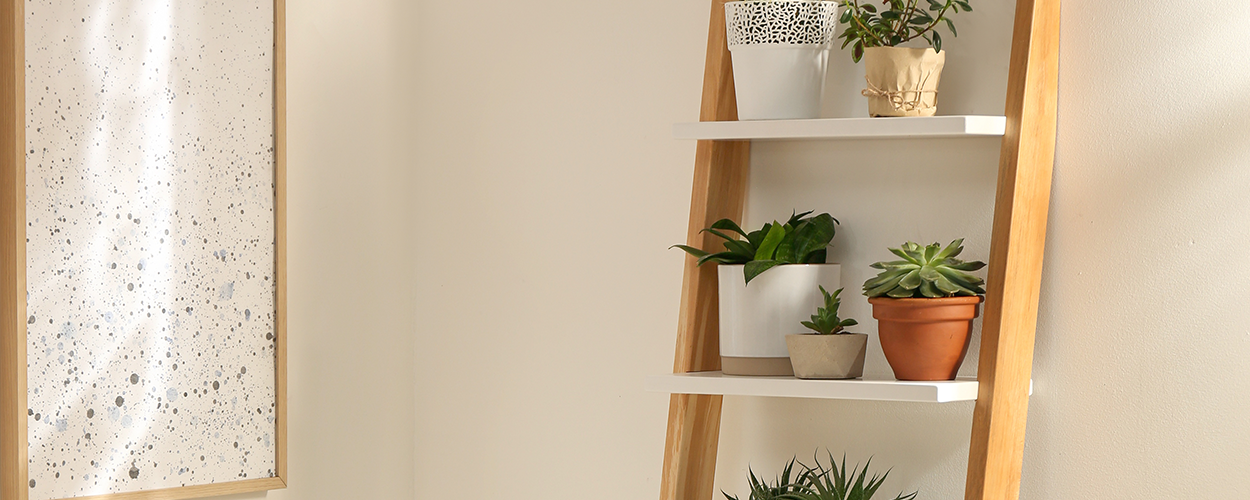 8. Build a Ladder Shelf
Perhaps one of the most simple DIY living room furniture ideas is building a decorative ladder. They're trendy, functional, and take up very little space which makes them a great addition to almost any home. 
This particular project takes a cool twist on the typical decor ladder by incorporating shelves instead of rungs. By adding shelves to your ladder, you give yourself more space to display home accessories like candles, plants, ceramics, and more.
As an alternative, you can build or renovate a traditional decor ladder and use it as a blanket holder.
9. Spruce Up Your Coffee Table
From scratches and cracks to those frustrating water rings, it's hard to keep a coffee table in perfect condition throughout the years. Before you drop a pretty penny purchasing a new table, give your old one a second chance with handy dandy contact paper. Opt for a sleek marble pattern or wood-imitation paper that will transform your coffee table and make it look brand new!
10. Play Around with Floating Shelves
If you haven't already hopped on the floating shelves bandwagon, there's no better time to do it than during a DIY living room makeover. Floating shelves bring a modern and fresh look to your space and provide a great opportunity to showcase decor of all kinds. For large shelves, display impressive paintings and other art pieces. Smaller floating shelves work well for framed photos, candles, sculptures, and plants.
Sprucing up your living room is only one of many DIY projects to tackle around the house. As you brainstorm more ways to liven up your space, gather inspiration with these DIY woodworking projects.