In today's world, remote work is the new normal. Gone are the days of morning commutes and cubicles, but where does that leave the employees who no longer have an established workplace? If you have a spare room, the solution is obvious. As for everyone else, finding a comfortable workspace can be much more of a challenge.
Rather than working on your bed or living room sofa every day, explore these creative home office ideas that give you a practical workspace within ordinary areas of your home.
A Dining Table Isn't Just for Eating
One of the most convenient and easiest ways to create a home office in a small space is by adopting the "multipurpose" mindset. You already have a dining table, so why not use it for more than just dining? Set up your office space at the table and try your best to incorporate your ergonomic desk chair for maximum comfort. 
If you have the room, you can also incorporate a stylish storage basket or box to put away your work supplies when you use the dining table for eating.
Think About Converting Your Closet
Which is more important to you: closet space or a productive workstation? While it may not be the most ideal situation, converting your closet is a creative home office idea that doesn't require too much work. 
Before you choose your closet as your makeshift workspace, be sure to consider a few practical factors:
Is there any natural light nearby? 

Can you install or plug in lighting and electronic devices? 

Can you easily fit office furniture like your chair and desk into the space? 
If the answer to all these questions is yes, this home office layout idea might just be your solution.
Clear out clutter, remove your closet doors, install shelves for convenient organization, and remember to add task lighting. Once you've completed these steps, your "cloffice" should be good to go!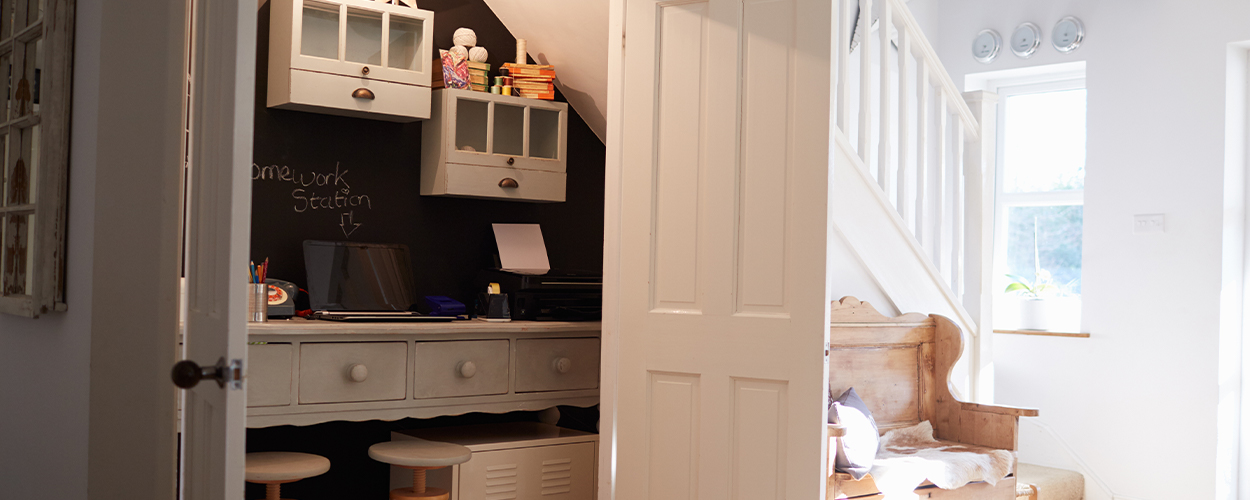 Look to the Stairs for Your Solution
Take a moment to look at your staircase. Is there open space underneath the stairs? If there is, you should consider utilizing this space for your workstation. 
Swap out any other household items currently residing in this spot and slide in a small desk and chair. Not only does the staircase help tuck away your work area, but it makes you feel as if you have your own private space instead of being out in the open.
Take Advantage of that Awkward Nook
If you've been scratching your head trying to think of ways to fill that awkward nook or corner in your home, now is the time to fix it. Set up a small home office by tucking in a sleek desk that fits your home's interior design style and voila! You killed two birds with one stone. If your space allows, include a tiny cabinet for added storage.
Say Goodbye to One Nightstand
Nightstands come in handy in the bedroom, but you don't necessarily need two of them. Make a compromise by ridding your room of one nightstand and replacing it with a small desk. This creative home office idea has the potential to be one of the best alternatives to having a spare room because of the privacy it offers. 
Creating a work area in your bedroom gives you the luxury of having your own space away from the distractions and noise often found in your living room or dining room. For even more peace and quiet, simply shut the door.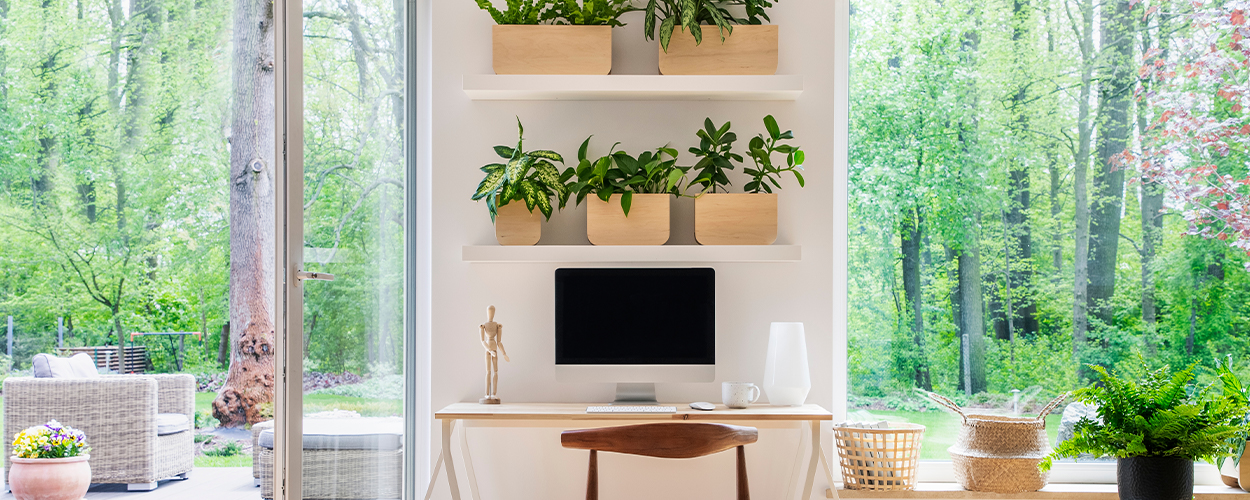 Utilize Empty Wall Space
Besides displaying pictures and artwork, your walls can be a great place to build a workspace. All you need to do is mount a floating shelf to your wall that is big enough for your work computer and any other supplies. One of the benefits of this home office layout idea is that the floating shelf doesn't take up any floor space.
When you decide which wall you want to mount your shelf on, take time to consider how much room will be left for floor traffic. If there's enough space for people to walk by as you work, you've found your new office area! 
Give the Entryway Fair Consideration
You may want to add "greeter" to your resume once you pick this creative home office idea for your space. If you don't mind answering the door throughout the day, think about utilizing your entryway for your work area. 
Rather than have a purely decorative console with plants and pictures, incorporate a desk and convert the space into your home office. You can always add in stylish decor and choose a trendy desk to help your workstation blend in better.
Wide Hallways Can Come in Handy
If your home has wide hallways, consider setting up a small home office in that area. Most of the time, hallways aren't fully utilized anyway, so why not use the space if you have it?
Take your measurements, ensure there's enough walking space with your office furniture in place, and you're golden! Think about including a floating shelf instead of a desk if you want to use up the least amount of space as possible.
With remote work a new reality for many of us, it's the perfect time to start thinking about creative home office ideas. Now that you have some inspiration, walk through your home and choose the best layout for you!
As you begin clearing out your space to make room for your home office, check out our guide to donating furniture to ensure that you're giving your unwanted items to those in need.