Say Hello to Fall with These 40 Fall Letter Board Ideas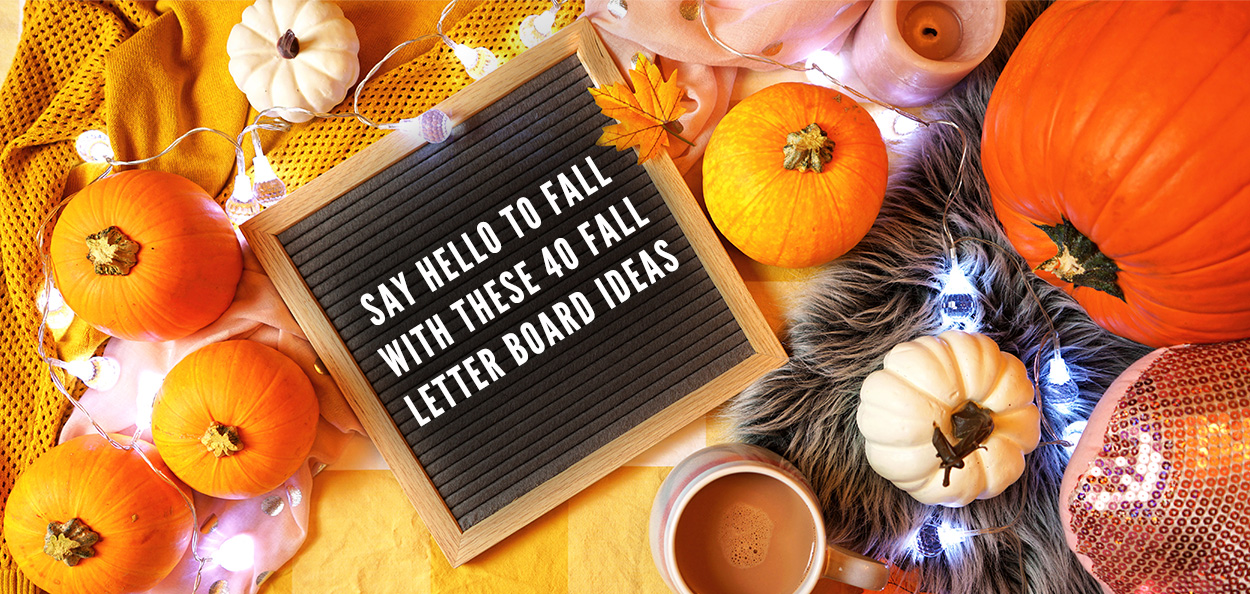 Temperatures are dropping, leaves are turning, and festive fall decor is sweeping the nation! As you celebrate the fall season and all of the holidays that come with it, don't forget to spice up your letter board for the occasion. From spooky Halloween letter board quotes to Thanksgiving letter board ideas, here are the top 40 sayings you should try this year!
Fall Letter Board Ideas
While it's fun to get creative and come up with fall letter board ideas on your own, it's always nice to get a little inspiration. Here are some of the most corny and cute fall letter board sayings that are perfect for the season:
'Tis the season to be fall-y

Happy Fallidays

Fall, flannels, football

Pumpkin spice & everything nice

Oh my gourd, it's fall!

Leaves are falling & coffee is calling

I love fall most of all

Sweater weather

Pumpkin spice, spice baby

Hello, gourdeous!

Leaves are falling, autumn is calling

Pumpkin kisses and harvest wishes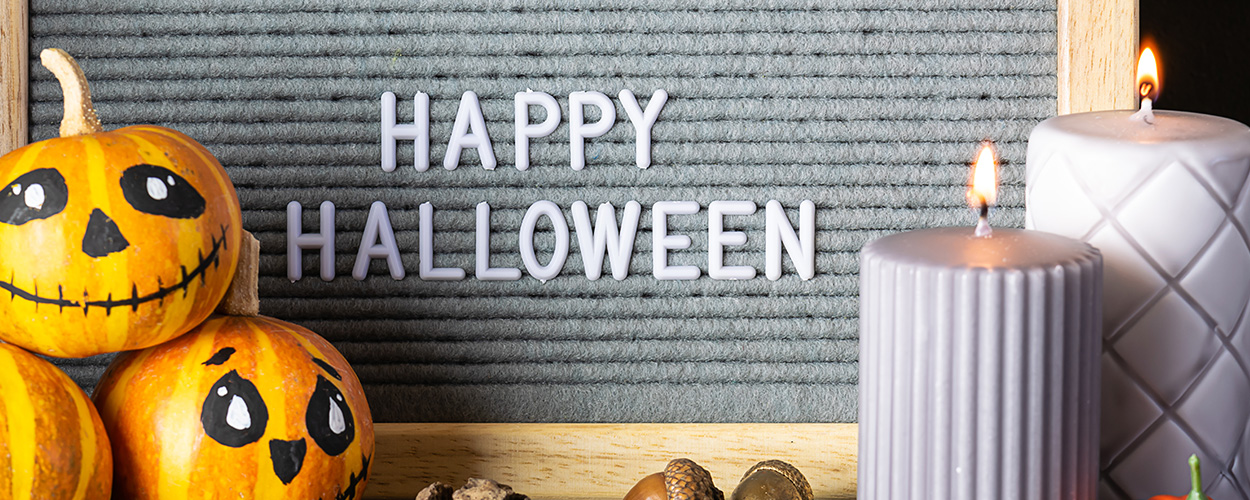 Halloween Letter Board Ideas
Fall isn't just about pumpkin spice and everything nice! Pay tribute to the spooky season with these Halloween letter board quotes that add a wicked touch to your home decor. 
Trick or treat yo' self

Give 'em pumpkin to talk about

Creep it real

Happy howl-oween

If you got it, haunt it

Cheers, witches!

You've got me under your spell

Something wicked this way comes

It's just a bunch of hocus pocus

Hey boo-tiful

Let's have some skele-fun!

Ghouls just want to have fun

Eat, drink, & be scary

Spooky!

Trick or treat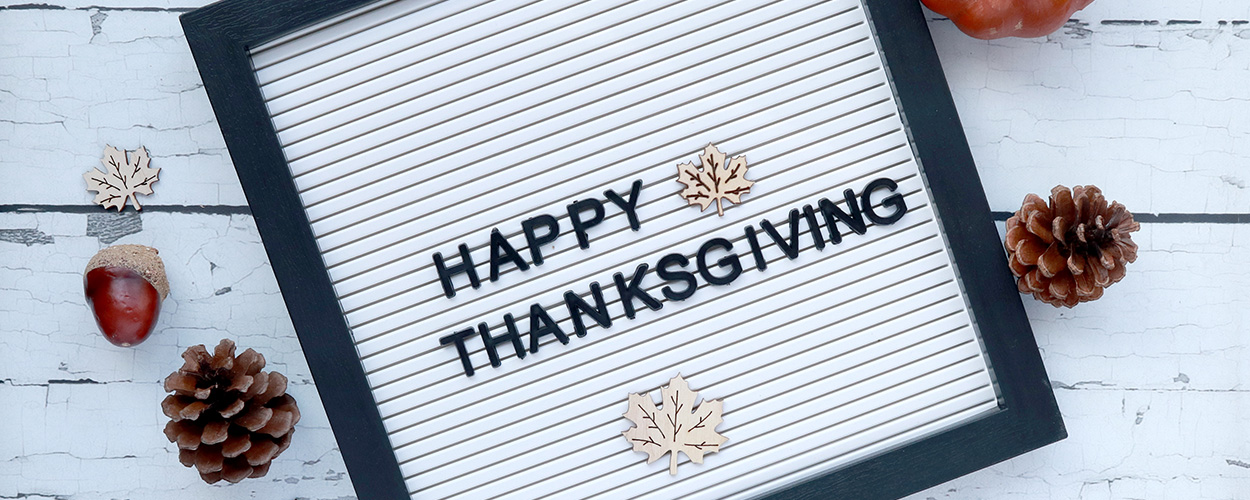 Thanksgiving Letter Board Ideas
In between the party planning and food preparation, remember to try these Thanksgiving letter board ideas that remind you of one of the best parts about the holiday—delicious food!
Leftovers are for quitters

Whatever floats your gravy boat

Thanksgiving rule: no talk, just gobble

Count your blessings, not your calories

Thankful for oversized hoodies and leggings

Thanksgiving: cook, eat, nap

Alexa, make Thanksgiving dinner

Sorry, I'm occu-pied

Give thanks, eat food

Gobble, gobble

It doesn't get any butter than this

Stop, drop, & pass the rolls!

Feast mode: activated
Now that you know the top 40 fall letter board ideas, check out these 9 fall decor trends!
What better way to get into the fall spirit than by diving into some festive fall decor crafts? Not only do you save money with DIY fall room decor, you also get the chance to create personalized decorations that match your design taste. Whether you're new to the crafting game or a seasoned veteran, let your creativity run wild with these easy fall decorating ideas.
1. Pumpkin Barrel
Looking for a cute way to show off your apple-picking treasures this season? A DIY pumpkin barrel is the way to go! Head to the store and pick out your favorite pumpkin (the bigger, the better) and hollow it out as if you're going to carve it. Once your pumpkin is clean and empty, fill about three-fourths of it with Poly-Fil. Place burlap fabric over the top opening and attach it over the sides with upholstery tacks. 
After you have your burlap secured, dump in your apples and enjoy! Place your barrel on your front porch to welcome guests or leave it in the kitchen for when you need a tasty snack.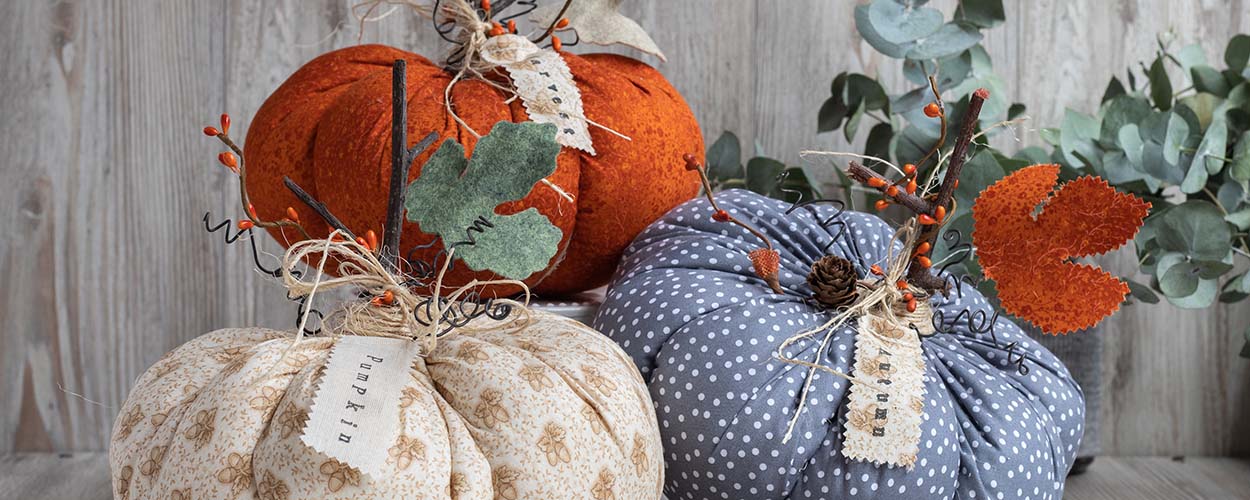 2. Fabric Pumpkins
Take your pumpkins to the next level with this fall craft for adults! The best part about this idea is that it's simple and requires very few supplies. Old quilts or fabric scraps and dried stems are the two main items you need to turn your ordinary pumpkins into farmhouse-style fabric pumpkins.
Once you've hot glued your fabric and faux stems to your pumpkins, display them along your dining table runner and add seasonal greenery like fall leaves for a final touch.
3. Corn Husk Candles
While pumpkins tend to steal the show during fall, there are lots of other seasonal motifs you can use for your decor. Corn husks, for example, can give your home a little bit of seasonal texture. 
For this easy fall decorating idea, you need a few glass votive holders, moistened corn husks, raffia, Spotted Guinea feathers, and battery-powered candles. Wrap your glass holders with a few overlapping layers of corn husks, secure them with raffia, and slip in one Spotted Guinea feather per candle to finish it off. You can easily knock out this craft in 30 minutes or less which makes it a must-try this season!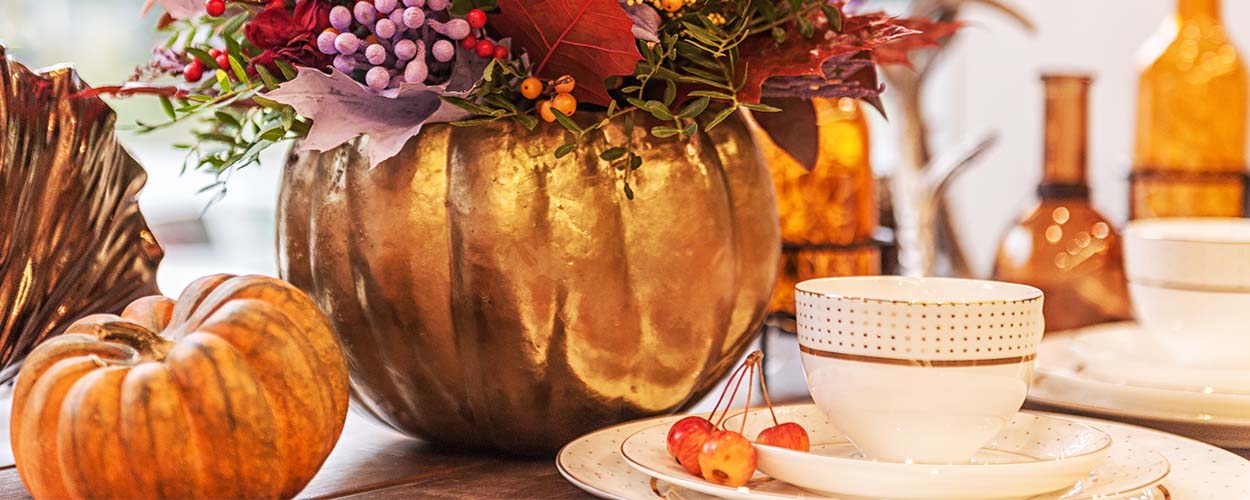 4. Autumn Bouquet
As the seasons change, so should your home's greenery! Take a different approach to autumn bouquets by mixing in more unique ingredients like veggies, fruits, berries, and a variety of flowers. 
If you aren't too sure where to start, try cabbage heads, gourds, and pears within your DIY fall room decor. After you see the striking colors of your autumn bouquet, you'll want to make tons more! 
5. Decoupage Pumpkins
It's decoupage time! Transform basic pumpkins into colorful masterpieces with seasonal scrapbook paper, Mod Podge, acrylic paint, and pumpkin stems. After you've decorated your pumpkins and feel happy with your collection, place them in a wooden barrel or tin bucket and show them off! Your entryway or front porch are a couple ideal spots to display them.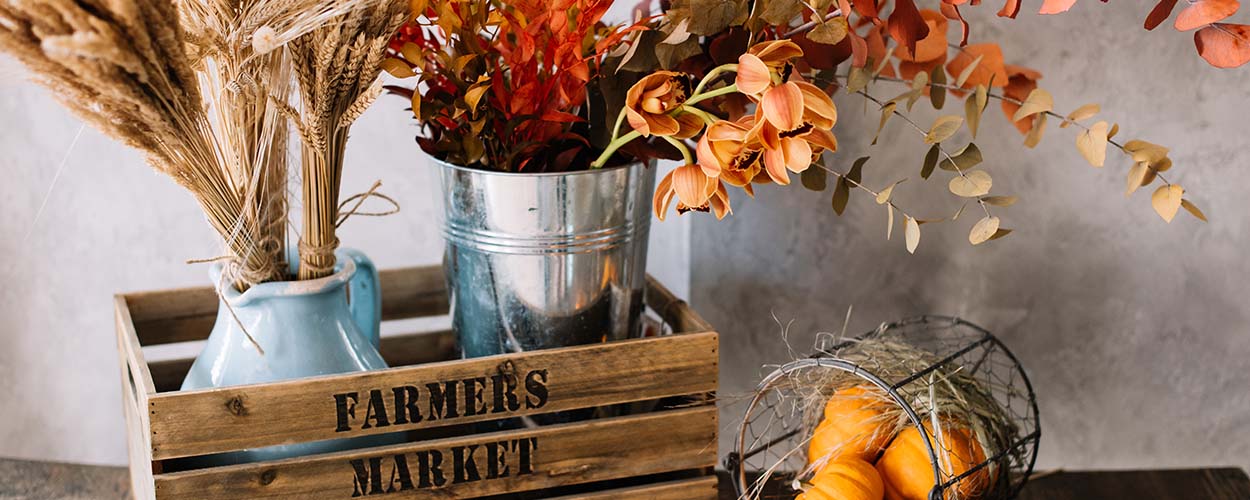 6. Seasonal Vases
Bring the harvest to your home with seasonal vases full of golden wheat and nuts! This fall craft for adults is simple, sophisticated, and great for your mantel or tabletop. 
To get the complete look, use cylinder vases and fill them about three-fourths of the way with nuts. Slip in decorative cuffs made of scrapbook paper to give them a more professional feel and then add your bundles of wheat. These seasonal vases are well worth the 15 minutes it takes to make them!
7. Sunburst Wreath
You can't say you're done decorating for fall without hanging a seasonal wreath on your front door. Say goodbye to spending a pretty penny on store-bought wreaths because this sunburst wreath is absolutely stunning! 
Grab a bundle of Indian corn, fold out the husks so they point straight up, and hot glue the ears to a straw wreath. Once you're done piecing it together, you'll see that this fall decor craft certainly lives up to its name. 
8. Colorful Acorns
Who said DIY fall room decor needs to be complicated? For this project, all you need is a pile of acorns, acrylic paint, and a decorative bowl. Paint your acorns until your heart's content and display them in your bowl for a subtle seasonal touch.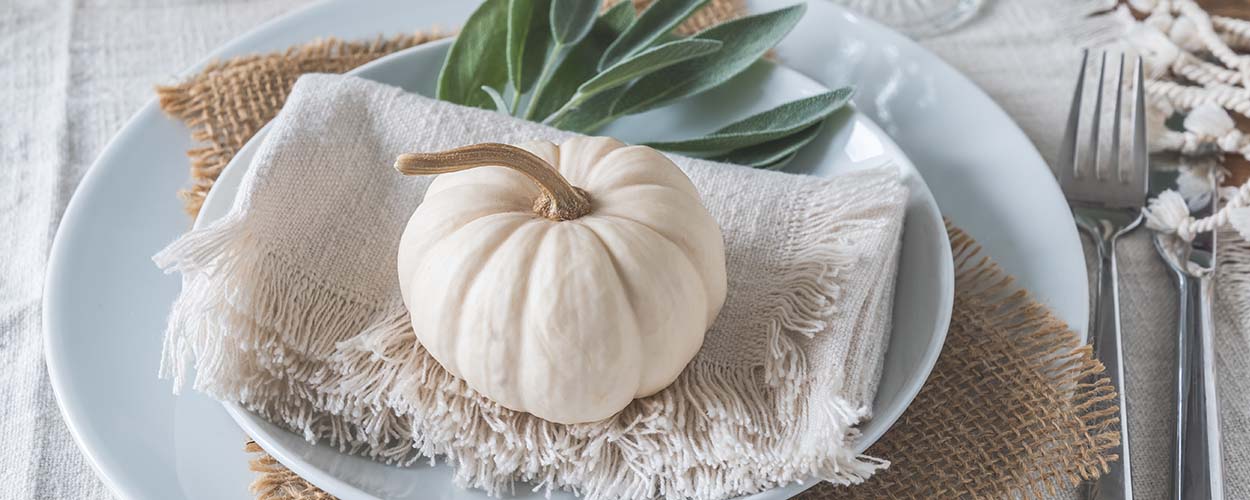 9. Mini Pumpkin Blooms
Get ready for family gatherings and holiday parties by spicing up your dining table place settings. Along with autumn-inspired tablecloths and runners, you can make your dining experience even more festive with mini pumpkin blooms. 
For this fall decor craft, you have the option to use live or faux mini pumpkins. Make sure the inside is hollowed out enough to fit a small votive candle holder. Place the holder in the pumpkin and fill it with vibrant dahlias in shades of orange, white, yellow, and more. Not only do mini pumpkin blooms dress up your dining table, they make for the cutest party favors!
A couple alternative options are leaving the mini pumpkins plain or painting them for an extra splash of color.
10. Fall Yarn Hanging
After you have your floors and tabletops decorated for the season, try creating a warm and cozy wall hanging made of yarn. This particular fall craft for adults is a beautiful option if you're a fan of trendy boho wall hangings that are popular in stores today. 
A branch or wooden dowel, several colors of yarn, felt flowers, and pom poms are the main supplies you'll need to recreate this modern fall craft.
Want more inspiration for seasonal crafts? Check out 15 DIY Decor Ideas for a Spooktacular Halloween!
Springtime is finally here which means blooming flowers, warm sunshine, and one of the hoppiest holidays—Easter! Easter is the perfect time to bring out your art supplies and creative spirit to create fun decor for your home. Whether you're planning a crafting day with your friends or want to get the kids involved, try these DIY Easter decor projects.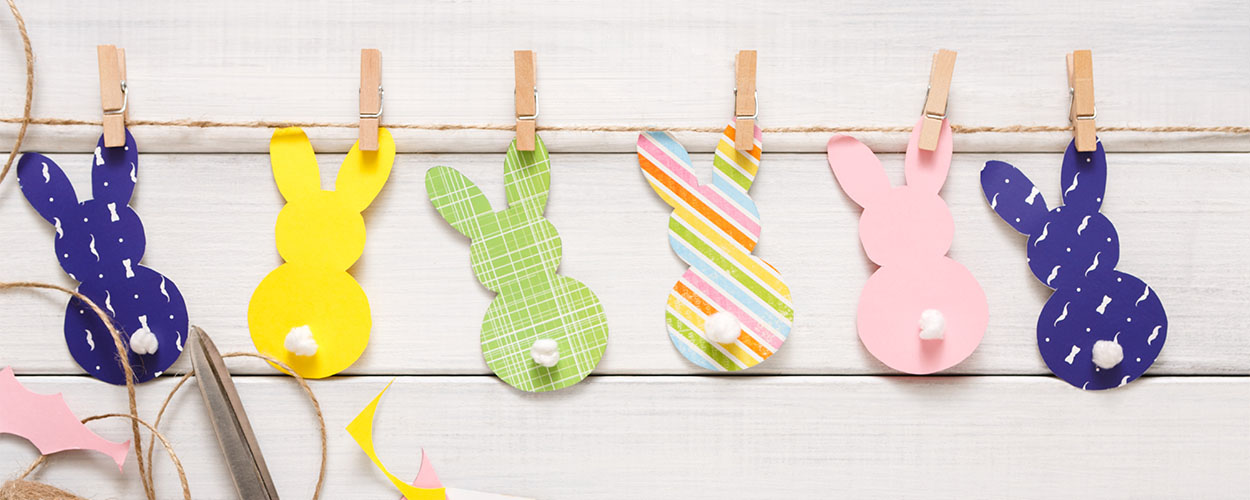 Nothing says Easter more than adorable bunnies! This easy DIY Easter decoration makes for a lovely addition to your mantle, staircase, or any free space along your walls. 
No need to worry about your crafting skills either. All you need for this bunny garland is scrapbook paper, yarn, a bunny garland template, fork, and basic art supplies like scissors. The fluffy pom pom tails are a must for that extra touch of cuteness!
Easter decor ideas not only work with the obvious holiday symbols like eggs and bunnies, but they also look gorgeous with flowers! Combine your favorite spring flowers with colorful Easter eggs to create a unique vintage vase. 
In this particular DIY craft, use wooden eggs that are strong enough to support your flower bouquet. Pick whichever vintage egg basket catches your eye, dye or paint your eggs pretty pastel colors, and arrange your flowers. 
Need inspiration for springtime flowers? Lilacs, anemones, allium, Scabiosa lavender, and ranunculus are some of our favorites.
Don't let the name of this DIY Easter decor project fool you—there aren't any flowers in this flower box! Turn a typical floral decor piece into a festive holiday craft with just a few simple steps. 
Whether you choose a milk glass dish like the one used in this DIY project, or opt for a different look, try to focus your color scheme around pastels and metallics. 
Head to your local craft store to buy plastic grass mats, cut them to fit the size and shape of your dishes, and of course, remember to grab your vibrant Easter eggs. Arrange your supplies in your dishes and voila! You have yourself some fresh greenery with pops of color.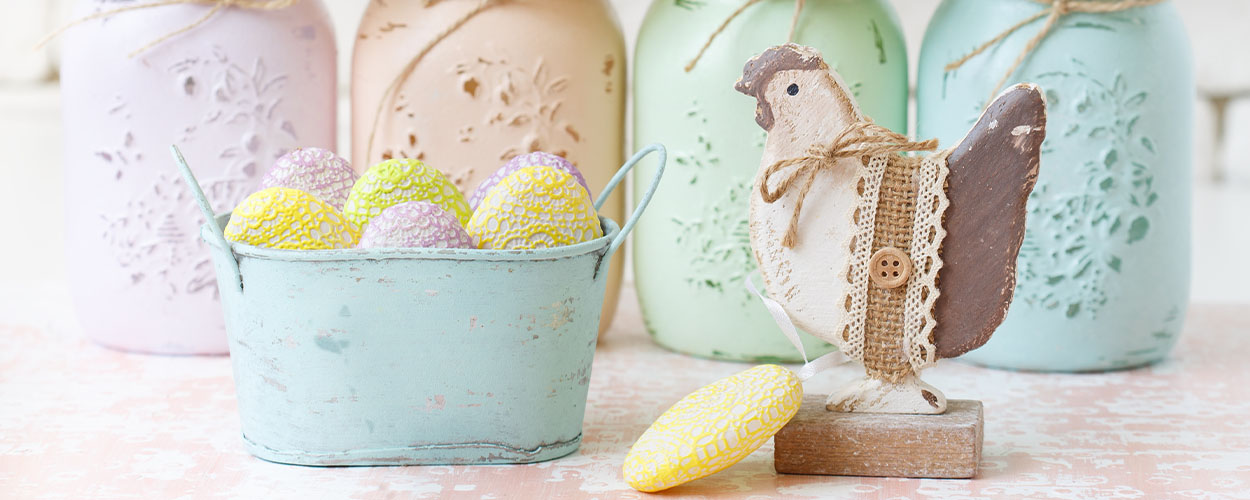 Looking for farmhouse-style crafts for Easter? These bunny mason jars are sure to add a bit of country cottage magic to your home. Get the kids involved with this easy DIY Easter decoration that only requires a little paint, ribbon, and bunny stickers. You can even incentivize the little ones to help create these masterpiece mason jars by filling them with sweet holiday-themed treats.
Are you really done decorating your home for Easter if you haven't hung up a welcoming wreath? Rather than go to the store to buy a wreath, make your own with this Easter decor idea. 
Let your creativity run wild with the supplies you choose or stick to the basics by using a grapevine wreath, moss, painted eggs, flower stems, and floral ribbon.
Ornaments don't just belong on Christmas trees! Branch out of your usual holiday routine to craft up paper eggs that can be used in more ways than one. String them up on twine to make a garland, give them to your kids to hand out as Easter gifts, or hang them on an Easter tree in your living room. 
Take your Easter crafting skills outdoors for this fun project! Invite guests into your home with a rustic Easter bunny sign made out of reclaimed wood.
Although this DIY craft does require some woodworking, don't let that element scare you away. All skill levels can complete this project without professional help. 
Some of the essentials you'll need are reclaimed wood, a jigsaw, wood glue, white paint, a stain of your choice, sandpaper, and a bunny template. Sit outside on a warm spring day and enjoy the sunshine as you get to work on this Easter decor idea!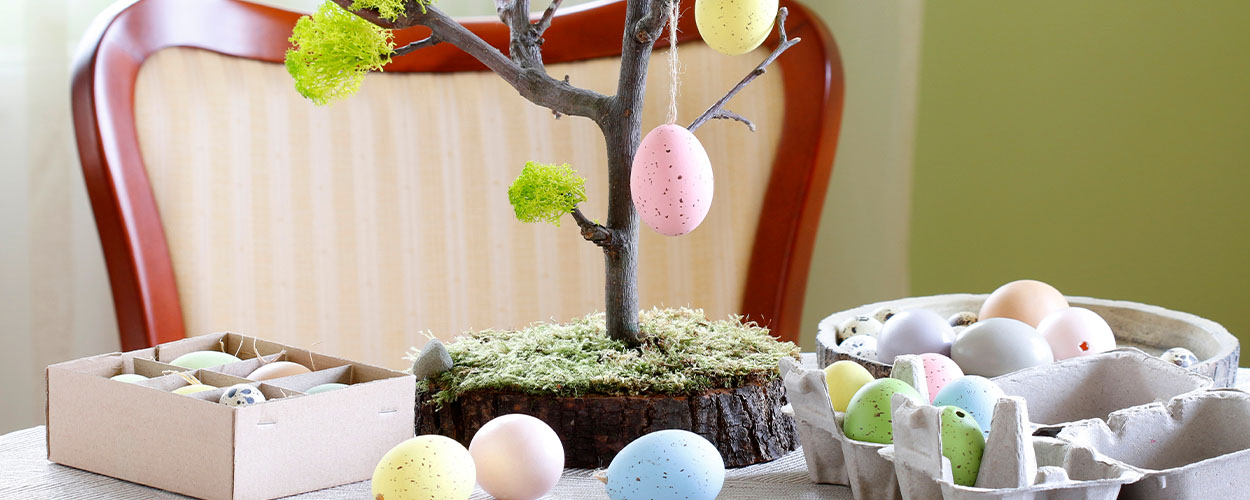 Need a fresh centerpiece for your dining table? A mini Easter egg tree is the way to go! You have quite a bit of freedom with this Easter decor idea. You can either go to the craft store to pick up faux eggs and foliage, or you can use what you have at home. Put it all together in a weighted-down bucket, basket, or jar and you're all set. 
For a sentimental touch, get the entire family involved by having them place sweet notes of gratitude along the branches as well.
When you think of classic Easter candies, Peeps probably spring to mind. These fluffy marshmallow treats come in the shape of chicks, bunnies, and more. For the purpose of this DIY holiday project, you'll want to get a pack of the yellow chick Peeps. 
Use hot glue, a dowel, an embroidery ring, and a bright flower pot or vase to end up with a vibrant sunflower made of Peeps! Remember to mist the final product with craft sealer to preserve it and keep it out of reach of the kiddos.
The name of the game for this easy DIY Easter decoration is bunnies! Collect a few wooden bunny cutouts from the store or make some yourself if you're feeling adventurous. 
Once you have your furry friends, all you need to do is trace the bunnies onto your favorite scrapbook paper, paint the edges of the wood cutouts, and adhere your paper to the wood. You can also add a bow made of tulle or ribbon for an eye-catching finish.
No matter how much experience you have with DIY decor projects, these 10 Easter decor ideas are a great way to celebrate the holiday with friends and family. As you decorate your home for Easter, spring into the season with these living room makeover ideas.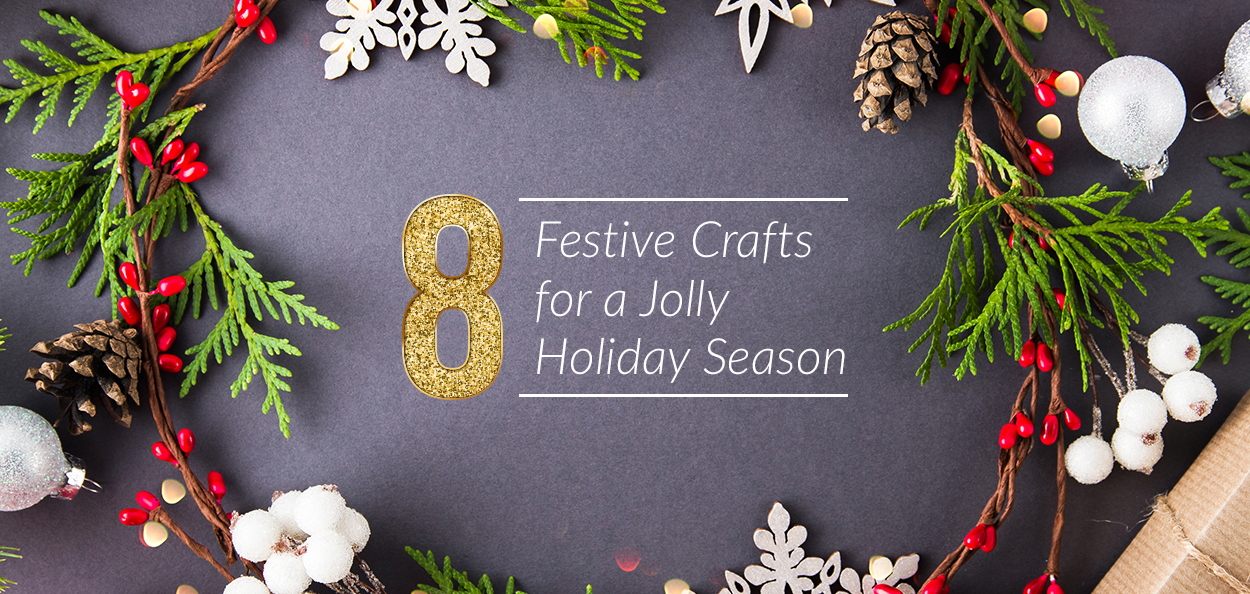 The jolliest time of the year is here and that means gift shopping, party planning, and best of all, decorating. With so many festive activities on the table, your bills can start to skyrocket through the roof. Save money this season by creating your own DIY holiday decor that brings just as much Christmas cheer to your home.
Grab some wood, tin cans, spray paint, and lots of hot glue for this creative holiday craft idea! Make your very own advent calendar in the shape of a Christmas tree and add all of the fun goodies you can think of into the 25 tin cans. Candy, gift cards, and other stocking stuffers make the perfect surprises for each day's gift unveiling.
As you go through the process of assembling the wood frame, think about the colors you want to incorporate. Stick with a classic snowy white or go all out with a multicolor pattern of red, green, and gold.
If you love DIY crafts and a charming vintage look, you'll absolutely fall in love with this wooden spools wreath. The supplies and instructions are as easy as it gets which makes it even better!
Gather up a hefty amount of wooden spools, wrap them in a colorful assortment of thread, ribbon, baker's twine, and rickrack and then hot glue them to a wreath form. Fashion on an elegant bow to hang the wreath and your simple holiday craft is complete.
Sometimes having a big Christmas tree in the living room just isn't enough festive cheer for the holidays. Sprinkle in an additional surprise with a tiny accent tree that fits practically anywhere in your home.
Venture to the outdoors and find any little tree branch on the ground to use for your DIY holiday decor. Once you find the perfect Charlie Brown tree branch, spray paint it white (or whichever color you fancy) and place it in a decorative glass vase or bottle.
The last step is decorating. Hang just a few mini ornaments on the branches and place a few candles next to the tree to round out the display. What a chic and easy Christmas decor idea!
Enjoy buckets of cheer this year with this quick, 10-minute holiday craft idea. Head to the store and get yourself a few galvanized buckets, chalk pens, greenery, vases for each bucket, and ribbon of your choice. Twinkling lights are a magical touch as well, but completely optional.
Fill each bucket with greenery, wrap with ribbon, and write out whatever message you like with the chalk pens. Cluster them on your porch or display them along your staircase and have a warm holiday greeting every time you come home!
Decorating with glowing lanterns is a fun way to get into the holiday spirit and you can make your own right at home! This particular holiday craft idea uses hanging lanterns, but you can always display your lanterns on your kitchen counters and tables instead.
LED string lights, spray paint, mason jars, tree trimmings, circle stickers, heavy-duty yarn, and floral wire are the main supplies you'll need to make these lanterns come to life. If you do choose to hang them, consider your porch or backyard patio to light up the night.
Have tons of ornaments left over after decorating your Christmas tree? Put them to use with this festive lantern display. All you need is a lantern set (the bigger, the better), ornaments, ribbon, and decorative greenery.
Place the ornaments inside each lantern, filling them up about half way. Then, give a little love to the outside by tying a bow of ribbon on the top of the lantern with some greenery to boot. This is such a simple holiday craft, but the finished product looks like something you'd buy straight from the store.
Garlands are a traditional Christmas decor idea that blend in well no matter what your taste is. Take a couple hours out of your weekend to fashion a personalized garland to place around your doorway, along your staircase, or across your mantle.
While the accessories are totally up to you, start with fresh cedar and grapevine twigs and use green metal wire to bundle them together. Add in pine cones and bright red berries for that festive touch of color and prepare to impress guests with a beautiful presentation that smells amazing too!
Take your centerpieces to the next level this Christmas season with this warm and cozy holiday craft idea! Skip the usual flower centerpiece and try out this birch-themed design.
A handful of birch stumps from your local craft store, candles, a table runner, and mini decorative trees are the essentials you need to complete this display. Glass figurines of deer are a magical touch too, but won't make or break the centerpiece. Keep in mind a color theme like gold and white or blue and silver when you purchase all of your supplies.
Once you're done shopping, simply arrange all of the items into a cohesive presentation on your dining table to show off to guests during holiday parties.
Decorating the house is a great way to get you and your family into the holiday spirit, so why not craft up your own designs while you're at it? Save money and create precious DIY holiday decor with these simple and sweet projects. For more Christmas creativity, read through 7 holiday decorating ideas for your home.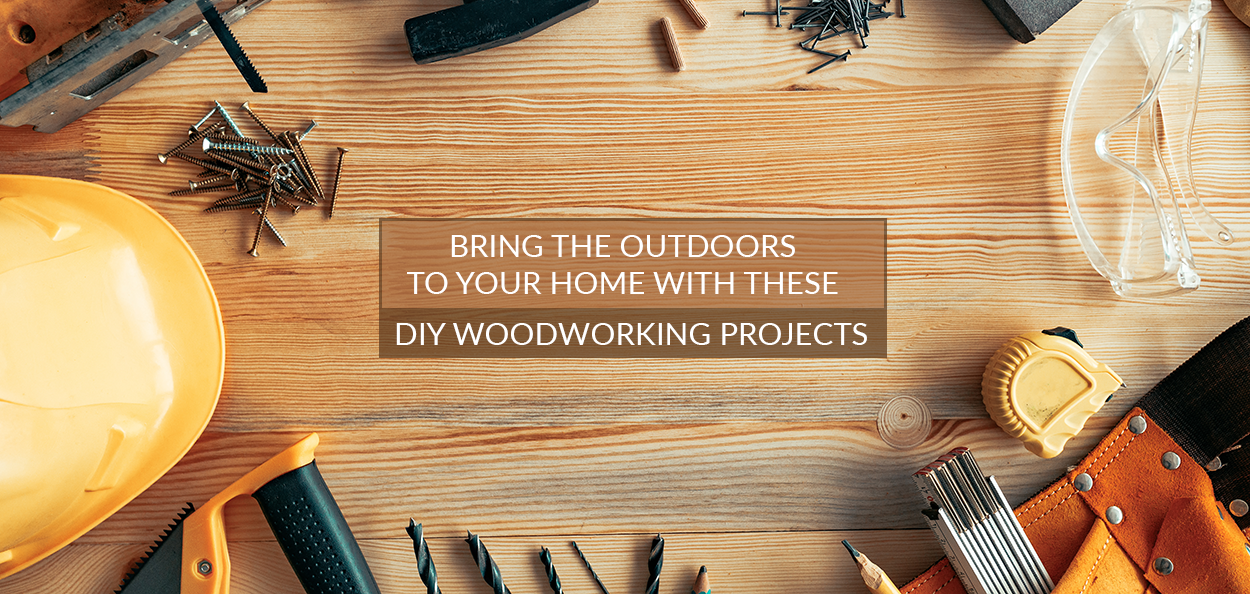 If you love learning new trades, saving money, and home decorating, it's time you pick up a new hobby and test your creativity with woodworking! The art of woodworking combines craftsmanship, style, and functionality to create personalized items for decoration and use. Keep yourself busy at home by trying your hand at these DIY woodworking projects perfect for all skill levels.
Indoor DIY Woodworking Projects
Time: 1 hr or less | Skill Level: Beginner | Cost: $20-50
Tired of soaked bathroom mats after you hop out of the shower? Opt for this cedar bath mat instead and make it yourself with just three easy steps. Keep in mind that this particular DIY woodworking project uses cedar for its style and rot resistance, but you can use any wood that matches your preferences
Time: Multiple days | Skill Level: Intermediate | Cost: $100-250
Whether you have kids constantly tracking in dirt or struggle to keep bags and backpacks organized, these mudroom cabinets are a heavensend! With lots of space and customizable design plans, you can create unique lockers to store everything from boots, coats, umbrellas, and more. Use plywood instead of stained wood to save extra money and apply a fresh coat of paint to bring some color to your home.
Time: Few hours | Skill Level: Beginner | Cost: $100-250
Floating shelves are one of the hottest design trends right now and for good reason! They complement your walls and provide much needed storage space off the floor. Rather than purchasing them from a store, take on this practical woodworking project and make them in just a few hours.
While this project may not save you money in the long run, it gives you the freedom to create shelves that meet all of your requirements. Choose the exact size, thickness, and style you want, and finish them to match your home's furnishings.
Time: Full day | Skill Level: Intermediate | Cost: Free
Choose from pallets made of pine, oak, poplar, or maple for this practical woodworking project. Side tables aren't cheap when you buy new, so this project definitely gives you the chance to save a pretty penny as you hone your skills in lumber preparation and simple joinery. This square-shaped, modern side table is a great furniture piece for your living room table lamp or decorative houseplants.
Time: Few hours | Skill Level: Intermediate | Cost: $45 plus lumber
Need decor for your living room coffee table? This industrial-style serving tray is a stylish and functional DIY woodworking project that will garner many compliments from your guests! With some dark barnwood and black iron handles, you can create a vintage decor piece that doubles as the perfect tray for breakfast in bed.
If you use reclaimed wood for your rustic look, make sure to inspect the wood prior to starting. Check for nails and rot to ensure it is sound throughout.
Time: Full day | Skill Level: Advanced | Cost: $50-100
Complete your entryway with a mid-century modern platform bench by trying this practical woodworking project. What makes this bench especially exciting is that its design is based on George Nelson's iconic bench made in 1946. Rather than seeing it in museums across the country or buying pricey imitations online, create your very own replica!
Outdoor DIY Woodworking Projects
Time: Multiple days | Skill Level: Intermediate | Cost: $100-500
Get your home ready for beautiful spring weather with this garden arbor! Complete with a swing as well, this DIY woodworking project is much easier to assemble than it may seem at first glance. For this specific project, the swing is store bought, leaving just the arbor as your main piece of work. If you can handle a saw and drive screws, you should be able to get this backyard seating up and running in just a couple days.
Time: Multiple days | Skill Level: Beginner | Cost: $100-250
Transform your patio into a comfy entertaining area for family and friends by crafting up this relaxing patio set. The wonderful part about this practical woodworking project is that it can literally blend into any backyard. All you need to do is adjust the measurements of the sofa and chair to make them smaller or larger for your space.
Another convenient feature of this patio furniture is the wide arms that double as end tables for drinks and food. Kick back on your outdoor sofa and enjoy a peaceful dinner at sunset.
Time: Multiple days | Skill Level: Intermediate | Cost: $100-400
Not every backyard has room for a large shed, which is why this small garden closet is such a necessity for homes with limited space. Have a durable and convenient spot to place all of your yard tools and supplies by spending a couple of weekends on this DIY woodworking project. Attach it to the back or side of your house for discreet storage and save about $75 by using treated lumber, pine, and asphalt shingles instead of cedar.
Time: Multiple days | Skill Level: Intermediate | Cost: $100-250
Are you a fan of Craftsman-style furniture? If so, this pedestal picnic table is the ideal design for you! Great for dinner parties, morning mimosas, or a game of cards, this picnic table's assembly is strong and simple with a long-threaded rod rather than complex dowels or joints. Plus, no one will ever need to complain about a table leg in their way when they sit. The pedestal feature is streamlined and optimal for comfortable seating.
Time: Multiple days | Skill Level: Intermediate | Cost: $500-1000
Ask for a helping hand from a friend or family member and finish off your backyard with a ground-level deck. This practical woodworking project may be higher in cost, but it's maintenance-free, easy to build, and a unique addition to display patio furniture. It's also a creative way to cover up the less appealing parts of your lawn!
Time: Multiple days | Skill Level: Intermediate | Cost: Varies
If you've ever owned an outdoor umbrella, you know the struggle of trying to keep it (and its holder) stable during blustery days. Luckily, you can put that problem behind you with this petite but sturdy umbrella table! With a distinct, tapered design, this DIY woodworking project is stylish, functional, and perfect for poolside lounging.
Grab your plywood, No. 2 cedar, and knot-free cedar to get things started. Keep in mind that experience with pocket screws and miter saws is preferred for a smooth and quick building process.
There's a lot of work that goes into making your house a home, and you can get first-hand experience in the process by mastering the art of woodworking. Customize your home furnishings with these DIY woodworking projects and enjoy learning a new hobby along the way! If you're looking for more ideas on how to decorate your home on a budget, check out 15 ways to decorate with what you have.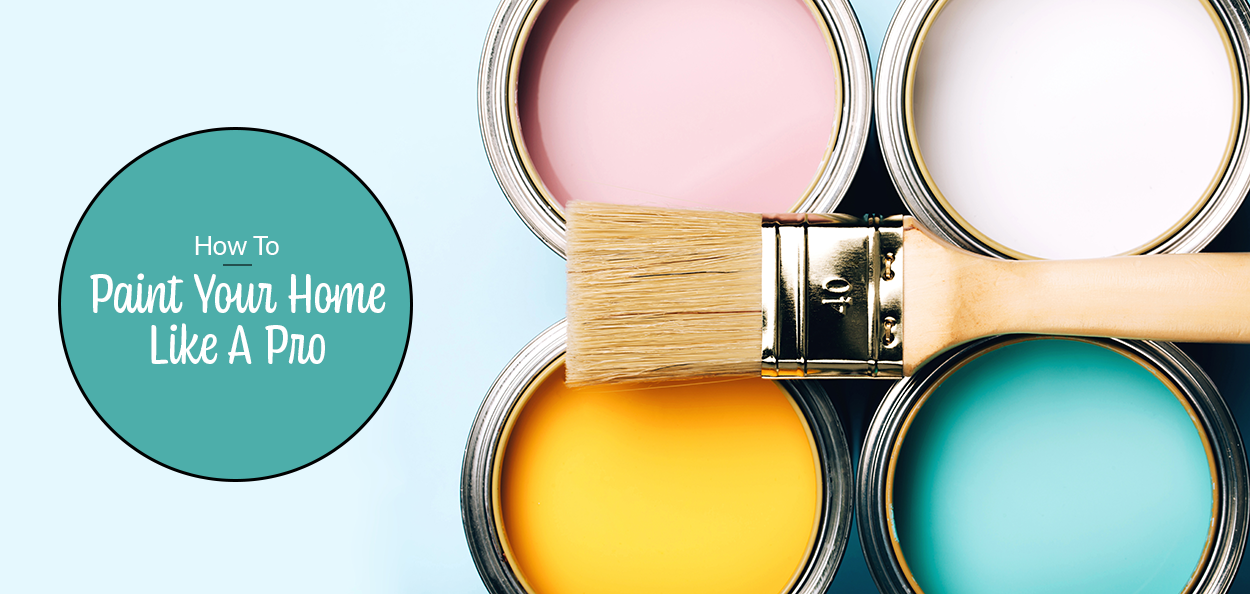 Painting is one of the most basic ways to renovate and refresh your home, but it can actually be the trickiest if you aren't knowledgeable about technique and preparation. Before you begin the process of painting your home, check out these interior house painting tips to ensure a flawless finished product!
Step 1: Plan Your Approach
As with any home renovation, it's most important to have a set plan before you begin. Follow these tips for a successful approach to painting your home.
Choose Your Paint Color
With hundreds of shades to choose from, it can be hard to decide what color you want for painting your home. A good strategy is to think of the big picture and slowly narrow down the options as you go. First, decide whether you want a cool, warm, or neutral shade. Consider your room's furnishings and decor to make sure the color complements the space. Once you have a better idea, pick a few shades that stand out to you.
Don't be afraid to try samples as well. Paint small swatches on your walls to give you an idea of what you like most. And remember that accent walls are a great way to bring contrast and interest to your room!
Step 2: Gather All of Your Supplies
While this step may seem obvious, it's always nice to have a checklist to follow when you're out shopping for your painting supplies. Here are the main items you'll need:
Paint

Paint roller

Paint roller extension pole

Drop cloths

Paintbrushes

Paint tray

Sandpaper

Painter's tape

Rags

Putty knife
Step 3: Prep Your Space
Remove All Furniture
After you've chosen your paint color, it's time to prep your space. Begin by removing all of the furniture and fixtures you can to open up the room and give yourself plenty of working space. If you leave some furnishings in the room, make sure to cover them properly to avoid any paint stains.
As you clear out furniture, inspect each room and look for proper ventilation outlets to use as you paint.
Make Necessary Repairs
Nail holes and daily wear and tear are just a couple of reasons why repairs are necessary before painting your home. Inspect all of the walls and ceilings for cracks, holes, dents, and other flaws. Use caulk or a lightweight spackling substance with a putty knife to fill and repair as you see fit.
Make sure you let the repairs dry completely before moving to the next step. If you notice any bulges or rough spots, use fine sandpaper to smooth out those areas and make them flush with the wall.
Clean the Walls
You'd be surprised how dirty your walls can get with dust and spiderwebs. That's why it's super critical to wipe all of the surfaces clean with a damp towel or sponge and leave them to dry.
Apply Painters Tape
Perhaps one of the most important interior house painting tips is to use quality painter's tape. Unless you have the steady hands of a surgeon and the talent of Michelangelo, this is going to be your savior when it comes to clean lines and a neat paint job. Use this tape to mask off your moldings, windows, and doors. Here are a few pro tips:
Always press the painter's tape down flat and even to prevent bleed-through

Choose the right tape for your wall—some are best for textured or delicate walls

For accent walls, mask the inside edge from the rest of the room
Put Down Drop Cloths
If you've painted before, you know that it's impossible to get the job done without creating at least some mess. Keep your floors protected from spills and splatters by putting down drop cloths across the room. You can even put them down near the entryway where you may be walking in and out.
Take note of the different kinds of drop cloths and what they are best used for:
Canvas drop cloths are extremely durable and absorbent, so they can be reused.

Plastic drop cloths are durable and less expensive but not absorbent, so spills are more likely to be tracked if stepped on.

Paper is the most economical but can tear easily on floors. It is better for covering light fixtures, cabinets, and furniture.
Step 4: Prime and Paint the Ceiling
Prime the Ceiling First
An interior house painting tip you may not know is that you should always start with the ceiling first, then tackle your walls last. While it's tempting to jump right into painting with your chosen color, it's crucial to use primer in certain situations. Not sure when primer is necessary? If your walls or ceilings fall under these categories, you need primer:
The surface is porous

The drywall is skim-coated

The previous coat is glossy

The paint colors are changing from dark to light

The surface is stained
If you don't feel like spending extra money and time on a separate coat of primer, keep in mind that some brands offer paint and primer in one!
Paint the Ceiling 
Once the primer has fully dried, you're ready to paint! The best way to paint a ceiling is to use a paint roller and work in grid-like sections of 3×5 feet each. This method helps to keep edges wet and allows you to see your progress to guarantee an even coat. Here are some additional tips to ensure a perfect finished product.
For smooth ceilings, use a low nap roller. For a textured ceiling, use a roller with 1/2-inch or 3/4-inch nap.

Consistently use your paint tray to coat the roller with ceiling paint and remember to roll slowly.

Begin rolling when the paint cut line is still wet.

Start in a corner and roll in overlapping rows.

Do not roll directly over your head.

Slightly vary the direction of your rolling because straight lines can show overlap marks.
Step 5: Prime Your Walls
Follow a similar process to prime your walls just as you did your ceiling. Either use a separate primer or purchase a paint and primer combo to knock it all out at once.
As you begin painting your home with primer, use a paint brush to create 2-3 inch bands around the edges, corners, and frames of your room (this is also called "cutting in"). Next, grab your roller and paint the walls in 3×3 foot sections, remembering to work top to bottom. Roll back and forth across the wall in a series of V or W-shaped strokes. Always overlap areas of wet primer.
Step 6: Sand the Primer
While this step isn't mandatory for painting like a pro, it's a thorough method that eliminates any imperfections on your walls. After the primer dries, simply sand away bumps and ridges using fine grit sandpaper folded into quarters. When one section of sandpaper becomes covered with dust, switch to a fresh section and continue.
After you're done, wipe the wall clean with a damp towel and let it dry. Now you're ready for the paint!
Step 7: Paint Your Walls
A basic interior house painting tip experts always follow is painting walls one at a time. This will give your walls a smoother look by blending wet paint you've brushed on with wet paint you're rolling.
Make sure you follow the same method you did with your ceilings and use a paint brush to create 2-3 inch bands around the edges of your room. Use V or W-shaped strokes as well. To give you further guidance, take a look at these extra tips for painting your walls:
Before reloading your roller and moving to the next section, roll over the area you've just painted in a smooth, continuous stroke from top to bottom. These smoothing strokes help cover up lines and tracks and even out your coats.

Periodically remix your paint using a mixing stick. You should do this any time you leave your paint sitting for an extended period of time.

Wait 2-4 hours for the first coat to dry before applying a second coat. Follow the exact same process and techniques used when priming your walls.
Step 8: Clean Up
Once you've finished painting, your work is essentially done! The only task left is the clean up. Remove your painter's tape before or right after the paint completely dries. It's important to stay within this time frame because if left on for too long, the tape can tear and leave residue when removed.
Tightly seal remaining paint cans, thoroughly clean brushes and rollers with soapy water, remove drop cloths, and put your furniture back in place.
Painting your home is a fun and affordable way to freshen up your space and bring new pops of color into your rooms. The next time you feel like trying a DIY paint project, follow these steps and interior house painting tips to ensure a beautiful finished product you're proud of! For more guidance on DIY projects, read through these 6 home renovation tips that'll make the process easier.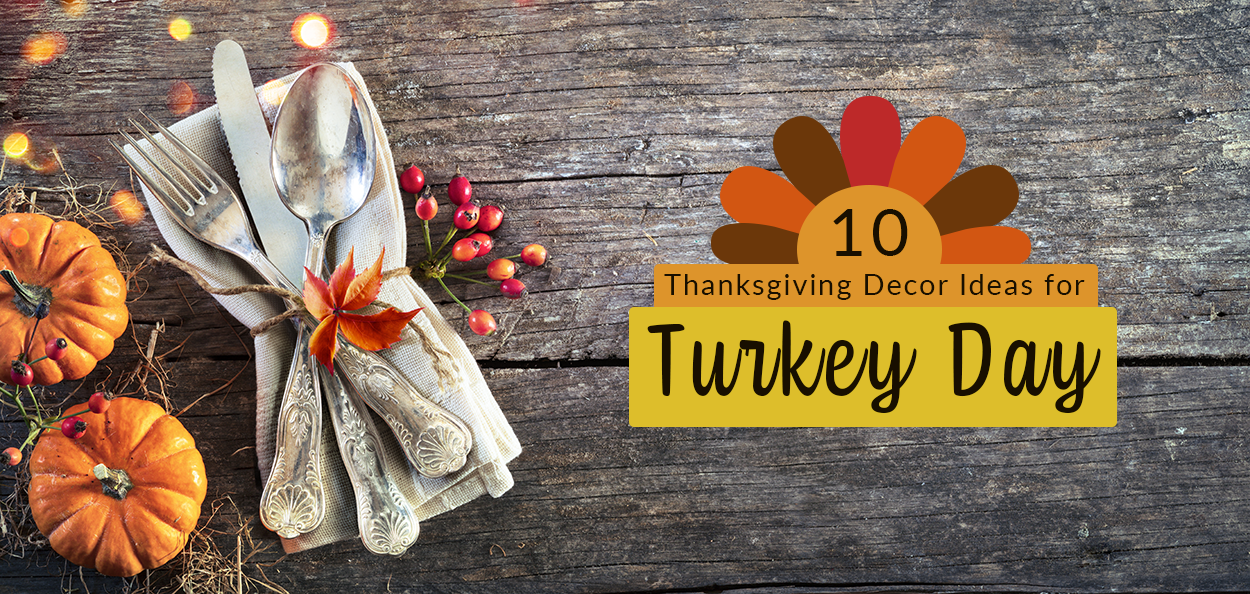 With the first major holiday of the season over, it's now time to transition our homes from Halloween to Thanksgiving. From store-bought items like fall flowers and faux gourds to DIY crafts, there are countless ways to bring the joy of the season into your home. Use these Thanksgiving decor ideas to keep your home feeling festive all November long!
Thanksgiving Decor Inspiration
Your fireplace mantle is one of the focal points of your home, so make sure it stands out at Thanksgiving with a lush garland. Use greens, pine cones, and vibrant oranges to dress it up. Gold-gilded candle holders can frame the garland and give it an added seasonal touch.
With Turkey Day comes a host of parties and celebrations. Be ready for the occasion by transforming an ordinary bar cart or at-home bar into the go-to spot for harvest happy hour. A vase of fall leaves, warm candles, a copper bowl with bright apples, and of course, a festive cocktail mix come together to create a homey bar full of Thanksgiving decor.
Stray from the traditional and go for a modern Thanksgiving decor style with an elegant feather centerpiece. Pheasant feathers, gold-speckled pine cones, beige candles, and white pumpkins are all you need for this look. If you feel like taking your centerpiece a step further, get cozy with a faux fur table runner in white or other neutral colors that accent your feathers. Just be sure to keep the centerpiece safely spaced away from the food and drinks to avoid stains.
For another touch of contemporary design, incorporate velvet pumpkins into your home. Be bold and mix in a variety of warm colors like emerald green, mustard, brown, and red to transform your space into a sophisticated and unique Thanksgiving haven.
If you aren't too comfortable with mixing and matching multiple colors, it's time to simplify your Thanksgiving decor and go with a monochromatic color scheme. Your home can be just as fall-inspired with a single color contrasted in different tints and shades. Pick your favorite Thanksgiving color like a deep maroon or classic orange, and compile various decor items in similar shades to bring interest to any arrangement.
Thanksgiving DIY Crafts
Remember that Turkey Day spirit starts right at your doorstep. Give your home the welcoming vibe it needs for fall with this simple floral door arrangement. Dried flowers, foliages, twine, and ribbon are the main supplies for this trendy piece. The wonderful part about this Thanksgiving DIY craft is that you have the freedom to gather supplies like leaves and pine cones right from your yard. You can even hang up your own flowers to dry for a sentimental touch.
It's all in the details. After you've established your overall Thanksgiving decor theme, it's time to hone in on the small accents that make the experience personal and one of a kind. These cinnamon stick place cards are the sweetest touch for guests at your dinner party. Simply place each name card in the natural crevice of a cinnamon stick and wrap the ends with twine. The sentiment and smell of warm spices will have your guests grinning ear to ear.
For a rustic aesthetic, collect glass bottles in earthy tones of gold and green and fill them with decorative fall foliage. Branches of berries in classic Thanksgiving shades of orange, red, and yellow are a delicate and stylish addition to window sills in your kitchen and living room. You can also fill the bottles with other foliage like leaves, flowers, and wheat for contrast.
While all of the decorating and food prep is exciting, it's important to keep in mind what this holiday is really about — family and gratitude. Help celebrate the meaning of Thanksgiving by creating a beautiful Thankful Tree. A decorative tree, ornaments, and lots of thankful messages from guests and family members are the key ingredients to making this memorable keepsake come to life.
Candles and Thanksgiving go together like turkey and stuffing. Give your candles a distinct touch by brightening up your candle holders with pretty colors and varying textures. In this Thanksgiving DIY craft, use clear glass cylinder vases and layer the inside of them with corn kernels, burgundy cocksomb celosia, orange bittersweet, pale green dried hops, and brown oak leaves. Top off the layers with your pumpkin spice candle and you have a gorgeous centerpiece for your mantle or dinner table.
Decorating for Turkey Day doesn't have to be an elaborate process that empties your wallet. Try these simple Thanksgiving decor ideas and save room for all of the delicious food and quality time the holiday has to offer. For more festive inspiration, fall in love with these 9 fall decor trends.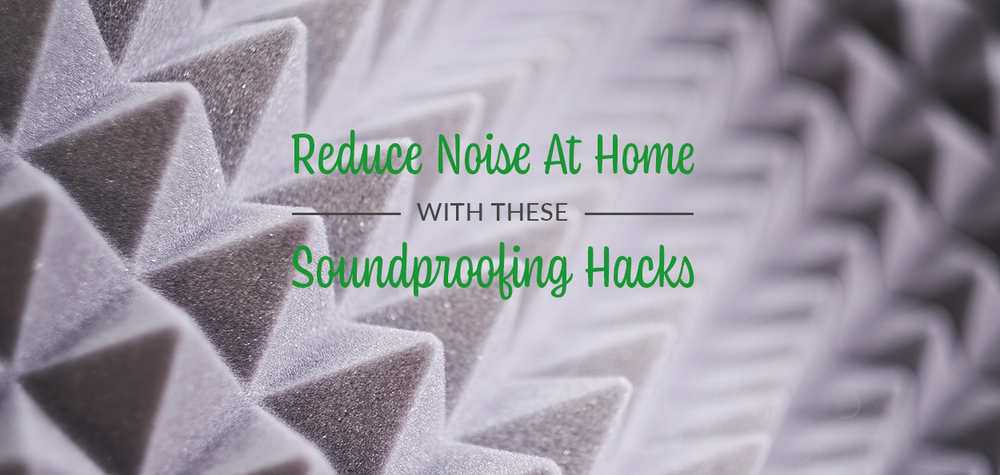 Listening to your loud neighbors next door or your roommate across the hall can get annoying very quickly. Rather than taking a drastic step like moving out, try these easy soundproofing hacks to reduce noise pollution and bring some much needed peace and quiet back to your living space.
Three Critical Points of Sound
Before you jump into trying soundproofing hacks in your home, you need to identify the three points or locations of sound that are making your space noisy. Addressing these areas will help guide your action plan and give you better and quieter results in the end.
1. Source of the Sound
Chances are you are well aware of the source of the sound because it's been driving you crazy for months. Even if you are, make sure you listen again. Take note of all of the sources and what area of the house they're coming from. Is it the TV in the living room or your roomie next door — or maybe both?
2. Entry Point
Once you've identified the specific locations of the source of the noise, it's time to consider the second critical area of sound: entry point. As the name suggests, the entry point is the area in your house where the sound enters your room. This could be your window, door, or an entire wall (shared walls in apartments are a great example). Identify how the sound is coming into your room and recognize that there may be several affected areas.
3. Reflection Point
The last critical point to address before soundproofing is the reflection point. When noise makes its way into your room, it reflects back at the same angle that it came. To combat this, you need to identify the angle at which the sound is moving and where it's bouncing back to. For example, if noise is coming from directly across the hall in a straight line, you'll want to soundproof the first wall that it hits and the opposite facing wall that it reflects off.
Easy Soundproofing Hacks
After you evaluate the three critical points of sound, you're ready to learn how to soundproof a room cheaply and without too much hassle. Try these soundproofing hacks to enjoy a more peaceful space.
Use Carpets & Rugs
Covering floors with carpets and rugs is a soundproofing hack that is stylish and easy to implement. Having flooring made of tile or marble is a nightmare when it comes to echoes and sound traveling across your space. Rather than spend thousands of dollars to replace flooring, you can throw down beautiful rugs and carpets to absorb sound.
To combat the loudest of noises, you can also try layering your rugs. This is a big interior design trend and it works wonders for soundproofing rooms!
Hang Tapestries & Curtains
One of the easiest ways to help block noise from your room is by hanging drapes and any other decorative tapestries or blankets. Not only do they give the room added flair, but adding soft and thick fabrics to your walls absorbs and dampens sound.
Floor-to-ceiling curtains and woven wall hangings are just a couple of ideas you can look into. You can even search for noise-reducing curtains that are meant to help soundproof rooms.
Add More Furniture
Have you ever noticed that voices echo much more in an empty room versus a full one? That's because objects, furniture in this case, help block sound.
When soundproofing, try to add more furniture and place the new pieces in the affected space. Include the heaviest furniture you own, preferably with upholstery. These two elements provide the most sound absorption. Here are some of the best furniture pieces for noise blocking:
Wardrobes, dressers, and armoires

Bookcases

Tables
If you don't have room for more furniture, you can improvise with thick blankets and plush throw pillows wherever possible.
Simply Rearrange Decor
Sometimes the easiest soundproofing hack is sitting right in front of you. Because you've already assessed the layout of your home and where the noise pollution is the worst, you can look to see what furniture pieces can be moved to minimize your exposure. Perhaps you can move your TV and dresser to the entry point of the sound to help block the sound waves. Alternatively, you can rearrange your couch so that it is furthest away from the raucous.
Whether you rearrange one piece of furniture or choose to swap your home office with your bedroom, there are creative ways to soundproof without spending any money at all.
Seal Your Doors & Windows
While it may not be a decorative way to soundproof rooms, sealing your doors and windows is a functional strategy that can make a world of difference.
For doors, check to see if there is a gap underneath where the door doesn't touch the floor. These gaps are more common than you'd think and they are a major source of noise pollution. To alleviate this problem, use acoustic sealant tape. It's inexpensive and easy to remove, which is great if you're renting. Don't be afraid to use it on the bottom, sides, and top of the door if need be.
As for windows, the same solution rings true. Even if you have double-glazed windows that are amazing at blocking out noise, you can't forget about the seals around the windows. Use acoustic sealant glue to fully insulate the gaps.
Incorporate Soundproofing Foam
Depending on your style preferences, you may also want to incorporate soundproofing foam into your room. This foam can be purchased for a reasonable price and comes in a variety of colors to fit your design taste. Simply place it on your walls to add an extra layer of sound absorption.
Dealing with noisy street traffic and neighbors is a problem we've all dealt with at one time or another, but these easy soundproofing hacks are a great way to bring tranquility back to your home. As you begin soundproofing your walls, check out our guide on the why, where, and how of decorating your walls for some extra style tips!
Ghosts and witches and spiders, oh my! The spookiest time of the year is here which means your home needs a Halloween makeover. There's no need to give your wallet a fright to make the kids scared at night! Get crafty with these budget-friendly DIY Halloween decor ideas.
Witchy Pumpkin
Plain pumpkins are great and all, but you can easily amp up the Halloween vibes with this witchy pumpkin project. A real or faux pumpkin and basic craft supplies will leave you with a fun piece of DIY Halloween decor. Transform your pumpkin into a scary, funny, or classic witch that greets guests at the door.
Spider Web Lamp
Create an arachnophobe's worst nightmare with a spider web lamp. This DIY Halloween craft only requires a few materials and can crawl throughout your entire house. Play a prank on a family member and ask them to turn on the lamp to see their reaction!
Giant Eyeballs
Time to get some use out of those bouncy balls the kids don't play with anymore! Grab some acrylic paints and create outdoor Halloween decor in the form of giant eyeballs. Make them as bloodshot as can be and scatter them around your front yard for some creepy lawn decorations!
Ghostly Antique Mirror
BEWARE: This spooky decor project involves fire, so you may want to leave the kids out of this one. Once you have the proper safety precautions on hand, you can turn a modern mirror into a Gothic glass piece you'd find in an old, haunted house. Place it above a table full of Halloween goodies to complete the look!
Clever Witch Planter
Who knew striped stockings and witchy shoes could create such a clever optical illusion in your garden? The little ones are guaranteed to get a laugh or two out of this clever witch planter!
Monstrous Chair
Ghouls, goblins, and monsters are the theme of this DIY Halloween decor idea. Transform your stylish seating into monstrous chairs that will certainly give you a fright, especially in the dark shadows of the night! Keep in mind that this project requires a little more craftiness, so make sure you have a couple of hours to spare.
Startling Skull Lamp
Turn an ordinary table lamp into a creepy skull with foam, ribbon, black paint, and a few more supplies. Make it as ornate as you want by including faux roses, spiderwebs, and bones to create a beautifully creepy Día de Muertos look.
Black Cat Silhouettes
Superstition has made black cats a classic Halloween icon and this DIY Halloween craft brings them right to your house! Cut sheets of plywood into cat silhouettes to place on your porch or in your yard. You can even cut moon shapes for eyes and place battery-powered lights behind them for a glowing nighttime effect.
Scary Skull Centerpiece
Prepare for the ultimate Halloween dinner party with a skull centerpiece. Bleeding taper candles, spiders, skulls, and Spanish moss make this the perfect addition to your haunted dining table!
Spooky Soap Dispenser
Spooky decor doesn't just belong on the front porch and in your living room. Bring Halloween vibes into your bathrooms as well with soap dispensers that keep an eye on you as you wash your hands. There's nothing like a jar full of eyeballs to remind you it's spooky season!
Deathly Tombstones
Transform your everyday yard into a graveyard with these easy-to-make tombstones. Carve out chilling symbols and messages for an authentic look or let the kids have fun with whatever designs they can think of. Post them up in the yard with a handful of glowing candles for hair-raising ambiance!
Chic Skeleton Plant
If you're a major plant lover, this is the DIY Halloween decor you've been waiting for. Pick your favorite plant (ideally a small, leafy one) and pair it with a skeleton that matches in size. Spray paint the skeleton gold and weave it within the plant for a stylish Halloween piece.
Dreadful Draperies
Halloween is the only time of year when dreadful draperies are actually a good thing! Believe it or not, cheesecloth and black tea bags are the two main supplies you'll need for this spooky decor. Once finished, hang them on your porch to create a spine-chilling entryway for visitors.
Wicked Candles
You can never have too many candles for the spooky season! Light up your home this Halloween with personalized candles you design yourself. Pick clip art designs of black cats and witches and paste them onto your candles with wax paper. Use a little heat and voila! You've got yourself some wicked candles for your mantle.
Mini Halloween Village
Get the kiddos involved and create a mini Halloween village with this simple indoor Halloween decorating idea! A variety of bird houses, dark paint, faux black branches, and mini pumpkins are all you need to bring this village to life — or death.
Now that you have 15 ideas for spooky decor, you can make the scariest Halloween decorations on the block! For more crafting ideas for the whole family, take a look at our top 10 DIY pet crafts.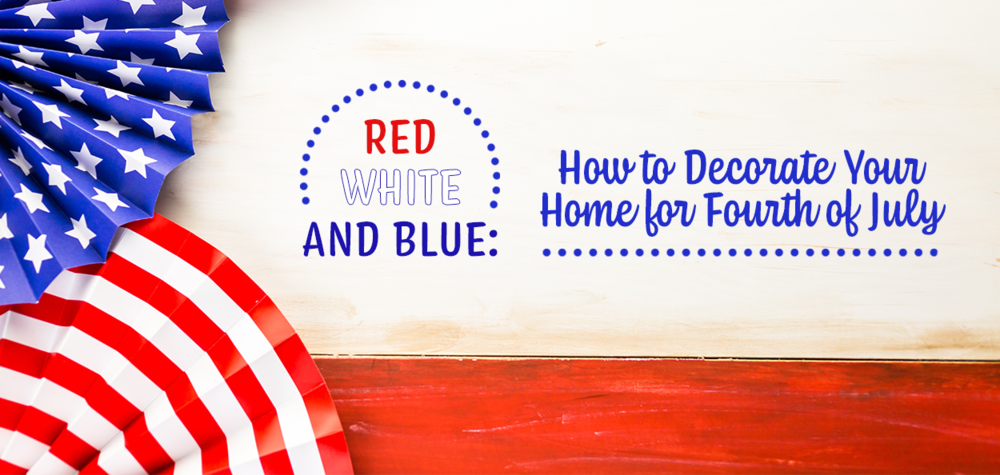 Every holiday is better with the right decorations, and the Fourth of July is no exception. As the temperatures climb, get ready to celebrate one of the best holidays of the year with festive, patriotic decorations. These fun ideas for the Fourth of July decorating will help you get your home and yard ready in no time.
Pretty Patriotic Decorations With Flowers
Whether it's an afternoon pool party or a Fourth of July barbecue, you can't go wrong when decorating with flowers. Use them to make pretty patriotic decorations that are simple and elegant but still make an impact.
Use colorful red and white blooms with blue accents in mason jars for a rustic feel, or add them to a simple wreath to hang on the front door. Put together a larger group of red, white, and blue flowers to make the perfect patriotic centerpiece.
Balloons for Fourth of July Decorating
Balloons are an easy way to get festive for the Fourth of July. You can create red, white, and blue decorations with balloons by adding them to strategic spots throughout the yard and home, such as entryways, near food tables or drink stations, and by yard games or activities. Affix metallic "USA" letter balloons to walls, windows, or outdoor areas for an extra creative touch.
Classic Buntings and Paper Fans
Add a sense of classic style and fun Fourth of July decorating appeal with red, white, and blue bunting and paper fans. If you have some spare time, you can even create colorful paper fans and bunting with the kids to cut back on decorating costs. Use paper fans indoors as a wall or table decor and secure bunting across your porch, patio, fences, and mantle.
Red, White, and Blue Lighting
Who says that outdoor lighting is only for the winter holidays? Make the outside feel festive all evening long with string lights on the outside of your home. You can also drape bushes and shrubs with mesh lighting in patriotic colors. String star-shaped or red, white, and blue lights around the patio or light up the yard with a rope-light sign that says "USA."
For more outdoor lighting ideas, take a look at our blog post on summer patio decor.
Fun Chalkboard Signs
Chalkboard signs are perfect for changing things up quickly while having a fun yet chic look that can't be beaten. Set them around the house and yard with patriotic sayings or simple drawings with patriotic themes. Reserve a board for your family to write down why they love America or to put down fun facts about the holiday.
Ideas for Fourth of July Food Decor
The food you serve can also play a role in your red, white, and blue decorations. Consider using blue and red wrapped candies as party favors or treats — just place them in a clear cellophane bag with a silver or gold ribbon inside a decorative basket. This makes a cute centerpiece or entryway decoration as well as housing the favors so they stay organized.
Make your holiday buffet in Fourth of July colors, too. Watermelon, strawberries, and blueberries make fun summer desserts. You can also use festive frostings at the dessert bar and serve snacks with different colored dips, such as blue cheese, ranch, and salsa. Accents like star-shaped paper plates and colored straws and napkins all add to the decorative look of a buffet table with minimal effort.
Pool Items as Patriotic Decorations
Items that are normally reserved for fun in the sun can make great patriotic decorations! A red, white, and blue mini pool filled with ice can be a decorative and functional way to house cold beverages. Star-themed pool toys and floatation pieces can add an unexpected element to yard decor, while red and white striped umbrellas add a decorative look to outdoor tables as they offer some much needed shade.
Festive Flags Everywhere
Mini flags are an easy decorative accent, as they can be added anywhere. Affix them to napkin holders, place cards, or favor packages for a cute look. Place a group of mini flags in a vase or pretty container as a centerpiece. You can also use mini hooks to line staircases, deck railings, or entryways with these patriotic decorations.
Simple Spray-Painted Decor
A few cans of spray paint and a little creativity can help you make fun patriotic decorations with the family. Create some simple cardboard templates and use spray paint to add stars, stripes, and other accents to the lawn. Create a cute walkway accent by spray-painting spare bricks, pavers, or rocks in patriotic colors and lining the driveway or walkways throughout the yard.
Upcycle old plastic containers and buckets by spray-painting them in holiday colors and then adding letters to create a 3-D Independence Day sign. Or, use the decorated bins to house items like sparklers, sunscreen, and canisters of insect repellent for your family members to use as needed.
These Fourth of July decorating ideas can help you enjoy a more patriotic celebration. Be sure to read our blog post on how to bring fun summer vibes into your home around this special holiday.