9 Interior Design Themes to Follow in 2021
Just as soon as the interior design trends of 2020 took off, the design world just as quickly shifted its focus to a new set of trendy interior design themes for 2021. From color schemes and types of materials to conceptual designs, here are some of the top 2021 design trends to keep an eye on this year.
Ground Yourself with Earthy Tones
With so much time spent at home nowadays, it only makes sense that your space would focus on a comfortable and serene design. In 2021, expect to see a natural theme with warm and welcoming earthy tones of deep red, warm green, golden yellow, rust, and muddy brown. 
This earthy palette brings a vibrancy to any home while ensuring that you and your guests feel relaxed and at ease.
Incorporate Feng Shui Design
Even though Feng Shui has been around for centuries, this ancient design concept has only just recently made its way to the U.S. in the past few decades. 
Through specific colors, home decor items, and strategic arrangements, Feng Shui aims to create balance and harmony within your home. If you're looking for a little more flow and harmony in your life, this 2021 design trend is definitely worth a shot!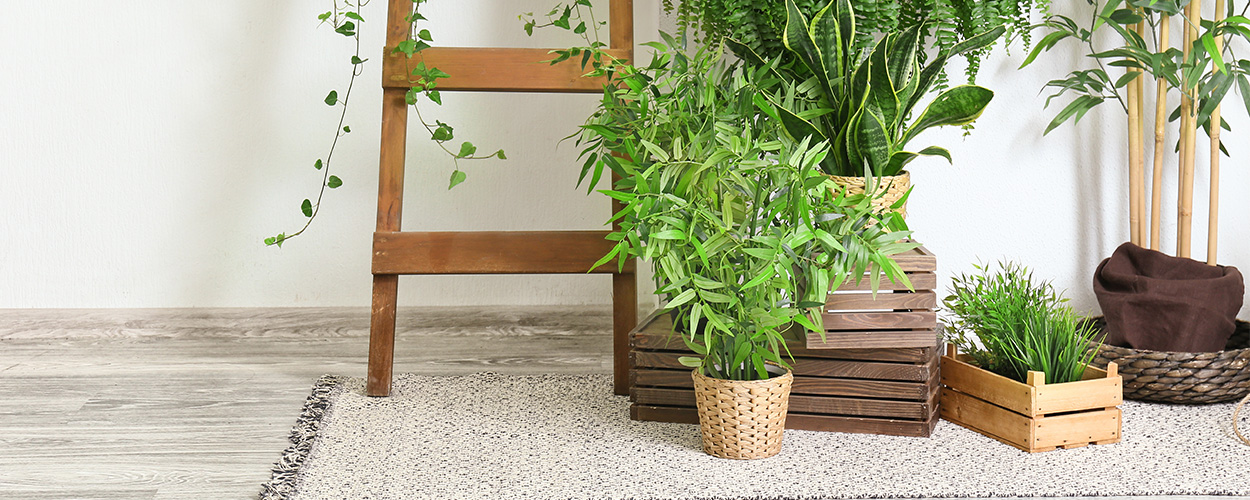 Go for Greenery
You may be thinking, "Wait a minute… Wasn't this a theme in 2020?" Why yes, it was. Although houseplants aren't a foreign concept, their ability to withstand the test of time (which is a challenge in the interior design realm) shows just how fashionable they really are. 
Not only are plants a fresh and chic decor item to include in any home, they offer value when it comes to eco-friendly design. They help to purify your space and cleanse it of harmful toxins. 
Whether you go for a boho look with macramé plant hangers or opt for a modern plant decor, it's easy to find greenery that fits your home's overall style.
Make Sustainability Stylish
Sustainability is one of the most prevalent discussions today, so it's not surprising that it has made its way into the interior design realm. Rather than simply recycling and avoiding plastic, a major interior design theme in 2021 will be sustainable decor. 
Multifunctional furniture, as well as furniture that guarantees longevity and durability will be a pattern across households. You can start including this trend into your home with sustainably-sourced materials, energy-efficient methods, and other eco-friendly design ideas.
Choose Maximalism
Instead of having a few trendy home decor pieces to tie together a minimalist look, opt for maximalism as your 2021 design trend. Personalize your space with memorable, sentimental items that help your home tell a story of who you are. These personal items can be anything from a couch to an art piece.
Layering old with new is another aspect of the maximalist theme. While you fill your space with vintage decor from days gone by, don't forget to strike a balance with modern touches as well.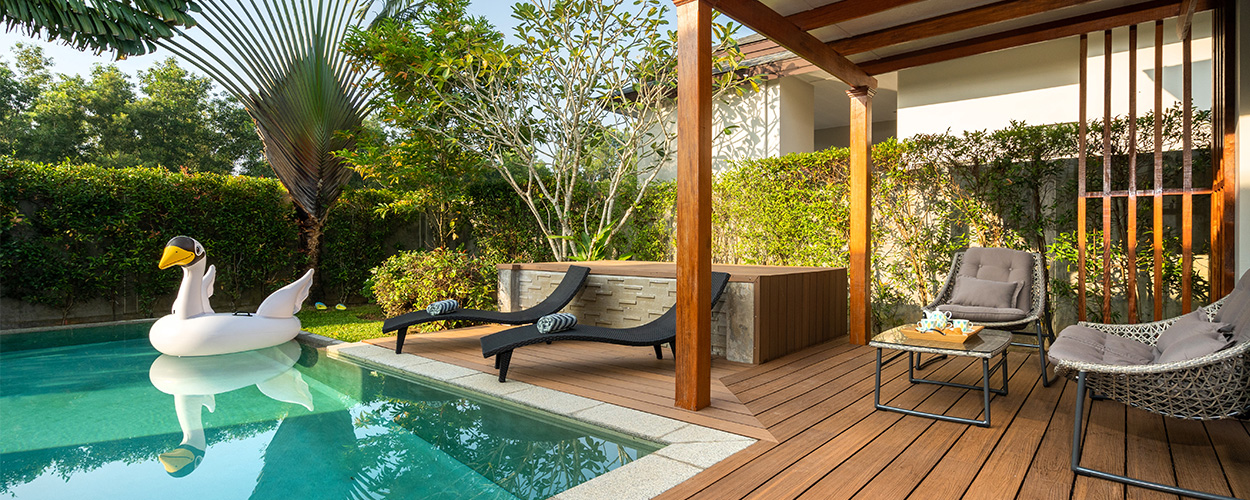 Create a Multi-Functional Yard
As you do your research, you may notice a common thread with 2021 design trends—many of them reflect the state of the country at the moment. With the pandemic creating a new at-home lifestyle, households are being forced to become multi-functional in more ways than one. 
With less opportunity to find entertainment away from home, curating a backyard that is both pleasing to the eye and fun to lounge in is essential. For that reason, beautiful and functional gardens will see a spike in popularity in the new year. Along with that, swimming pools, patios for entertaining, and greenhouses will most likely see a rise in use.
Design a Cozy Cottage
When you think about cottages, you probably think cozy, quaint, and comfortable. That's exactly what this interior design theme is all about. Create your very own cottage with vintage prints and motifs, a pastel color palette, and subtle touches of glamor with gold accessories and gilded mirrors. 
The goal of the cottagecore design concept is to create a space that brings a touch of nostalgia and lots of comfort, which is exactly what's needed if you find yourself at home more often.
Pull from Global Inspiration
A yearning to travel and see far off places is the key driver behind this 2021 design trend. With many travel plans canceled, it's predicted that lots of homes are going to be pulling from global inspiration to travel across the world without leaving the safety of home. 
Calming color palettes, warm tones, and natural textures are a few conceptual ideas to follow if you prefer a more subtle theme. Tropical leaves, florals, and bright colors are another option for a more bold interior design style.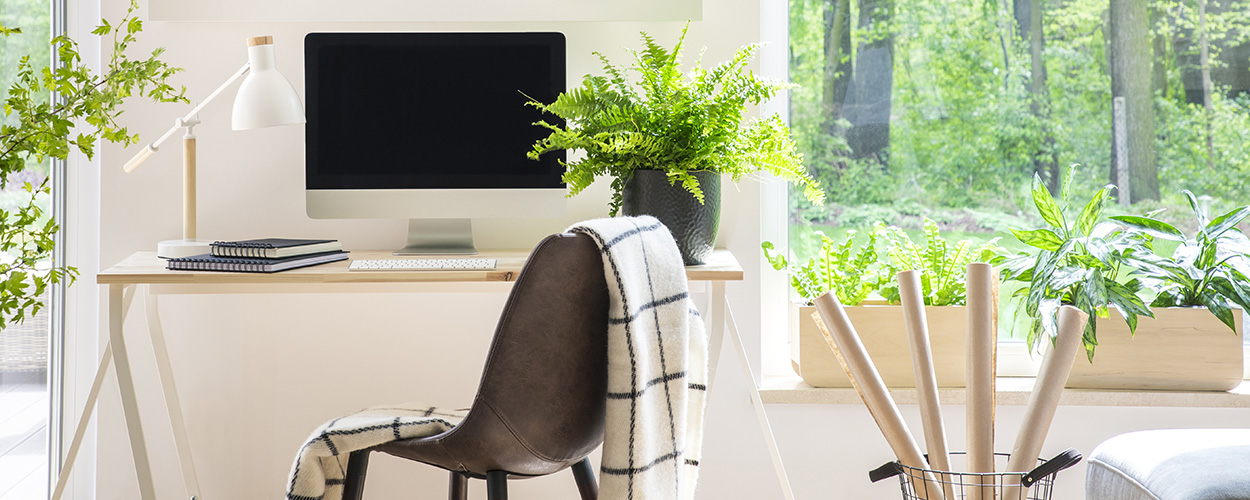 Make the Home Office a Focal Point
Working from home was and continues to be a major trend in the working world today, which is why an emphasis on the home office is going to be big in 2021. 
Veer away from the corporate vibe of black foam chairs and neutral colors to instead build a creative space that induces thought. Artwork, patterned wallpaper, a desk light, and a stylish work chair can take your home office from boring to stunning.
Whether you're using the new year as an excuse to give your home a makeover or you simply love keeping up with the hottest trends, these interior design themes are a good place to start. If you choose to reinvent your home office, make sure to combine style with functionality by taking a look at your home office ergonomics checklist!
Whether you've been with your partner for 6 months, 2 years, or a lifetime, Valentine's Day is a wonderful time to show them just how much you care. Rather than the usual extravagant dinner and night on the town, switch it up this year with a relaxing and memorable Valentine's Day at home. Start planning your surprise with these Valentine's date ideas!
Make an At-Home Spa
What better way to pamper your special someone than with an at-home spa? Spark romance on Valentine's Day with candles, massage oil, face masks, and maybe even a new foot spa. 
While focusing on your partner's relaxation is important, feel free to join in too! Whether you light a candle or you wear a face mask, it can be extra special for both partners to experience some pampering.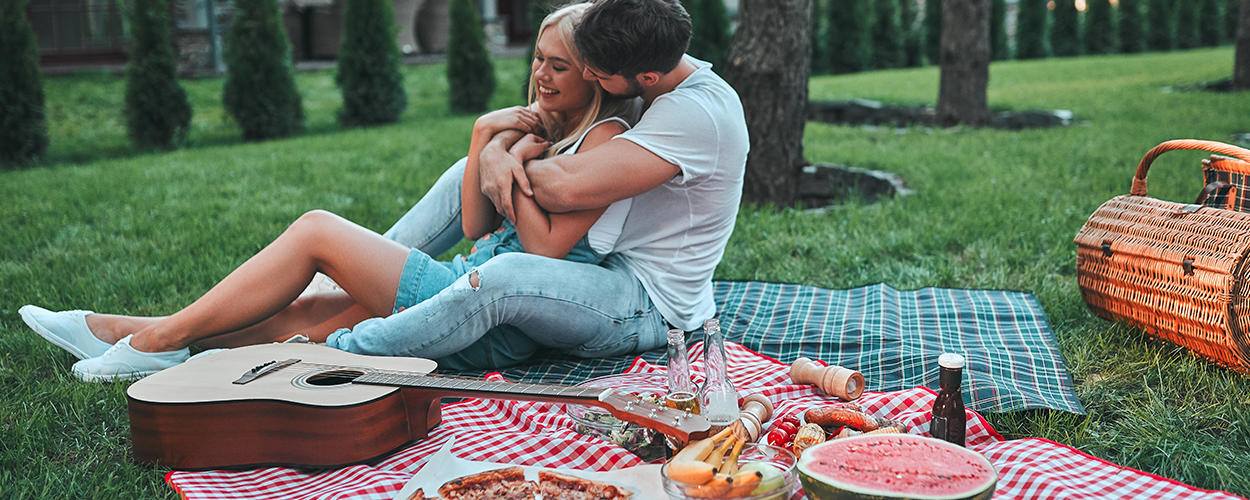 Enjoy a Backyard Picnic
No need to fight over parking for this Valentine's date idea! Bring a picnic right to your own backyard with very little prep. While picnics can be fun any time of the day, you can heighten the romance by planning your backyard rendezvous just before sunset. 
Set the mood with cozy blankets, pillows, flowers, battery-powered candles (to avoid a fire hazard), and of course, a tasty selection of treats. Sweet photos of the two of you, along with a gift, can make the picnic even more amazing.
If you don't have patio heaters or a fire pit and the weather in your area is too cold, plan for an indoor picnic instead. Sitting in front of the fire in your living room is sure to be just as romantic.
Create Sentimental Art Together
No matter whether you fancy yourselves artists or not, planning a fun night of crafts can be extra special for a Valentine's Day at home. Your art project can be as simple as creating a collage of your favorite adventures over the years or writing a sentimental poem.
If you feel like stepping up your game, treat your loved one to a wine and paint night. Gather all of the supplies and find some pretty canvas ideas for Valentine's Day. Save your final products and hang them in your house as a reminder of your love for each other!
Cook a Romantic Dinner
For a classic date at home, brush up on your cooking skills and get to work in the kitchen! Branch out and try a new, fancy dinner recipe that will impress and surprise your spouse, or whip up their favorite meal instead. 
If your sweetheart doesn't detest the thought of cooking, you can always turn this date idea into a couple's cooking activity. Have all of the ingredients ready and invite your sweetie to cook alongside you as a fun bonding experience.
Reconnect with Personal Questions
Sometimes the best dates are the simplest ones. Connect with your love on a deeper level than before by encouraging a night of asking each other questions. Do your research online beforehand or buy a card game to break out on Valentine's Day. 
This Valentine's date idea is sure to ignite romance at home over a delicious dinner!
Cuddle and Watch Romance Movies
With busy work schedules and the usual hecticness of life, it can be hard to find time to sit down and watch a movie together. Get back to the basics and woo your significant other with a relaxing movie night full of rom coms and romance flicks. 
Set the bar high by preparing an arrangement of yummy movie snacks you know your partner loves. You can even decorate your living room or bedroom with Valentine's balloons, candles, and other special decor to create a romantic atmosphere.
Take a Stroll Down Memory Lane
Did you ever write about your significant other when you two first started dating? Whether it be letters between you both or sweet nothings in your journal, take the opportunity to stroll down memory lane and read through all of your old notes for a few laughs (and maybe even some happy tears)!
You can also pull out the photo albums for a nostalgic look back at all your memories over the months or years. If you don't have a photo album or it has been quite awhile since you printed recent photos, use this Valentine's date idea as inspiration for one of your gifts!
Have Fun with Board Games
When was the last time you and your significant other played games together? Set down your phones for a few hours and dive into a fun board game or two for your Valentine's Day at home! Even though Yahtzee and Life may not be considered "romantic," they sure are fun to play. 
Showing your partner just how much you love them is as easy as can be with these Valentine's date ideas! Whether you choose one or combine a few, be sure to plan ahead and surprise your partner for a special Valentine's date neither of you will forget.
Need a special gift idea? Develop and frame treasured memories from your camera roll and hang them around your house for a sentimental present. Learn the why, where, and how of decorating your walls to make sure you hang your photos just right!
With the new year just beginning, it's time to think about your goals and what you want to achieve in the coming months. Besides personal resolutions for your relationships and work, now might be just the right time to shift your attention to improving your home. Not sure where to start? Follow these resolution ideas to refresh your home in 2021.
1. Be More Energy-Efficient
Lowering your energy use is a noteworthy resolution idea that's worth the effort. Being more energy-efficient benefits the environment and lowers your utilities bills each month, which means more money in your pocket! Plus, some eco-friendly items add style to your home. Here are a few ways you can be more energy-efficient this year:
Invest in energy-efficient appliances

Switch to LED bulbs

Thoroughly insulate your home (windows, doors, attic)

Incorporate indoor plants into your home

Turn off lights/electronic devices when not in use

Add area rugs to warm your home and decrease your energy use
2. Organize Storage Areas
What better time to purge your home than in the new year? Muster up the motivation and open the doors to all of the areas you've been avoiding for months or years. Bedroom closets, the attic, the basement, and yes, even your kitchen cupboards and drawers are up for organizing.
Rather than overwhelm yourself by doing it all in one weekend, shoot for one room each week to make the process more manageable and less intimidating. 
Start off by clearing out the areas and then focus on organization. Before you go out and buy a bunch of bins and trays, make a plan first. Think through where everything will go and then buy your organizational supplies.
3. Deep Clean Every Room
Did someone say deep clean? While it may not be an enjoyable task for some, a thorough cleaning of your house's rooms is a must. Just because you may not see all of the dirt and dust bunnies doesn't mean they aren't there.
Refresh your home by going through each room and doing all of the usual cleaning duties. Make sure to start with the most used rooms because they tend to have more germs and grime. You also want heavily trafficked rooms to be as sanitary as possible for you and your guests. 
4. Do Good and Donate
While the "season of giving" may be over, it's never too late to give to those in need. If you choose to clear out some furnishings or clothes to begin the new year at home, consider donating those goods to an organization near you. This is a win-win solution because not only do you clean out your home, you help out your fellow community members in the process.
5. Dedicate Time to DIY Projects
Brush up on your skills and dedicate a few weekends to DIY projects around your home. Try a home makeover idea that transforms your space from drab to fab like painting your living room walls a brighter color or finishing the basement downstairs. 
Other DIY projects can improve the safety and quality of your home like installing new windows, putting up a fence around your yard, or ridding your floors of squeaks. 
6. Create a System for Housework
No matter if you live with just your spouse or have a full house of kids, it's a great idea to create and implement a system for house duties. From taking out the trash to cleaning the bathroom, figure out a schedule that works best for you.
Get the kiddos involved by incentivizing with rewards and give them each their own chores. However you want to personalize your housework system, it's guaranteed to motivate all members of the household and keep your space much cleaner.
7. Prepare Your Yard for Spring
Home makeover ideas don't just apply to the inside of your home, they apply to the outside too. One of your new year's resolution ideas could be sprucing up your backyard for the coming spring. Start a garden, build a deck, or buy some new patio furniture. Basic yard maintenance like tree trimming and weed pulling is another easy way to make your yard more presentable and pleasant. 
8. Swap Out Home Decor
If you feel like splurging, buying a few new pieces of home decor can do absolute wonders for your space. Bring your home into 2021 with a modern sofa set or chic dining table. If large purchases aren't in your budget, not to worry. Opt for smaller upgrades like fresh wall art, new area rugs, or even comfy comforters for your beds.
9. Freshen Up Your Floors
The usual vacuuming and mopping of floors is a convenient and easy way to maintain your home's pristine appearance, but have you ever considered taking it a step further? 
If you have carpet in your home, you may want to think about getting it professionally cleaned. Say goodbye to nasty stains you gave up on years ago and welcome in a new and improved carpet for spring!
Refinishing your wood floors is another project that can refresh your home. What's even better is that you can do it yourself. Do your research, buy the supplies, and bring your hardwood floors back to life with a new finish.
With the new year comes new chances to better your home. As you brainstorm goals and aspirations for 2021, add these new year's resolution ideas to your list to give your home the makeover it deserves. If painting makes it on the list, be sure to read our guide to how to paint your home like a pro.
Are you going through the process of decluttering and clearing out your old furniture? Before you throw away your couch, chairs, and bed frames, consider an alternative option—donating. There are thousands of people in your community that are in need of what you have, so why not give back? Follow our guide to learn about the benefits of donating furniture, furniture donation centers, and best donation practices.
Why Donate Furniture?
From helping your community to tax incentives, here are some reasons why donating furniture is a win-win situation for both you and society.
1. Preserving the Environment
One perk that may not have crossed your mind is that donating furniture can help the environment. For example, when you give your used couch to a family in need, you extend the life of that couch and keep it from going to the landfill. This benefits the environment and reduces the amount of new resources needed for manufacturing furniture. It's a lot like recycling.
2. Giving Back to Your Community
When you think about donating, the first thing that probably comes to mind is helping your community. While there are many reasons why you should donate furniture, this one really tugs at the heartstrings. Your old, used furniture may no longer add value to your life, but to others in need, it could be life changing. Having the ability to give someone an item that can make such a huge impact is truly an invaluable gift.
3. Tax Write-Offs
Whether you're a business owner or homeowner, it's important to know that there are also financial advantages to donating furniture. Donations are tax-deductible and will benefit you at the end of the year. When you drop off your items or have them picked up, you should be provided with a tax receipt. Save and file this receipt for tax season and you will save some money!
Where to Donate Furniture?
Once you've decided to donate furniture, you need to figure out which organization you want to go through. There are hundreds of city-wide charities and nonprofits dedicated to the cause, so take some time to do research if you prefer to work with smaller organizations.
Another route you can choose is nation-wide furniture donation companies. These are big name organizations you've most likely heard of a few times before. To get a better idea, check out some of the top furniture donation centers.
With 3,200 stores nationwide, it's easy to find a Goodwill furniture donation center near you. This organization gives back to the community through job training, employment placement services, and other programs for those less fortunate. In addition, they have stores that sell new and used goods for affordable prices.
You can either drop off your furniture at one of their furniture donation centers or call to ask about pick-up services. The money they receive from selling your furniture will go directly to furthering their cause.
The Salvation Army is another huge organization with close to 1,500 Family Stores or thrift stores around the country. These stores are similar to Goodwill's in that they sell used items at low prices. All proceeds benefit the Salvation Army's Rehabilitation Centers that help thousands of people work through addiction problems and transition back into society.
Drop off and pick-up options are available when donating furniture.
If you aren't sure where to donate furniture in your area and would like a list instead of searching one by one, Donation Town is a great resource. Visit their website, enter in your zip code, and a comprehensive list of available charities in your area will pop up for you to browse. Once you choose your favorite organization, you can schedule a free donation pick up right at your house.
Are you looking to donate large pieces of furniture like dining tables and couches? Habitat for Humanity ReStore is one of the top charities to work with for these kinds of furniture donations.
As the name suggests, this furniture donation center is run by Habitat for Humanity. Its nonprofit stores use proceeds to help build homes and shelters around the world. Just like the other nationwide charities, Habitat for Humanity ReStore offers free pick up.
How to Best Prepare for Furniture Donation
Before you schedule your drop off or pick-up day, take preparatory steps to ensure the process runs smoothly without any unnecessary issues. Be as thorough as possible by following these guidelines.
Check Your Furniture's Condition
Most charities have standards when it comes to the quality of furniture they will accept for donation. Rather than hoping your stained couch or torn mattress will meet the requirements, it's important to check with your chosen organization to guarantee that you have the greenlight.
Assess your furniture pieces and take note of any and all imperfections (even if you think it's not bad) and make sure you address these blemishes before you move forward. Here are a couple questions to ask yourself when deciding if your furniture is good enough to donate:
Does it look good? Besides minor flaws, is it in decent condition?

Does it work? There's no point in donating broken furniture, so make sure recliners recline, couch springs work, and so on.
Know What Items Aren't Accepted
Even if you have the most pristine furniture to donate, it's always a good idea to research whether or not that item is accepted at specific charities. For example, mattresses and box springs aren't accepted at all organizations. The same goes for bed frames.
Call or go online and double check to get reassurance that your furniture donations are appropriate.
Do a Quick Clean Up
By no means do you need to spend hours fixing and cleaning your furniture, but as a courtesy, it's nice to do a quick once over. Wipe down and sanitize to remove any dirt or dust. If applicable, vacuum up debris in items such as couches and recliners.
Now that you know the why, where, and how of donating furniture, you're ready to make it happen and give back to the community! When you're ready to replace your old pieces, take a look at the most stylish collections on the market at Fusion Furniture.
The holiday season is over and sadly, it's time to pack away decorations until next year. From ornaments to festive home decor, it can be quite frustrating trying to find space to store everything. Follow along and discover clever Christmas storage ideas that not only save space, but keep your decorations neat and tidy!
Does your home have a spare room just waiting to be filled? If you have kids that own more toys and trinkets than you know what to do with, it may be worth the time and effort to invest in a playroom. Make your kids' dreams come true by creating a room for fun and creativity with these playroom design ideas!
Install a Wall Chalkboard
Tired of cleaning up your kids' wall drawings that shouldn't be there in the first place? Give them the creative outlet they've been craving with a wall chalkboard. You can easily create DIY chalkboard walls yourself or hire a professional to do the job for you. Whichever way you choose to do it, you and your little ones will love the finished product!
Include a Dress-Up Corner
Whether you're looking to design a boy playroom or girl playroom, you can't go wrong with including a dress-up corner. Let your kids' imaginations run wild by including a few decor items like a metal hanging rack, hooks, storage baskets, and of course, a mirror.
Watch them transform into their favorite characters from books or movies. To make the dress-up experience even more thrilling, think about creating a makeshift stage for their performances. With some lumber and basic carpentry skills, you can create a DIY stage on your own.
Add a Kid's Table
Beyond just playing with toys, a playroom can be used for other creative activities like crafts, card games, reading, and tea time. Incorporating a small table is a quick and easy playroom design idea that will pay off for years to come.
Consider buying a round one to avoid potential accidents with sharp corners. You can also size up a bit to account for growth spurts over time!
Hang a Ceiling Swing
Who says swings only belong outside? Bring the excitement of outdoor play inside your home with one or two ceiling swings that will undoubtedly be a hit with your little ones. This fun playroom idea comes in handy all year round, but especially during the cold winter months when the kids are cooped up in the house and need to release some energy.
Create a Nap Time Space
With hours of playtime comes tired little ones. If you don't mind moving nap time out of the bedroom every once in a while, try this fun playroom idea. Create a cool nap time space with a daybed or a bundle of blankets and pillows. Nestle it up in the corner of the room and maybe even hang a sign officially naming that spot the "Nap Time Zone."
Having a special place for napping in your kids' beloved new playroom might just pay off tenfold. Rather than fighting the idea of taking a nap, the kiddos may fall in love with it because they get to sleep in their favorite room of the house.
Save Room for a Reading Nook
One of the biggest playroom design ideas to remember is that the space can be used for more than just play. Your home's playroom can double as a classroom when you save one corner for a reading nook.
Create a learning environment that the kids are actually thrilled to be in by decorating the nook with fun books, pretty wall art, and comfy seating. If you have lots of space, you can add in a small table for the kids to work on school assignments.
Slip in a Small Slide
If you have little ones running around your house, chances are they would fall in love with an indoor slide. Add a small slide to your playroom for hours of giggles and entertainment. If you feel like going all out, you can include a ball pit at the bottom of the slide for another fun surprise.
Organize with Toy Cubbies
While it may be tempting to simply toss all of the toys into the playroom and call it a day, there are lots of storage options to keep the room more tidy and organized. Invest in toy cubbies to store all of your kiddos' favorite toys and avoid the pain of stepping on them when you walk in the door.
For an even cuter touch, personalize each toy cubby for every one of your kids by adding their name or initials. Not only will this make each of them feel special, it will also give them the chance to be responsible for putting their toys back into their designated spot.
Think Vertically
When you start brainstorming ways to design your kids' playroom, think vertically. You want them to have as much space as possible to play and placing everything on the floor clutters the room quite quickly. Whenever possible, use the walls for storage and decor. Floating shelves are a chic and simple solution for holding books, pictures, and other small toys.
Keep the most necessary items close to the ground for the kids to easily reach, while making use of tall and sleek furniture to house more decorative pieces.
No matter if you're creating a room for girls or boys, these playroom design ideas are exactly what you need for a touch of organization and a bunch of imaginative fun. In the case that you're expecting another bundle of joy in the near future, gather more DIY inspiration with the top 8 nursery trends for your little miracle.
As the days get shorter and winter temperatures chill the air, there's no better time to give your home a cozy makeover. While pricey renovations have their benefits, there are also simple and affordable interior design ideas that turn your space into a gorgeous winter retreat. Cuddle up in comfort and entertain in style by incorporating these winter decor ideas into every room of your home!
Snuggly Textiles
Nothing screams "winter home" more than luxurious textiles you can cuddle up in on a cold winter night. Start with the necessities like warm flannel sheets for your beds and then work your way to the accessories.
Knitted poufs and chunky cable-knits are a cozy interior design trend popular this season. You can easily incorporate it into your space by tossing throw blankets across your beds and couches. Take things a step further with a faux fur stool or faux fur blankets draped around your furnishings as well.
Once you've laid out your snuggly winter decor, don't forget about the floor. Adding rugs is another easy way to elevate your space and create a warm atmosphere. Opt for sheepskin or wool rugs that are a great addition to your bedroom. They feel heavenly on your feet and absorb the heat in your home. You can also place durable outdoor sisal rugs in high traffic areas because they're easy to clean and stylish!
Shimmery Mirrors
Transform your home from a dark winter cave to a bright, shimmery retreat by hanging mirrors throughout each room. You would be surprised how much light is reflected from a couple gold-gilded mirrors on the wall!
Not only are mirrors an eye-catching winter interior design trend, they are also a creative way to make your space feel more open and look more spacious.
Portable Fireplaces
Having a giant, built-in fireplace is the dream during snowy days at home, but it may not be the reality for you and your family. That's where portable fireplaces come into play. Bring the warmth of fire into your living room this season by investing in an affordable fireplace that matches your winter decor preferences. Choose from sleek and modern, traditional, stand alone, wall-mounted, and many other options to suit your interior design style.
One of the nicest features of these electric fireplaces is that you can change settings and control temperature right from your seat. Most come with remotes for your convenience. Place the electric fireplace up against your wall or closer to your sofas and enjoy a cozy night by the fire!
Illuminating Metallics
Just as mirrors work magic when it comes to bouncing and reflecting light, so do metallic winter decor items. Dress up your home with a wide variety of metallic accessories like lamps, wall art, sculptures, and even decorative candle holders. Along with providing illumination for your home, metallics in different finishes display a unique and beautiful design contrast that brings interest to your space!
Glowing Candlelight
The inviting scent of candles mixed with their warm glow make them an irresistible winter decor item wonderful for any home. Light up the shadows of your space and channel all of the cozy vibes of the season with candles of all shapes and sizes.
Go for traditional votive candles (the ones in glass containers) or spice it up a bit by using taper candles in crystal holders. Keep it seasonal with sweet and spicy aromas like cardamom, cinnamon, cloves, rosewood, and orange.
Warm Wood
If you're looking for other stylish and budget-friendly ideas on how to make your living room feel cozy, incorporating natural elements is always a good idea. Wood and winter go hand-in-hand, which is why it prevails as one of the most loved interior design trends.
Including wood elements inside your home helps to create a warming effect while acting as a natural insulator. Try a reclaimed wood art piece, wooden side table, or a simple basket with cut fire logs.
Cozy Lighting
Switching up your lighting is a simple and inexpensive idea for a cozy interior design during the chilly winter months. Sit back and relax in a soothing environment by upgrading your lighting with warm-light LED bulbs that produce much softer light. You can also add dimmer switches to existing outlets to control the brightness of lighting throughout the day.
Other creative winter interior design ideas for lighting include salt lamps, colored glass lamps, and lighter lamp shades made of paper or linen.
Giving your home a winter facelift is as easy and affordable as you need it to be with these winter decor solutions. Bundle up and enjoy the season in style and comfort by creating a space full of your favorite winter interior design trends that perfectly complement your taste! For more inspiration on how to lighten up your home during dark and gloomy days, check out how to brighten a dark room.
The jolliest time of the year is here and that means gift shopping, party planning, and best of all, decorating. With so many festive activities on the table, your bills can start to skyrocket through the roof. Save money this season by creating your own DIY holiday decor that brings just as much Christmas cheer to your home.
Grab some wood, tin cans, spray paint, and lots of hot glue for this creative holiday craft idea! Make your very own advent calendar in the shape of a Christmas tree and add all of the fun goodies you can think of into the 25 tin cans. Candy, gift cards, and other stocking stuffers make the perfect surprises for each day's gift unveiling.
As you go through the process of assembling the wood frame, think about the colors you want to incorporate. Stick with a classic snowy white or go all out with a multicolor pattern of red, green, and gold.
If you love DIY crafts and a charming vintage look, you'll absolutely fall in love with this wooden spools wreath. The supplies and instructions are as easy as it gets which makes it even better!
Gather up a hefty amount of wooden spools, wrap them in a colorful assortment of thread, ribbon, baker's twine, and rickrack and then hot glue them to a wreath form. Fashion on an elegant bow to hang the wreath and your simple holiday craft is complete.
Sometimes having a big Christmas tree in the living room just isn't enough festive cheer for the holidays. Sprinkle in an additional surprise with a tiny accent tree that fits practically anywhere in your home.
Venture to the outdoors and find any little tree branch on the ground to use for your DIY holiday decor. Once you find the perfect Charlie Brown tree branch, spray paint it white (or whichever color you fancy) and place it in a decorative glass vase or bottle.
The last step is decorating. Hang just a few mini ornaments on the branches and place a few candles next to the tree to round out the display. What a chic and easy Christmas decor idea!
Enjoy buckets of cheer this year with this quick, 10-minute holiday craft idea. Head to the store and get yourself a few galvanized buckets, chalk pens, greenery, vases for each bucket, and ribbon of your choice. Twinkling lights are a magical touch as well, but completely optional.
Fill each bucket with greenery, wrap with ribbon, and write out whatever message you like with the chalk pens. Cluster them on your porch or display them along your staircase and have a warm holiday greeting every time you come home!
Decorating with glowing lanterns is a fun way to get into the holiday spirit and you can make your own right at home! This particular holiday craft idea uses hanging lanterns, but you can always display your lanterns on your kitchen counters and tables instead.
LED string lights, spray paint, mason jars, tree trimmings, circle stickers, heavy-duty yarn, and floral wire are the main supplies you'll need to make these lanterns come to life. If you do choose to hang them, consider your porch or backyard patio to light up the night.
Have tons of ornaments left over after decorating your Christmas tree? Put them to use with this festive lantern display. All you need is a lantern set (the bigger, the better), ornaments, ribbon, and decorative greenery.
Place the ornaments inside each lantern, filling them up about half way. Then, give a little love to the outside by tying a bow of ribbon on the top of the lantern with some greenery to boot. This is such a simple holiday craft, but the finished product looks like something you'd buy straight from the store.
Garlands are a traditional Christmas decor idea that blend in well no matter what your taste is. Take a couple hours out of your weekend to fashion a personalized garland to place around your doorway, along your staircase, or across your mantle.
While the accessories are totally up to you, start with fresh cedar and grapevine twigs and use green metal wire to bundle them together. Add in pine cones and bright red berries for that festive touch of color and prepare to impress guests with a beautiful presentation that smells amazing too!
Take your centerpieces to the next level this Christmas season with this warm and cozy holiday craft idea! Skip the usual flower centerpiece and try out this birch-themed design.
A handful of birch stumps from your local craft store, candles, a table runner, and mini decorative trees are the essentials you need to complete this display. Glass figurines of deer are a magical touch too, but won't make or break the centerpiece. Keep in mind a color theme like gold and white or blue and silver when you purchase all of your supplies.
Once you're done shopping, simply arrange all of the items into a cohesive presentation on your dining table to show off to guests during holiday parties.
Decorating the house is a great way to get you and your family into the holiday spirit, so why not craft up your own designs while you're at it? Save money and create precious DIY holiday decor with these simple and sweet projects. For more Christmas creativity, read through 7 holiday decorating ideas for your home.
If you love learning new trades, saving money, and home decorating, it's time you pick up a new hobby and test your creativity with woodworking! The art of woodworking combines craftsmanship, style, and functionality to create personalized items for decoration and use. Keep yourself busy at home by trying your hand at these DIY woodworking projects perfect for all skill levels.
Indoor DIY Woodworking Projects
Time: 1 hr or less | Skill Level: Beginner | Cost: $20-50
Tired of soaked bathroom mats after you hop out of the shower? Opt for this cedar bath mat instead and make it yourself with just three easy steps. Keep in mind that this particular DIY woodworking project uses cedar for its style and rot resistance, but you can use any wood that matches your preferences
Time: Multiple days | Skill Level: Intermediate | Cost: $100-250
Whether you have kids constantly tracking in dirt or struggle to keep bags and backpacks organized, these mudroom cabinets are a heavensend! With lots of space and customizable design plans, you can create unique lockers to store everything from boots, coats, umbrellas, and more. Use plywood instead of stained wood to save extra money and apply a fresh coat of paint to bring some color to your home.
Time: Few hours | Skill Level: Beginner | Cost: $100-250
Floating shelves are one of the hottest design trends right now and for good reason! They complement your walls and provide much needed storage space off the floor. Rather than purchasing them from a store, take on this practical woodworking project and make them in just a few hours.
While this project may not save you money in the long run, it gives you the freedom to create shelves that meet all of your requirements. Choose the exact size, thickness, and style you want, and finish them to match your home's furnishings.
Time: Full day | Skill Level: Intermediate | Cost: Free
Choose from pallets made of pine, oak, poplar, or maple for this practical woodworking project. Side tables aren't cheap when you buy new, so this project definitely gives you the chance to save a pretty penny as you hone your skills in lumber preparation and simple joinery. This square-shaped, modern side table is a great furniture piece for your living room table lamp or decorative houseplants.
Time: Few hours | Skill Level: Intermediate | Cost: $45 plus lumber
Need decor for your living room coffee table? This industrial-style serving tray is a stylish and functional DIY woodworking project that will garner many compliments from your guests! With some dark barnwood and black iron handles, you can create a vintage decor piece that doubles as the perfect tray for breakfast in bed.
If you use reclaimed wood for your rustic look, make sure to inspect the wood prior to starting. Check for nails and rot to ensure it is sound throughout.
Time: Full day | Skill Level: Advanced | Cost: $50-100
Complete your entryway with a mid-century modern platform bench by trying this practical woodworking project. What makes this bench especially exciting is that its design is based on George Nelson's iconic bench made in 1946. Rather than seeing it in museums across the country or buying pricey imitations online, create your very own replica!
Outdoor DIY Woodworking Projects
Time: Multiple days | Skill Level: Intermediate | Cost: $100-500
Get your home ready for beautiful spring weather with this garden arbor! Complete with a swing as well, this DIY woodworking project is much easier to assemble than it may seem at first glance. For this specific project, the swing is store bought, leaving just the arbor as your main piece of work. If you can handle a saw and drive screws, you should be able to get this backyard seating up and running in just a couple days.
Time: Multiple days | Skill Level: Beginner | Cost: $100-250
Transform your patio into a comfy entertaining area for family and friends by crafting up this relaxing patio set. The wonderful part about this practical woodworking project is that it can literally blend into any backyard. All you need to do is adjust the measurements of the sofa and chair to make them smaller or larger for your space.
Another convenient feature of this patio furniture is the wide arms that double as end tables for drinks and food. Kick back on your outdoor sofa and enjoy a peaceful dinner at sunset.
Time: Multiple days | Skill Level: Intermediate | Cost: $100-400
Not every backyard has room for a large shed, which is why this small garden closet is such a necessity for homes with limited space. Have a durable and convenient spot to place all of your yard tools and supplies by spending a couple of weekends on this DIY woodworking project. Attach it to the back or side of your house for discreet storage and save about $75 by using treated lumber, pine, and asphalt shingles instead of cedar.
Time: Multiple days | Skill Level: Intermediate | Cost: $100-250
Are you a fan of Craftsman-style furniture? If so, this pedestal picnic table is the ideal design for you! Great for dinner parties, morning mimosas, or a game of cards, this picnic table's assembly is strong and simple with a long-threaded rod rather than complex dowels or joints. Plus, no one will ever need to complain about a table leg in their way when they sit. The pedestal feature is streamlined and optimal for comfortable seating.
Time: Multiple days | Skill Level: Intermediate | Cost: $500-1000
Ask for a helping hand from a friend or family member and finish off your backyard with a ground-level deck. This practical woodworking project may be higher in cost, but it's maintenance-free, easy to build, and a unique addition to display patio furniture. It's also a creative way to cover up the less appealing parts of your lawn!
Time: Multiple days | Skill Level: Intermediate | Cost: Varies
If you've ever owned an outdoor umbrella, you know the struggle of trying to keep it (and its holder) stable during blustery days. Luckily, you can put that problem behind you with this petite but sturdy umbrella table! With a distinct, tapered design, this DIY woodworking project is stylish, functional, and perfect for poolside lounging.
Grab your plywood, No. 2 cedar, and knot-free cedar to get things started. Keep in mind that experience with pocket screws and miter saws is preferred for a smooth and quick building process.
There's a lot of work that goes into making your house a home, and you can get first-hand experience in the process by mastering the art of woodworking. Customize your home furnishings with these DIY woodworking projects and enjoy learning a new hobby along the way! If you're looking for more ideas on how to decorate your home on a budget, check out 15 ways to decorate with what you have.
Painting is one of the most basic ways to renovate and refresh your home, but it can actually be the trickiest if you aren't knowledgeable about technique and preparation. Before you begin the process of painting your home, check out these interior house painting tips to ensure a flawless finished product!
Step 1: Plan Your Approach
As with any home renovation, it's most important to have a set plan before you begin. Follow these tips for a successful approach to painting your home.
Choose Your Paint Color
With hundreds of shades to choose from, it can be hard to decide what color you want for painting your home. A good strategy is to think of the big picture and slowly narrow down the options as you go. First, decide whether you want a cool, warm, or neutral shade. Consider your room's furnishings and decor to make sure the color complements the space. Once you have a better idea, pick a few shades that stand out to you.
Don't be afraid to try samples as well. Paint small swatches on your walls to give you an idea of what you like most. And remember that accent walls are a great way to bring contrast and interest to your room!
Step 2: Gather All of Your Supplies
While this step may seem obvious, it's always nice to have a checklist to follow when you're out shopping for your painting supplies. Here are the main items you'll need:
Paint

Paint roller

Paint roller extension pole

Drop cloths

Paintbrushes

Paint tray

Sandpaper

Painter's tape

Rags

Putty knife
Step 3: Prep Your Space
Remove All Furniture
After you've chosen your paint color, it's time to prep your space. Begin by removing all of the furniture and fixtures you can to open up the room and give yourself plenty of working space. If you leave some furnishings in the room, make sure to cover them properly to avoid any paint stains.
As you clear out furniture, inspect each room and look for proper ventilation outlets to use as you paint.
Make Necessary Repairs
Nail holes and daily wear and tear are just a couple of reasons why repairs are necessary before painting your home. Inspect all of the walls and ceilings for cracks, holes, dents, and other flaws. Use caulk or a lightweight spackling substance with a putty knife to fill and repair as you see fit.
Make sure you let the repairs dry completely before moving to the next step. If you notice any bulges or rough spots, use fine sandpaper to smooth out those areas and make them flush with the wall.
Clean the Walls
You'd be surprised how dirty your walls can get with dust and spiderwebs. That's why it's super critical to wipe all of the surfaces clean with a damp towel or sponge and leave them to dry.
Apply Painters Tape
Perhaps one of the most important interior house painting tips is to use quality painter's tape. Unless you have the steady hands of a surgeon and the talent of Michelangelo, this is going to be your savior when it comes to clean lines and a neat paint job. Use this tape to mask off your moldings, windows, and doors. Here are a few pro tips:
Always press the painter's tape down flat and even to prevent bleed-through

Choose the right tape for your wall—some are best for textured or delicate walls

For accent walls, mask the inside edge from the rest of the room
Put Down Drop Cloths
If you've painted before, you know that it's impossible to get the job done without creating at least some mess. Keep your floors protected from spills and splatters by putting down drop cloths across the room. You can even put them down near the entryway where you may be walking in and out.
Take note of the different kinds of drop cloths and what they are best used for:
Canvas drop cloths are extremely durable and absorbent, so they can be reused.

Plastic drop cloths are durable and less expensive but not absorbent, so spills are more likely to be tracked if stepped on.

Paper is the most economical but can tear easily on floors. It is better for covering light fixtures, cabinets, and furniture.
Step 4: Prime and Paint the Ceiling
Prime the Ceiling First
An interior house painting tip you may not know is that you should always start with the ceiling first, then tackle your walls last. While it's tempting to jump right into painting with your chosen color, it's crucial to use primer in certain situations. Not sure when primer is necessary? If your walls or ceilings fall under these categories, you need primer:
The surface is porous

The drywall is skim-coated

The previous coat is glossy

The paint colors are changing from dark to light

The surface is stained
If you don't feel like spending extra money and time on a separate coat of primer, keep in mind that some brands offer paint and primer in one!
Paint the Ceiling 
Once the primer has fully dried, you're ready to paint! The best way to paint a ceiling is to use a paint roller and work in grid-like sections of 3×5 feet each. This method helps to keep edges wet and allows you to see your progress to guarantee an even coat. Here are some additional tips to ensure a perfect finished product.
For smooth ceilings, use a low nap roller. For a textured ceiling, use a roller with 1/2-inch or 3/4-inch nap.

Consistently use your paint tray to coat the roller with ceiling paint and remember to roll slowly.

Begin rolling when the paint cut line is still wet.

Start in a corner and roll in overlapping rows.

Do not roll directly over your head.

Slightly vary the direction of your rolling because straight lines can show overlap marks.
Step 5: Prime Your Walls
Follow a similar process to prime your walls just as you did your ceiling. Either use a separate primer or purchase a paint and primer combo to knock it all out at once.
As you begin painting your home with primer, use a paint brush to create 2-3 inch bands around the edges, corners, and frames of your room (this is also called "cutting in"). Next, grab your roller and paint the walls in 3×3 foot sections, remembering to work top to bottom. Roll back and forth across the wall in a series of V or W-shaped strokes. Always overlap areas of wet primer.
Step 6: Sand the Primer
While this step isn't mandatory for painting like a pro, it's a thorough method that eliminates any imperfections on your walls. After the primer dries, simply sand away bumps and ridges using fine grit sandpaper folded into quarters. When one section of sandpaper becomes covered with dust, switch to a fresh section and continue.
After you're done, wipe the wall clean with a damp towel and let it dry. Now you're ready for the paint!
Step 7: Paint Your Walls
A basic interior house painting tip experts always follow is painting walls one at a time. This will give your walls a smoother look by blending wet paint you've brushed on with wet paint you're rolling.
Make sure you follow the same method you did with your ceilings and use a paint brush to create 2-3 inch bands around the edges of your room. Use V or W-shaped strokes as well. To give you further guidance, take a look at these extra tips for painting your walls:
Before reloading your roller and moving to the next section, roll over the area you've just painted in a smooth, continuous stroke from top to bottom. These smoothing strokes help cover up lines and tracks and even out your coats.

Periodically remix your paint using a mixing stick. You should do this any time you leave your paint sitting for an extended period of time.

Wait 2-4 hours for the first coat to dry before applying a second coat. Follow the exact same process and techniques used when priming your walls.
Step 8: Clean Up
Once you've finished painting, your work is essentially done! The only task left is the clean up. Remove your painter's tape before or right after the paint completely dries. It's important to stay within this time frame because if left on for too long, the tape can tear and leave residue when removed.
Tightly seal remaining paint cans, thoroughly clean brushes and rollers with soapy water, remove drop cloths, and put your furniture back in place.
Painting your home is a fun and affordable way to freshen up your space and bring new pops of color into your rooms. The next time you feel like trying a DIY paint project, follow these steps and interior house painting tips to ensure a beautiful finished product you're proud of! For more guidance on DIY projects, read through these 6 home renovation tips that'll make the process easier.