6 Seating Arrangements to Try in Your Living Room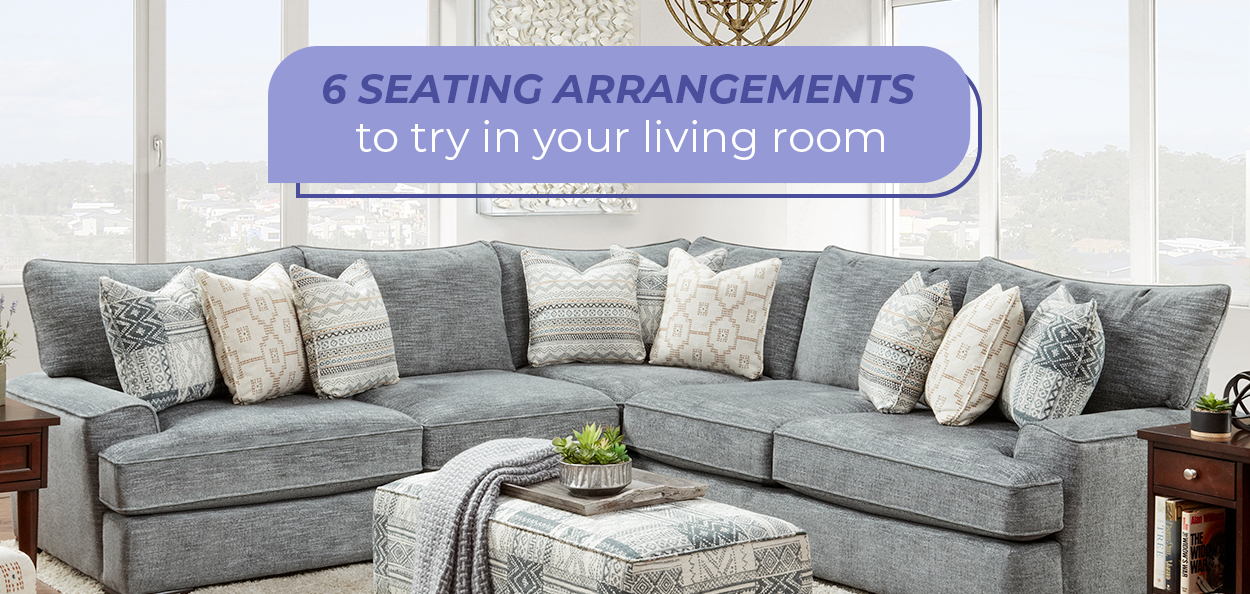 Do you find yourself scratching your head as you try to decide on the best living room seating arrangement for your home? With so many considerations like the size of your living room and the main function of the space, it's completely normal to feel a little overwhelmed. Make the choice much easier by exploring the most common family room layout ideas to see which ones are best for your decor needs!
Living Room Seating Arrangements
1. Think Circular
If you're a fan of living room seating with chairs rather than sofas, the circular layout might be best for you. This arrangement is just as it sounds—seating arranged in a circular fashion. You'll usually find that a round coffee table and rug can help ground the arrangement as well.
Unlike some other layouts, the circular layout is very versatile and has two functions. Because of its intimate nature, the circular layout can not only encourage conversation and interaction, it can also foster a calm, relaxing space meant for privacy.
While armchairs like Fusion's Bates Nickle are the most ideal, you can create this arrangement with a curved sofa as well. If you need flexibility in your living space, the circular layout is the way to go because you can easily rearrange three or four chairs to prepare for your next dinner party or book club gathering.
2. Try Symmetrical & Parallel
For a classic approach to living room seating, try a symmetrical, parallel-style arrangement. This arrangement is characterized by perfectly mirrored groupings. Most often, you see two opposing sofas separated by a coffee table. However, you can create the same look with paired armchairs or chaises.
A symmetrical parallel living room layout is best if you want your space to feel more formal and dignified. If you love traditional-style homes and formal entertaining, you'll fall in love with this seating idea. 
Despite being asymmetrical, this living room seating arrangement is well-balanced and refined. It does have the potential to be slightly less formal, especially if you choose to include more casual furniture.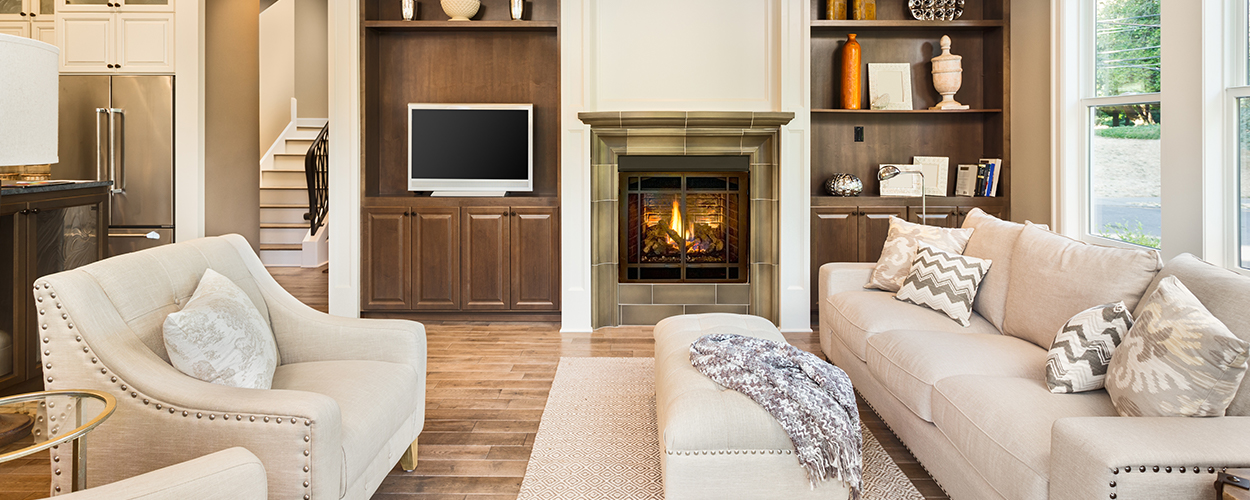 3. Don't Forget Asymmetrical & Parallel
An asymmetrical parallel living room is similar to its symmetrical counterpart, but it does have one key distinction. The opposing furniture pieces are different (asymmetrical) rather than being a mirror image (symmetrical). It's a good idea to use this particular arrangement in living rooms where extra pathways are important. It's much easier to work your way around two armchairs than one large sofa, for example. 
4. Make It Boxy
It might not be the most common living room seating arrangement, but the box-shaped layout is definitely a worthy option to consider. This arrangement provides a focus in your living room by turning conversation inward and creating a well-defined space for relaxing and entertaining. That's why box-shaped layouts work so well for rooms without a focal point—the arrangement becomes the focal point.
When you choose this family room layout idea for your home, make sure you factor in the kind of furniture you plan to use. Box-shaped layouts look stunning with cohesive furniture collections that have similar colors, fabrics, and textures. A coffee table is essential as well.
5. Go for an L-Shape
Right angles are what it's all about when it comes to L-shaped layouts. Whether you choose to include a single chair at one end of your sofa, use two sofas butted together, or keep it simple with an L-shaped sectional, the result is a casual arrangement perfect for relaxed conversation. 
This living room seating arrangement is great for small rooms and corners because it doesn't take up very much space. It also comes in handy for open floor plan homes too. The back of the sofa can be used to divide your space into two zones. A living room and dining room combo is just one example.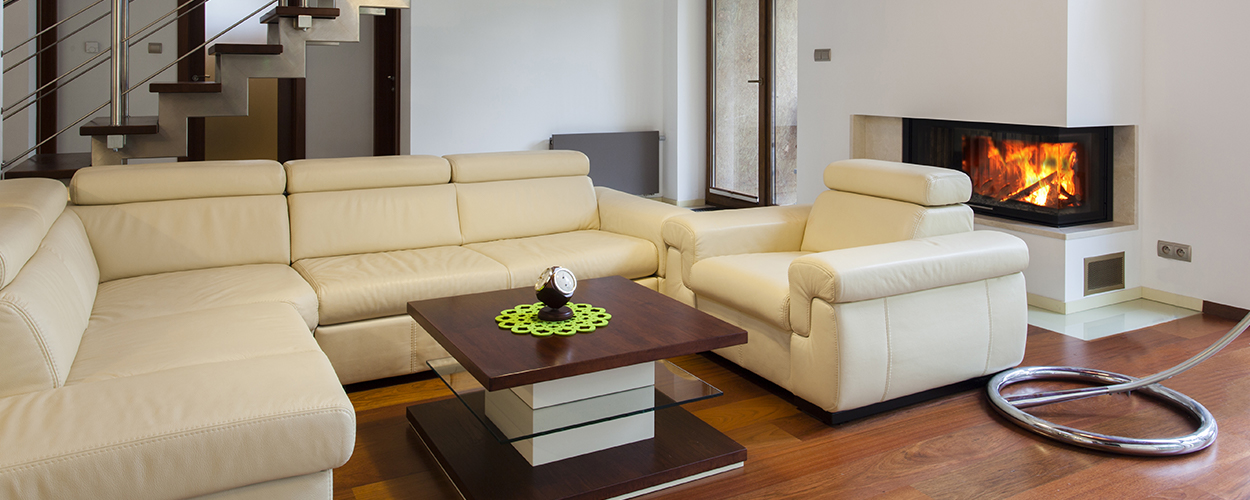 6. Opt for U-Shaped
Need ways to fill up space in a large living room? The U-shaped arrangement is just what you need. A variety of individual furniture pieces can achieve this layout. Here are a few ideas to try:
U-shaped living room seating is extremely comfortable and ideal for large parties because it facilitates conversation and offers lots of seating for guests.
Tips for Creating the Ideal Living Room Arrangement
Focus on the View
One of the most important factors to consider when arranging your living room furniture is the focal point of the space. A focal point can be any standout feature in the room like a fireplace, bay window, or large art piece. As you choose your family room layout idea, make sure you orient the main furniture piece towards your space's focal point and arrange the secondary pieces around that.
Be Strategic with Rugs
Area rugs are a stylish way to accent your living room furniture and they also help to unify seating groups. If you decide to incorporate a rug into your living room, it's essential that all furniture pieces fit on top of it. If you have a rug that doesn't quite hold the entire furniture arrangement, try to at least fit the front legs of all pieces on the rug.
Float Your Furniture
Fight against the urge to push furniture up against walls in small living rooms. While it may seem like the best solution, it actually creates an awkward space in the middle of the room and accentuates the small square footage. As an alternative, bring your furniture out towards the center of the room to create a more open, welcoming atmosphere.
Now that you know more about the most common family room layout ideas, take a look at Fusion Furniture's collections to start furnishing your space!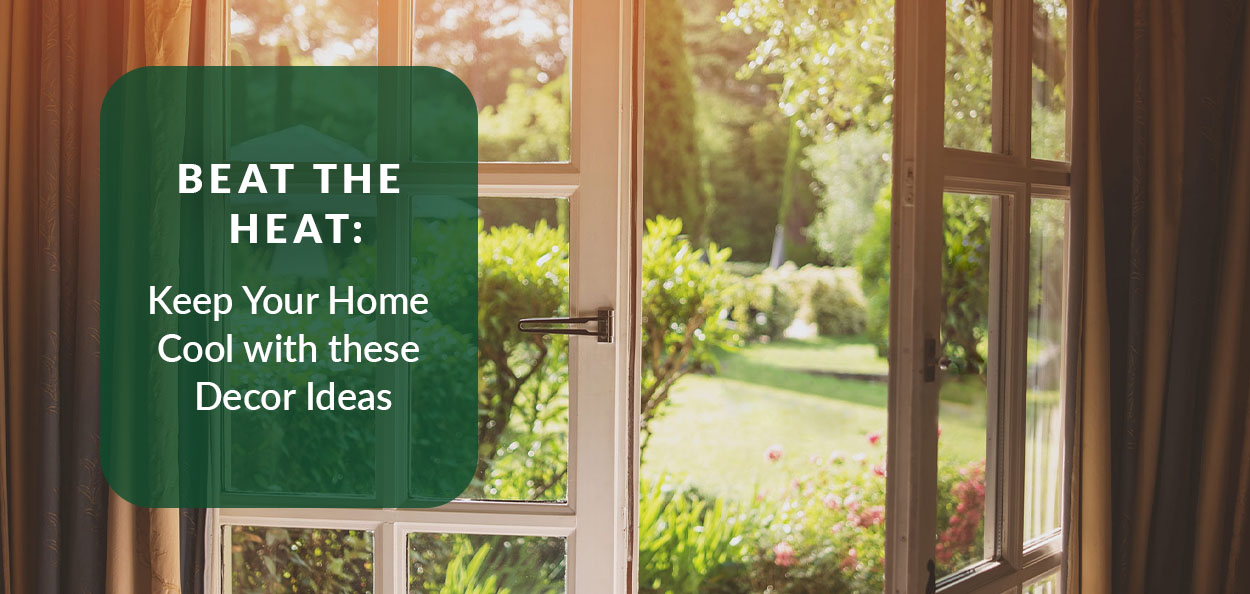 The summer season is full of sunny weather and exciting outdoor activities, but with all of that comes some serious heat! Rather than blast your AC all day long to escape the scorching temperatures, learn how to keep your home cool with energy-efficient interior design ideas that are much better for your budget!
Cool Summer Decorations for Your Home
Add Decorative Window Shades
Your windows are the main source of heat during summer days, so it only makes sense that you'd start there when thinking about energy-efficient interior design. Prevent harsh sunlight from heating up your home by investing in window coverings.
While all curtains, drapes, or blinds are helpful in blocking sunlight, there are specialized window coverings made for the sole purpose of keeping your house cool in extreme heat. To see major improvements, explore insulated curtains (blackout curtains) that have a dense weave and high thread count or a synthetic thermal backing.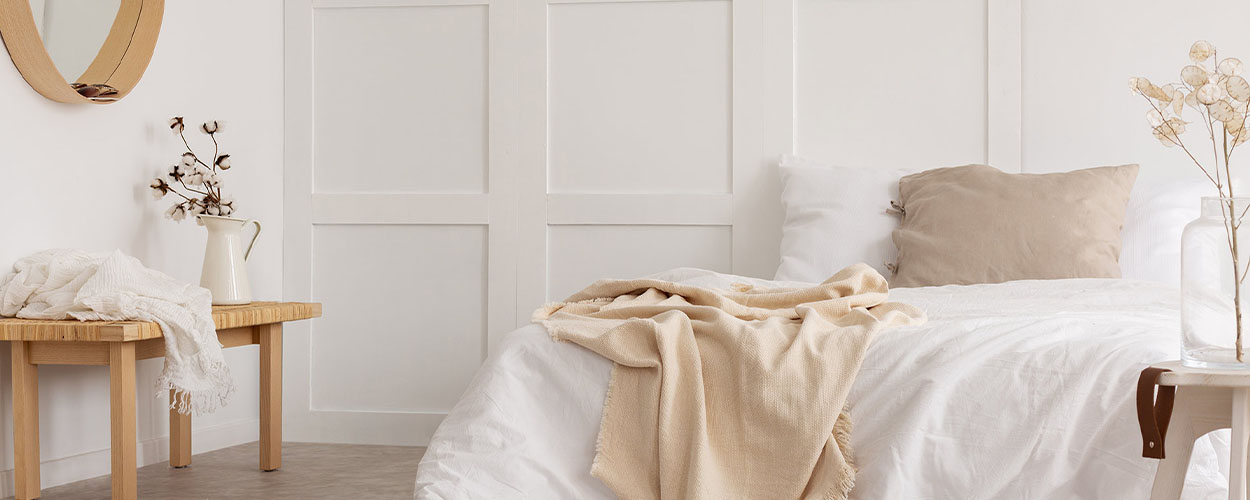 Switch to Seasonal Bedding
While down comforters and flannel sheets are cozy during winter nights, they're absolutely stifling during the summer months. Pack away the plush material and replace it with bedding that's light and breezy. 
Natural linen fabrics like cotton and bamboo are ideal for hot weather because they wick moisture away from your body and keep you cool. You can also buy pillows with synthetic filling that are known to be more breathable.
As you swap out your blankets, pillowcases, and sheets, keep in mind color as well. Opt for light shades that reflect sunlight and heat, rather than absorb it.
Use Light Paint Colors
Just as light-colored bedding is an energy-efficient interior design hack for summer, so is light-colored paint. If your home has quite a few dark walls, especially in rooms with lots of natural light, you may want to consider repainting. 
Light beige, white, and pastels are great shades that work to reflect sunlight. 
Update Your Rugs
One of the most cost effective ways to cool your house is right below your feet—your rugs! Say goodbye to thick, shag rugs and hello to light, summertime rugs. For the best cooling results, choose wisely with carpets and rugs made from natural materials like cotton, bamboo, and wool. Wool floor decor is ideal for humid areas because it can absorb up to 30 percent its weight in moisture without feeling damp.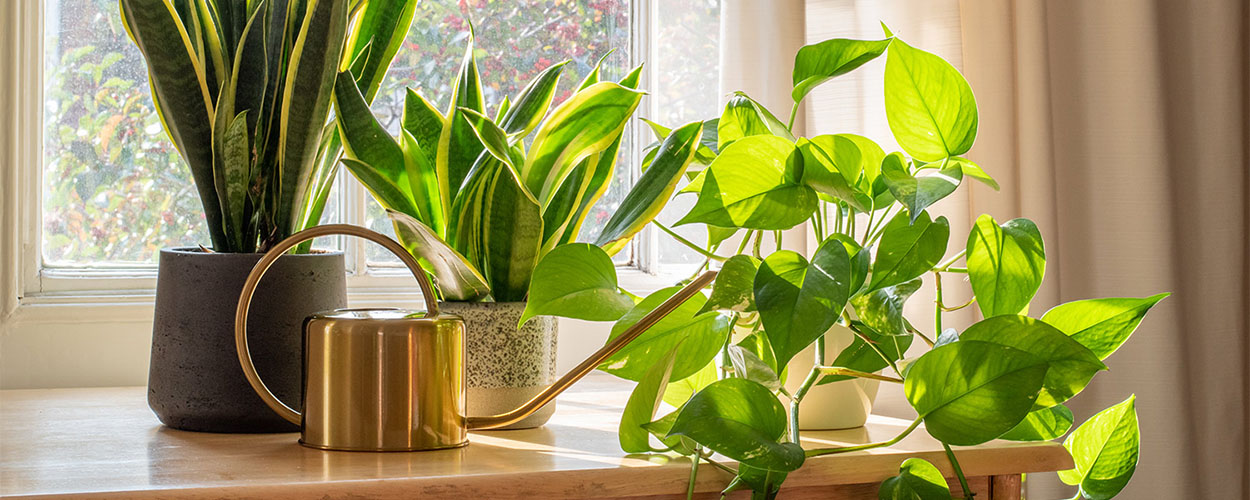 Freshen Up with Houseplants
Houseplants are not only gorgeous summer decorations for your home, they actually serve a more practical purpose too. Head to your local garden center and pick out a handful of houseplants that thrive in direct sunlight. Place those plants in front of your windows and they'll help to create shade! The more full they are, the better. 
Another perk to investing in summer houseplants is that the soil humidifies the air. If you live in an extremely dry climate, humidifying the air can reduce allergy and cold symptoms, as well as make your home feel much more comfortable!
Try LED Bulbs
Did you know incandescent lighting runs much hotter than the other lighting alternatives on the market? While it may seem like an insignificant amount of heat, your home's lighting does affect the overall temperature of your space. 
Take a few minutes to go through each lamp and light fixture to replace them with LED bulbs that run much cooler. If you'd rather not replace all of your lighting, focus on high traffic areas in your home where you find yourself relaxing the most. Your living room is a prime example.
Incorporate Fans When You Can
It's time to break out the fans for summer! Whether you have a ceiling fan, pedestal fan, or both, you're already ahead of the game for keeping your house cool in extreme heat. Fans may not diffuse humidity in the air, but their breeze certainly will make you feel much more refreshed than if you didn't have them.
If you're using ceiling fans within your energy-efficient interior design, make sure to adjust the rotation to counter-clockwise. This will pull your home's hot air up to the ceiling and away from everyone seated down below.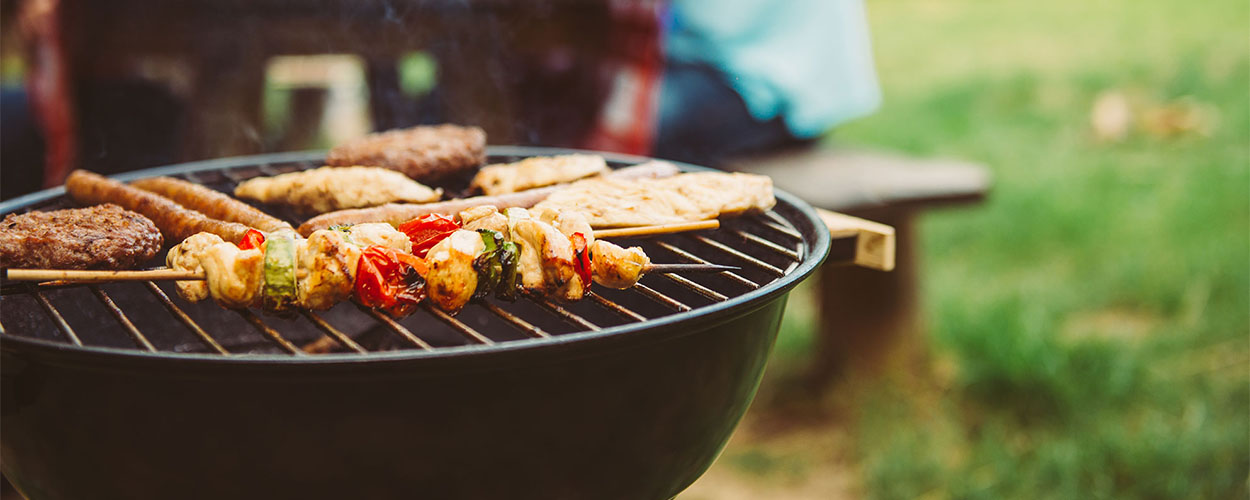 Practical Tips for a Cool Summer Home
Grill, Don't Bake
You've probably already noticed that cooking during the summer is quite a challenge because it makes your home stuffy and hotter than usual. Be strategic with your cooking methods by grilling outside as much as possible instead of using your oven or stove. You still get delicious food and can enjoy a meal at the dining table without sweating!
Insulate Windows and Doors
On the list of how to keep your home cool, proper insulation is at the very top. Your windows and doors are the main gateways between your home's interior and the outside world. If they aren't insulated very well, they will let heat into your home, as well as let cool air out. 
Give your windows and doors a thorough inspection to make sure they are efficiently blocking the summer heat. Weather stripping, double or triple pane windows, and shutters are just a few ways to improve the efficiency of your home's insulation.
Close Off Unused Rooms
The more doors you have open, the more space there is for cool air to distribute across your home. Work strategically to keep your home cool by closing off rooms you don't use throughout the day. At night, take advantage of colder temperatures by letting the fresh air naturally flow through your space.
Once you've taken the steps to cool down your home's interior, splash into summer with these stylish patio ideas perfect for any backyard!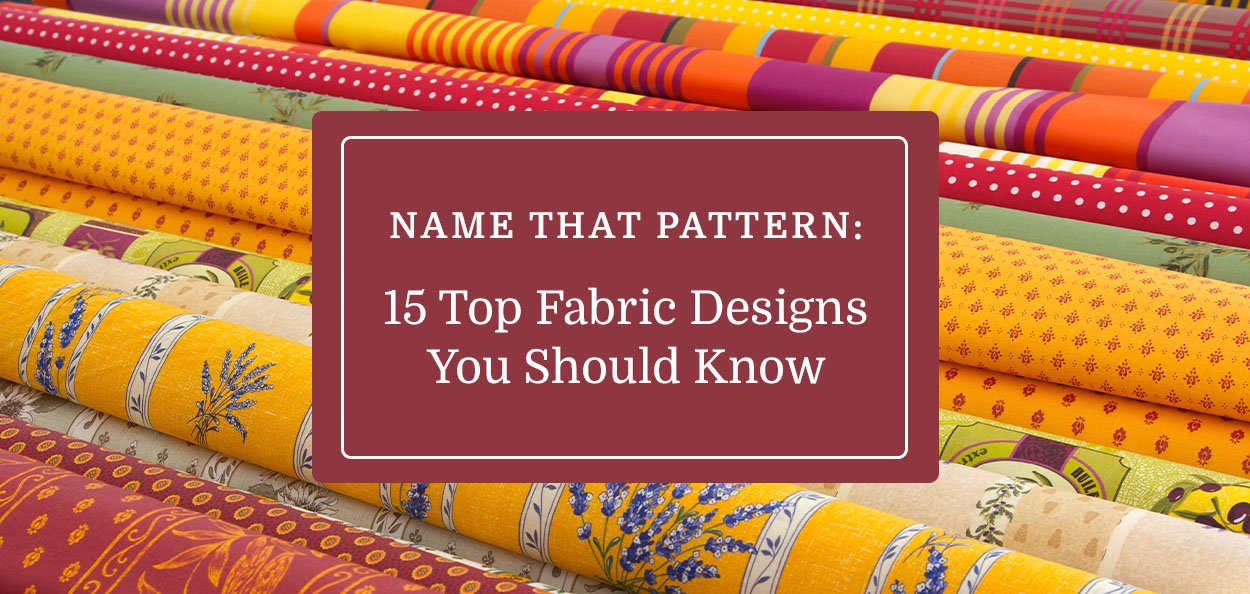 It's one thing to look at furniture and love the fabric, but it's a whole other challenge to know the name of that gorgeous design that makes the fabric stand out. If you have ever found yourself struggling to name the upholstery pattern on your throw pillows or accent chair, it's time to reference our guide! From more common pattern names like polka dot to unique designs like Moroccan lattice, here are the top 15 upholstery patterns you should know.
1. Trellis
Need a sophisticated look for your drapery? Trellis is a modern, yet classic upholstery pattern that's formed with interlocking lines that resemble a fence or trellis. There are multiple variations to trellis, but one common theme is that the design is usually limited to only two colors. This design is best for accent decor like throw blankets or curtains.
2. Tartan
The easiest way to remember what a tartan pattern looks like is to think of a traditional Scottish print. The tartan pattern is formed with stripes of different widths and colors duplicated on both the vertical and horizontal axis. While it may look like plaid, tartan got its own name for a reason. The duplication of stripes on both axes is the key feature that distinguishes tartan from your ordinary plaid pattern. This upholstery design is ideal during fall and winter for a warm and cozy touch.
3. Paisley
Add a touch of retro vibes to your home with paisley, one of the most well-known fabric pattern names on the market. Paisley's teardrop-shaped, intricate design originally came to fame in Europe but managed to make its way into American fashion in the 60s and 70s. Paisley is known to have a colorful design which is great if you're looking for a statement piece like an accent chair in your living room.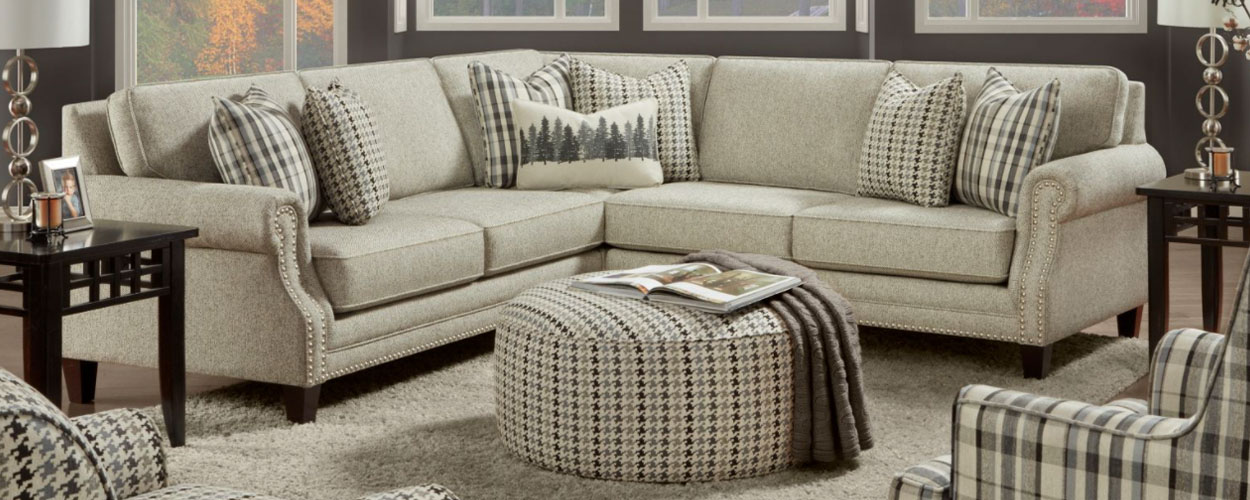 4. Houndstooth
Want to know how this common fabric pattern got its name? Houndstooth closely resembles a checkered design with irregular, abstract points on the corners of the squares, which some say look like a dog's teeth. While the description may not sound so elegant, the houndstooth design has earned a reputation for being quite classy. This design is usually in black and white or any other combination of neutral colors. It's perfect for contemporary and eclectic rooms.
5. Moroccan Lattice
Moroccan lattice is one of the more unique fabric pattern names within the decorating world, but it's definitely one upholstery design you'll recognize. Similar to the trellis design, Moroccan lattice is a grid-like pattern formed by interlocking lines. Its most identifiable feature is its four sides—two round and two pointed. 
6. Herringbone
In a nutshell, the herringbone design is a zigzag pattern with breaks between the zigs and the zags. It's often compared to chevron, another upholstery pattern, but is typically much thinner in its lines. Herringbone got its name, in part, because its zigzag pattern looks like a fish skeleton! 
7. Polka Dot
You probably don't need a description for this common pattern name, but it sure does make the list for most popular fabric designs! While the name is well-known, you may not realize that a true polka dot pattern consists of evenly sized and spaced dots. Polka dots are extremely versatile and can be used for a variety of interior design tastes.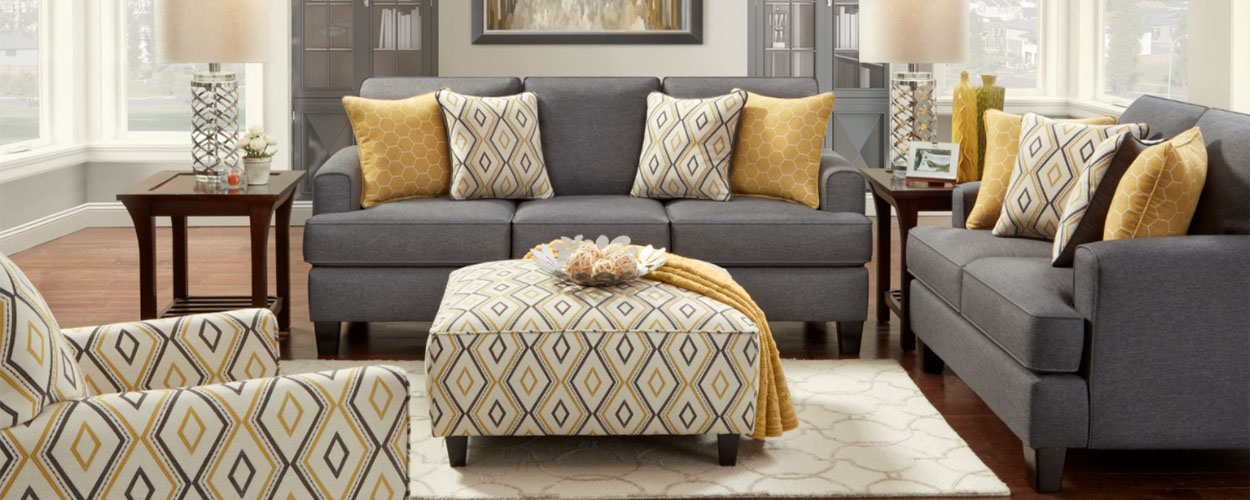 8. Geometric
Think back to your school days for this common pattern name! Geometric fabric designs encompass any geometric shape like circles, squares, triangles, or ovals. The patterns can be symmetrical or irregular and abstract. Geometric fabric designs are versatile, but are especially stunning in contemporary and mid-century modern homes.
9. Stripes
Just as polka dots are universally known, stripes are as well. This is one of the most basic upholstery designs, which is probably why it never goes out of style! Before you consider yourself an expert on striped patterning, ask yourself if you know some of the variations of this pattern.
Awning stripes are broad stripes, sometimes separated by thin bands, while barcode stripes are stripes of varying width.
10. Harlequin
Harlequin is much like that of a checked pattern, but with diamonds instead. Usually, there is a small dot where the points of diamonds meet for an added touch of flair. This upholstery pattern is found in a wide range of colors which makes it ideal for almost any space. Choose a vibrant variation with lots of different shades or opt for a simple two-color palette.
11. Gingham
If you're a fan of good ole' fashioned country decor, you must know the gingham pattern above anything else! This classic country design is made with white and an additional color that's woven into a checkerboard pattern. Unlike a traditional checkered pattern, gingham has intermediate squares where white lightens the intensity of the contrasting color by half.
12. Floral
There's not much guessing involved when it comes to floral patterns because they're just as the name suggests—full of flowers! Floral patterns aren't limited to one variation like some of the other common upholstery patterns. Instead, there are countless floral patterns that range from tiny to large-scale, realistic to abstract, and colorful to monochromatic. If you're looking for a simple way to spruce up your cottage decor style, make sure to include this design!
13. Flame Stitch
Hop in a time machine and get ready for retro vibes with the nostalgic flame stitch design! Back in the 1970s, your home was considered groovy if you had flame stitch upholstery. This pattern is made of a closely spaced series of flame-like, jagged lines. Flame stitch's zigs and zags are usually thin and can vary in height.
14. Chinoiserie
Chinoiserie designs get their inspiration from Chinese and other east Asian artistic traditions. Colors and fabrics vary quite a bit, as well as the depictions. Birds, children, fishermen, and florals are a few of the main themes you'll see woven into chinoiserie patterns. Traditional-style homes and Asian-style decor are heavily influenced by chinoiserie design.
15. Chevron
It's all about zigzagging stripes when it comes to chevron. Normally, the chevron pattern has two alternating colors with one of them being white. This upholstery pattern is fun and energetic, so be sure to include it if you're looking for some interior design pizazz!
While there are hundreds of fabric designs out there, you're off to a great start by knowing these top 15 by heart! Once you become an expert on common upholstery patterns, test your knowledge by guessing which designs are used within our Fusion collections!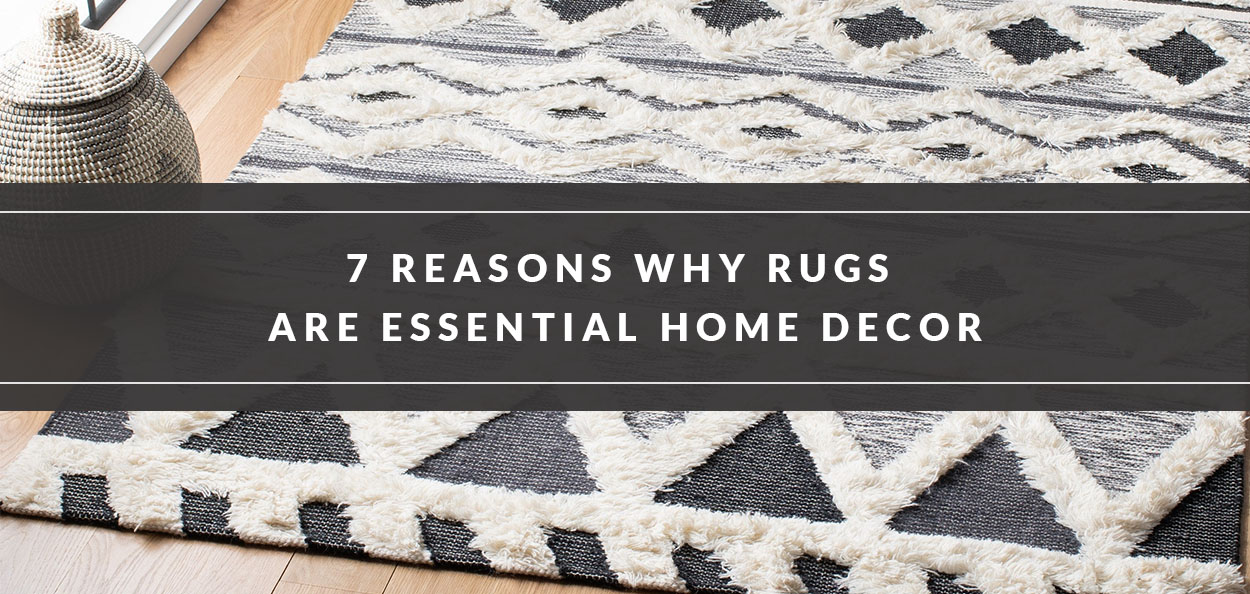 At first thought, home decor rugs may seem like a fairly insignificant accent to include in your home—the reality is quite opposite. In fact, there are multiple benefits of rugs that not only enhance the look of your home, but also serve as practical solutions as well. From advantages to tips on how to incorporate them in your space, here's a crash course on decor rugs!
Benefits of Rugs
1. Talk About Comfy
Does your space have all wood or tile floors? Walking around on such hard surfaces can be a little uncomfortable and cold. Quickly transform your floors from dull to luxurious with the addition of soft rugs. A runner down your hallway or area rug in your living room will make your space feel much more comfy and homey.
2. Soak Up the Sound
One of the most practical benefits of rugs is their ability to absorb sound. If you can hear echoes in your home or feel as if conversations can be heard across the entire house, area rugs should be next on your list for home decor. 
The more plush and thick your rug, the more efficient it will be in absorbing sound and reducing noise. This goes for all types of sounds too—voices and loud footsteps are two of the biggest culprits.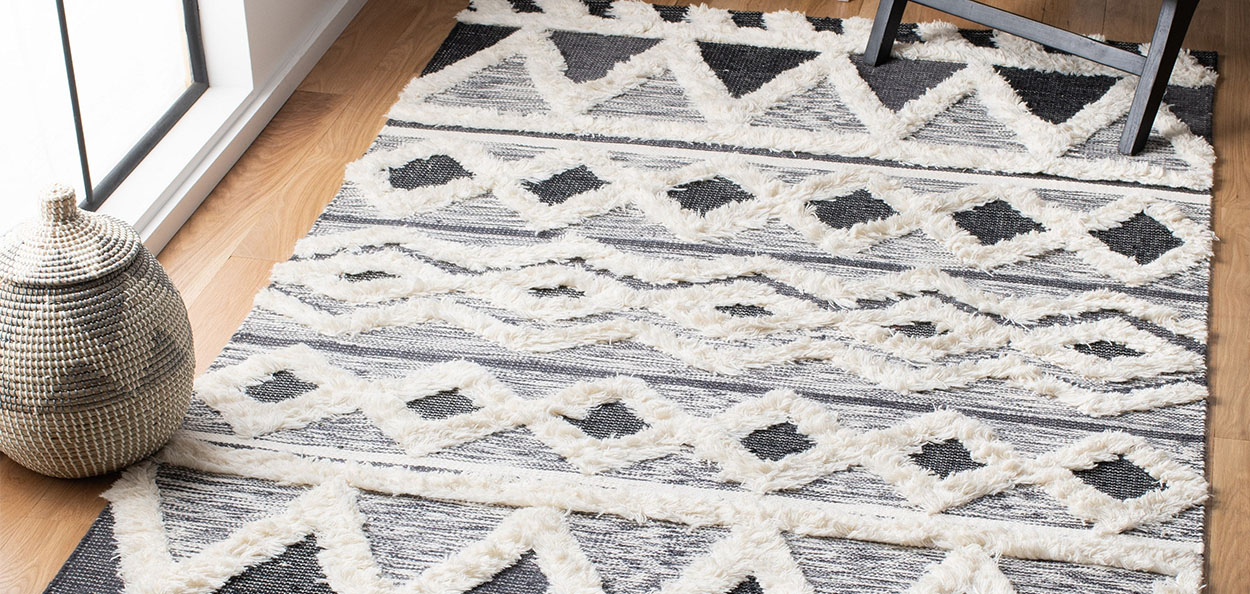 3. What About Warmth
Staying warm during winter is hard enough as it is when you're outside, so the last thing you need is a freezing home! While running your heater is an obvious solution, you might not realize that one of the best uses of rugs is for insulation.
Save some money on your energy bill by laying down dense area rugs in each room to help retain heat. Take it a step further by supplementing with an insulated rug pad underneath as well. 
4. Brighten Up Without Light
Not every house has ample natural light to brighten up each space. If you have a room in your home that is particularly dark and secluded, opt for a light rug to help illuminate the area and make it more inviting. 
You can even use big area rugs for your living room, bedroom, or dining room if the color palette you chose is on the darker side. Remember, your accent rug doesn't have to be bright white. Play around with neutral tones or pale shades that complement your home.
5. It's About Connection
Another benefit of rugs is their ability to connect separate spaces. You can easily create a more cohesive design within your home by incorporating different types of rugs that share a central design or color theme.
This example works best with traditional-style homes that are divided into multiple rooms rather than having an open floor plan. With so many walls and divisions, it can be tricky to maintain a consistent flow throughout the space. Rugs help to create unity and a visual connection.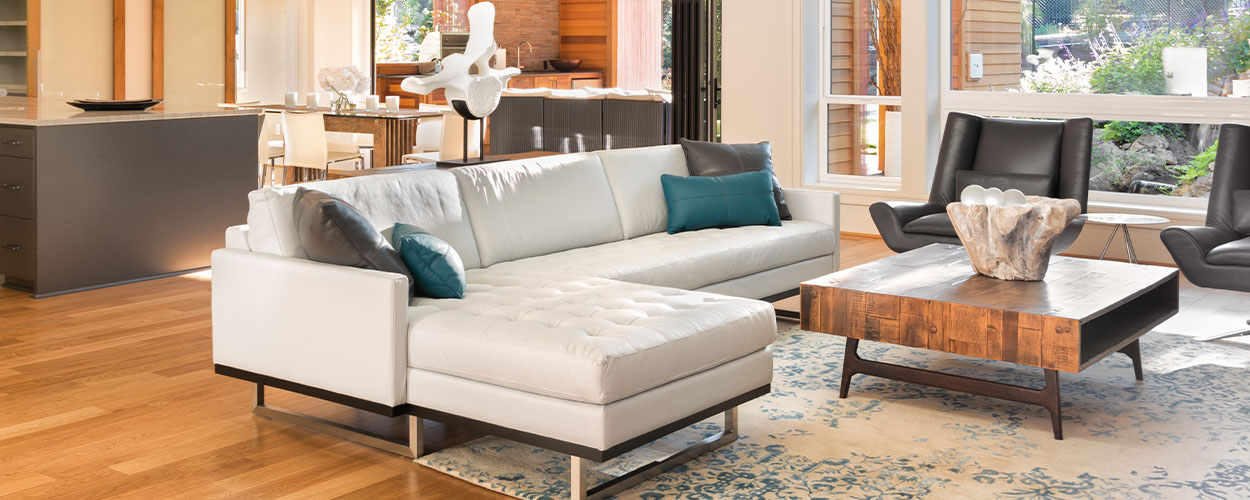 6. Zone It Out
Open floor plan homes are all the rage right now, but how exactly do you establish rooms in a space with no walls? That's where area rugs come in handy. Just as rugs can connect a space, they can also divide a space just as easily. 
Use big area rugs for your living room, dining room, and any other space to zone off those areas and anchor your furniture. The rugs help to set clear boundaries and transform one big room into distinct living areas.
7. Time for Texture
One of the most important rules of interior decorating is to include a variety of textures within your home. Besides blankets, pillows, and furnishings, rugs are another major home decor item that can get the job done! Lay down different types of rugs with interesting textures to bring depth and contrast to your home. It's a quick and simple way to enhance your home's interior design style.
Best Practices for Decorating with Rugs
Now that you know why you should add rugs to your home, it's time to learn some best practices to ensure your finished look is stunning. Here's a few tips to consider when decorating your home with rugs.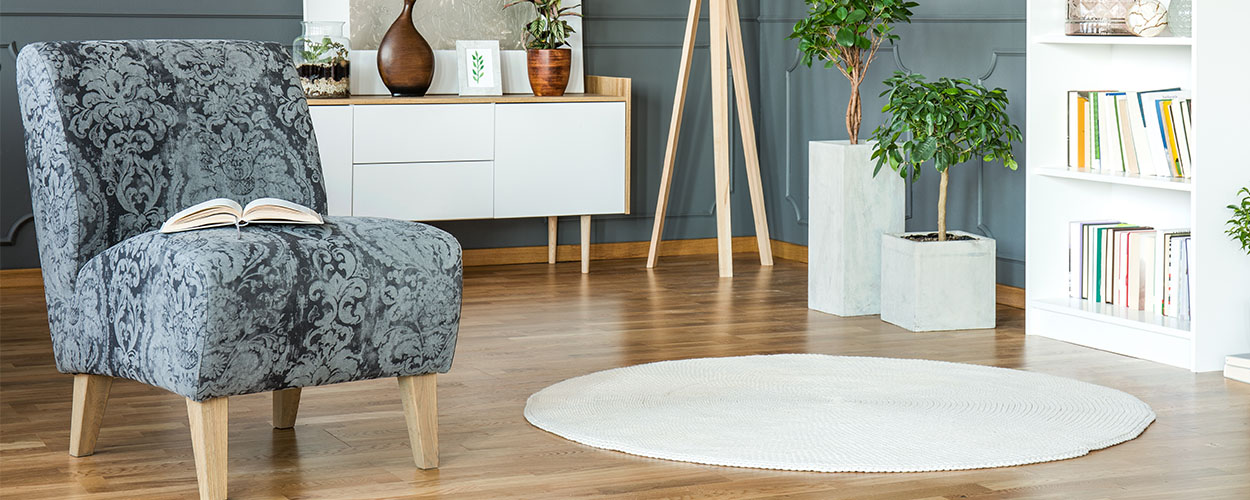 Play Around with Shapes
Although rectangular rugs tend to be the most popular, don't be afraid to create a little variety with different types of rugs in unique shapes. Assess your furniture and try to decipher which shapes would complement your space best. Experiment with ovals, circles, or squares and you might be surprised at how amazing they look!
Establish a Focal Point
Before you purchase a rug for your home, you need to decide whether it's going to be the focal point or not. A rug, especially one with bold colors and patterns, is a huge statement piece. If you choose to make your rug the focal point, decorate the rest of the room accordingly with more subtle patterns and accent colors. Remember, balance is key and incorporating too many statement pieces can overwhelm a space.
Decide on a Theme
As with the rest of your home, there needs to be a specific design theme you follow with your rugs. Mixing entirely opposite styles and colors can cause a jarring, unpleasant effect. Instead, opt for rugs that complement each other to ensure your space feels harmonious and cohesive.
As you can see, there's much more to rugs than meets the eye! Besides their beauty, rugs offer multiple benefits that make your space more inviting and comfortable. When you start brainstorming how to seamlessly incorporate rugs into your home, take a gander at how to make your rooms flow for additional tips on cohesive design.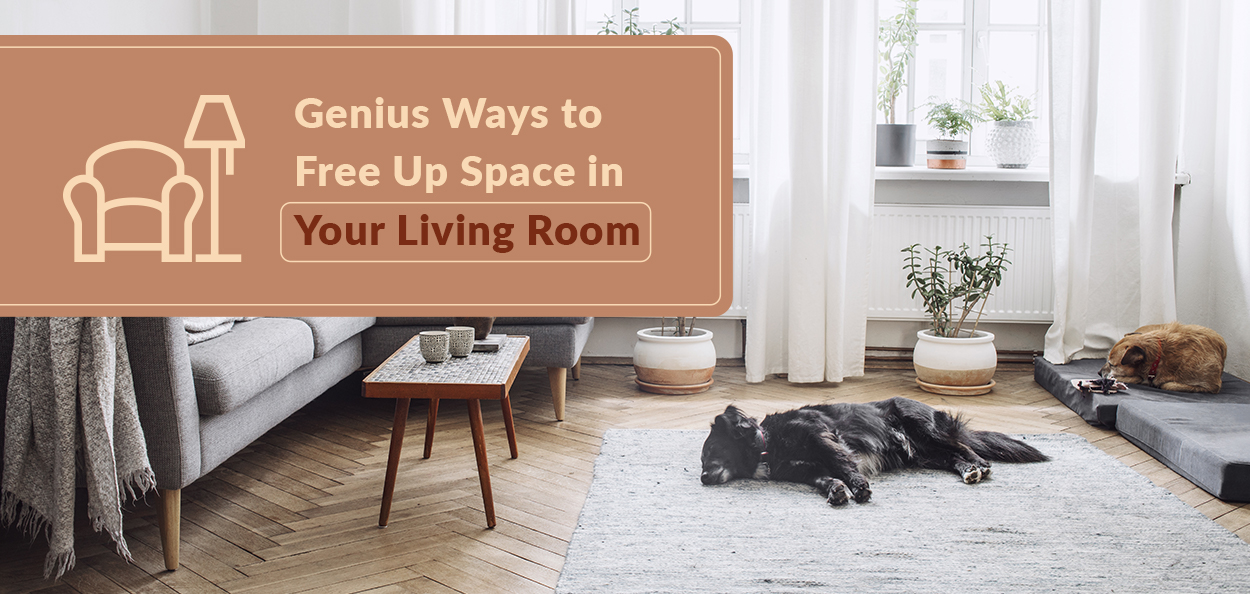 The living room is perhaps one of the most beloved parts of any home, which is why you want it to be as comfortable as possible. Decorating a small living space can be quite frustrating, but there's no need to throw your hands up in defeat! With a little creativity and strategy, you can maximize the space you have and style it beautifully. Start brainstorming ideas for your home with these space-saving living room ideas!
Arrange and Rearrange
How you arrange your furniture plays an important role in the flow and feel of your living space. This is particularly crucial for tiny rooms. Interior design experts recommend floating your furniture rather than pushing it up against your walls. This small living room layout idea supposedly makes your space look much larger and more spacious.
While designers encourage this small living room hack, give yourself the freedom to try several different arrangements. Choose what works best for you and your lifestyle!
Think Less is More
The "less is more" mantra is beneficial for every type of home, even the ones with tons of square footage. However, you'll need to consider it when you're working with minimal space. Not only should you pare down your furniture as much as possible, you should also be conservative with your decor.
Filling your walls with art and photographs can make your space feel cramped if you go overboard. Be conservative as you hang your wall decor and stick to the items you really love. 
This space-saving living room idea also applies to floor decor. Keep potted plants, baskets, and shelves to a minimum to ensure that your room looks tasteful, not cluttered.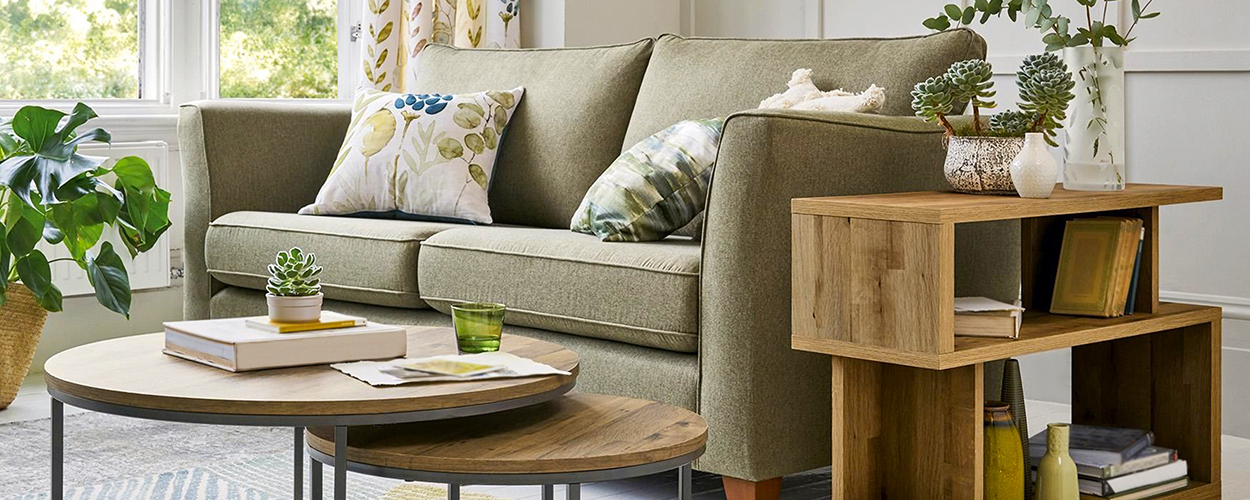 Consider the Coffee Table
Coffee tables are a great addition to the living room, but are they a necessity? Take a look at your own and decide whether you can swap it out for something smaller or forego it altogether. If you can't live without a coffee table, try to invest in one that doubles as a convenient storage solution. Lift-top coffee tables are super trendy right now and the ideal option for homes with little space.
Focus on the Walls
This small living room hack is simple and easy to follow. Because your floor space is tight, turn your attention to the walls for almost all of your decorating. 
Floating shelves are aesthetically pleasing and one of the hottest interior design trends at the moment. Use them to hold any photographs or artwork. 
Additionally, consider the walls (and ceilings) for lighting as well. Rather than take up space with floor lamps, opt for wall sconces and lighted ceiling fans. Not only do they get the job done, they are a great space-saving living room idea.
Say Goodbye to Side Tables
Just as coffee tables aren't crucial, side tables are a home decor piece you can do away with. If they hold your table lamp, invest in a wall sconce instead. Need a spot to put your books? Arrange them on a floating shelf within reach. It may be hard to say goodbye to your side tables, but it'll be worth it once your living room starts feeling more spacious!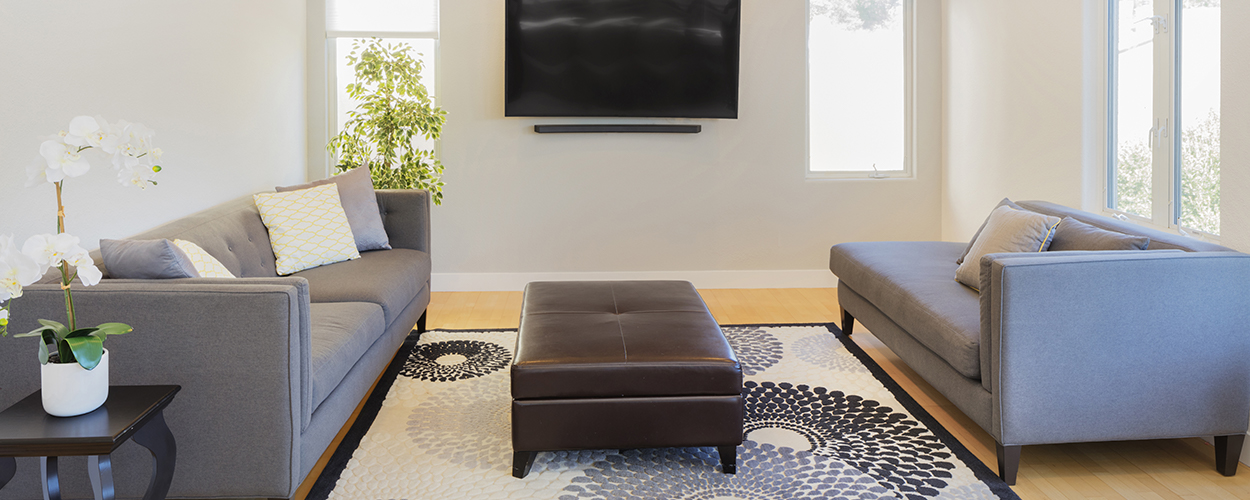 Move the Entertainment Center
The days of having a huge entertainment center are slowly fading away and this couldn't be more perfect for tiny living spaces! Try mounting your TV and speakers to the wall to give way for much-needed floor space. This small living room hack is actually quite modern and can help transform your movie nights into an ultimate cinematic experience (with a much larger TV).
Add Multipurpose Furniture
Decorating a home with minimal space is much simpler once you adopt the mindset of combining function with style. That's where multipurpose furniture comes into play. Take a look at the different furniture pieces in your home and ask yourself how much value they bring to your space.
If you have an ottoman, is it used solely for lounging or storage as well? What about your bookcase? Are there empty spaces that could be filled? Utilize as many decor items as you can to fulfill more than one function. Ottomans are great for built-in storage, seating stools can double as side tables, and bookshelves can hold more than just books. Think outside the box and you won't regret it!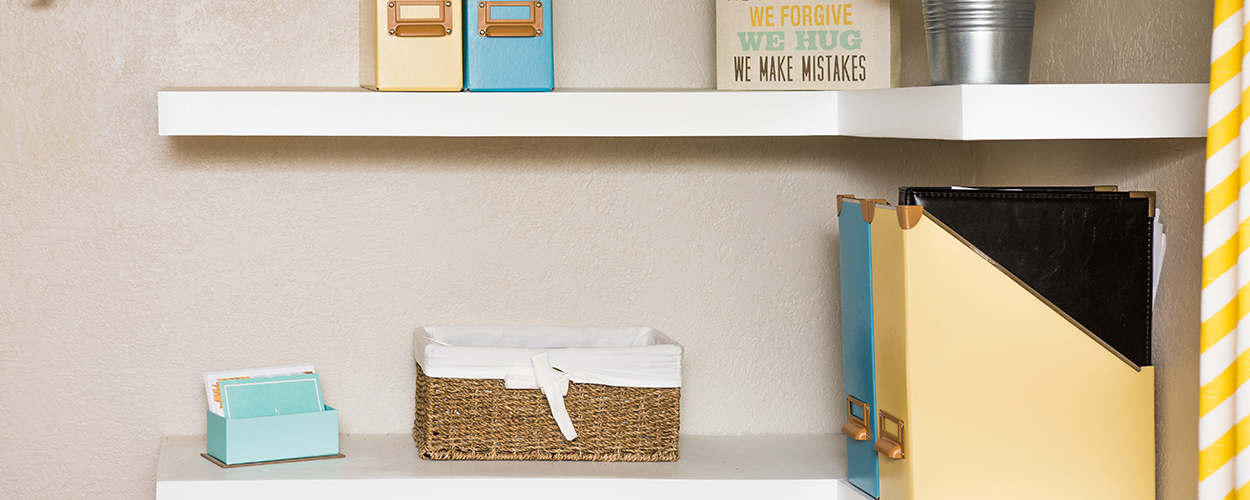 Take Advantage of Corners
Your home's nooks and crannies need some love too! This space-saving living room idea is wonderful if you aren't quite sure how to fill the empty corners in your home. Rather than leave them bare, take time to conjure up some ways you can use the space. 
Corner shelving is a unique option that knocks out two birds with one stone. Not only are you utilizing wall space, but you're also tucking away your shelves to give the illusion of a larger living room.
A window seat and small chest of drawers for storage are a couple more ideas to consider.
Now that you have the scoop on small living room layout ideas and how to maximize your space, learn 11 hacks for organizing a small bedroom!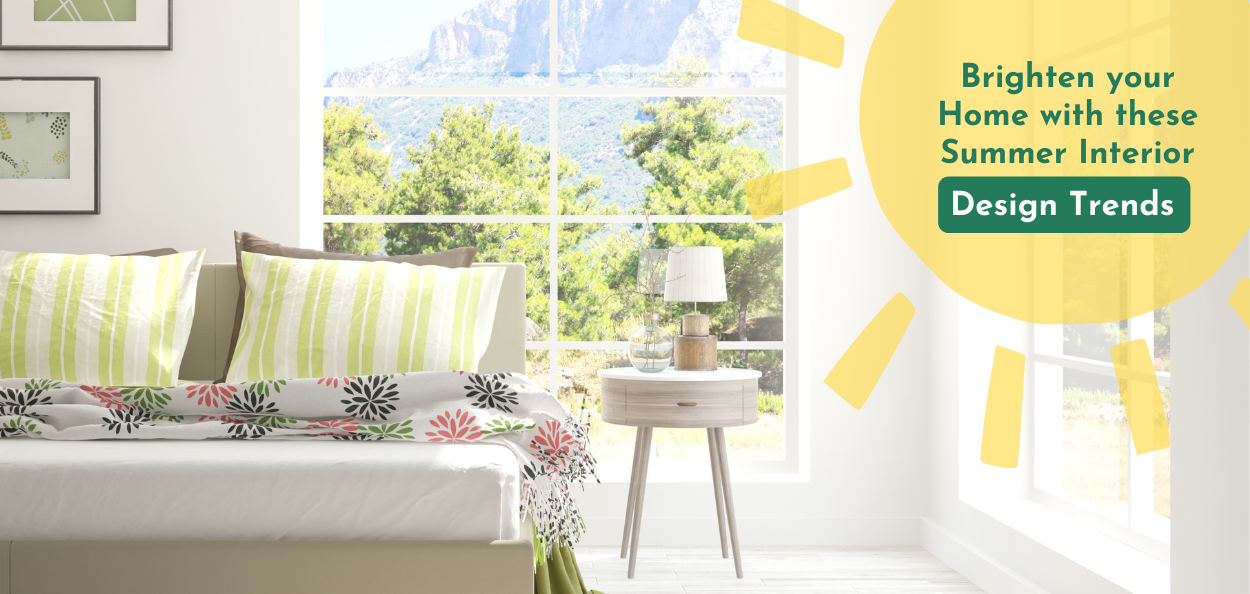 Summer is a time for bright colors, airy home atmospheres, and lots of outdoor activities. While you'll have to look elsewhere for recreation ideas, we have the scoop on the hottest summer interior design trends of the season. Kick up your feet, sip on some lemonade, and explore ways you can transform your home into a summertime sanctuary.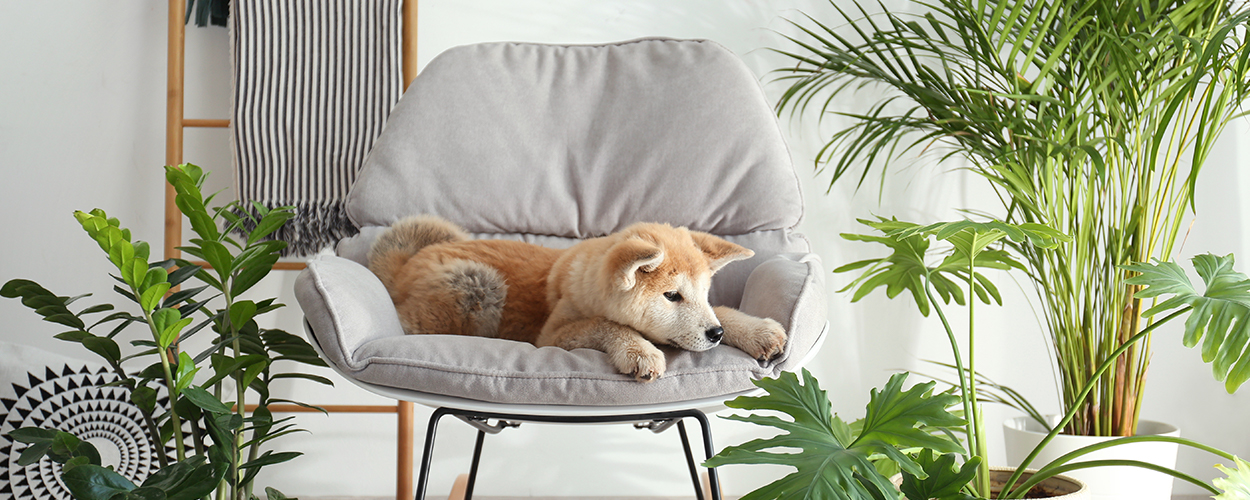 Be One with Nature
What better way to freshen up your living space than by incorporating natural elements like houseplants? Not only do plants bring beautiful ornamentation to your home, but they also have health benefits. 
Placing leafy greens throughout your space helps to purify the air and remove harmful toxins from the outside world — and even your furniture. Plants have also been known to reduce tension and stress because they resemble the calming atmosphere of nature.
Do yourself a favor and try this summer interior design idea by adding large houseplants as bold statement pieces or stick to an eclectic collection of small potted plants on your tables and shelves.
Remember Less is More
Minimalism has been a frontrunner in the design world for quite some time now, and it's looking like its reign will continue through summer. 
Dealing with a cluttered, full house during the hottest time of the year might not be the most ideal. Instead, interior design lovers across the country are following the "less is more" approach. Pare down your decor to the most purposeful and meaningful essentials for a clean and refined aesthetic. 
Once you've cleared out your space and given it room to breathe, turn your attention toward design. Pops of color, greenery, and natural light will elevate your minimalistic look and bring the perfect brightness for summer.
Prioritize Pantone Colors
If you're all about sticking to trends, you'll want to consider the Pantone colors of 2021 when decorating your summertime home. Pantone colors are industry standard color codes that stand for a specific shade. This year, Pantone announced their list of 10 hues for spring and summer that includes shades like Illuminating yellow, Green Ash, and Raspberry Sorbet.
The palette of colors is quite vibrant and eclectic, purposefully chosen to remind you of nature and warm summer days. Choose your favorite hues and incorporate them into your home's design through statement pieces, wall accents, and even furniture.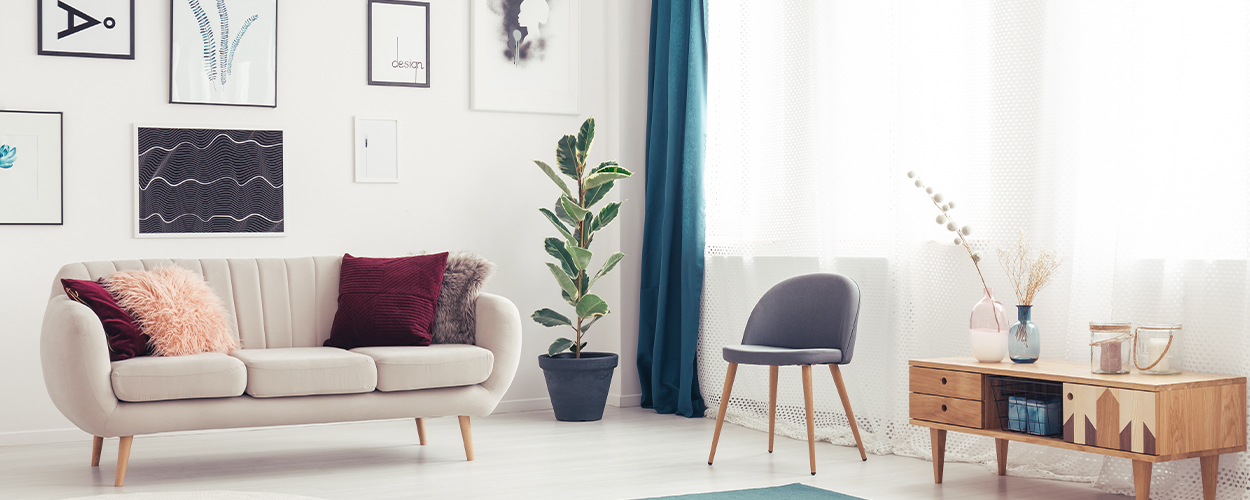 Let There Be Light
Perhaps the best part about summer is the long days filled with sunshine and clear skies. When you aren't busy enjoying the weather outdoors, be sure to bring the sunshine inside as another summer trend. 
If the weather permits and it's not too hot, let in natural light to illuminate your space. Whether you draw up your shades or simply invest in sheer, lightweight drapery, the result is sure to be revitalizing. 
If you don't have much window space to work with, place mirrors in each room to help reflect and amplify the sunlight shining in.
Round It Out
Another summer interior design trend taking over this year is rounded shapes. Stay away from hard edges and focus your attention on smooth, round decor that creates a more welcoming environment. Round rugs, cushions, ottomans, and art are a few ideas that you can easily add to your living space. For a bigger impact, update your furniture with a curved couch.
If round decor isn't your favorite or you prefer more diversity, draw your inspiration from organic shapes in general. Organic shapes are irregular and don't follow any specific pattern or form. You'll be shocked at how much they soften the feel of your home and create a sense of fluidity.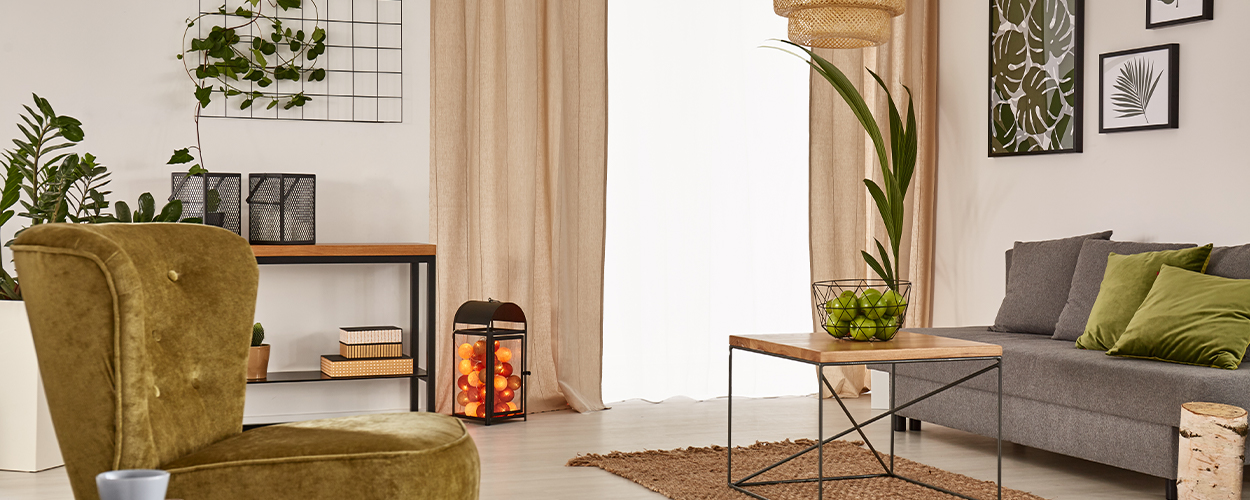 Try More Earth Tones
While ocean blues and vibrant pinks are eye-catching, they aren't the only colors that work well for your summertime home. Depending on your style preferences, earth tones can offer just the right amount of warmth and contrast to your space. 
These colors are muted and flat to emulate the earth in its most natural form. Think terracotta red, mustard yellow, mossy green, white, and tan. Just as plants have been found to have a calming effect, so have earth tones. They're soothing, natural, and a fitting representation of summer.
Choose Easy, Breezy Fabrics
Switching out your linens and fabrics is more of an intuitive summer decor idea, but definitely one worth mentioning. Pack away your winter blankets and thick drapes and opt for lighter, more airy textiles. Curtains are one of the main decor essentials to pay attention to. Look for materials like cotton voile, flax linen, or sheer silk that help keep your home cool, breezy, and bright.
Along with curtains, you can swap out your bedding and throw blankets to include ones made of cotton and linen—these two materials are known to be the best for hot weather.
After you've reworked your home's interior design with these summer trends, take it a step further and splash into summer with these stylish patio ideas!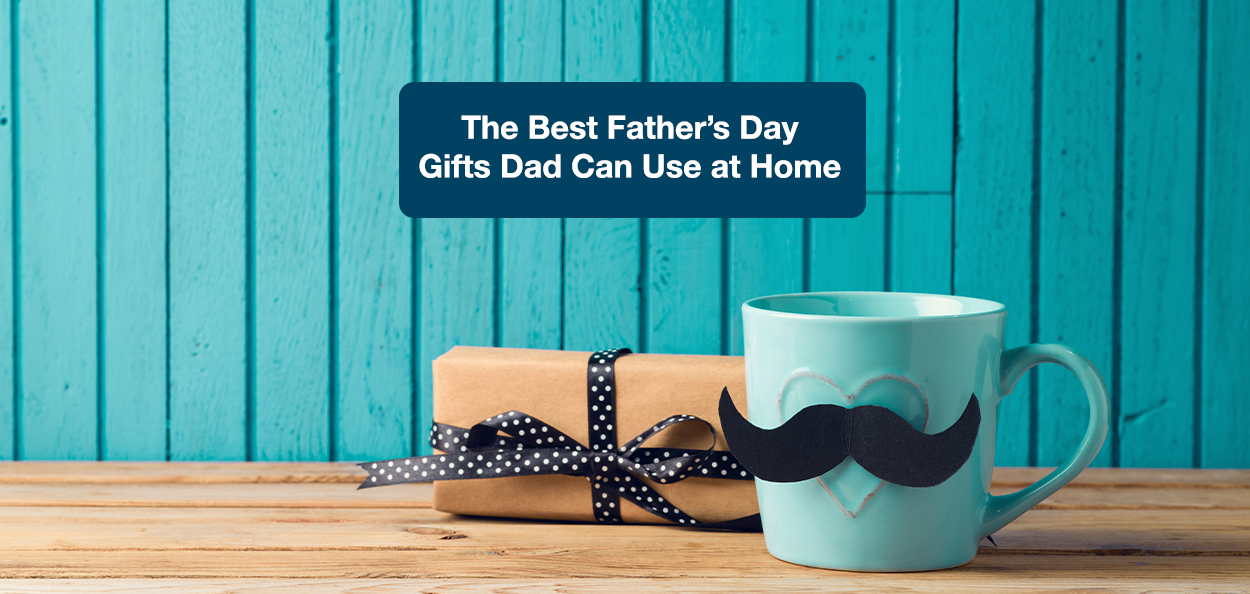 Father's Day is just around the corner and it's never too early to start brainstorming present ideas. If there's one thing that dads love, it's practical gifts they can use at their favorite place—home. Start your shopping list with these useful Father's Day gifts that are guaranteed to make your dad smile!
Practical Gifts for Dad: Living Room
Out of all of the rooms in the house, you're more than likely going to find your dad lounging in the living room with the TV remote in his hand. Consider these presents for home that will make your dad's time in the family room even more comfortable and enjoyable.
Comfy Furnishings
If your Father's Day budget is relatively high, splurging for a new sofa or chair is definitely an idea worth considering. Whether you surprise your dad with his very own reading chair or trade up for a brand new couch, he's sure to love it.
Smart TV
Give the gift that keeps on giving with a brand new smart TV! This may not be the most original present for the home, but it's almost always a shoo-in for dads. You can even sweeten the gift by promising that you'll stop by every Sunday to watch one of his favorite shows with him!
Streaming Technology
Buying a new TV can be quite expensive, so if you're looking for a more affordable option, look no further than streaming technology like the Roku 3. A streaming device such as the Roku is a simple and affordable way to access apps like Netflix, Hulu, and Amazon without having a smart TV. Save money and give your dad a creative Father's Day gift that will keep him entertained during evenings at home.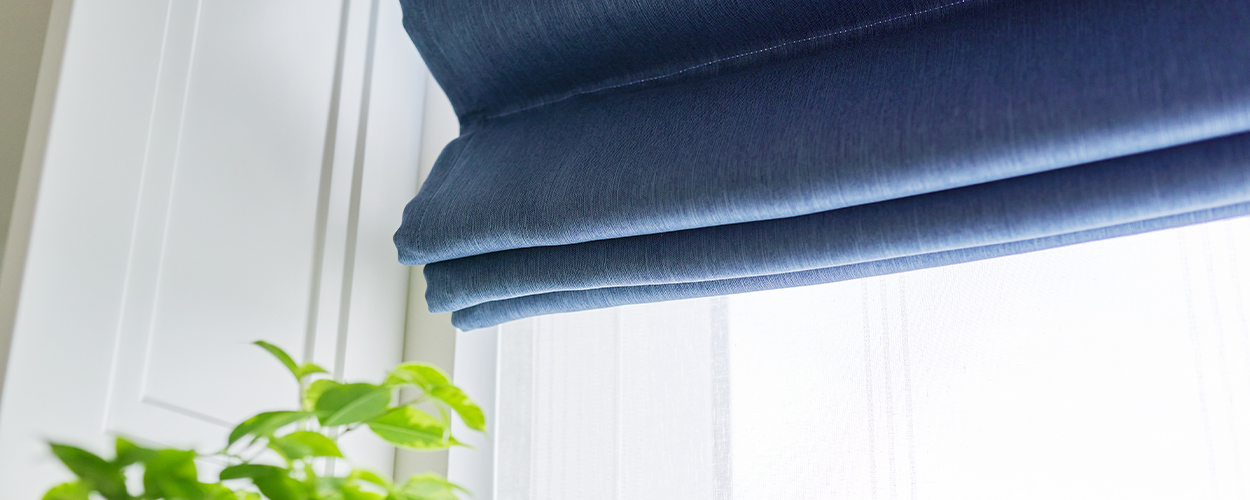 Practical Gifts for Dad: Bedroom
When you think of useful Father's Day gifts, accessories and decor for the bedroom might not be the first thing that comes to mind. However, you can easily find gifts that would make just about any dad happy. Take a look at these ideas for some inspiration!
Blackout Curtains
This creative Father's Day gift is so good you might end up buying some for yourself! Blackout curtains are just as they sound, they "black out" your room by blocking sunlight. Buy your dad a set and he'll be in heaven when he takes his midday nap or sleeps past 7 on the weekends. 
You can also use energy efficiency as a reason to buy blackout curtains. They keep out sunlight, which means less heat inside the house and less need to run the air conditioning. A lower energy bill and extra comfy naps are a winner in any dad's book!
Heavy-Duty Safe 
From precious heirlooms to important documents, safes are a great way to keep your personal items securely locked away at home—and there's nothing dads love more than safety and security. Order your dad his very own heavy-duty safe to keep in his bedroom closet, so he can rest easy at all times. Think about getting it engraved as well for a more personal touch.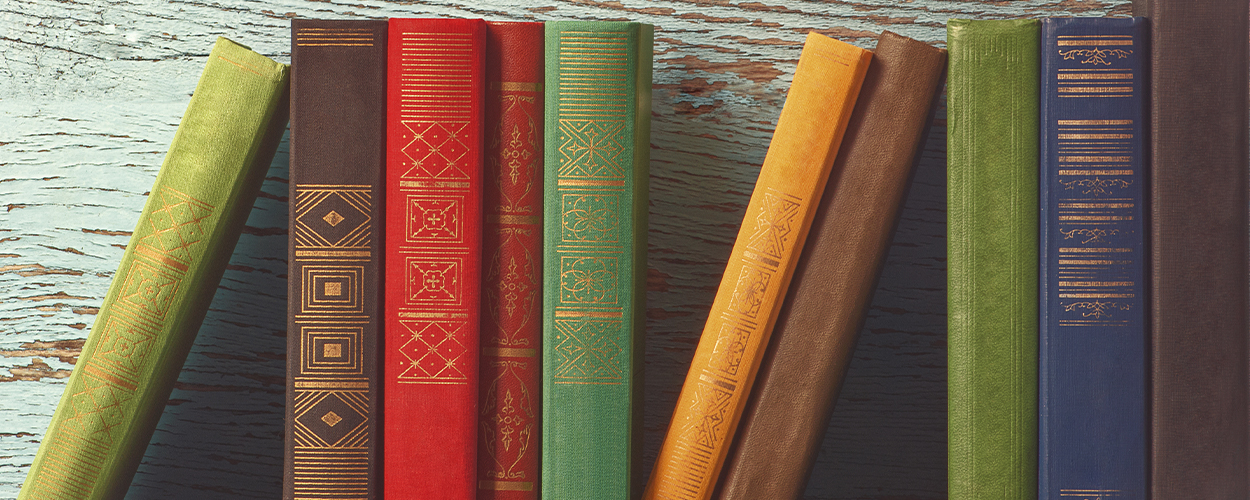 Brand New Book
Pay special attention to the books your dad has on his reading list and use that as an idea for his Father's Day present. Whether you buy him a bundle of new novels he's been wanting to read or stick to some of his all-time favorites, it'll be a great gift that he'll definitely keep on his nightstand.
Practical Gifts for Dad: Kitchen
Cooking and cocktails are two of the most common interests for dads, so why pass up on the chance to give them something that will come in handy every day of the week? Here are a few kitchen accessories that make for a cool present for dad.
Knife Set
Help your dad say goodbye to the days of preparing food with cheap or dull knives by giving him a quality set to die for! Find the best knives within your price range and step up your presentation by placing them in a sturdy knife block. Quality knives combined with a stylish organizer will undoubtedly bring a smile to his face! 
Bar Cart
The kitchen pantry may work for storing drinks, but a bar cart is so much cooler! Think of your dad's go-to drinks, his decor style (if he has one), and try to pick a bar cart that matches. You can really knock this gift idea out of the park by stocking up the bar cart with quality glasses, decorative accessories, and of course, his favorite beverage.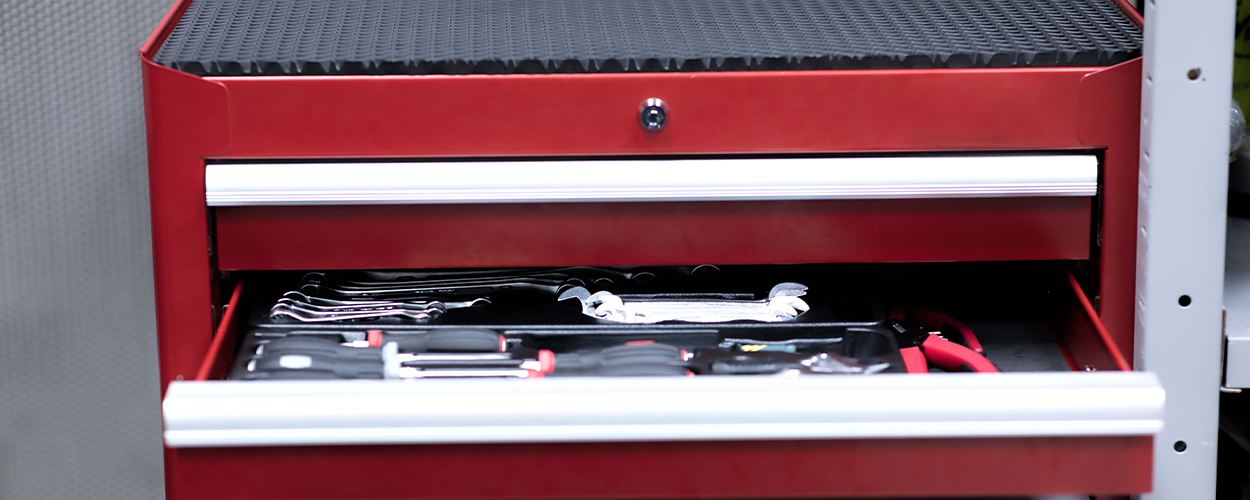 Practical Gifts for Dad: Garage
The garage is a safe haven for dads, a place they can go to unwind and have time to themselves. So what do you get for the space that dads love so much? Start your list with these creative Father's Day gifts for the garage.
Mobile Tool Chest
Even if your dad insists that his ancient tool box is all he needs for his tools, you might want to toss around the idea of getting him one of the most practical presents for home: a tool chest. Opt for a mobile one with wheels for convenient accessibility and get ready to see tears of joy when you surprise your dad on Father's Day.
Neon Garage Sign
If your dad spends a lot of time in the garage, it can be nice to help him decorate it with unique wall decor and memorabilia that reflects his personality. You can never go wrong with a classic neon sign of his favorite beer, car brand, or music artist. Consider buying him a custom sign to make it even more special!
Garage Creeper
If your dad prefers to work on his own cars and often finds himself doing regular maintenance on the family vehicles, it's important for him to have a garage creeper. Not only do they make garage work a lot more seamless, but they also help prevent back injuries. Pick one up for Father's Day and it will pay off ten fold!
From living room accessories to must-have items for the kitchen, you now have a long list of creative Father's Day gifts that dad can use right at home. If you love hand-crafting presents, consider bringing the outdoors to your home with these DIY woodworking projects that dad will love!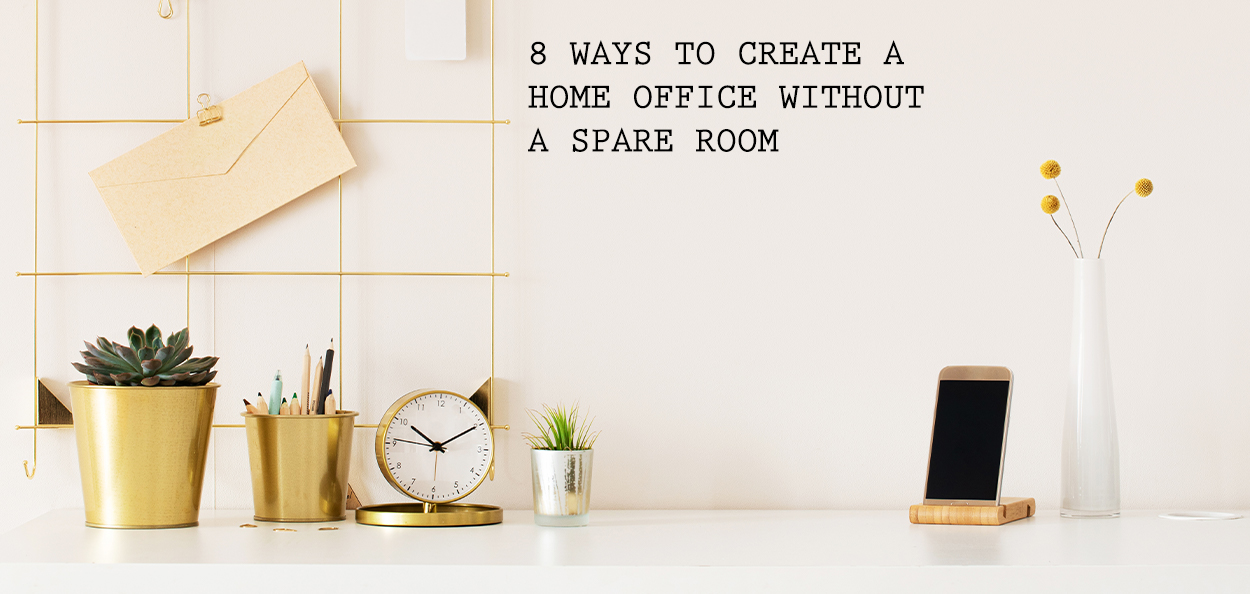 In today's world, remote work is the new normal. Gone are the days of morning commutes and cubicles, but where does that leave the employees who no longer have an established workplace? If you have a spare room, the solution is obvious. As for everyone else, finding a comfortable workspace can be much more of a challenge.
Rather than working on your bed or living room sofa every day, explore these creative home office ideas that give you a practical workspace within ordinary areas of your home.
A Dining Table Isn't Just for Eating
One of the most convenient and easiest ways to create a home office in a small space is by adopting the "multipurpose" mindset. You already have a dining table, so why not use it for more than just dining? Set up your office space at the table and try your best to incorporate your ergonomic desk chair for maximum comfort. 
If you have the room, you can also incorporate a stylish storage basket or box to put away your work supplies when you use the dining table for eating.
Think About Converting Your Closet
Which is more important to you: closet space or a productive workstation? While it may not be the most ideal situation, converting your closet is a creative home office idea that doesn't require too much work. 
Before you choose your closet as your makeshift workspace, be sure to consider a few practical factors:
Is there any natural light nearby? 

Can you install or plug in lighting and electronic devices? 

Can you easily fit office furniture like your chair and desk into the space? 
If the answer to all these questions is yes, this home office layout idea might just be your solution.
Clear out clutter, remove your closet doors, install shelves for convenient organization, and remember to add task lighting. Once you've completed these steps, your "cloffice" should be good to go!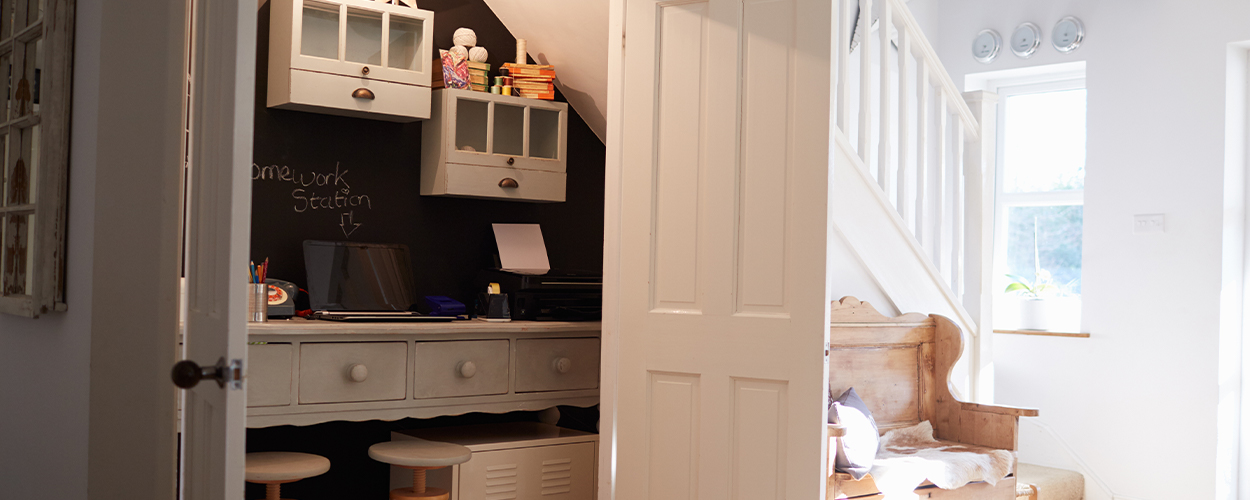 Look to the Stairs for Your Solution
Take a moment to look at your staircase. Is there open space underneath the stairs? If there is, you should consider utilizing this space for your workstation. 
Swap out any other household items currently residing in this spot and slide in a small desk and chair. Not only does the staircase help tuck away your work area, but it makes you feel as if you have your own private space instead of being out in the open.
Take Advantage of that Awkward Nook
If you've been scratching your head trying to think of ways to fill that awkward nook or corner in your home, now is the time to fix it. Set up a small home office by tucking in a sleek desk that fits your home's interior design style and voila! You killed two birds with one stone. If your space allows, include a tiny cabinet for added storage.
Say Goodbye to One Nightstand
Nightstands come in handy in the bedroom, but you don't necessarily need two of them. Make a compromise by ridding your room of one nightstand and replacing it with a small desk. This creative home office idea has the potential to be one of the best alternatives to having a spare room because of the privacy it offers. 
Creating a work area in your bedroom gives you the luxury of having your own space away from the distractions and noise often found in your living room or dining room. For even more peace and quiet, simply shut the door.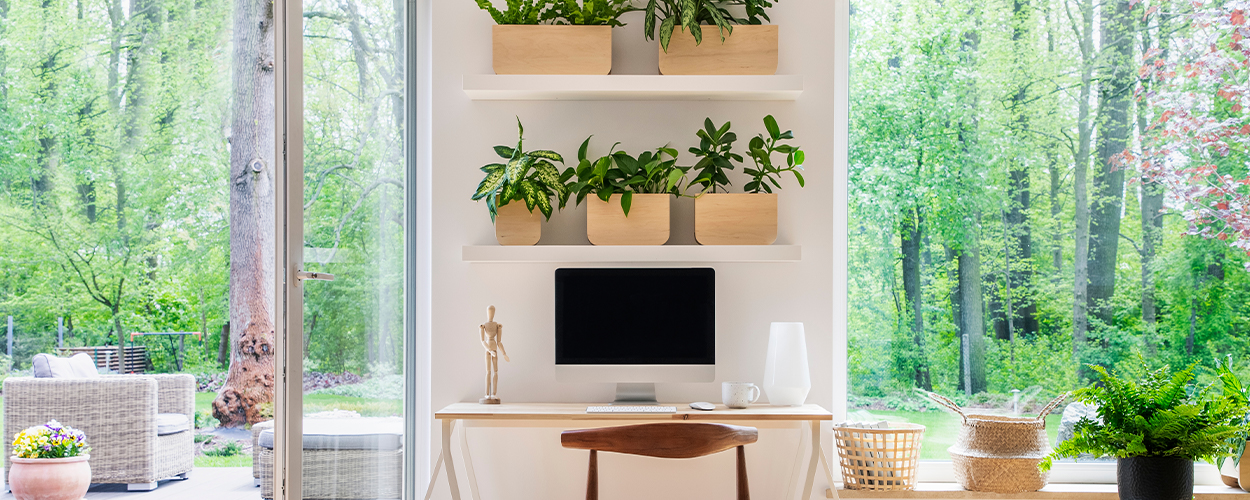 Utilize Empty Wall Space
Besides displaying pictures and artwork, your walls can be a great place to build a workspace. All you need to do is mount a floating shelf to your wall that is big enough for your work computer and any other supplies. One of the benefits of this home office layout idea is that the floating shelf doesn't take up any floor space.
When you decide which wall you want to mount your shelf on, take time to consider how much room will be left for floor traffic. If there's enough space for people to walk by as you work, you've found your new office area! 
Give the Entryway Fair Consideration
You may want to add "greeter" to your resume once you pick this creative home office idea for your space. If you don't mind answering the door throughout the day, think about utilizing your entryway for your work area. 
Rather than have a purely decorative console with plants and pictures, incorporate a desk and convert the space into your home office. You can always add in stylish decor and choose a trendy desk to help your workstation blend in better.
Wide Hallways Can Come in Handy
If your home has wide hallways, consider setting up a small home office in that area. Most of the time, hallways aren't fully utilized anyway, so why not use the space if you have it?
Take your measurements, ensure there's enough walking space with your office furniture in place, and you're golden! Think about including a floating shelf instead of a desk if you want to use up the least amount of space as possible.
With remote work a new reality for many of us, it's the perfect time to start thinking about creative home office ideas. Now that you have some inspiration, walk through your home and choose the best layout for you!
As you begin clearing out your space to make room for your home office, check out our guide to donating furniture to ensure that you're giving your unwanted items to those in need.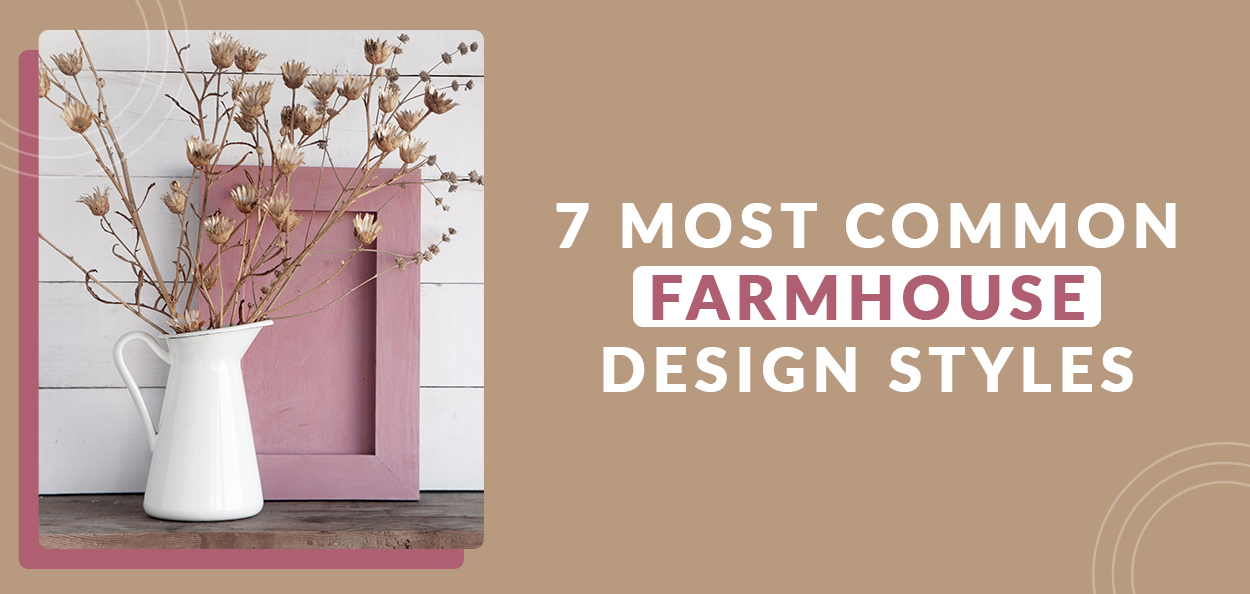 As soon as you hear "farmhouse design," you most likely think of wooden accents, rustic signs, and neutral color palettes. While farmhouse design style has taken the country by storm, many people don't know there are multiple variations of it.
Whether you're looking to adopt this interior design trend in your own home or simply find yourself curious, take a look at our breakdown of the most common farmhouse design styles being used today.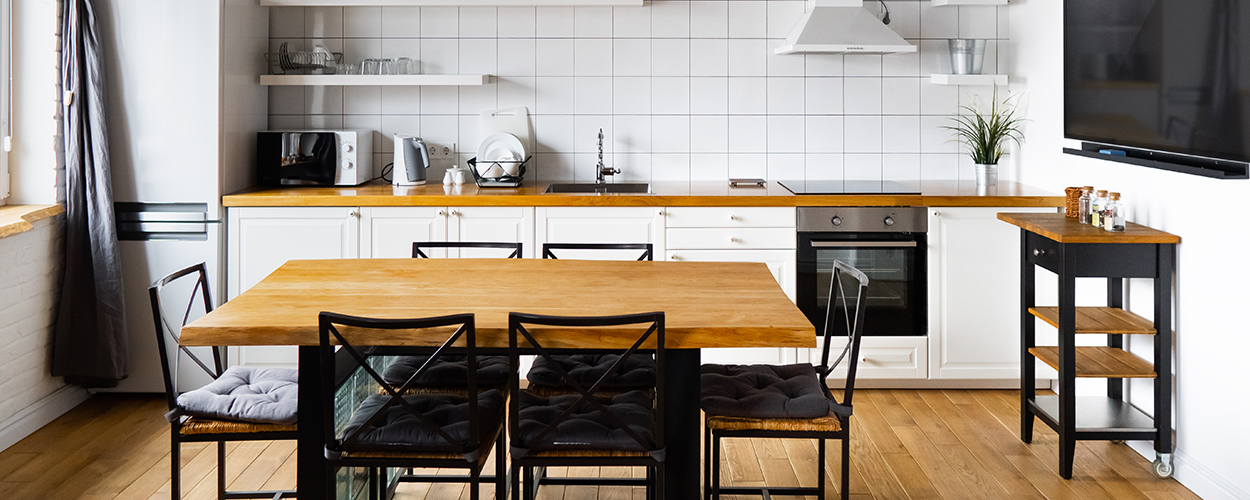 1. Industrial Farmhouse
If your husband wants to have a say in your home's decor, you might want to consider trying the industrial farmhouse design style. This variation of farmhouse design is known to be more masculine because it's inspired by the heavy machinery used on farms. Industrial lighting and hardware, cool metals, natural wood, and exposed beams are a few key characteristics that define industrial farmhouses. 
Other Characteristics:
Warm color palette

Black and off-white accents

Edison bulb pendants

Thick and heavy rustic wood

Furnishings with blackened iron structures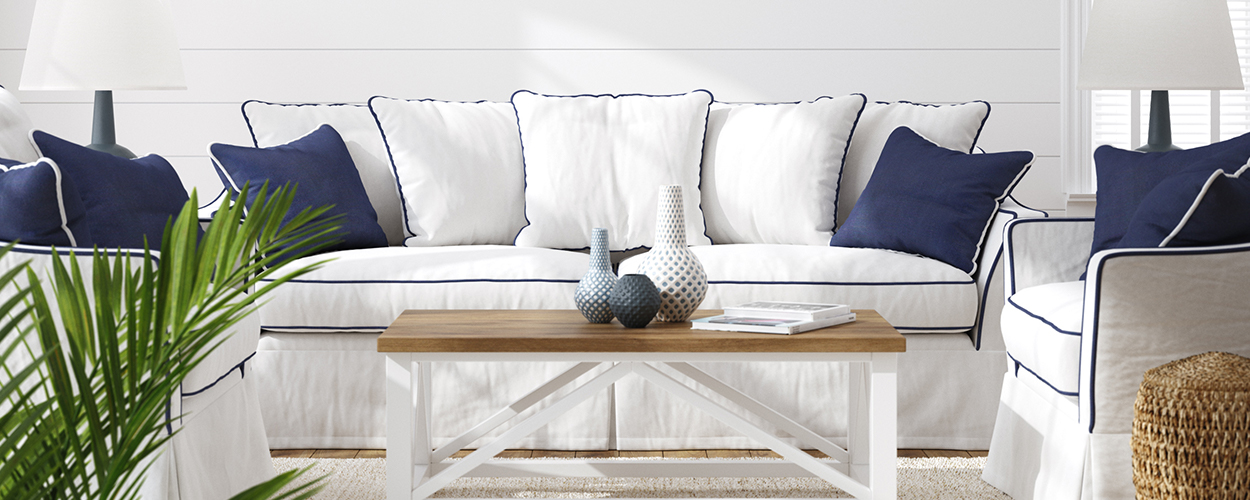 2. Coastal Farmhouse
Just as the name suggests, this farmhouse interior design idea subtly combines beachy, coastal elements with modern farmhouse vibes. Before you buy loads of starfish decor, seashells, and anchors, remember that coastal farmhouses aren't your typical beach house. They have oceanic references, but are still grounded to farmhouse interior design. Coastal accent colors of blue and green are popular, as well as white oak flooring, furniture, and cabinetry.
Other Characteristics:
Classic details in millwork (doors, molding, trim)

Warm metals like brass and gold

Natural elements like seagrass and rattan

Polished nickel or chrome hardware

Wooden beams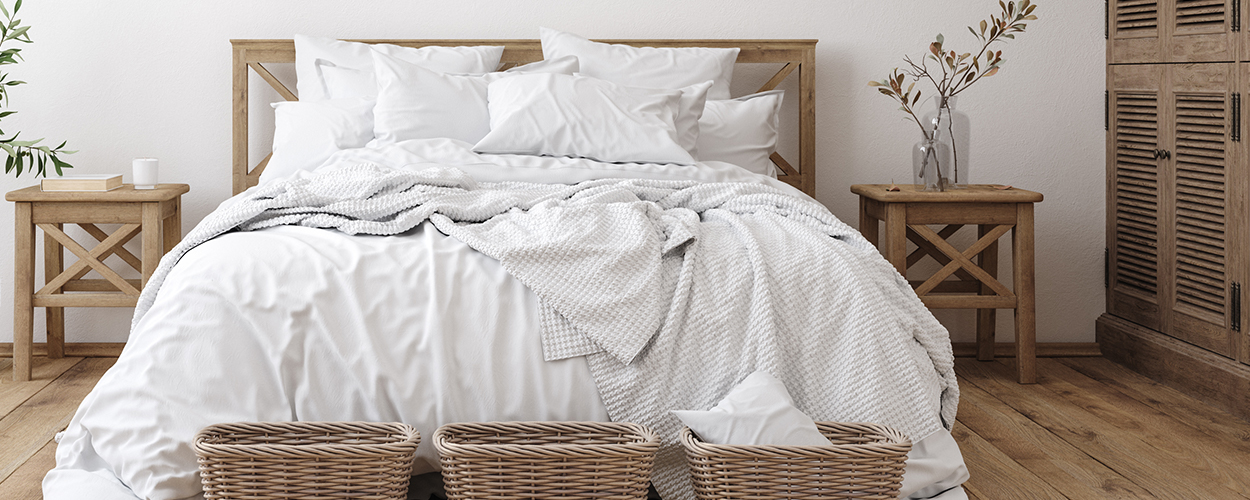 3. Scandinavian Farmhouse
Minimalism is the way to go when it comes to curating a Scandinavian farmhouse. The main idea behind this farmhouse design style is building a home that is uncluttered, modest, and light. If you decorate with purpose and follow the "less is more" mantra, you're halfway there. The Scandinavian element of this style brings modernism and minimalism, while the farmhouse side brings a more homey feel with rustic elements.
Other Characteristics:
Natural materials

Clean-lined, soft-shaped furniture

Simple woodwork in doors, window trims, cabinetry, built-ins, and countertops

Light wood flooring

Black or gray accents and mute shades of color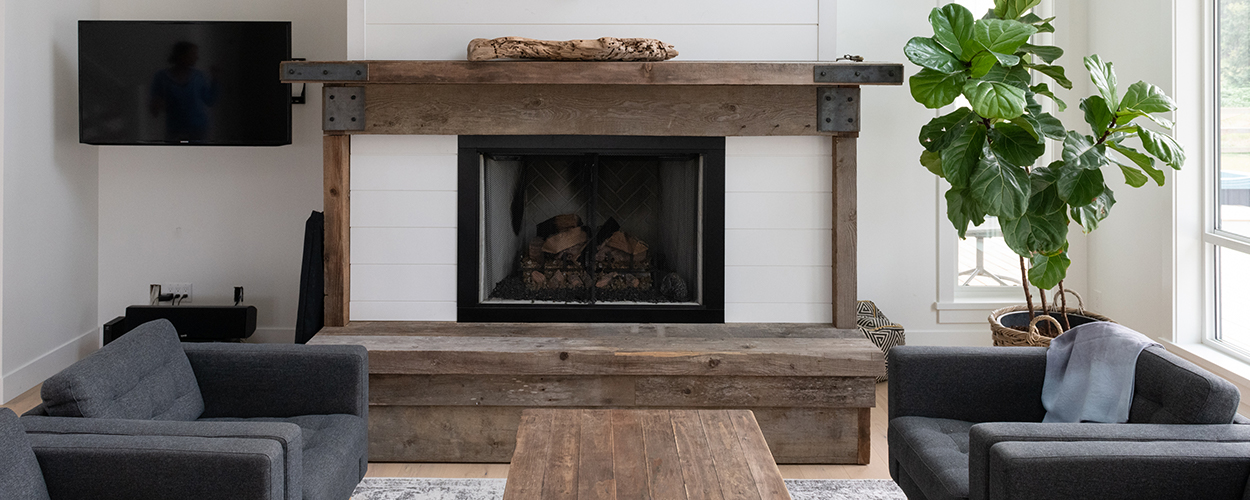 4. Modern Farmhouse
Similar to Scandinavian farmhouses, modern farmhouses are edited down to be sleek, clean, and fresh with very little ornamentation. There's an emphasis on contemporary design that can be seen in concrete flooring, exposed brick walls, and modern lighting. While you can incorporate modern farmhouse style decor in your home, it's sometimes easier to achieve this look with a newly constructed house or complete remodel.  
Other Characteristics:
Statement furniture pieces 

Bright white walls and interior

Minimal black accents and well-worn wood

Leather upholstery

Antiques and rusticity used sparingly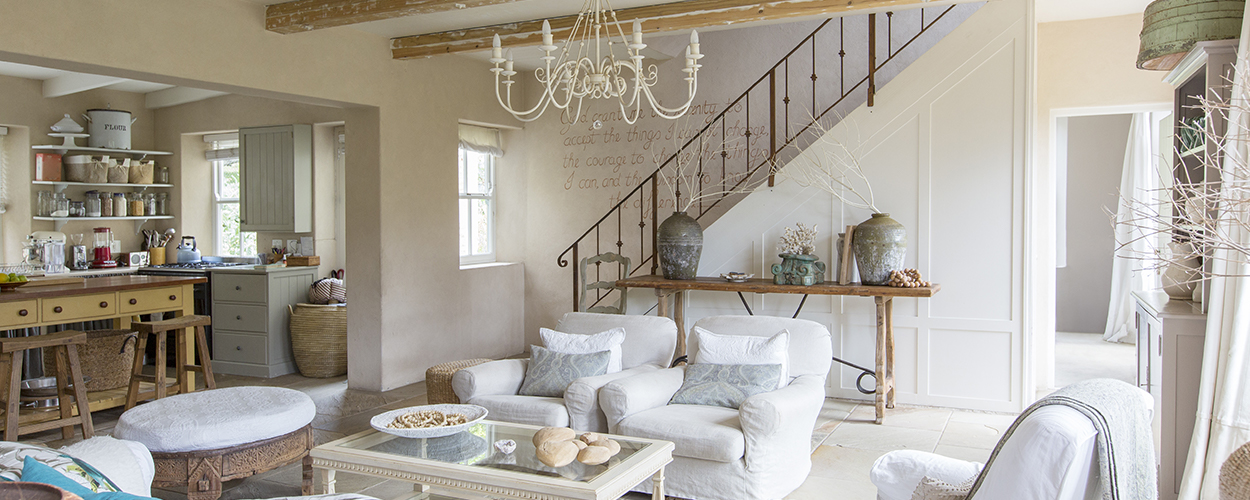 5. Rustic Farmhouse
If you love flea markets and repurposing decor, this farmhouse interior design idea is meant for you! Rustic farmhouses are all about handcrafted elements and a ruggedness you just don't see in other variations of this style. One signature feature that rustic farmhouses do have in common with other iterations is white walls. A white color scheme and vintage decor make this farmhouse design style feel especially quaint and down-to-earth.
Other Characteristics:
Neutral palette

Open shelving with vintage decor in tin and galvanized metal

Warm-to-gray distressed woods (shutters, seating, wall decor)

Subway tile backsplashes

Industrial materials and blackened steel decor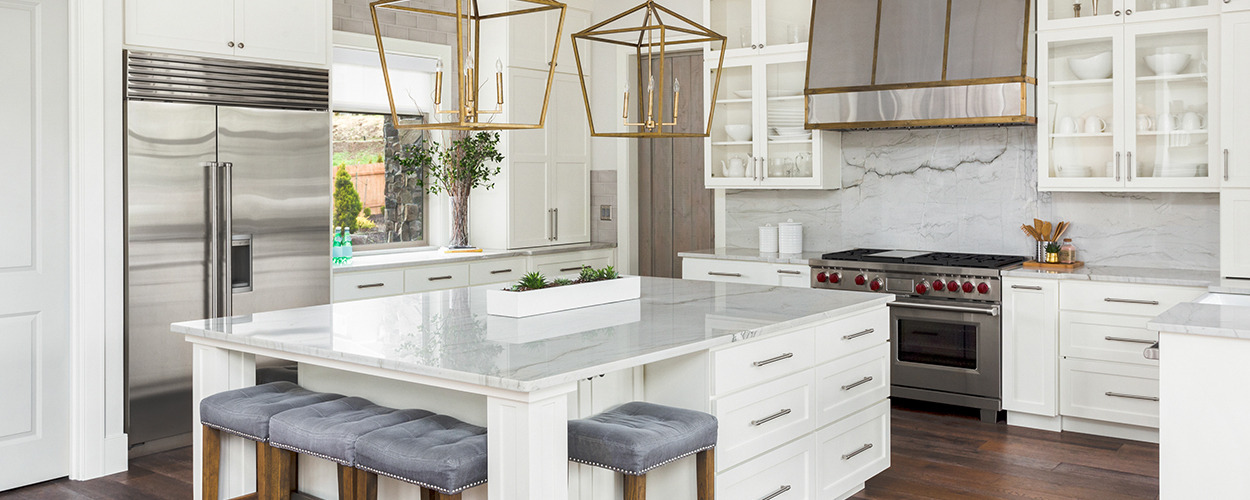 6. French or Country Farmhouse
French farmhouse style is one of the most popular versions of farmhouse interior design and definitely a top choice if you prefer to stay away from heavy industrial decor and black accents. French or country farmhouses are most aptly known to have marble, cool grays and cream-to-white color palettes, as well as more ornamentation than your typical modern farmhouse.
Other Characteristics:
Warm hardwood floors with rustic texture

Woven furnishings, off-white cotton fabrics, and cotton ticking stripes

Antique accents

Marble countertops, backsplashes, and table tops

Zinc and galvanized metals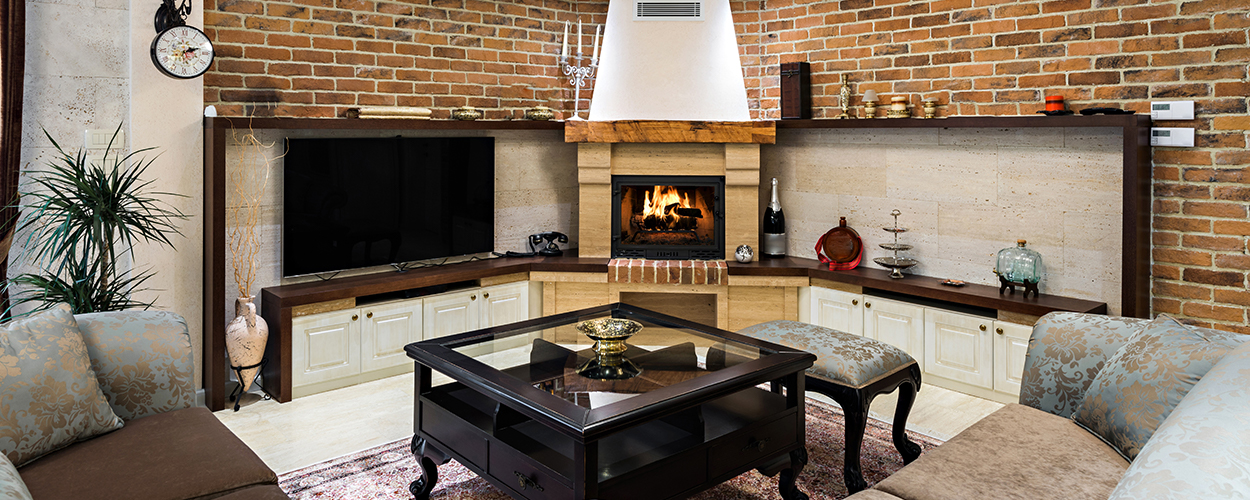 7. Colonial or Traditional Farmhouse
This farmhouse design style fully embraces the old world and a time in history that we can only read about in books. Colonial farmhouses use authentic historical elements like stone, primitive wood beams, and colonial grid windows to achieve a traditional, charming atmosphere that truly transports you back in time. 
Other Characteristics:
Traditional millwork detailing

Rich colors on painted, wood-paneled walls

American antiques and textiles used in lighting, furniture, and decor

Muted, natural color scheme

Brick fireplaces and flooring
As you can see, there are many different variations of farmhouse design style, all with unique features and characteristics. Now that you have an idea of what each entails, you can decide which farmhouse interior design idea fits you best!
If you're in the market for new furnishings to go along with the theme, be sure to take a look at our Max Gray and Basic Wool collections that perfectly complement farmhouse interior design trends.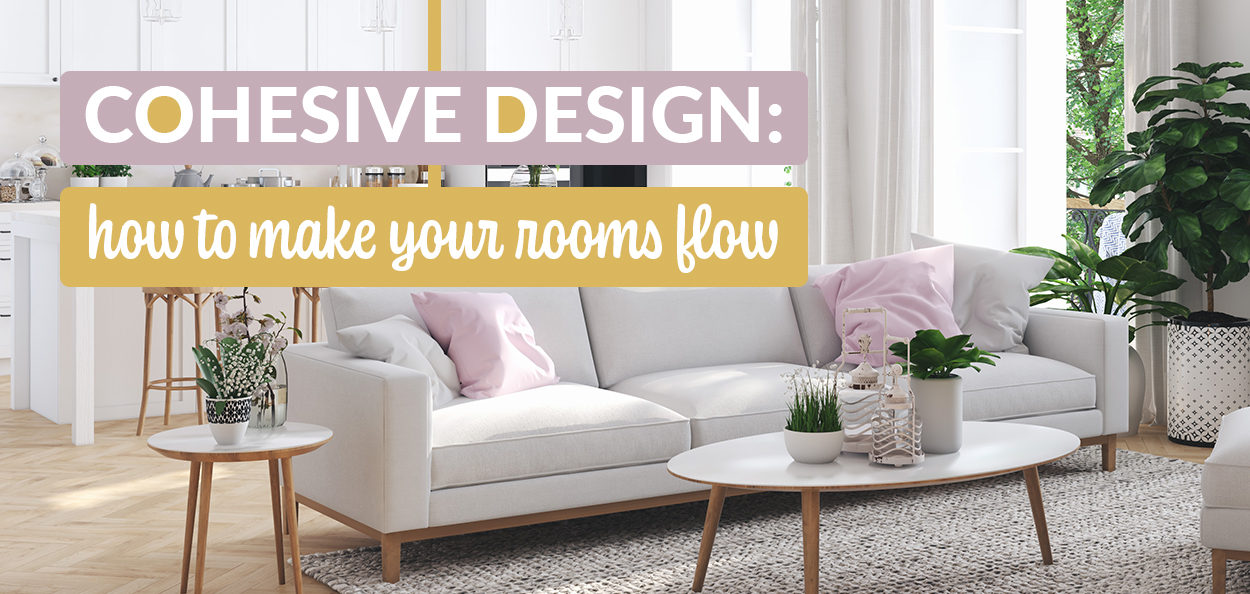 Have you ever found yourself scratching your head when decorating a room? You might wonder, "What colors should I use? Does this decor piece match?" If you find yourself struggling with these questions, it's most likely because you aren't sure how to create a cohesive interior design. 
This is a common issue for many homeowners and can easily be solved with interior design tips and knowledge of interior decorating basics. From ideal color palettes to general decor rules, plan out your home's transformation with these tips! 
1. Start with Your Color Palette
Decide on a Neutral Base
The most basic and crucial step to creating a cohesive interior design style is choosing the right color palette. Start with a neutral base color that brightens up your space. White, light gray, or soft beige are good options. 
Once you have your neutral base picked out, think about applying this color to the largest surfaces or furnishings in your home. These tend to be your walls, flooring, seating, and bedding. Add to that main hue with one or two more shades. Warm tones with warm neutrals and cool tones with cool neutrals is an easy method to follow.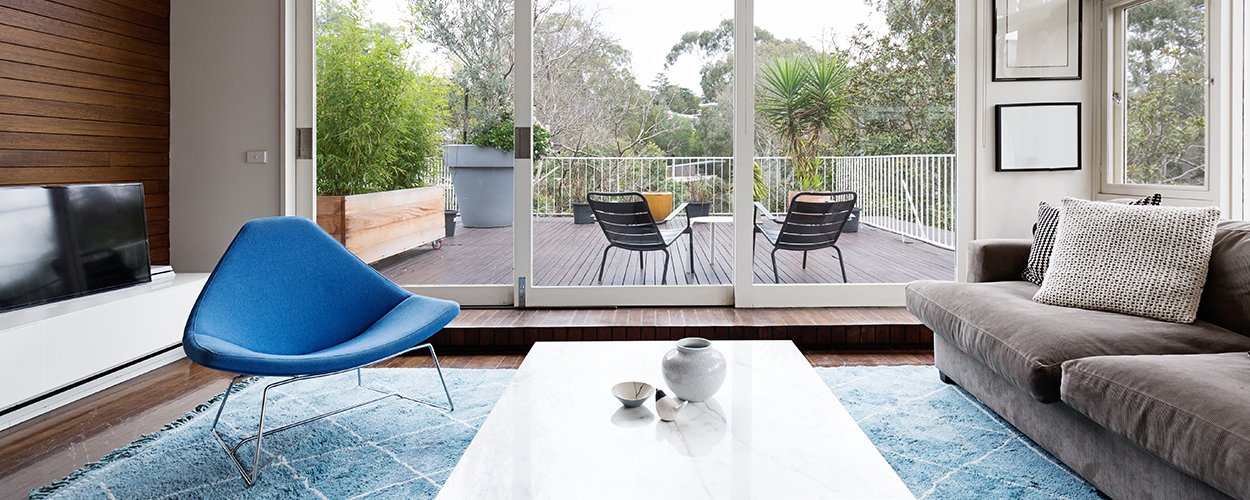 Pick an Accent Color
After you have your neutral base colors chosen, it's time to spice things up with a bold and vibrant accent color. Your accent hue will be used throughout your entire home, just like your neutral colors, so make sure it's something you really love!
As you add in throw pillows, area rugs, lamps, or even sofas with your accent shade, make sure you evenly distribute the color across your space. Avoid concentrating your accent color in certain spots more than others because it takes away from your cohesive interior design look.
Consider Complementary Colors
If you don't feel like stopping after choosing your main accent color, by all means, incorporate complementary shades as well! Your home doesn't need to be bland to flow, you just need to focus on consistency and complementary colors to help it come together seamlessly.
Not sure which colors complement each other? Take a look at the color wheel to get a better idea. One factor you'll need to remember is that your complementary colors should pair with your main accent shade. As long as you follow that rule, you're good to go! Opt for colors that are as bright as your accent shade or tone it down with paler hues—it's entirely up to your preferences.
2. Stick to One Style
Even though it may be hard to pick one style or look for your home, it's more than necessary if you're trying to make your interior design flow. 
Whether you love mid-century modern or have always wanted a farmhouse-inspired space, pick one and stick to it. While it's not impossible to combine a couple of styles in one space, it's a delicate task to take on—especially if you don't consider yourself an interior decorating expert.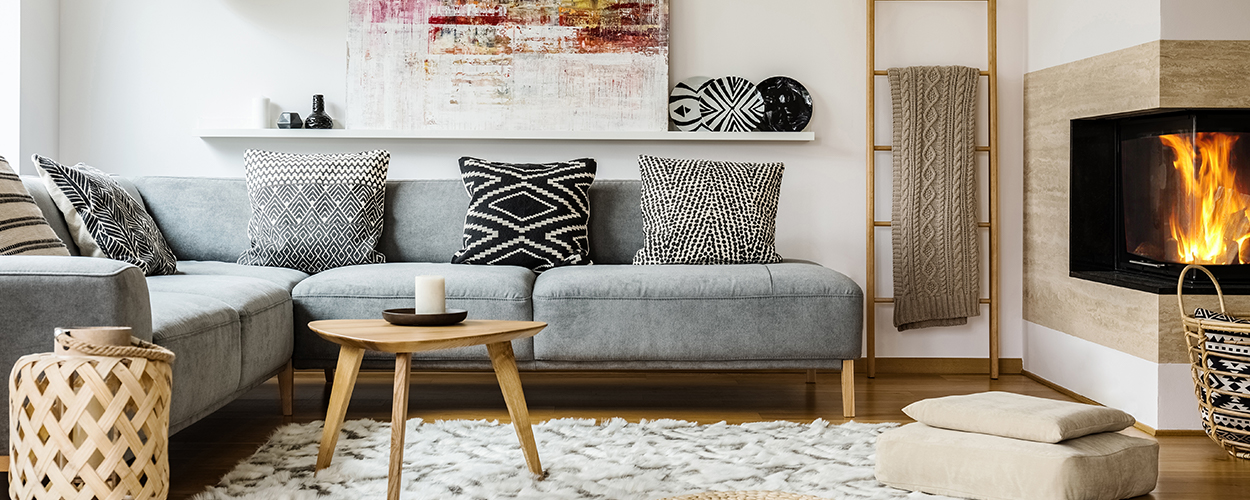 3. Mind Your Materials
The types of materials you pick also play a huge role in curating a cohesive home. Be consistent with your materials and tie them back to your color palette. These two strategies are simple ways to incorporate this interior design tip without getting too confused.
For example, stick with consistent wood finishes. Rather than mix a dark, brown wood with a light, white wood, opt for one or the other. Coordinate your upholstery material as well.
In addition to consistency with your materials, you should also try to choose materials with shades that complement your color palette. They don't need to be an exact match, but in general, cool tones (like metal) should be paired with cooler palettes and warm tones (like wood) should be paired with warmer palettes.
4. Work with Your Flooring
Flooring is an entirely different beast that can require much more work, money, and time, but it deserves attention nevertheless. This interior design tip is most important if you have a smaller home, but can also be applied to larger homes too.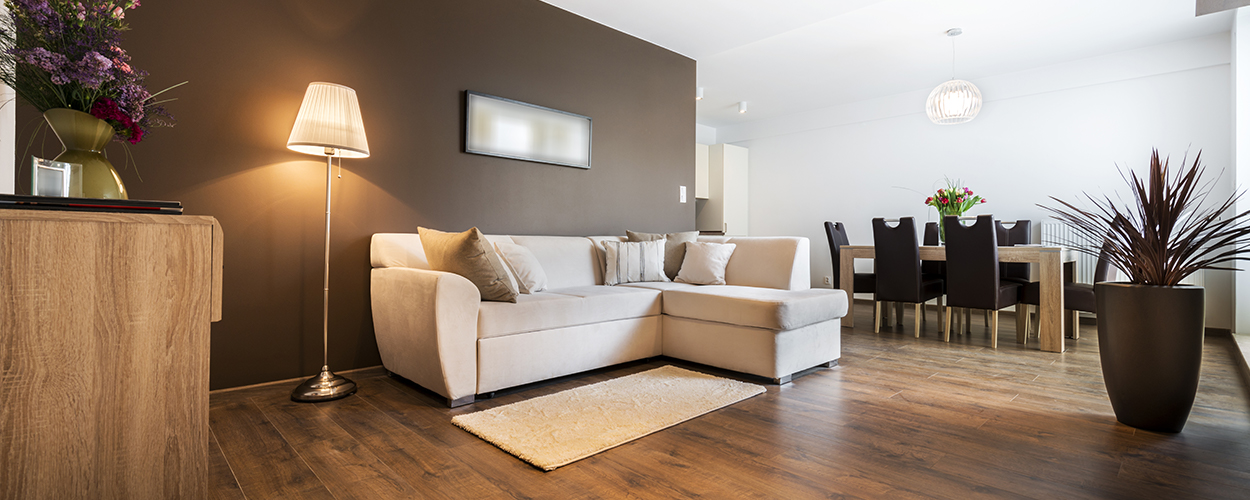 For small spaces, it's helpful to have flooring be the same in every room. This ties each room together and prevents your home from looking disconnected. Once you have that step taken care of, you can add pops of color with area rugs and runners.
Is your flooring different across rooms? While getting your flooring replaced is the best option, it's certainly not the cheapest. To keep more money in your pocket, utilize rugs and runners of the same color or material. Using similar rugs will help to connect each room despite the contrast in flooring.
Decorating your home should and will be a fun process if you follow these interior design tips for a cohesive home. As you complete each room, don't stress too much about having them look perfect. Above all else, personalize your space to make it your very own! 
If you decide to repaint your walls to change up your color palette, check out how to paint your home like a pro.