6 Seating Arrangements to Try in Your Living Room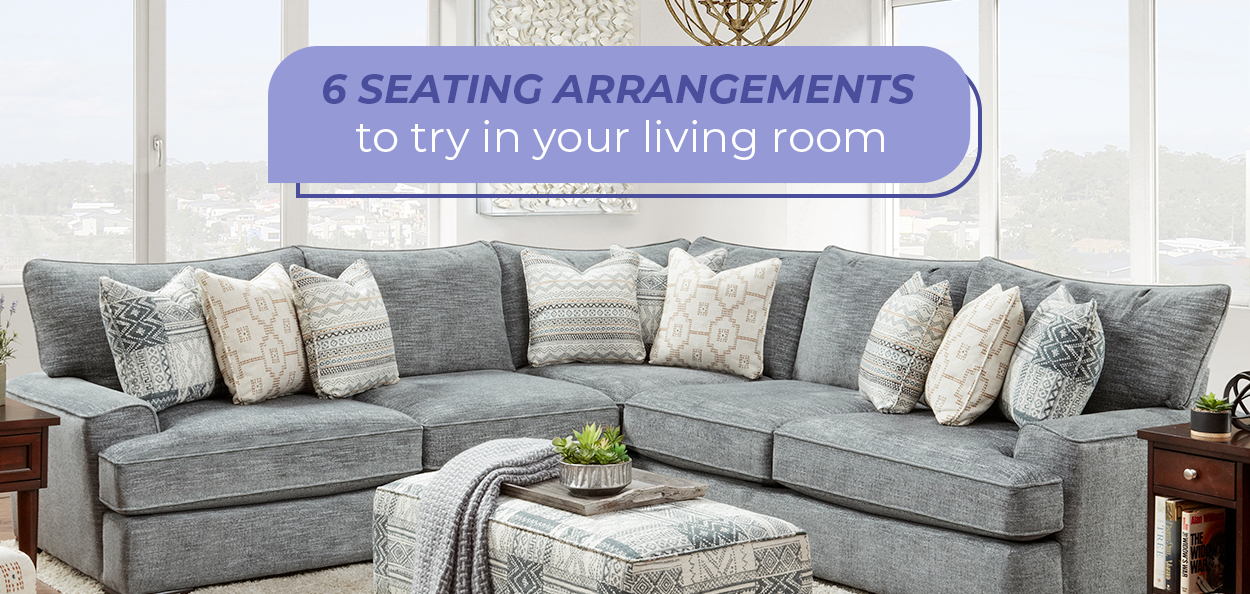 Do you find yourself scratching your head as you try to decide on the best living room seating arrangement for your home? With so many considerations like the size of your living room and the main function of the space, it's completely normal to feel a little overwhelmed. Make the choice much easier by exploring the most common family room layout ideas to see which ones are best for your decor needs!
Living Room Seating Arrangements
1. Think Circular
If you're a fan of living room seating with chairs rather than sofas, the circular layout might be best for you. This arrangement is just as it sounds—seating arranged in a circular fashion. You'll usually find that a round coffee table and rug can help ground the arrangement as well.
Unlike some other layouts, the circular layout is very versatile and has two functions. Because of its intimate nature, the circular layout can not only encourage conversation and interaction, it can also foster a calm, relaxing space meant for privacy.
While armchairs like Fusion's Bates Nickle are the most ideal, you can create this arrangement with a curved sofa as well. If you need flexibility in your living space, the circular layout is the way to go because you can easily rearrange three or four chairs to prepare for your next dinner party or book club gathering.
2. Try Symmetrical & Parallel
For a classic approach to living room seating, try a symmetrical, parallel-style arrangement. This arrangement is characterized by perfectly mirrored groupings. Most often, you see two opposing sofas separated by a coffee table. However, you can create the same look with paired armchairs or chaises.
A symmetrical parallel living room layout is best if you want your space to feel more formal and dignified. If you love traditional-style homes and formal entertaining, you'll fall in love with this seating idea. 
Despite being asymmetrical, this living room seating arrangement is well-balanced and refined. It does have the potential to be slightly less formal, especially if you choose to include more casual furniture.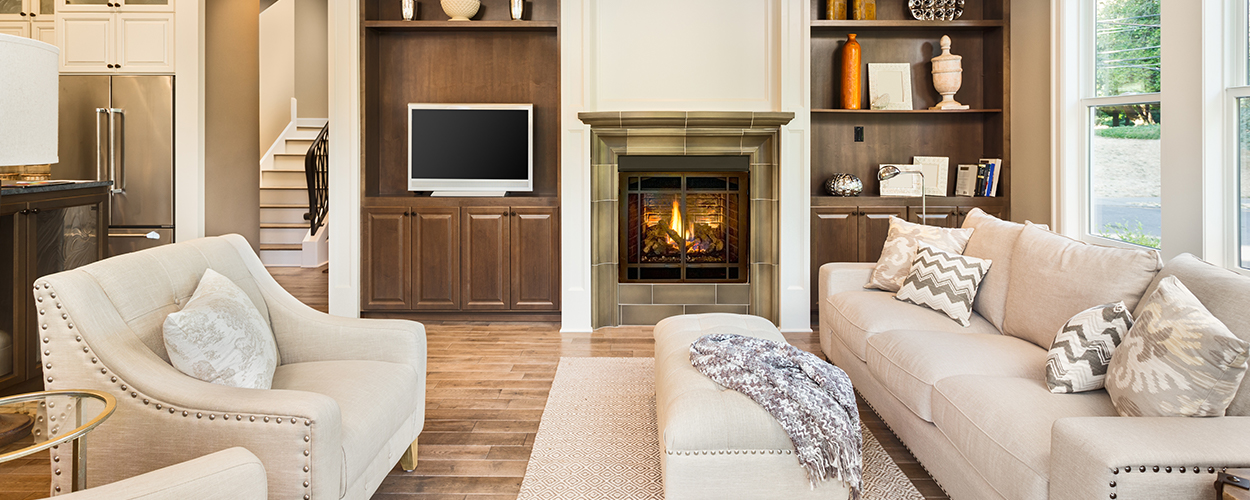 3. Don't Forget Asymmetrical & Parallel
An asymmetrical parallel living room is similar to its symmetrical counterpart, but it does have one key distinction. The opposing furniture pieces are different (asymmetrical) rather than being a mirror image (symmetrical). It's a good idea to use this particular arrangement in living rooms where extra pathways are important. It's much easier to work your way around two armchairs than one large sofa, for example. 
4. Make It Boxy
It might not be the most common living room seating arrangement, but the box-shaped layout is definitely a worthy option to consider. This arrangement provides a focus in your living room by turning conversation inward and creating a well-defined space for relaxing and entertaining. That's why box-shaped layouts work so well for rooms without a focal point—the arrangement becomes the focal point.
When you choose this family room layout idea for your home, make sure you factor in the kind of furniture you plan to use. Box-shaped layouts look stunning with cohesive furniture collections that have similar colors, fabrics, and textures. A coffee table is essential as well.
5. Go for an L-Shape
Right angles are what it's all about when it comes to L-shaped layouts. Whether you choose to include a single chair at one end of your sofa, use two sofas butted together, or keep it simple with an L-shaped sectional, the result is a casual arrangement perfect for relaxed conversation. 
This living room seating arrangement is great for small rooms and corners because it doesn't take up very much space. It also comes in handy for open floor plan homes too. The back of the sofa can be used to divide your space into two zones. A living room and dining room combo is just one example.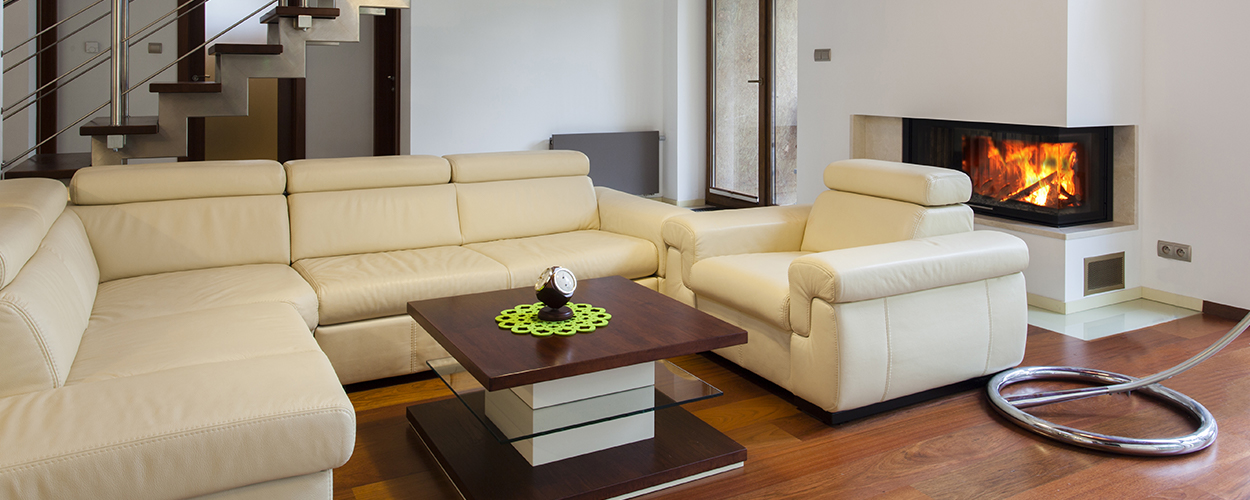 6. Opt for U-Shaped
Need ways to fill up space in a large living room? The U-shaped arrangement is just what you need. A variety of individual furniture pieces can achieve this layout. Here are a few ideas to try:
U-shaped living room seating is extremely comfortable and ideal for large parties because it facilitates conversation and offers lots of seating for guests.
Tips for Creating the Ideal Living Room Arrangement
Focus on the View
One of the most important factors to consider when arranging your living room furniture is the focal point of the space. A focal point can be any standout feature in the room like a fireplace, bay window, or large art piece. As you choose your family room layout idea, make sure you orient the main furniture piece towards your space's focal point and arrange the secondary pieces around that.
Be Strategic with Rugs
Area rugs are a stylish way to accent your living room furniture and they also help to unify seating groups. If you decide to incorporate a rug into your living room, it's essential that all furniture pieces fit on top of it. If you have a rug that doesn't quite hold the entire furniture arrangement, try to at least fit the front legs of all pieces on the rug.
Float Your Furniture
Fight against the urge to push furniture up against walls in small living rooms. While it may seem like the best solution, it actually creates an awkward space in the middle of the room and accentuates the small square footage. As an alternative, bring your furniture out towards the center of the room to create a more open, welcoming atmosphere.
Now that you know more about the most common family room layout ideas, take a look at Fusion Furniture's collections to start furnishing your space!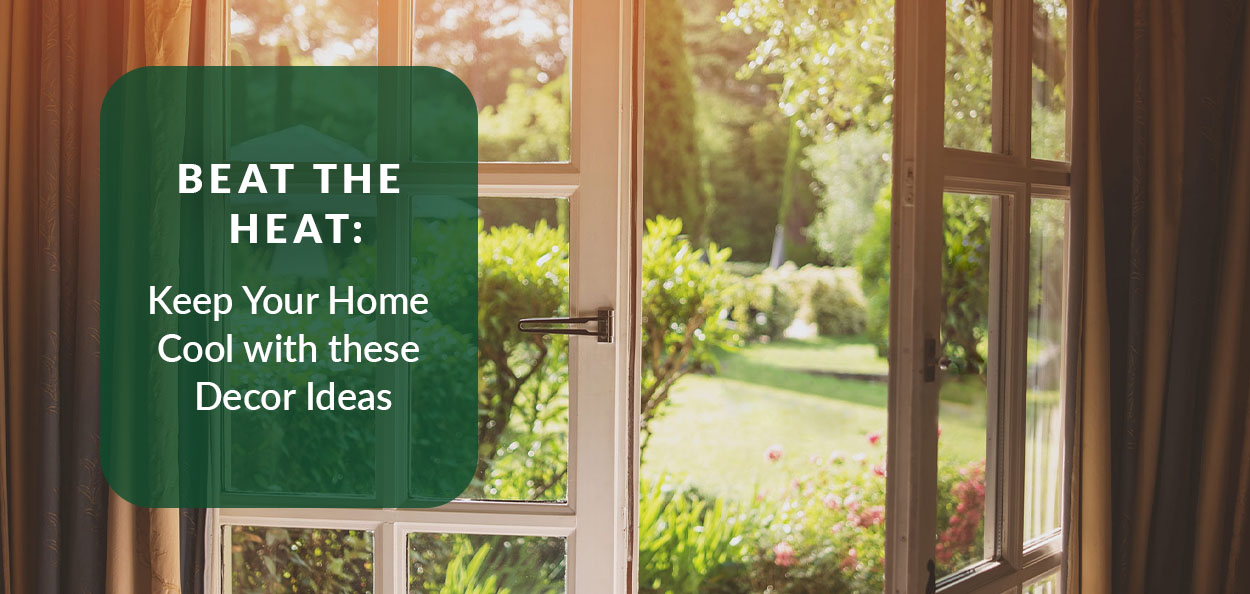 The summer season is full of sunny weather and exciting outdoor activities, but with all of that comes some serious heat! Rather than blast your AC all day long to escape the scorching temperatures, learn how to keep your home cool with energy-efficient interior design ideas that are much better for your budget!
Cool Summer Decorations for Your Home
Add Decorative Window Shades
Your windows are the main source of heat during summer days, so it only makes sense that you'd start there when thinking about energy-efficient interior design. Prevent harsh sunlight from heating up your home by investing in window coverings.
While all curtains, drapes, or blinds are helpful in blocking sunlight, there are specialized window coverings made for the sole purpose of keeping your house cool in extreme heat. To see major improvements, explore insulated curtains (blackout curtains) that have a dense weave and high thread count or a synthetic thermal backing.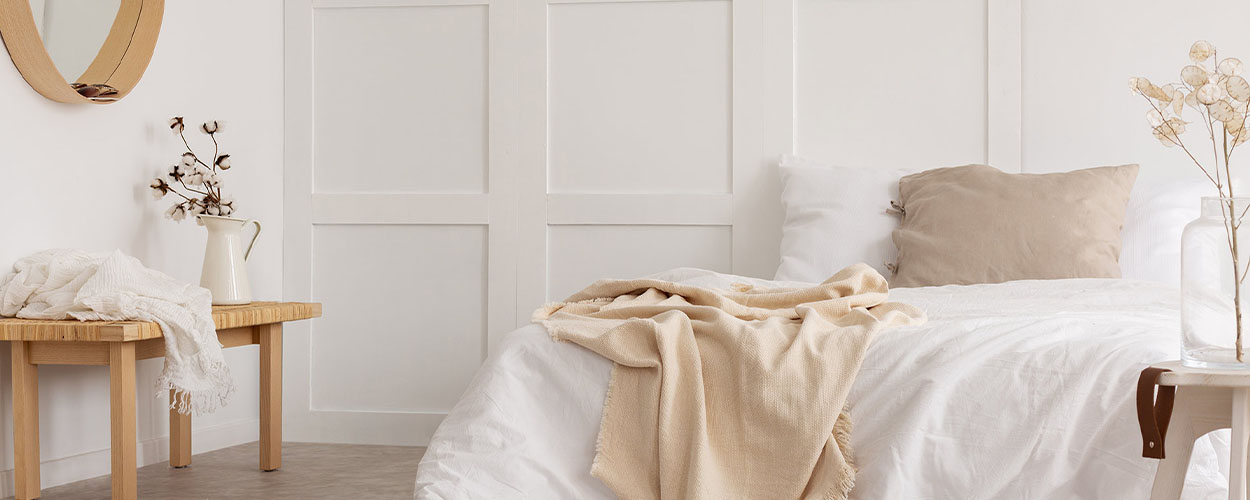 Switch to Seasonal Bedding
While down comforters and flannel sheets are cozy during winter nights, they're absolutely stifling during the summer months. Pack away the plush material and replace it with bedding that's light and breezy. 
Natural linen fabrics like cotton and bamboo are ideal for hot weather because they wick moisture away from your body and keep you cool. You can also buy pillows with synthetic filling that are known to be more breathable.
As you swap out your blankets, pillowcases, and sheets, keep in mind color as well. Opt for light shades that reflect sunlight and heat, rather than absorb it.
Use Light Paint Colors
Just as light-colored bedding is an energy-efficient interior design hack for summer, so is light-colored paint. If your home has quite a few dark walls, especially in rooms with lots of natural light, you may want to consider repainting. 
Light beige, white, and pastels are great shades that work to reflect sunlight. 
Update Your Rugs
One of the most cost effective ways to cool your house is right below your feet—your rugs! Say goodbye to thick, shag rugs and hello to light, summertime rugs. For the best cooling results, choose wisely with carpets and rugs made from natural materials like cotton, bamboo, and wool. Wool floor decor is ideal for humid areas because it can absorb up to 30 percent its weight in moisture without feeling damp.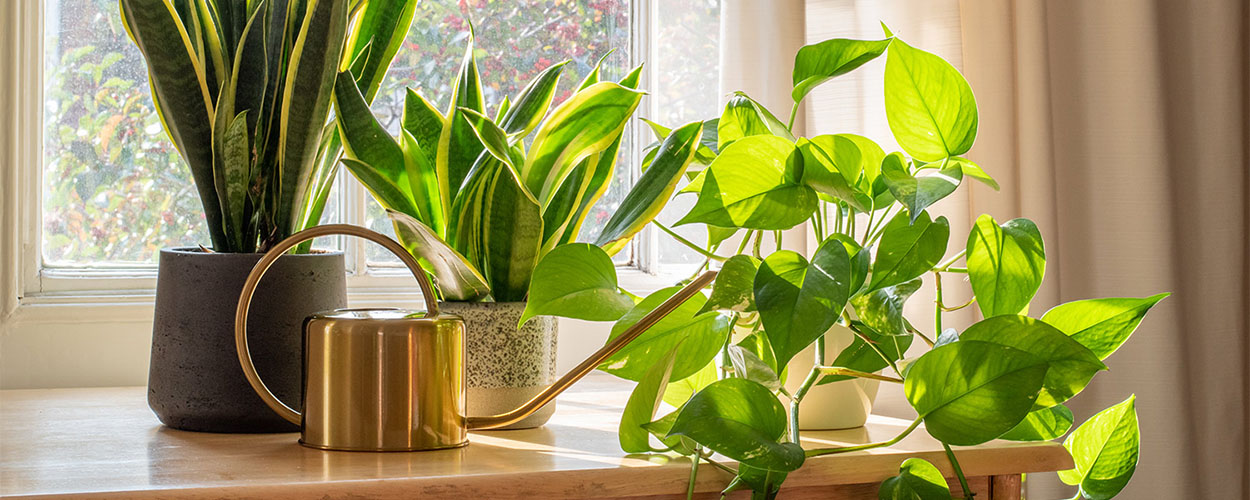 Freshen Up with Houseplants
Houseplants are not only gorgeous summer decorations for your home, they actually serve a more practical purpose too. Head to your local garden center and pick out a handful of houseplants that thrive in direct sunlight. Place those plants in front of your windows and they'll help to create shade! The more full they are, the better. 
Another perk to investing in summer houseplants is that the soil humidifies the air. If you live in an extremely dry climate, humidifying the air can reduce allergy and cold symptoms, as well as make your home feel much more comfortable!
Try LED Bulbs
Did you know incandescent lighting runs much hotter than the other lighting alternatives on the market? While it may seem like an insignificant amount of heat, your home's lighting does affect the overall temperature of your space. 
Take a few minutes to go through each lamp and light fixture to replace them with LED bulbs that run much cooler. If you'd rather not replace all of your lighting, focus on high traffic areas in your home where you find yourself relaxing the most. Your living room is a prime example.
Incorporate Fans When You Can
It's time to break out the fans for summer! Whether you have a ceiling fan, pedestal fan, or both, you're already ahead of the game for keeping your house cool in extreme heat. Fans may not diffuse humidity in the air, but their breeze certainly will make you feel much more refreshed than if you didn't have them.
If you're using ceiling fans within your energy-efficient interior design, make sure to adjust the rotation to counter-clockwise. This will pull your home's hot air up to the ceiling and away from everyone seated down below.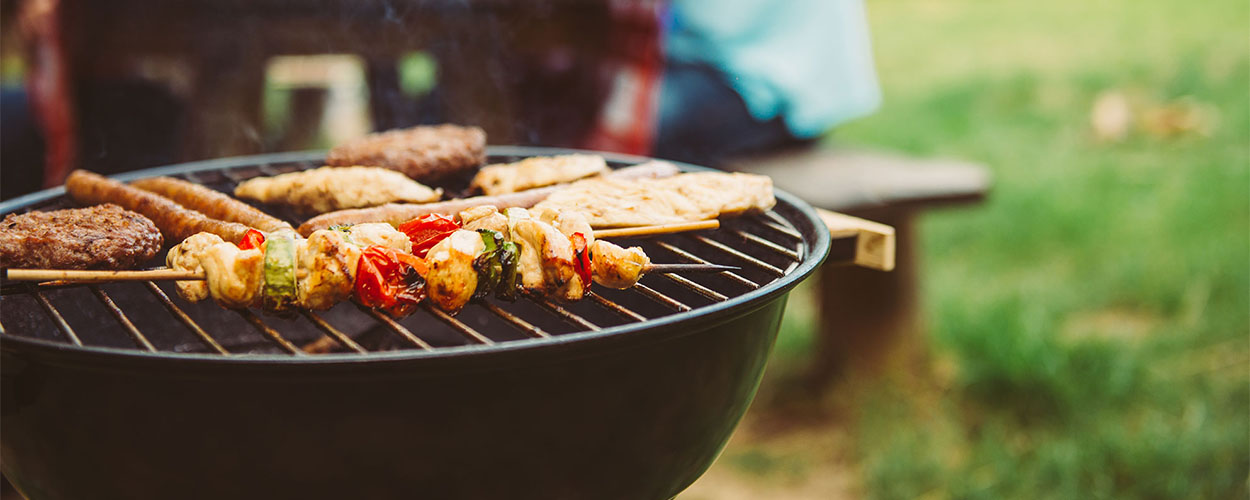 Practical Tips for a Cool Summer Home
Grill, Don't Bake
You've probably already noticed that cooking during the summer is quite a challenge because it makes your home stuffy and hotter than usual. Be strategic with your cooking methods by grilling outside as much as possible instead of using your oven or stove. You still get delicious food and can enjoy a meal at the dining table without sweating!
Insulate Windows and Doors
On the list of how to keep your home cool, proper insulation is at the very top. Your windows and doors are the main gateways between your home's interior and the outside world. If they aren't insulated very well, they will let heat into your home, as well as let cool air out. 
Give your windows and doors a thorough inspection to make sure they are efficiently blocking the summer heat. Weather stripping, double or triple pane windows, and shutters are just a few ways to improve the efficiency of your home's insulation.
Close Off Unused Rooms
The more doors you have open, the more space there is for cool air to distribute across your home. Work strategically to keep your home cool by closing off rooms you don't use throughout the day. At night, take advantage of colder temperatures by letting the fresh air naturally flow through your space.
Once you've taken the steps to cool down your home's interior, splash into summer with these stylish patio ideas perfect for any backyard!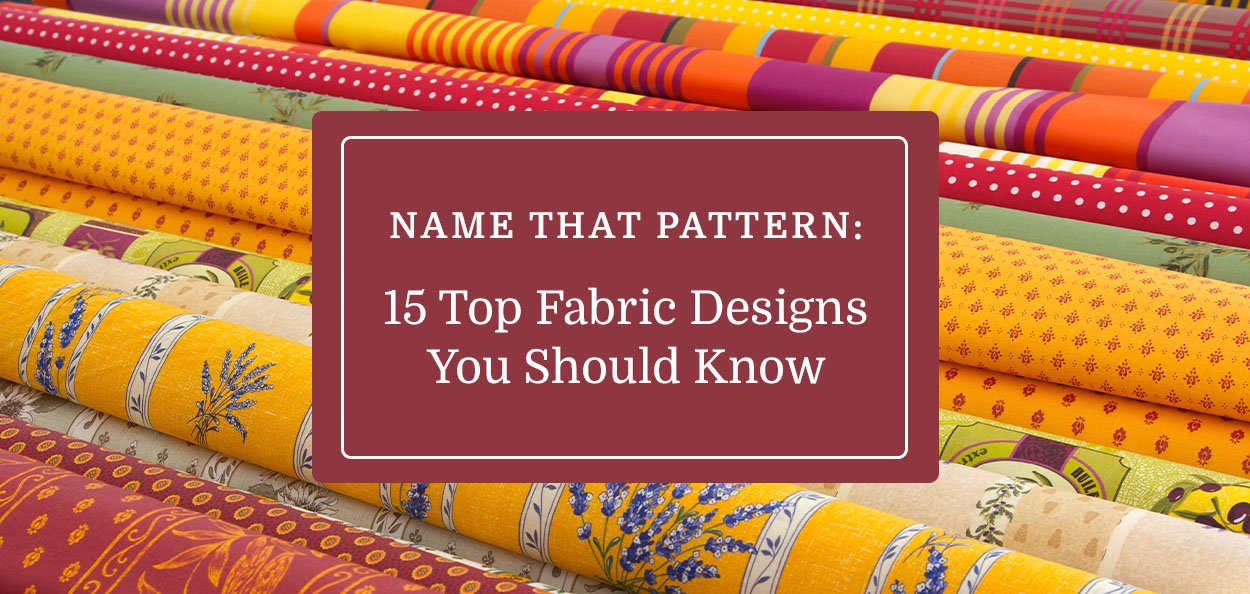 It's one thing to look at furniture and love the fabric, but it's a whole other challenge to know the name of that gorgeous design that makes the fabric stand out. If you have ever found yourself struggling to name the upholstery pattern on your throw pillows or accent chair, it's time to reference our guide! From more common pattern names like polka dot to unique designs like Moroccan lattice, here are the top 15 upholstery patterns you should know.
1. Trellis
Need a sophisticated look for your drapery? Trellis is a modern, yet classic upholstery pattern that's formed with interlocking lines that resemble a fence or trellis. There are multiple variations to trellis, but one common theme is that the design is usually limited to only two colors. This design is best for accent decor like throw blankets or curtains.
2. Tartan
The easiest way to remember what a tartan pattern looks like is to think of a traditional Scottish print. The tartan pattern is formed with stripes of different widths and colors duplicated on both the vertical and horizontal axis. While it may look like plaid, tartan got its own name for a reason. The duplication of stripes on both axes is the key feature that distinguishes tartan from your ordinary plaid pattern. This upholstery design is ideal during fall and winter for a warm and cozy touch.
3. Paisley
Add a touch of retro vibes to your home with paisley, one of the most well-known fabric pattern names on the market. Paisley's teardrop-shaped, intricate design originally came to fame in Europe but managed to make its way into American fashion in the 60s and 70s. Paisley is known to have a colorful design which is great if you're looking for a statement piece like an accent chair in your living room.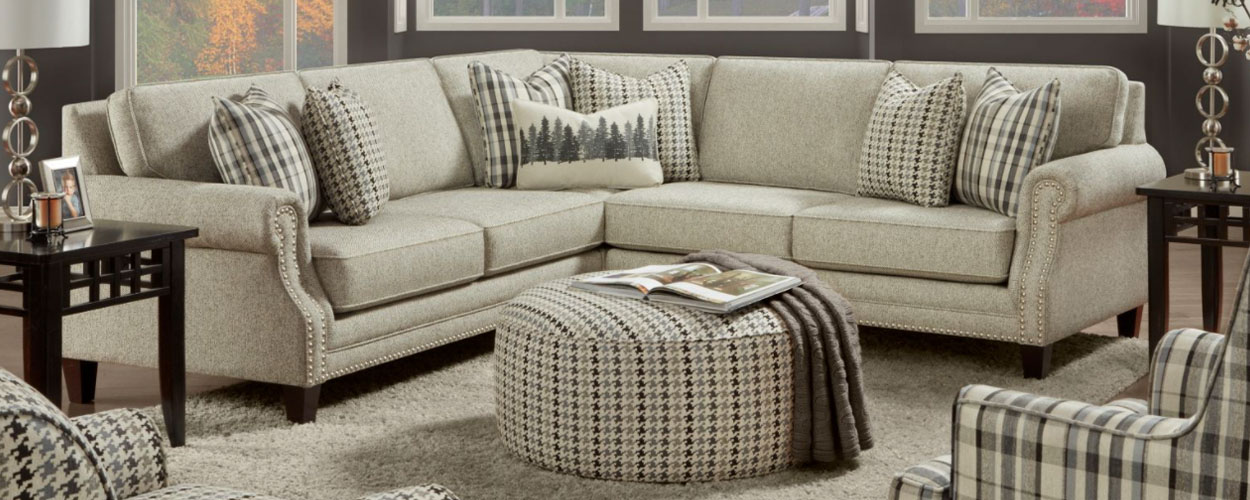 4. Houndstooth
Want to know how this common fabric pattern got its name? Houndstooth closely resembles a checkered design with irregular, abstract points on the corners of the squares, which some say look like a dog's teeth. While the description may not sound so elegant, the houndstooth design has earned a reputation for being quite classy. This design is usually in black and white or any other combination of neutral colors. It's perfect for contemporary and eclectic rooms.
5. Moroccan Lattice
Moroccan lattice is one of the more unique fabric pattern names within the decorating world, but it's definitely one upholstery design you'll recognize. Similar to the trellis design, Moroccan lattice is a grid-like pattern formed by interlocking lines. Its most identifiable feature is its four sides—two round and two pointed. 
6. Herringbone
In a nutshell, the herringbone design is a zigzag pattern with breaks between the zigs and the zags. It's often compared to chevron, another upholstery pattern, but is typically much thinner in its lines. Herringbone got its name, in part, because its zigzag pattern looks like a fish skeleton! 
7. Polka Dot
You probably don't need a description for this common pattern name, but it sure does make the list for most popular fabric designs! While the name is well-known, you may not realize that a true polka dot pattern consists of evenly sized and spaced dots. Polka dots are extremely versatile and can be used for a variety of interior design tastes.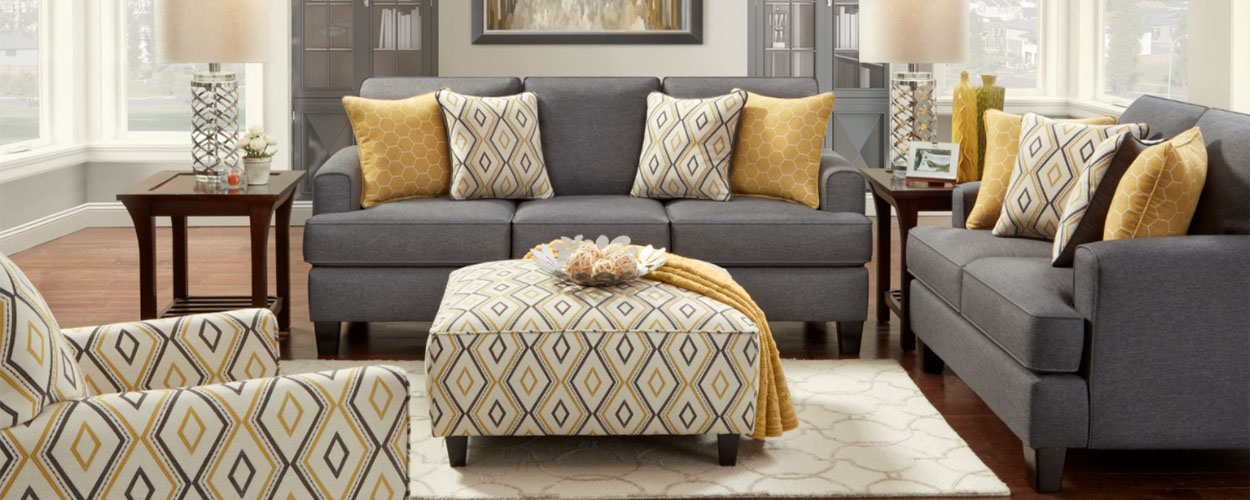 8. Geometric
Think back to your school days for this common pattern name! Geometric fabric designs encompass any geometric shape like circles, squares, triangles, or ovals. The patterns can be symmetrical or irregular and abstract. Geometric fabric designs are versatile, but are especially stunning in contemporary and mid-century modern homes.
9. Stripes
Just as polka dots are universally known, stripes are as well. This is one of the most basic upholstery designs, which is probably why it never goes out of style! Before you consider yourself an expert on striped patterning, ask yourself if you know some of the variations of this pattern.
Awning stripes are broad stripes, sometimes separated by thin bands, while barcode stripes are stripes of varying width.
10. Harlequin
Harlequin is much like that of a checked pattern, but with diamonds instead. Usually, there is a small dot where the points of diamonds meet for an added touch of flair. This upholstery pattern is found in a wide range of colors which makes it ideal for almost any space. Choose a vibrant variation with lots of different shades or opt for a simple two-color palette.
11. Gingham
If you're a fan of good ole' fashioned country decor, you must know the gingham pattern above anything else! This classic country design is made with white and an additional color that's woven into a checkerboard pattern. Unlike a traditional checkered pattern, gingham has intermediate squares where white lightens the intensity of the contrasting color by half.
12. Floral
There's not much guessing involved when it comes to floral patterns because they're just as the name suggests—full of flowers! Floral patterns aren't limited to one variation like some of the other common upholstery patterns. Instead, there are countless floral patterns that range from tiny to large-scale, realistic to abstract, and colorful to monochromatic. If you're looking for a simple way to spruce up your cottage decor style, make sure to include this design!
13. Flame Stitch
Hop in a time machine and get ready for retro vibes with the nostalgic flame stitch design! Back in the 1970s, your home was considered groovy if you had flame stitch upholstery. This pattern is made of a closely spaced series of flame-like, jagged lines. Flame stitch's zigs and zags are usually thin and can vary in height.
14. Chinoiserie
Chinoiserie designs get their inspiration from Chinese and other east Asian artistic traditions. Colors and fabrics vary quite a bit, as well as the depictions. Birds, children, fishermen, and florals are a few of the main themes you'll see woven into chinoiserie patterns. Traditional-style homes and Asian-style decor are heavily influenced by chinoiserie design.
15. Chevron
It's all about zigzagging stripes when it comes to chevron. Normally, the chevron pattern has two alternating colors with one of them being white. This upholstery pattern is fun and energetic, so be sure to include it if you're looking for some interior design pizazz!
While there are hundreds of fabric designs out there, you're off to a great start by knowing these top 15 by heart! Once you become an expert on common upholstery patterns, test your knowledge by guessing which designs are used within our Fusion collections!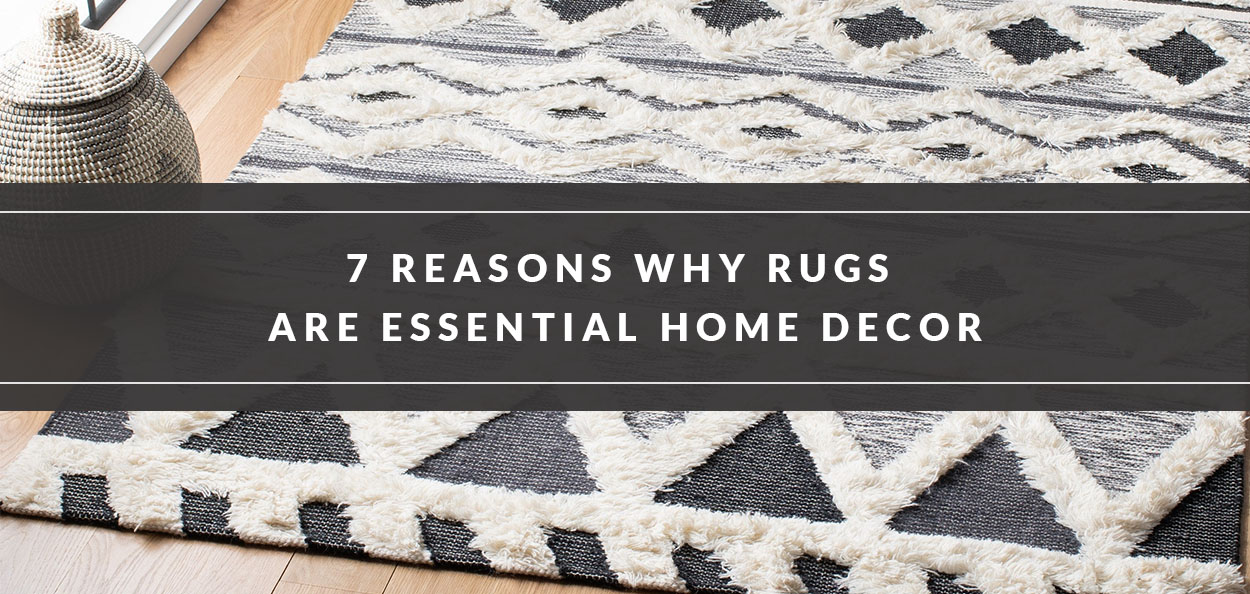 At first thought, home decor rugs may seem like a fairly insignificant accent to include in your home—the reality is quite opposite. In fact, there are multiple benefits of rugs that not only enhance the look of your home, but also serve as practical solutions as well. From advantages to tips on how to incorporate them in your space, here's a crash course on decor rugs!
Benefits of Rugs
1. Talk About Comfy
Does your space have all wood or tile floors? Walking around on such hard surfaces can be a little uncomfortable and cold. Quickly transform your floors from dull to luxurious with the addition of soft rugs. A runner down your hallway or area rug in your living room will make your space feel much more comfy and homey.
2. Soak Up the Sound
One of the most practical benefits of rugs is their ability to absorb sound. If you can hear echoes in your home or feel as if conversations can be heard across the entire house, area rugs should be next on your list for home decor. 
The more plush and thick your rug, the more efficient it will be in absorbing sound and reducing noise. This goes for all types of sounds too—voices and loud footsteps are two of the biggest culprits.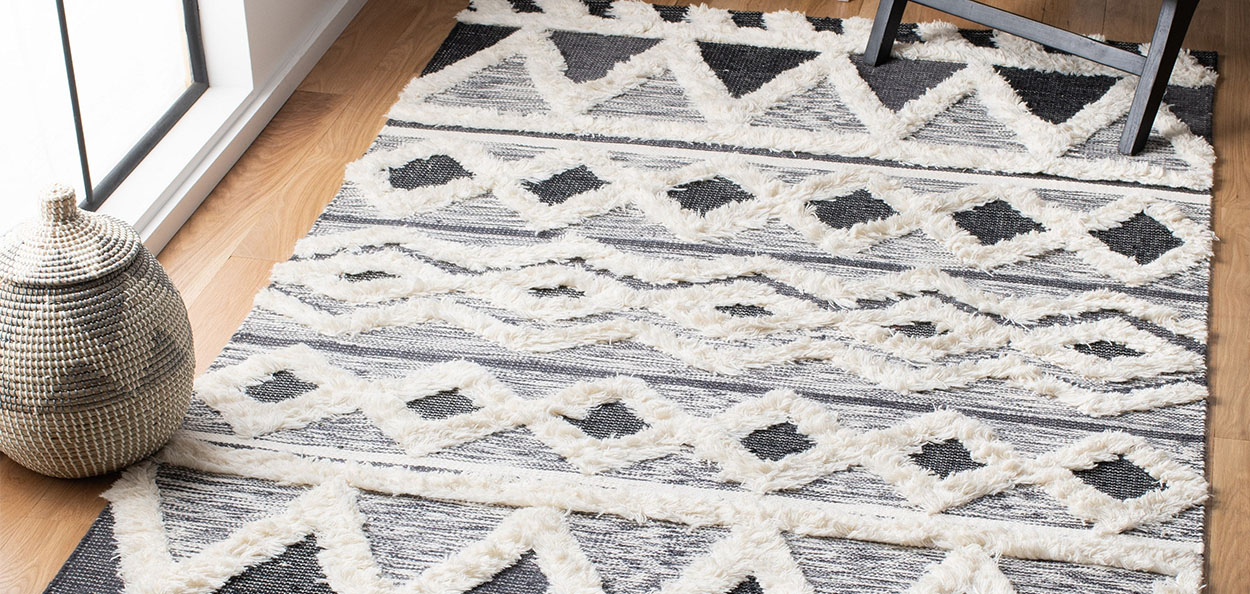 3. What About Warmth
Staying warm during winter is hard enough as it is when you're outside, so the last thing you need is a freezing home! While running your heater is an obvious solution, you might not realize that one of the best uses of rugs is for insulation.
Save some money on your energy bill by laying down dense area rugs in each room to help retain heat. Take it a step further by supplementing with an insulated rug pad underneath as well. 
4. Brighten Up Without Light
Not every house has ample natural light to brighten up each space. If you have a room in your home that is particularly dark and secluded, opt for a light rug to help illuminate the area and make it more inviting. 
You can even use big area rugs for your living room, bedroom, or dining room if the color palette you chose is on the darker side. Remember, your accent rug doesn't have to be bright white. Play around with neutral tones or pale shades that complement your home.
5. It's About Connection
Another benefit of rugs is their ability to connect separate spaces. You can easily create a more cohesive design within your home by incorporating different types of rugs that share a central design or color theme.
This example works best with traditional-style homes that are divided into multiple rooms rather than having an open floor plan. With so many walls and divisions, it can be tricky to maintain a consistent flow throughout the space. Rugs help to create unity and a visual connection.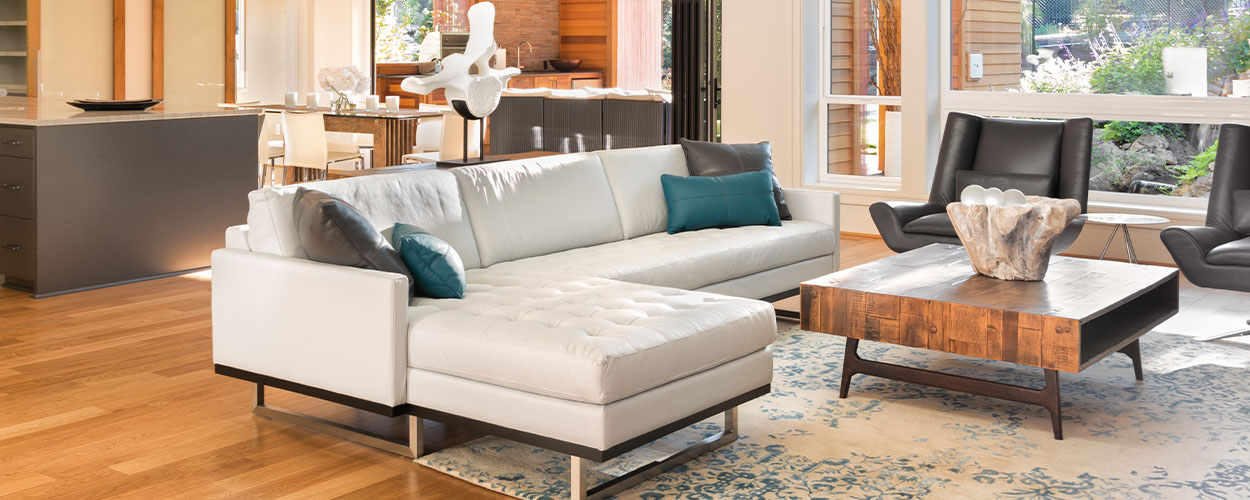 6. Zone It Out
Open floor plan homes are all the rage right now, but how exactly do you establish rooms in a space with no walls? That's where area rugs come in handy. Just as rugs can connect a space, they can also divide a space just as easily. 
Use big area rugs for your living room, dining room, and any other space to zone off those areas and anchor your furniture. The rugs help to set clear boundaries and transform one big room into distinct living areas.
7. Time for Texture
One of the most important rules of interior decorating is to include a variety of textures within your home. Besides blankets, pillows, and furnishings, rugs are another major home decor item that can get the job done! Lay down different types of rugs with interesting textures to bring depth and contrast to your home. It's a quick and simple way to enhance your home's interior design style.
Best Practices for Decorating with Rugs
Now that you know why you should add rugs to your home, it's time to learn some best practices to ensure your finished look is stunning. Here's a few tips to consider when decorating your home with rugs.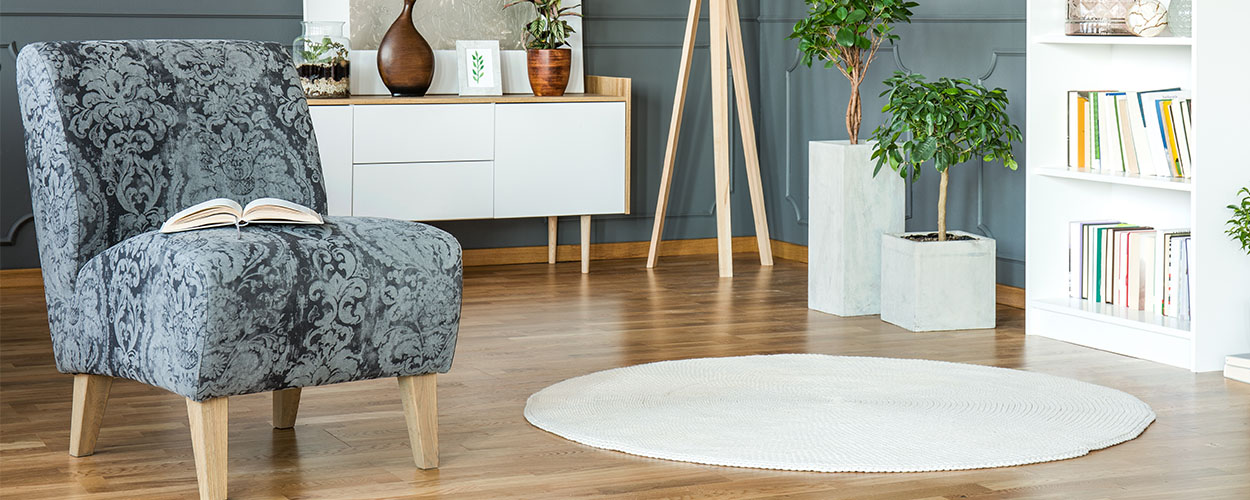 Play Around with Shapes
Although rectangular rugs tend to be the most popular, don't be afraid to create a little variety with different types of rugs in unique shapes. Assess your furniture and try to decipher which shapes would complement your space best. Experiment with ovals, circles, or squares and you might be surprised at how amazing they look!
Establish a Focal Point
Before you purchase a rug for your home, you need to decide whether it's going to be the focal point or not. A rug, especially one with bold colors and patterns, is a huge statement piece. If you choose to make your rug the focal point, decorate the rest of the room accordingly with more subtle patterns and accent colors. Remember, balance is key and incorporating too many statement pieces can overwhelm a space.
Decide on a Theme
As with the rest of your home, there needs to be a specific design theme you follow with your rugs. Mixing entirely opposite styles and colors can cause a jarring, unpleasant effect. Instead, opt for rugs that complement each other to ensure your space feels harmonious and cohesive.
As you can see, there's much more to rugs than meets the eye! Besides their beauty, rugs offer multiple benefits that make your space more inviting and comfortable. When you start brainstorming how to seamlessly incorporate rugs into your home, take a gander at how to make your rooms flow for additional tips on cohesive design.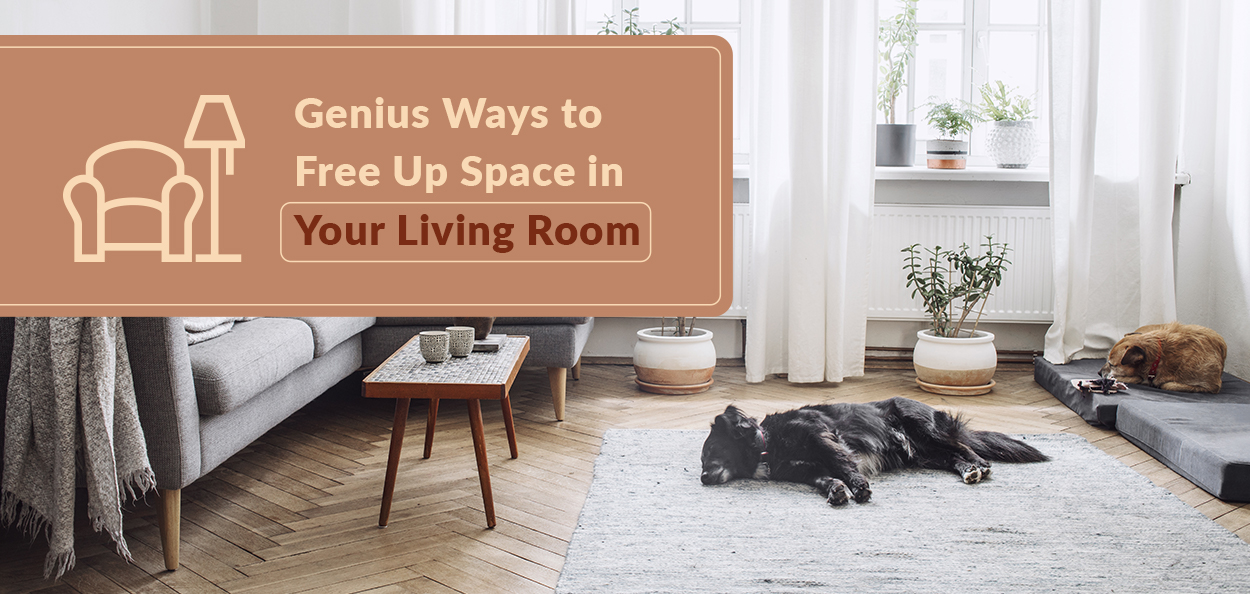 The living room is perhaps one of the most beloved parts of any home, which is why you want it to be as comfortable as possible. Decorating a small living space can be quite frustrating, but there's no need to throw your hands up in defeat! With a little creativity and strategy, you can maximize the space you have and style it beautifully. Start brainstorming ideas for your home with these space-saving living room ideas!
Arrange and Rearrange
How you arrange your furniture plays an important role in the flow and feel of your living space. This is particularly crucial for tiny rooms. Interior design experts recommend floating your furniture rather than pushing it up against your walls. This small living room layout idea supposedly makes your space look much larger and more spacious.
While designers encourage this small living room hack, give yourself the freedom to try several different arrangements. Choose what works best for you and your lifestyle!
Think Less is More
The "less is more" mantra is beneficial for every type of home, even the ones with tons of square footage. However, you'll need to consider it when you're working with minimal space. Not only should you pare down your furniture as much as possible, you should also be conservative with your decor.
Filling your walls with art and photographs can make your space feel cramped if you go overboard. Be conservative as you hang your wall decor and stick to the items you really love. 
This space-saving living room idea also applies to floor decor. Keep potted plants, baskets, and shelves to a minimum to ensure that your room looks tasteful, not cluttered.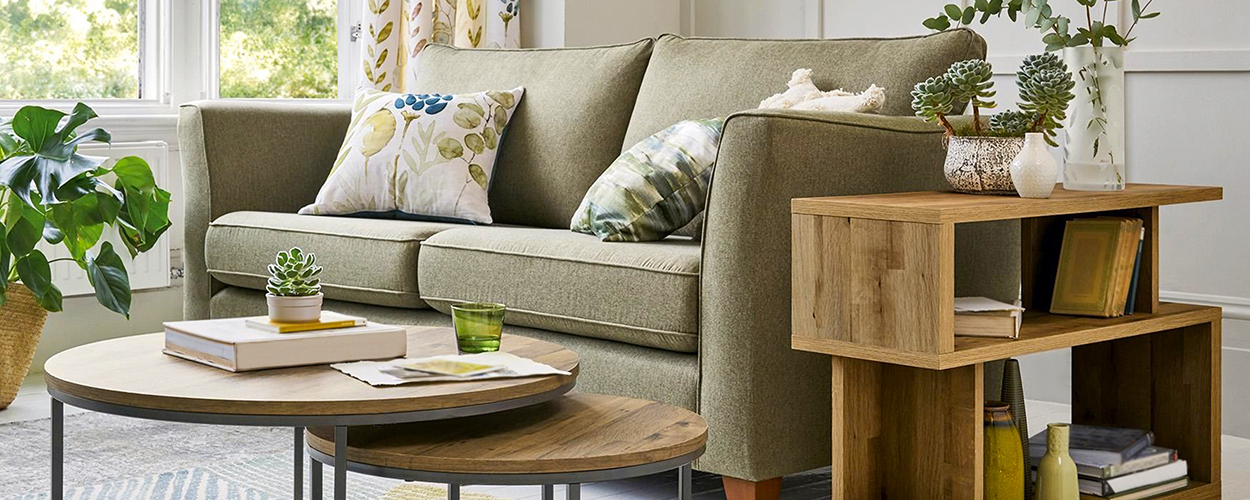 Consider the Coffee Table
Coffee tables are a great addition to the living room, but are they a necessity? Take a look at your own and decide whether you can swap it out for something smaller or forego it altogether. If you can't live without a coffee table, try to invest in one that doubles as a convenient storage solution. Lift-top coffee tables are super trendy right now and the ideal option for homes with little space.
Focus on the Walls
This small living room hack is simple and easy to follow. Because your floor space is tight, turn your attention to the walls for almost all of your decorating. 
Floating shelves are aesthetically pleasing and one of the hottest interior design trends at the moment. Use them to hold any photographs or artwork. 
Additionally, consider the walls (and ceilings) for lighting as well. Rather than take up space with floor lamps, opt for wall sconces and lighted ceiling fans. Not only do they get the job done, they are a great space-saving living room idea.
Say Goodbye to Side Tables
Just as coffee tables aren't crucial, side tables are a home decor piece you can do away with. If they hold your table lamp, invest in a wall sconce instead. Need a spot to put your books? Arrange them on a floating shelf within reach. It may be hard to say goodbye to your side tables, but it'll be worth it once your living room starts feeling more spacious!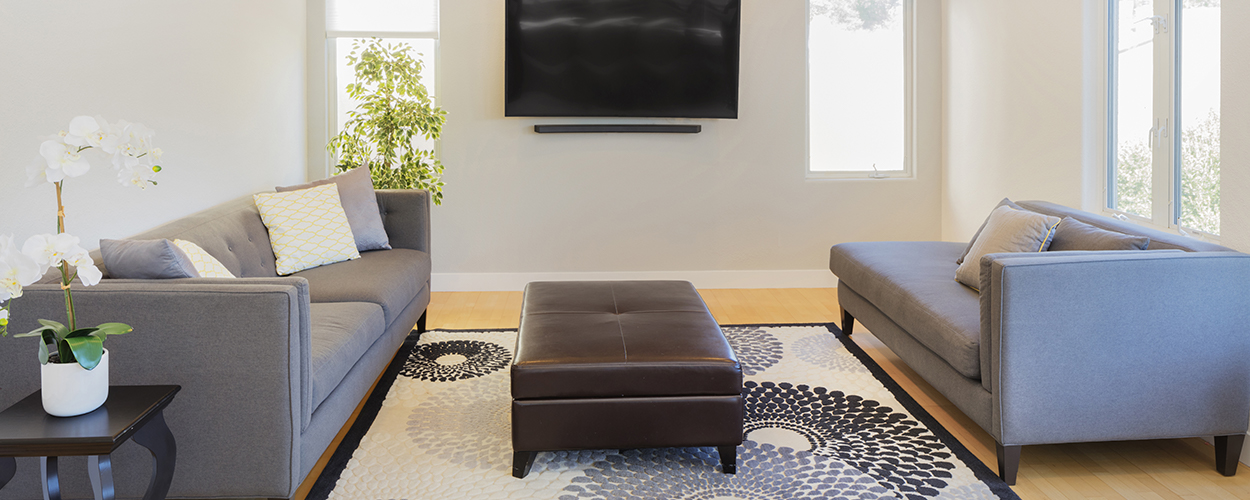 Move the Entertainment Center
The days of having a huge entertainment center are slowly fading away and this couldn't be more perfect for tiny living spaces! Try mounting your TV and speakers to the wall to give way for much-needed floor space. This small living room hack is actually quite modern and can help transform your movie nights into an ultimate cinematic experience (with a much larger TV).
Add Multipurpose Furniture
Decorating a home with minimal space is much simpler once you adopt the mindset of combining function with style. That's where multipurpose furniture comes into play. Take a look at the different furniture pieces in your home and ask yourself how much value they bring to your space.
If you have an ottoman, is it used solely for lounging or storage as well? What about your bookcase? Are there empty spaces that could be filled? Utilize as many decor items as you can to fulfill more than one function. Ottomans are great for built-in storage, seating stools can double as side tables, and bookshelves can hold more than just books. Think outside the box and you won't regret it!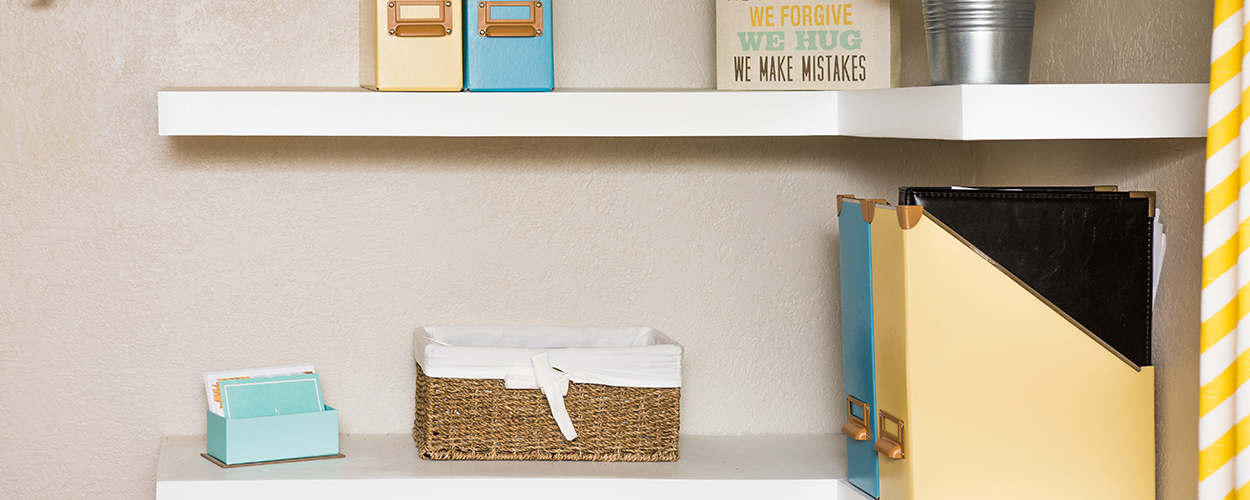 Take Advantage of Corners
Your home's nooks and crannies need some love too! This space-saving living room idea is wonderful if you aren't quite sure how to fill the empty corners in your home. Rather than leave them bare, take time to conjure up some ways you can use the space. 
Corner shelving is a unique option that knocks out two birds with one stone. Not only are you utilizing wall space, but you're also tucking away your shelves to give the illusion of a larger living room.
A window seat and small chest of drawers for storage are a couple more ideas to consider.
Now that you have the scoop on small living room layout ideas and how to maximize your space, learn 11 hacks for organizing a small bedroom!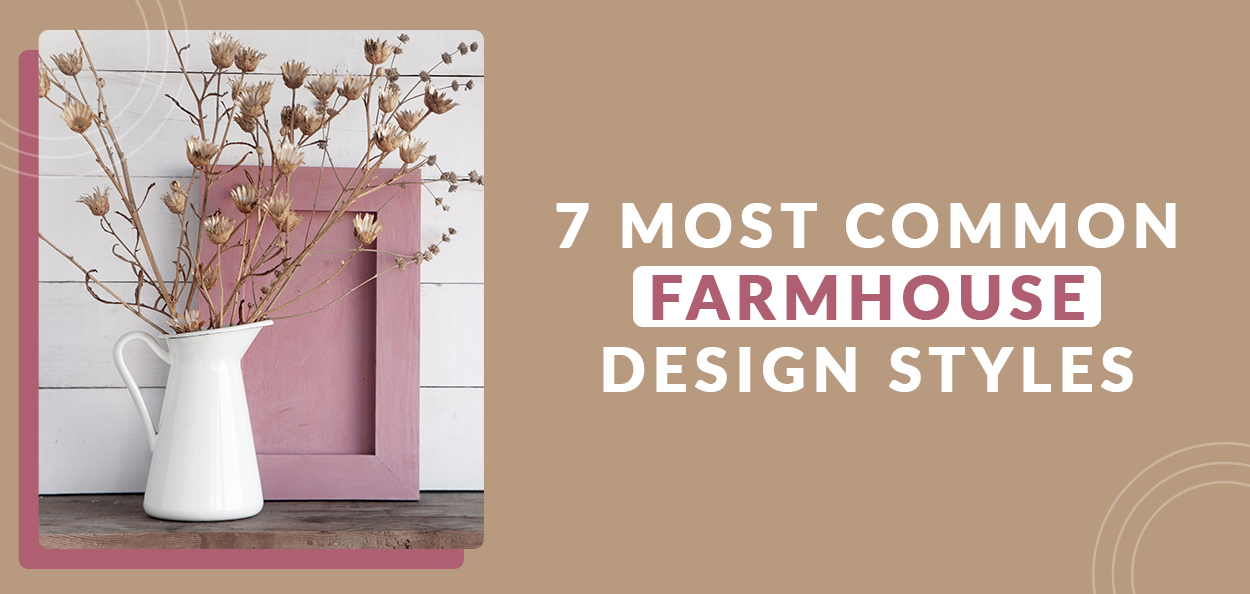 As soon as you hear "farmhouse design," you most likely think of wooden accents, rustic signs, and neutral color palettes. While farmhouse design style has taken the country by storm, many people don't know there are multiple variations of it.
Whether you're looking to adopt this interior design trend in your own home or simply find yourself curious, take a look at our breakdown of the most common farmhouse design styles being used today.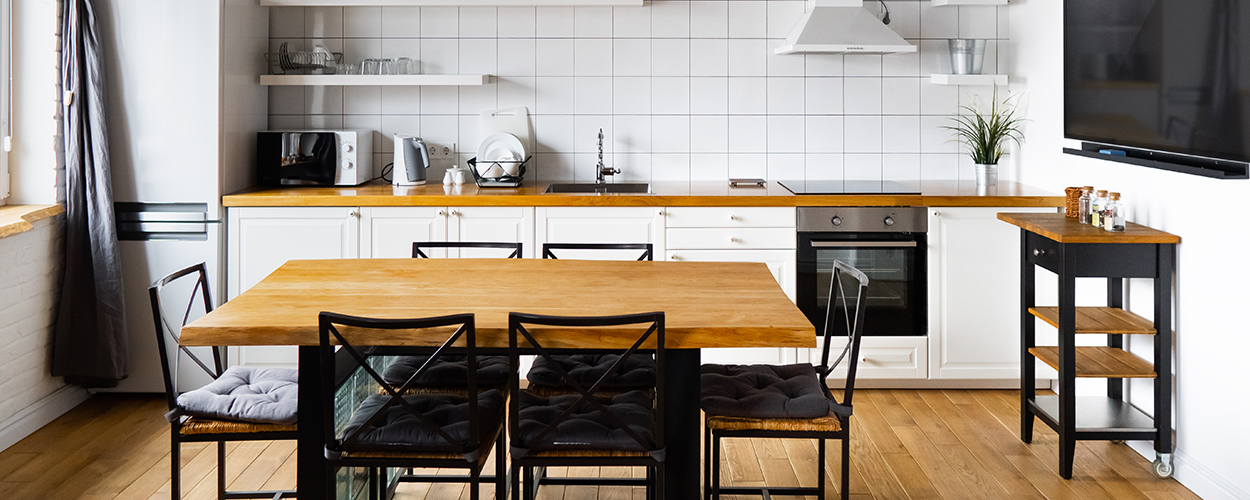 1. Industrial Farmhouse
If your husband wants to have a say in your home's decor, you might want to consider trying the industrial farmhouse design style. This variation of farmhouse design is known to be more masculine because it's inspired by the heavy machinery used on farms. Industrial lighting and hardware, cool metals, natural wood, and exposed beams are a few key characteristics that define industrial farmhouses. 
Other Characteristics:
Warm color palette

Black and off-white accents

Edison bulb pendants

Thick and heavy rustic wood

Furnishings with blackened iron structures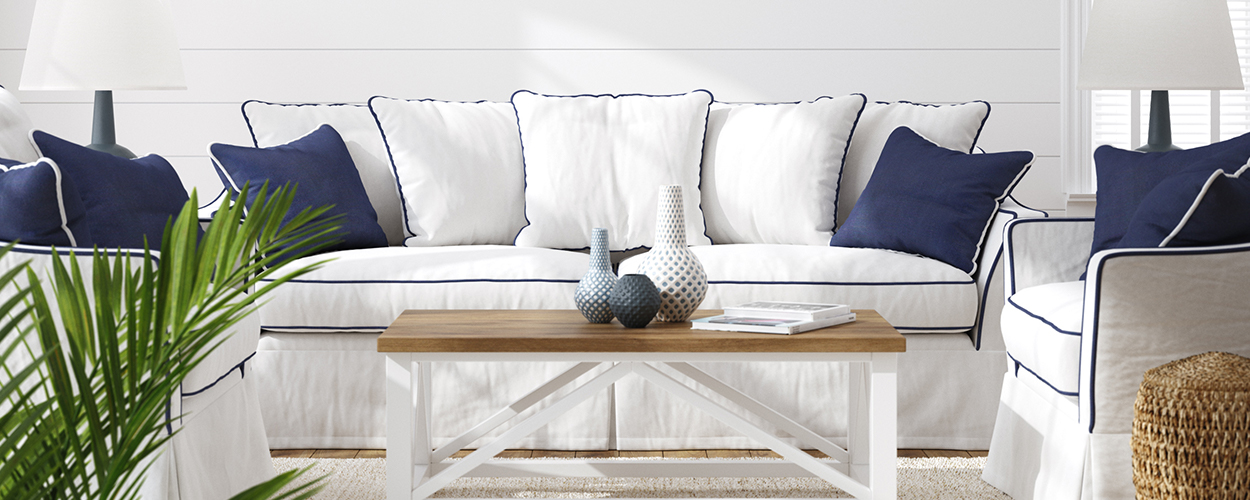 2. Coastal Farmhouse
Just as the name suggests, this farmhouse interior design idea subtly combines beachy, coastal elements with modern farmhouse vibes. Before you buy loads of starfish decor, seashells, and anchors, remember that coastal farmhouses aren't your typical beach house. They have oceanic references, but are still grounded to farmhouse interior design. Coastal accent colors of blue and green are popular, as well as white oak flooring, furniture, and cabinetry.
Other Characteristics:
Classic details in millwork (doors, molding, trim)

Warm metals like brass and gold

Natural elements like seagrass and rattan

Polished nickel or chrome hardware

Wooden beams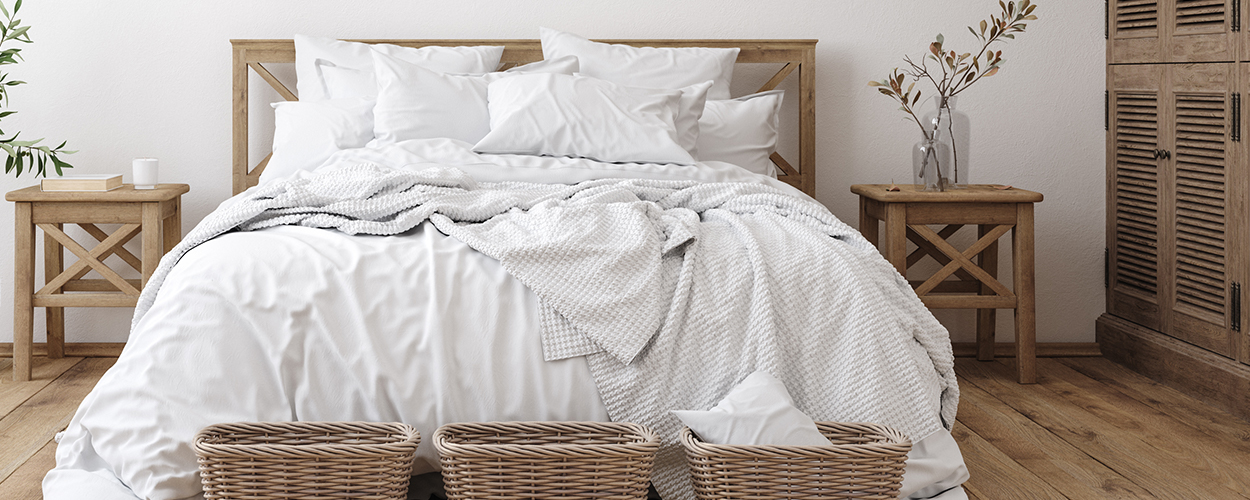 3. Scandinavian Farmhouse
Minimalism is the way to go when it comes to curating a Scandinavian farmhouse. The main idea behind this farmhouse design style is building a home that is uncluttered, modest, and light. If you decorate with purpose and follow the "less is more" mantra, you're halfway there. The Scandinavian element of this style brings modernism and minimalism, while the farmhouse side brings a more homey feel with rustic elements.
Other Characteristics:
Natural materials

Clean-lined, soft-shaped furniture

Simple woodwork in doors, window trims, cabinetry, built-ins, and countertops

Light wood flooring

Black or gray accents and mute shades of color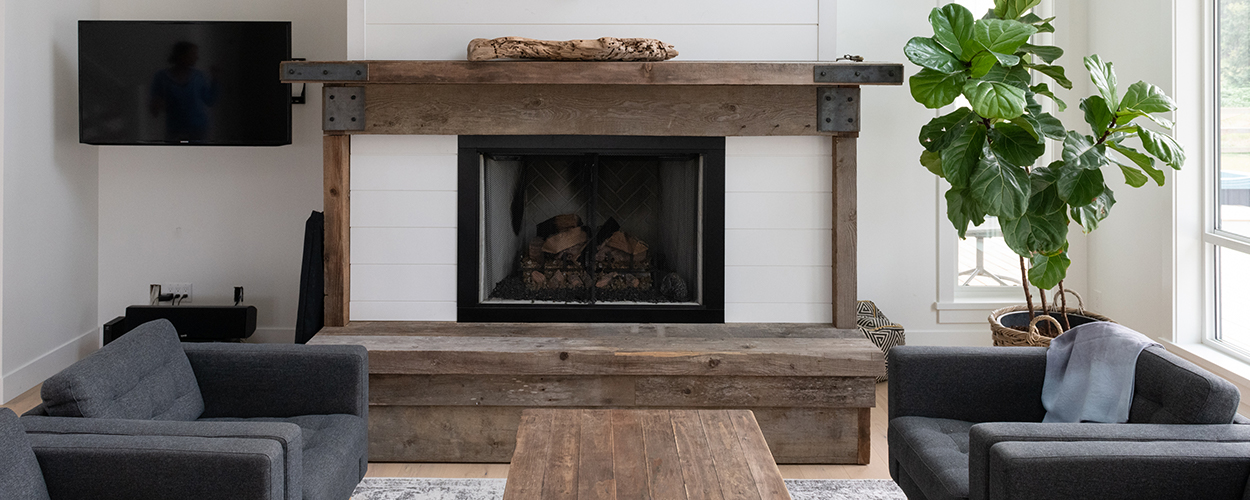 4. Modern Farmhouse
Similar to Scandinavian farmhouses, modern farmhouses are edited down to be sleek, clean, and fresh with very little ornamentation. There's an emphasis on contemporary design that can be seen in concrete flooring, exposed brick walls, and modern lighting. While you can incorporate modern farmhouse style decor in your home, it's sometimes easier to achieve this look with a newly constructed house or complete remodel.  
Other Characteristics:
Statement furniture pieces 

Bright white walls and interior

Minimal black accents and well-worn wood

Leather upholstery

Antiques and rusticity used sparingly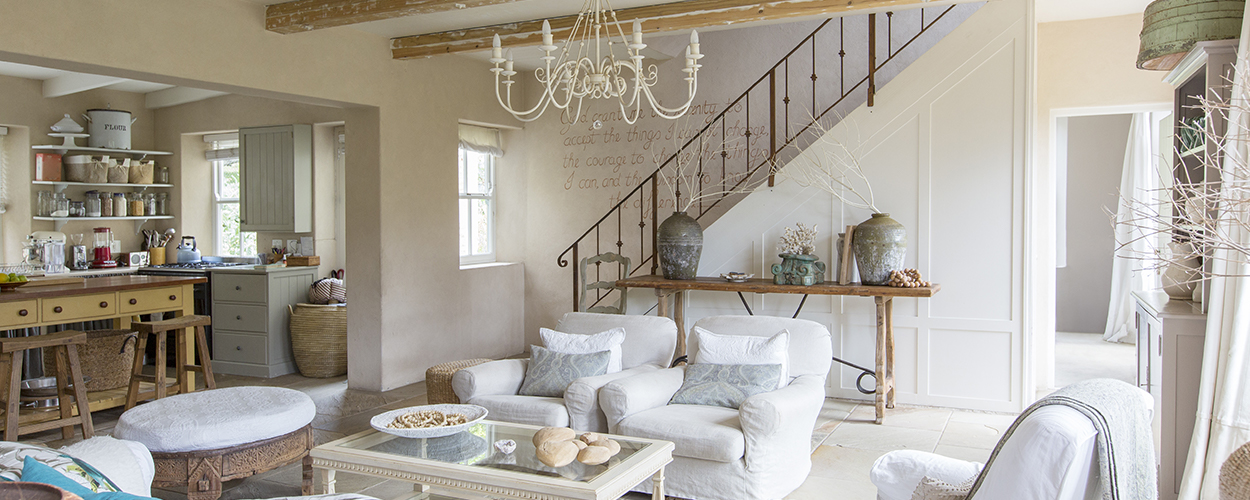 5. Rustic Farmhouse
If you love flea markets and repurposing decor, this farmhouse interior design idea is meant for you! Rustic farmhouses are all about handcrafted elements and a ruggedness you just don't see in other variations of this style. One signature feature that rustic farmhouses do have in common with other iterations is white walls. A white color scheme and vintage decor make this farmhouse design style feel especially quaint and down-to-earth.
Other Characteristics:
Neutral palette

Open shelving with vintage decor in tin and galvanized metal

Warm-to-gray distressed woods (shutters, seating, wall decor)

Subway tile backsplashes

Industrial materials and blackened steel decor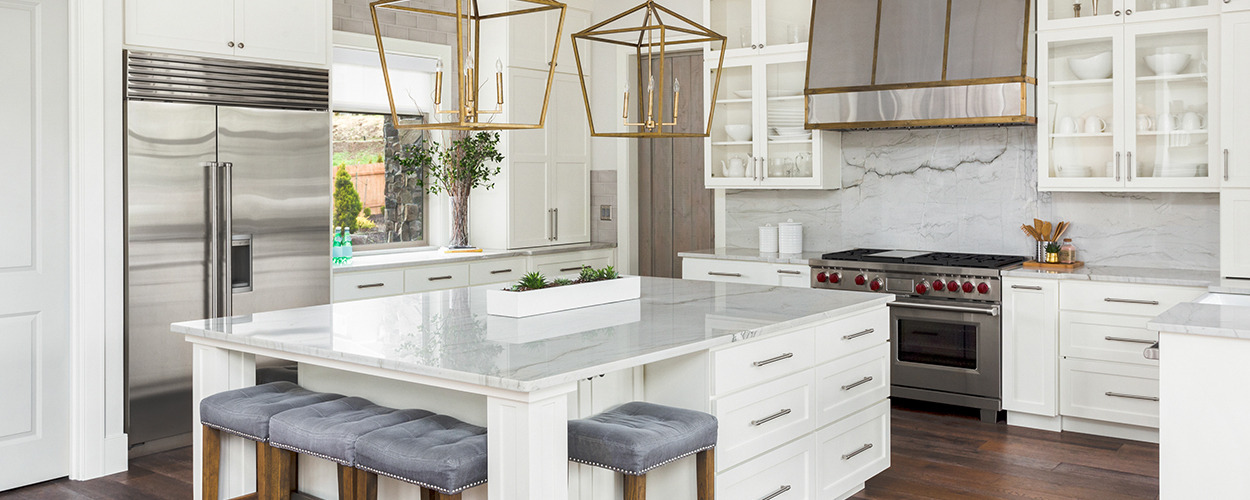 6. French or Country Farmhouse
French farmhouse style is one of the most popular versions of farmhouse interior design and definitely a top choice if you prefer to stay away from heavy industrial decor and black accents. French or country farmhouses are most aptly known to have marble, cool grays and cream-to-white color palettes, as well as more ornamentation than your typical modern farmhouse.
Other Characteristics:
Warm hardwood floors with rustic texture

Woven furnishings, off-white cotton fabrics, and cotton ticking stripes

Antique accents

Marble countertops, backsplashes, and table tops

Zinc and galvanized metals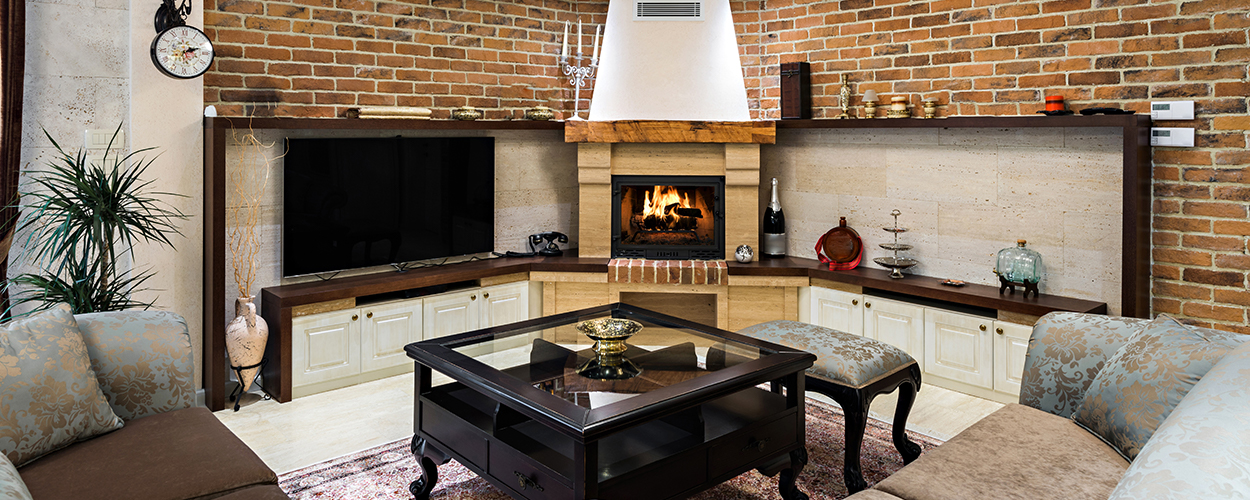 7. Colonial or Traditional Farmhouse
This farmhouse design style fully embraces the old world and a time in history that we can only read about in books. Colonial farmhouses use authentic historical elements like stone, primitive wood beams, and colonial grid windows to achieve a traditional, charming atmosphere that truly transports you back in time. 
Other Characteristics:
Traditional millwork detailing

Rich colors on painted, wood-paneled walls

American antiques and textiles used in lighting, furniture, and decor

Muted, natural color scheme

Brick fireplaces and flooring
As you can see, there are many different variations of farmhouse design style, all with unique features and characteristics. Now that you have an idea of what each entails, you can decide which farmhouse interior design idea fits you best!
If you're in the market for new furnishings to go along with the theme, be sure to take a look at our Max Gray and Basic Wool collections that perfectly complement farmhouse interior design trends.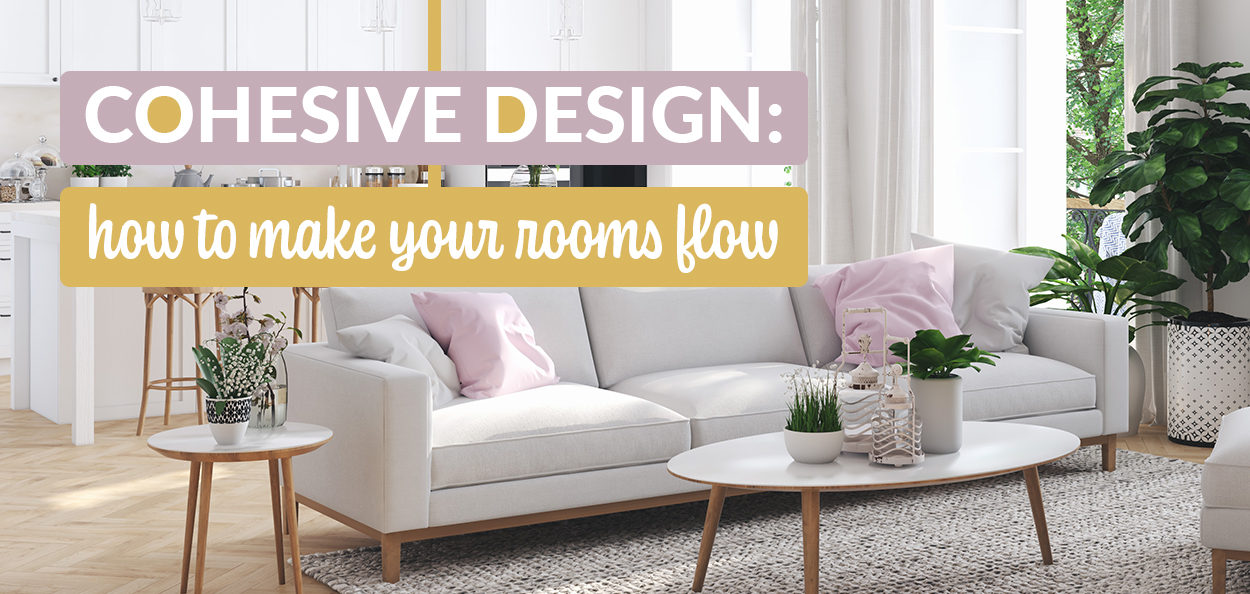 Have you ever found yourself scratching your head when decorating a room? You might wonder, "What colors should I use? Does this decor piece match?" If you find yourself struggling with these questions, it's most likely because you aren't sure how to create a cohesive interior design. 
This is a common issue for many homeowners and can easily be solved with interior design tips and knowledge of interior decorating basics. From ideal color palettes to general decor rules, plan out your home's transformation with these tips! 
1. Start with Your Color Palette
Decide on a Neutral Base
The most basic and crucial step to creating a cohesive interior design style is choosing the right color palette. Start with a neutral base color that brightens up your space. White, light gray, or soft beige are good options. 
Once you have your neutral base picked out, think about applying this color to the largest surfaces or furnishings in your home. These tend to be your walls, flooring, seating, and bedding. Add to that main hue with one or two more shades. Warm tones with warm neutrals and cool tones with cool neutrals is an easy method to follow.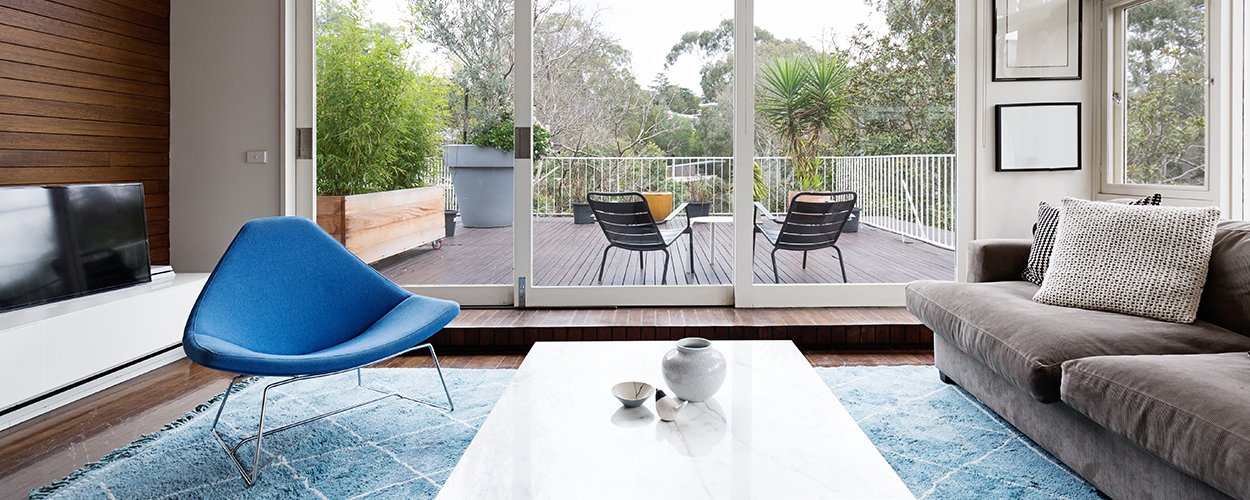 Pick an Accent Color
After you have your neutral base colors chosen, it's time to spice things up with a bold and vibrant accent color. Your accent hue will be used throughout your entire home, just like your neutral colors, so make sure it's something you really love!
As you add in throw pillows, area rugs, lamps, or even sofas with your accent shade, make sure you evenly distribute the color across your space. Avoid concentrating your accent color in certain spots more than others because it takes away from your cohesive interior design look.
Consider Complementary Colors
If you don't feel like stopping after choosing your main accent color, by all means, incorporate complementary shades as well! Your home doesn't need to be bland to flow, you just need to focus on consistency and complementary colors to help it come together seamlessly.
Not sure which colors complement each other? Take a look at the color wheel to get a better idea. One factor you'll need to remember is that your complementary colors should pair with your main accent shade. As long as you follow that rule, you're good to go! Opt for colors that are as bright as your accent shade or tone it down with paler hues—it's entirely up to your preferences.
2. Stick to One Style
Even though it may be hard to pick one style or look for your home, it's more than necessary if you're trying to make your interior design flow. 
Whether you love mid-century modern or have always wanted a farmhouse-inspired space, pick one and stick to it. While it's not impossible to combine a couple of styles in one space, it's a delicate task to take on—especially if you don't consider yourself an interior decorating expert.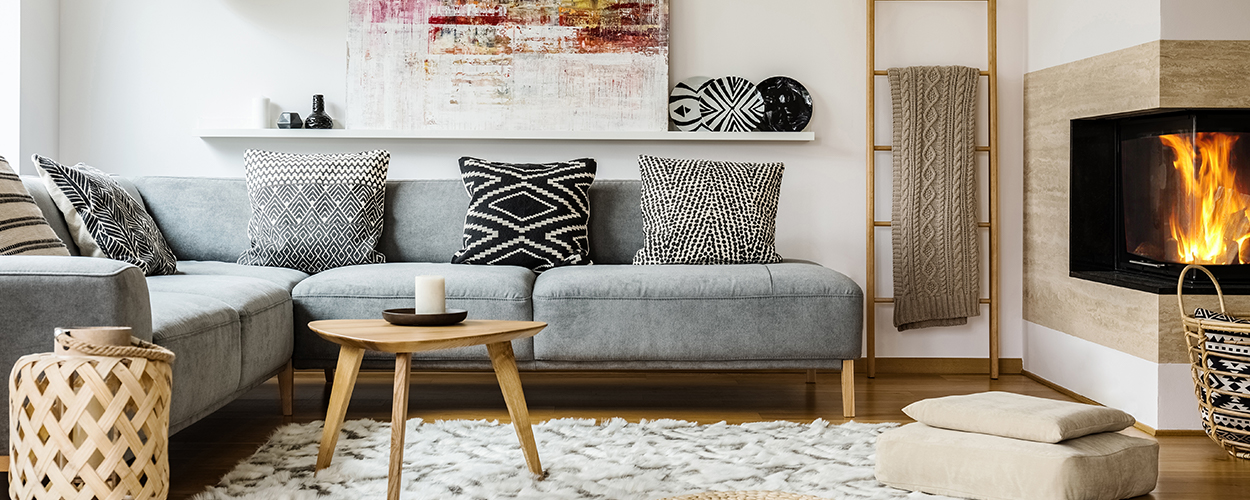 3. Mind Your Materials
The types of materials you pick also play a huge role in curating a cohesive home. Be consistent with your materials and tie them back to your color palette. These two strategies are simple ways to incorporate this interior design tip without getting too confused.
For example, stick with consistent wood finishes. Rather than mix a dark, brown wood with a light, white wood, opt for one or the other. Coordinate your upholstery material as well.
In addition to consistency with your materials, you should also try to choose materials with shades that complement your color palette. They don't need to be an exact match, but in general, cool tones (like metal) should be paired with cooler palettes and warm tones (like wood) should be paired with warmer palettes.
4. Work with Your Flooring
Flooring is an entirely different beast that can require much more work, money, and time, but it deserves attention nevertheless. This interior design tip is most important if you have a smaller home, but can also be applied to larger homes too.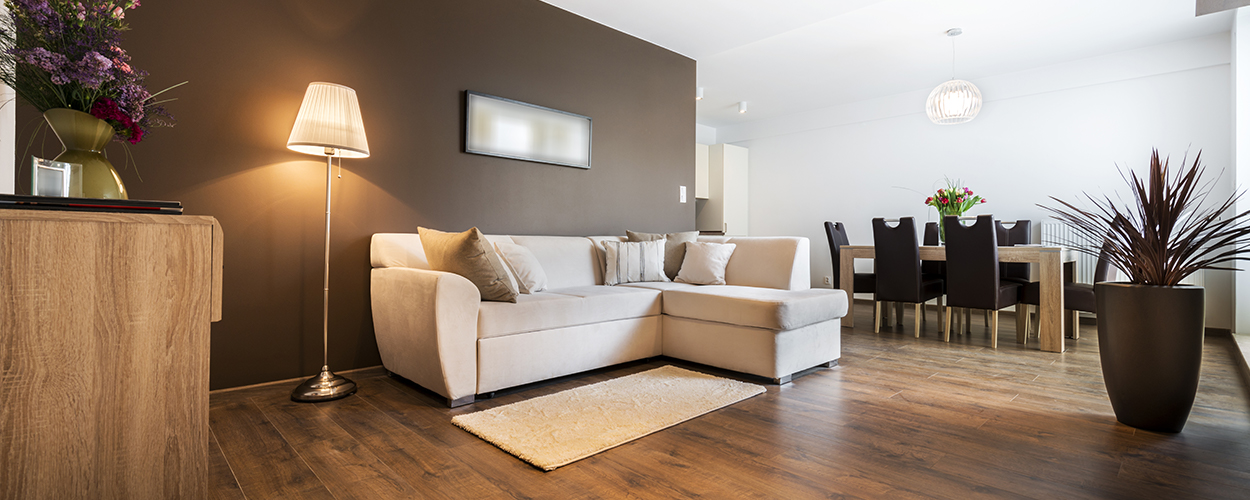 For small spaces, it's helpful to have flooring be the same in every room. This ties each room together and prevents your home from looking disconnected. Once you have that step taken care of, you can add pops of color with area rugs and runners.
Is your flooring different across rooms? While getting your flooring replaced is the best option, it's certainly not the cheapest. To keep more money in your pocket, utilize rugs and runners of the same color or material. Using similar rugs will help to connect each room despite the contrast in flooring.
Decorating your home should and will be a fun process if you follow these interior design tips for a cohesive home. As you complete each room, don't stress too much about having them look perfect. Above all else, personalize your space to make it your very own! 
If you decide to repaint your walls to change up your color palette, check out how to paint your home like a pro.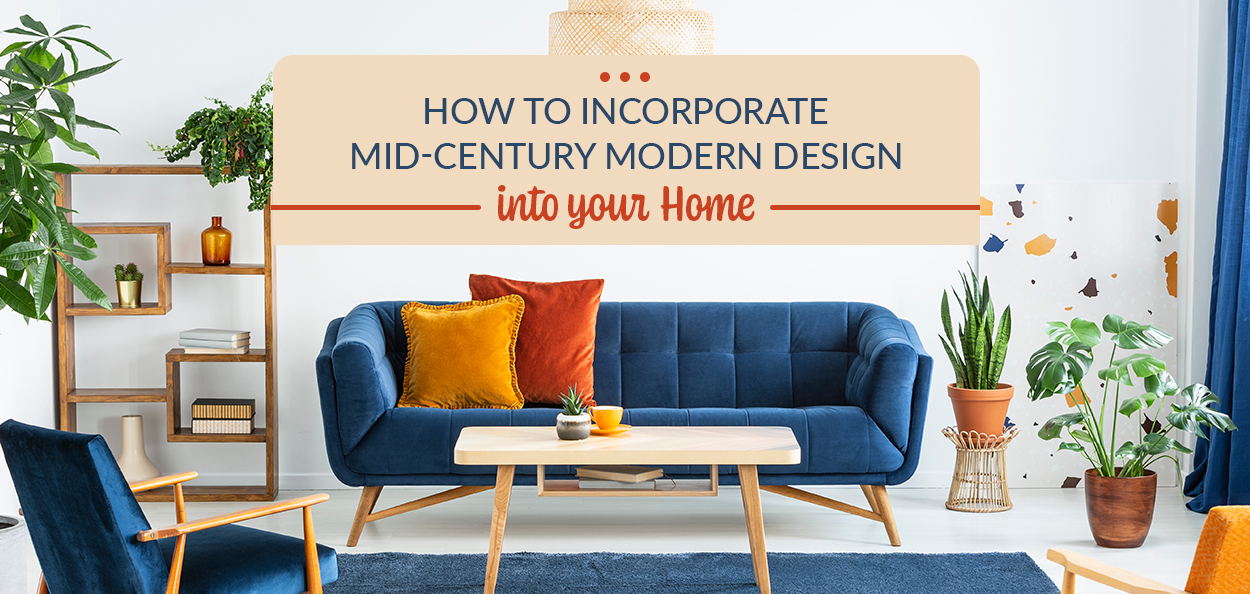 Chances are you've heard of mid-century modern home decor at least once or twice within the last couple of years. This popular interior design style has taken center stage as one of the most influential decor trends—but what exactly is it? From key characteristics to decorating tips, our guide provides all of the basics you need to know to create a tasteful mid-century modern home.
History Behind Mid-Century Modern Design
Mid-century modern is an American design movement that rose to popularity in the U.S. after World War II. The style worked its way into many facets of design like architecture, graphic design, and most notably, interior design.
Mid-century modern design was heavily influenced by the Bauhaus movement, as well as the booming U.S. economy in the 1950s and 60s after the war. In general, Americans were enjoying newfound prosperity and embracing a shift to urban living both in the city and suburbs. Because of this, modern homes were being built as quickly as possible to keep up with demand.
There were also major technological advances in the design of new homes. A push for production and development of new materials opened the door for more modern textures, effects, colors, and form. All of these factors worked together and from there, the mid-century modern home was born.
Mid-Century Modern Key Characteristics
Simple and uncluttered

Highly functional

Mix of manmade and natural elements

Sleek lines with organic and geometric forms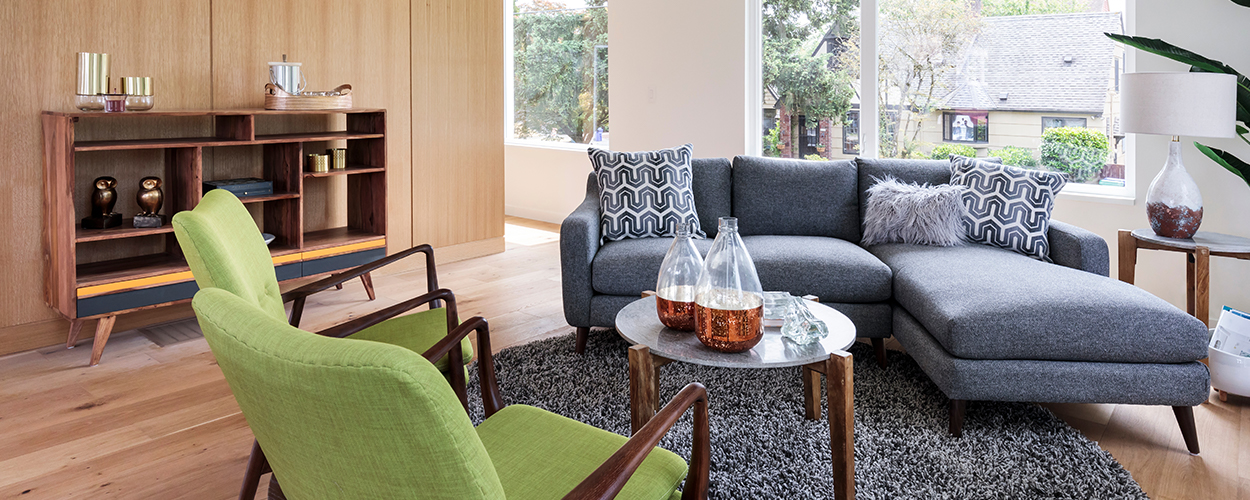 How to Create a Mid-Century Modern Home
It's one thing to know the history of an interior design style, but it's a whole other challenge to adopt it in your own home. Now that you know the background, it's time to gather some mid-century modern inspiration with these decor tips.
Geometric Shapes are a Must
One of the most recognizable traits of a mid-century modern home is geometric patterns and shapes. Rather than stick to one, mix it up and include a variety of shapes with circles, triangles, and more. Bookshelves, wallpaper, lamps, and area rugs are a few decor pieces to focus on.
It's All About the Color Palette
If you plan on adopting a mid-century modern interior design style, you'll need to think about which color palette you want to follow. Luckily, mid-century modern design is quite broad with its traditional colors. 
Feel like channeling the 1950s? Go for bright, vibrant colors that awaken your space. Fast forward 10 years and the 1960s version of mid-century modern style uses more earth tones. 
If neither of these options match your preferences, opt for muted tones and pastels for a more subtle look.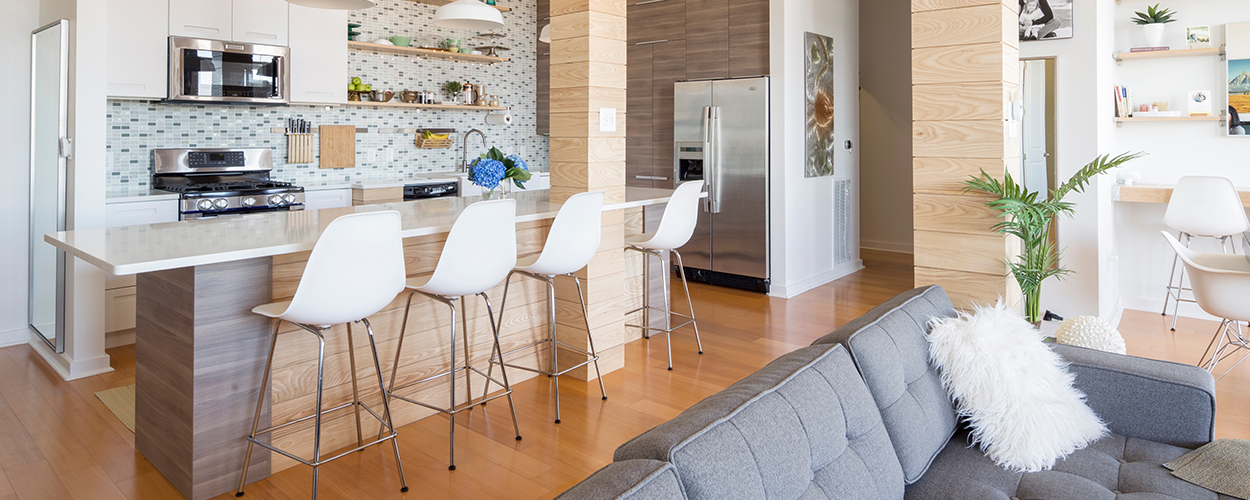 "O" is for Organic
With organic elements already a hot trend in modern homes today, it shouldn't be too hard to incorporate this decor tip in your home. Think brown leather armchairs, woven ottomans, plants, and wood furnishings. 
Keep in mind that mid-century modern inspiration includes both organic and manmade materials. Try to strike a balance between both so that your space leans more towards mid-century rather than bohemian.
Bold is Better
Statement pieces are important for any home to have, but especially relevant in a mid-century modern home. Choose at least one statement piece for each room that channels retro vibes from decades gone by. A coral sofa with an iconic curved silhouette is a great idea for the living room. Pair it with a shaggy ivory rug and your space will be screaming "mid-century modern." 
Retro is Always Right
While there are multiple ways to curate a mid-century modern home, adding a retro decor is one strategy that never fails. Choose in a few statement pieces or turn your home into a time machine that takes you straight to the 1950s. A modernist-inspired TV console, Chesterfield loveseat, and Atlas floor lamp are a few decor pieces to get you started.  
Before you pick out your retro decor, hone in on which era of mid-century modern you're going for. Do a little research on the different decades and take note of the contrast in styles.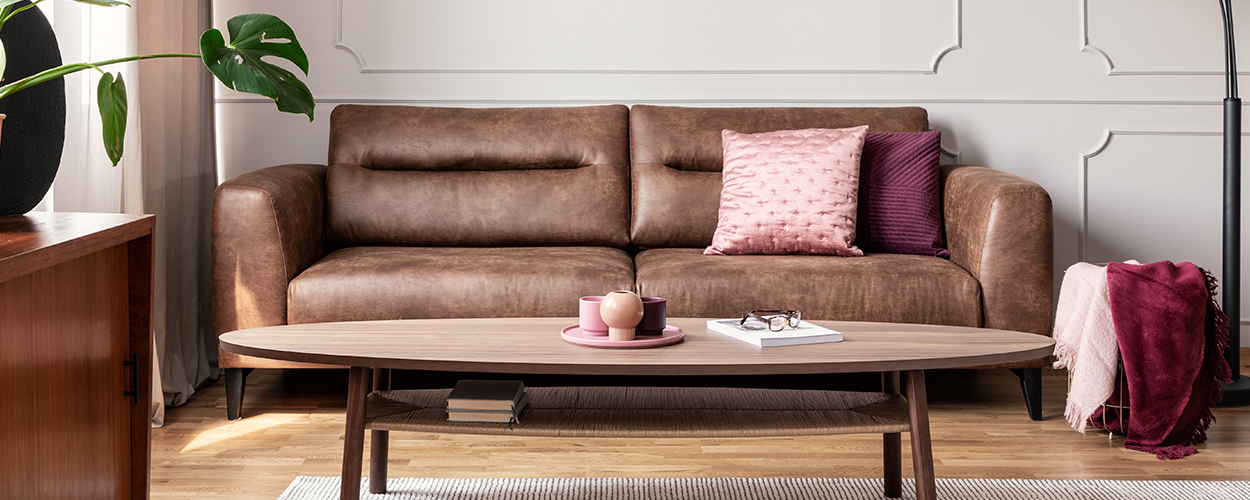 Light the Way
Some of the most notable decor items from the mid-century time period were lamps and light fixtures. If you want to adopt this interior design style without spending too much, this is a good place to begin. 
Head over to your local thrift shop or estate sale to snag some vintage flower pot lamps, Arco lamps, and geometric sputnik chandeliers. If that doesn't work, you can always buy new replicas as well. 
Remember the Bar Cart
If there was one decor item every household had in the 1950s, 60s, and 70s, it was most definitely a bar cart. Cocktail culture was huge during the mid-century era, so it's no surprise that bar carts were a staple household item. 
Pick out your very own to recreate the era and enjoy the convenience of having your alcohol easily accessible. Even if mid-century modern inspiration isn't your thing, having a bar cart is a smart alternative if your space doesn't have a dedicated bar area.
Now that you have a better idea of what mid-century modern home decor is like and how to include it in your space, it's time to start decorating! As you choose your retro furnishings, read about statement pieces that take your home from ordinary to extraordinary to ensure your finished product is flawless and tasteful.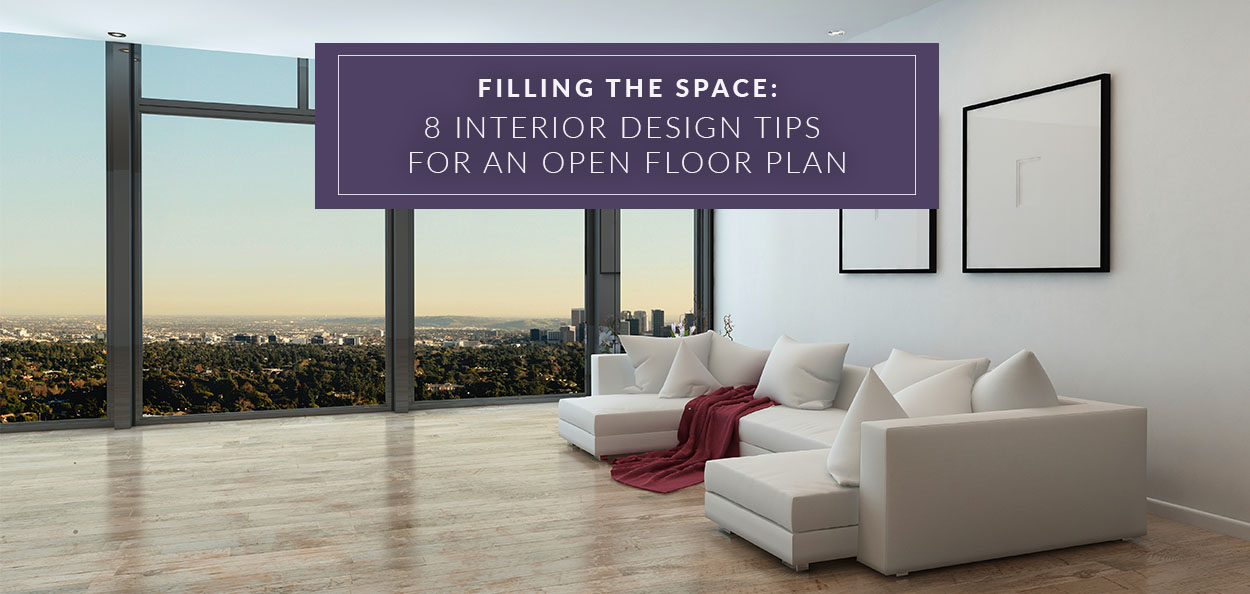 Open floor plan designs are currently thriving within the interior design world and there's no surprise as to why. With wide open rooms comes better efficiency of usable space and a more natural environment for social interaction. The one catch to this layout is that it can be a little tricky to decorate. As you plan how to furnish your home, keep in mind these open floor plan decorating ideas to ensure your final product is a masterpiece!
1. Focus on Symmetry
In a home with open concept rooms, symmetry is your best friend. Not only does a symmetrical layout create a balanced look within your space, it can also make it easier to furnish large rooms.
Doubling up on sofas is one of the most common and simplest ways to achieve symmetry in your great room. Whether you choose to arrange them facing each other or at a right angle, having two is usually much better than having one. Tie it all together with a big dining table and matching chairs as well.
2. Choose a Color Scheme
Following a set color scheme is an important tip to stick to in any home, but especially in spaces with an open floor plan design. The goal is to create a space that feels fluid and cohesive. The best method for reaching this goal is choosing a general, neutral color palette to incorporate into each designated space. From there, pick two or three accent shades and sprinkle them into each area. 
The overall color palette helps to bring fluidity to the room, while the accent colors work to distinguish the different area zones. Fabrics, rugs, and other accessories are ideal avenues for weaving in your accents.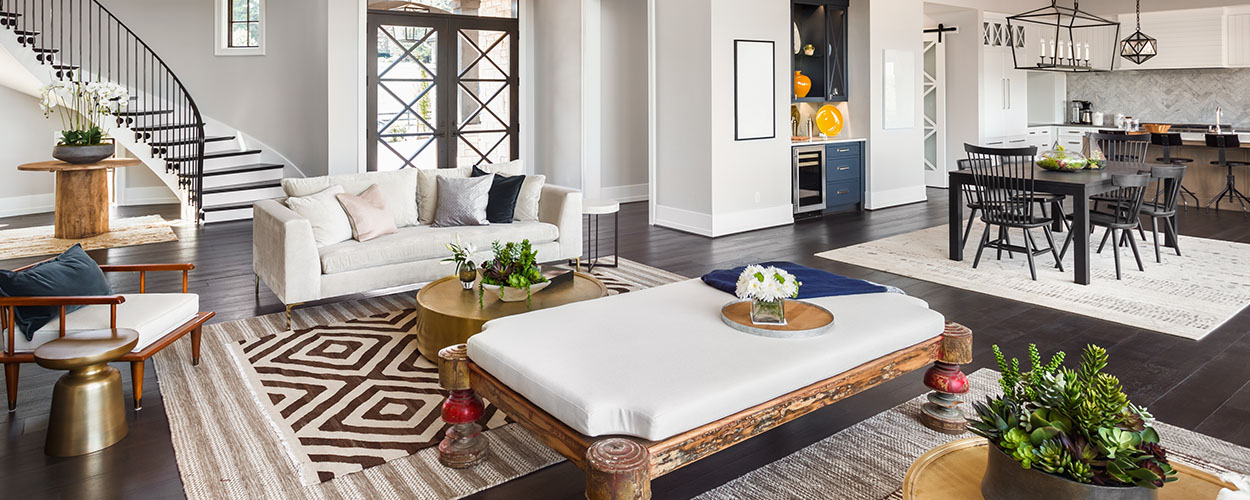 3. Establish Area Zones
One of the key elements to creating a beautiful open concept room is defining your space. With so much square footage to play with, you need to establish area zones. Defining these zones allows you to make your home feel cozier and more grounded. 
Carefully arranging your furniture is the first step to creating area zones. Wherever you choose to place your couches will most likely label that area as your living room. 
Another open floor plan decorating idea is to use rugs as subtle boundaries. Including rugs in your home gives you the chance to show off your style, while also making each zone unique and well defined. 
4. Consider Foot Traffic
Normally, walls divide up your home's space and inherently guide your foot traffic. With open concept rooms, the job is left entirely up to you. That's where defining your space comes in handy. Be mindful of your furniture arrangement to help your space feel more navigable. 
Create your area zones and walk through the space yourself to see how it flows. Feng Shui design heavily emphasizes the flow or "chi" of a room, so you can always reference that design style to give you inspiration.
In a nutshell, you just need to be extra aware of your walkways and try your best to create clear paths with enough room for people to pass each other. 
5.  Utilize Consoles or Shelves
Who needs walls when you have shelves and consoles? These two decor pieces are extremely handy for dividing up your room and making your space feel more inviting. 
Placing bookshelves behind your living room sofa, for example, can add interest to that zone while also creating an obvious barrier between the adjourning space.
If you hate echoes and feel that even the quietest voice booms in your home, incorporating these larger furniture pieces can help to absorb and block the sound.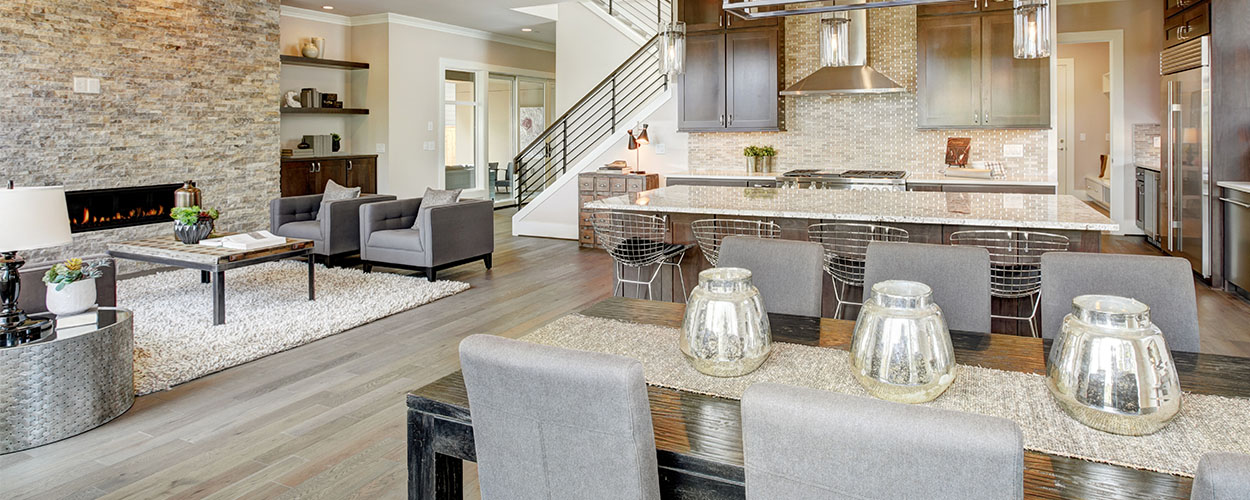 6. Light It Right
Be creative when it comes to your lighting. This is another great way to emphasize the different areas of your open floor plan, while also making it feel warmer. 
In the kitchen and dining room, focus on pendant or chandelier lighting. These light fixtures are a win-win because they're both out-of-the-way and super trendy. This type of lighting does an amazing job of defining a space in a vertical sense too.
Wall sconces, floor lamps, and table lamps are a necessity for the living room. Make sure to install recessed lighting as well to provide a source of ambient light. If you arrange them properly, recessed lights can help to guide the flow of the room.
7. Distinguish with Unique Features
Every home should have unique elements that characterize each room, or in this case, each area zone. Follow this open floor plan decorating idea by finding special decor items to add into your kitchen, living room, dining room, and so on. Including these features will personalize your space and make each zone stand out.
8. Put Thought into Your Furniture
Along the same lines of your furniture arrangement, you should also think about the type of furniture you buy. Lots of open space means there's more opportunity to have your furniture fully exposed, but that's not always a good thing. 
If the backside of your kitchen barstools will be facing the living room, you want to ensure that they are attractive to look at. Similarly, if you choose to float your sofas, the backsides should be just as pretty as the front. This usually isn't too much of an issue, but an important thought to keep in mind for a flawless open floor plan design.
Whether you're looking to give your open concept room a makeover or are starting from scratch, these open floor plan decorating ideas are your ticket to creating a beautiful and cohesive space! For more details on how to enhance your home, check out large living room layout ideas to make any space feel cozy.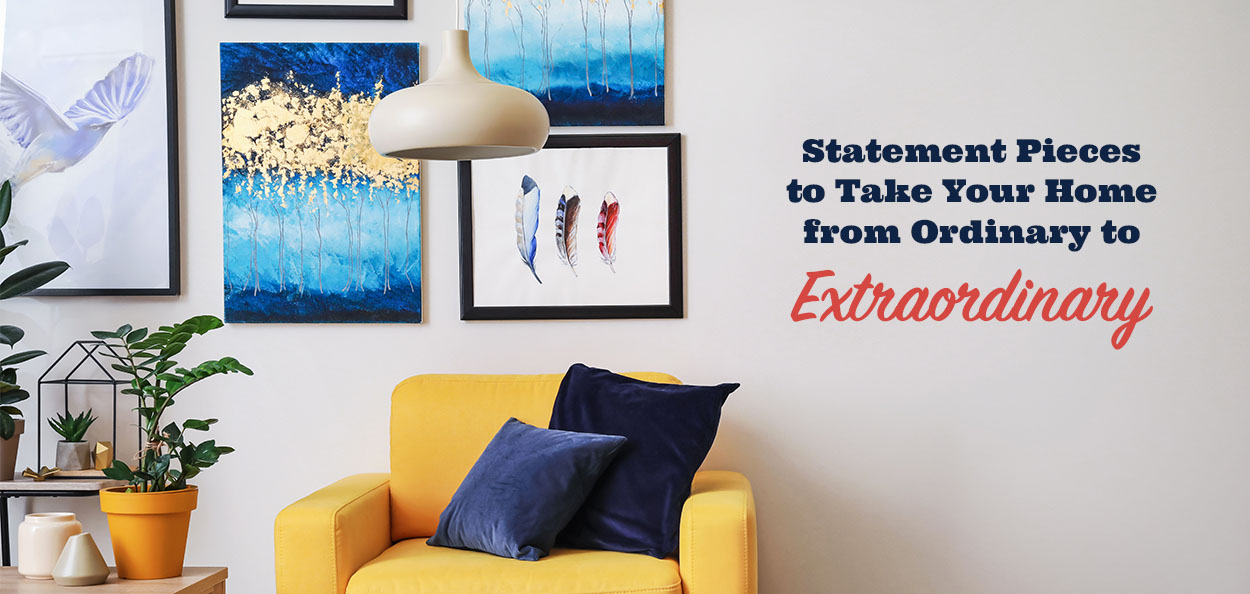 Pricey home renovations aren't the only way to give your space a fresh and new look! Incorporating statement pieces of all colors, shapes, and sizes can be a simple and budget-friendly way to revitalize your space and make it feel new again. From statement wall decor to comfy living room furnishings, check out our list of everyday decor that can transform your home from ordinary to extraordinary! 
7 Types of Statement Pieces
Striking Sofas
If chosen properly, your sofa or sectional can serve as one of the most eye-catching statement pieces in your home. Take a chance on a sofa with more unique characteristics like bold colors, interesting patterns, and snazzy throw pillows for additional style points. A complementing ottoman can also be a gorgeous statement piece in itself! 
Fusion's Macarena Marine sofa is an ideal statement piece for your living room with its blue color and geometric-patterned throw pillows.
Dashing Draperies
If your living room or dining room is lucky enough to have drapes, take advantage by using fabric that is both stylish and functional. 
For example, hang thick drapes during the winter time to keep out the cold, while also utilizing colors and patterns that stand out in your space. You can even switch up your color schemes throughout the seasons because drapes are relatively easy to replace.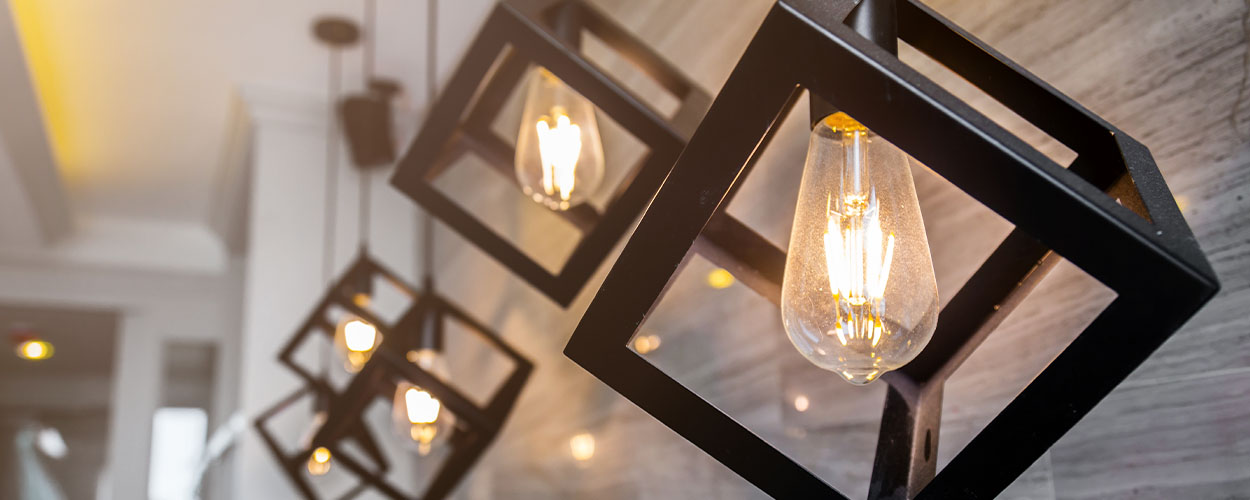 Stylish Lighting
Light fixtures may seem like insignificant decor, but they actually serve as valuable statement pieces for your living room and beyond. 
From floor lamps and table lamps to hanging fixtures, lights are a versatile statement piece that really can transform every room of your home. Channel a "wow" factor with your lighting by exploring many different styles like traditional chandeliers, industrial floor lamps, and geometric table lamps.
Bold Wallpaper
Wallpaper has made a major comeback in the last few years and it's a trend you definitely want to consider for your statement wall decor. Instead of covering an entire room with a floral or striped wallpaper, focus on an accent wall. Choosing one wall to display your bold wallpaper gives you the chance to transform your space without completely overwhelming it.
If a patterned design is a bit too much for you, don't give up on the idea altogether. Compromise with darker or lighter neutral colors for a more subtle change.
Distinctive Wall Accents
Plain, empty walls are simply a blank palette waiting to be decorated. If you notice that you have lots of bare space along your walls, start hanging statement wall decor!
A gallery wall full of your favorite art or photographs is one idea. Mirrors to lighten up the space is another.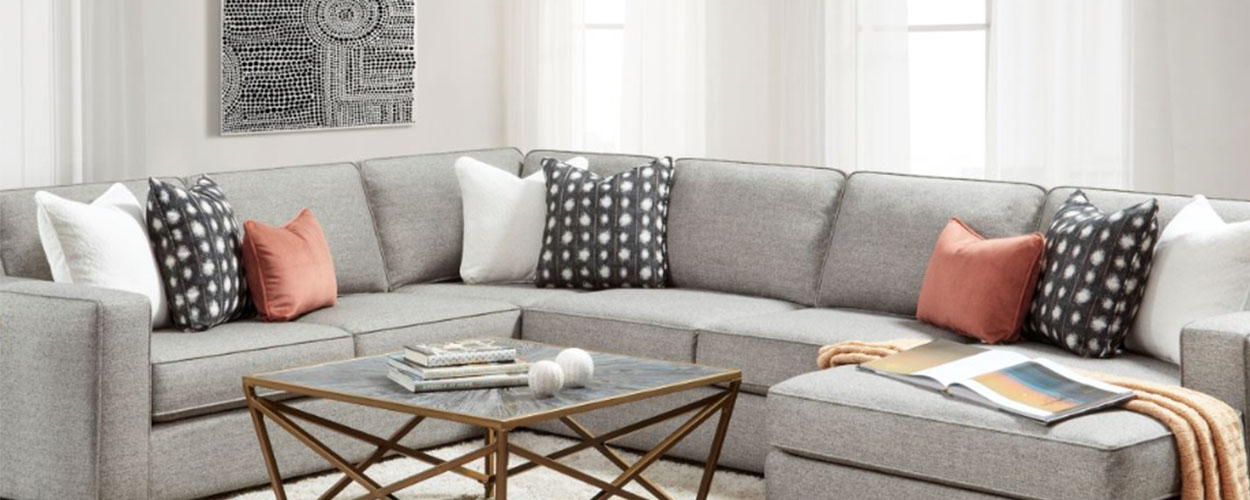 Alluring Accent Chairs
Even though accent chairs are much smaller than your sofa or sectional, they can be just the ticket to adding interest to your room. Not only are they cheaper and smaller to fit into your space, they can also do wonders for complementing the furniture you already have. 
If your couch is a more neutral shade, pick a chair that highlights the accent colors you use in the room. This will help make the chair shine, while also tying the space together.
The Monroe Ash accent chair is a prime example of chairs that bring your living room to life!
Inviting Area Rugs
Area rugs are amazing statement pieces for many reasons. One, they make your space feel cozier and more inviting. Two, they define each zone of your home, especially if you have an open floor plan design. 
Think of your area rug as an art piece for the floor and don't be afraid to experiment with bright colors and snazzy patterns. The bolder you go, the more distinctive your statement area rug will be.
How to Make Statement Pieces Work
Let It Stand Out
One key element to remember when decorating your space is that statement pieces can only make a statement if you let them. It can be tempting to fill the rooms of your home with lots of unique features, but in doing so, you take away the specialness of each piece. 
To maximize the statement decor you choose, make sure other objects in the room are smaller, more neutral, or less ornate.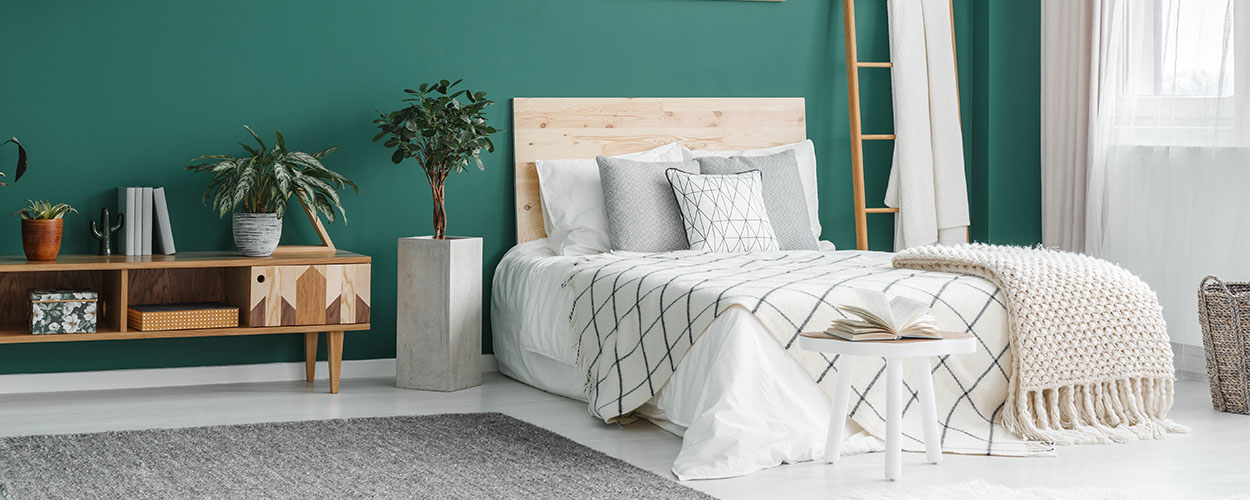 Keep Color in Mind
Bright, striking colors are beautiful and easily draw attention, but you want to be careful with which shades you settle on for your statement pieces. Always refer back to your overall color scheme and make it a rule that you only pick complementing accent colors. Follow this tip and your home will feel much more balanced and cohesive. 
Choose a Focal Point
A focal point is the center of interest in your space, and an important factor to consider when deciding on statement home decor. If you want to see a big change and truly mesmerize your guests, you'll want to choose statement pieces that are found in the focal or main parts of each room. 
For example, sofas, beds, and dining tables are dominating points within your home. Spruce up those items to make the biggest impact.
Whether you go big with a brand new sectional or choose to illuminate your space with dazzling light fixtures, you're sure to rejuvenate your home with these statement pieces. If you're thinking about hanging up statement wall decor, learn more about the why, where, and how of decorating your walls to guarantee a polished final look!