7 Most Common Farmhouse Design Styles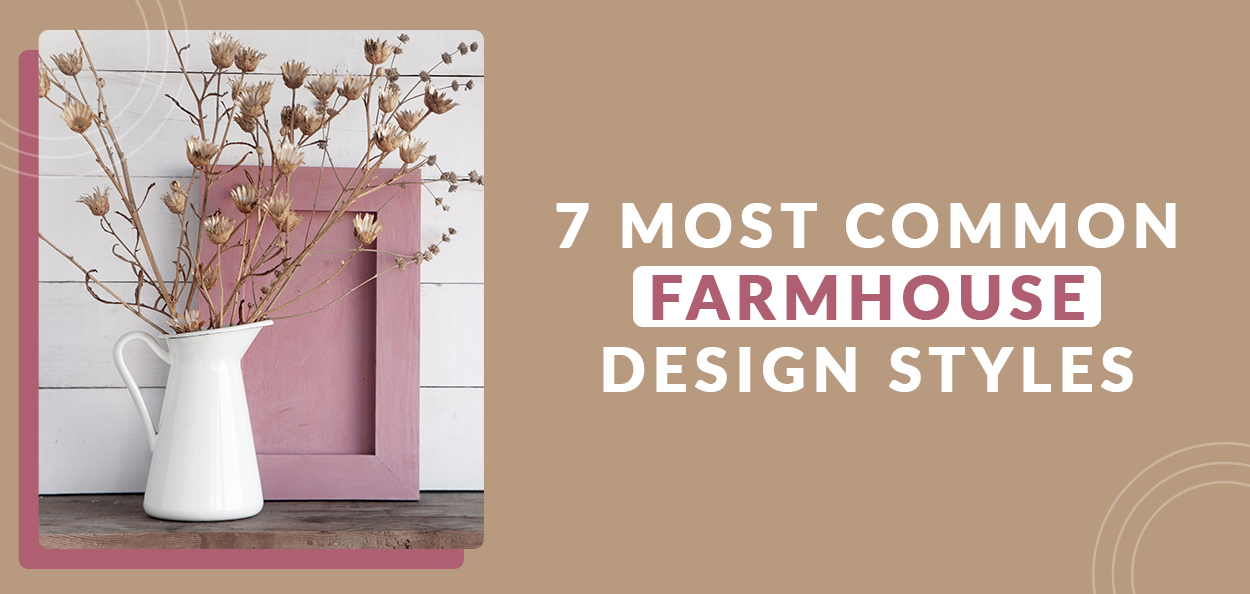 As soon as you hear "farmhouse design," you most likely think of wooden accents, rustic signs, and neutral color palettes. While farmhouse design style has taken the country by storm, many people don't know there are multiple variations of it.
Whether you're looking to adopt this interior design trend in your own home or simply find yourself curious, take a look at our breakdown of the most common farmhouse design styles being used today.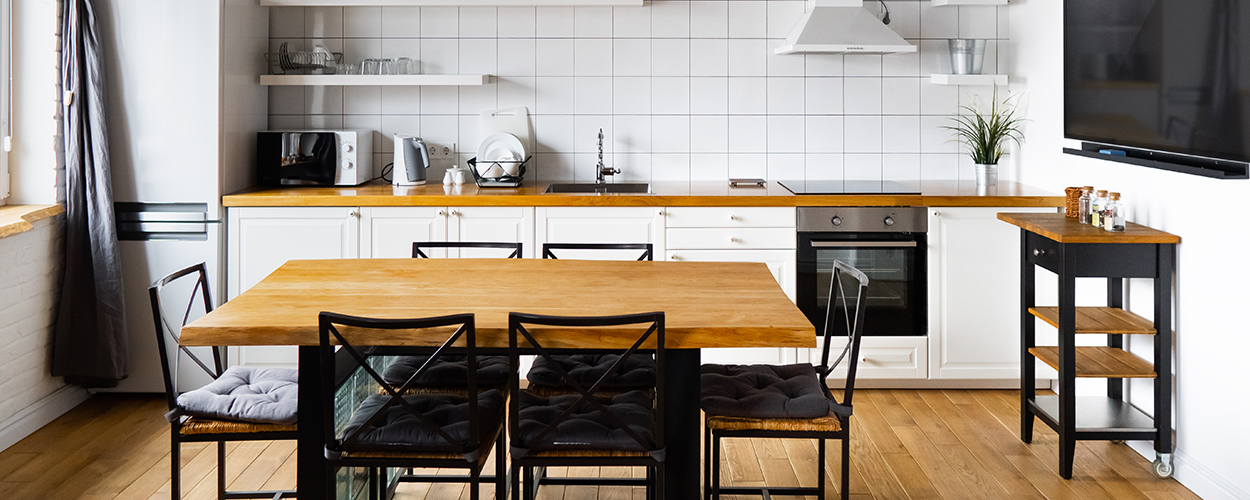 1. Industrial Farmhouse
If your husband wants to have a say in your home's decor, you might want to consider trying the industrial farmhouse design style. This variation of farmhouse design is known to be more masculine because it's inspired by the heavy machinery used on farms. Industrial lighting and hardware, cool metals, natural wood, and exposed beams are a few key characteristics that define industrial farmhouses. 
Other Characteristics:
Warm color palette

Black and off-white accents

Edison bulb pendants

Thick and heavy rustic wood

Furnishings with blackened iron structures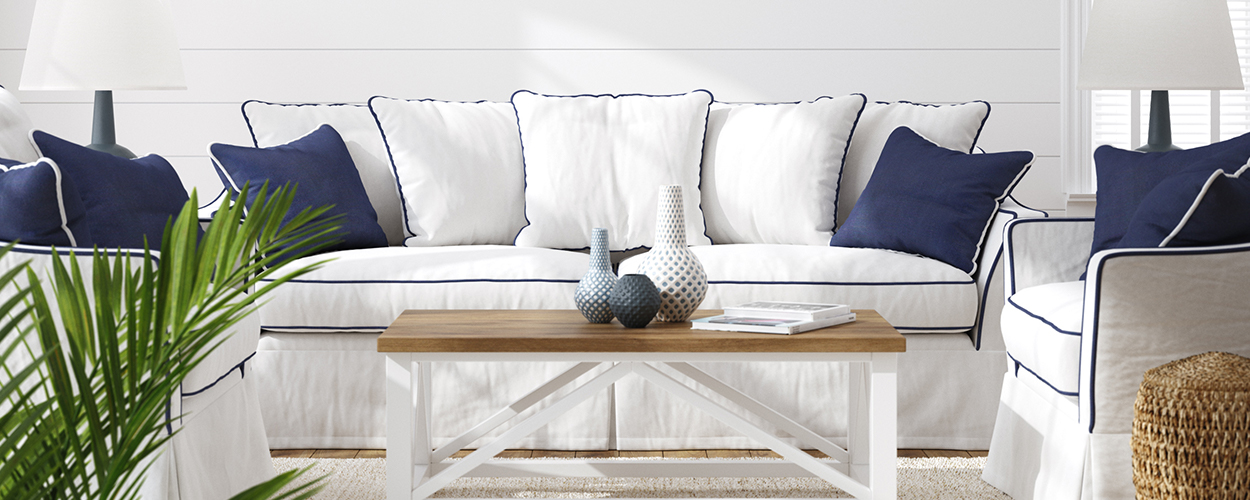 2. Coastal Farmhouse
Just as the name suggests, this farmhouse interior design idea subtly combines beachy, coastal elements with modern farmhouse vibes. Before you buy loads of starfish decor, seashells, and anchors, remember that coastal farmhouses aren't your typical beach house. They have oceanic references, but are still grounded to farmhouse interior design. Coastal accent colors of blue and green are popular, as well as white oak flooring, furniture, and cabinetry.
Other Characteristics:
Classic details in millwork (doors, molding, trim)

Warm metals like brass and gold

Natural elements like seagrass and rattan

Polished nickel or chrome hardware

Wooden beams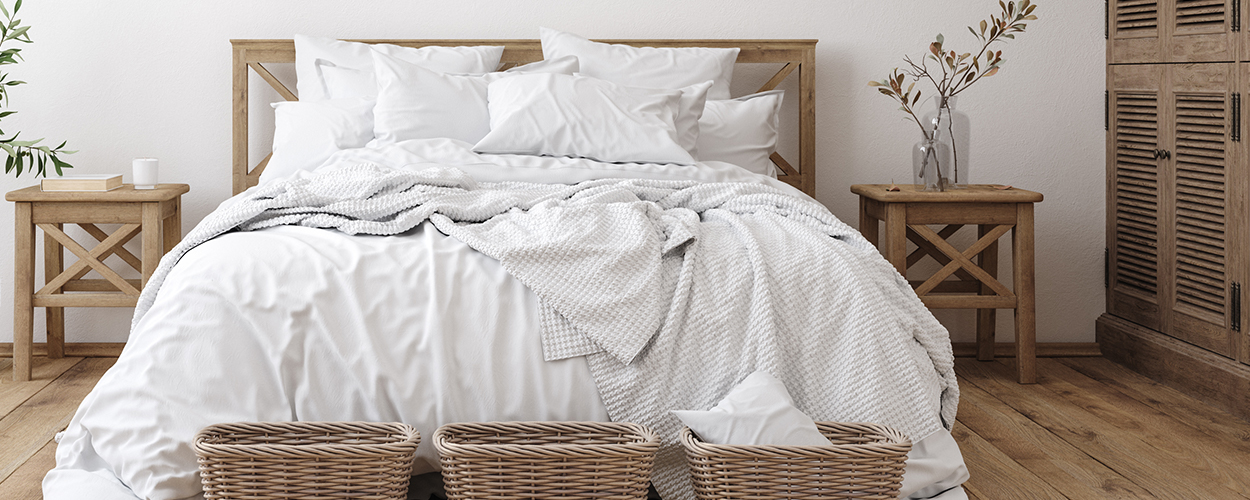 3. Scandinavian Farmhouse
Minimalism is the way to go when it comes to curating a Scandinavian farmhouse. The main idea behind this farmhouse design style is building a home that is uncluttered, modest, and light. If you decorate with purpose and follow the "less is more" mantra, you're halfway there. The Scandinavian element of this style brings modernism and minimalism, while the farmhouse side brings a more homey feel with rustic elements.
Other Characteristics:
Natural materials

Clean-lined, soft-shaped furniture

Simple woodwork in doors, window trims, cabinetry, built-ins, and countertops

Light wood flooring

Black or gray accents and mute shades of color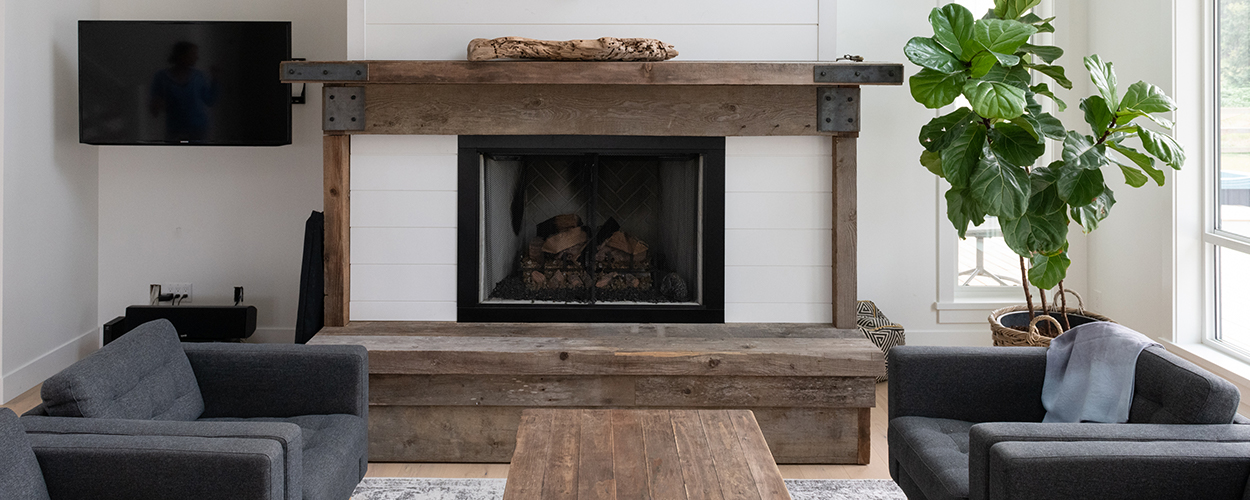 4. Modern Farmhouse
Similar to Scandinavian farmhouses, modern farmhouses are edited down to be sleek, clean, and fresh with very little ornamentation. There's an emphasis on contemporary design that can be seen in concrete flooring, exposed brick walls, and modern lighting. While you can incorporate modern farmhouse style decor in your home, it's sometimes easier to achieve this look with a newly constructed house or complete remodel.  
Other Characteristics:
Statement furniture pieces 

Bright white walls and interior

Minimal black accents and well-worn wood

Leather upholstery

Antiques and rusticity used sparingly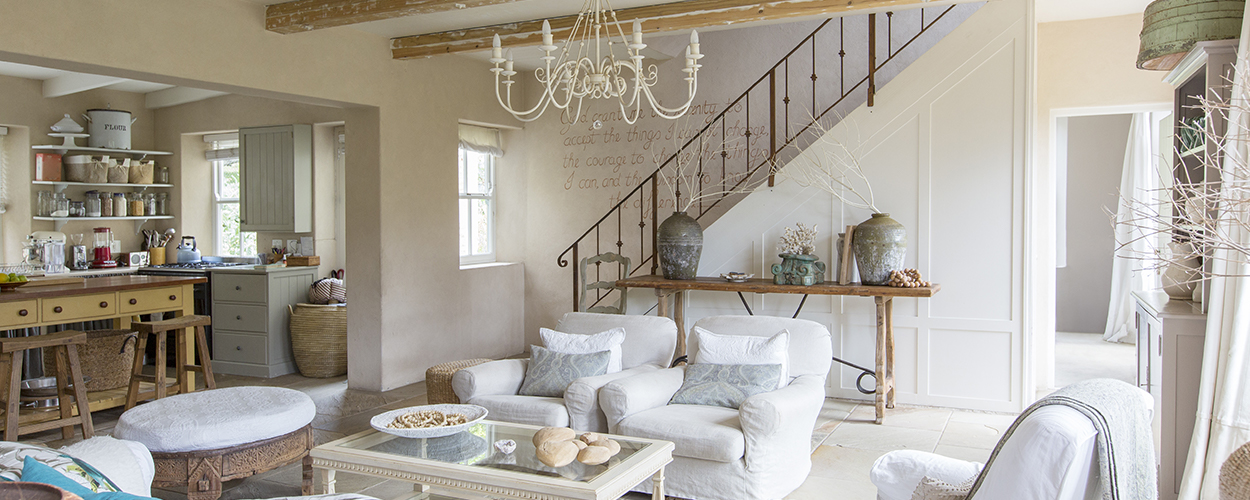 5. Rustic Farmhouse
If you love flea markets and repurposing decor, this farmhouse interior design idea is meant for you! Rustic farmhouses are all about handcrafted elements and a ruggedness you just don't see in other variations of this style. One signature feature that rustic farmhouses do have in common with other iterations is white walls. A white color scheme and vintage decor make this farmhouse design style feel especially quaint and down-to-earth.
Other Characteristics:
Neutral palette

Open shelving with vintage decor in tin and galvanized metal

Warm-to-gray distressed woods (shutters, seating, wall decor)

Subway tile backsplashes

Industrial materials and blackened steel decor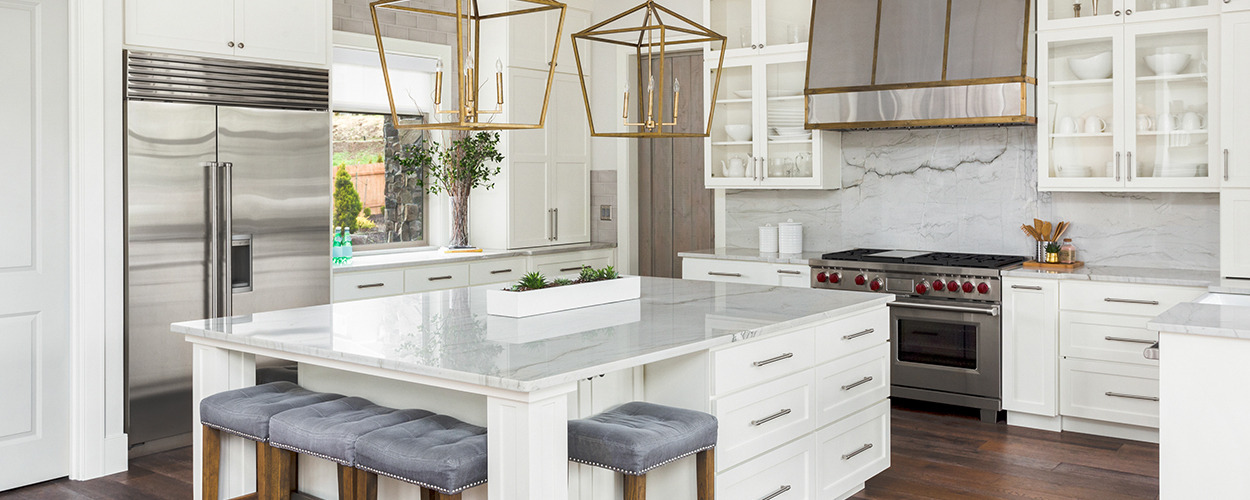 6. French or Country Farmhouse
French farmhouse style is one of the most popular versions of farmhouse interior design and definitely a top choice if you prefer to stay away from heavy industrial decor and black accents. French or country farmhouses are most aptly known to have marble, cool grays and cream-to-white color palettes, as well as more ornamentation than your typical modern farmhouse.
Other Characteristics:
Warm hardwood floors with rustic texture

Woven furnishings, off-white cotton fabrics, and cotton ticking stripes

Antique accents

Marble countertops, backsplashes, and table tops

Zinc and galvanized metals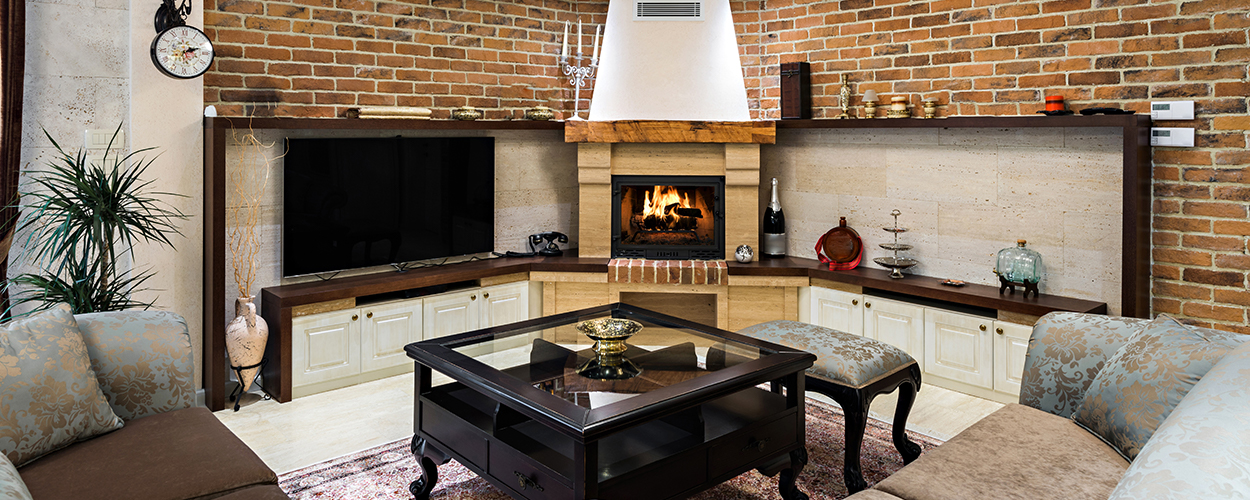 7. Colonial or Traditional Farmhouse
This farmhouse design style fully embraces the old world and a time in history that we can only read about in books. Colonial farmhouses use authentic historical elements like stone, primitive wood beams, and colonial grid windows to achieve a traditional, charming atmosphere that truly transports you back in time. 
Other Characteristics:
Traditional millwork detailing

Rich colors on painted, wood-paneled walls

American antiques and textiles used in lighting, furniture, and decor

Muted, natural color scheme

Brick fireplaces and flooring
As you can see, there are many different variations of farmhouse design style, all with unique features and characteristics. Now that you have an idea of what each entails, you can decide which farmhouse interior design idea fits you best!
If you're in the market for new furnishings to go along with the theme, be sure to take a look at our Max Gray and Basic Wool collections that perfectly complement farmhouse interior design trends.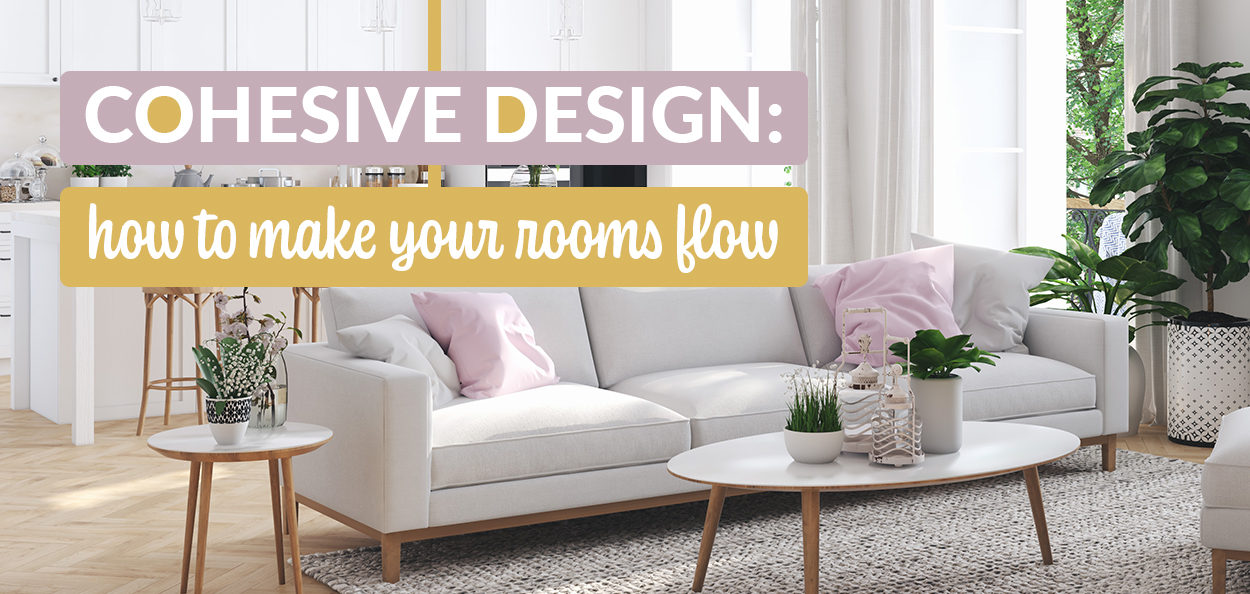 Have you ever found yourself scratching your head when decorating a room? You might wonder, "What colors should I use? Does this decor piece match?" If you find yourself struggling with these questions, it's most likely because you aren't sure how to create a cohesive interior design. 
This is a common issue for many homeowners and can easily be solved with interior design tips and knowledge of interior decorating basics. From ideal color palettes to general decor rules, plan out your home's transformation with these tips! 
1. Start with Your Color Palette
Decide on a Neutral Base
The most basic and crucial step to creating a cohesive interior design style is choosing the right color palette. Start with a neutral base color that brightens up your space. White, light gray, or soft beige are good options. 
Once you have your neutral base picked out, think about applying this color to the largest surfaces or furnishings in your home. These tend to be your walls, flooring, seating, and bedding. Add to that main hue with one or two more shades. Warm tones with warm neutrals and cool tones with cool neutrals is an easy method to follow.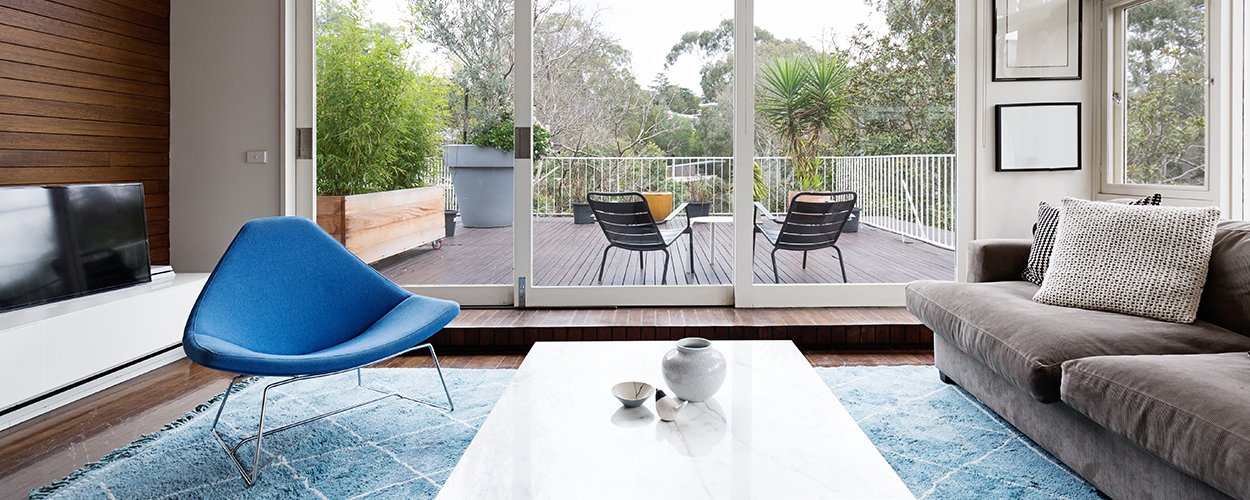 Pick an Accent Color
After you have your neutral base colors chosen, it's time to spice things up with a bold and vibrant accent color. Your accent hue will be used throughout your entire home, just like your neutral colors, so make sure it's something you really love!
As you add in throw pillows, area rugs, lamps, or even sofas with your accent shade, make sure you evenly distribute the color across your space. Avoid concentrating your accent color in certain spots more than others because it takes away from your cohesive interior design look.
Consider Complementary Colors
If you don't feel like stopping after choosing your main accent color, by all means, incorporate complementary shades as well! Your home doesn't need to be bland to flow, you just need to focus on consistency and complementary colors to help it come together seamlessly.
Not sure which colors complement each other? Take a look at the color wheel to get a better idea. One factor you'll need to remember is that your complementary colors should pair with your main accent shade. As long as you follow that rule, you're good to go! Opt for colors that are as bright as your accent shade or tone it down with paler hues—it's entirely up to your preferences.
2. Stick to One Style
Even though it may be hard to pick one style or look for your home, it's more than necessary if you're trying to make your interior design flow. 
Whether you love mid-century modern or have always wanted a farmhouse-inspired space, pick one and stick to it. While it's not impossible to combine a couple of styles in one space, it's a delicate task to take on—especially if you don't consider yourself an interior decorating expert.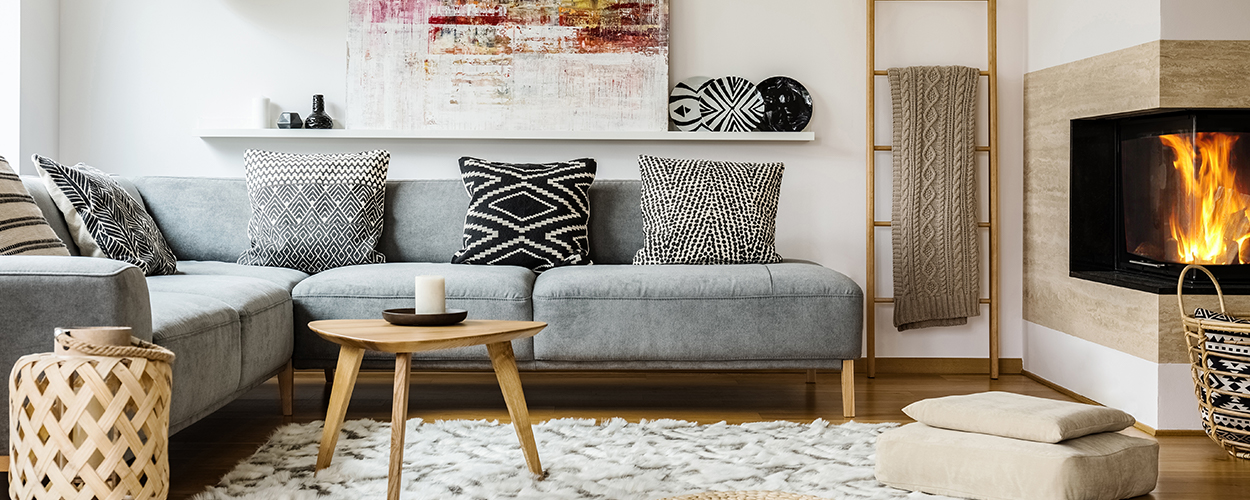 3. Mind Your Materials
The types of materials you pick also play a huge role in curating a cohesive home. Be consistent with your materials and tie them back to your color palette. These two strategies are simple ways to incorporate this interior design tip without getting too confused.
For example, stick with consistent wood finishes. Rather than mix a dark, brown wood with a light, white wood, opt for one or the other. Coordinate your upholstery material as well.
In addition to consistency with your materials, you should also try to choose materials with shades that complement your color palette. They don't need to be an exact match, but in general, cool tones (like metal) should be paired with cooler palettes and warm tones (like wood) should be paired with warmer palettes.
4. Work with Your Flooring
Flooring is an entirely different beast that can require much more work, money, and time, but it deserves attention nevertheless. This interior design tip is most important if you have a smaller home, but can also be applied to larger homes too.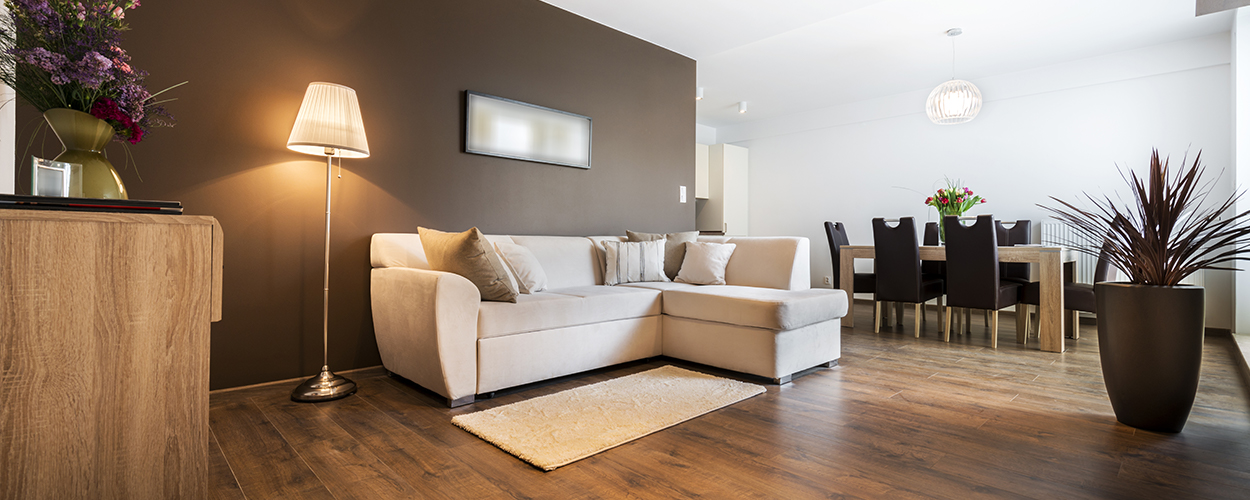 For small spaces, it's helpful to have flooring be the same in every room. This ties each room together and prevents your home from looking disconnected. Once you have that step taken care of, you can add pops of color with area rugs and runners.
Is your flooring different across rooms? While getting your flooring replaced is the best option, it's certainly not the cheapest. To keep more money in your pocket, utilize rugs and runners of the same color or material. Using similar rugs will help to connect each room despite the contrast in flooring.
Decorating your home should and will be a fun process if you follow these interior design tips for a cohesive home. As you complete each room, don't stress too much about having them look perfect. Above all else, personalize your space to make it your very own! 
If you decide to repaint your walls to change up your color palette, check out how to paint your home like a pro.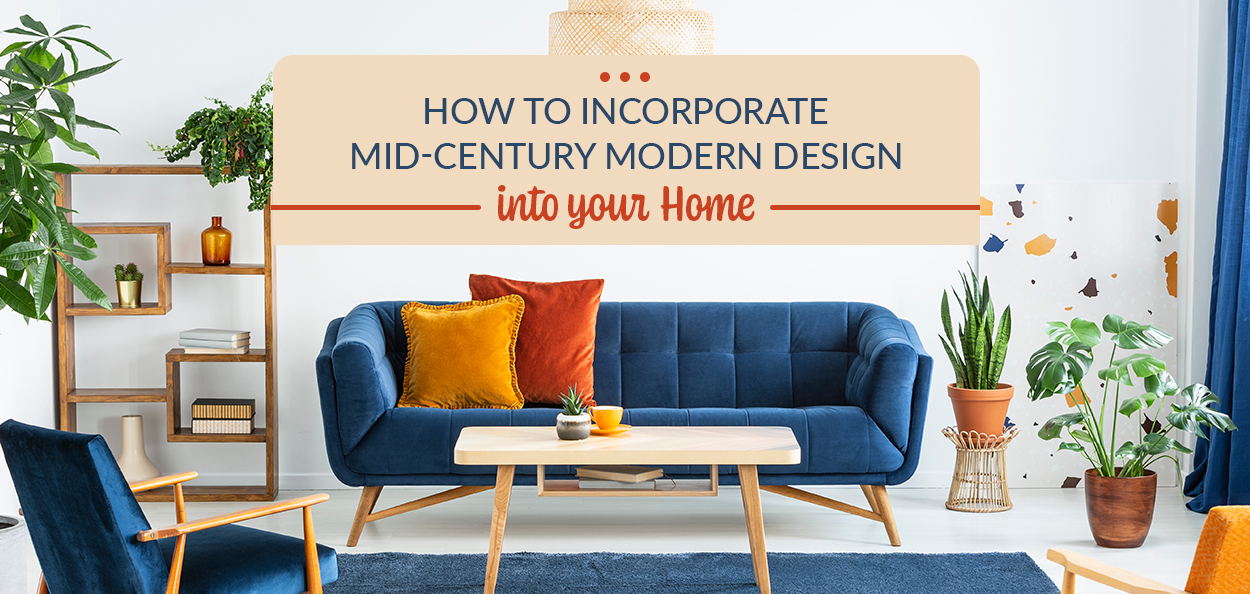 Chances are you've heard of mid-century modern home decor at least once or twice within the last couple of years. This popular interior design style has taken center stage as one of the most influential decor trends—but what exactly is it? From key characteristics to decorating tips, our guide provides all of the basics you need to know to create a tasteful mid-century modern home.
History Behind Mid-Century Modern Design
Mid-century modern is an American design movement that rose to popularity in the U.S. after World War II. The style worked its way into many facets of design like architecture, graphic design, and most notably, interior design.
Mid-century modern design was heavily influenced by the Bauhaus movement, as well as the booming U.S. economy in the 1950s and 60s after the war. In general, Americans were enjoying newfound prosperity and embracing a shift to urban living both in the city and suburbs. Because of this, modern homes were being built as quickly as possible to keep up with demand.
There were also major technological advances in the design of new homes. A push for production and development of new materials opened the door for more modern textures, effects, colors, and form. All of these factors worked together and from there, the mid-century modern home was born.
Mid-Century Modern Key Characteristics
Simple and uncluttered

Highly functional

Mix of manmade and natural elements

Sleek lines with organic and geometric forms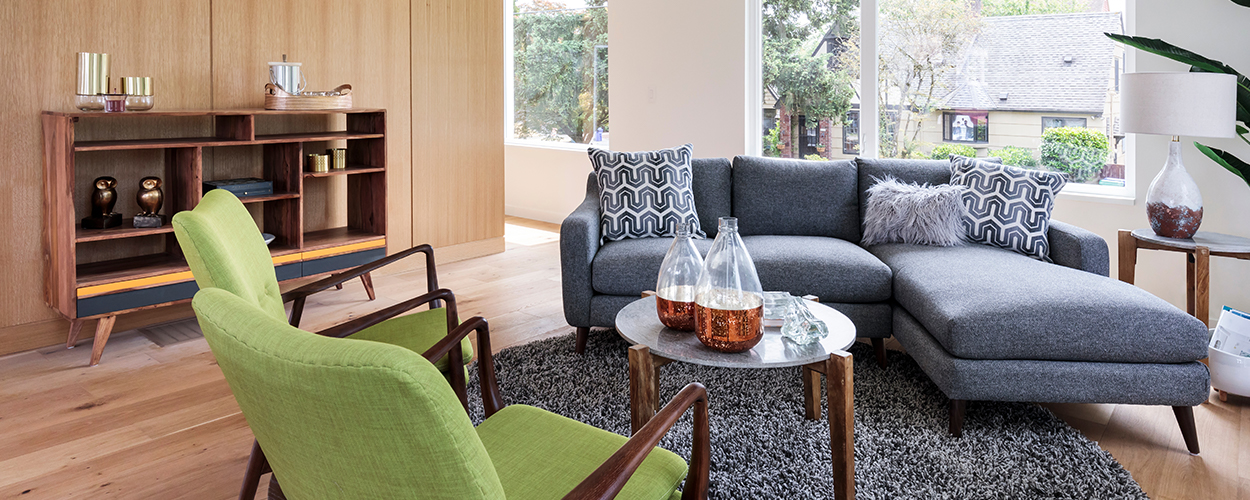 How to Create a Mid-Century Modern Home
It's one thing to know the history of an interior design style, but it's a whole other challenge to adopt it in your own home. Now that you know the background, it's time to gather some mid-century modern inspiration with these decor tips.
Geometric Shapes are a Must
One of the most recognizable traits of a mid-century modern home is geometric patterns and shapes. Rather than stick to one, mix it up and include a variety of shapes with circles, triangles, and more. Bookshelves, wallpaper, lamps, and area rugs are a few decor pieces to focus on.
It's All About the Color Palette
If you plan on adopting a mid-century modern interior design style, you'll need to think about which color palette you want to follow. Luckily, mid-century modern design is quite broad with its traditional colors. 
Feel like channeling the 1950s? Go for bright, vibrant colors that awaken your space. Fast forward 10 years and the 1960s version of mid-century modern style uses more earth tones. 
If neither of these options match your preferences, opt for muted tones and pastels for a more subtle look.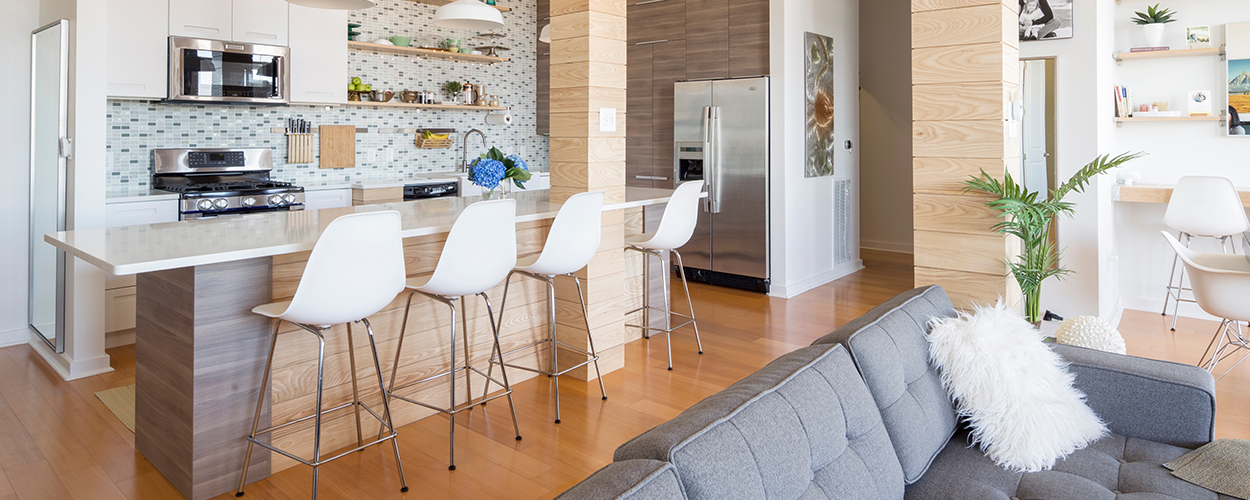 "O" is for Organic
With organic elements already a hot trend in modern homes today, it shouldn't be too hard to incorporate this decor tip in your home. Think brown leather armchairs, woven ottomans, plants, and wood furnishings. 
Keep in mind that mid-century modern inspiration includes both organic and manmade materials. Try to strike a balance between both so that your space leans more towards mid-century rather than bohemian.
Bold is Better
Statement pieces are important for any home to have, but especially relevant in a mid-century modern home. Choose at least one statement piece for each room that channels retro vibes from decades gone by. A coral sofa with an iconic curved silhouette is a great idea for the living room. Pair it with a shaggy ivory rug and your space will be screaming "mid-century modern." 
Retro is Always Right
While there are multiple ways to curate a mid-century modern home, adding a retro decor is one strategy that never fails. Choose in a few statement pieces or turn your home into a time machine that takes you straight to the 1950s. A modernist-inspired TV console, Chesterfield loveseat, and Atlas floor lamp are a few decor pieces to get you started.  
Before you pick out your retro decor, hone in on which era of mid-century modern you're going for. Do a little research on the different decades and take note of the contrast in styles.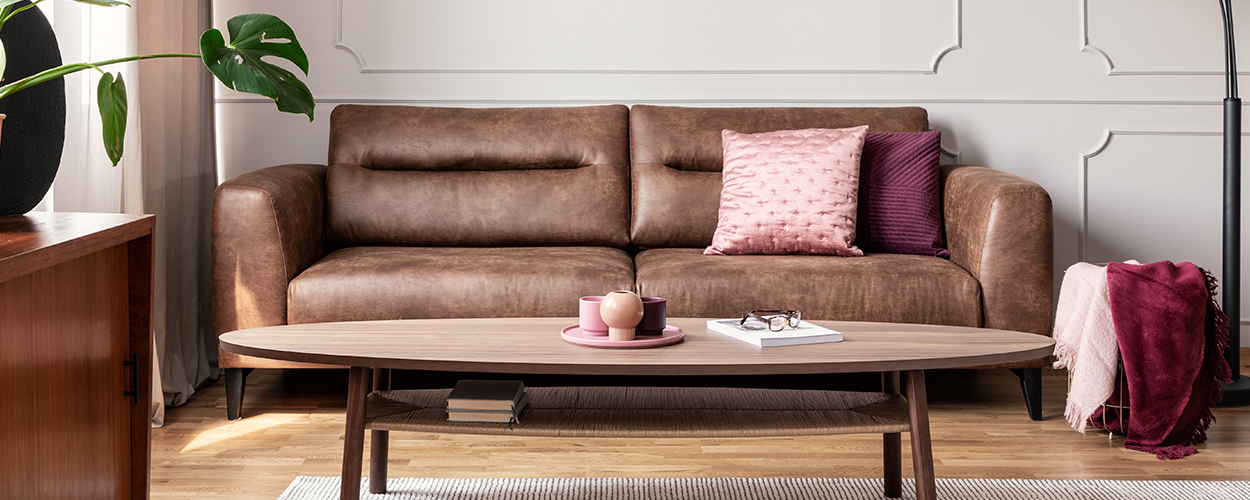 Light the Way
Some of the most notable decor items from the mid-century time period were lamps and light fixtures. If you want to adopt this interior design style without spending too much, this is a good place to begin. 
Head over to your local thrift shop or estate sale to snag some vintage flower pot lamps, Arco lamps, and geometric sputnik chandeliers. If that doesn't work, you can always buy new replicas as well. 
Remember the Bar Cart
If there was one decor item every household had in the 1950s, 60s, and 70s, it was most definitely a bar cart. Cocktail culture was huge during the mid-century era, so it's no surprise that bar carts were a staple household item. 
Pick out your very own to recreate the era and enjoy the convenience of having your alcohol easily accessible. Even if mid-century modern inspiration isn't your thing, having a bar cart is a smart alternative if your space doesn't have a dedicated bar area.
Now that you have a better idea of what mid-century modern home decor is like and how to include it in your space, it's time to start decorating! As you choose your retro furnishings, read about statement pieces that take your home from ordinary to extraordinary to ensure your finished product is flawless and tasteful.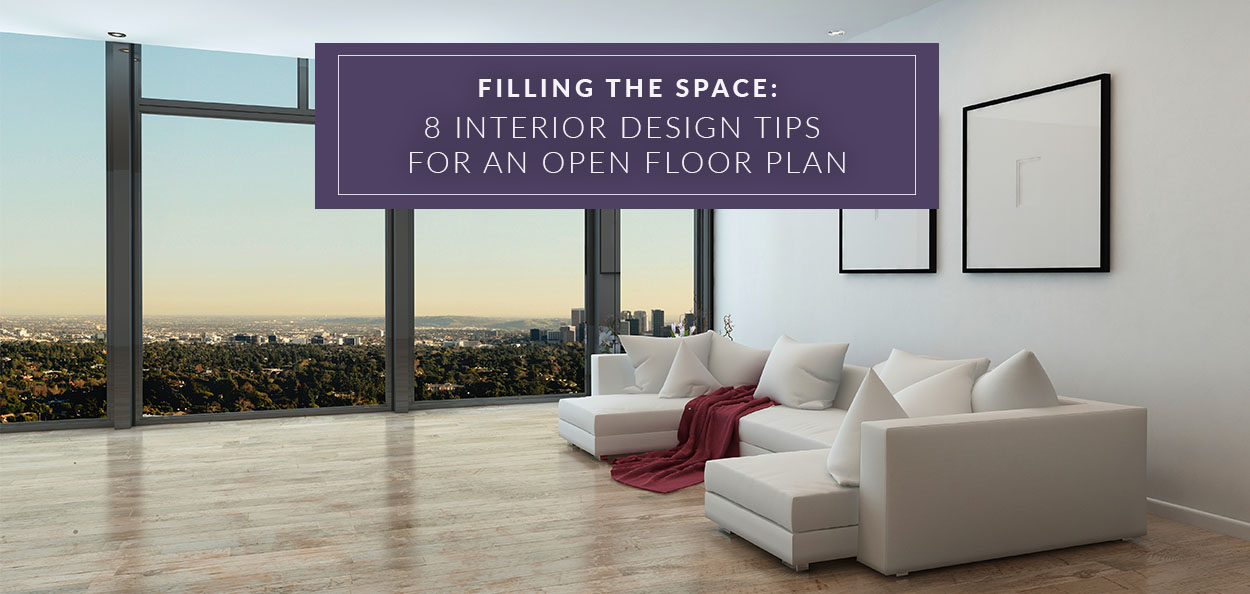 Open floor plan designs are currently thriving within the interior design world and there's no surprise as to why. With wide open rooms comes better efficiency of usable space and a more natural environment for social interaction. The one catch to this layout is that it can be a little tricky to decorate. As you plan how to furnish your home, keep in mind these open floor plan decorating ideas to ensure your final product is a masterpiece!
1. Focus on Symmetry
In a home with open concept rooms, symmetry is your best friend. Not only does a symmetrical layout create a balanced look within your space, it can also make it easier to furnish large rooms.
Doubling up on sofas is one of the most common and simplest ways to achieve symmetry in your great room. Whether you choose to arrange them facing each other or at a right angle, having two is usually much better than having one. Tie it all together with a big dining table and matching chairs as well.
2. Choose a Color Scheme
Following a set color scheme is an important tip to stick to in any home, but especially in spaces with an open floor plan design. The goal is to create a space that feels fluid and cohesive. The best method for reaching this goal is choosing a general, neutral color palette to incorporate into each designated space. From there, pick two or three accent shades and sprinkle them into each area. 
The overall color palette helps to bring fluidity to the room, while the accent colors work to distinguish the different area zones. Fabrics, rugs, and other accessories are ideal avenues for weaving in your accents.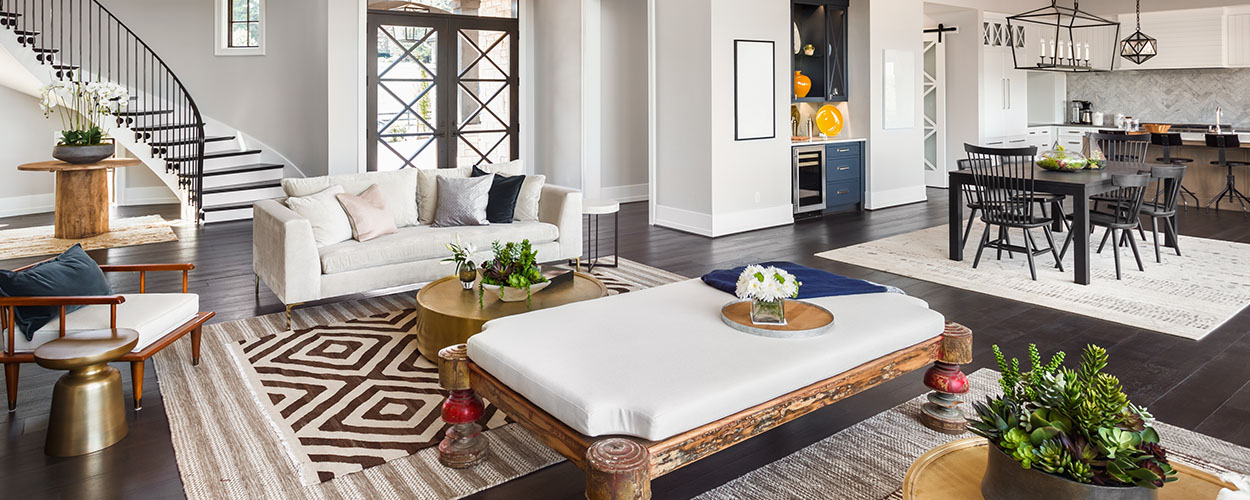 3. Establish Area Zones
One of the key elements to creating a beautiful open concept room is defining your space. With so much square footage to play with, you need to establish area zones. Defining these zones allows you to make your home feel cozier and more grounded. 
Carefully arranging your furniture is the first step to creating area zones. Wherever you choose to place your couches will most likely label that area as your living room. 
Another open floor plan decorating idea is to use rugs as subtle boundaries. Including rugs in your home gives you the chance to show off your style, while also making each zone unique and well defined. 
4. Consider Foot Traffic
Normally, walls divide up your home's space and inherently guide your foot traffic. With open concept rooms, the job is left entirely up to you. That's where defining your space comes in handy. Be mindful of your furniture arrangement to help your space feel more navigable. 
Create your area zones and walk through the space yourself to see how it flows. Feng Shui design heavily emphasizes the flow or "chi" of a room, so you can always reference that design style to give you inspiration.
In a nutshell, you just need to be extra aware of your walkways and try your best to create clear paths with enough room for people to pass each other. 
5.  Utilize Consoles or Shelves
Who needs walls when you have shelves and consoles? These two decor pieces are extremely handy for dividing up your room and making your space feel more inviting. 
Placing bookshelves behind your living room sofa, for example, can add interest to that zone while also creating an obvious barrier between the adjourning space.
If you hate echoes and feel that even the quietest voice booms in your home, incorporating these larger furniture pieces can help to absorb and block the sound.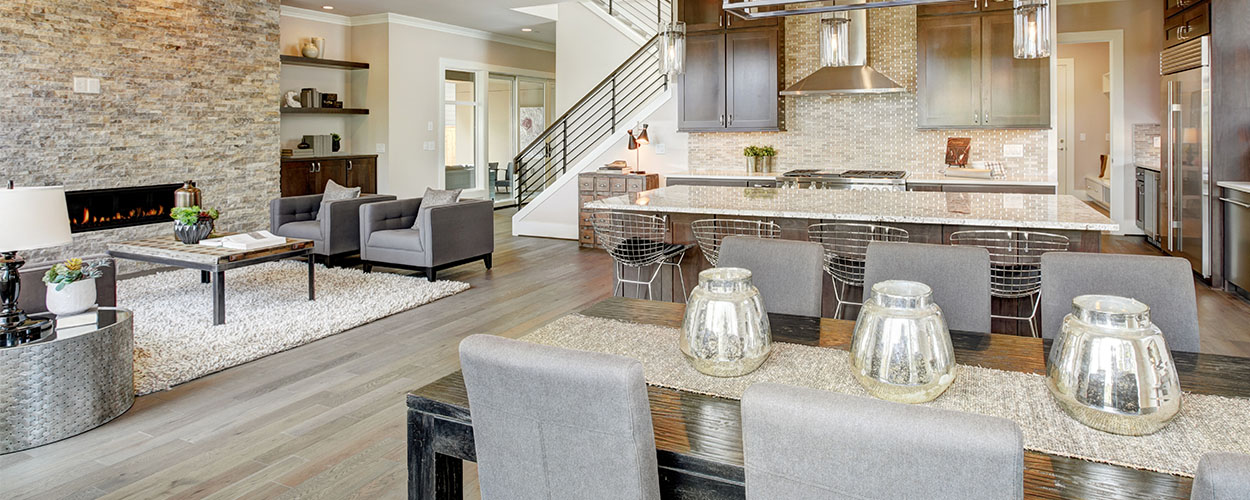 6. Light It Right
Be creative when it comes to your lighting. This is another great way to emphasize the different areas of your open floor plan, while also making it feel warmer. 
In the kitchen and dining room, focus on pendant or chandelier lighting. These light fixtures are a win-win because they're both out-of-the-way and super trendy. This type of lighting does an amazing job of defining a space in a vertical sense too.
Wall sconces, floor lamps, and table lamps are a necessity for the living room. Make sure to install recessed lighting as well to provide a source of ambient light. If you arrange them properly, recessed lights can help to guide the flow of the room.
7. Distinguish with Unique Features
Every home should have unique elements that characterize each room, or in this case, each area zone. Follow this open floor plan decorating idea by finding special decor items to add into your kitchen, living room, dining room, and so on. Including these features will personalize your space and make each zone stand out.
8. Put Thought into Your Furniture
Along the same lines of your furniture arrangement, you should also think about the type of furniture you buy. Lots of open space means there's more opportunity to have your furniture fully exposed, but that's not always a good thing. 
If the backside of your kitchen barstools will be facing the living room, you want to ensure that they are attractive to look at. Similarly, if you choose to float your sofas, the backsides should be just as pretty as the front. This usually isn't too much of an issue, but an important thought to keep in mind for a flawless open floor plan design.
Whether you're looking to give your open concept room a makeover or are starting from scratch, these open floor plan decorating ideas are your ticket to creating a beautiful and cohesive space! For more details on how to enhance your home, check out large living room layout ideas to make any space feel cozy.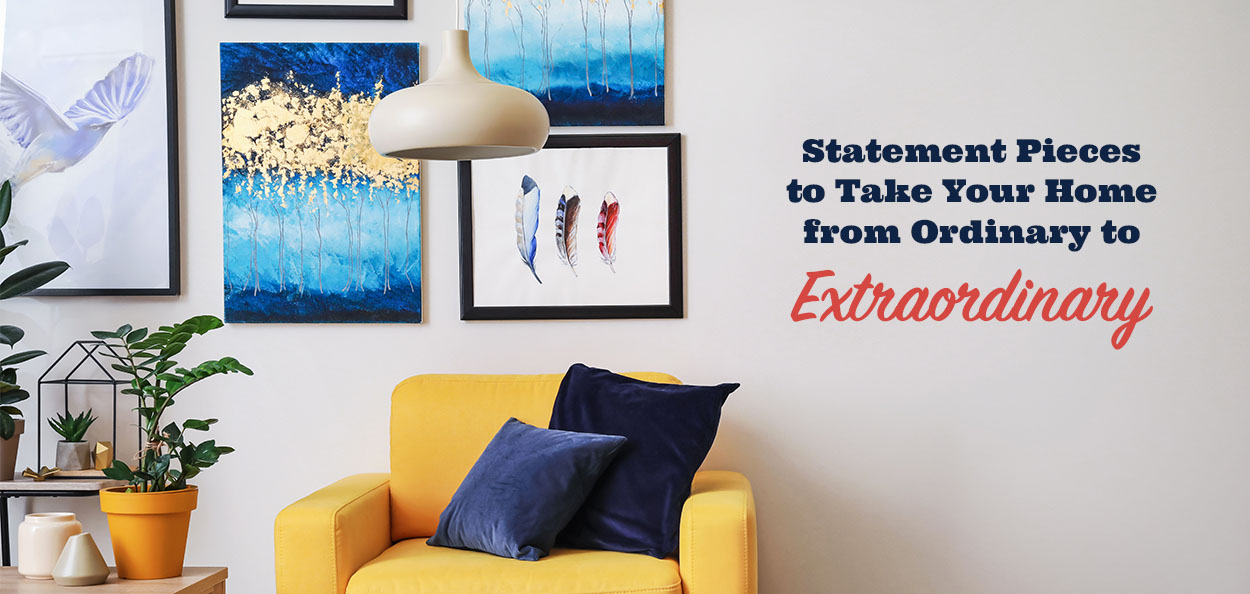 Pricey home renovations aren't the only way to give your space a fresh and new look! Incorporating statement pieces of all colors, shapes, and sizes can be a simple and budget-friendly way to revitalize your space and make it feel new again. From statement wall decor to comfy living room furnishings, check out our list of everyday decor that can transform your home from ordinary to extraordinary! 
7 Types of Statement Pieces
Striking Sofas
If chosen properly, your sofa or sectional can serve as one of the most eye-catching statement pieces in your home. Take a chance on a sofa with more unique characteristics like bold colors, interesting patterns, and snazzy throw pillows for additional style points. A complementing ottoman can also be a gorgeous statement piece in itself! 
Fusion's Macarena Marine sofa is an ideal statement piece for your living room with its blue color and geometric-patterned throw pillows.
Dashing Draperies
If your living room or dining room is lucky enough to have drapes, take advantage by using fabric that is both stylish and functional. 
For example, hang thick drapes during the winter time to keep out the cold, while also utilizing colors and patterns that stand out in your space. You can even switch up your color schemes throughout the seasons because drapes are relatively easy to replace.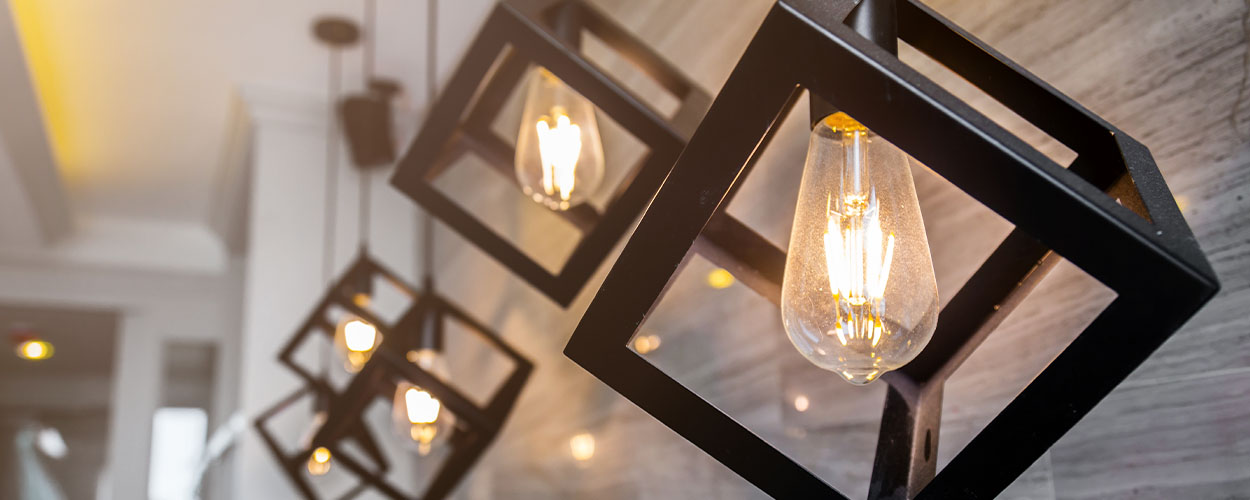 Stylish Lighting
Light fixtures may seem like insignificant decor, but they actually serve as valuable statement pieces for your living room and beyond. 
From floor lamps and table lamps to hanging fixtures, lights are a versatile statement piece that really can transform every room of your home. Channel a "wow" factor with your lighting by exploring many different styles like traditional chandeliers, industrial floor lamps, and geometric table lamps.
Bold Wallpaper
Wallpaper has made a major comeback in the last few years and it's a trend you definitely want to consider for your statement wall decor. Instead of covering an entire room with a floral or striped wallpaper, focus on an accent wall. Choosing one wall to display your bold wallpaper gives you the chance to transform your space without completely overwhelming it.
If a patterned design is a bit too much for you, don't give up on the idea altogether. Compromise with darker or lighter neutral colors for a more subtle change.
Distinctive Wall Accents
Plain, empty walls are simply a blank palette waiting to be decorated. If you notice that you have lots of bare space along your walls, start hanging statement wall decor!
A gallery wall full of your favorite art or photographs is one idea. Mirrors to lighten up the space is another.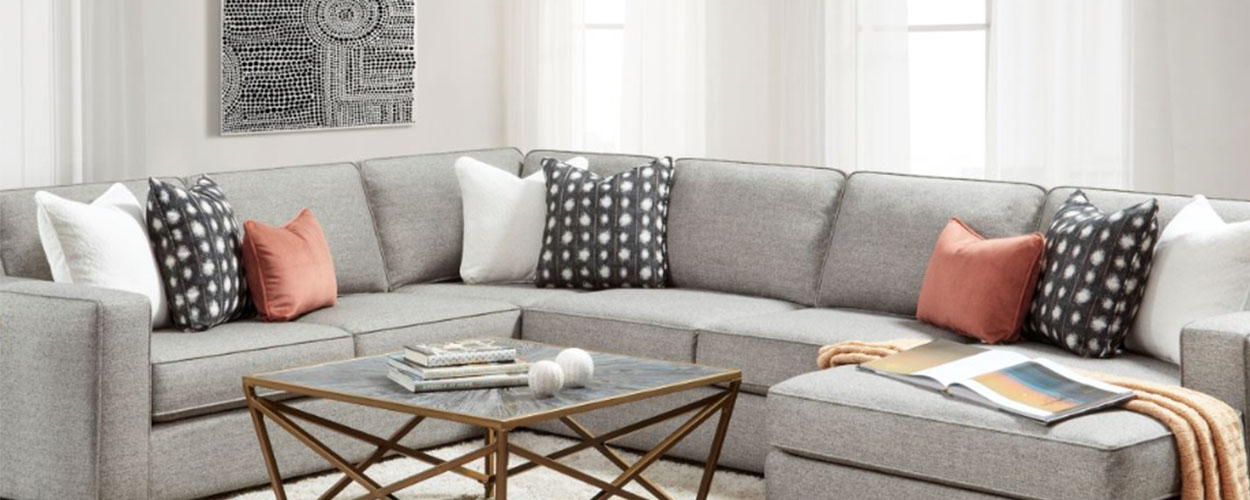 Alluring Accent Chairs
Even though accent chairs are much smaller than your sofa or sectional, they can be just the ticket to adding interest to your room. Not only are they cheaper and smaller to fit into your space, they can also do wonders for complementing the furniture you already have. 
If your couch is a more neutral shade, pick a chair that highlights the accent colors you use in the room. This will help make the chair shine, while also tying the space together.
The Monroe Ash accent chair is a prime example of chairs that bring your living room to life!
Inviting Area Rugs
Area rugs are amazing statement pieces for many reasons. One, they make your space feel cozier and more inviting. Two, they define each zone of your home, especially if you have an open floor plan design. 
Think of your area rug as an art piece for the floor and don't be afraid to experiment with bright colors and snazzy patterns. The bolder you go, the more distinctive your statement area rug will be.
How to Make Statement Pieces Work
Let It Stand Out
One key element to remember when decorating your space is that statement pieces can only make a statement if you let them. It can be tempting to fill the rooms of your home with lots of unique features, but in doing so, you take away the specialness of each piece. 
To maximize the statement decor you choose, make sure other objects in the room are smaller, more neutral, or less ornate.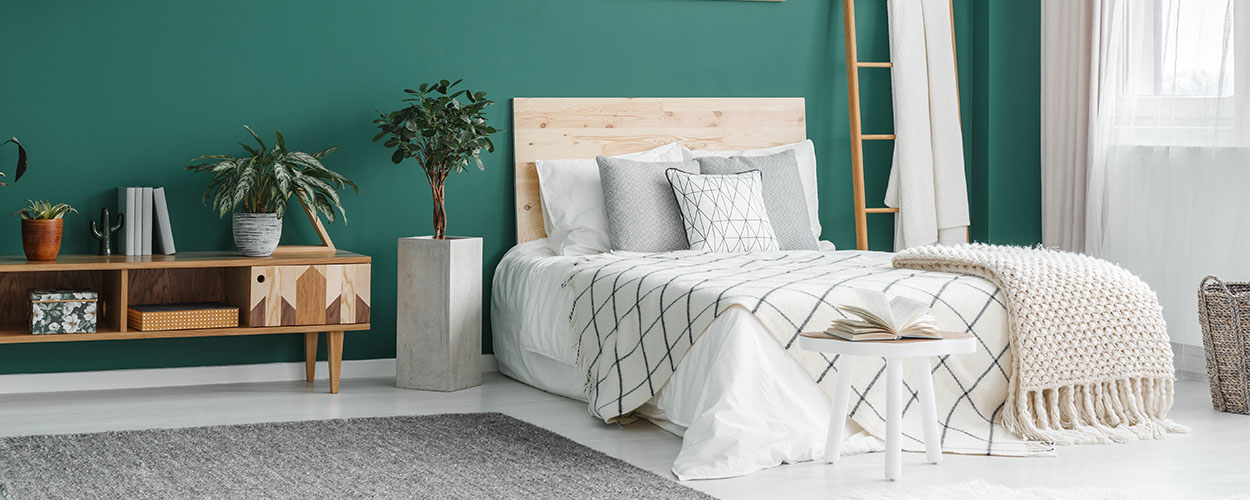 Keep Color in Mind
Bright, striking colors are beautiful and easily draw attention, but you want to be careful with which shades you settle on for your statement pieces. Always refer back to your overall color scheme and make it a rule that you only pick complementing accent colors. Follow this tip and your home will feel much more balanced and cohesive. 
Choose a Focal Point
A focal point is the center of interest in your space, and an important factor to consider when deciding on statement home decor. If you want to see a big change and truly mesmerize your guests, you'll want to choose statement pieces that are found in the focal or main parts of each room. 
For example, sofas, beds, and dining tables are dominating points within your home. Spruce up those items to make the biggest impact.
Whether you go big with a brand new sectional or choose to illuminate your space with dazzling light fixtures, you're sure to rejuvenate your home with these statement pieces. If you're thinking about hanging up statement wall decor, learn more about the why, where, and how of decorating your walls to guarantee a polished final look!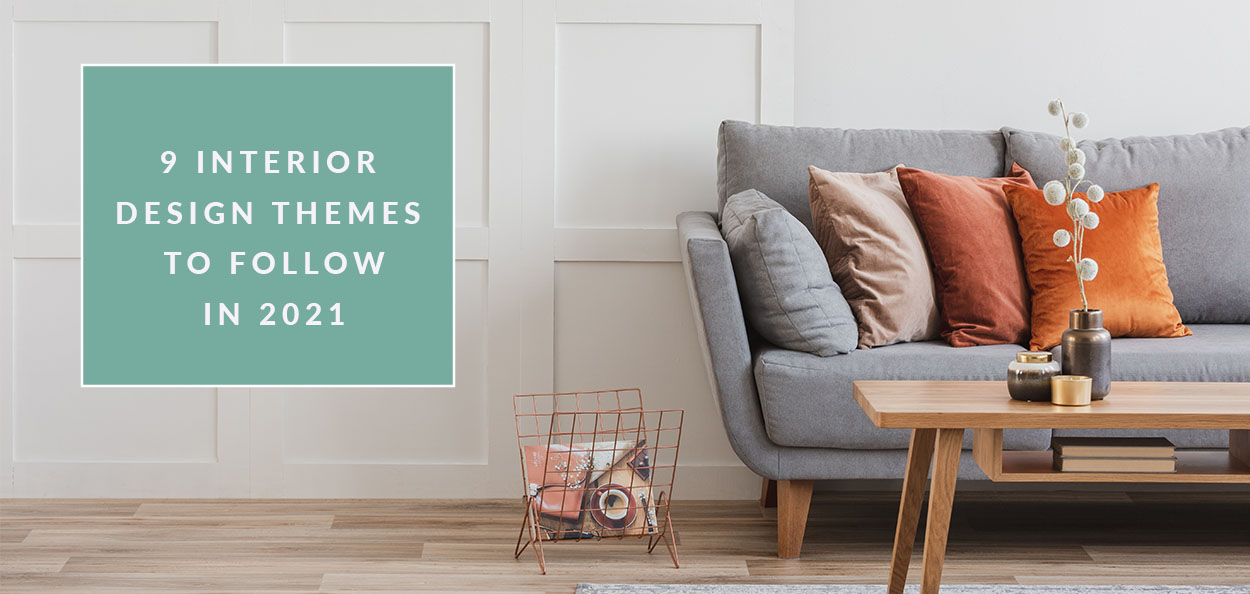 Just as soon as the interior design trends of 2020 took off, the design world just as quickly shifted its focus to a new set of trendy interior design themes for 2021. From color schemes and types of materials to conceptual designs, here are some of the top 2021 design trends to keep an eye on this year.
Ground Yourself with Earthy Tones
With so much time spent at home nowadays, it only makes sense that your space would focus on a comfortable and serene design. In 2021, expect to see a natural theme with warm and welcoming earthy tones of deep red, warm green, golden yellow, rust, and muddy brown. 
This earthy palette brings a vibrancy to any home while ensuring that you and your guests feel relaxed and at ease.
Incorporate Feng Shui Design
Even though Feng Shui has been around for centuries, this ancient design concept has only just recently made its way to the U.S. in the past few decades. 
Through specific colors, home decor items, and strategic arrangements, Feng Shui aims to create balance and harmony within your home. If you're looking for a little more flow and harmony in your life, this 2021 design trend is definitely worth a shot!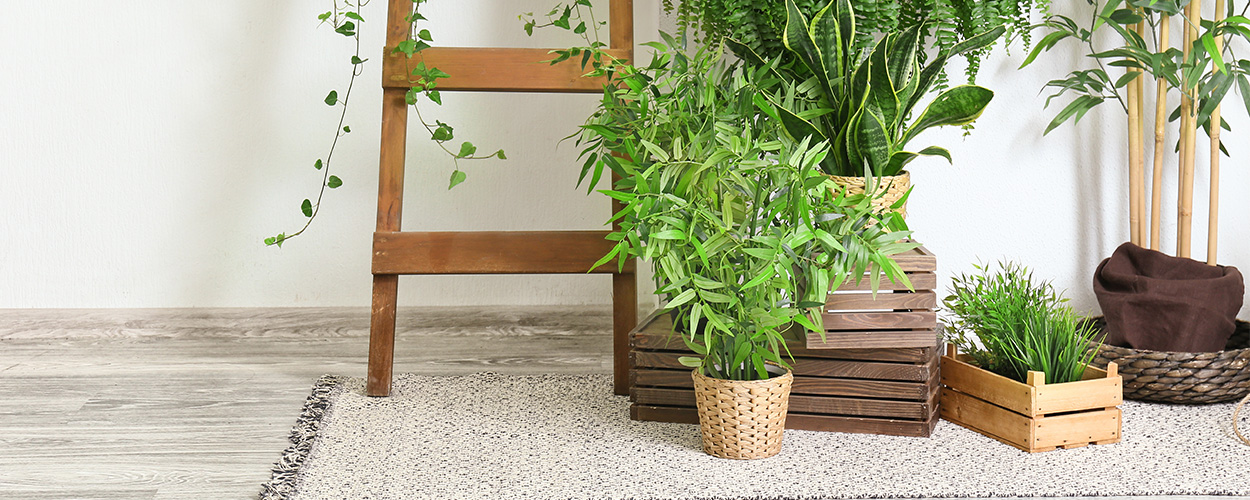 Go for Greenery
You may be thinking, "Wait a minute… Wasn't this a theme in 2020?" Why yes, it was. Although houseplants aren't a foreign concept, their ability to withstand the test of time (which is a challenge in the interior design realm) shows just how fashionable they really are. 
Not only are plants a fresh and chic decor item to include in any home, they offer value when it comes to eco-friendly design. They help to purify your space and cleanse it of harmful toxins. 
Whether you go for a boho look with macramé plant hangers or opt for a modern plant decor, it's easy to find greenery that fits your home's overall style.
Make Sustainability Stylish
Sustainability is one of the most prevalent discussions today, so it's not surprising that it has made its way into the interior design realm. Rather than simply recycling and avoiding plastic, a major interior design theme in 2021 will be sustainable decor. 
Multifunctional furniture, as well as furniture that guarantees longevity and durability will be a pattern across households. You can start including this trend into your home with sustainably-sourced materials, energy-efficient methods, and other eco-friendly design ideas.
Choose Maximalism
Instead of having a few trendy home decor pieces to tie together a minimalist look, opt for maximalism as your 2021 design trend. Personalize your space with memorable, sentimental items that help your home tell a story of who you are. These personal items can be anything from a couch to an art piece.
Layering old with new is another aspect of the maximalist theme. While you fill your space with vintage decor from days gone by, don't forget to strike a balance with modern touches as well.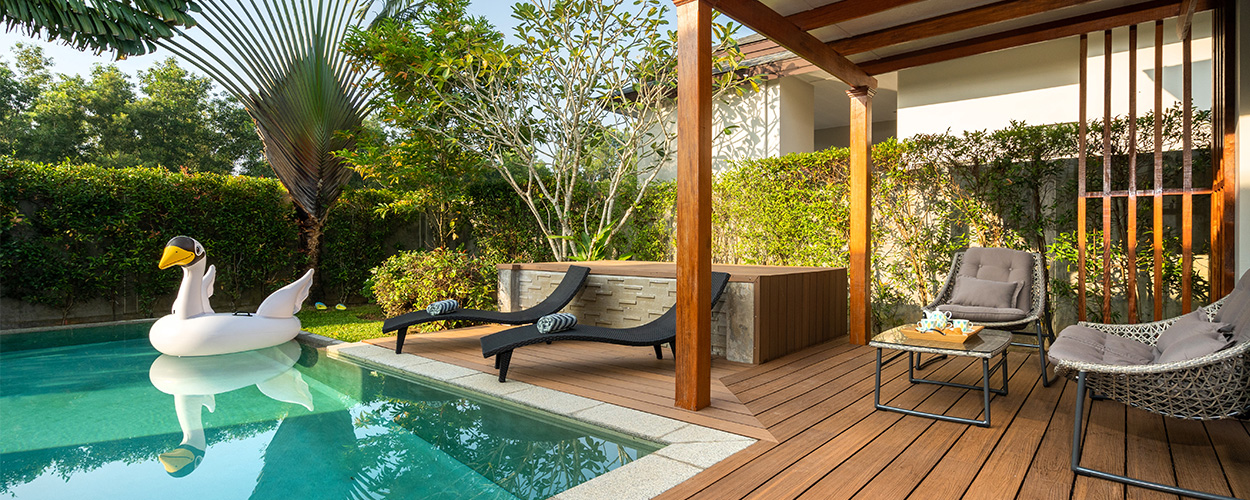 Create a Multi-Functional Yard
As you do your research, you may notice a common thread with 2021 design trends—many of them reflect the state of the country at the moment. With the pandemic creating a new at-home lifestyle, households are being forced to become multi-functional in more ways than one. 
With less opportunity to find entertainment away from home, curating a backyard that is both pleasing to the eye and fun to lounge in is essential. For that reason, beautiful and functional gardens will see a spike in popularity in the new year. Along with that, swimming pools, patios for entertaining, and greenhouses will most likely see a rise in use.
Design a Cozy Cottage
When you think about cottages, you probably think cozy, quaint, and comfortable. That's exactly what this interior design theme is all about. Create your very own cottage with vintage prints and motifs, a pastel color palette, and subtle touches of glamor with gold accessories and gilded mirrors. 
The goal of the cottagecore design concept is to create a space that brings a touch of nostalgia and lots of comfort, which is exactly what's needed if you find yourself at home more often.
Pull from Global Inspiration
A yearning to travel and see far off places is the key driver behind this 2021 design trend. With many travel plans canceled, it's predicted that lots of homes are going to be pulling from global inspiration to travel across the world without leaving the safety of home. 
Calming color palettes, warm tones, and natural textures are a few conceptual ideas to follow if you prefer a more subtle theme. Tropical leaves, florals, and bright colors are another option for a more bold interior design style.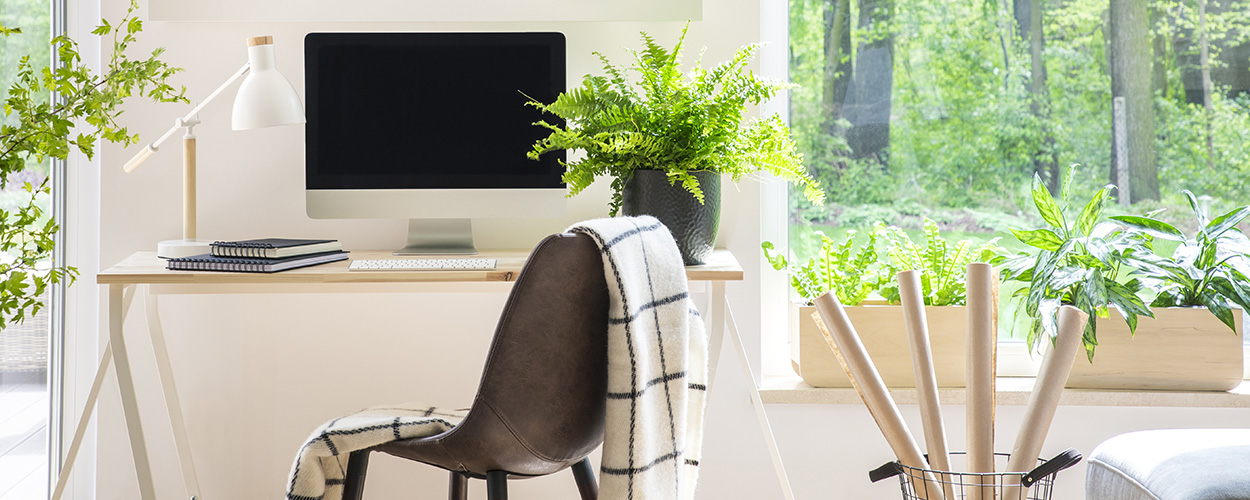 Make the Home Office a Focal Point
Working from home was and continues to be a major trend in the working world today, which is why an emphasis on the home office is going to be big in 2021. 
Veer away from the corporate vibe of black foam chairs and neutral colors to instead build a creative space that induces thought. Artwork, patterned wallpaper, a desk light, and a stylish work chair can take your home office from boring to stunning.
Whether you're using the new year as an excuse to give your home a makeover or you simply love keeping up with the hottest trends, these interior design themes are a good place to start. If you choose to reinvent your home office, make sure to combine style with functionality by taking a look at your home office ergonomics checklist!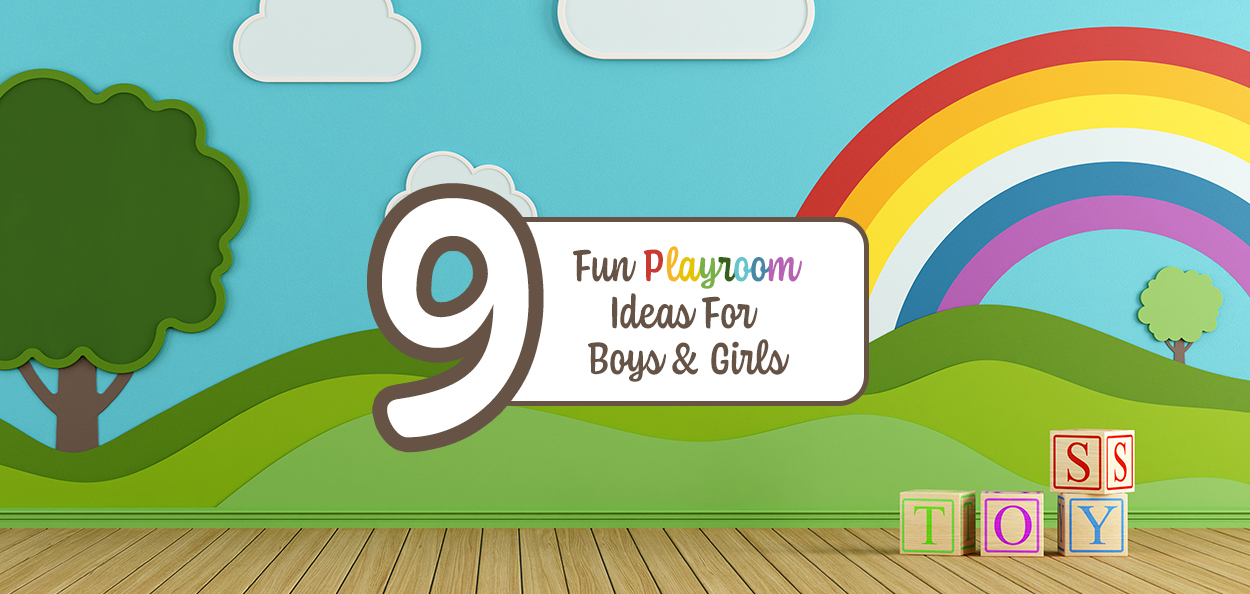 Does your home have a spare room just waiting to be filled? If you have kids that own more toys and trinkets than you know what to do with, it may be worth the time and effort to invest in a playroom. Make your kids' dreams come true by creating a room for fun and creativity with these playroom design ideas!
Install a Wall Chalkboard
Tired of cleaning up your kids' wall drawings that shouldn't be there in the first place? Give them the creative outlet they've been craving with a wall chalkboard. You can easily create DIY chalkboard walls yourself or hire a professional to do the job for you. Whichever way you choose to do it, you and your little ones will love the finished product!
Include a Dress-Up Corner
Whether you're looking to design a boy playroom or girl playroom, you can't go wrong with including a dress-up corner. Let your kids' imaginations run wild by including a few decor items like a metal hanging rack, hooks, storage baskets, and of course, a mirror.
Watch them transform into their favorite characters from books or movies. To make the dress-up experience even more thrilling, think about creating a makeshift stage for their performances. With some lumber and basic carpentry skills, you can create a DIY stage on your own.
Add a Kid's Table
Beyond just playing with toys, a playroom can be used for other creative activities like crafts, card games, reading, and tea time. Incorporating a small table is a quick and easy playroom design idea that will pay off for years to come.
Consider buying a round one to avoid potential accidents with sharp corners. You can also size up a bit to account for growth spurts over time!
Hang a Ceiling Swing
Who says swings only belong outside? Bring the excitement of outdoor play inside your home with one or two ceiling swings that will undoubtedly be a hit with your little ones. This fun playroom idea comes in handy all year round, but especially during the cold winter months when the kids are cooped up in the house and need to release some energy.
Create a Nap Time Space
With hours of playtime comes tired little ones. If you don't mind moving nap time out of the bedroom every once in a while, try this fun playroom idea. Create a cool nap time space with a daybed or a bundle of blankets and pillows. Nestle it up in the corner of the room and maybe even hang a sign officially naming that spot the "Nap Time Zone."
Having a special place for napping in your kids' beloved new playroom might just pay off tenfold. Rather than fighting the idea of taking a nap, the kiddos may fall in love with it because they get to sleep in their favorite room of the house.
Save Room for a Reading Nook
One of the biggest playroom design ideas to remember is that the space can be used for more than just play. Your home's playroom can double as a classroom when you save one corner for a reading nook.
Create a learning environment that the kids are actually thrilled to be in by decorating the nook with fun books, pretty wall art, and comfy seating. If you have lots of space, you can add in a small table for the kids to work on school assignments.
Slip in a Small Slide
If you have little ones running around your house, chances are they would fall in love with an indoor slide. Add a small slide to your playroom for hours of giggles and entertainment. If you feel like going all out, you can include a ball pit at the bottom of the slide for another fun surprise.
Organize with Toy Cubbies
While it may be tempting to simply toss all of the toys into the playroom and call it a day, there are lots of storage options to keep the room more tidy and organized. Invest in toy cubbies to store all of your kiddos' favorite toys and avoid the pain of stepping on them when you walk in the door.
For an even cuter touch, personalize each toy cubby for every one of your kids by adding their name or initials. Not only will this make each of them feel special, it will also give them the chance to be responsible for putting their toys back into their designated spot.
Think Vertically
When you start brainstorming ways to design your kids' playroom, think vertically. You want them to have as much space as possible to play and placing everything on the floor clutters the room quite quickly. Whenever possible, use the walls for storage and decor. Floating shelves are a chic and simple solution for holding books, pictures, and other small toys.
Keep the most necessary items close to the ground for the kids to easily reach, while making use of tall and sleek furniture to house more decorative pieces.
No matter if you're creating a room for girls or boys, these playroom design ideas are exactly what you need for a touch of organization and a bunch of imaginative fun. In the case that you're expecting another bundle of joy in the near future, gather more DIY inspiration with the top 8 nursery trends for your little miracle.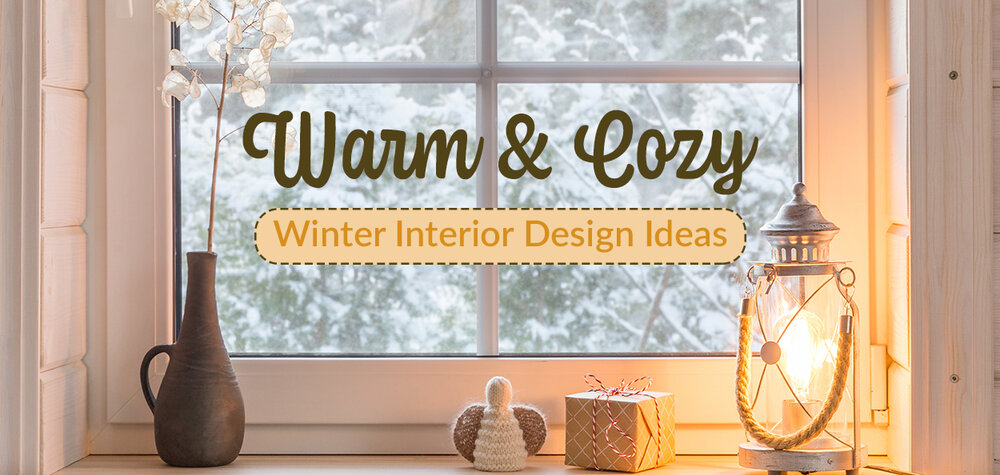 As the days get shorter and winter temperatures chill the air, there's no better time to give your home a cozy makeover. While pricey renovations have their benefits, there are also simple and affordable interior design ideas that turn your space into a gorgeous winter retreat. Cuddle up in comfort and entertain in style by incorporating these winter decor ideas into every room of your home!
Snuggly Textiles
Nothing screams "winter home" more than luxurious textiles you can cuddle up in on a cold winter night. Start with the necessities like warm flannel sheets for your beds and then work your way to the accessories.
Knitted poufs and chunky cable-knits are a cozy interior design trend popular this season. You can easily incorporate it into your space by tossing throw blankets across your beds and couches. Take things a step further with a faux fur stool or faux fur blankets draped around your furnishings as well.
Once you've laid out your snuggly winter decor, don't forget about the floor. Adding rugs is another easy way to elevate your space and create a warm atmosphere. Opt for sheepskin or wool rugs that are a great addition to your bedroom. They feel heavenly on your feet and absorb the heat in your home. You can also place durable outdoor sisal rugs in high traffic areas because they're easy to clean and stylish!
Shimmery Mirrors
Transform your home from a dark winter cave to a bright, shimmery retreat by hanging mirrors throughout each room. You would be surprised how much light is reflected from a couple gold-gilded mirrors on the wall!
Not only are mirrors an eye-catching winter interior design trend, they are also a creative way to make your space feel more open and look more spacious.
Portable Fireplaces
Having a giant, built-in fireplace is the dream during snowy days at home, but it may not be the reality for you and your family. That's where portable fireplaces come into play. Bring the warmth of fire into your living room this season by investing in an affordable fireplace that matches your winter decor preferences. Choose from sleek and modern, traditional, stand alone, wall-mounted, and many other options to suit your interior design style.
One of the nicest features of these electric fireplaces is that you can change settings and control temperature right from your seat. Most come with remotes for your convenience. Place the electric fireplace up against your wall or closer to your sofas and enjoy a cozy night by the fire!
Illuminating Metallics
Just as mirrors work magic when it comes to bouncing and reflecting light, so do metallic winter decor items. Dress up your home with a wide variety of metallic accessories like lamps, wall art, sculptures, and even decorative candle holders. Along with providing illumination for your home, metallics in different finishes display a unique and beautiful design contrast that brings interest to your space!
Glowing Candlelight
The inviting scent of candles mixed with their warm glow make them an irresistible winter decor item wonderful for any home. Light up the shadows of your space and channel all of the cozy vibes of the season with candles of all shapes and sizes.
Go for traditional votive candles (the ones in glass containers) or spice it up a bit by using taper candles in crystal holders. Keep it seasonal with sweet and spicy aromas like cardamom, cinnamon, cloves, rosewood, and orange.
Warm Wood
If you're looking for other stylish and budget-friendly ideas on how to make your living room feel cozy, incorporating natural elements is always a good idea. Wood and winter go hand-in-hand, which is why it prevails as one of the most loved interior design trends.
Including wood elements inside your home helps to create a warming effect while acting as a natural insulator. Try a reclaimed wood art piece, wooden side table, or a simple basket with cut fire logs.
Cozy Lighting
Switching up your lighting is a simple and inexpensive idea for a cozy interior design during the chilly winter months. Sit back and relax in a soothing environment by upgrading your lighting with warm-light LED bulbs that produce much softer light. You can also add dimmer switches to existing outlets to control the brightness of lighting throughout the day.
Other creative winter interior design ideas for lighting include salt lamps, colored glass lamps, and lighter lamp shades made of paper or linen.
Giving your home a winter facelift is as easy and affordable as you need it to be with these winter decor solutions. Bundle up and enjoy the season in style and comfort by creating a space full of your favorite winter interior design trends that perfectly complement your taste! For more inspiration on how to lighten up your home during dark and gloomy days, check out how to brighten a dark room.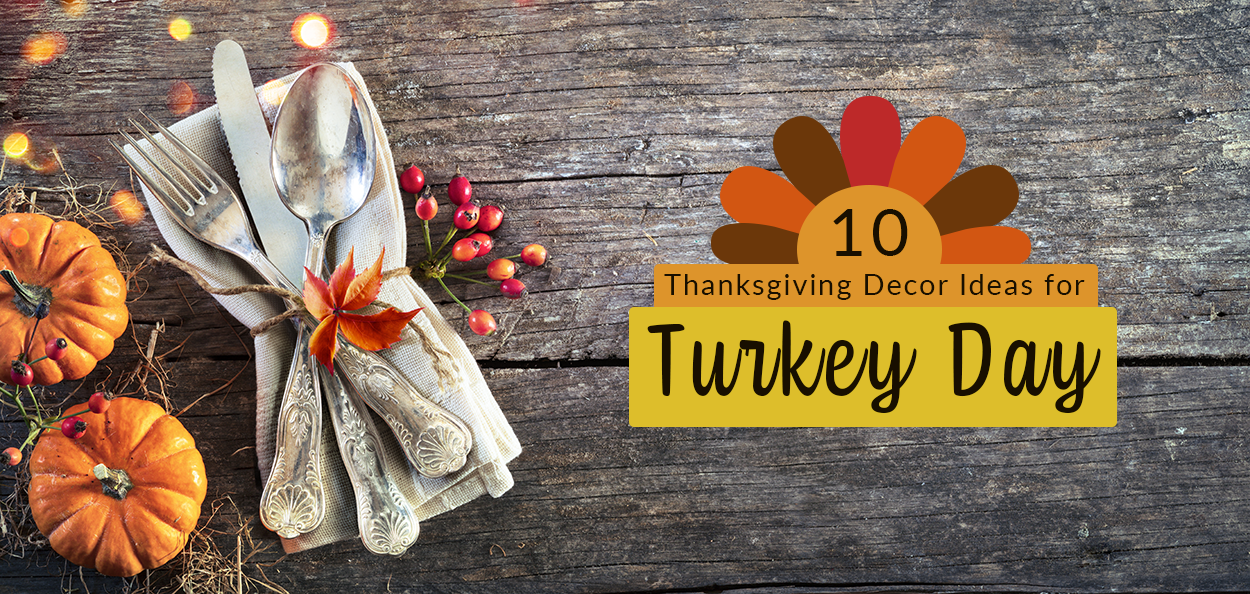 With the first major holiday of the season over, it's now time to transition our homes from Halloween to Thanksgiving. From store-bought items like fall flowers and faux gourds to DIY crafts, there are countless ways to bring the joy of the season into your home. Use these Thanksgiving decor ideas to keep your home feeling festive all November long!
Thanksgiving Decor Inspiration
Your fireplace mantle is one of the focal points of your home, so make sure it stands out at Thanksgiving with a lush garland. Use greens, pine cones, and vibrant oranges to dress it up. Gold-gilded candle holders can frame the garland and give it an added seasonal touch.
With Turkey Day comes a host of parties and celebrations. Be ready for the occasion by transforming an ordinary bar cart or at-home bar into the go-to spot for harvest happy hour. A vase of fall leaves, warm candles, a copper bowl with bright apples, and of course, a festive cocktail mix come together to create a homey bar full of Thanksgiving decor.
Stray from the traditional and go for a modern Thanksgiving decor style with an elegant feather centerpiece. Pheasant feathers, gold-speckled pine cones, beige candles, and white pumpkins are all you need for this look. If you feel like taking your centerpiece a step further, get cozy with a faux fur table runner in white or other neutral colors that accent your feathers. Just be sure to keep the centerpiece safely spaced away from the food and drinks to avoid stains.
For another touch of contemporary design, incorporate velvet pumpkins into your home. Be bold and mix in a variety of warm colors like emerald green, mustard, brown, and red to transform your space into a sophisticated and unique Thanksgiving haven.
If you aren't too comfortable with mixing and matching multiple colors, it's time to simplify your Thanksgiving decor and go with a monochromatic color scheme. Your home can be just as fall-inspired with a single color contrasted in different tints and shades. Pick your favorite Thanksgiving color like a deep maroon or classic orange, and compile various decor items in similar shades to bring interest to any arrangement.
Thanksgiving DIY Crafts
Remember that Turkey Day spirit starts right at your doorstep. Give your home the welcoming vibe it needs for fall with this simple floral door arrangement. Dried flowers, foliages, twine, and ribbon are the main supplies for this trendy piece. The wonderful part about this Thanksgiving DIY craft is that you have the freedom to gather supplies like leaves and pine cones right from your yard. You can even hang up your own flowers to dry for a sentimental touch.
It's all in the details. After you've established your overall Thanksgiving decor theme, it's time to hone in on the small accents that make the experience personal and one of a kind. These cinnamon stick place cards are the sweetest touch for guests at your dinner party. Simply place each name card in the natural crevice of a cinnamon stick and wrap the ends with twine. The sentiment and smell of warm spices will have your guests grinning ear to ear.
For a rustic aesthetic, collect glass bottles in earthy tones of gold and green and fill them with decorative fall foliage. Branches of berries in classic Thanksgiving shades of orange, red, and yellow are a delicate and stylish addition to window sills in your kitchen and living room. You can also fill the bottles with other foliage like leaves, flowers, and wheat for contrast.
While all of the decorating and food prep is exciting, it's important to keep in mind what this holiday is really about — family and gratitude. Help celebrate the meaning of Thanksgiving by creating a beautiful Thankful Tree. A decorative tree, ornaments, and lots of thankful messages from guests and family members are the key ingredients to making this memorable keepsake come to life.
Candles and Thanksgiving go together like turkey and stuffing. Give your candles a distinct touch by brightening up your candle holders with pretty colors and varying textures. In this Thanksgiving DIY craft, use clear glass cylinder vases and layer the inside of them with corn kernels, burgundy cocksomb celosia, orange bittersweet, pale green dried hops, and brown oak leaves. Top off the layers with your pumpkin spice candle and you have a gorgeous centerpiece for your mantle or dinner table.
Decorating for Turkey Day doesn't have to be an elaborate process that empties your wallet. Try these simple Thanksgiving decor ideas and save room for all of the delicious food and quality time the holiday has to offer. For more festive inspiration, fall in love with these 9 fall decor trends.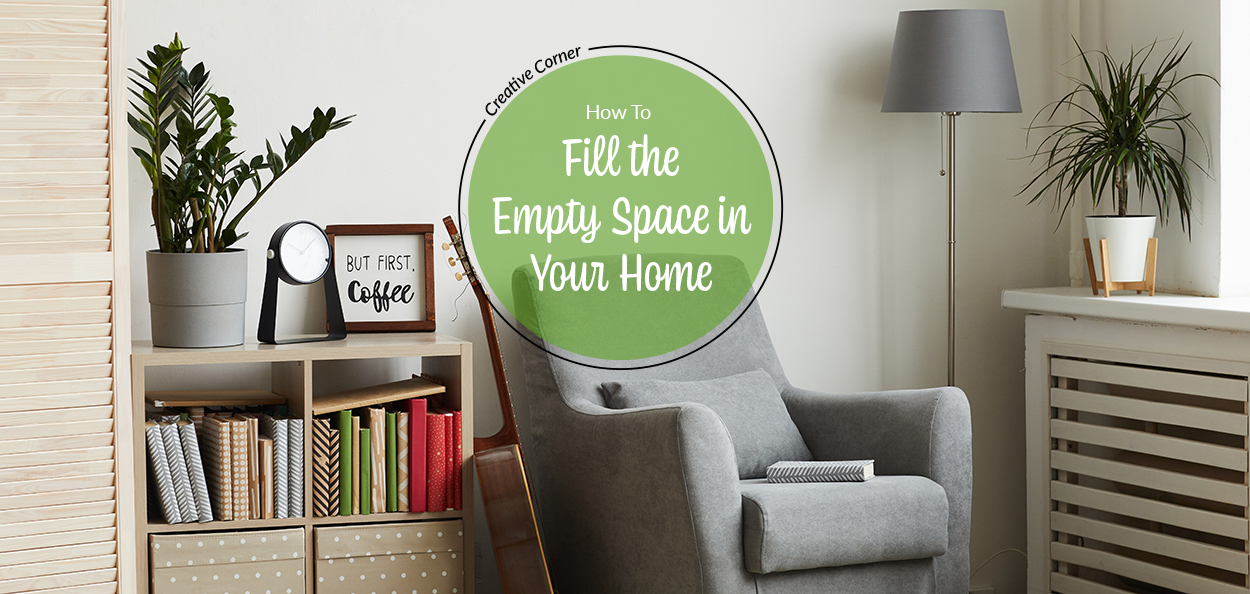 After arranging all of the major pieces of furniture inside your home, there are always those awkward empty spaces left over that you don't know quite what to do with. Rather than leave them bare, follow these corner decor ideas for inspiration on how to style these nooks and crannies.
Corner Decor Ideas
Floating Shelves
Need extra space for framed photos, vases, and books? Floating shelves are not only a great storage solution, but they are also a hot decor trend in the interior design world. Add them to your empty spaces and you've got yourself stylish shelves for your living room corners or even your bedroom.
Tiny Office Nook
Not every home has the square footage for an office room, but that doesn't mean you can't create a small office nook. If the location is fitting, transform your empty space into a workstation by setting up a desk and chair. Try to match the style of the room so that the nook adds to the decor of the space rather than detracts from it.
Stylish Storage Pieces
This corner decor idea is a must if you find yourself with so much stuff you don't know what to do with it all. Combine function and style by incorporating small chest drawers, armoires, sideboards, and console tables into the empty corners of your rooms. These furnishings give you both a beautiful display and a place to store your household items.
Studious Bookcase
Put those old books to use by showing them off in your very own bookcase. Go as big or small as you want to create a colorful decor piece for almost any corner in your home. You can even mix in other decorative items like flowers and photos to give the shelving more character.
Sophisticated Bar Cart
You don't need an at-home bar to display your collection of wines and spirits. Grab your liquor and glasses from the kitchen cabinet and show them off on a stylish bar cart that easily fits into a tight corner. Next time you celebrate happy hour, entertaining will be a breeze!
Additional Closet Space
Who said clothing needs to be put away in drawers and walk-in closets? Exposed closets are all the rage right now and they give you the chance to turn your clothes into a fashionable decor piece. All you need for this bedroom corner idea is a clothing rack and your wardrobe to create a fun and functional addition to your space.
Kids' Play Corner
Give your kids the play area they've been begging for by designating that corner space as an enchanting playhouse. Use easy-to-remove washi tape to create the outline of a playhouse on the walls and install a few shelves within it to hold some of their favorite toys. This gives them the creative space to play, while also taking up as little room as possible.
DIY Gallery Wall
You don't need to go to an art museum to enjoy a gallery experience. Bring conversation starters to your living room corner by curating your own DIY gallery wall with framed prints or paintings. This can turn an ordinary wall corner into the focal point of a room with little to no cost.
Artwork Display
In addition to a gallery wall, you can get in tune with your artistic side by dressing up corners with other types of artwork like sculptures and ceramics. Don't be afraid to bring in abstract pieces or art of different mediums because they can bring interest and contrast that your run-of-the-mill photos do not.
Gorgeous Greenery
The houseplant trend is in full bloom and it just so happens to be another creative corner decor idea. Find corners of your home near natural light and entwine them with any plant you think you have the time and desire to care for — or go for faux plants instead! Whether you feel like being bold with large-leaf plants or prefer a unique hanging terrarium, the finished product is sure to bring new life to your space.
Luminous Lighting
Layered lighting is one of the golden principles of interior design, and chances are, if you have empty corners that need filling, lighting is the perfect solution. Before deciding on the type of lighting you want, consider the area it will be in and the function it will serve.
Floor lamps are great for living room corners, pendant lights are best for illumination of art, and table lamps do wonders for decorative side tables.
Decorative Screen
Does your home have high ceilings? Room separating screens are a great addition to your space because they're known for complementing homes with high walls. Not only do they emphasize the impressive height of your ceilings, they also decorate your walls without you even touching them.
Keep in mind that screens are corner decor best used in larger rooms because they take up quite a bit of space.
Window Seat
Take advantage of natural light by creating a cozy seat where your window touches the corner of the room. An upholstered bench and some comfy throw pillows are all you need to transform an everyday window into a nook for reading and drinking coffee.
Statement Furnishings
When in doubt, furnish it out! Sometimes the simplest solutions to the empty corner dilemma reside in a statement piece. Which kind of statement piece you choose depends entirely on how much space you have. For a larger room, you may want to consider a sofa, bench, or side table. For tinier spaces, downsize a bit by including a statement chair or accent table topped with a decorative lamp.
To find a stylish piece of furniture that livens up your corner decor, take a look at our eye-catching collections.