13 Clever Seating Ideas for Your Living Room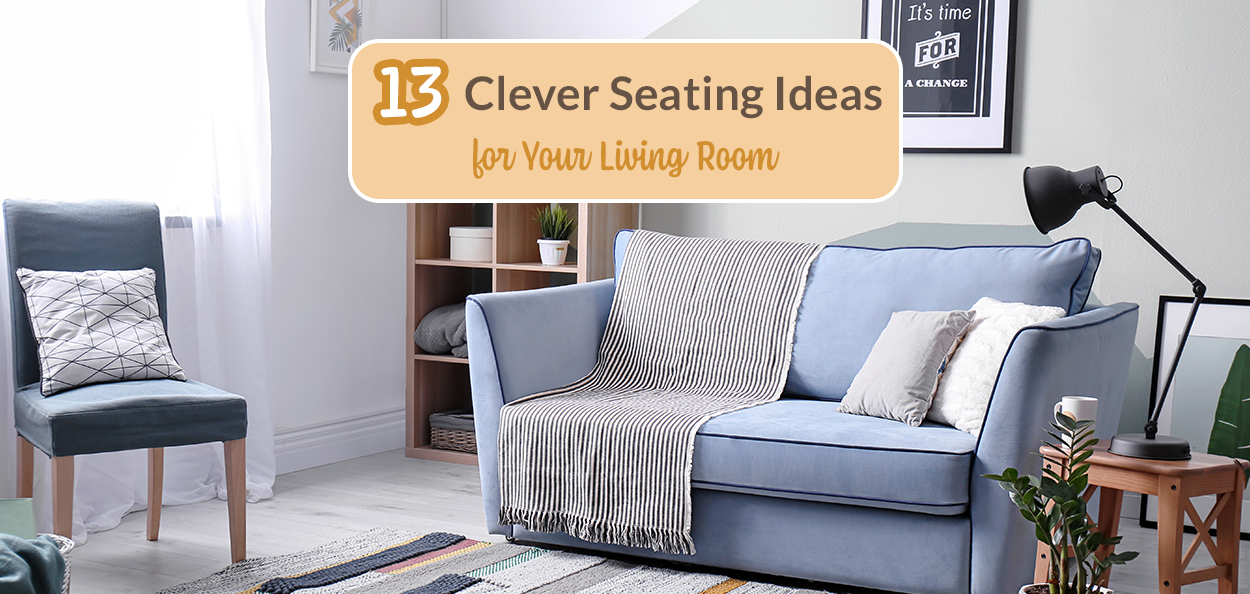 From holiday parties to game nights with family and friends, there's an endless list of occasions that require lots of seating space for guests. Instead of sticking to just the traditional couch or sectional, maximize your space as much as possible by getting creative with your furniture options. Read on to see the top 13 living room seating ideas that will make your guests happy and comfortable at every social gathering!
1. Opt for Ottomans
While it's ideal to have a coffee table in your living room, they tend to take up a lot of space that could be used for additional seating. If you can bear to live without a coffee table, opt for an ottoman instead. Ottomans have many more advantages than they do disadvantages. They're comfortable, trendy, and can function just as well as a coffee table. 
If you need a place to put down drinks and food, simply buy an ottoman tray and that'll do the trick.
2. Give Garden Stools a Try
Garden stools aren't just for gardening! You can quickly find an indoor garden stool or seat that perfectly matches your interior design style. Set it next to your sofa or accent chair and offer it up as a living room seating idea during your next party!
3. Slide in a Slipper Chair
Slipper chairs are a must if you find yourself entertaining guests quite often. They are ideal for tight spaces because they take up minimal floor space and can be snuck in just about anywhere.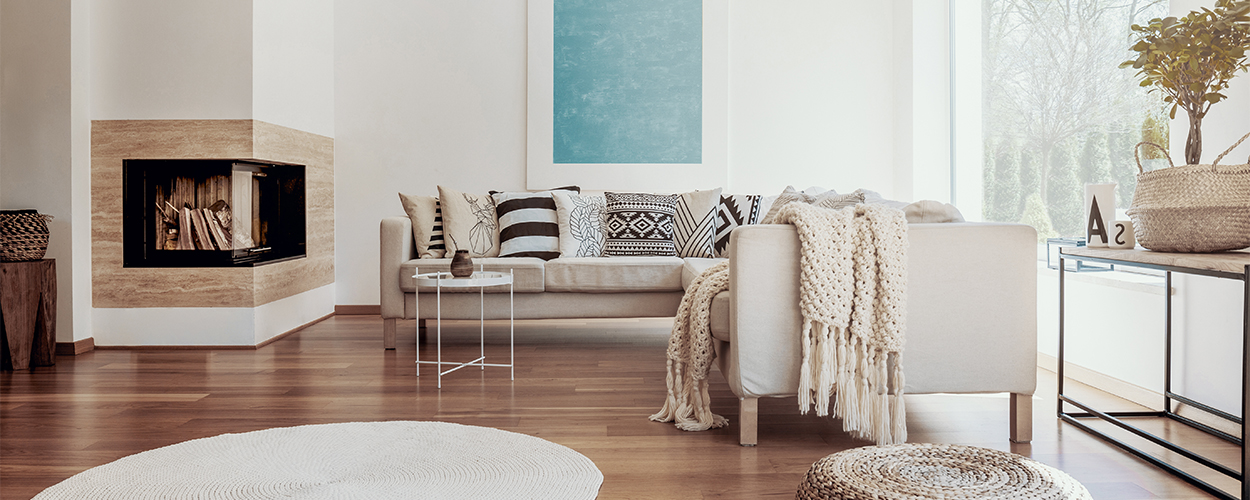 4. Take It to the Floor
Perhaps one of the most underrated furniture pieces is a floor cushion. If you need comfy seating for a small space or even a big one, invest in a couple stylish floor cushions. They're great for kids and in dire circumstances, will make for a nice seat for adults too.
One of the best parts about floor cushions is that they're easy to store away in your closet or within your ottoman (if it has storage space).
5. Choose a Multipurpose Coffee Table
If you can't stand to live without a coffee table in your living room, don't worry. All you need to do is be a little more strategic when purchasing the perfect table for your needs. Rather than buy one that is solid from top to bottom, opt for a coffee table that allows storage underneath. Use the multipurpose table to tuck away additional seating like benches and floor cushions.
6. Factor in Footstools
Footstools may be small, but they make a huge difference when it comes to entertaining. Use them regularly to prop up your feet and offer them to guests during parties. If you have an open floor plan, you can also utilize footstools to make a distinction between your living space and other areas.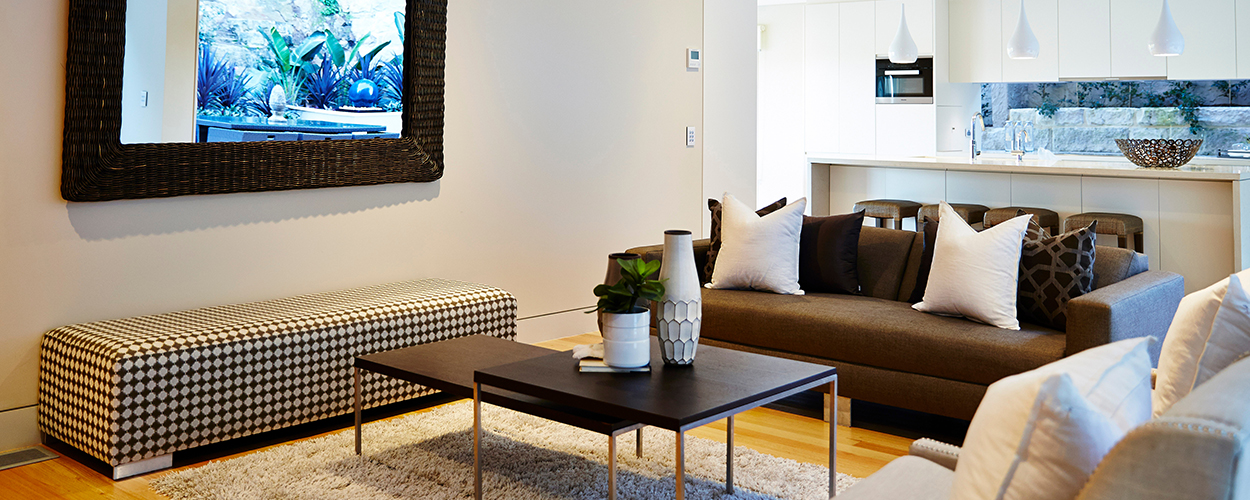 7. Try a Designer Bench
Couches are bulky and dominate a majority of your living room, which is why benches are so sought after. Instead of squeezing two sofas or one large sectional into your space, think about trying a bench. Place it opposite of your sofa, in front of your fireplace, or wherever you see fit. 
For those that have an open floor plan, you can also place your bench behind your sofa as a subtle divider and finishing touch.
8. Sneak in Stackable Stools
When in doubt, stack it out! Stackable stools may not be the chicest option, but you'll be thankful you have them once your living room is crowded with people. Use them as side tables by day and living room seating furniture by night!
9. Bust Out Folding Chairs
You know you're desperate for seating when you pull out the folding chairs. Are they the most attractive? Maybe not. Are they good to have? Absolutely.
For a fun DIY project, revamp your folding chairs with a little spray paint and stylish fabric. Store them in the garage or under your bed until you need them for social gatherings. Your guests will most definitely thank you!
10. Concentrate on Corners
As you brainstorm living room seating ideas, don't forget to think about the corners of the room. If you have an empty corner, great! Put it to good use and add in living room seating furniture. If that space is currently occupied by a house plant or lamp, consider moving those items somewhere else so that you can swap in a stool or accent chair.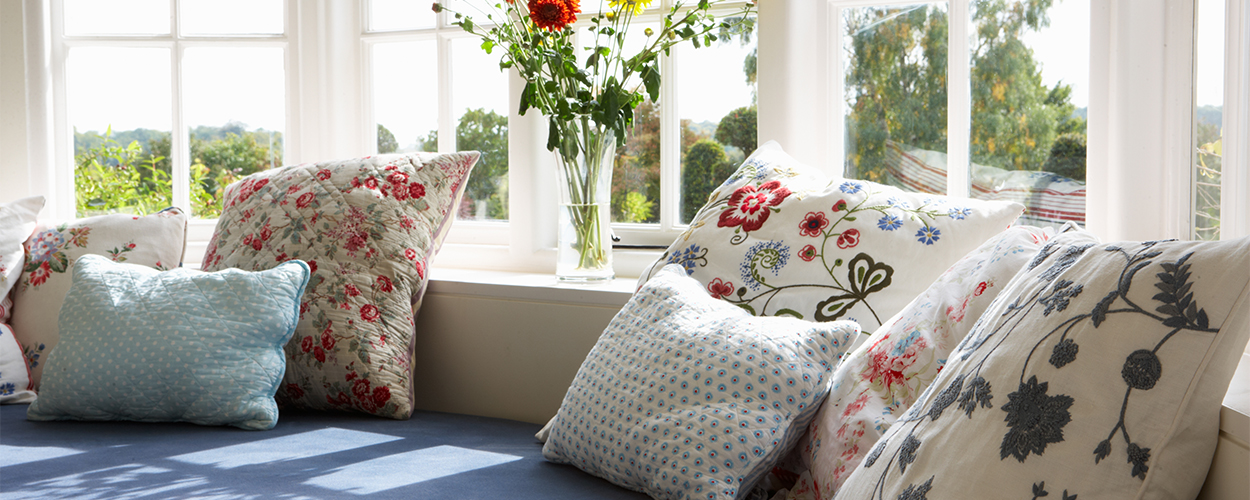 11. Work in a Window Seat
Window seats are a must for any home, but especially if you're in need of a living room seating idea. Take in the beautiful views from your window by adding a simple bench with cushions and pillows for comfort. Your guests will be fighting for this spot during daytime gatherings!
12. Place Poufs in Empty Areas
Floor poufs are all the rage right now, so might as well try them while they're hot! Not only are they small and easy to move around, they're versatile in function. Use them for casual hang outs, play time with the kids, or extra seating during the holidays.
13. Settle for Small Benches
Small benches are the way to go if you're looking for comfy seating for small spaces. They work well in both casual and formal settings. Mix them into your furniture arrangement for better conversation, set them in front of the TV during game time, or line them in front of your fireplace when it's not being used. 
Having trouble finding enough space to fit all of your living room seating furniture? Learn genius ways to free up space in your living room!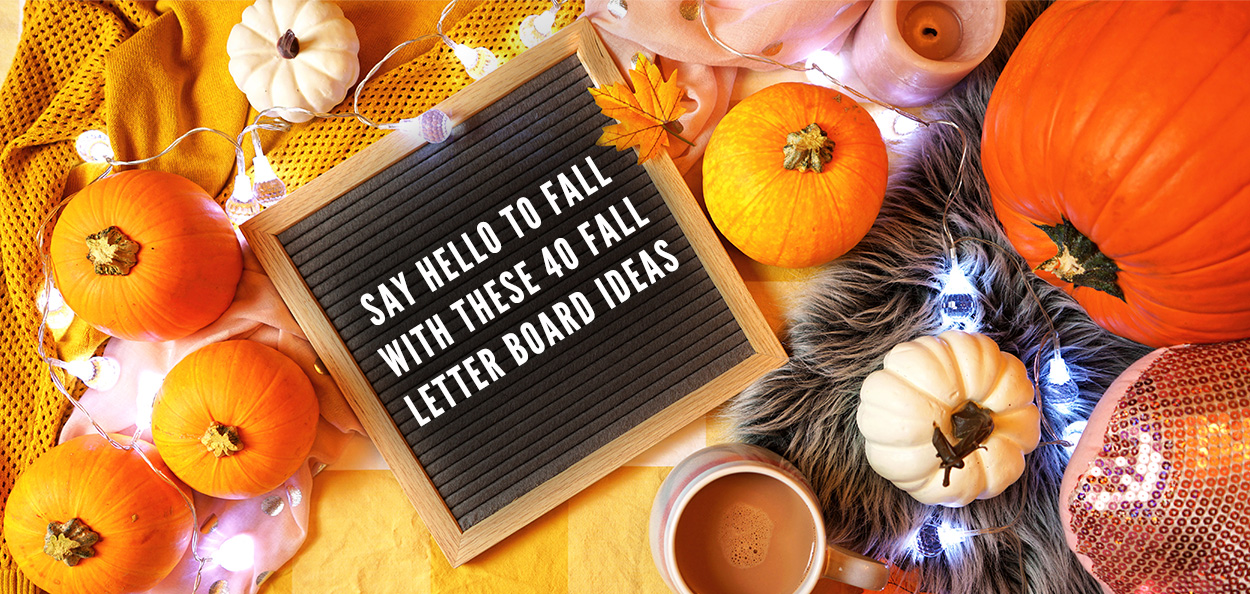 Temperatures are dropping, leaves are turning, and festive fall decor is sweeping the nation! As you celebrate the fall season and all of the holidays that come with it, don't forget to spice up your letter board for the occasion. From spooky Halloween letter board quotes to Thanksgiving letter board ideas, here are the top 40 sayings you should try this year!
Fall Letter Board Ideas
While it's fun to get creative and come up with fall letter board ideas on your own, it's always nice to get a little inspiration. Here are some of the most corny and cute fall letter board sayings that are perfect for the season:
'Tis the season to be fall-y

Happy Fallidays

Fall, flannels, football

Pumpkin spice & everything nice

Oh my gourd, it's fall!

Leaves are falling & coffee is calling

I love fall most of all

Sweater weather

Pumpkin spice, spice baby

Hello, gourdeous!

Leaves are falling, autumn is calling

Pumpkin kisses and harvest wishes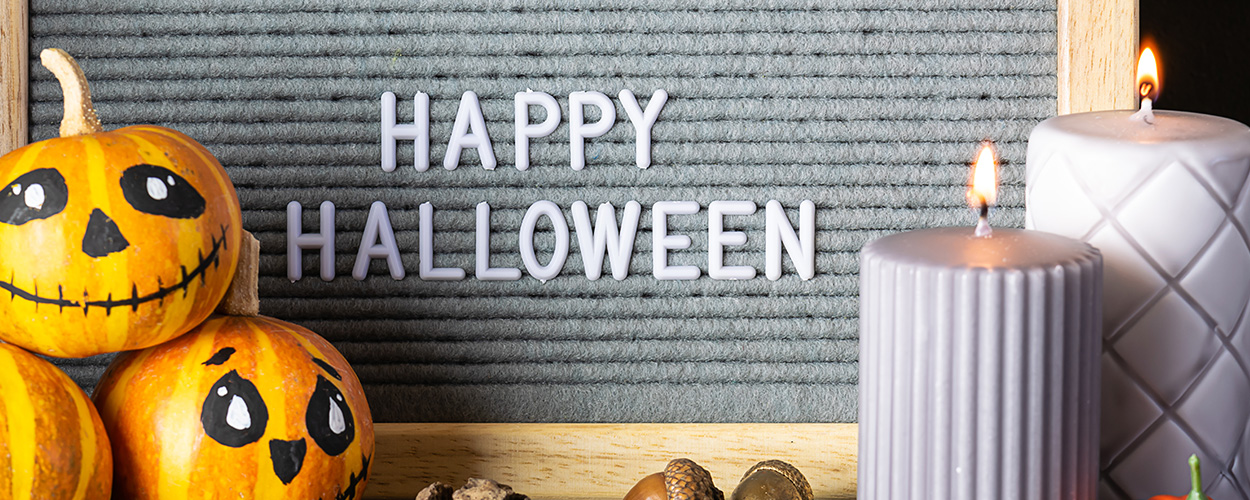 Halloween Letter Board Ideas
Fall isn't just about pumpkin spice and everything nice! Pay tribute to the spooky season with these Halloween letter board quotes that add a wicked touch to your home decor. 
Trick or treat yo' self

Give 'em pumpkin to talk about

Creep it real

Happy howl-oween

If you got it, haunt it

Cheers, witches!

You've got me under your spell

Something wicked this way comes

It's just a bunch of hocus pocus

Hey boo-tiful

Let's have some skele-fun!

Ghouls just want to have fun

Eat, drink, & be scary

Spooky!

Trick or treat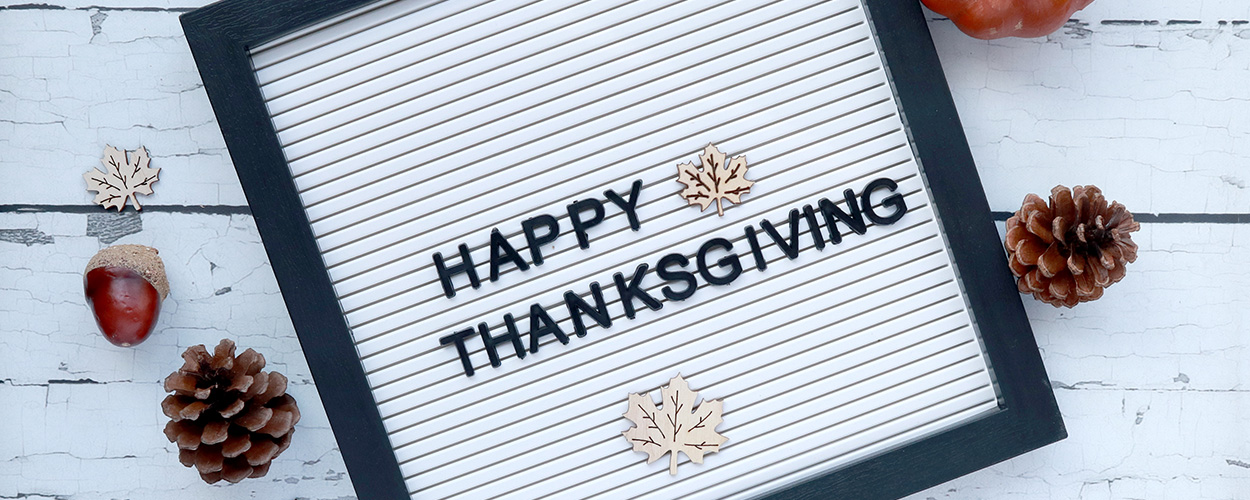 Thanksgiving Letter Board Ideas
In between the party planning and food preparation, remember to try these Thanksgiving letter board ideas that remind you of one of the best parts about the holiday—delicious food!
Leftovers are for quitters

Whatever floats your gravy boat

Thanksgiving rule: no talk, just gobble

Count your blessings, not your calories

Thankful for oversized hoodies and leggings

Thanksgiving: cook, eat, nap

Alexa, make Thanksgiving dinner

Sorry, I'm occu-pied

Give thanks, eat food

Gobble, gobble

It doesn't get any butter than this

Stop, drop, & pass the rolls!

Feast mode: activated
Now that you know the top 40 fall letter board ideas, check out these 9 fall decor trends!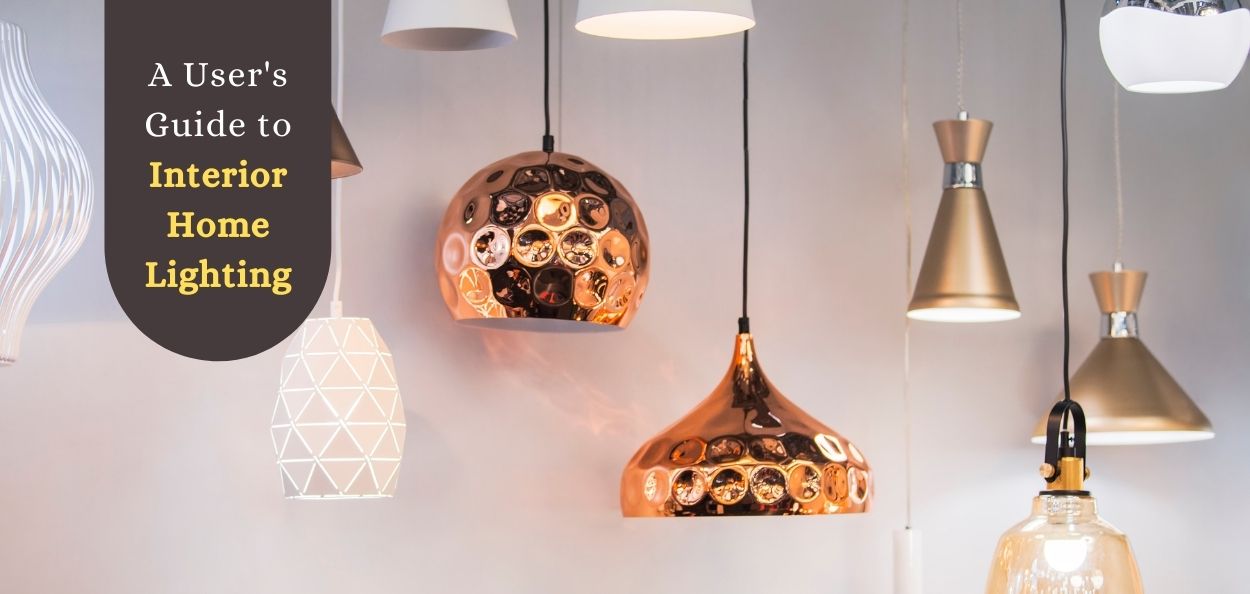 Along with furniture arrangement and color scheme, interior home lighting is one of the core elements of designing a beautiful home. There's much that goes into the process of illuminating your space, and it's not just about which lamp looks good next to the sofa.
Read our interior lighting design guide to learn about the different types of lighting, what they're used for, and interior lighting ideas you can incorporate into your own home.
3 Types of Lighting in Interior Design
1. Ambient Lighting
The first type of lighting in interior design is ambient light. Also known as "general light," ambient lighting is the most basic out of the three types of illumination. 
Ambient lighting encompasses both natural light, as well as primary light sources like chandeliers, recessed lights, track lights, and wall or ceiling-mounted light fixtures.
The first goal of ambient lighting is to bring functionality to your space by providing enough light to navigate the room safely without too much glare. In addition to that, it gives more warmth and depth to your space.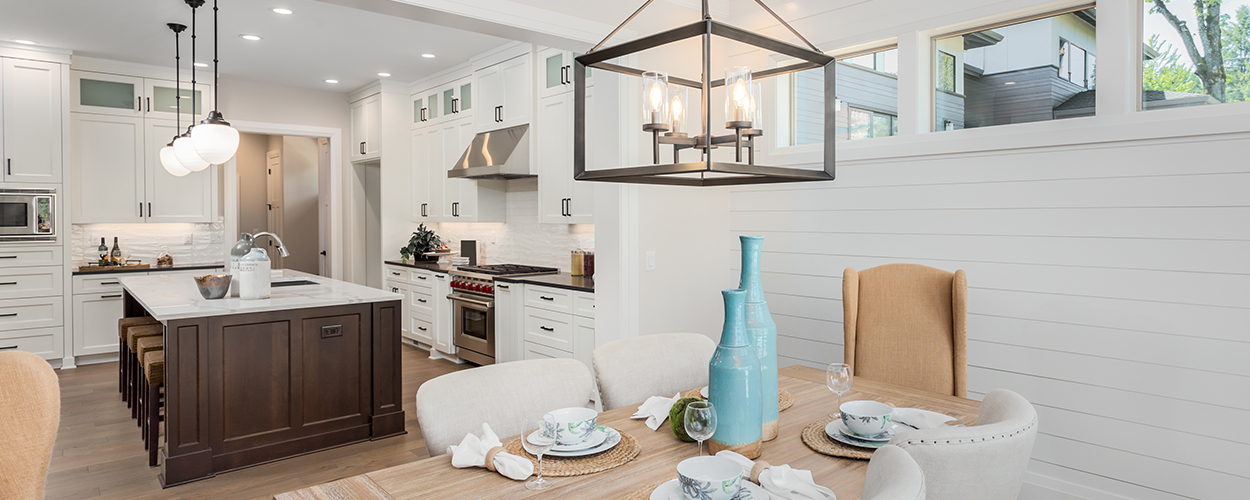 2. Task Lighting
While many people stop at ambient light, it's important that you don't forget the second type of lighting in interior design: task light. Task lighting is aptly named for its intended purpose of providing illumination for certain tasks. Whether you're reading, studying, or cooking, task lighting should be there to help you see. Table lamps, desk lamps, pendant lights, under-counter lights, and vanity lights are just a few examples of how task lighting can be used in your home.
If you're looking to include this kind of interior home lighting in your space, make a list of the activities you're going to perform in each room to guide your decisions.
3. Accent Lighting
Last but not least, there is a third type of lighting that is most commonly forgotten—accent lighting. Accent lights can be used for a couple reasons. You can use accent lights to establish a certain mood or atmosphere within your space, or you can use them to highlight certain features of your home. For example, you can use accent lighting to emphasize your favorite art piece or shelf with family photographs.
While accent lights help to highlight certain home decor, they simultaneously draw attention away from unpleasant parts of your home which is an added bonus. Here are some common examples of accent lighting:
Light bridges on media furniture

Candlelight

Picture lights

Wall sconces

Chandeliers with dimmer switches
Creative Interior Lighting Ideas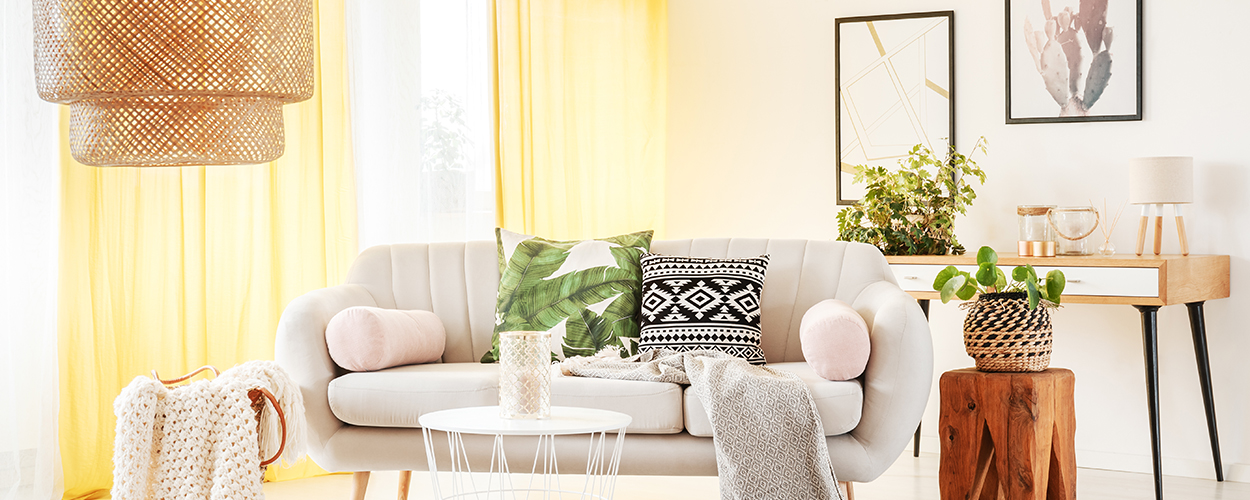 Textured Lighting
Bring an extra layer of texture into your home by choosing a light fixture made with interesting materials and design. Industrial light fixtures made of black iron or woven, Bohemian-style lamps are a couple interior lighting ideas that break the mold of your typical run-of-the-mill products. 
Bold Statement Piece
Who said your home's statement pieces have to be wall art or accent rugs? Think about making your light source a striking focal point by choosing one that has eye-catching features. Whether the light fixture shines with gold accents, commands the room with its large size, or sparks interest with its unique shape, find something that is inherently bold and daring. It's sure to liven up your space!
Artistic Accent
Try knocking out two birds with one stone when illuminating your space! Get creative with your interior home lighting by experimenting with products that double as both a light source and art piece. 
There are hundreds of products on the market that can fit any artistic design style. Love flowers? Check out floral chandeliers for an elegant touch. Do you consider yourself a fan of mid-century modern design? These retro-style lighting ideas are both functional and artsy.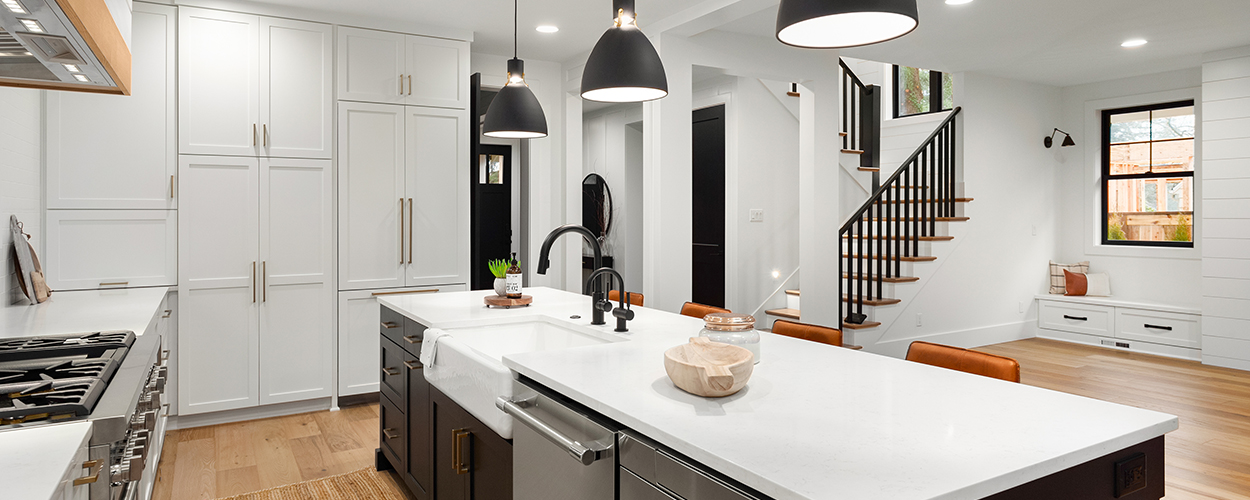 Contrasting Fixtures
Picking the perfect interior lighting idea for your home can be as simple as choosing a light with a contrasting element. If your living room has white walls, linen furniture, and light floors, maybe you should consider installing a black light fixture. Incorporating a darker fixture will create more dimension and intrigue within your space and prevent everything in the room from blending together.
It's important to remember that your contrasting light fixtures must tie in to your interior design in some way. If you opt for a dark fixture, be sure to infuse that accent color in other ways such as your throw pillows, coffee table decor, and area rug.
Now that you know the three different types of lighting in interior design, as well as some interior lighting ideas, it's time to apply that knowledge to your own home! For further illumination, check out how to brighten up a dark room.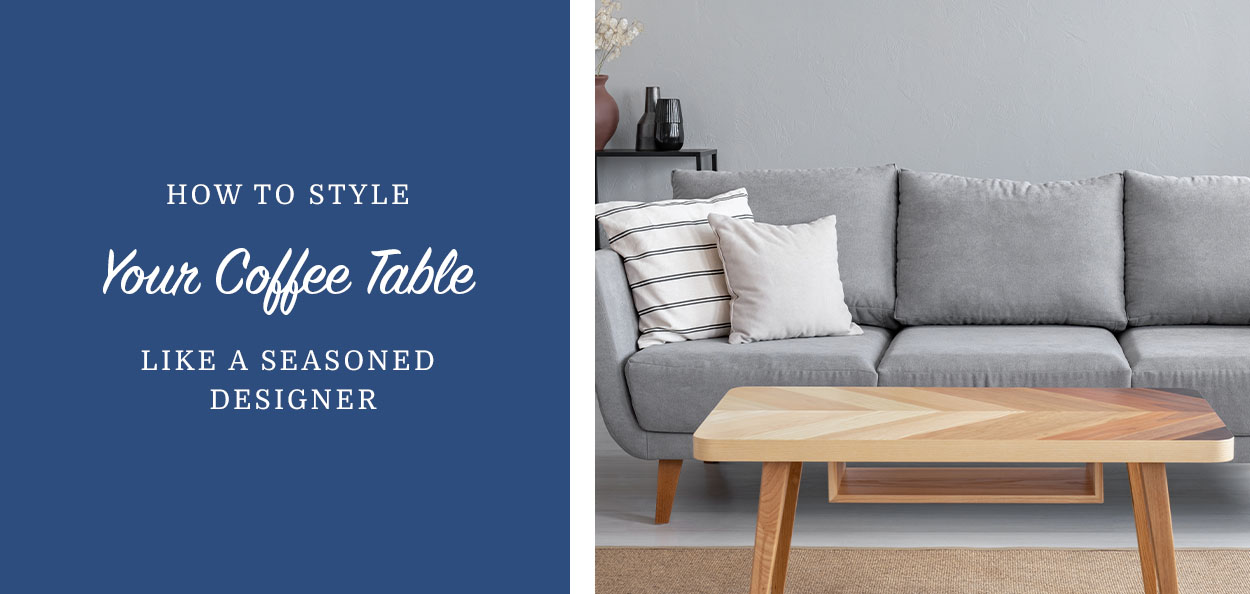 A coffee table might not be the first home decor item you think of when you picture a living room, but it's one of the most ideal pieces of furniture you can add to your space. Not only does it provide function, a coffee table has the potential to be a stylish statement piece. 
Rather than limit your coffee table to its ordinary role of housing TV remotes and drinks, follow these coffee table styling ideas to fuse together design and functionality.
Use a Tray
If you're looking for ways to decorate your coffee table, finding a decor tray is a good place to start. Many interior designers use trays because they're both aesthetically pleasing and practical. 
Use trays to corral smaller decor items which, in turn, creates a more unified, structured look. Placing your items on a tray also makes it much easier to remove them when you need to clear space on the table.
Organize the Everyday Items
It's no secret that coffee tables are the best for storing common household items like remotes, coasters, and reading glasses. While it may be convenient to leave them strewn across the table's surface, that is a definite no-no if you want a Pinterest-worthy masterpiece. 
Instead of displaying everyday items right on the tabletop, organize them within a basket, wooden box, or tray. Creating a dedicated home for everyday items frees your coffee table of clutter while still allowing you easy access.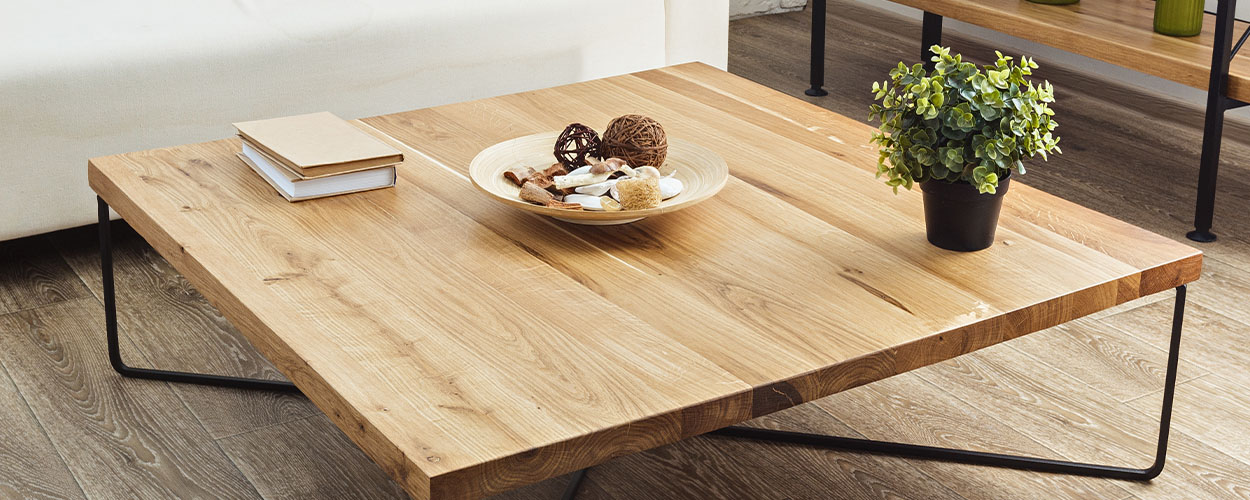 Consider the "Rule of Three"
As with other areas of interior design, the "rule of three" is a handy tool when decorating your coffee table. To help you better plan how you should arrange your coffee table decorative accents, divide your table into three sections. Add decor into each zone to keep the overall design more structured and purposeful.
Vary Your Height
As you play around with coffee table styling ideas, pay special attention to the height of your decor pieces. Even though it may seem best to decorate with items of the same height, interior designers recommend the opposite.
When all of your coffee table decorations are the same height, they all blend together and nothing gets noticed. Be sure to include decor of varying sizes in order to create a striking vignette that catches the attention of guests.
Form a Grid
If you have an especially large coffee table, dividing up the space into three sections might not be enough. That's where the grid comes into play. Tape off sections of the table to form a grid and place your decor within each section. Think of it as a template for how to decorate your coffee table.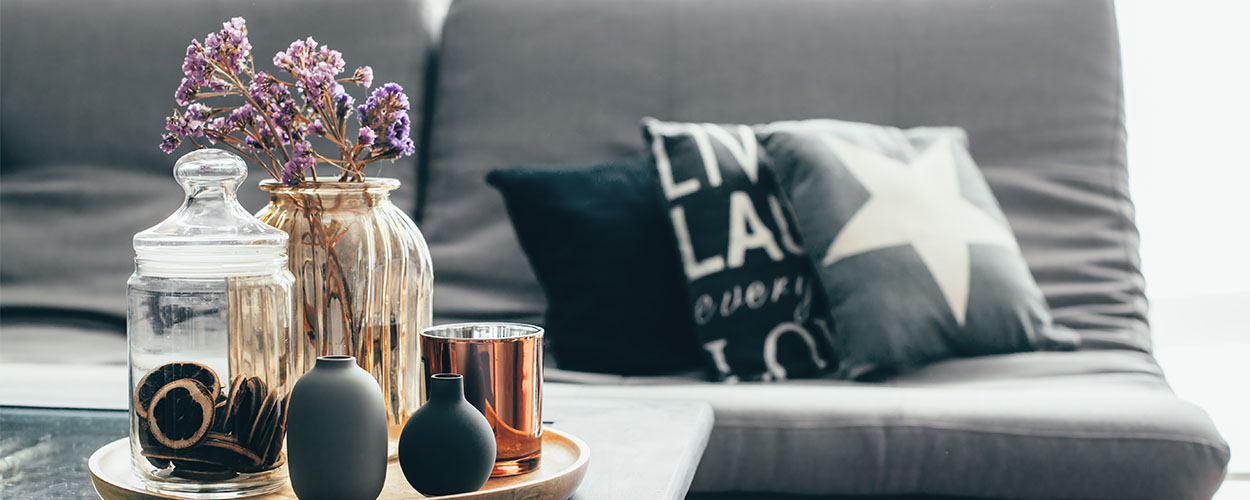 Keep It Balanced
This coffee table styling idea is so simple, yet it's one of the most tricky design tips to implement. Maintaining a balance of size and quantity is crucial if you want your coffee table to look clean and refined. 
In order to do this, you need to avoid using too many small objects because that creates a cluttered look. At the same time, beware of including lots of large decor because it can make your tabletop appear heavy and awkward. Try your best to find a happy medium by infusing decor of various sizes and quantities.
Focus on Connection
It's important to focus on connection as you decide on ways to decorate your coffee table. Give yourself the creative freedom to pick display items that reflect your personality and taste, but make sure they all have similar design characteristics that tie them together. For example, choose decor pieces that share common colors, shapes, styles, or themes.
Incorporate Your Design Style
Your coffee table is an extension of your home's overall interior design style. Because of this, your coffee table styling ideas should complement the rest of your space, not distract from it. Does your home follow a rustic, farmhouse-inspired design? If it does, your coffee table should echo this same sentiment. Utilize colors, materials, and motifs from your home's interior design look and integrate them into your coffee table for a more cohesive effect.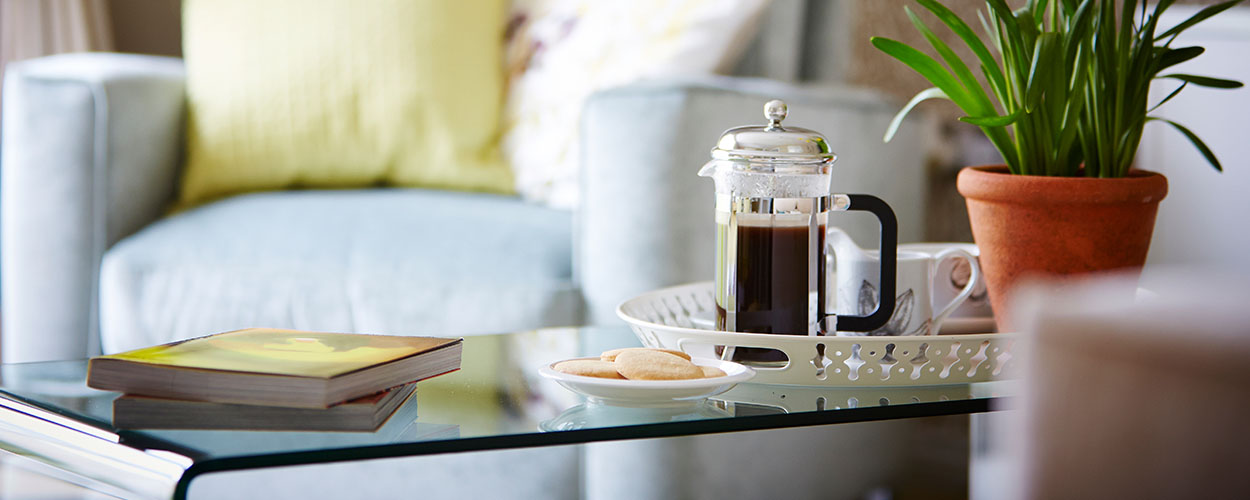 Work Every Angle
It's all about angles, folks! Give yourself the chance to view your coffee table from every angle before you decide that it's ready to be shown to the world. Why? Not every decor piece or arrangement looks amazing from different vantage points. A picture frame, for instance, doesn't look very flattering from the back. Find any imperfections and adjust your arrangement accordingly.
Choose a Centerpiece
Take your coffee table to the next level by choosing a focal point or statement piece within the arrangement. It doesn't need to be particularly grand or tall. Pick an object that stands out with an unusual shape, spark of color, or something of that nature.
Need more inspiration on ways to decorate your coffee table? Check out the top 10 coolest home decor influencers to follow on Instagram and see how they're styling their own coffee tables!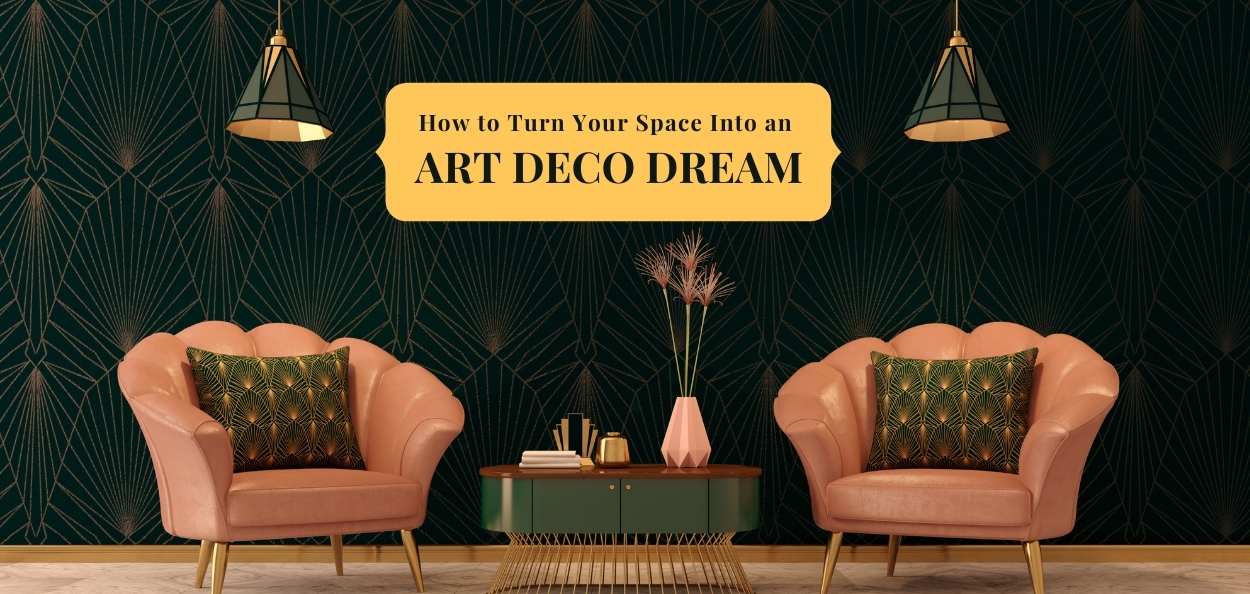 Take a trip back in time with the glitz and glam of art deco interior design style! Art deco home decor has been on the rise and is currently one of the edgiest trends you can try in your home. Transform your space into an art deco dream by learning more about its design characteristics and useful tips on how to adopt the style within your home.
Key Design Characteristics of Art Deco
Just like fashion trends come and go, so do interior design styles like arts décoratifs, commonly referred to as art deco. Believe it or not, this vintage design theme originated back in the roaring 20's and continued to dominate until the 50's when mid-century modern took the spotlight.
Art deco is characterized by striking colors, rich materials, and decadent detail work that fuse together to create a luxurious and glamorous look.
Classic Art Deco Materials
Materials that define the art deco interior design style can be tied back to the wealth that new industries created during the booming 1920's era. Gold and steel are just two examples of widely used materials in art deco furniture, architecture, and accessories. Others include:
Mirror and chrome

Lacquer

Marble

Ebony

Velvet

Zebrawood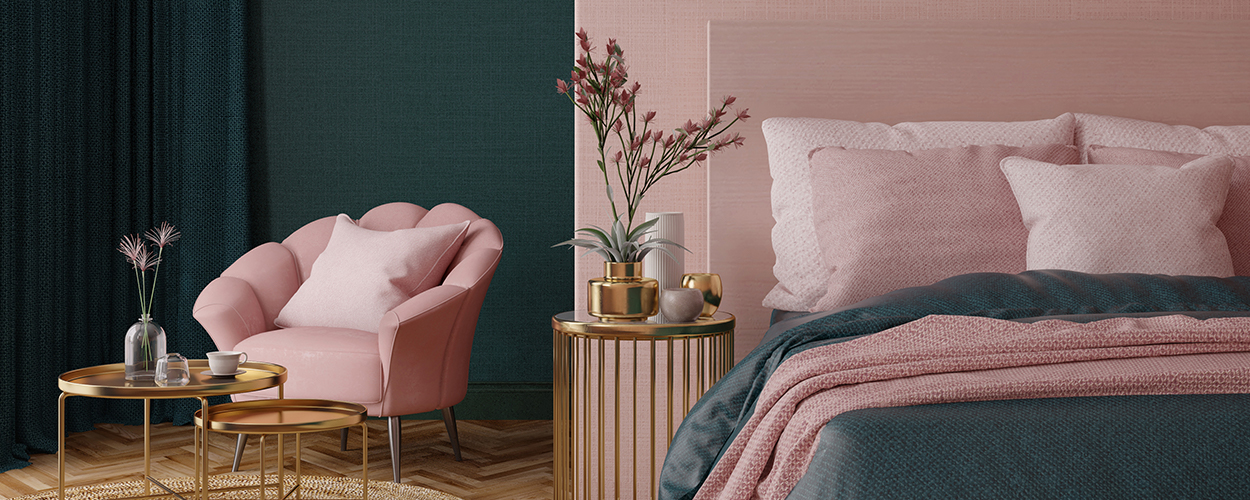 Iconic Colors
There is nothing bland or boring about the colors that characterize art deco home decor. Bold and moody color palettes were the go-to back when this design theme was new on the scene and the same goes for today. These striking shades were often contrasted with softer nudes. Here are some of the top colors used in art deco design:
Bold Shades: Bright and deep yellow, red, green, blue, pink, purple, and black
Softer Shades: Cream, beige, white, and taupe
Common Motifs
Art deco interior design style is all about geometric shapes which is why flattened and stylized motifs like fans and flowers are very popular. In addition to that, abstract patterns like chevron, sunbursts, and jagged lines play a key role in distinguishing home decor of this style.
Art Deco Interior Design Ideas
From simple and budget-friendly additions to home renovations that cost a pretty penny, there are many art deco interior design ideas that help turn your space into a vintage vision. Start gathering inspiration with these classic 1920's decor ideas.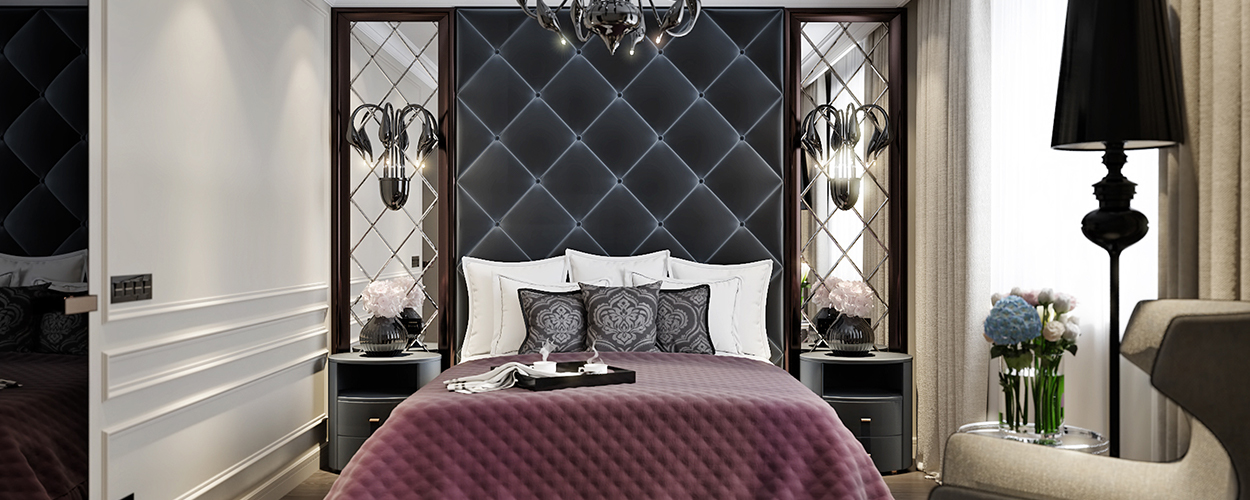 Go for Glam
Art deco interior design style is all about glamour and luxury, so you should have at least a few elements in each room that embrace the extravagance of the 1920's era. Gilded mirrors and crystal chandeliers are eye-catching and easily add a touch of glam to any space. Rather than buy these items brand new, head to a flea market or local antiques shop to pick up a genuine relic.
Build In Timeless Elements
If budget is no obstacle in your quest to create an art deco style home, you should consider renovating your space to include built-in shelving and dramatic crown molding. These two elements are classic and instantly transport you back in time to a decade gone by.
More is Always Better
Forget about the "less is more" mantra as you brainstorm art deco living room ideas! More is always better when it comes to this interior design style, so don't be afraid to go big or go home. A cluster of brass pendant lights, for example, is a lot more bold and dramatic than one single light.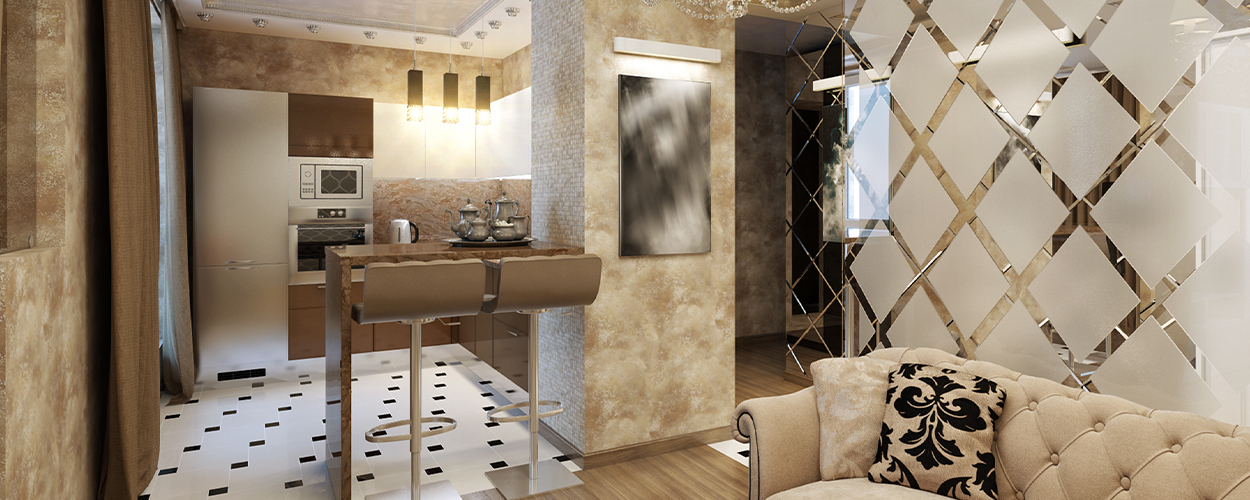 Change Up Your Tile
As years come and go, flooring trends are constantly evolving. While subway tile may be trendy now, octagon or diamond-shaped tile has much more of an art deco vibe. Think about including this tile in your bathroom or kitchen to create a timeless look. 
Geometric Shapes are Key
As you transform each room in your house, remember that your art deco home decor should be inspired by geometric shapes. There's no limit to the kind of shapes you can use either. From circles and triangles to sweeping arches, art deco style includes it all.
Try Monochromatic Palettes
There's just something about monochromatic color schemes that scream "art deco interior design style." Focusing on a single color and running with it throughout your space achieves a look of opulence like no other. You can curate this look by incorporating a single color into your wall paint (or wallpaper), furniture, and accessories.  
Discover another retro interior design style that has come back to life by checking out how to incorporate mid-century modern design into your home!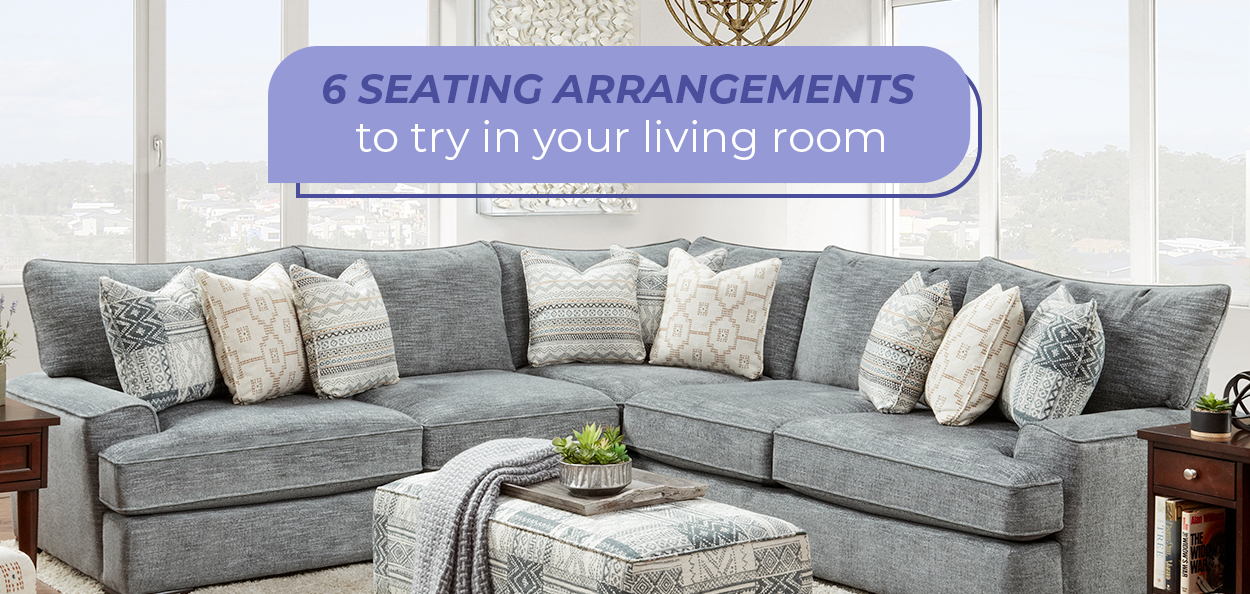 Do you find yourself scratching your head as you try to decide on the best living room seating arrangement for your home? With so many considerations like the size of your living room and the main function of the space, it's completely normal to feel a little overwhelmed. Make the choice much easier by exploring the most common family room layout ideas to see which ones are best for your decor needs!
Living Room Seating Arrangements
1. Think Circular
If you're a fan of living room seating with chairs rather than sofas, the circular layout might be best for you. This arrangement is just as it sounds—seating arranged in a circular fashion. You'll usually find that a round coffee table and rug can help ground the arrangement as well.
Unlike some other layouts, the circular layout is very versatile and has two functions. Because of its intimate nature, the circular layout can not only encourage conversation and interaction, it can also foster a calm, relaxing space meant for privacy.
While armchairs like Fusion's Bates Nickle are the most ideal, you can create this arrangement with a curved sofa as well. If you need flexibility in your living space, the circular layout is the way to go because you can easily rearrange three or four chairs to prepare for your next dinner party or book club gathering.
2. Try Symmetrical & Parallel
For a classic approach to living room seating, try a symmetrical, parallel-style arrangement. This arrangement is characterized by perfectly mirrored groupings. Most often, you see two opposing sofas separated by a coffee table. However, you can create the same look with paired armchairs or chaises.
A symmetrical parallel living room layout is best if you want your space to feel more formal and dignified. If you love traditional-style homes and formal entertaining, you'll fall in love with this seating idea. 
Despite being asymmetrical, this living room seating arrangement is well-balanced and refined. It does have the potential to be slightly less formal, especially if you choose to include more casual furniture.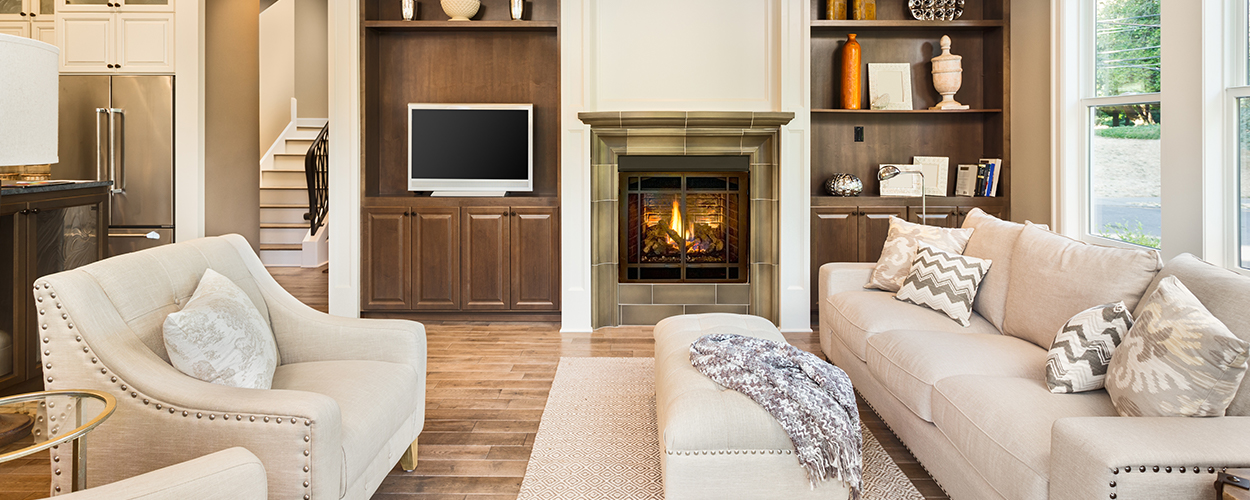 3. Don't Forget Asymmetrical & Parallel
An asymmetrical parallel living room is similar to its symmetrical counterpart, but it does have one key distinction. The opposing furniture pieces are different (asymmetrical) rather than being a mirror image (symmetrical). It's a good idea to use this particular arrangement in living rooms where extra pathways are important. It's much easier to work your way around two armchairs than one large sofa, for example. 
4. Make It Boxy
It might not be the most common living room seating arrangement, but the box-shaped layout is definitely a worthy option to consider. This arrangement provides a focus in your living room by turning conversation inward and creating a well-defined space for relaxing and entertaining. That's why box-shaped layouts work so well for rooms without a focal point—the arrangement becomes the focal point.
When you choose this family room layout idea for your home, make sure you factor in the kind of furniture you plan to use. Box-shaped layouts look stunning with cohesive furniture collections that have similar colors, fabrics, and textures. A coffee table is essential as well.
5. Go for an L-Shape
Right angles are what it's all about when it comes to L-shaped layouts. Whether you choose to include a single chair at one end of your sofa, use two sofas butted together, or keep it simple with an L-shaped sectional, the result is a casual arrangement perfect for relaxed conversation. 
This living room seating arrangement is great for small rooms and corners because it doesn't take up very much space. It also comes in handy for open floor plan homes too. The back of the sofa can be used to divide your space into two zones. A living room and dining room combo is just one example.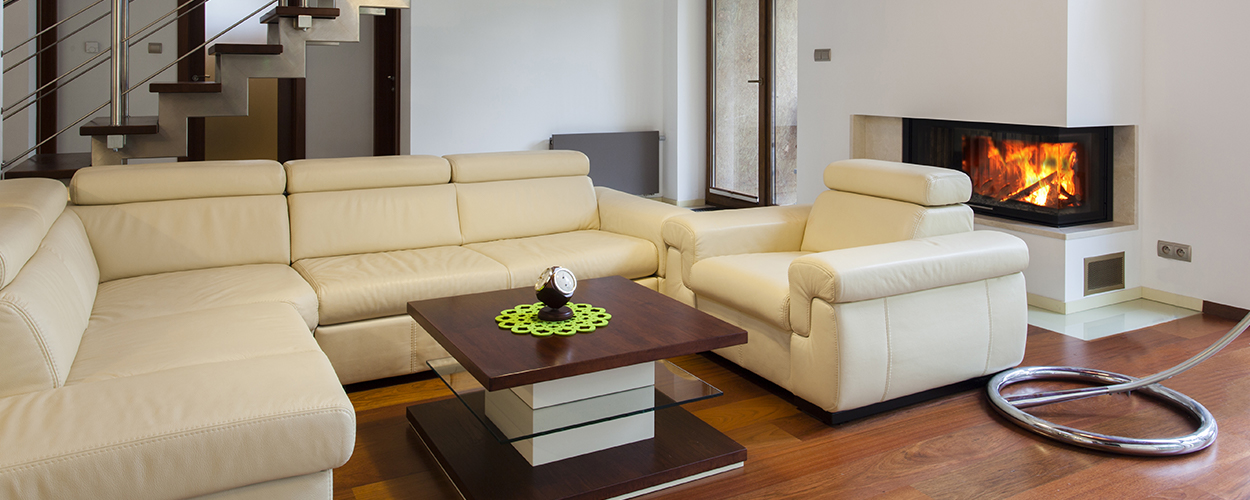 6. Opt for U-Shaped
Need ways to fill up space in a large living room? The U-shaped arrangement is just what you need. A variety of individual furniture pieces can achieve this layout. Here are a few ideas to try:
U-shaped living room seating is extremely comfortable and ideal for large parties because it facilitates conversation and offers lots of seating for guests.
Tips for Creating the Ideal Living Room Arrangement
Focus on the View
One of the most important factors to consider when arranging your living room furniture is the focal point of the space. A focal point can be any standout feature in the room like a fireplace, bay window, or large art piece. As you choose your family room layout idea, make sure you orient the main furniture piece towards your space's focal point and arrange the secondary pieces around that.
Be Strategic with Rugs
Area rugs are a stylish way to accent your living room furniture and they also help to unify seating groups. If you decide to incorporate a rug into your living room, it's essential that all furniture pieces fit on top of it. If you have a rug that doesn't quite hold the entire furniture arrangement, try to at least fit the front legs of all pieces on the rug.
Float Your Furniture
Fight against the urge to push furniture up against walls in small living rooms. While it may seem like the best solution, it actually creates an awkward space in the middle of the room and accentuates the small square footage. As an alternative, bring your furniture out towards the center of the room to create a more open, welcoming atmosphere.
Now that you know more about the most common family room layout ideas, take a look at Fusion Furniture's collections to start furnishing your space!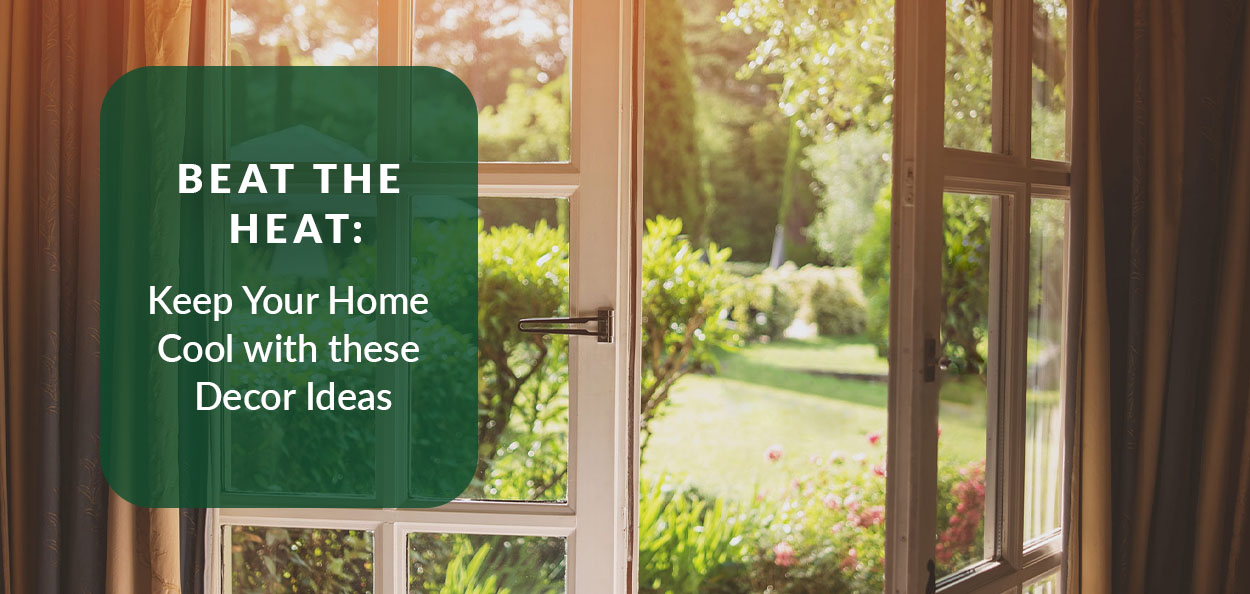 The summer season is full of sunny weather and exciting outdoor activities, but with all of that comes some serious heat! Rather than blast your AC all day long to escape the scorching temperatures, learn how to keep your home cool with energy-efficient interior design ideas that are much better for your budget!
Cool Summer Decorations for Your Home
Add Decorative Window Shades
Your windows are the main source of heat during summer days, so it only makes sense that you'd start there when thinking about energy-efficient interior design. Prevent harsh sunlight from heating up your home by investing in window coverings.
While all curtains, drapes, or blinds are helpful in blocking sunlight, there are specialized window coverings made for the sole purpose of keeping your house cool in extreme heat. To see major improvements, explore insulated curtains (blackout curtains) that have a dense weave and high thread count or a synthetic thermal backing.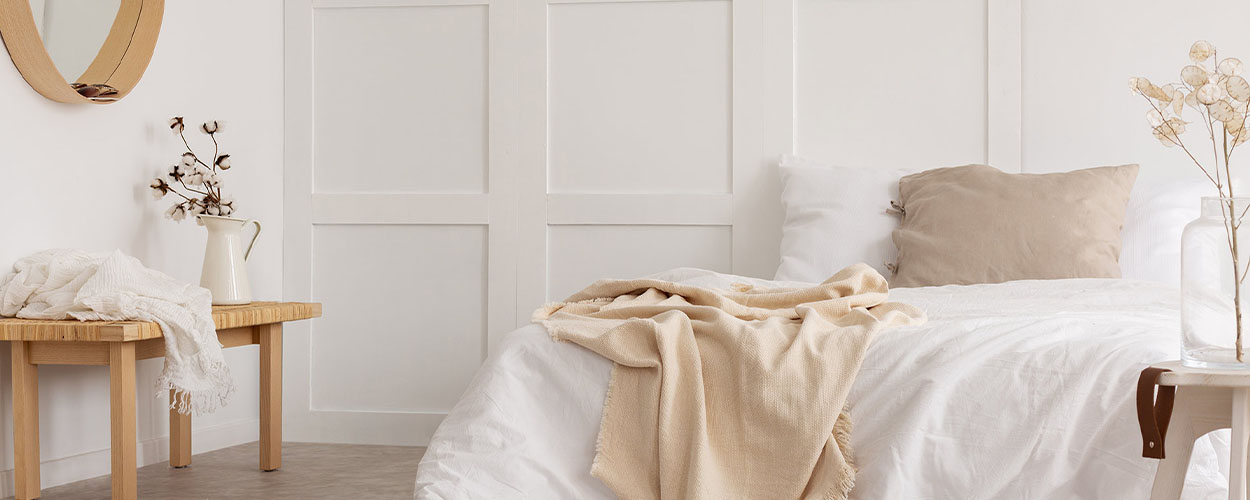 Switch to Seasonal Bedding
While down comforters and flannel sheets are cozy during winter nights, they're absolutely stifling during the summer months. Pack away the plush material and replace it with bedding that's light and breezy. 
Natural linen fabrics like cotton and bamboo are ideal for hot weather because they wick moisture away from your body and keep you cool. You can also buy pillows with synthetic filling that are known to be more breathable.
As you swap out your blankets, pillowcases, and sheets, keep in mind color as well. Opt for light shades that reflect sunlight and heat, rather than absorb it.
Use Light Paint Colors
Just as light-colored bedding is an energy-efficient interior design hack for summer, so is light-colored paint. If your home has quite a few dark walls, especially in rooms with lots of natural light, you may want to consider repainting. 
Light beige, white, and pastels are great shades that work to reflect sunlight. 
Update Your Rugs
One of the most cost effective ways to cool your house is right below your feet—your rugs! Say goodbye to thick, shag rugs and hello to light, summertime rugs. For the best cooling results, choose wisely with carpets and rugs made from natural materials like cotton, bamboo, and wool. Wool floor decor is ideal for humid areas because it can absorb up to 30 percent its weight in moisture without feeling damp.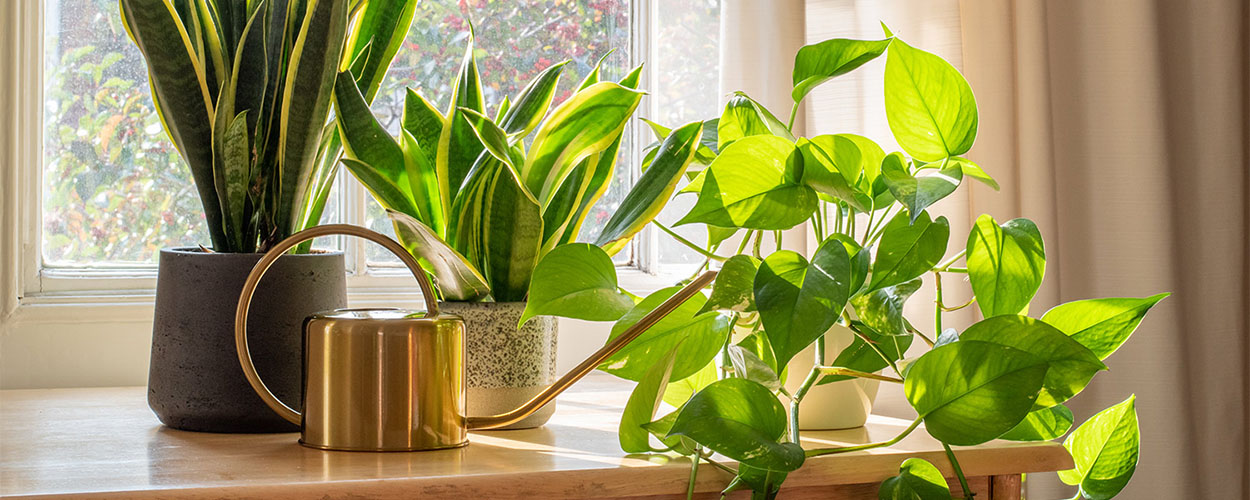 Freshen Up with Houseplants
Houseplants are not only gorgeous summer decorations for your home, they actually serve a more practical purpose too. Head to your local garden center and pick out a handful of houseplants that thrive in direct sunlight. Place those plants in front of your windows and they'll help to create shade! The more full they are, the better. 
Another perk to investing in summer houseplants is that the soil humidifies the air. If you live in an extremely dry climate, humidifying the air can reduce allergy and cold symptoms, as well as make your home feel much more comfortable!
Try LED Bulbs
Did you know incandescent lighting runs much hotter than the other lighting alternatives on the market? While it may seem like an insignificant amount of heat, your home's lighting does affect the overall temperature of your space. 
Take a few minutes to go through each lamp and light fixture to replace them with LED bulbs that run much cooler. If you'd rather not replace all of your lighting, focus on high traffic areas in your home where you find yourself relaxing the most. Your living room is a prime example.
Incorporate Fans When You Can
It's time to break out the fans for summer! Whether you have a ceiling fan, pedestal fan, or both, you're already ahead of the game for keeping your house cool in extreme heat. Fans may not diffuse humidity in the air, but their breeze certainly will make you feel much more refreshed than if you didn't have them.
If you're using ceiling fans within your energy-efficient interior design, make sure to adjust the rotation to counter-clockwise. This will pull your home's hot air up to the ceiling and away from everyone seated down below.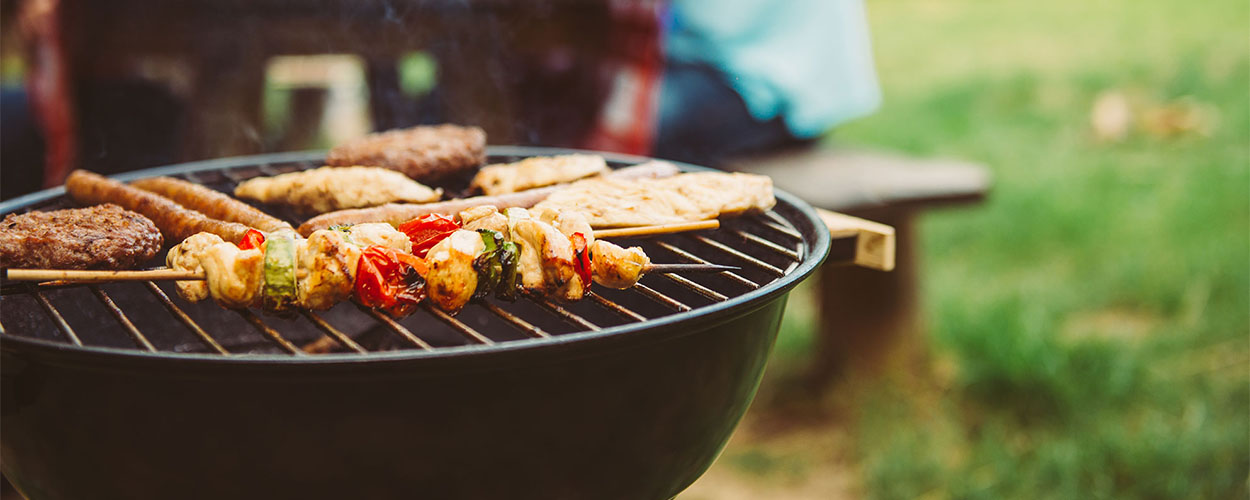 Practical Tips for a Cool Summer Home
Grill, Don't Bake
You've probably already noticed that cooking during the summer is quite a challenge because it makes your home stuffy and hotter than usual. Be strategic with your cooking methods by grilling outside as much as possible instead of using your oven or stove. You still get delicious food and can enjoy a meal at the dining table without sweating!
Insulate Windows and Doors
On the list of how to keep your home cool, proper insulation is at the very top. Your windows and doors are the main gateways between your home's interior and the outside world. If they aren't insulated very well, they will let heat into your home, as well as let cool air out. 
Give your windows and doors a thorough inspection to make sure they are efficiently blocking the summer heat. Weather stripping, double or triple pane windows, and shutters are just a few ways to improve the efficiency of your home's insulation.
Close Off Unused Rooms
The more doors you have open, the more space there is for cool air to distribute across your home. Work strategically to keep your home cool by closing off rooms you don't use throughout the day. At night, take advantage of colder temperatures by letting the fresh air naturally flow through your space.
Once you've taken the steps to cool down your home's interior, splash into summer with these stylish patio ideas perfect for any backyard!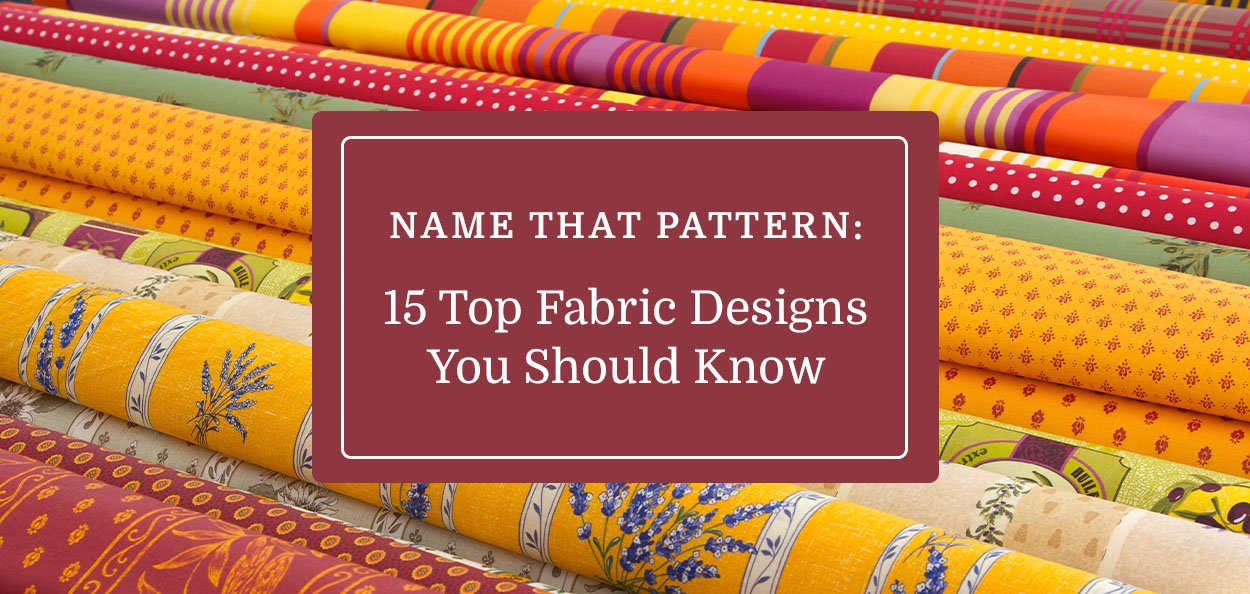 It's one thing to look at furniture and love the fabric, but it's a whole other challenge to know the name of that gorgeous design that makes the fabric stand out. If you have ever found yourself struggling to name the upholstery pattern on your throw pillows or accent chair, it's time to reference our guide! From more common pattern names like polka dot to unique designs like Moroccan lattice, here are the top 15 upholstery patterns you should know.
1. Trellis
Need a sophisticated look for your drapery? Trellis is a modern, yet classic upholstery pattern that's formed with interlocking lines that resemble a fence or trellis. There are multiple variations to trellis, but one common theme is that the design is usually limited to only two colors. This design is best for accent decor like throw blankets or curtains.
2. Tartan
The easiest way to remember what a tartan pattern looks like is to think of a traditional Scottish print. The tartan pattern is formed with stripes of different widths and colors duplicated on both the vertical and horizontal axis. While it may look like plaid, tartan got its own name for a reason. The duplication of stripes on both axes is the key feature that distinguishes tartan from your ordinary plaid pattern. This upholstery design is ideal during fall and winter for a warm and cozy touch.
3. Paisley
Add a touch of retro vibes to your home with paisley, one of the most well-known fabric pattern names on the market. Paisley's teardrop-shaped, intricate design originally came to fame in Europe but managed to make its way into American fashion in the 60s and 70s. Paisley is known to have a colorful design which is great if you're looking for a statement piece like an accent chair in your living room.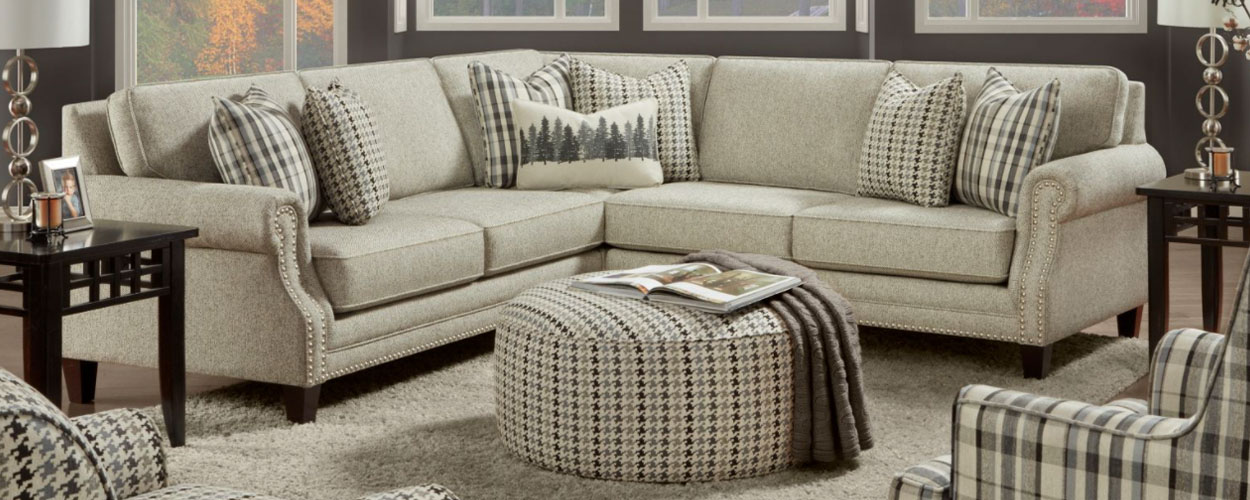 4. Houndstooth
Want to know how this common fabric pattern got its name? Houndstooth closely resembles a checkered design with irregular, abstract points on the corners of the squares, which some say look like a dog's teeth. While the description may not sound so elegant, the houndstooth design has earned a reputation for being quite classy. This design is usually in black and white or any other combination of neutral colors. It's perfect for contemporary and eclectic rooms.
5. Moroccan Lattice
Moroccan lattice is one of the more unique fabric pattern names within the decorating world, but it's definitely one upholstery design you'll recognize. Similar to the trellis design, Moroccan lattice is a grid-like pattern formed by interlocking lines. Its most identifiable feature is its four sides—two round and two pointed. 
6. Herringbone
In a nutshell, the herringbone design is a zigzag pattern with breaks between the zigs and the zags. It's often compared to chevron, another upholstery pattern, but is typically much thinner in its lines. Herringbone got its name, in part, because its zigzag pattern looks like a fish skeleton! 
7. Polka Dot
You probably don't need a description for this common pattern name, but it sure does make the list for most popular fabric designs! While the name is well-known, you may not realize that a true polka dot pattern consists of evenly sized and spaced dots. Polka dots are extremely versatile and can be used for a variety of interior design tastes.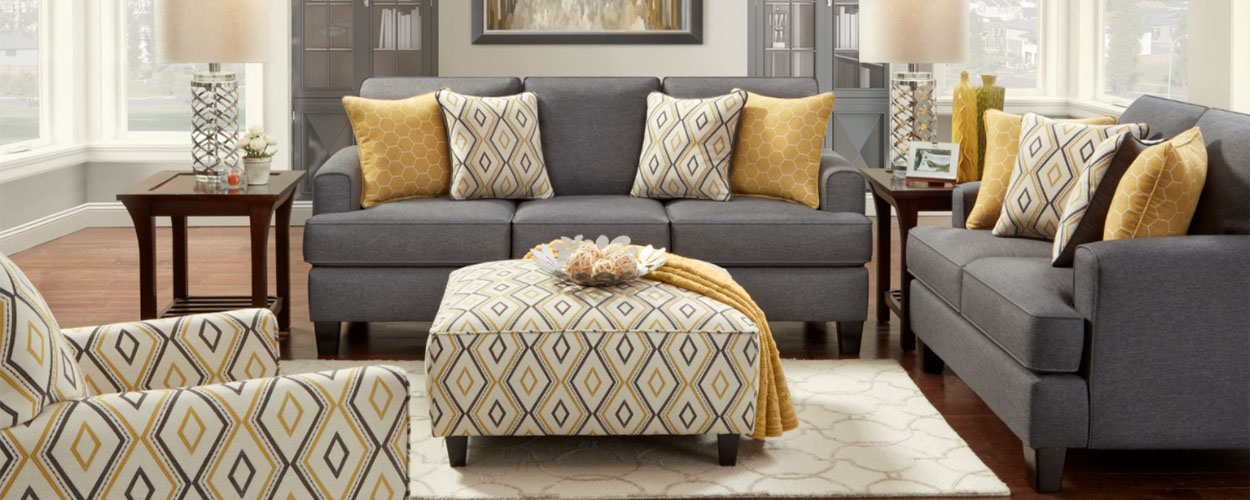 8. Geometric
Think back to your school days for this common pattern name! Geometric fabric designs encompass any geometric shape like circles, squares, triangles, or ovals. The patterns can be symmetrical or irregular and abstract. Geometric fabric designs are versatile, but are especially stunning in contemporary and mid-century modern homes.
9. Stripes
Just as polka dots are universally known, stripes are as well. This is one of the most basic upholstery designs, which is probably why it never goes out of style! Before you consider yourself an expert on striped patterning, ask yourself if you know some of the variations of this pattern.
Awning stripes are broad stripes, sometimes separated by thin bands, while barcode stripes are stripes of varying width.
10. Harlequin
Harlequin is much like that of a checked pattern, but with diamonds instead. Usually, there is a small dot where the points of diamonds meet for an added touch of flair. This upholstery pattern is found in a wide range of colors which makes it ideal for almost any space. Choose a vibrant variation with lots of different shades or opt for a simple two-color palette.
11. Gingham
If you're a fan of good ole' fashioned country decor, you must know the gingham pattern above anything else! This classic country design is made with white and an additional color that's woven into a checkerboard pattern. Unlike a traditional checkered pattern, gingham has intermediate squares where white lightens the intensity of the contrasting color by half.
12. Floral
There's not much guessing involved when it comes to floral patterns because they're just as the name suggests—full of flowers! Floral patterns aren't limited to one variation like some of the other common upholstery patterns. Instead, there are countless floral patterns that range from tiny to large-scale, realistic to abstract, and colorful to monochromatic. If you're looking for a simple way to spruce up your cottage decor style, make sure to include this design!
13. Flame Stitch
Hop in a time machine and get ready for retro vibes with the nostalgic flame stitch design! Back in the 1970s, your home was considered groovy if you had flame stitch upholstery. This pattern is made of a closely spaced series of flame-like, jagged lines. Flame stitch's zigs and zags are usually thin and can vary in height.
14. Chinoiserie
Chinoiserie designs get their inspiration from Chinese and other east Asian artistic traditions. Colors and fabrics vary quite a bit, as well as the depictions. Birds, children, fishermen, and florals are a few of the main themes you'll see woven into chinoiserie patterns. Traditional-style homes and Asian-style decor are heavily influenced by chinoiserie design.
15. Chevron
It's all about zigzagging stripes when it comes to chevron. Normally, the chevron pattern has two alternating colors with one of them being white. This upholstery pattern is fun and energetic, so be sure to include it if you're looking for some interior design pizazz!
While there are hundreds of fabric designs out there, you're off to a great start by knowing these top 15 by heart! Once you become an expert on common upholstery patterns, test your knowledge by guessing which designs are used within our Fusion collections!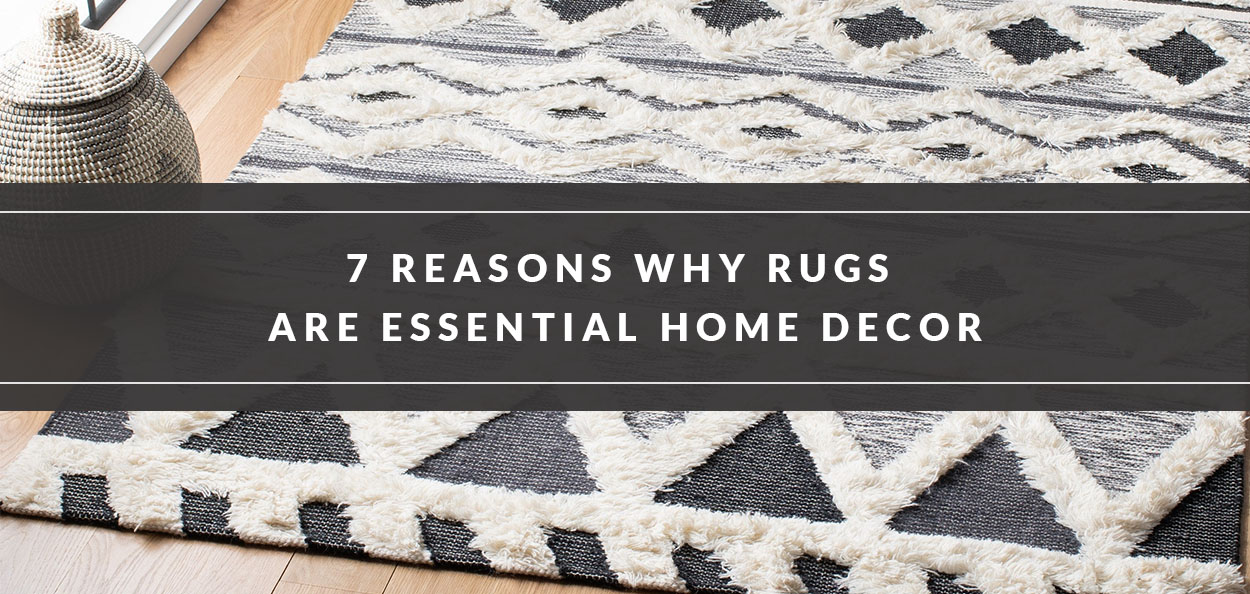 At first thought, home decor rugs may seem like a fairly insignificant accent to include in your home—the reality is quite opposite. In fact, there are multiple benefits of rugs that not only enhance the look of your home, but also serve as practical solutions as well. From advantages to tips on how to incorporate them in your space, here's a crash course on decor rugs!
Benefits of Rugs
1. Talk About Comfy
Does your space have all wood or tile floors? Walking around on such hard surfaces can be a little uncomfortable and cold. Quickly transform your floors from dull to luxurious with the addition of soft rugs. A runner down your hallway or area rug in your living room will make your space feel much more comfy and homey.
2. Soak Up the Sound
One of the most practical benefits of rugs is their ability to absorb sound. If you can hear echoes in your home or feel as if conversations can be heard across the entire house, area rugs should be next on your list for home decor. 
The more plush and thick your rug, the more efficient it will be in absorbing sound and reducing noise. This goes for all types of sounds too—voices and loud footsteps are two of the biggest culprits.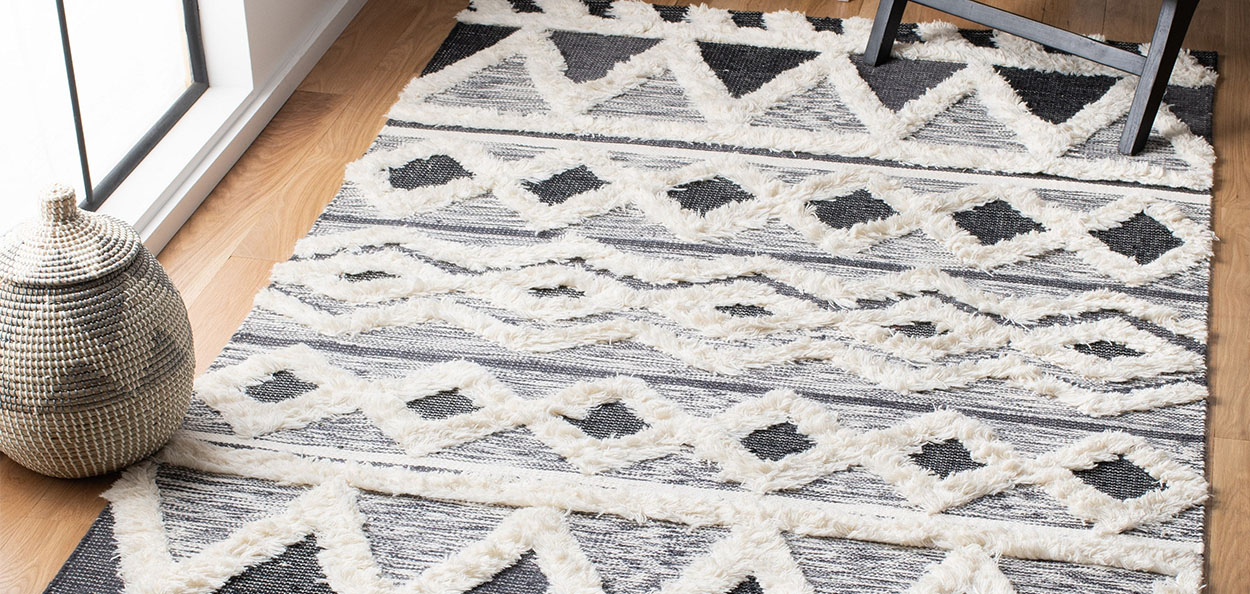 3. What About Warmth
Staying warm during winter is hard enough as it is when you're outside, so the last thing you need is a freezing home! While running your heater is an obvious solution, you might not realize that one of the best uses of rugs is for insulation.
Save some money on your energy bill by laying down dense area rugs in each room to help retain heat. Take it a step further by supplementing with an insulated rug pad underneath as well. 
4. Brighten Up Without Light
Not every house has ample natural light to brighten up each space. If you have a room in your home that is particularly dark and secluded, opt for a light rug to help illuminate the area and make it more inviting. 
You can even use big area rugs for your living room, bedroom, or dining room if the color palette you chose is on the darker side. Remember, your accent rug doesn't have to be bright white. Play around with neutral tones or pale shades that complement your home.
5. It's About Connection
Another benefit of rugs is their ability to connect separate spaces. You can easily create a more cohesive design within your home by incorporating different types of rugs that share a central design or color theme.
This example works best with traditional-style homes that are divided into multiple rooms rather than having an open floor plan. With so many walls and divisions, it can be tricky to maintain a consistent flow throughout the space. Rugs help to create unity and a visual connection.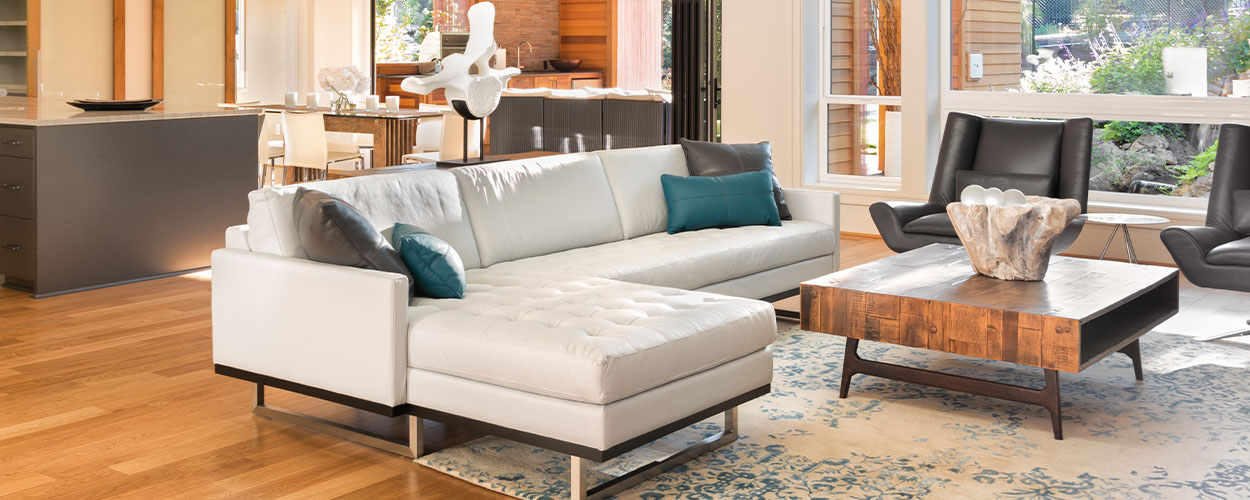 6. Zone It Out
Open floor plan homes are all the rage right now, but how exactly do you establish rooms in a space with no walls? That's where area rugs come in handy. Just as rugs can connect a space, they can also divide a space just as easily. 
Use big area rugs for your living room, dining room, and any other space to zone off those areas and anchor your furniture. The rugs help to set clear boundaries and transform one big room into distinct living areas.
7. Time for Texture
One of the most important rules of interior decorating is to include a variety of textures within your home. Besides blankets, pillows, and furnishings, rugs are another major home decor item that can get the job done! Lay down different types of rugs with interesting textures to bring depth and contrast to your home. It's a quick and simple way to enhance your home's interior design style.
Best Practices for Decorating with Rugs
Now that you know why you should add rugs to your home, it's time to learn some best practices to ensure your finished look is stunning. Here's a few tips to consider when decorating your home with rugs.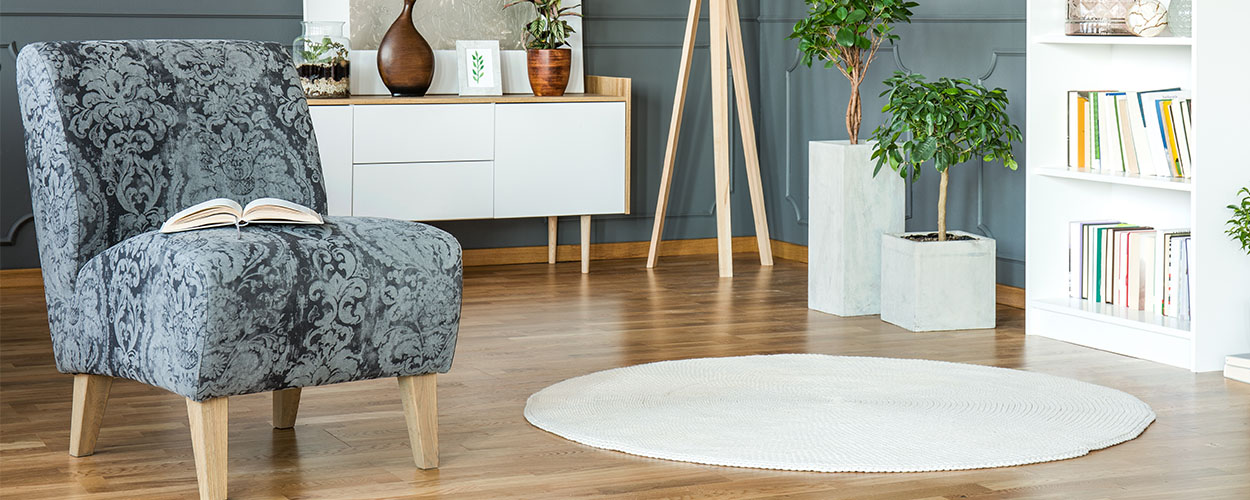 Play Around with Shapes
Although rectangular rugs tend to be the most popular, don't be afraid to create a little variety with different types of rugs in unique shapes. Assess your furniture and try to decipher which shapes would complement your space best. Experiment with ovals, circles, or squares and you might be surprised at how amazing they look!
Establish a Focal Point
Before you purchase a rug for your home, you need to decide whether it's going to be the focal point or not. A rug, especially one with bold colors and patterns, is a huge statement piece. If you choose to make your rug the focal point, decorate the rest of the room accordingly with more subtle patterns and accent colors. Remember, balance is key and incorporating too many statement pieces can overwhelm a space.
Decide on a Theme
As with the rest of your home, there needs to be a specific design theme you follow with your rugs. Mixing entirely opposite styles and colors can cause a jarring, unpleasant effect. Instead, opt for rugs that complement each other to ensure your space feels harmonious and cohesive.
As you can see, there's much more to rugs than meets the eye! Besides their beauty, rugs offer multiple benefits that make your space more inviting and comfortable. When you start brainstorming how to seamlessly incorporate rugs into your home, take a gander at how to make your rooms flow for additional tips on cohesive design.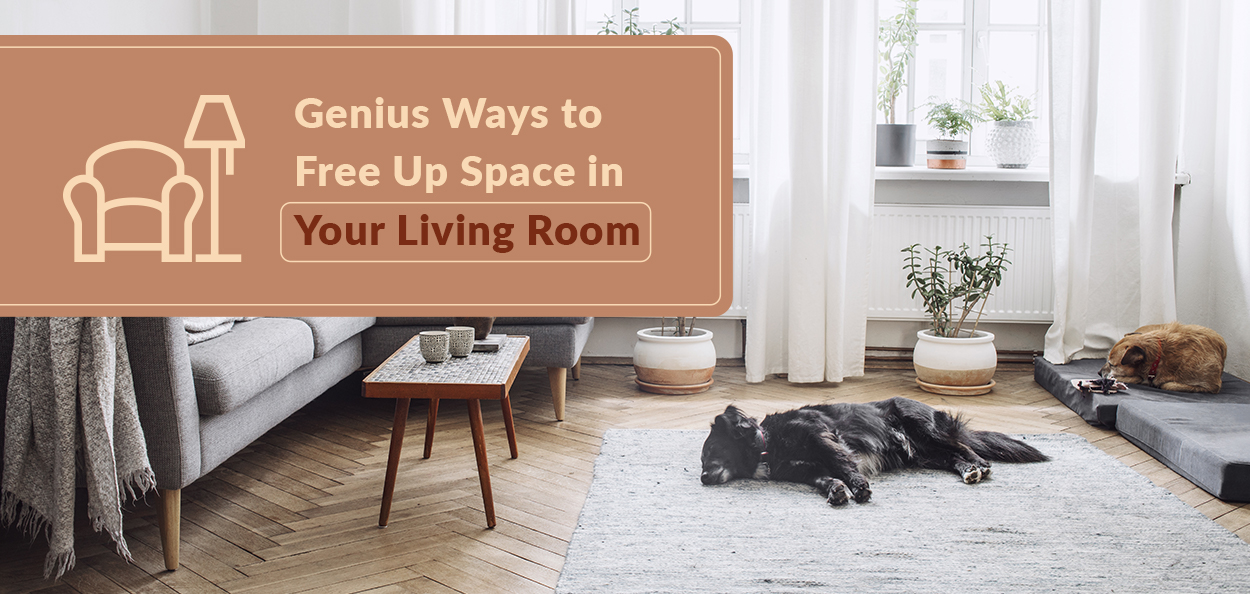 The living room is perhaps one of the most beloved parts of any home, which is why you want it to be as comfortable as possible. Decorating a small living space can be quite frustrating, but there's no need to throw your hands up in defeat! With a little creativity and strategy, you can maximize the space you have and style it beautifully. Start brainstorming ideas for your home with these space-saving living room ideas!
Arrange and Rearrange
How you arrange your furniture plays an important role in the flow and feel of your living space. This is particularly crucial for tiny rooms. Interior design experts recommend floating your furniture rather than pushing it up against your walls. This small living room layout idea supposedly makes your space look much larger and more spacious.
While designers encourage this small living room hack, give yourself the freedom to try several different arrangements. Choose what works best for you and your lifestyle!
Think Less is More
The "less is more" mantra is beneficial for every type of home, even the ones with tons of square footage. However, you'll need to consider it when you're working with minimal space. Not only should you pare down your furniture as much as possible, you should also be conservative with your decor.
Filling your walls with art and photographs can make your space feel cramped if you go overboard. Be conservative as you hang your wall decor and stick to the items you really love. 
This space-saving living room idea also applies to floor decor. Keep potted plants, baskets, and shelves to a minimum to ensure that your room looks tasteful, not cluttered.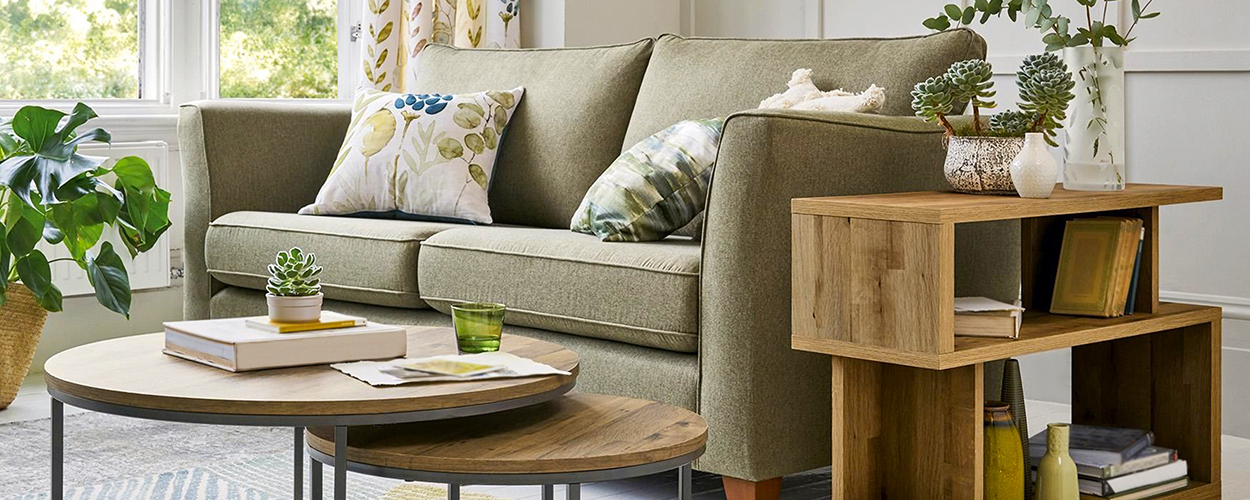 Consider the Coffee Table
Coffee tables are a great addition to the living room, but are they a necessity? Take a look at your own and decide whether you can swap it out for something smaller or forego it altogether. If you can't live without a coffee table, try to invest in one that doubles as a convenient storage solution. Lift-top coffee tables are super trendy right now and the ideal option for homes with little space.
Focus on the Walls
This small living room hack is simple and easy to follow. Because your floor space is tight, turn your attention to the walls for almost all of your decorating. 
Floating shelves are aesthetically pleasing and one of the hottest interior design trends at the moment. Use them to hold any photographs or artwork. 
Additionally, consider the walls (and ceilings) for lighting as well. Rather than take up space with floor lamps, opt for wall sconces and lighted ceiling fans. Not only do they get the job done, they are a great space-saving living room idea.
Say Goodbye to Side Tables
Just as coffee tables aren't crucial, side tables are a home decor piece you can do away with. If they hold your table lamp, invest in a wall sconce instead. Need a spot to put your books? Arrange them on a floating shelf within reach. It may be hard to say goodbye to your side tables, but it'll be worth it once your living room starts feeling more spacious!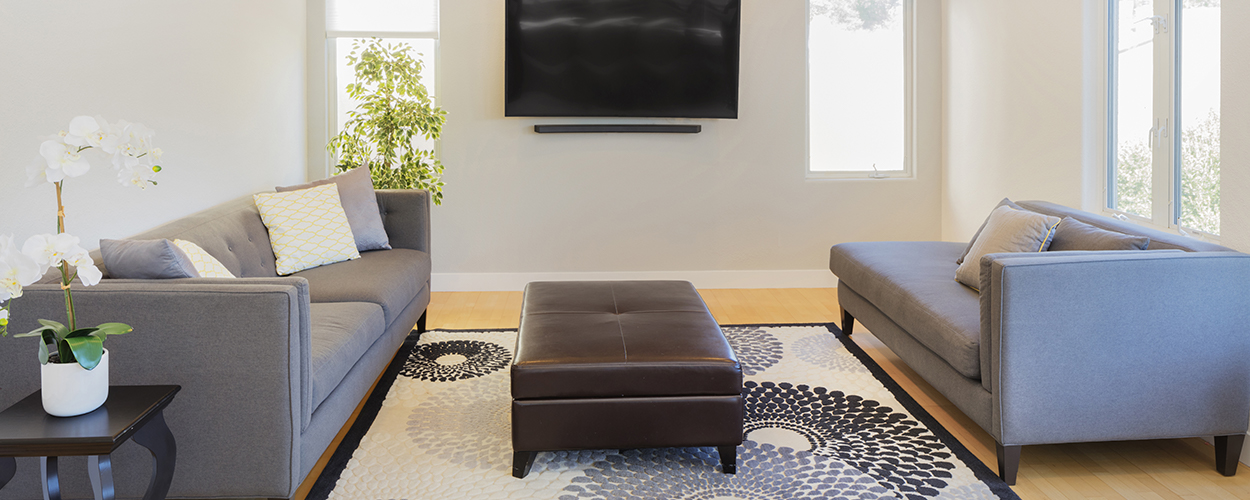 Move the Entertainment Center
The days of having a huge entertainment center are slowly fading away and this couldn't be more perfect for tiny living spaces! Try mounting your TV and speakers to the wall to give way for much-needed floor space. This small living room hack is actually quite modern and can help transform your movie nights into an ultimate cinematic experience (with a much larger TV).
Add Multipurpose Furniture
Decorating a home with minimal space is much simpler once you adopt the mindset of combining function with style. That's where multipurpose furniture comes into play. Take a look at the different furniture pieces in your home and ask yourself how much value they bring to your space.
If you have an ottoman, is it used solely for lounging or storage as well? What about your bookcase? Are there empty spaces that could be filled? Utilize as many decor items as you can to fulfill more than one function. Ottomans are great for built-in storage, seating stools can double as side tables, and bookshelves can hold more than just books. Think outside the box and you won't regret it!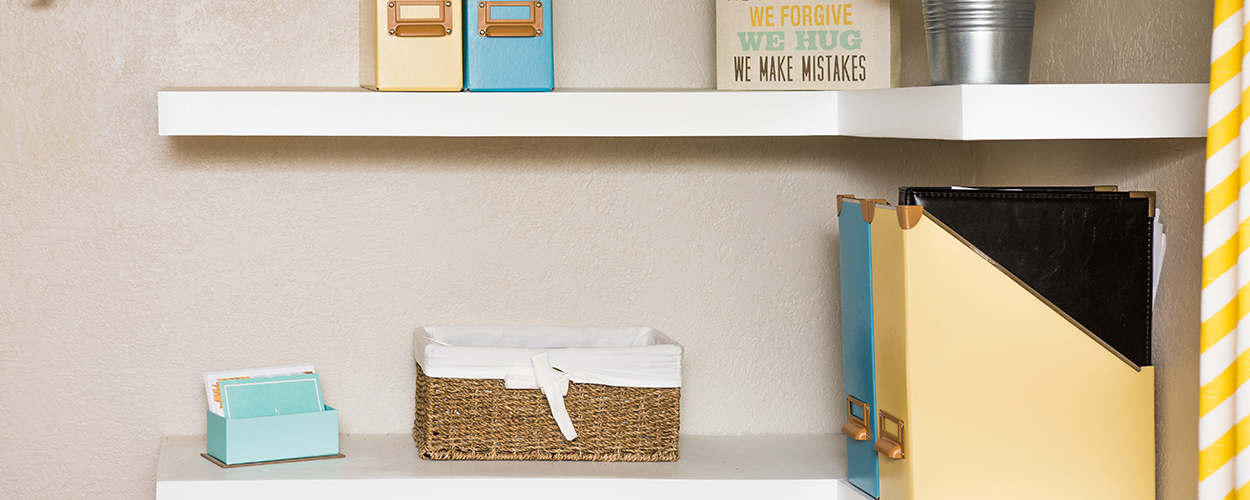 Take Advantage of Corners
Your home's nooks and crannies need some love too! This space-saving living room idea is wonderful if you aren't quite sure how to fill the empty corners in your home. Rather than leave them bare, take time to conjure up some ways you can use the space. 
Corner shelving is a unique option that knocks out two birds with one stone. Not only are you utilizing wall space, but you're also tucking away your shelves to give the illusion of a larger living room.
A window seat and small chest of drawers for storage are a couple more ideas to consider.
Now that you have the scoop on small living room layout ideas and how to maximize your space, learn 11 hacks for organizing a small bedroom!