Valentine's Day Date Ideas: How to Spark Romance Right at Home
Whether you've been with your partner for 6 months, 2 years, or a lifetime, Valentine's Day is a wonderful time to show them just how much you care. Rather than the usual extravagant dinner and night on the town, switch it up this year with a relaxing and memorable Valentine's Day at home. Start planning your surprise with these Valentine's date ideas!
Make an At-Home Spa
What better way to pamper your special someone than with an at-home spa? Spark romance on Valentine's Day with candles, massage oil, face masks, and maybe even a new foot spa. 
While focusing on your partner's relaxation is important, feel free to join in too! Whether you light a candle or you wear a face mask, it can be extra special for both partners to experience some pampering.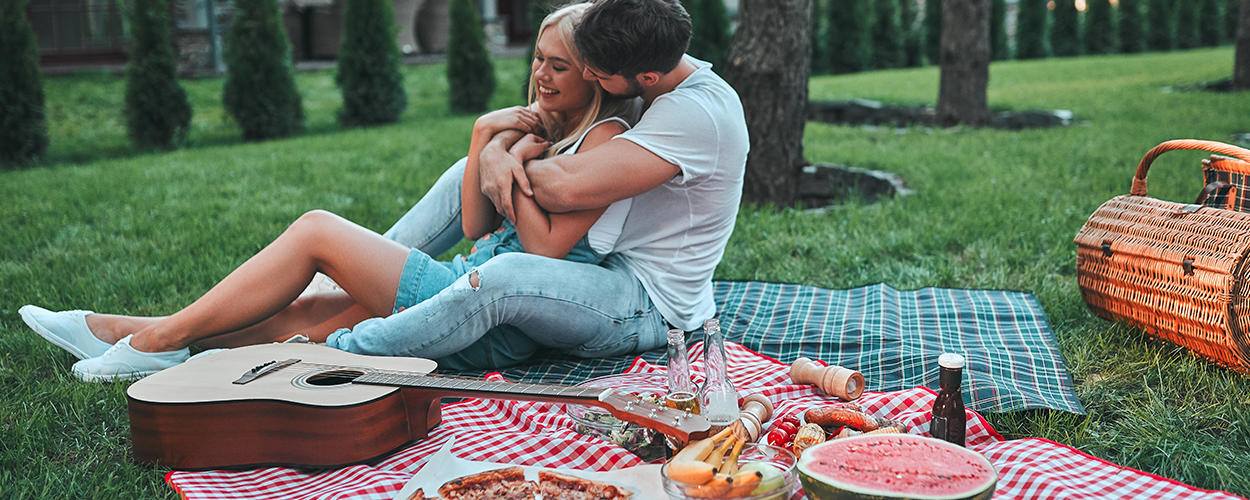 Enjoy a Backyard Picnic
No need to fight over parking for this Valentine's date idea! Bring a picnic right to your own backyard with very little prep. While picnics can be fun any time of the day, you can heighten the romance by planning your backyard rendezvous just before sunset. 
Set the mood with cozy blankets, pillows, flowers, battery-powered candles (to avoid a fire hazard), and of course, a tasty selection of treats. Sweet photos of the two of you, along with a gift, can make the picnic even more amazing.
If you don't have patio heaters or a fire pit and the weather in your area is too cold, plan for an indoor picnic instead. Sitting in front of the fire in your living room is sure to be just as romantic.
Create Sentimental Art Together
No matter whether you fancy yourselves artists or not, planning a fun night of crafts can be extra special for a Valentine's Day at home. Your art project can be as simple as creating a collage of your favorite adventures over the years or writing a sentimental poem.
If you feel like stepping up your game, treat your loved one to a wine and paint night. Gather all of the supplies and find some pretty canvas ideas for Valentine's Day. Save your final products and hang them in your house as a reminder of your love for each other!
Cook a Romantic Dinner
For a classic date at home, brush up on your cooking skills and get to work in the kitchen! Branch out and try a new, fancy dinner recipe that will impress and surprise your spouse, or whip up their favorite meal instead. 
If your sweetheart doesn't detest the thought of cooking, you can always turn this date idea into a couple's cooking activity. Have all of the ingredients ready and invite your sweetie to cook alongside you as a fun bonding experience.
Reconnect with Personal Questions
Sometimes the best dates are the simplest ones. Connect with your love on a deeper level than before by encouraging a night of asking each other questions. Do your research online beforehand or buy a card game to break out on Valentine's Day. 
This Valentine's date idea is sure to ignite romance at home over a delicious dinner!
Cuddle and Watch Romance Movies
With busy work schedules and the usual hecticness of life, it can be hard to find time to sit down and watch a movie together. Get back to the basics and woo your significant other with a relaxing movie night full of rom coms and romance flicks. 
Set the bar high by preparing an arrangement of yummy movie snacks you know your partner loves. You can even decorate your living room or bedroom with Valentine's balloons, candles, and other special decor to create a romantic atmosphere.
Take a Stroll Down Memory Lane
Did you ever write about your significant other when you two first started dating? Whether it be letters between you both or sweet nothings in your journal, take the opportunity to stroll down memory lane and read through all of your old notes for a few laughs (and maybe even some happy tears)!
You can also pull out the photo albums for a nostalgic look back at all your memories over the months or years. If you don't have a photo album or it has been quite awhile since you printed recent photos, use this Valentine's date idea as inspiration for one of your gifts!
Have Fun with Board Games
When was the last time you and your significant other played games together? Set down your phones for a few hours and dive into a fun board game or two for your Valentine's Day at home! Even though Yahtzee and Life may not be considered "romantic," they sure are fun to play. 
Showing your partner just how much you love them is as easy as can be with these Valentine's date ideas! Whether you choose one or combine a few, be sure to plan ahead and surprise your partner for a special Valentine's date neither of you will forget.
Need a special gift idea? Develop and frame treasured memories from your camera roll and hang them around your house for a sentimental present. Learn the why, where, and how of decorating your walls to make sure you hang your photos just right!
With the new year just beginning, it's time to think about your goals and what you want to achieve in the coming months. Besides personal resolutions for your relationships and work, now might be just the right time to shift your attention to improving your home. Not sure where to start? Follow these resolution ideas to refresh your home in 2021.
1. Be More Energy-Efficient
Lowering your energy use is a noteworthy resolution idea that's worth the effort. Being more energy-efficient benefits the environment and lowers your utilities bills each month, which means more money in your pocket! Plus, some eco-friendly items add style to your home. Here are a few ways you can be more energy-efficient this year:
Invest in energy-efficient appliances

Switch to LED bulbs

Thoroughly insulate your home (windows, doors, attic)

Incorporate indoor plants into your home

Turn off lights/electronic devices when not in use

Add area rugs to warm your home and decrease your energy use
2. Organize Storage Areas
What better time to purge your home than in the new year? Muster up the motivation and open the doors to all of the areas you've been avoiding for months or years. Bedroom closets, the attic, the basement, and yes, even your kitchen cupboards and drawers are up for organizing.
Rather than overwhelm yourself by doing it all in one weekend, shoot for one room each week to make the process more manageable and less intimidating. 
Start off by clearing out the areas and then focus on organization. Before you go out and buy a bunch of bins and trays, make a plan first. Think through where everything will go and then buy your organizational supplies.
3. Deep Clean Every Room
Did someone say deep clean? While it may not be an enjoyable task for some, a thorough cleaning of your house's rooms is a must. Just because you may not see all of the dirt and dust bunnies doesn't mean they aren't there.
Refresh your home by going through each room and doing all of the usual cleaning duties. Make sure to start with the most used rooms because they tend to have more germs and grime. You also want heavily trafficked rooms to be as sanitary as possible for you and your guests. 
4. Do Good and Donate
While the "season of giving" may be over, it's never too late to give to those in need. If you choose to clear out some furnishings or clothes to begin the new year at home, consider donating those goods to an organization near you. This is a win-win solution because not only do you clean out your home, you help out your fellow community members in the process.
5. Dedicate Time to DIY Projects
Brush up on your skills and dedicate a few weekends to DIY projects around your home. Try a home makeover idea that transforms your space from drab to fab like painting your living room walls a brighter color or finishing the basement downstairs. 
Other DIY projects can improve the safety and quality of your home like installing new windows, putting up a fence around your yard, or ridding your floors of squeaks. 
6. Create a System for Housework
No matter if you live with just your spouse or have a full house of kids, it's a great idea to create and implement a system for house duties. From taking out the trash to cleaning the bathroom, figure out a schedule that works best for you.
Get the kiddos involved by incentivizing with rewards and give them each their own chores. However you want to personalize your housework system, it's guaranteed to motivate all members of the household and keep your space much cleaner.
7. Prepare Your Yard for Spring
Home makeover ideas don't just apply to the inside of your home, they apply to the outside too. One of your new year's resolution ideas could be sprucing up your backyard for the coming spring. Start a garden, build a deck, or buy some new patio furniture. Basic yard maintenance like tree trimming and weed pulling is another easy way to make your yard more presentable and pleasant. 
8. Swap Out Home Decor
If you feel like splurging, buying a few new pieces of home decor can do absolute wonders for your space. Bring your home into 2021 with a modern sofa set or chic dining table. If large purchases aren't in your budget, not to worry. Opt for smaller upgrades like fresh wall art, new area rugs, or even comfy comforters for your beds.
9. Freshen Up Your Floors
The usual vacuuming and mopping of floors is a convenient and easy way to maintain your home's pristine appearance, but have you ever considered taking it a step further? 
If you have carpet in your home, you may want to think about getting it professionally cleaned. Say goodbye to nasty stains you gave up on years ago and welcome in a new and improved carpet for spring!
Refinishing your wood floors is another project that can refresh your home. What's even better is that you can do it yourself. Do your research, buy the supplies, and bring your hardwood floors back to life with a new finish.
With the new year comes new chances to better your home. As you brainstorm goals and aspirations for 2021, add these new year's resolution ideas to your list to give your home the makeover it deserves. If painting makes it on the list, be sure to read our guide to how to paint your home like a pro.
Are you going through the process of decluttering and clearing out your old furniture? Before you throw away your couch, chairs, and bed frames, consider an alternative option—donating. There are thousands of people in your community that are in need of what you have, so why not give back? Follow our guide to learn about the benefits of donating furniture, furniture donation centers, and best donation practices.
Why Donate Furniture?
From helping your community to tax incentives, here are some reasons why donating furniture is a win-win situation for both you and society.
1. Preserving the Environment
One perk that may not have crossed your mind is that donating furniture can help the environment. For example, when you give your used couch to a family in need, you extend the life of that couch and keep it from going to the landfill. This benefits the environment and reduces the amount of new resources needed for manufacturing furniture. It's a lot like recycling.
2. Giving Back to Your Community
When you think about donating, the first thing that probably comes to mind is helping your community. While there are many reasons why you should donate furniture, this one really tugs at the heartstrings. Your old, used furniture may no longer add value to your life, but to others in need, it could be life changing. Having the ability to give someone an item that can make such a huge impact is truly an invaluable gift.
3. Tax Write-Offs
Whether you're a business owner or homeowner, it's important to know that there are also financial advantages to donating furniture. Donations are tax-deductible and will benefit you at the end of the year. When you drop off your items or have them picked up, you should be provided with a tax receipt. Save and file this receipt for tax season and you will save some money!
Where to Donate Furniture?
Once you've decided to donate furniture, you need to figure out which organization you want to go through. There are hundreds of city-wide charities and nonprofits dedicated to the cause, so take some time to do research if you prefer to work with smaller organizations.
Another route you can choose is nation-wide furniture donation companies. These are big name organizations you've most likely heard of a few times before. To get a better idea, check out some of the top furniture donation centers.
With 3,200 stores nationwide, it's easy to find a Goodwill furniture donation center near you. This organization gives back to the community through job training, employment placement services, and other programs for those less fortunate. In addition, they have stores that sell new and used goods for affordable prices.
You can either drop off your furniture at one of their furniture donation centers or call to ask about pick-up services. The money they receive from selling your furniture will go directly to furthering their cause.
The Salvation Army is another huge organization with close to 1,500 Family Stores or thrift stores around the country. These stores are similar to Goodwill's in that they sell used items at low prices. All proceeds benefit the Salvation Army's Rehabilitation Centers that help thousands of people work through addiction problems and transition back into society.
Drop off and pick-up options are available when donating furniture.
If you aren't sure where to donate furniture in your area and would like a list instead of searching one by one, Donation Town is a great resource. Visit their website, enter in your zip code, and a comprehensive list of available charities in your area will pop up for you to browse. Once you choose your favorite organization, you can schedule a free donation pick up right at your house.
Are you looking to donate large pieces of furniture like dining tables and couches? Habitat for Humanity ReStore is one of the top charities to work with for these kinds of furniture donations.
As the name suggests, this furniture donation center is run by Habitat for Humanity. Its nonprofit stores use proceeds to help build homes and shelters around the world. Just like the other nationwide charities, Habitat for Humanity ReStore offers free pick up.
How to Best Prepare for Furniture Donation
Before you schedule your drop off or pick-up day, take preparatory steps to ensure the process runs smoothly without any unnecessary issues. Be as thorough as possible by following these guidelines.
Check Your Furniture's Condition
Most charities have standards when it comes to the quality of furniture they will accept for donation. Rather than hoping your stained couch or torn mattress will meet the requirements, it's important to check with your chosen organization to guarantee that you have the greenlight.
Assess your furniture pieces and take note of any and all imperfections (even if you think it's not bad) and make sure you address these blemishes before you move forward. Here are a couple questions to ask yourself when deciding if your furniture is good enough to donate:
Does it look good? Besides minor flaws, is it in decent condition?

Does it work? There's no point in donating broken furniture, so make sure recliners recline, couch springs work, and so on.
Know What Items Aren't Accepted
Even if you have the most pristine furniture to donate, it's always a good idea to research whether or not that item is accepted at specific charities. For example, mattresses and box springs aren't accepted at all organizations. The same goes for bed frames.
Call or go online and double check to get reassurance that your furniture donations are appropriate.
Do a Quick Clean Up
By no means do you need to spend hours fixing and cleaning your furniture, but as a courtesy, it's nice to do a quick once over. Wipe down and sanitize to remove any dirt or dust. If applicable, vacuum up debris in items such as couches and recliners.
Now that you know the why, where, and how of donating furniture, you're ready to make it happen and give back to the community! When you're ready to replace your old pieces, take a look at the most stylish collections on the market at Fusion Furniture.
The holiday season is over and sadly, it's time to pack away decorations until next year. From ornaments to festive home decor, it can be quite frustrating trying to find space to store everything. Follow along and discover clever Christmas storage ideas that not only save space, but keep your decorations neat and tidy!
Painting is one of the most basic ways to renovate and refresh your home, but it can actually be the trickiest if you aren't knowledgeable about technique and preparation. Before you begin the process of painting your home, check out these interior house painting tips to ensure a flawless finished product!
Step 1: Plan Your Approach
As with any home renovation, it's most important to have a set plan before you begin. Follow these tips for a successful approach to painting your home.
Choose Your Paint Color
With hundreds of shades to choose from, it can be hard to decide what color you want for painting your home. A good strategy is to think of the big picture and slowly narrow down the options as you go. First, decide whether you want a cool, warm, or neutral shade. Consider your room's furnishings and decor to make sure the color complements the space. Once you have a better idea, pick a few shades that stand out to you.
Don't be afraid to try samples as well. Paint small swatches on your walls to give you an idea of what you like most. And remember that accent walls are a great way to bring contrast and interest to your room!
Step 2: Gather All of Your Supplies
While this step may seem obvious, it's always nice to have a checklist to follow when you're out shopping for your painting supplies. Here are the main items you'll need:
Paint

Paint roller

Paint roller extension pole

Drop cloths

Paintbrushes

Paint tray

Sandpaper

Painter's tape

Rags

Putty knife
Step 3: Prep Your Space
Remove All Furniture
After you've chosen your paint color, it's time to prep your space. Begin by removing all of the furniture and fixtures you can to open up the room and give yourself plenty of working space. If you leave some furnishings in the room, make sure to cover them properly to avoid any paint stains.
As you clear out furniture, inspect each room and look for proper ventilation outlets to use as you paint.
Make Necessary Repairs
Nail holes and daily wear and tear are just a couple of reasons why repairs are necessary before painting your home. Inspect all of the walls and ceilings for cracks, holes, dents, and other flaws. Use caulk or a lightweight spackling substance with a putty knife to fill and repair as you see fit.
Make sure you let the repairs dry completely before moving to the next step. If you notice any bulges or rough spots, use fine sandpaper to smooth out those areas and make them flush with the wall.
Clean the Walls
You'd be surprised how dirty your walls can get with dust and spiderwebs. That's why it's super critical to wipe all of the surfaces clean with a damp towel or sponge and leave them to dry.
Apply Painters Tape
Perhaps one of the most important interior house painting tips is to use quality painter's tape. Unless you have the steady hands of a surgeon and the talent of Michelangelo, this is going to be your savior when it comes to clean lines and a neat paint job. Use this tape to mask off your moldings, windows, and doors. Here are a few pro tips:
Always press the painter's tape down flat and even to prevent bleed-through

Choose the right tape for your wall—some are best for textured or delicate walls

For accent walls, mask the inside edge from the rest of the room
Put Down Drop Cloths
If you've painted before, you know that it's impossible to get the job done without creating at least some mess. Keep your floors protected from spills and splatters by putting down drop cloths across the room. You can even put them down near the entryway where you may be walking in and out.
Take note of the different kinds of drop cloths and what they are best used for:
Canvas drop cloths are extremely durable and absorbent, so they can be reused.

Plastic drop cloths are durable and less expensive but not absorbent, so spills are more likely to be tracked if stepped on.

Paper is the most economical but can tear easily on floors. It is better for covering light fixtures, cabinets, and furniture.
Step 4: Prime and Paint the Ceiling
Prime the Ceiling First
An interior house painting tip you may not know is that you should always start with the ceiling first, then tackle your walls last. While it's tempting to jump right into painting with your chosen color, it's crucial to use primer in certain situations. Not sure when primer is necessary? If your walls or ceilings fall under these categories, you need primer:
The surface is porous

The drywall is skim-coated

The previous coat is glossy

The paint colors are changing from dark to light

The surface is stained
If you don't feel like spending extra money and time on a separate coat of primer, keep in mind that some brands offer paint and primer in one!
Paint the Ceiling 
Once the primer has fully dried, you're ready to paint! The best way to paint a ceiling is to use a paint roller and work in grid-like sections of 3×5 feet each. This method helps to keep edges wet and allows you to see your progress to guarantee an even coat. Here are some additional tips to ensure a perfect finished product.
For smooth ceilings, use a low nap roller. For a textured ceiling, use a roller with 1/2-inch or 3/4-inch nap.

Consistently use your paint tray to coat the roller with ceiling paint and remember to roll slowly.

Begin rolling when the paint cut line is still wet.

Start in a corner and roll in overlapping rows.

Do not roll directly over your head.

Slightly vary the direction of your rolling because straight lines can show overlap marks.
Step 5: Prime Your Walls
Follow a similar process to prime your walls just as you did your ceiling. Either use a separate primer or purchase a paint and primer combo to knock it all out at once.
As you begin painting your home with primer, use a paint brush to create 2-3 inch bands around the edges, corners, and frames of your room (this is also called "cutting in"). Next, grab your roller and paint the walls in 3×3 foot sections, remembering to work top to bottom. Roll back and forth across the wall in a series of V or W-shaped strokes. Always overlap areas of wet primer.
Step 6: Sand the Primer
While this step isn't mandatory for painting like a pro, it's a thorough method that eliminates any imperfections on your walls. After the primer dries, simply sand away bumps and ridges using fine grit sandpaper folded into quarters. When one section of sandpaper becomes covered with dust, switch to a fresh section and continue.
After you're done, wipe the wall clean with a damp towel and let it dry. Now you're ready for the paint!
Step 7: Paint Your Walls
A basic interior house painting tip experts always follow is painting walls one at a time. This will give your walls a smoother look by blending wet paint you've brushed on with wet paint you're rolling.
Make sure you follow the same method you did with your ceilings and use a paint brush to create 2-3 inch bands around the edges of your room. Use V or W-shaped strokes as well. To give you further guidance, take a look at these extra tips for painting your walls:
Before reloading your roller and moving to the next section, roll over the area you've just painted in a smooth, continuous stroke from top to bottom. These smoothing strokes help cover up lines and tracks and even out your coats.

Periodically remix your paint using a mixing stick. You should do this any time you leave your paint sitting for an extended period of time.

Wait 2-4 hours for the first coat to dry before applying a second coat. Follow the exact same process and techniques used when priming your walls.
Step 8: Clean Up
Once you've finished painting, your work is essentially done! The only task left is the clean up. Remove your painter's tape before or right after the paint completely dries. It's important to stay within this time frame because if left on for too long, the tape can tear and leave residue when removed.
Tightly seal remaining paint cans, thoroughly clean brushes and rollers with soapy water, remove drop cloths, and put your furniture back in place.
Painting your home is a fun and affordable way to freshen up your space and bring new pops of color into your rooms. The next time you feel like trying a DIY paint project, follow these steps and interior house painting tips to ensure a beautiful finished product you're proud of! For more guidance on DIY projects, read through these 6 home renovation tips that'll make the process easier.
After arranging all of the major pieces of furniture inside your home, there are always those awkward empty spaces left over that you don't know quite what to do with. Rather than leave them bare, follow these corner decor ideas for inspiration on how to style these nooks and crannies.
Corner Decor Ideas
Floating Shelves
Need extra space for framed photos, vases, and books? Floating shelves are not only a great storage solution, but they are also a hot decor trend in the interior design world. Add them to your empty spaces and you've got yourself stylish shelves for your living room corners or even your bedroom.
Tiny Office Nook
Not every home has the square footage for an office room, but that doesn't mean you can't create a small office nook. If the location is fitting, transform your empty space into a workstation by setting up a desk and chair. Try to match the style of the room so that the nook adds to the decor of the space rather than detracts from it.
Stylish Storage Pieces
This corner decor idea is a must if you find yourself with so much stuff you don't know what to do with it all. Combine function and style by incorporating small chest drawers, armoires, sideboards, and console tables into the empty corners of your rooms. These furnishings give you both a beautiful display and a place to store your household items.
Studious Bookcase
Put those old books to use by showing them off in your very own bookcase. Go as big or small as you want to create a colorful decor piece for almost any corner in your home. You can even mix in other decorative items like flowers and photos to give the shelving more character.
Sophisticated Bar Cart
You don't need an at-home bar to display your collection of wines and spirits. Grab your liquor and glasses from the kitchen cabinet and show them off on a stylish bar cart that easily fits into a tight corner. Next time you celebrate happy hour, entertaining will be a breeze!
Additional Closet Space
Who said clothing needs to be put away in drawers and walk-in closets? Exposed closets are all the rage right now and they give you the chance to turn your clothes into a fashionable decor piece. All you need for this bedroom corner idea is a clothing rack and your wardrobe to create a fun and functional addition to your space.
Kids' Play Corner
Give your kids the play area they've been begging for by designating that corner space as an enchanting playhouse. Use easy-to-remove washi tape to create the outline of a playhouse on the walls and install a few shelves within it to hold some of their favorite toys. This gives them the creative space to play, while also taking up as little room as possible.
DIY Gallery Wall
You don't need to go to an art museum to enjoy a gallery experience. Bring conversation starters to your living room corner by curating your own DIY gallery wall with framed prints or paintings. This can turn an ordinary wall corner into the focal point of a room with little to no cost.
Artwork Display
In addition to a gallery wall, you can get in tune with your artistic side by dressing up corners with other types of artwork like sculptures and ceramics. Don't be afraid to bring in abstract pieces or art of different mediums because they can bring interest and contrast that your run-of-the-mill photos do not.
Gorgeous Greenery
The houseplant trend is in full bloom and it just so happens to be another creative corner decor idea. Find corners of your home near natural light and entwine them with any plant you think you have the time and desire to care for — or go for faux plants instead! Whether you feel like being bold with large-leaf plants or prefer a unique hanging terrarium, the finished product is sure to bring new life to your space.
Luminous Lighting
Layered lighting is one of the golden principles of interior design, and chances are, if you have empty corners that need filling, lighting is the perfect solution. Before deciding on the type of lighting you want, consider the area it will be in and the function it will serve.
Floor lamps are great for living room corners, pendant lights are best for illumination of art, and table lamps do wonders for decorative side tables.
Decorative Screen
Does your home have high ceilings? Room separating screens are a great addition to your space because they're known for complementing homes with high walls. Not only do they emphasize the impressive height of your ceilings, they also decorate your walls without you even touching them.
Keep in mind that screens are corner decor best used in larger rooms because they take up quite a bit of space.
Window Seat
Take advantage of natural light by creating a cozy seat where your window touches the corner of the room. An upholstered bench and some comfy throw pillows are all you need to transform an everyday window into a nook for reading and drinking coffee.
Statement Furnishings
When in doubt, furnish it out! Sometimes the simplest solutions to the empty corner dilemma reside in a statement piece. Which kind of statement piece you choose depends entirely on how much space you have. For a larger room, you may want to consider a sofa, bench, or side table. For tinier spaces, downsize a bit by including a statement chair or accent table topped with a decorative lamp.
To find a stylish piece of furniture that livens up your corner decor, take a look at our eye-catching collections.
Looking at the same home decor for months or years can get a little bland and boring. While it's nice to be able to go out and buy brand new furnishings, that's not always doable when you're on a budget. However, a little creativity and brainstorming can help you save money and freshen up your space without breaking the bank. Bring new life to your home by following these 15 ways to decorate with what you have!
Frame Family Pictures
Every home should have at least some sentimental decor and family pictures are a perfect option. Whether you have pictures sitting around or need to go get them developed, gather up a few favorites and frame them. Framed photos can transform an ordinary living room wall into a beautiful collage that tells a story. If you need a little inspiration, read our guide on how and where to hang wall art.
Repaint Furniture
Feel like your furniture is getting pretty stale? This budget-friendly decorating idea is sure to liven up any dresser or bookshelf. Simply add a fresh coat of paint to any wooden furniture piece and you'll be shocked at the transformation. If you're feeling really adventurous, try choosing a bright color or something out of the ordinary to shake things up.
Switch Out Pillow Covers
Pillows often get overlooked when you're thinking of ways to decorate with what you have, but they're a hidden gem you don't want to miss. Rather than going to the store to buy new ones, try replacing them with a different pillow cover. This will save you lots of money (especially if you're changing quite a few pillows), while also bringing a stylish accent to every room.
Try a DIY Bar
Having a bar inside your house comes in handy when you have parties, but can cost a pretty penny if you go the whole nine yards. Instead, you can decorate with what you have and create a DIY bar that'll work just as great for happy hour.
Look around your home and gather up a table tamp, bookcase, and spare drinking glasses to set up your very own bar. You can store the glasses on the shelves and display your fine wine and whiskey on top. If you happen to have extra seating, you can also place those on either side for your guests.
Dress Up Your Entryway
In Feng Shui design, the entryway is extremely important because it's where energy enters your home. If you haven't already, give this area some much needed love by decorating it with a few household items like a framed photo or art piece, a spare bench, and a large houseplant. You can even dress up the bench with stacks of books you have cooped up in your room for an added touch.
Show Off Collectibles
Mixing old with new is a popular interior design trend that goes hand in hand with budget-friendly decorating because you can use what you already have. Head to your attic and rummage through those family heirlooms or your favorite collectibles and incorporate them into your home's design. Antique decor is wonderful because it means something to you and gives your home character.
Give Glass Bottles New Life
Glass often gets tossed to the side and thrown in the recycling, but it can be given new life with a little creativity! Collect bottles, vases, or vessels in similar colors and display them as a collection on your mantle or dining room table. Look for bottles with interesting shapes and have each piece vary in size to create contrast. Add a floral touch with flowers in each vase!
Bring the Outdoors In
If you have a backyard full of outdoor decor, you may want to consider bringing some of that inside — especially during the winter months. Give garden stools and bistro seating a new purpose by incorporating them into your living room or dining room. This budget-friendly decorating tip will help your outdoor furniture last longer, while also giving the inside of your home a new look!
Remove Cabinet Doors
Open shelving is dominating kitchens across the country right now and you can make it happen in your home without spending hundreds of dollars. Simply remove your cabinet doors and touch up the inside shelving for a complete makeover that you'll love! You can use this opportunity to repaint your cabinets and organize your dishware, so that the finished product looks stylish and tidy.
Accessorize Your Coffee Table
Does your coffee table have any decor on it besides TV remotes and coasters? If not, it's time to decorate with what you have. Accessorize your table with hardcover books off the shelf to create an interesting tablescape. Plants, candles, and glass collections are other decor pieces that will make this statement table pop.
Fill Your Fireplace
For fireplaces that go untouched, take advantage of the space by filling it with budget-friendly decorating items like books, candles, vases, and potted plants. Arranging these items will bring interest and color to the space and give you the chance to display decor you normally wouldn't. Make the most of this area when the holidays come around too!
Spice Up Office Supplies
Your office space doesn't need to have a dull, corporate vibe to it. Help style the room by beautifying office supplies like file boxes and magazine holders with scraps of wallpaper or wrapping paper. Depending on your style preferences, you can choose designs with bold patterns and colors that bring vibrant accents to the room.
Display Your Kids' Art
What better way to decorate with what you have then by displaying the most meaningful decor there is: children's art. Frame their finger paintings and construction paper creations and hang them along your hallways or within other rooms of your home. Sculptures and other items can be used as shelf decor. This allows you to enjoy your kids' creations rather than tucking them away in boxes.
Change Up Throw Blankets
Changing throw blankets is a great way to freshen up your space throughout the year. Grab blankets from your bedroom chest and drape them over your bed, couches, and chairs to give a subtle texture and color change. While you're at it, you can switch out throw pillows to mix up the patterns and colors in each space, too.
Rearrange Your Furniture
One last tip for home decorating ideas on a budget is to make the most of the furniture sitting right in front of you! Sometimes all you need to do is rearrange your furniture to experience a wild transformation. When rearranging, keep in mind that furniture should be moved away from the wall and set into groupings. This makes the room feel larger and encourages conversation.
Reinventing your space is a fun and exciting process that doesn't have to loosen your purse strings. Follow these 15 ways to decorate with what you have and enjoy the transformation while staying within your budget! For more budget-friendly home projects, take a look at our tips for organizing your kitchen.
Listening to your loud neighbors next door or your roommate across the hall can get annoying very quickly. Rather than taking a drastic step like moving out, try these easy soundproofing hacks to reduce noise pollution and bring some much needed peace and quiet back to your living space.
Three Critical Points of Sound
Before you jump into trying soundproofing hacks in your home, you need to identify the three points or locations of sound that are making your space noisy. Addressing these areas will help guide your action plan and give you better and quieter results in the end.
1. Source of the Sound
Chances are you are well aware of the source of the sound because it's been driving you crazy for months. Even if you are, make sure you listen again. Take note of all of the sources and what area of the house they're coming from. Is it the TV in the living room or your roomie next door — or maybe both?
2. Entry Point
Once you've identified the specific locations of the source of the noise, it's time to consider the second critical area of sound: entry point. As the name suggests, the entry point is the area in your house where the sound enters your room. This could be your window, door, or an entire wall (shared walls in apartments are a great example). Identify how the sound is coming into your room and recognize that there may be several affected areas.
3. Reflection Point
The last critical point to address before soundproofing is the reflection point. When noise makes its way into your room, it reflects back at the same angle that it came. To combat this, you need to identify the angle at which the sound is moving and where it's bouncing back to. For example, if noise is coming from directly across the hall in a straight line, you'll want to soundproof the first wall that it hits and the opposite facing wall that it reflects off.
Easy Soundproofing Hacks
After you evaluate the three critical points of sound, you're ready to learn how to soundproof a room cheaply and without too much hassle. Try these soundproofing hacks to enjoy a more peaceful space.
Use Carpets & Rugs
Covering floors with carpets and rugs is a soundproofing hack that is stylish and easy to implement. Having flooring made of tile or marble is a nightmare when it comes to echoes and sound traveling across your space. Rather than spend thousands of dollars to replace flooring, you can throw down beautiful rugs and carpets to absorb sound.
To combat the loudest of noises, you can also try layering your rugs. This is a big interior design trend and it works wonders for soundproofing rooms!
Hang Tapestries & Curtains
One of the easiest ways to help block noise from your room is by hanging drapes and any other decorative tapestries or blankets. Not only do they give the room added flair, but adding soft and thick fabrics to your walls absorbs and dampens sound.
Floor-to-ceiling curtains and woven wall hangings are just a couple of ideas you can look into. You can even search for noise-reducing curtains that are meant to help soundproof rooms.
Add More Furniture
Have you ever noticed that voices echo much more in an empty room versus a full one? That's because objects, furniture in this case, help block sound.
When soundproofing, try to add more furniture and place the new pieces in the affected space. Include the heaviest furniture you own, preferably with upholstery. These two elements provide the most sound absorption. Here are some of the best furniture pieces for noise blocking:
Wardrobes, dressers, and armoires

Bookcases

Tables
If you don't have room for more furniture, you can improvise with thick blankets and plush throw pillows wherever possible.
Simply Rearrange Decor
Sometimes the easiest soundproofing hack is sitting right in front of you. Because you've already assessed the layout of your home and where the noise pollution is the worst, you can look to see what furniture pieces can be moved to minimize your exposure. Perhaps you can move your TV and dresser to the entry point of the sound to help block the sound waves. Alternatively, you can rearrange your couch so that it is furthest away from the raucous.
Whether you rearrange one piece of furniture or choose to swap your home office with your bedroom, there are creative ways to soundproof without spending any money at all.
Seal Your Doors & Windows
While it may not be a decorative way to soundproof rooms, sealing your doors and windows is a functional strategy that can make a world of difference.
For doors, check to see if there is a gap underneath where the door doesn't touch the floor. These gaps are more common than you'd think and they are a major source of noise pollution. To alleviate this problem, use acoustic sealant tape. It's inexpensive and easy to remove, which is great if you're renting. Don't be afraid to use it on the bottom, sides, and top of the door if need be.
As for windows, the same solution rings true. Even if you have double-glazed windows that are amazing at blocking out noise, you can't forget about the seals around the windows. Use acoustic sealant glue to fully insulate the gaps.
Incorporate Soundproofing Foam
Depending on your style preferences, you may also want to incorporate soundproofing foam into your room. This foam can be purchased for a reasonable price and comes in a variety of colors to fit your design taste. Simply place it on your walls to add an extra layer of sound absorption.
Dealing with noisy street traffic and neighbors is a problem we've all dealt with at one time or another, but these easy soundproofing hacks are a great way to bring tranquility back to your home. As you begin soundproofing your walls, check out our guide on the why, where, and how of decorating your walls for some extra style tips!
There are many ways to cultivate a happy household, one of them being an ancient practice called Feng Shui. If you're looking to refresh your home and improve the energy within it, follow this guide to discover more about Feng Shui design, its principles, and tips for creating a harmonious household.
What is Feng Shui?
Feng Shui or "wind water" is an ancient Chinese philosophy that aims to strike a balance between elements and optimize the "Chi" or energy. The primary goal of Feng Shui is to create a positive energy flow that nurtures your physical and mental health, success, and relationships.
While this ancient philosophy can be practiced in many ways, it is most commonly used in interior design because the Feng Shui analysis can be easily applied to the home.
Five Feng Shui Elements
Now that you know what Feng Shui is and its ultimate goal, take a look at the five elements that drive Feng Shui design and how you can incorporate them into your home.
1. Wood
The first element is wood, which symbolizes growth and vitality. To put this element into practice, place wood items, such as plants, furniture, and wooden art pieces, in your house to encourage personal growth.
2. Metal 
Next up on the elements list is metal, which symbolizes logic and intelligence. To support your knowledge and mental sharpness, add this element to your space with metal decor pieces like light fixtures, tables, frames, and sculptures.
3. Earth
Earth is the third element that makes up Feng Shui design and it represents stability and balance. You can encourage these qualities by decorating your home with rocks, crystals, and landscape imagery like paintings and photographs.
4. Water
The fourth element is water, which symbolizes wisdom and serenity. Incorporating water into your home helps you find clarity and relaxation. Mirrors, reflective surfaces, and aquariums are the best items to use for this element.
5. Fire
Fire is the last Feng Shui design element and it represents passion, energy, transformation, and expansion. Use candles and red objects to bring the fire element inside your home.
The Bagua Map
Before you start implementing Feng Shui design, it helps to understand the Bagua map. The Bagua map analyzes energy in a given space and suggests which elements to bring into the space to enhance the flow or Chi. The map breaks down nine quadrants, or areas, of your home. Each quadrant has an element and color associated with it, which can help you choose your decor.
There is a traditional version of the Bagua map that uses compass directions for navigation and there's a western interpretation of the map that is simply divided up into categorized squares. The map above combines both traditional and western elements to make it easier for you to interpret. Here is a breakdown of the nine quadrants and the Feng Shui rules that accompany them.
North
The northern quadrant of your home represents your career and life path, which is guided by the water element. For this quadrant, decorate with mirrors and crystals. Dark colors like black are also helpful for the energy flow in this space. Make sure to avoid earth items, piles of paper, and bright colors.
Northeast
The northeast quadrant of your home symbolizes spiritual growth, education, and knowledge. It is guided by the small earth element and best decorated with books, meditation items, and mountain imagery. Try to avoid alcohol and distracting objects in this space.
East
The eastern quadrant represents health and family and is guided by the wood element. Follow Feng Shui rules by nurturing this space with family heirloom items, floral prints, and light colors. Keep the energy flow pure by avoiding metal items in this part of your home.
Southeast
The southeast quadrant symbolizes wealth and prosperity and should remind you to be grateful for what you have. This part of your home is guided by the wood element and should be filled with valuable items, live plants, and artwork of people and places. Avoid trash cans, bills, bathrooms, and toilets in this area of the house.
South
The southern quadrant represents fame and recognition and is guided by the passionate fire element. This area of your home should highlight who you are as a person and who you wish to become. Tall, vertical, and red decor should be placed within this space. Anything that represents your achievements like diplomas and awards also enhance energy flow here. Follow Feng Shui rules by leaving out water items, heavy objects, and dark colors.
Southwest
The southwest quadrant symbolizes love and marriage and is guided by the big earth element. Invite love and sensuality into this part of your house by decorating with candles, photos of you and your partner, and paired objects. Steer clear of sharp items, broken objects, and family photos.
West
The western quadrant represents creativity and children and is guided by the metal element. This space is meant to awaken your inner child, as well as improve the relationships between you and your children. Fill this area with games, toys, circular items, and earth items. Stay away from fire items, sharp objects, and items that block walkways.
Northwest
The northwest quadrant symbolizes helpful people and is centered around valuing those that support you. Guided by the metal element, this quadrant should be decorated with round objects, tools for sorting, and black and white colors. According to Feng Shui rules, this area needs to be void of clutter, storage items, and objects representing compromise.
Feng Shui Tips for the Home
Once you master the five elements and the Bagua map, you are well on your way to becoming a Feng Shui design expert. As you begin organizing your home and incorporating new decor, consider these additional Feng Shui tips to further enhance the Chi in each room.
Add Plants
Plants are representative of the wood element, which is why you should definitely have at least a couple in your house — in the corresponding quadrants, of course. They help to purify the air and bring freshness and vitality.
Prioritize Your Entryway
The entryway of a home is key within Feng Shui design. It represents the way energy enters not only your home, but your life too. Make it as welcoming as possible by keeping it neat and tidy. Personalize with decor items and try your best to include storage pieces like shoe racks, coat hooks, and bins for rain gear, so that each item has its own home.
Clear Clutter
A clean, clutter-free home is one of the most important aspects within the Feng Shui guide. Make sure to regularly clean all surfaces and cleanse the air with essential oils or candles. This helps bring clarity and harmony to the space.
Check Commanding Positions
Commanding position is yet another important principle of Feng Shui design and should be followed in every room of your home. To set up the command position in any space, place the main piece of furniture — a couch, desk, or bed — where you can see the door without being in a direct line with it. This Feng Shui rule aims to position you in the best possible place, so that you can deal with whatever comes into your life.
Let In Air and Light
Air is a crucial component of Feng Shui. After all, "Feng" means wind. You need to make sure your home gets proper air flow and natural light as this combination brings positive energy and rejuvenation.
While there are many more principles and rules within Feng Shui design, this guide provides a solid foundation for you to start enhancing the Chi within your home! As you begin tidying up your space to purify the energy flow, check out these living room layout ideas to make any space feel cozy.
School closures and distance learning are the new normal within the educational world, and that means parents are taking on the role as teacher for their children. Jumping into homeschooling can be overwhelming if you haven't had the time to prepare or create a classroom for your kids, no matter how old they are.
However, with a little inspiration and DIY work, you can transform your home into a space perfect for learning. Take a look at these at-home classroom ideas, as well as tips for homeschooling, so you feel confident and prepared as the back-to-school season begins.
Ideas for Creating a Classroom at Home
Choose a Space with Natural Light
As you start to prepare your home for learning, it's important to pick a specific area to be your at-home classroom rather than letting the kids roam the entire house. Whether you're limited on space and choose the dining room or opt for the spare bedroom, try your best to find a spot with lots of natural light. Natural light is beneficial for your child's learning because it promotes productivity and boosts mood.
If you're having trouble finding a well-lit space for your at-home classroom, learn how to brighten a dark room in our blog post!
Establish Designated Work Stations
When you visit your child's school classroom, you'll see that they have their own seat and work area. This principle should translate over to your at-home classroom as well. Create or pick a designated work station for each one of your children.
For young students in elementary school, you'll want to create a space where you can easily oversee them throughout the day. Buy them their own desk, build a DIY desk, or simply set them at their own spot where they aren't crowded by their siblings.
If you have teenagers or older children capable of working independently, there's no rule saying you can't establish a work space in their bedroom or another secluded area. Just make sure you check up on them periodically throughout the day.
Create a Reading Corner
This at-home classroom idea is targeted more towards little ones, but can be relevant for adolescents as well. Reading is a large part of school curriculum, so it's ideal if you can include a reading corner within your learning space.
For young kids, choose a cozy nook and set up a table for them to sit with their books. Keep books in a bin or bookshelf that's low to the ground and easily accessible to them. If you're feeling extra creative, incorporate a chalkboard or whiteboard to supplement reading lessons.
Teenagers can also have a designated reading corner, but with a more mature theme. They can sit at a table or keep things more relaxed by sitting in their favorite bean bag or recliner chair. You can still use a whiteboard for reading discussions and include bookshelves too.
Choose Comfortable Seating
While it may seem insignificant, seating is a crucial consideration when it comes to creating a productive classroom at home. This is especially important for children around primary school age because any discomfort will make them fidget and become distracted from their work. Try your best to give them seats that allow their feet to rest flat on the floor. If they're sitting at the kitchen table or in other adult-sized chairs, make them as comfy as you can by providing cushions.
Chair height may not be a problem for adolescents, but it's still important to provide them with quality seating as well. Ergonomic office chairs are a great option because they provide support for your entire body.
Keep the Classroom Organized
Organization is key when you're running a classroom at home. From your kid's individual schoolwork to classroom supplies, your home can turn into a mess if you aren't diligent. Luckily, there are fun and easy ways to keep things organized. Here are a few examples:
Color-Coded Bins: Use a different color for each child and categorize each bin into academic topics like math and science. These can house all of the paperwork and homework assignments.

Jewelry or Shoe Organizers: Hang clear, plastic organizers on the wall or door to keep classroom supplies like pencils, markers, and scissors nice and tidy.

Pencil Boxes: Have each child use pencil boxes, so they can be responsible for their own school supplies.
Create a Visual Timetable
Your days as a homeschool teacher are almost guaranteed to go smoother if you plan each day and stick to a general schedule. After you create your master plan, make a visual timetable that your kiddos can look at too. It's just as important for them to be aware of the day's activities as it is for you.
Since you'll be using the table five days a week, buying a dry-erase whiteboard is a great option for quick changes and adjustments. If paper is more your style, there are plenty of free, downloadable time table templates online.
Tips for Homeschooling
Ease Into It
Homeschooling can be an overwhelming process, so don't feel like you need to jump right into it all at once. When the school season starts back up, give yourself and your kids the chance to ease into it by slowly introducing curriculum. Add one or two subjects a week to ramp up the schedule and you'll become a pro in no time.
Eliminate Distractions
Distractions are one of the biggest challenges you'll face as a homeschooling parent. That's why you need to establish a plan prior to the first day of school. The first step is clearing out any tangible distractions from your at-home classroom. Electronic devices should be put away unless used for learning purposes and the TV should be turned off. You may also want to separate your children and your pets for most of the day to avoid distractions.
While it's good to reduce noise levels in the room, don't be scared to incorporate some soft background music to break up the stark silence. Gentle music can be soothing and help calm the kids down as they work away.
Dress for Success
Make a point of getting your kids dressed and ready to go as if they were attending a normal day at school. This helps set boundaries for their new learning environment and adds an element of routine that is necessary for productivity. To reward them for good behavior throughout the school year, you can mix things up by incorporating Fun Fridays where they can wear pajamas or dress in their favorite costume.
Be Flexible
Even though routine and predictability are necessary when you're teaching your kids from home, there is definitely room for flexibility. Know that not every day is going to go according to plan, and be okay with that. Cut yourself a break and try to focus on wins for the day. There's always another day to catch up on assignments.
Creating the perfect at-home classroom looks different for every family, but these ideas should give you some great inspiration to work with! Combine a creative learning space with helpful tips for homeschooling, and you're ready to take on the school year.
Of course, learning isn't just for kids. If you're also taking a course from home or looking to create a more productive workspace, take a look at our home ergonomics checklist!