Cohesive Design: How to Make Your Rooms Flow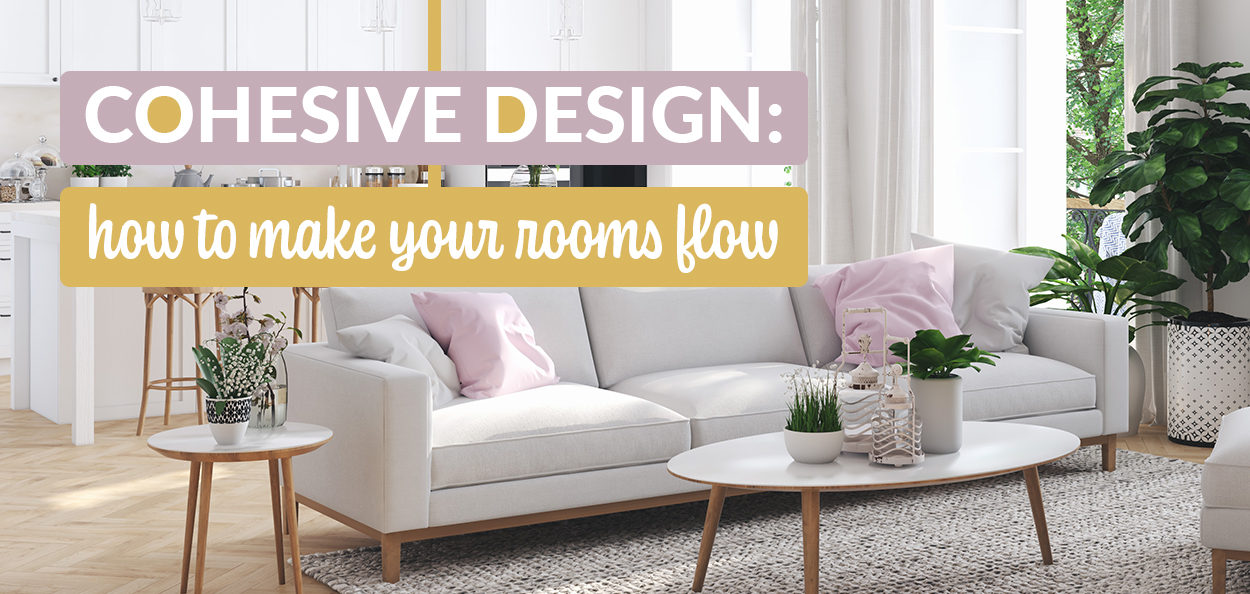 Have you ever found yourself scratching your head when decorating a room? You might wonder, "What colors should I use? Does this decor piece match?" If you find yourself struggling with these questions, it's most likely because you aren't sure how to create a cohesive interior design. 
This is a common issue for many homeowners and can easily be solved with interior design tips and knowledge of interior decorating basics. From ideal color palettes to general decor rules, plan out your home's transformation with these tips! 
1. Start with Your Color Palette
Decide on a Neutral Base
The most basic and crucial step to creating a cohesive interior design style is choosing the right color palette. Start with a neutral base color that brightens up your space. White, light gray, or soft beige are good options. 
Once you have your neutral base picked out, think about applying this color to the largest surfaces or furnishings in your home. These tend to be your walls, flooring, seating, and bedding. Add to that main hue with one or two more shades. Warm tones with warm neutrals and cool tones with cool neutrals is an easy method to follow.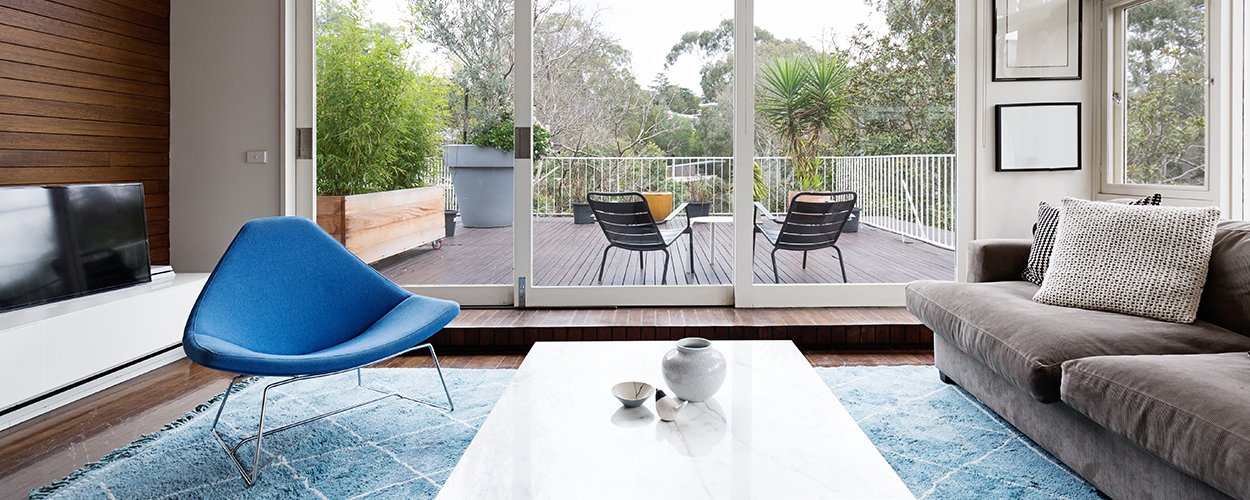 Pick an Accent Color
After you have your neutral base colors chosen, it's time to spice things up with a bold and vibrant accent color. Your accent hue will be used throughout your entire home, just like your neutral colors, so make sure it's something you really love!
As you add in throw pillows, area rugs, lamps, or even sofas with your accent shade, make sure you evenly distribute the color across your space. Avoid concentrating your accent color in certain spots more than others because it takes away from your cohesive interior design look.
Consider Complementary Colors
If you don't feel like stopping after choosing your main accent color, by all means, incorporate complementary shades as well! Your home doesn't need to be bland to flow, you just need to focus on consistency and complementary colors to help it come together seamlessly.
Not sure which colors complement each other? Take a look at the color wheel to get a better idea. One factor you'll need to remember is that your complementary colors should pair with your main accent shade. As long as you follow that rule, you're good to go! Opt for colors that are as bright as your accent shade or tone it down with paler hues—it's entirely up to your preferences.
2. Stick to One Style
Even though it may be hard to pick one style or look for your home, it's more than necessary if you're trying to make your interior design flow. 
Whether you love mid-century modern or have always wanted a farmhouse-inspired space, pick one and stick to it. While it's not impossible to combine a couple of styles in one space, it's a delicate task to take on—especially if you don't consider yourself an interior decorating expert.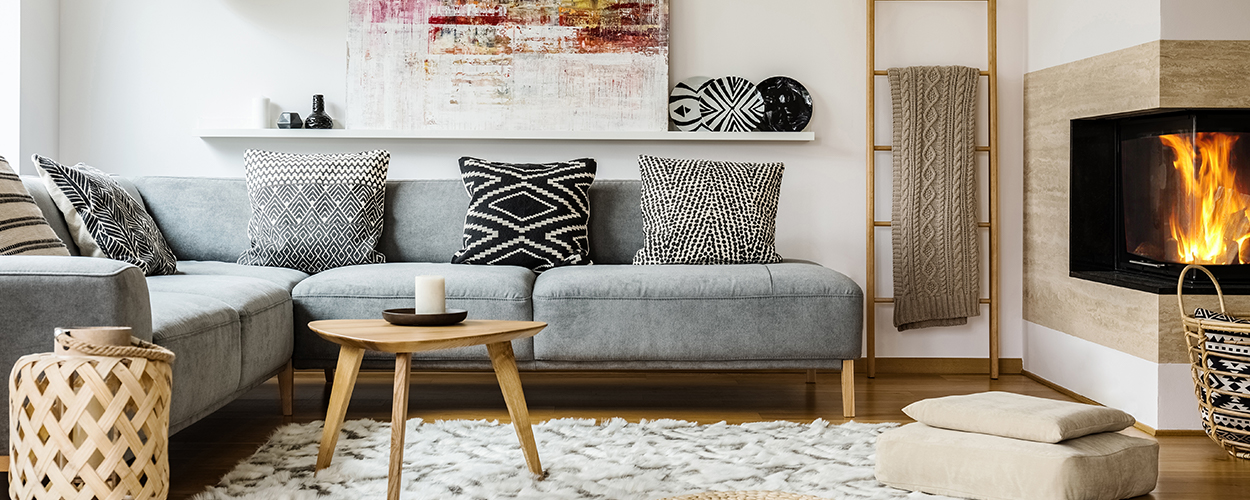 3. Mind Your Materials
The types of materials you pick also play a huge role in curating a cohesive home. Be consistent with your materials and tie them back to your color palette. These two strategies are simple ways to incorporate this interior design tip without getting too confused.
For example, stick with consistent wood finishes. Rather than mix a dark, brown wood with a light, white wood, opt for one or the other. Coordinate your upholstery material as well.
In addition to consistency with your materials, you should also try to choose materials with shades that complement your color palette. They don't need to be an exact match, but in general, cool tones (like metal) should be paired with cooler palettes and warm tones (like wood) should be paired with warmer palettes.
4. Work with Your Flooring
Flooring is an entirely different beast that can require much more work, money, and time, but it deserves attention nevertheless. This interior design tip is most important if you have a smaller home, but can also be applied to larger homes too.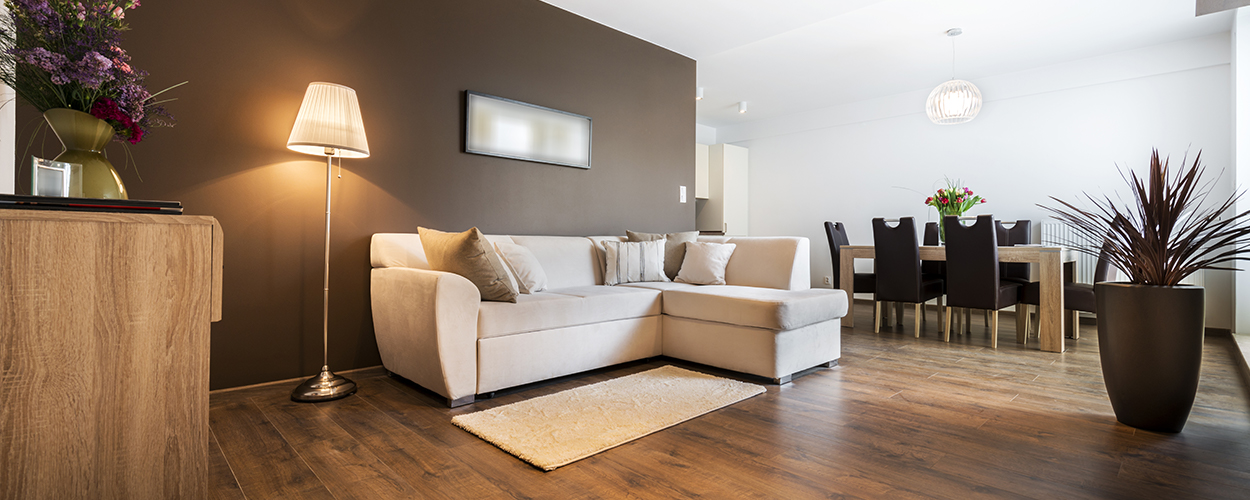 For small spaces, it's helpful to have flooring be the same in every room. This ties each room together and prevents your home from looking disconnected. Once you have that step taken care of, you can add pops of color with area rugs and runners.
Is your flooring different across rooms? While getting your flooring replaced is the best option, it's certainly not the cheapest. To keep more money in your pocket, utilize rugs and runners of the same color or material. Using similar rugs will help to connect each room despite the contrast in flooring.
Decorating your home should and will be a fun process if you follow these interior design tips for a cohesive home. As you complete each room, don't stress too much about having them look perfect. Above all else, personalize your space to make it your very own! 
If you decide to repaint your walls to change up your color palette, check out how to paint your home like a pro.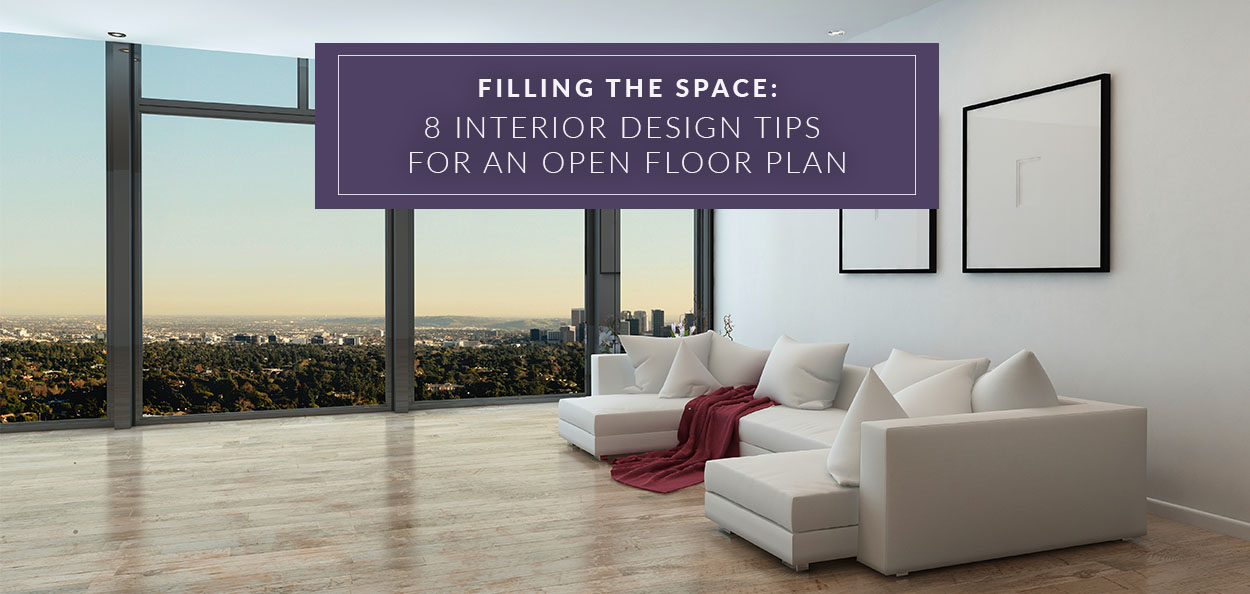 Open floor plan designs are currently thriving within the interior design world and there's no surprise as to why. With wide open rooms comes better efficiency of usable space and a more natural environment for social interaction. The one catch to this layout is that it can be a little tricky to decorate. As you plan how to furnish your home, keep in mind these open floor plan decorating ideas to ensure your final product is a masterpiece!
1. Focus on Symmetry
In a home with open concept rooms, symmetry is your best friend. Not only does a symmetrical layout create a balanced look within your space, it can also make it easier to furnish large rooms.
Doubling up on sofas is one of the most common and simplest ways to achieve symmetry in your great room. Whether you choose to arrange them facing each other or at a right angle, having two is usually much better than having one. Tie it all together with a big dining table and matching chairs as well.
2. Choose a Color Scheme
Following a set color scheme is an important tip to stick to in any home, but especially in spaces with an open floor plan design. The goal is to create a space that feels fluid and cohesive. The best method for reaching this goal is choosing a general, neutral color palette to incorporate into each designated space. From there, pick two or three accent shades and sprinkle them into each area. 
The overall color palette helps to bring fluidity to the room, while the accent colors work to distinguish the different area zones. Fabrics, rugs, and other accessories are ideal avenues for weaving in your accents.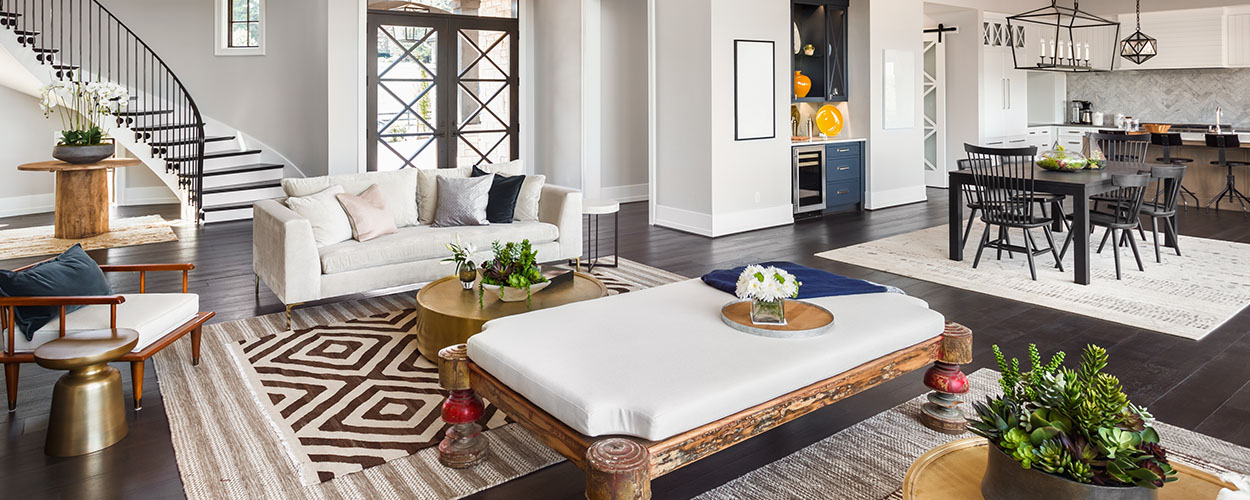 3. Establish Area Zones
One of the key elements to creating a beautiful open concept room is defining your space. With so much square footage to play with, you need to establish area zones. Defining these zones allows you to make your home feel cozier and more grounded. 
Carefully arranging your furniture is the first step to creating area zones. Wherever you choose to place your couches will most likely label that area as your living room. 
Another open floor plan decorating idea is to use rugs as subtle boundaries. Including rugs in your home gives you the chance to show off your style, while also making each zone unique and well defined. 
4. Consider Foot Traffic
Normally, walls divide up your home's space and inherently guide your foot traffic. With open concept rooms, the job is left entirely up to you. That's where defining your space comes in handy. Be mindful of your furniture arrangement to help your space feel more navigable. 
Create your area zones and walk through the space yourself to see how it flows. Feng Shui design heavily emphasizes the flow or "chi" of a room, so you can always reference that design style to give you inspiration.
In a nutshell, you just need to be extra aware of your walkways and try your best to create clear paths with enough room for people to pass each other. 
5.  Utilize Consoles or Shelves
Who needs walls when you have shelves and consoles? These two decor pieces are extremely handy for dividing up your room and making your space feel more inviting. 
Placing bookshelves behind your living room sofa, for example, can add interest to that zone while also creating an obvious barrier between the adjourning space.
If you hate echoes and feel that even the quietest voice booms in your home, incorporating these larger furniture pieces can help to absorb and block the sound.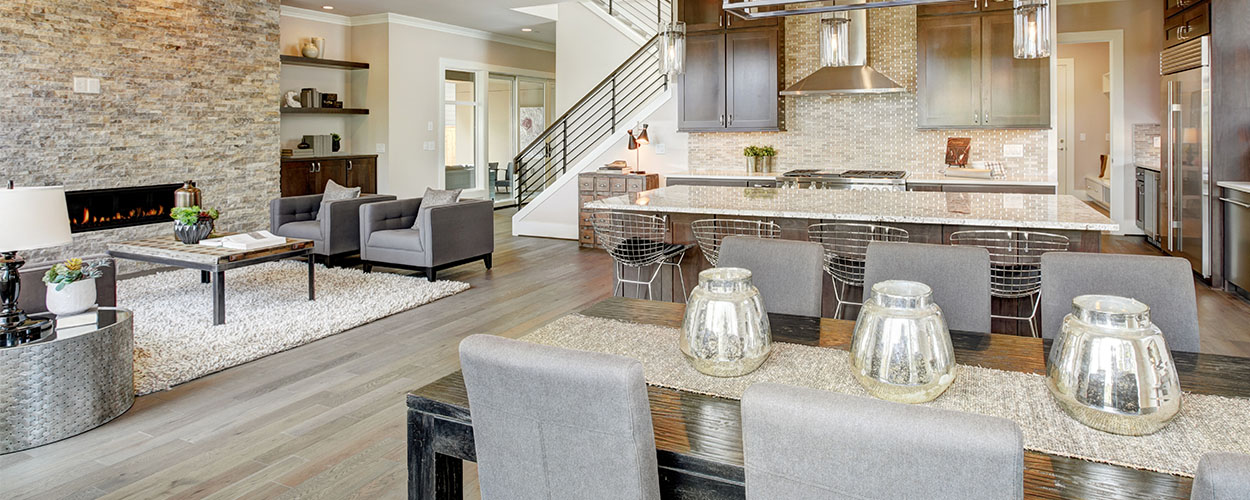 6. Light It Right
Be creative when it comes to your lighting. This is another great way to emphasize the different areas of your open floor plan, while also making it feel warmer. 
In the kitchen and dining room, focus on pendant or chandelier lighting. These light fixtures are a win-win because they're both out-of-the-way and super trendy. This type of lighting does an amazing job of defining a space in a vertical sense too.
Wall sconces, floor lamps, and table lamps are a necessity for the living room. Make sure to install recessed lighting as well to provide a source of ambient light. If you arrange them properly, recessed lights can help to guide the flow of the room.
7. Distinguish with Unique Features
Every home should have unique elements that characterize each room, or in this case, each area zone. Follow this open floor plan decorating idea by finding special decor items to add into your kitchen, living room, dining room, and so on. Including these features will personalize your space and make each zone stand out.
8. Put Thought into Your Furniture
Along the same lines of your furniture arrangement, you should also think about the type of furniture you buy. Lots of open space means there's more opportunity to have your furniture fully exposed, but that's not always a good thing. 
If the backside of your kitchen barstools will be facing the living room, you want to ensure that they are attractive to look at. Similarly, if you choose to float your sofas, the backsides should be just as pretty as the front. This usually isn't too much of an issue, but an important thought to keep in mind for a flawless open floor plan design.
Whether you're looking to give your open concept room a makeover or are starting from scratch, these open floor plan decorating ideas are your ticket to creating a beautiful and cohesive space! For more details on how to enhance your home, check out large living room layout ideas to make any space feel cozy.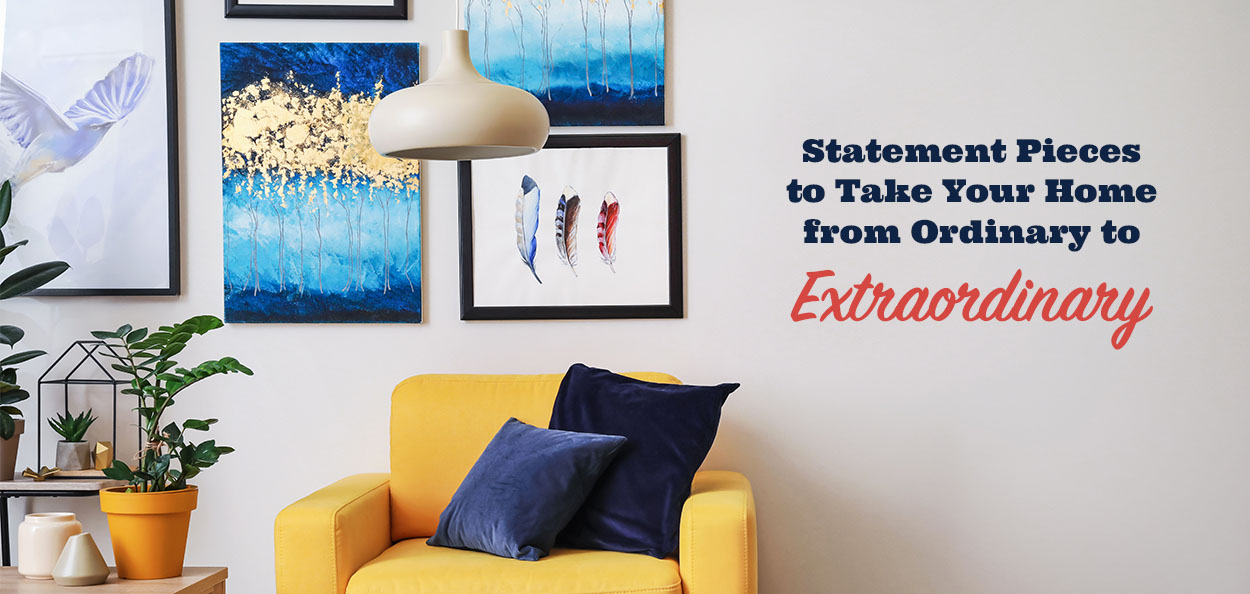 Pricey home renovations aren't the only way to give your space a fresh and new look! Incorporating statement pieces of all colors, shapes, and sizes can be a simple and budget-friendly way to revitalize your space and make it feel new again. From statement wall decor to comfy living room furnishings, check out our list of everyday decor that can transform your home from ordinary to extraordinary! 
7 Types of Statement Pieces
Striking Sofas
If chosen properly, your sofa or sectional can serve as one of the most eye-catching statement pieces in your home. Take a chance on a sofa with more unique characteristics like bold colors, interesting patterns, and snazzy throw pillows for additional style points. A complementing ottoman can also be a gorgeous statement piece in itself! 
Fusion's Macarena Marine sofa is an ideal statement piece for your living room with its blue color and geometric-patterned throw pillows.
Dashing Draperies
If your living room or dining room is lucky enough to have drapes, take advantage by using fabric that is both stylish and functional. 
For example, hang thick drapes during the winter time to keep out the cold, while also utilizing colors and patterns that stand out in your space. You can even switch up your color schemes throughout the seasons because drapes are relatively easy to replace.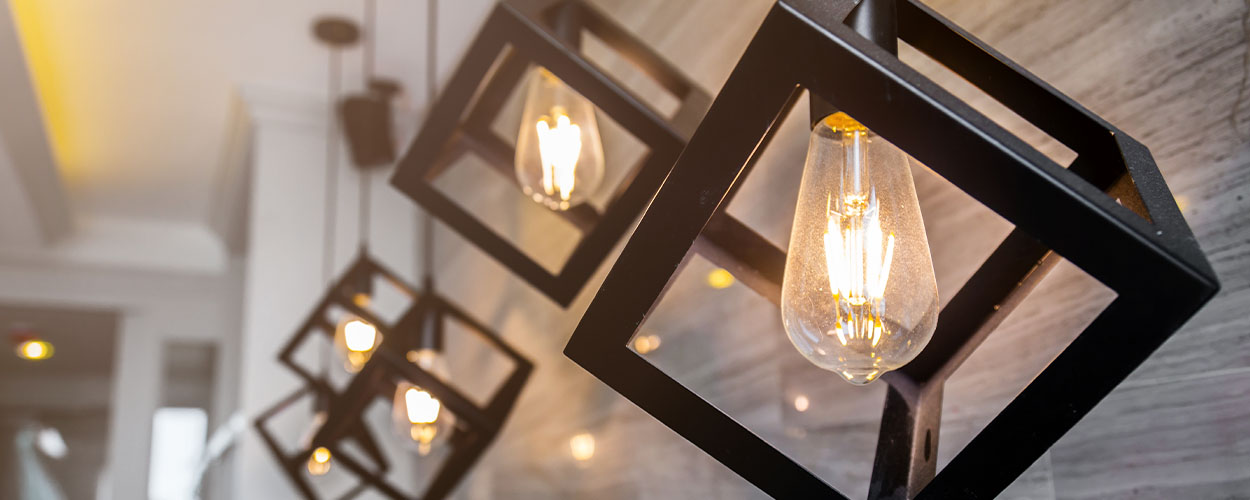 Stylish Lighting
Light fixtures may seem like insignificant decor, but they actually serve as valuable statement pieces for your living room and beyond. 
From floor lamps and table lamps to hanging fixtures, lights are a versatile statement piece that really can transform every room of your home. Channel a "wow" factor with your lighting by exploring many different styles like traditional chandeliers, industrial floor lamps, and geometric table lamps.
Bold Wallpaper
Wallpaper has made a major comeback in the last few years and it's a trend you definitely want to consider for your statement wall decor. Instead of covering an entire room with a floral or striped wallpaper, focus on an accent wall. Choosing one wall to display your bold wallpaper gives you the chance to transform your space without completely overwhelming it.
If a patterned design is a bit too much for you, don't give up on the idea altogether. Compromise with darker or lighter neutral colors for a more subtle change.
Distinctive Wall Accents
Plain, empty walls are simply a blank palette waiting to be decorated. If you notice that you have lots of bare space along your walls, start hanging statement wall decor!
A gallery wall full of your favorite art or photographs is one idea. Mirrors to lighten up the space is another.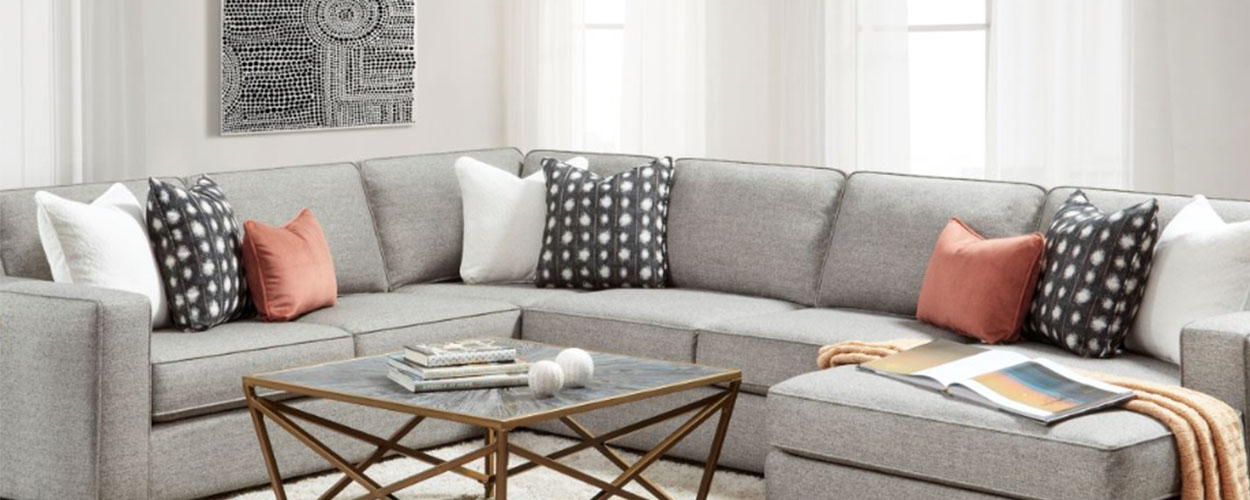 Alluring Accent Chairs
Even though accent chairs are much smaller than your sofa or sectional, they can be just the ticket to adding interest to your room. Not only are they cheaper and smaller to fit into your space, they can also do wonders for complementing the furniture you already have. 
If your couch is a more neutral shade, pick a chair that highlights the accent colors you use in the room. This will help make the chair shine, while also tying the space together.
The Monroe Ash accent chair is a prime example of chairs that bring your living room to life!
Inviting Area Rugs
Area rugs are amazing statement pieces for many reasons. One, they make your space feel cozier and more inviting. Two, they define each zone of your home, especially if you have an open floor plan design. 
Think of your area rug as an art piece for the floor and don't be afraid to experiment with bright colors and snazzy patterns. The bolder you go, the more distinctive your statement area rug will be.
How to Make Statement Pieces Work
Let It Stand Out
One key element to remember when decorating your space is that statement pieces can only make a statement if you let them. It can be tempting to fill the rooms of your home with lots of unique features, but in doing so, you take away the specialness of each piece. 
To maximize the statement decor you choose, make sure other objects in the room are smaller, more neutral, or less ornate.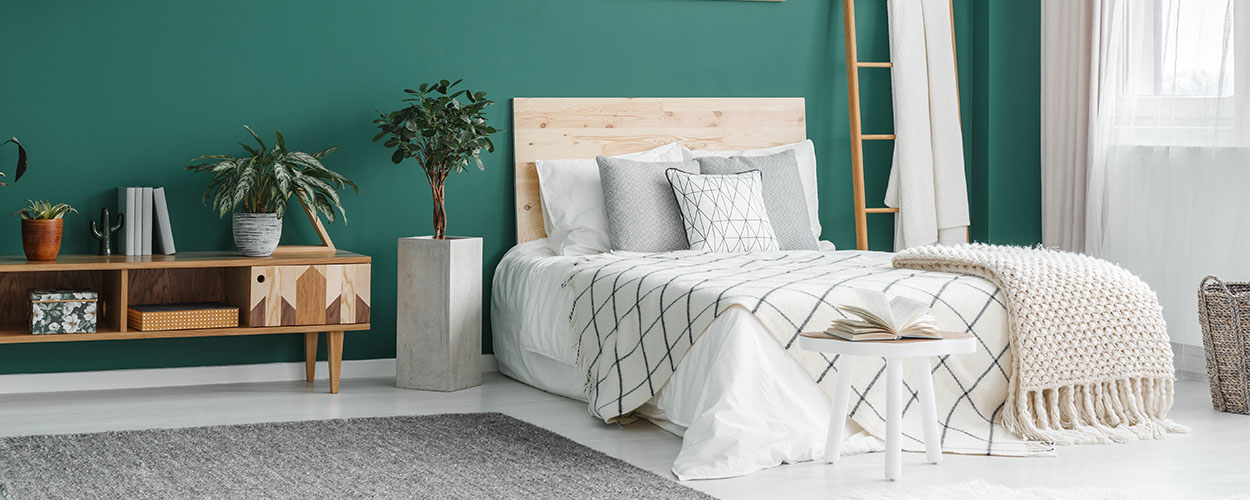 Keep Color in Mind
Bright, striking colors are beautiful and easily draw attention, but you want to be careful with which shades you settle on for your statement pieces. Always refer back to your overall color scheme and make it a rule that you only pick complementing accent colors. Follow this tip and your home will feel much more balanced and cohesive. 
Choose a Focal Point
A focal point is the center of interest in your space, and an important factor to consider when deciding on statement home decor. If you want to see a big change and truly mesmerize your guests, you'll want to choose statement pieces that are found in the focal or main parts of each room. 
For example, sofas, beds, and dining tables are dominating points within your home. Spruce up those items to make the biggest impact.
Whether you go big with a brand new sectional or choose to illuminate your space with dazzling light fixtures, you're sure to rejuvenate your home with these statement pieces. If you're thinking about hanging up statement wall decor, learn more about the why, where, and how of decorating your walls to guarantee a polished final look!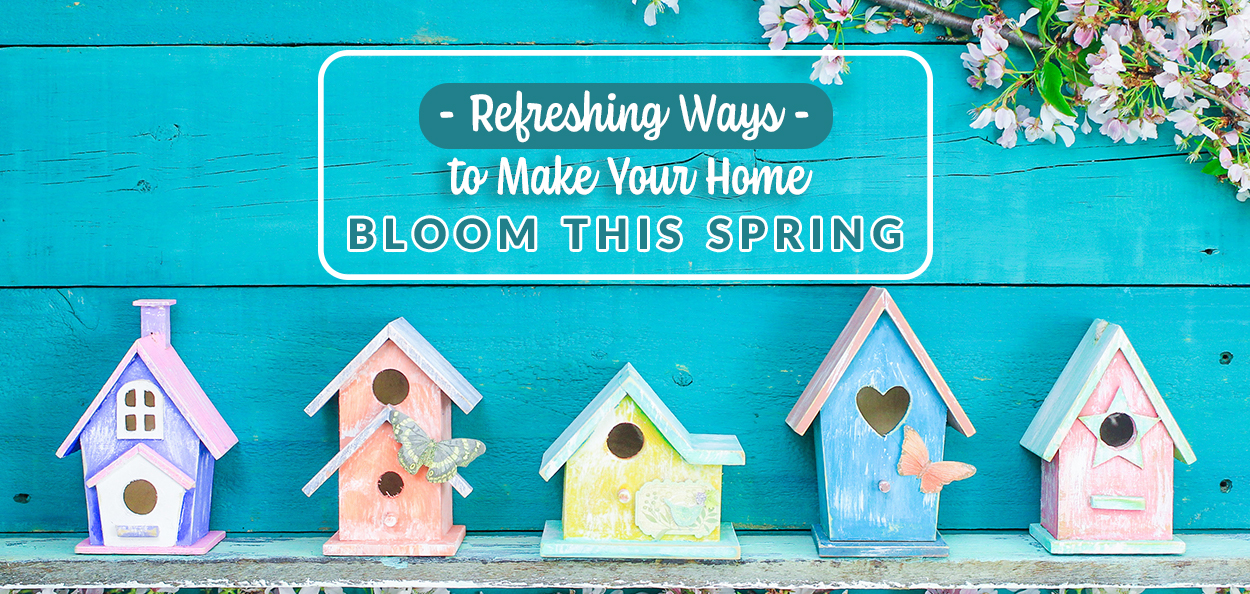 The season of blooming flowers, sunny days, and new life is almost upon us! As you say goodbye to the cold winter months, welcome springtime by renewing your home with bright and beautiful touches. Create a blossoming space with these spring home decor ideas!
Indoor Springtime Decor
Pretty Pampas Grass
Add a bit more softness to your home's interior design with pampas grass! This boho-style springtime decor has been growing in popularity over the past year and is especially fitting for the season. 
Known for its pastel color palette, you can pick up pampas grass in many different sizes and colors. Whether you choose pale pink, ivory, or taupe, this spring home decor idea is a stunning addition you must try.
Rattan Furnishings
Rattan decor is predicted to be one of the hottest interior design themes of 2021, and it just so happens to look lovely for spring! Although it's best known for outdoor spaces, there are plenty of ways to incorporate this woven material inside your home. 
Lighten up your space and channel tropical vibes with a rattan headboard, or start small with a rattan chair and ottoman. Baskets for blankets, as well as indoor plant stands are a couple more ideas that are ideal if you're looking for a subtle change.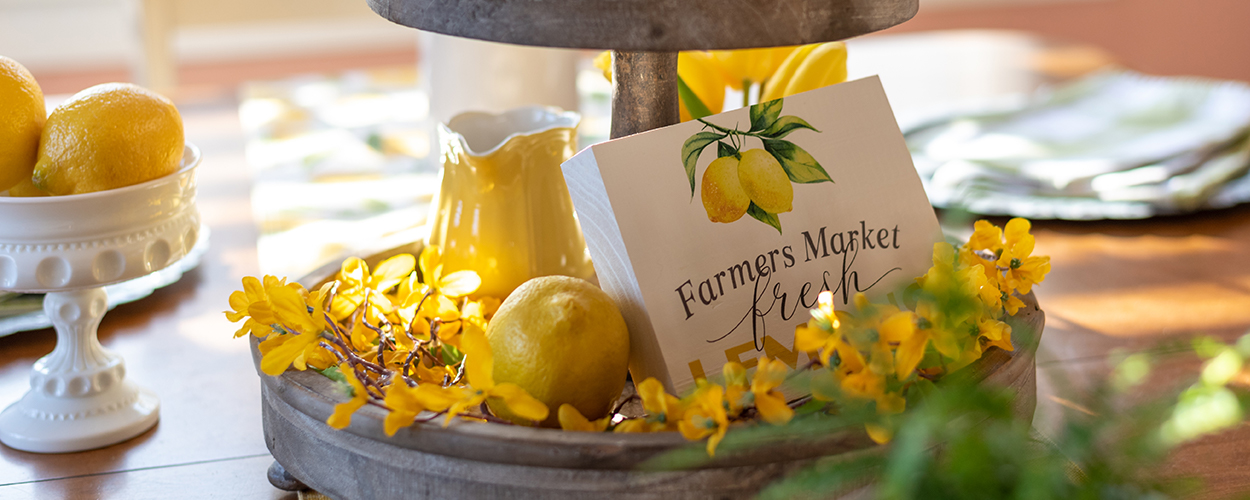 Colorful Centerpieces
Think springtime colors and motifs for this spring interior design idea! A glass bowl full of faux Easter eggs in shades of pale purple, blue, yellow, and pink is a festive option if you love Easter. 
You can also get creative with flower and fruit arrangements. While a standard flower vase is gorgeous, rustic tins, long garden boxes, tiered trays, and decorative mason jars are unique choices. 
Pair your centerpiece with pastel table runners and consider floral patterns for your dishware.
Blooming Houseplants
Before you call it a day on your springtime home makeover, take a look around the room and see if you have houseplants. This spring home decor idea is a must because symbolically and literally, it brings new life to your space!
If keeping plants alive isn't one of your top skills, there's no shame in opting for faux plants instead. However, if you're up for the challenge, try some of these heavenly houseplants that are bright and colorful for the season:
African Violet

Flowering Maple

Peace Lily

Jasmine

Crown-of-Thorns

Geranium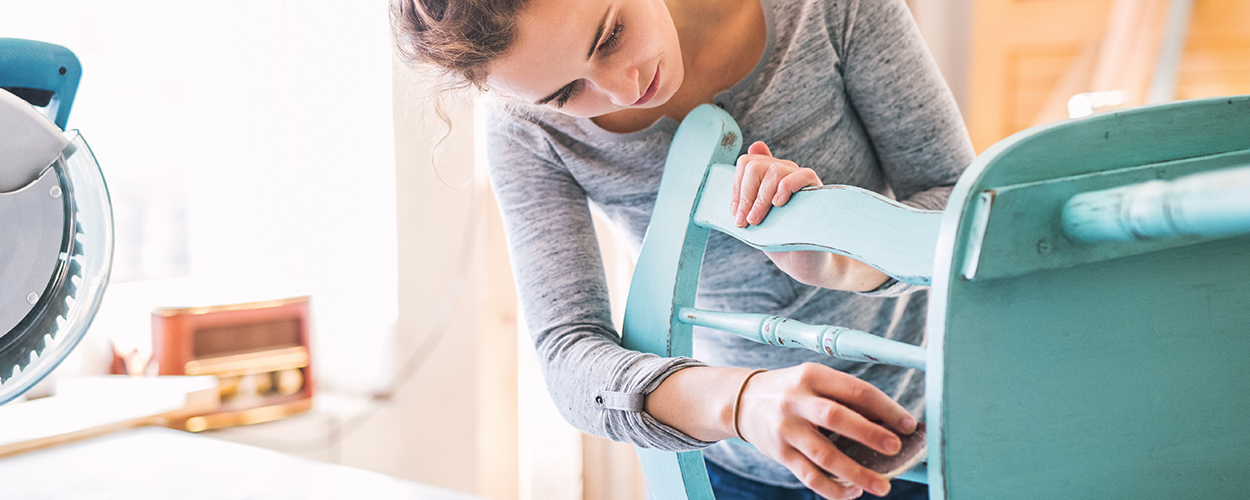 Refreshing Paint Colors
A fresh coat of paint can do wonders for your home! Take this springtime decor idea as far as you'd like, but know that even the smallest of upgrades can rejuvenate your home. Repaint your bookcase, cabinets, doors, side tables, chairs, or walls for a fun DIY project that can be done in a weekend or two. 
Keep in mind some of the flattering colors for the season like soft yellow, terracotta, light turquoise, white, and taupe to spark some inspiration.
Outdoor Decor for Spring
Vintage Buckets & Tins
For a farmhouse-chic look, head to the home decor store and pick up a handful of vintage buckets and tins. Whether they come with cute designs or you choose to get crafty with a DIY project, dress them up a little for extra style points. Then, grab ferns to place in each holder for a fresh spring look. The bright greenery adds a picture perfect touch to your front porch or backyard patio. If ferns aren't your thing, choose some of your favorite outdoor plants as a substitute. 
Cheery Outdoor Rugs
Even though rugs are usually an indoor item, they look just as amazing as outdoor decor for spring. Pick out a couple bold-patterned, cheery rugs to place on your patio and porch. If you already have a welcome mat, don't be afraid to layer the rug and mat together (if colors and patterns complement each other).
Potted plants placed on either side of the rug can also help to ground the space and offer visual height and symmetry.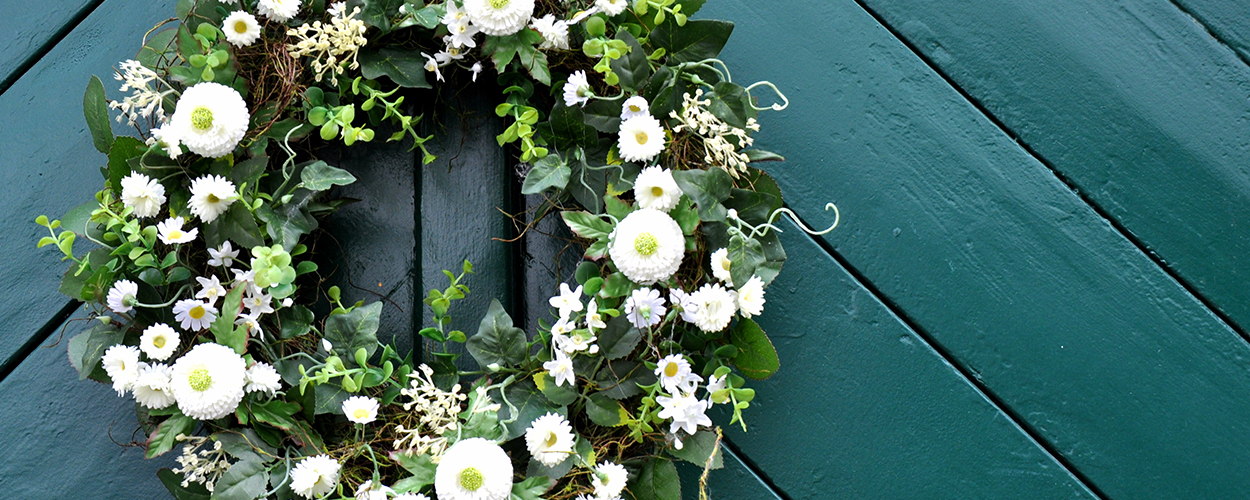 Seasonal Wreaths
Wreaths are one of the simplest and cutest springtime decor ideas that never fail. Celebrate the upcoming season with a wreath full of life and color. Go for the traditional Easter-themed wreath of pastels, sparkles, and eggs, or hang up something more floral. 
Think outside of the box with wreaths made of interesting items like a funnel wreath, watering can wreath, wagon wheel wreath, or floral monogram wreath. DIY wreaths are the way to go if you want springtime decor no one else has!
Pleasant Patio Furniture
Enjoy relaxing spring days with a pleasant patio set up in your backyard! While it may be quite pricey to go out and buy brand new outdoor furniture, remember that you can always give some love to the furniture you already have. 
Swapping out old cushions for vibrant new ones is an affordable way to begin. Repainting a chair or two is another smart option. Other than that, consider outdoor DIY furniture that is relatively low in cost.   
Warm Welcoming Sign
Decorating for spring starts right at your doorstep! Create a warm and inviting entryway for guests with an eye-catching welcome sign. Hang it on your door or prop it next to your entryway to allow more space for a larger sign. 
If you do choose to stand up your sign rather than hang it, consider adding other decorative details like potted plants, lanterns, watering cans, and more for a more dramatic spring assortment.
These springtime decor ideas are sure to rejuvenate your home just in time for the season! For more interior design ideas, check out how to spring into the season with these living room makeover ideas!
Whether you've been with your partner for 6 months, 2 years, or a lifetime, Valentine's Day is a wonderful time to show them just how much you care. Rather than the usual extravagant dinner and night on the town, switch it up this year with a relaxing and memorable Valentine's Day at home. Start planning your surprise with these Valentine's date ideas!
Make an At-Home Spa
What better way to pamper your special someone than with an at-home spa? Spark romance on Valentine's Day with candles, massage oil, face masks, and maybe even a new foot spa. 
While focusing on your partner's relaxation is important, feel free to join in too! Whether you light a candle or you wear a face mask, it can be extra special for both partners to experience some pampering.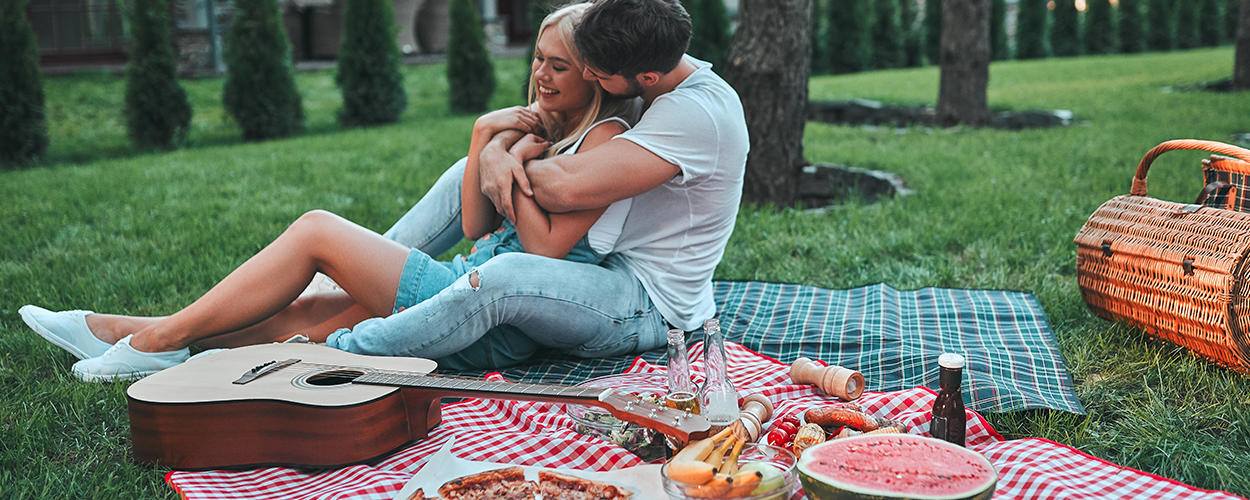 Enjoy a Backyard Picnic
No need to fight over parking for this Valentine's date idea! Bring a picnic right to your own backyard with very little prep. While picnics can be fun any time of the day, you can heighten the romance by planning your backyard rendezvous just before sunset. 
Set the mood with cozy blankets, pillows, flowers, battery-powered candles (to avoid a fire hazard), and of course, a tasty selection of treats. Sweet photos of the two of you, along with a gift, can make the picnic even more amazing.
If you don't have patio heaters or a fire pit and the weather in your area is too cold, plan for an indoor picnic instead. Sitting in front of the fire in your living room is sure to be just as romantic.
Create Sentimental Art Together
No matter whether you fancy yourselves artists or not, planning a fun night of crafts can be extra special for a Valentine's Day at home. Your art project can be as simple as creating a collage of your favorite adventures over the years or writing a sentimental poem.
If you feel like stepping up your game, treat your loved one to a wine and paint night. Gather all of the supplies and find some pretty canvas ideas for Valentine's Day. Save your final products and hang them in your house as a reminder of your love for each other!
Cook a Romantic Dinner
For a classic date at home, brush up on your cooking skills and get to work in the kitchen! Branch out and try a new, fancy dinner recipe that will impress and surprise your spouse, or whip up their favorite meal instead. 
If your sweetheart doesn't detest the thought of cooking, you can always turn this date idea into a couple's cooking activity. Have all of the ingredients ready and invite your sweetie to cook alongside you as a fun bonding experience.
Reconnect with Personal Questions
Sometimes the best dates are the simplest ones. Connect with your love on a deeper level than before by encouraging a night of asking each other questions. Do your research online beforehand or buy a card game to break out on Valentine's Day. 
This Valentine's date idea is sure to ignite romance at home over a delicious dinner!
Cuddle and Watch Romance Movies
With busy work schedules and the usual hecticness of life, it can be hard to find time to sit down and watch a movie together. Get back to the basics and woo your significant other with a relaxing movie night full of rom coms and romance flicks. 
Set the bar high by preparing an arrangement of yummy movie snacks you know your partner loves. You can even decorate your living room or bedroom with Valentine's balloons, candles, and other special decor to create a romantic atmosphere.
Take a Stroll Down Memory Lane
Did you ever write about your significant other when you two first started dating? Whether it be letters between you both or sweet nothings in your journal, take the opportunity to stroll down memory lane and read through all of your old notes for a few laughs (and maybe even some happy tears)!
You can also pull out the photo albums for a nostalgic look back at all your memories over the months or years. If you don't have a photo album or it has been quite awhile since you printed recent photos, use this Valentine's date idea as inspiration for one of your gifts!
Have Fun with Board Games
When was the last time you and your significant other played games together? Set down your phones for a few hours and dive into a fun board game or two for your Valentine's Day at home! Even though Yahtzee and Life may not be considered "romantic," they sure are fun to play. 
Showing your partner just how much you love them is as easy as can be with these Valentine's date ideas! Whether you choose one or combine a few, be sure to plan ahead and surprise your partner for a special Valentine's date neither of you will forget.
Need a special gift idea? Develop and frame treasured memories from your camera roll and hang them around your house for a sentimental present. Learn the why, where, and how of decorating your walls to make sure you hang your photos just right!
With the new year just beginning, it's time to think about your goals and what you want to achieve in the coming months. Besides personal resolutions for your relationships and work, now might be just the right time to shift your attention to improving your home. Not sure where to start? Follow these resolution ideas to refresh your home in 2021.
1. Be More Energy-Efficient
Lowering your energy use is a noteworthy resolution idea that's worth the effort. Being more energy-efficient benefits the environment and lowers your utilities bills each month, which means more money in your pocket! Plus, some eco-friendly items add style to your home. Here are a few ways you can be more energy-efficient this year:
Invest in energy-efficient appliances

Switch to LED bulbs

Thoroughly insulate your home (windows, doors, attic)

Incorporate indoor plants into your home

Turn off lights/electronic devices when not in use

Add area rugs to warm your home and decrease your energy use
2. Organize Storage Areas
What better time to purge your home than in the new year? Muster up the motivation and open the doors to all of the areas you've been avoiding for months or years. Bedroom closets, the attic, the basement, and yes, even your kitchen cupboards and drawers are up for organizing.
Rather than overwhelm yourself by doing it all in one weekend, shoot for one room each week to make the process more manageable and less intimidating. 
Start off by clearing out the areas and then focus on organization. Before you go out and buy a bunch of bins and trays, make a plan first. Think through where everything will go and then buy your organizational supplies.
3. Deep Clean Every Room
Did someone say deep clean? While it may not be an enjoyable task for some, a thorough cleaning of your house's rooms is a must. Just because you may not see all of the dirt and dust bunnies doesn't mean they aren't there.
Refresh your home by going through each room and doing all of the usual cleaning duties. Make sure to start with the most used rooms because they tend to have more germs and grime. You also want heavily trafficked rooms to be as sanitary as possible for you and your guests. 
4. Do Good and Donate
While the "season of giving" may be over, it's never too late to give to those in need. If you choose to clear out some furnishings or clothes to begin the new year at home, consider donating those goods to an organization near you. This is a win-win solution because not only do you clean out your home, you help out your fellow community members in the process.
5. Dedicate Time to DIY Projects
Brush up on your skills and dedicate a few weekends to DIY projects around your home. Try a home makeover idea that transforms your space from drab to fab like painting your living room walls a brighter color or finishing the basement downstairs. 
Other DIY projects can improve the safety and quality of your home like installing new windows, putting up a fence around your yard, or ridding your floors of squeaks. 
6. Create a System for Housework
No matter if you live with just your spouse or have a full house of kids, it's a great idea to create and implement a system for house duties. From taking out the trash to cleaning the bathroom, figure out a schedule that works best for you.
Get the kiddos involved by incentivizing with rewards and give them each their own chores. However you want to personalize your housework system, it's guaranteed to motivate all members of the household and keep your space much cleaner.
7. Prepare Your Yard for Spring
Home makeover ideas don't just apply to the inside of your home, they apply to the outside too. One of your new year's resolution ideas could be sprucing up your backyard for the coming spring. Start a garden, build a deck, or buy some new patio furniture. Basic yard maintenance like tree trimming and weed pulling is another easy way to make your yard more presentable and pleasant. 
8. Swap Out Home Decor
If you feel like splurging, buying a few new pieces of home decor can do absolute wonders for your space. Bring your home into 2021 with a modern sofa set or chic dining table. If large purchases aren't in your budget, not to worry. Opt for smaller upgrades like fresh wall art, new area rugs, or even comfy comforters for your beds.
9. Freshen Up Your Floors
The usual vacuuming and mopping of floors is a convenient and easy way to maintain your home's pristine appearance, but have you ever considered taking it a step further? 
If you have carpet in your home, you may want to think about getting it professionally cleaned. Say goodbye to nasty stains you gave up on years ago and welcome in a new and improved carpet for spring!
Refinishing your wood floors is another project that can refresh your home. What's even better is that you can do it yourself. Do your research, buy the supplies, and bring your hardwood floors back to life with a new finish.
With the new year comes new chances to better your home. As you brainstorm goals and aspirations for 2021, add these new year's resolution ideas to your list to give your home the makeover it deserves. If painting makes it on the list, be sure to read our guide to how to paint your home like a pro.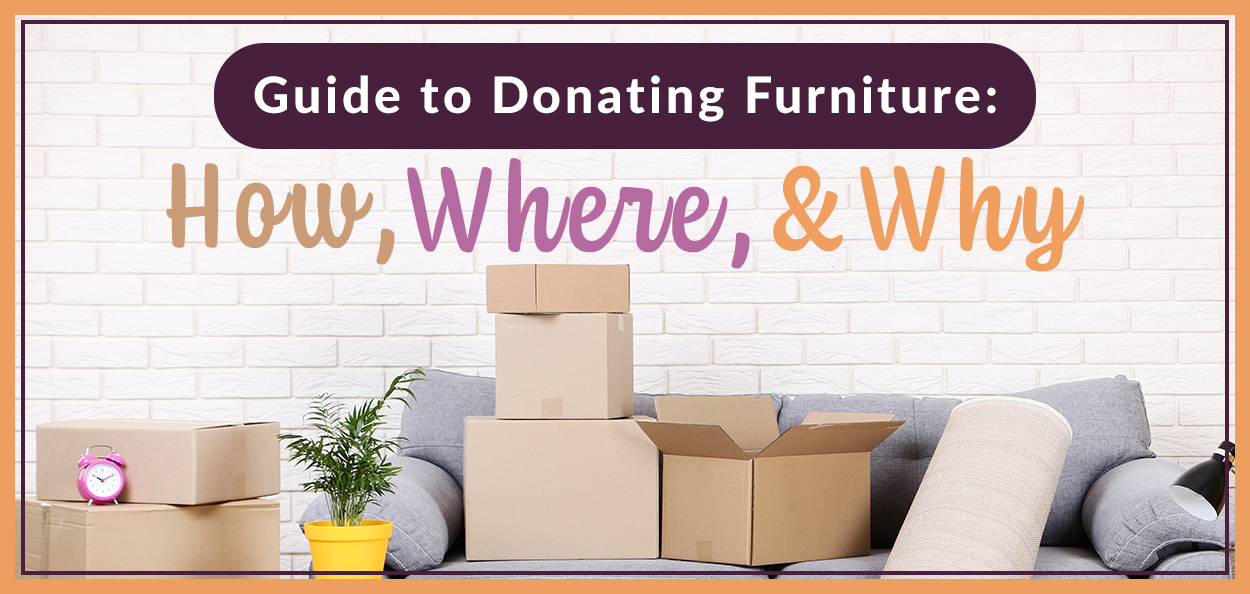 Are you going through the process of decluttering and clearing out your old furniture? Before you throw away your couch, chairs, and bed frames, consider an alternative option—donating. There are thousands of people in your community that are in need of what you have, so why not give back? Follow our guide to learn about the benefits of donating furniture, furniture donation centers, and best donation practices.
Why Donate Furniture?
From helping your community to tax incentives, here are some reasons why donating furniture is a win-win situation for both you and society.
1. Preserving the Environment
One perk that may not have crossed your mind is that donating furniture can help the environment. For example, when you give your used couch to a family in need, you extend the life of that couch and keep it from going to the landfill. This benefits the environment and reduces the amount of new resources needed for manufacturing furniture. It's a lot like recycling.
2. Giving Back to Your Community
When you think about donating, the first thing that probably comes to mind is helping your community. While there are many reasons why you should donate furniture, this one really tugs at the heartstrings. Your old, used furniture may no longer add value to your life, but to others in need, it could be life changing. Having the ability to give someone an item that can make such a huge impact is truly an invaluable gift.
3. Tax Write-Offs
Whether you're a business owner or homeowner, it's important to know that there are also financial advantages to donating furniture. Donations are tax-deductible and will benefit you at the end of the year. When you drop off your items or have them picked up, you should be provided with a tax receipt. Save and file this receipt for tax season and you will save some money!
Where to Donate Furniture?
Once you've decided to donate furniture, you need to figure out which organization you want to go through. There are hundreds of city-wide charities and nonprofits dedicated to the cause, so take some time to do research if you prefer to work with smaller organizations.
Another route you can choose is nation-wide furniture donation companies. These are big name organizations you've most likely heard of a few times before. To get a better idea, check out some of the top furniture donation centers.
With 3,200 stores nationwide, it's easy to find a Goodwill furniture donation center near you. This organization gives back to the community through job training, employment placement services, and other programs for those less fortunate. In addition, they have stores that sell new and used goods for affordable prices.
You can either drop off your furniture at one of their furniture donation centers or call to ask about pick-up services. The money they receive from selling your furniture will go directly to furthering their cause.
The Salvation Army is another huge organization with close to 1,500 Family Stores or thrift stores around the country. These stores are similar to Goodwill's in that they sell used items at low prices. All proceeds benefit the Salvation Army's Rehabilitation Centers that help thousands of people work through addiction problems and transition back into society.
Drop off and pick-up options are available when donating furniture.
If you aren't sure where to donate furniture in your area and would like a list instead of searching one by one, Donation Town is a great resource. Visit their website, enter in your zip code, and a comprehensive list of available charities in your area will pop up for you to browse. Once you choose your favorite organization, you can schedule a free donation pick up right at your house.
Are you looking to donate large pieces of furniture like dining tables and couches? Habitat for Humanity ReStore is one of the top charities to work with for these kinds of furniture donations.
As the name suggests, this furniture donation center is run by Habitat for Humanity. Its nonprofit stores use proceeds to help build homes and shelters around the world. Just like the other nationwide charities, Habitat for Humanity ReStore offers free pick up.
How to Best Prepare for Furniture Donation
Before you schedule your drop off or pick-up day, take preparatory steps to ensure the process runs smoothly without any unnecessary issues. Be as thorough as possible by following these guidelines.
Check Your Furniture's Condition
Most charities have standards when it comes to the quality of furniture they will accept for donation. Rather than hoping your stained couch or torn mattress will meet the requirements, it's important to check with your chosen organization to guarantee that you have the greenlight.
Assess your furniture pieces and take note of any and all imperfections (even if you think it's not bad) and make sure you address these blemishes before you move forward. Here are a couple questions to ask yourself when deciding if your furniture is good enough to donate:
Does it look good? Besides minor flaws, is it in decent condition?

Does it work? There's no point in donating broken furniture, so make sure recliners recline, couch springs work, and so on.
Know What Items Aren't Accepted
Even if you have the most pristine furniture to donate, it's always a good idea to research whether or not that item is accepted at specific charities. For example, mattresses and box springs aren't accepted at all organizations. The same goes for bed frames.
Call or go online and double check to get reassurance that your furniture donations are appropriate.
Do a Quick Clean Up
By no means do you need to spend hours fixing and cleaning your furniture, but as a courtesy, it's nice to do a quick once over. Wipe down and sanitize to remove any dirt or dust. If applicable, vacuum up debris in items such as couches and recliners.
Now that you know the why, where, and how of donating furniture, you're ready to make it happen and give back to the community! When you're ready to replace your old pieces, take a look at the most stylish collections on the market at Fusion Furniture.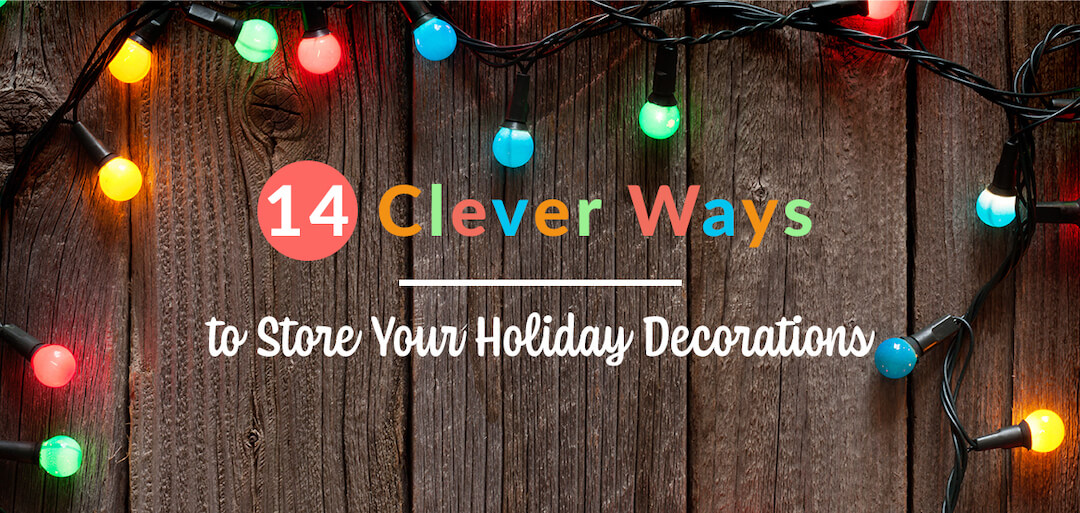 The holiday season is over and sadly, it's time to pack away decorations until next year. From ornaments to festive home decor, it can be quite frustrating trying to find space to store everything. Follow along and discover clever Christmas storage ideas that not only save space, but keep your decorations neat and tidy!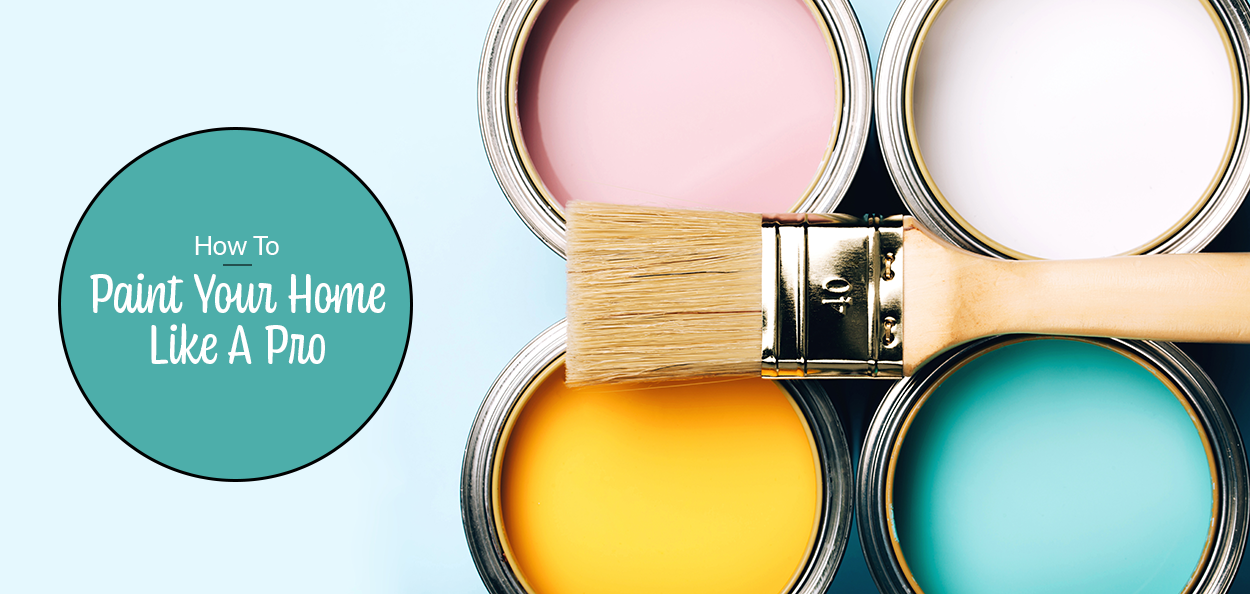 Painting is one of the most basic ways to renovate and refresh your home, but it can actually be the trickiest if you aren't knowledgeable about technique and preparation. Before you begin the process of painting your home, check out these interior house painting tips to ensure a flawless finished product!
Step 1: Plan Your Approach
As with any home renovation, it's most important to have a set plan before you begin. Follow these tips for a successful approach to painting your home.
Choose Your Paint Color
With hundreds of shades to choose from, it can be hard to decide what color you want for painting your home. A good strategy is to think of the big picture and slowly narrow down the options as you go. First, decide whether you want a cool, warm, or neutral shade. Consider your room's furnishings and decor to make sure the color complements the space. Once you have a better idea, pick a few shades that stand out to you.
Don't be afraid to try samples as well. Paint small swatches on your walls to give you an idea of what you like most. And remember that accent walls are a great way to bring contrast and interest to your room!
Step 2: Gather All of Your Supplies
While this step may seem obvious, it's always nice to have a checklist to follow when you're out shopping for your painting supplies. Here are the main items you'll need:
Paint

Paint roller

Paint roller extension pole

Drop cloths

Paintbrushes

Paint tray

Sandpaper

Painter's tape

Rags

Putty knife
Step 3: Prep Your Space
Remove All Furniture
After you've chosen your paint color, it's time to prep your space. Begin by removing all of the furniture and fixtures you can to open up the room and give yourself plenty of working space. If you leave some furnishings in the room, make sure to cover them properly to avoid any paint stains.
As you clear out furniture, inspect each room and look for proper ventilation outlets to use as you paint.
Make Necessary Repairs
Nail holes and daily wear and tear are just a couple of reasons why repairs are necessary before painting your home. Inspect all of the walls and ceilings for cracks, holes, dents, and other flaws. Use caulk or a lightweight spackling substance with a putty knife to fill and repair as you see fit.
Make sure you let the repairs dry completely before moving to the next step. If you notice any bulges or rough spots, use fine sandpaper to smooth out those areas and make them flush with the wall.
Clean the Walls
You'd be surprised how dirty your walls can get with dust and spiderwebs. That's why it's super critical to wipe all of the surfaces clean with a damp towel or sponge and leave them to dry.
Apply Painters Tape
Perhaps one of the most important interior house painting tips is to use quality painter's tape. Unless you have the steady hands of a surgeon and the talent of Michelangelo, this is going to be your savior when it comes to clean lines and a neat paint job. Use this tape to mask off your moldings, windows, and doors. Here are a few pro tips:
Always press the painter's tape down flat and even to prevent bleed-through

Choose the right tape for your wall—some are best for textured or delicate walls

For accent walls, mask the inside edge from the rest of the room
Put Down Drop Cloths
If you've painted before, you know that it's impossible to get the job done without creating at least some mess. Keep your floors protected from spills and splatters by putting down drop cloths across the room. You can even put them down near the entryway where you may be walking in and out.
Take note of the different kinds of drop cloths and what they are best used for:
Canvas drop cloths are extremely durable and absorbent, so they can be reused.

Plastic drop cloths are durable and less expensive but not absorbent, so spills are more likely to be tracked if stepped on.

Paper is the most economical but can tear easily on floors. It is better for covering light fixtures, cabinets, and furniture.
Step 4: Prime and Paint the Ceiling
Prime the Ceiling First
An interior house painting tip you may not know is that you should always start with the ceiling first, then tackle your walls last. While it's tempting to jump right into painting with your chosen color, it's crucial to use primer in certain situations. Not sure when primer is necessary? If your walls or ceilings fall under these categories, you need primer:
The surface is porous

The drywall is skim-coated

The previous coat is glossy

The paint colors are changing from dark to light

The surface is stained
If you don't feel like spending extra money and time on a separate coat of primer, keep in mind that some brands offer paint and primer in one!
Paint the Ceiling 
Once the primer has fully dried, you're ready to paint! The best way to paint a ceiling is to use a paint roller and work in grid-like sections of 3×5 feet each. This method helps to keep edges wet and allows you to see your progress to guarantee an even coat. Here are some additional tips to ensure a perfect finished product.
For smooth ceilings, use a low nap roller. For a textured ceiling, use a roller with 1/2-inch or 3/4-inch nap.

Consistently use your paint tray to coat the roller with ceiling paint and remember to roll slowly.

Begin rolling when the paint cut line is still wet.

Start in a corner and roll in overlapping rows.

Do not roll directly over your head.

Slightly vary the direction of your rolling because straight lines can show overlap marks.
Step 5: Prime Your Walls
Follow a similar process to prime your walls just as you did your ceiling. Either use a separate primer or purchase a paint and primer combo to knock it all out at once.
As you begin painting your home with primer, use a paint brush to create 2-3 inch bands around the edges, corners, and frames of your room (this is also called "cutting in"). Next, grab your roller and paint the walls in 3×3 foot sections, remembering to work top to bottom. Roll back and forth across the wall in a series of V or W-shaped strokes. Always overlap areas of wet primer.
Step 6: Sand the Primer
While this step isn't mandatory for painting like a pro, it's a thorough method that eliminates any imperfections on your walls. After the primer dries, simply sand away bumps and ridges using fine grit sandpaper folded into quarters. When one section of sandpaper becomes covered with dust, switch to a fresh section and continue.
After you're done, wipe the wall clean with a damp towel and let it dry. Now you're ready for the paint!
Step 7: Paint Your Walls
A basic interior house painting tip experts always follow is painting walls one at a time. This will give your walls a smoother look by blending wet paint you've brushed on with wet paint you're rolling.
Make sure you follow the same method you did with your ceilings and use a paint brush to create 2-3 inch bands around the edges of your room. Use V or W-shaped strokes as well. To give you further guidance, take a look at these extra tips for painting your walls:
Before reloading your roller and moving to the next section, roll over the area you've just painted in a smooth, continuous stroke from top to bottom. These smoothing strokes help cover up lines and tracks and even out your coats.

Periodically remix your paint using a mixing stick. You should do this any time you leave your paint sitting for an extended period of time.

Wait 2-4 hours for the first coat to dry before applying a second coat. Follow the exact same process and techniques used when priming your walls.
Step 8: Clean Up
Once you've finished painting, your work is essentially done! The only task left is the clean up. Remove your painter's tape before or right after the paint completely dries. It's important to stay within this time frame because if left on for too long, the tape can tear and leave residue when removed.
Tightly seal remaining paint cans, thoroughly clean brushes and rollers with soapy water, remove drop cloths, and put your furniture back in place.
Painting your home is a fun and affordable way to freshen up your space and bring new pops of color into your rooms. The next time you feel like trying a DIY paint project, follow these steps and interior house painting tips to ensure a beautiful finished product you're proud of! For more guidance on DIY projects, read through these 6 home renovation tips that'll make the process easier.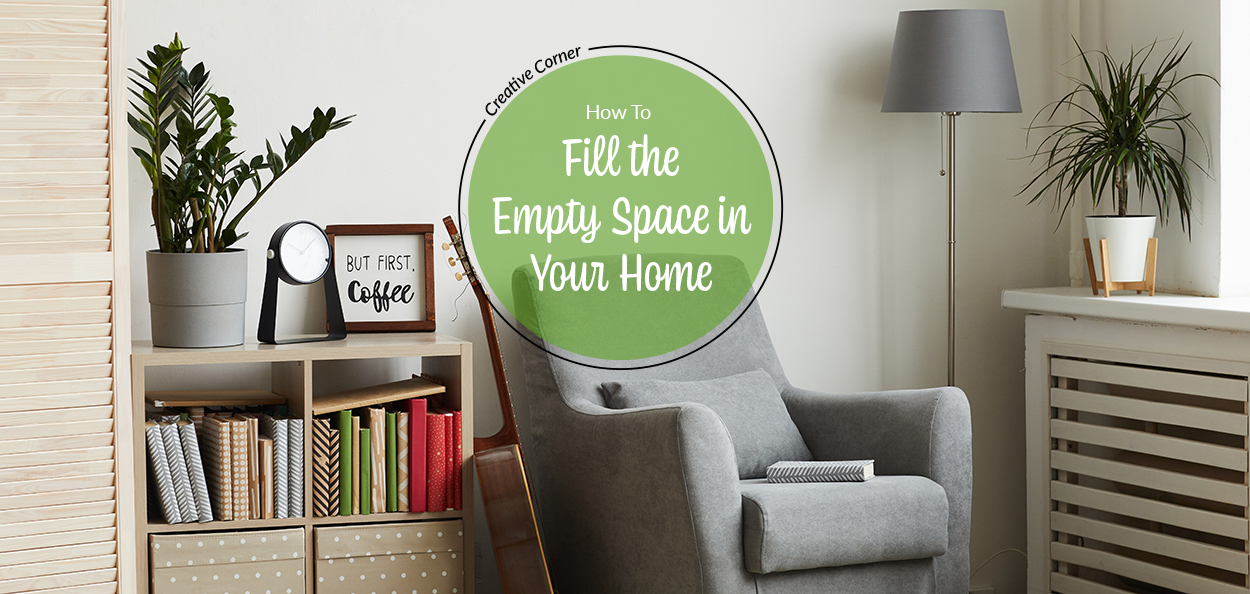 After arranging all of the major pieces of furniture inside your home, there are always those awkward empty spaces left over that you don't know quite what to do with. Rather than leave them bare, follow these corner decor ideas for inspiration on how to style these nooks and crannies.
Corner Decor Ideas
Floating Shelves
Need extra space for framed photos, vases, and books? Floating shelves are not only a great storage solution, but they are also a hot decor trend in the interior design world. Add them to your empty spaces and you've got yourself stylish shelves for your living room corners or even your bedroom.
Tiny Office Nook
Not every home has the square footage for an office room, but that doesn't mean you can't create a small office nook. If the location is fitting, transform your empty space into a workstation by setting up a desk and chair. Try to match the style of the room so that the nook adds to the decor of the space rather than detracts from it.
Stylish Storage Pieces
This corner decor idea is a must if you find yourself with so much stuff you don't know what to do with it all. Combine function and style by incorporating small chest drawers, armoires, sideboards, and console tables into the empty corners of your rooms. These furnishings give you both a beautiful display and a place to store your household items.
Studious Bookcase
Put those old books to use by showing them off in your very own bookcase. Go as big or small as you want to create a colorful decor piece for almost any corner in your home. You can even mix in other decorative items like flowers and photos to give the shelving more character.
Sophisticated Bar Cart
You don't need an at-home bar to display your collection of wines and spirits. Grab your liquor and glasses from the kitchen cabinet and show them off on a stylish bar cart that easily fits into a tight corner. Next time you celebrate happy hour, entertaining will be a breeze!
Additional Closet Space
Who said clothing needs to be put away in drawers and walk-in closets? Exposed closets are all the rage right now and they give you the chance to turn your clothes into a fashionable decor piece. All you need for this bedroom corner idea is a clothing rack and your wardrobe to create a fun and functional addition to your space.
Kids' Play Corner
Give your kids the play area they've been begging for by designating that corner space as an enchanting playhouse. Use easy-to-remove washi tape to create the outline of a playhouse on the walls and install a few shelves within it to hold some of their favorite toys. This gives them the creative space to play, while also taking up as little room as possible.
DIY Gallery Wall
You don't need to go to an art museum to enjoy a gallery experience. Bring conversation starters to your living room corner by curating your own DIY gallery wall with framed prints or paintings. This can turn an ordinary wall corner into the focal point of a room with little to no cost.
Artwork Display
In addition to a gallery wall, you can get in tune with your artistic side by dressing up corners with other types of artwork like sculptures and ceramics. Don't be afraid to bring in abstract pieces or art of different mediums because they can bring interest and contrast that your run-of-the-mill photos do not.
Gorgeous Greenery
The houseplant trend is in full bloom and it just so happens to be another creative corner decor idea. Find corners of your home near natural light and entwine them with any plant you think you have the time and desire to care for — or go for faux plants instead! Whether you feel like being bold with large-leaf plants or prefer a unique hanging terrarium, the finished product is sure to bring new life to your space.
Luminous Lighting
Layered lighting is one of the golden principles of interior design, and chances are, if you have empty corners that need filling, lighting is the perfect solution. Before deciding on the type of lighting you want, consider the area it will be in and the function it will serve.
Floor lamps are great for living room corners, pendant lights are best for illumination of art, and table lamps do wonders for decorative side tables.
Decorative Screen
Does your home have high ceilings? Room separating screens are a great addition to your space because they're known for complementing homes with high walls. Not only do they emphasize the impressive height of your ceilings, they also decorate your walls without you even touching them.
Keep in mind that screens are corner decor best used in larger rooms because they take up quite a bit of space.
Window Seat
Take advantage of natural light by creating a cozy seat where your window touches the corner of the room. An upholstered bench and some comfy throw pillows are all you need to transform an everyday window into a nook for reading and drinking coffee.
Statement Furnishings
When in doubt, furnish it out! Sometimes the simplest solutions to the empty corner dilemma reside in a statement piece. Which kind of statement piece you choose depends entirely on how much space you have. For a larger room, you may want to consider a sofa, bench, or side table. For tinier spaces, downsize a bit by including a statement chair or accent table topped with a decorative lamp.
To find a stylish piece of furniture that livens up your corner decor, take a look at our eye-catching collections.